The 'Stanbic Uganda Cup' is back bigger and better with yet another increase in prize money for participating teams and exciting rewards for football fans.
Winning Prize money has been increased to a total of UGX 132 million up from UGX 120 million for the final sixteen teams with the winning team walking away with UGX 40 million, the Runner Up UGX 20 million, the semi- finalists UGX 12 million each, the quarter finalists UGX 6 million each and the teams that finish in the Round of 16 UGX 3 million. The prize money for the tournament has been increasing from UGX 120 million last season and UGX 90 million the previous season.
Speaking at the launch of the new season and draws for the Round of 64, FUFA President Eng. Moses Magogo lauded Stanbic Bank for supporting the growth of Ugandan football.
"Besides uniting people like nothing else, Football is big industry the world over with economic benefits arising from promoting the country abroad contributing to economic development through job creation for the youth, and skills development. Thanks to support from corporates like Stanbic Bank, Ugandan football is growing exponentially and is now making substantial contributions to the Ugandan economy," Magogo said.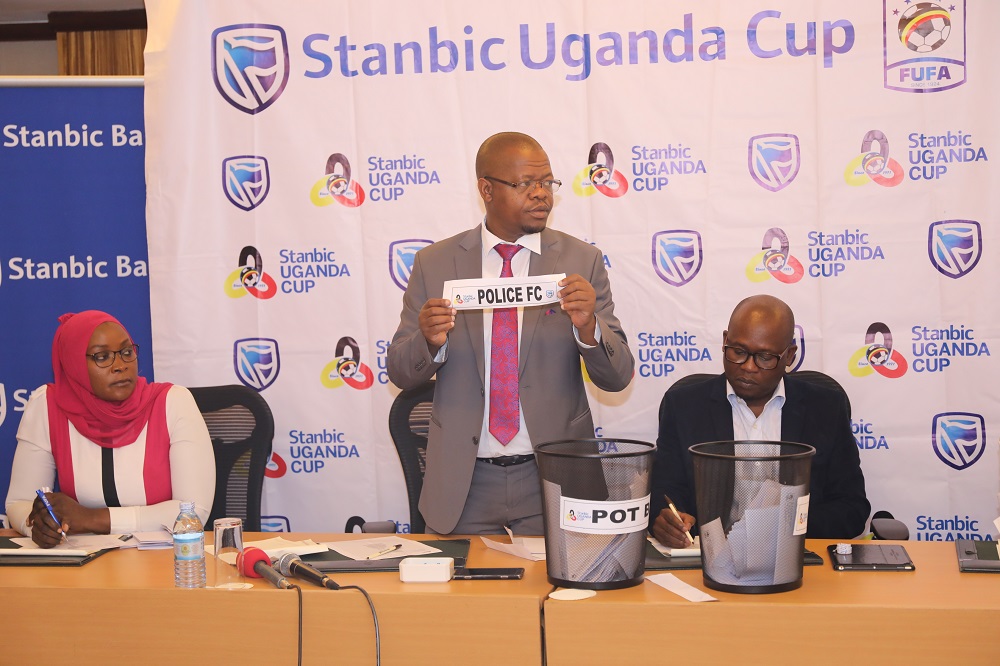 "The Stanbic Uganda Cup was first played in 1971 by a handful of teams but has grown over the years into the biggest club football competition in Uganda with 176 teams and over 3,000 players competing last season. This will be the 46th edition of the competition and we look forward to an exciting season." Magogo added.
Stanbic Bank in February 2018 signed a Shs300m sponsorship package with the Federation of Uganda Football Associations (FUFA) to become title sponsors of the 2017/18 edition of Uganda's oldest knockout tournament – 'Uganda Cup'. The tournament henceforth became known as the 'The Stanbic Uganda Cup' for the duration of the sponsorship.
Stanbic Bank's Head of Marketing & Communication, Daniel Ogong said that the Stanbic Uganda Cup is just one of the many ways that the bank is driving the growth of the Ugandan economy.
"We are pleased to again be part of the Stanbic Uganda Cup which is the biggest club football competition in the country. It is a very unique competition in that it enables small clubs at the lower levels of our football league system take on the giant clubs in the Premier League and as we have seen over the last couple of seasons many times the so called small clubs win. We look forward to an exciting and competitive season and may the best team win," Ogong said.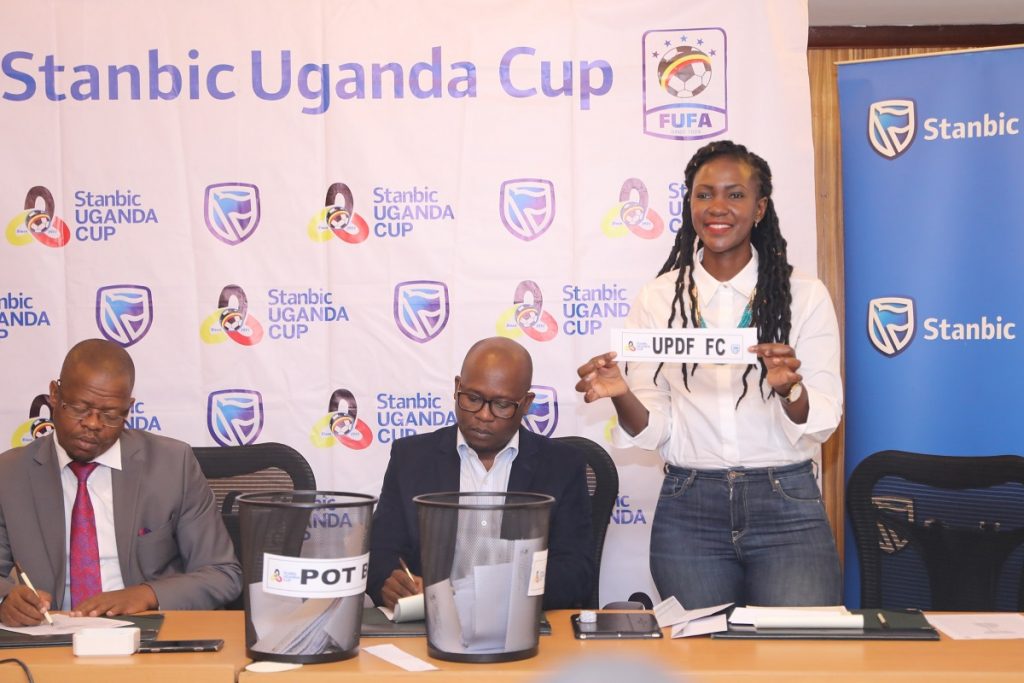 The 2019/2020 season resumed on December 1, with pre-qualifier games taking place across the country in all the eight football regions. Draws for the Round of 64 were also conducted today.
The Stanbic Uganda Cup has been played since 1971 with the first Uganda Cup winner being Coffee SC who beat Simba FC (Army team) 2-1 in the final. Since then 25 different teams have won the Uganda Cup with the record winners being Express FC and current holders KCCA FC who have each won it 10 times.
Then Big League side, Proline FC are the current champions of the Stanbic Uganda Cup having beaten Bright Stars in Masaka to lift the trophy.
Round of 64 draws
Star Times FC vs Paidah Black Angel's FC
Kampala University FC vs Kataka FC
Bugoigo FC vs Wakiso Giants FC
Catida FC vs KCCA FC
Admin FC vs Police FC
Fire Fire FC vs Light SS FC
Kiryandongo FC vs Kigezi Homeboys FC
Soroti FC vs Kansai Plascon FC
Mbale Garage vs UPDF FC
Kajjansi FC vs Vipers FC
St. Mary's FC vs Express FC
Busia Young FC vs Busoga United FC
Six o'clock FC vs Kitara FC
Super Eagles FC vs SC Villa FC
Mvara Boys FC vs Bul FC
Koboko Rising Stars FC vs Bright Stars FC
Kakira United FC vs Mbarara City FC
Star Light FC vs Tooro United FC
Bugamba FC vs Ondumparaka FC
Chimpanzee FC vs Nyamityobora FC
Gadafi FC vs Myda FC
Luwero United vs Doves All Stars FC
Lugazi Municipal FC vs URA FC
Sansiro FC vs Kyetume FC
Kigezi FC vs Bukedea Town Council FC
Young Elephants FC vs Maroons FC
Katwe United FC vs Proline FC
U-touch FC vs Water FC
Free Stars FC vs Saviours FC
Ggaba FC vs Kiboga Young FC
FHL FC vs Ndejje University FC
Dove FC vs New Villa FC
About Stanbic Bank Uganda
Stanbic Bank Uganda is a member of the Standard Bank Group, Africa's largest bank by assets. Standard Bank Group reported total assets of R2.1 trillion ($148 billion) as at 31 December 2018, while its market capitalization was at R289 billion ($20 billion).
The group has direct, on-the-ground representation in 20 African countries. Standard Bank Group has 1,221 branches and 8,815 ATMs in Africa, making it one of the largest banking networks on the continent. It provides global connections backed by deep insights into the countries where it operates.
Stanbic Bank Uganda provides the full spectrum of financial services. Its Corporate & Investment Banking division serves a wide range of requirements for banking, finance, trading, investment, risk management and advisory services. Corporate & Investment Banking delivers this comprehensive range of products and services relating to: investment banking; global markets; and global transactional products and services. Stanbic Bank Uganda personal & business banking unit offers banking and other financial services to individuals and small-to-medium enterprises. This unit serves the increasing need among Africa's small business and individual customers for banking products that can meet their shifting expectations and growing wealth.