EXCLUSIVE: Airtel posts UGX338 bn in 2018 profit; makes more profit than MTN for 3 years in a row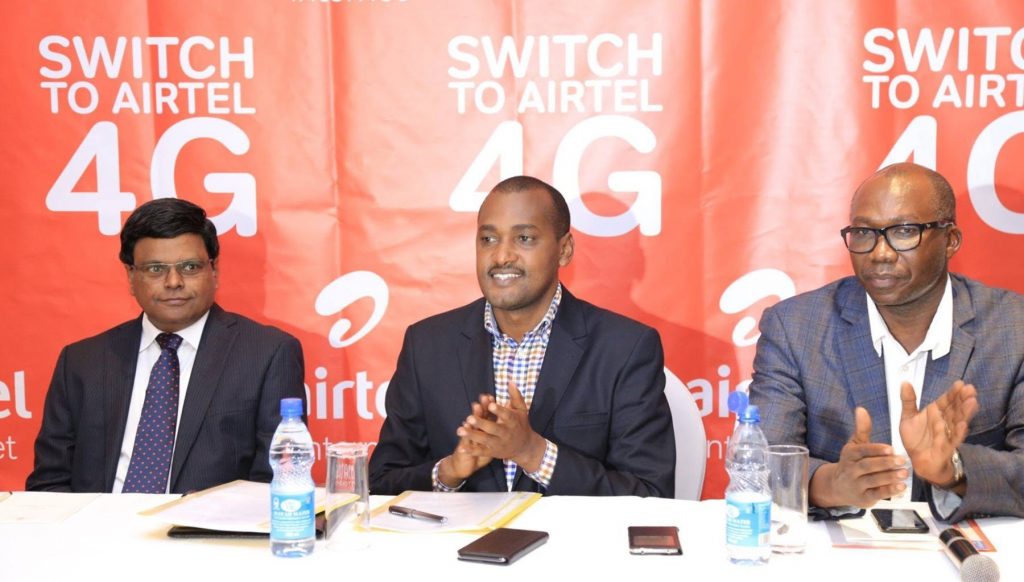 Airtel Uganda, made a profit of UGX338 billion (USD91 million) in 2018, thanks to yet another good year of sales.
A meticulous 4 months research into the financials of the two telecom companies, shows that Airtel's turnover in 2018, grew 5% from UGX1.16 trillion in 2017 to UGX1.21 trillion. Net profit grew much healthier- an impressive 38%- from UGX245 billion to UGX338.1 billion.
MTN Uganda, the leading telecom company in Uganda, at least by turnover, on the other hand registered a 44% growth in profit from UGX152.6 billion in 2017 to UGX220 billion in 2018. Gross turnover grew 8% from UGX1.4 trillion in 2017 to UGX1.6 trillion.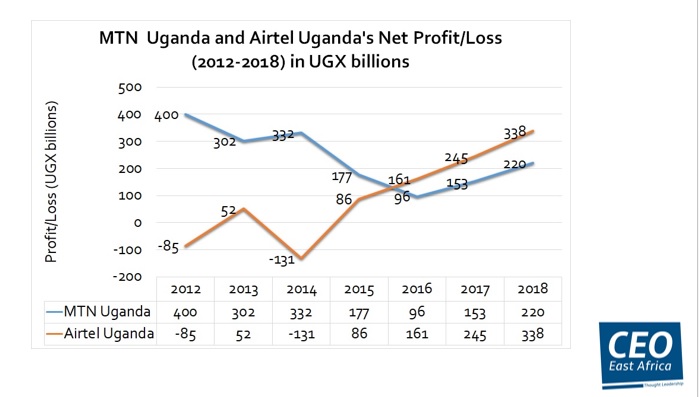 This is the 4th straight profitable year for Airtel Uganda, since they acquired Warid Telecom in 2013. That year (2013) Airtel made perhaps its first profit ever in Uganda of UGX52 billion, but in the following year (2014), that, relapsed to a loss of UGX131.4 billion.
Airtel then bounced back in 2015 with a UGX52 billion profit and hasn't looked back since then. In 2015, the telecom that is 100% owned by India's Bharti Airtel bounced back with a profit of UGX86 billion, then UGX160.1 billion in 2016, UGX245 billion in 2017 and finally UGX338 billion in 2018.
On the other hand, in 2012, just before Airtel acquired Warid, MTN had just posted UGX400.4 billion in profit and this reduced to UGX302 billion in 2013. In 2014 MTN Uganda's profit was 331.6 billion while in 2015, profit went down by 46.7% to UGX176.8 billion and further reduced to UGX96.3 billion in 2016.
In 2017, MTN profit picked up by 58.5% to UGX152.7 billion, reaching UGX219.5 billion in 2018.
The Warid factor
In April 2013, by the time Airtel Uganda acquired Warid Telecom, at a reported USD100m, MTN was the only profit making telecom company. The other 3 players, Airtel, Warid and Orange were all crippled by debts occasioned by years of loss making- giving MTN a big-boy market position.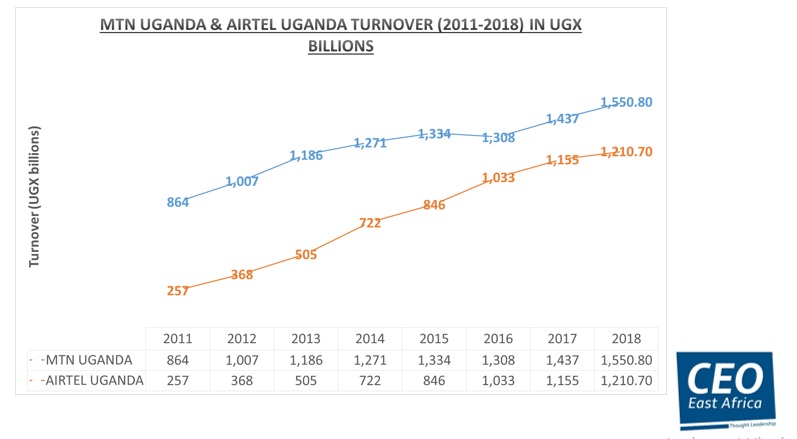 Although the merger between Airtel and Warid did not give Airtel an immediate advantage in sales- MTN's gross sales in 2013, stood at UGX1.2 trillion compared to UGX505 billion for the new Airtel, it is said to have earned Airtel, millions of customers.
It is these numbers that Airtel has leveraged to build a solid business- reducing the turnover gap between itself and MTN from UGX681 billion in 2013 to UGX340 billion at end of 2018- MTN took in UGX1.55 trillion and Airtel UGX1.21 trillion in gross sales at the end of 2018, compared to UGX1.18 trillion vs Airtel's UGX505 billion in 2013 respectively.
Will Airtel Uganda one day, win back the No.1 market position?
Even though MTN remains the market leader- the unmistakable fact is that its growth has slowed down while Airtel's growth is your typical fast and furious.
Comparatively, between 2013 and 2018 MTN's Compound Annual Growth Rate (CAGR) in gross turnover and profit has been 5% and -5% respectively, while Airtel's has been 16% and 37%.
This reporter asked both the MTN CEO Wim Vanhelleputte and the Chairman, Mr Charles Mbiire on what is causing the slow down and what they were doing to re-stimulate growth, but they did not respond in 4 days, despite promises of getting back to us.
An email inquiry to Airtel's CEO Mr V.G Somashekar and the spokesperson, Ms Sumin Namaganda was also not responded to despite an acknowledgement of receipt.
Both companies, however did not contest our figures.
World Bank's IFC considering USD70 million loan to Umeme
The International Finance Corporation (IFC) the largest global development institution and a member of the World Bank Group, has reported, they are considering lending up to USD 70 million (UGX263.2 billion) to Umeme Limited.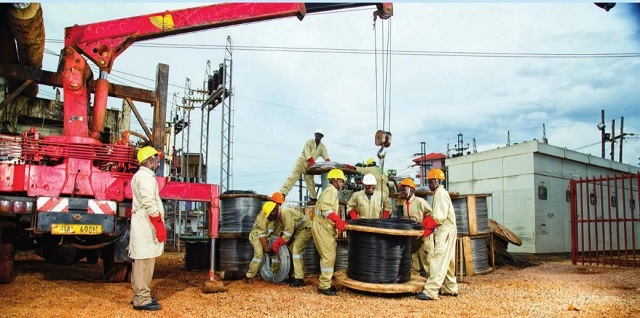 Umeme is Uganda's largest power distributor.
In a disclosure posted on their website, IFC said they plan to raise a senior loan for up to USD 30 million from IFC's own account, and up to USD40 million to be mobilized from other lenders- altogether USD 70 million.
IFC said in the disclosure that the debt financing will be used to support "Umeme's next 6-year (2019-2024) capital expenditure program, which will mainly focus on: network upgrades to enable load growth and additional connections to support uptake of new generation, safety/reliability enhancements, and implementation of smart meters to continue improving collections and reducing commercial losses."
"The Project will support the growing demand for electricity in Uganda, and contribute to ongoing efforts to increase access to electricity. This will help fulfil the Government of Uganda's efforts to improve electrification rate from the current 27% to 60% by 2027, and complement the significant growth (almost double) in generation capacity expected by 2020 (from 183MW Isimba and 600MW Karuma dams, and small solar/hydros)," said IFC in their disclosure.
"In addition, the Project has potentially significant indirect and induced effects on value added and employment as Umeme's network expansion plan focuses on zones with high electricity demand and economic growth potential. Finally, it will improve resilience of the main distribution network in Uganda and reduce losses, through adoption of advanced smart technologies, adequate maintenance and upgrade of ageing assets," added IFC.
IFC further said that by availing more affordable commercial and institutional financing, which is not readily available in the Ugandan market, Umeme will be enabled to "increase the average maturity of its loans and free up cash flow for Capex."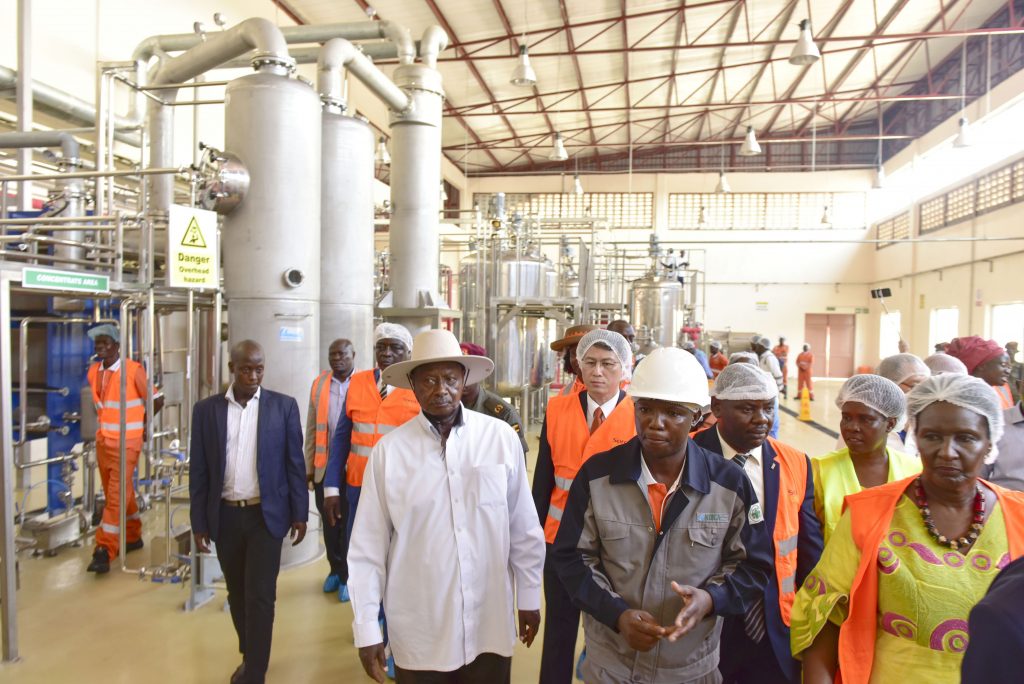 "IFC's involvement and proposed structure will also provide comfort to existing commercial lenders to potentially increase their commitment to Umeme," said IFC.
This disclosure, coming at the same time as government's confirmation last week that it will renew Umeme's 20-year concession comes in handy and is a growing show of confidence in the power distributor.
The financing, if approved will bring, the total amount of lending to Umeme by IFC to USD185 million over the last 10 years. Umeme, which has previously been hailed by the World Bank as "by far the most successful Public Private Partnership "in the previous past has attracted up to USD 265 million in funding from the International Finance Corporation (IFC), Standard Chartered Bank, and Stanbic.
In a recent interview with CEO East Africa, Patrick Bitature the Umeme board chairman, said Umeme will need to invest up to USD450 million in capital expenditure (CAPEX) alone. He however added that to create a robust enough distribution network to last the country for over 20 years, Umeme will need to invest between USD1 billion and USD1.5 billion over the next five to ten years.
To date, Umeme has invested $627m (UGX2.4 trillion) into doubling the distribution network to over 34,000km from the 16,000km it inherited and grown customer connections by more than 4 times- from the 290,000 inherited to 1,291,811 by end of 2018.
Umeme to pay UGX66.4bn in 2018 dividends; earmarks UGX1.7 trillion investment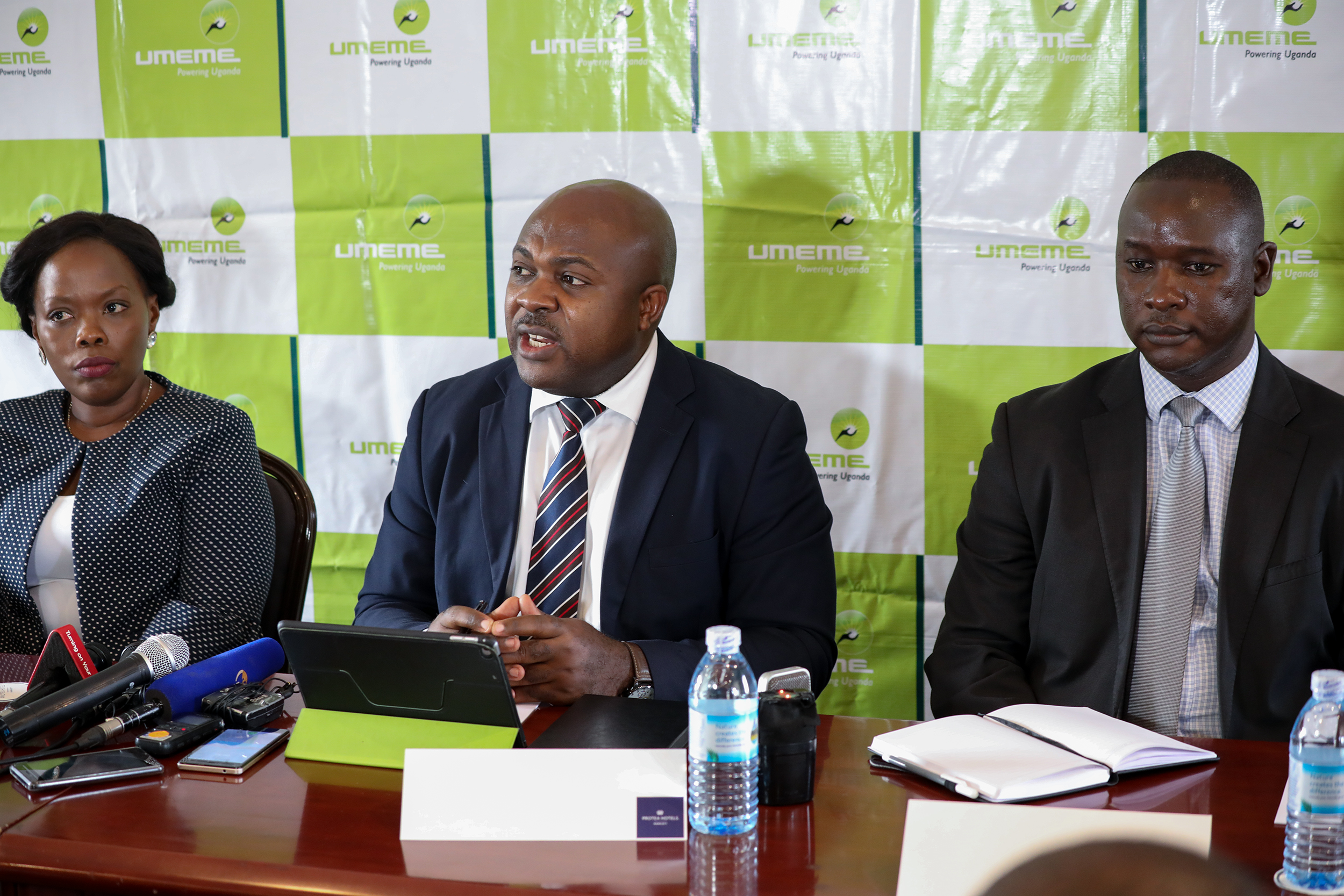 The Umeme Annual General Meeting, has today approved a UGX28.2 per share final dividend to all its shareholders for the year ended 31 December 2018.
This, in addition to the UGX12.7 interim half-year dividend, adds up to a total of UGX40.9 per share-a 438.2% rise from the UGX7.6 per share that Umeme paid in 2017.
In total, the giant utility will fork out up to UGX66.4 billion in dividend payments, up 87.1% from UGX12.7 billion in 2017, thanks to a combined stellar performance and an increased dividend pay-out ratio- 35% in 2017 to 50% in 2018.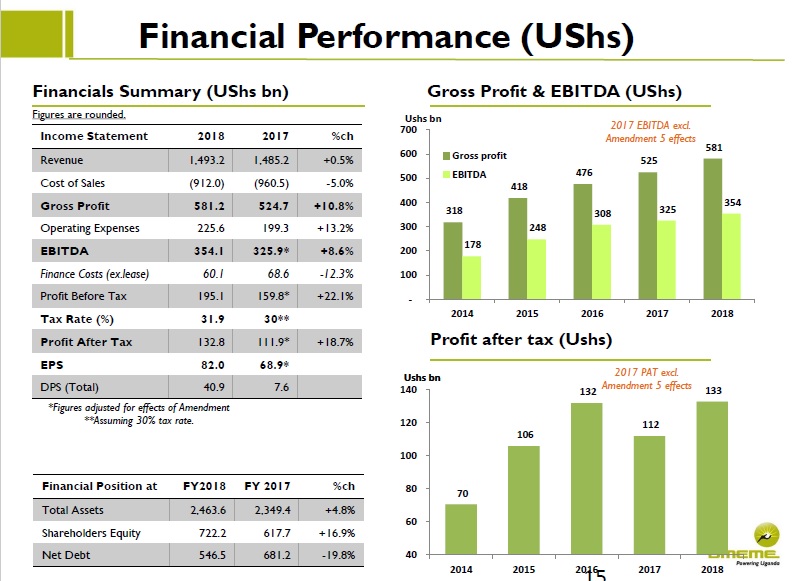 The power distributor in 2018, posted a 274% rise in profit, from UGX35.5 billion in 2017 to UGX132.8 billion for 2018.
The final dividend, subject to deduction of withholding tax, where applicable, will be paid on or about 15th July 2019 to shareholders in the books of the Company at close of business on 20th June 2019.
'The dividend will be paid into the shareholder bank accounts or mobile money accounts whose details are maintained by the Securities Central Depository (SCD)," Mr. Selestino Babungi, the Managing Director, told the AGM.
Looking to the future: Umeme's 2019/2025 Capex plan
Babungi, told the AGM that to satisfy electricity demand that is growing 9.1% annually and a customer base growing at 15% per annum coupled with the government's universal connection policy that seeks to connect 300,000 customers per year; thereby increasing access to electricity to 60% by 2027, the company planned to invest approximately USD450m (UGX1.7 trillion) between 2019 and 2025.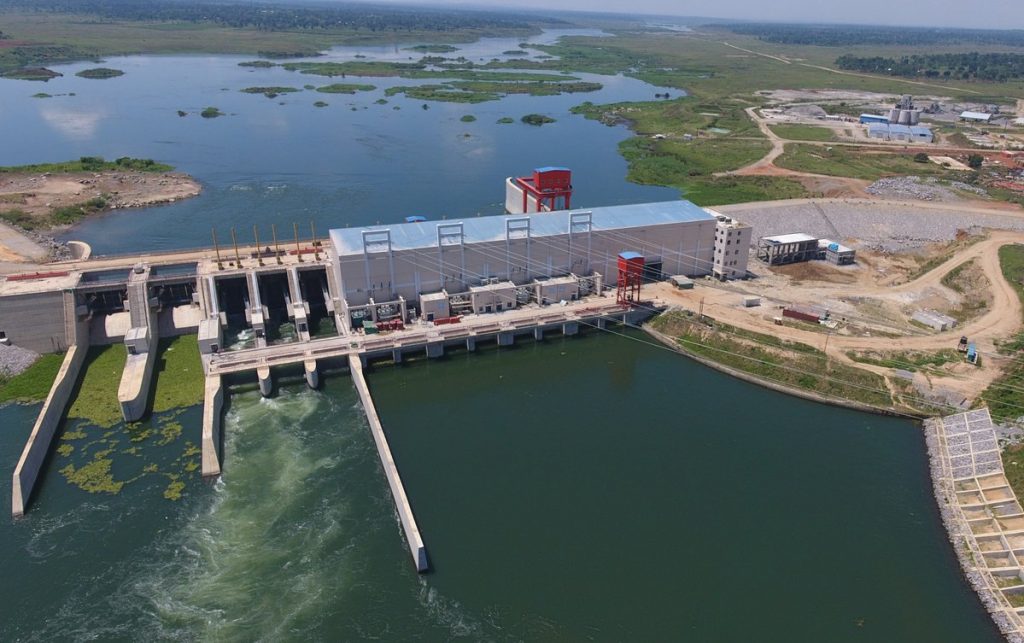 He outlined 4 strategic areas where the company would be investing, namely: "network adequacy to meet forecast growth driven by need to absorb the anticipated generation with major prioritisation of industrial parks and industrial zones of Namanve, Mukono, Iganga, Kapeeka, Luzira and Mbale."
The company would also prioritise the improvement of reliability and quality of supply, with a major focus being put on injecting new substations and new transformer zones in high growth areas.
The other two priorities included, supporting supporting the Government agenda for accelerated access and in this regard, Umeme targets to connect over 2 million customers over next 6 years as well as improving efficiency of the distribution network by leveraging on new technologies.
"Universal access means you will require a large footprint (coverage), which means opening more service centres (offices), building substations, extending lines, injecting transformers and recruiting more people on the ground. These require massive investments," Babungi explained.
He also noted that facilitating the uptake of the new generation capacity at Isimba and Karuma dams, needs a robust and well-maintained network to absorb and effectively distribute this power.
Isimba Dam, which was commissioned early this year, increased Uganda's installed power generation capacity from 1, 014 megawatts (MW) to 1, 197MW. Once Karuma Dam starts generating power next year, Uganda's installed capacity will increase by 600MW.
"Focus will be on extending the distribution grid to evacuate the 783MW additional generation, connecting 2 million premises to the grid, thus creating demand. Network evacuation pipes/lines to the demand growth areas will require massive investments," he said.
Mr. Babungi observed that quick connections for the new applicants and the supply of quality and reliable power require adequate resources for repairs and maintenance.
"The network is expanding across the country, meaning you will need human resources on the ground to keep quality lights on 24/7. This offers a great opportunity for job-creation (capacity development). The company will need to triple its current number of technical staff to serve the double the size to serve 3.4m customers by 2025," he noted.
Last year alone, Umeme spent $62 million on the distribution.
Babungi also said given the sector needs and the projected Umeme investment, the company had exercised its rights under the Electricity Act, to apply to the Electricity Regulatory Authority to reconsider its tariff performance parameters for 2019 – 2025.
He however, noted with concern that whereas the distributor had applied to the regulator to be allowed USD65m in operating costs, so as to meet the huge task ahead, they had only been granted USD41m for 2019.
He said this was bound to affect both the service quality and losses targets.
"We will struggle," he said.
Solid fundamentals for 2018
Beyond the good dividend, Babungi told shareholders that their company stands on solid ground.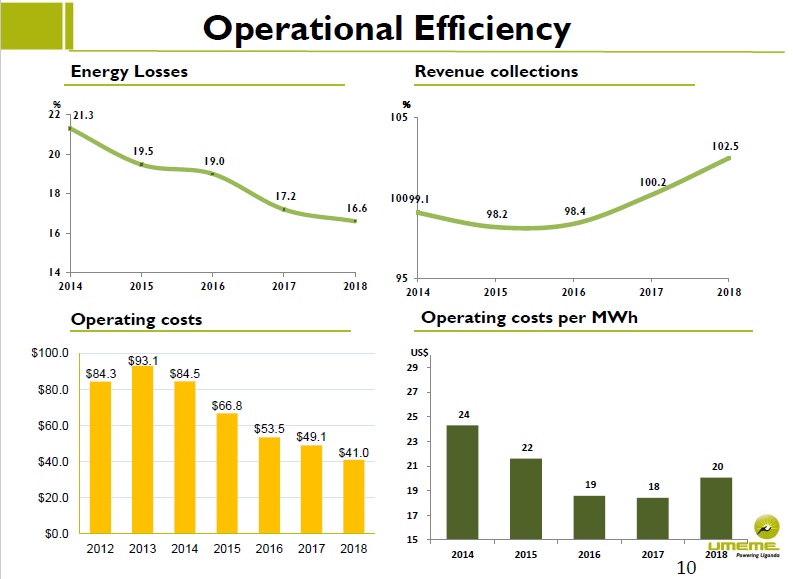 Between 2017 and 2018, the number of customers grew by 15% from 1.13 million to 1.29 million and thanks to increased generation capacity and a consistent reduction in energy losses- 16.6% in 2018 from 17.2% in 2017, there was more power to sell.
Electricity sold grew by 9.1% from 2,277 Gigawatt hours (GWh) in 2017 to 3,011 GWh in 2019. Coupled with tighter revenue collection measures, revenue grew by 12.7% from UGX1.42 trillion in 2017 to UGX1.60 trillion.
Subsequently, net profit jumped 274% from UGX35.5 billion in 2017 to UGX132.8 billion.
In the last 13 years, Umeme has invested over $600m into doubling the distribution network to over 34,000km and growing customer connections by more than 4 times.
ISPs warm up to Raxio's Data Centre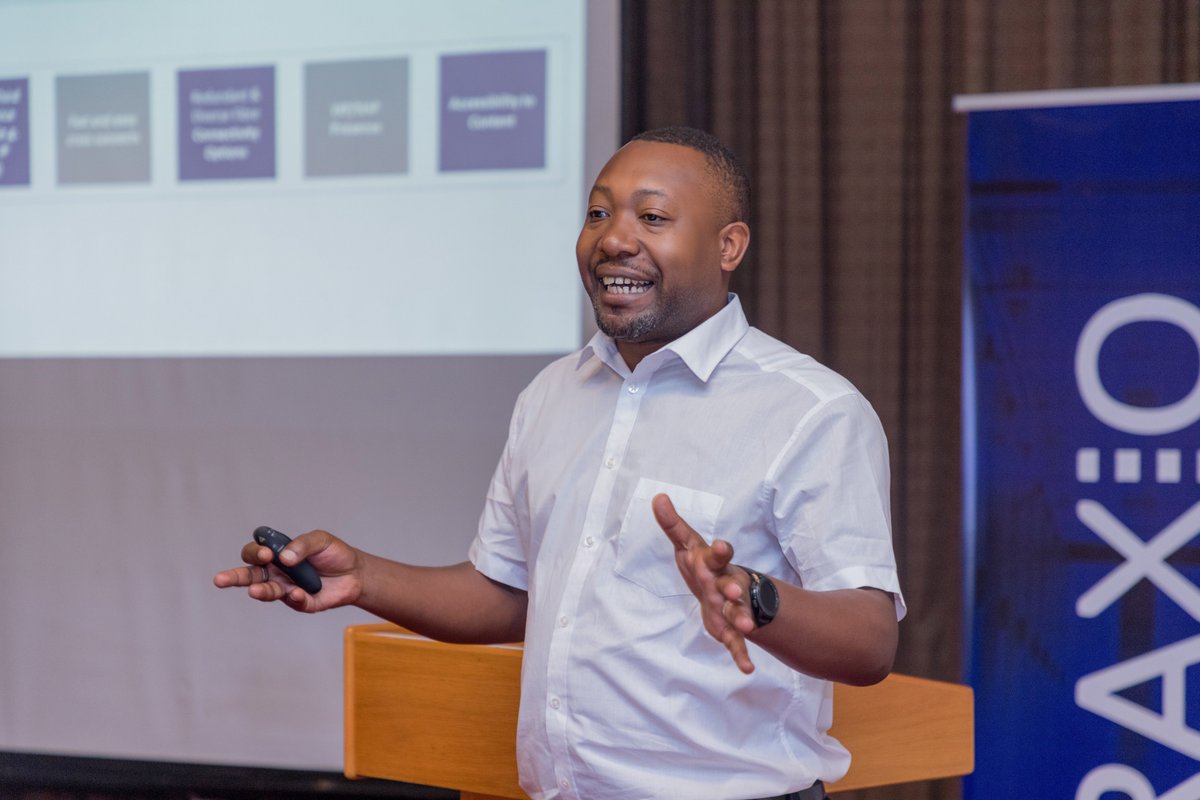 Internet service providers in Uganda have warmed up to Raxio's carrier neutral data centre, currently under development, saying the project will create operational efficiencies and save up the much needed capital for investment in other areas.
Speaking on Friday 3rd May 2019, at a breakfast hosted for the Internet Service Providers Association of Uganda (ISPAU) by Raxio, Godfrey Sserwamukoko, ISPAU chairman, said Raxio's entry into the market was a stitch in time.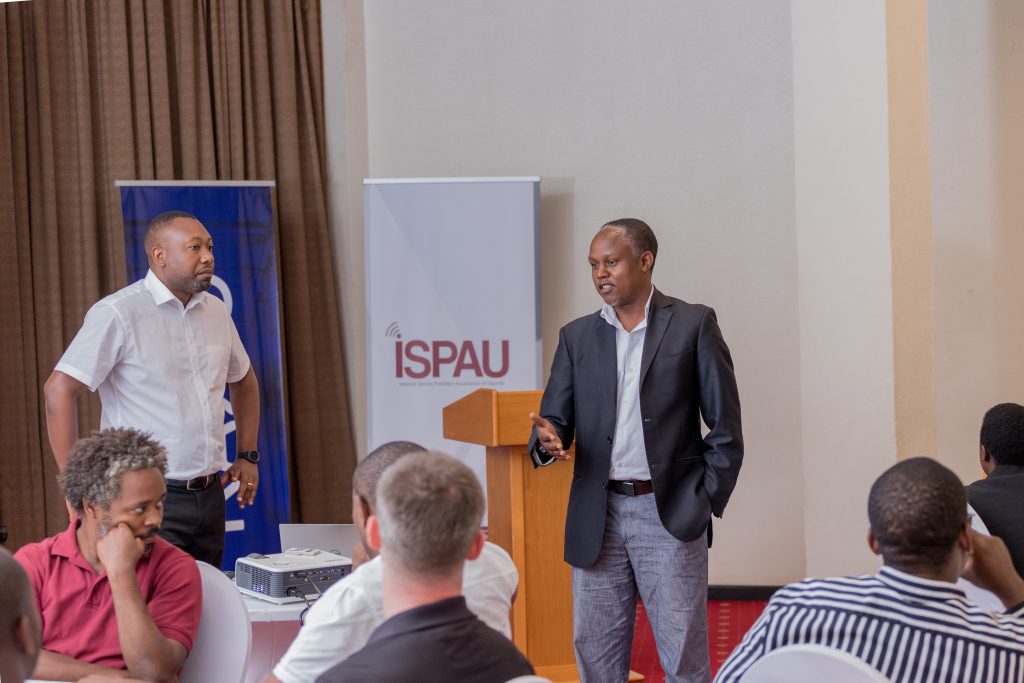 "As an association, many of our members are constrained by challenges ranging from inadequate financing for ICT capex to the use of inefficient infrastructure. With Raxio's solutions, our members and the wider market is set to benefit from a unique range of solutions fit for every type of business," he said.
Mr. Robert Mullins the Executive Director of First Brick Holdings (FBH), the parent company of Raxio Uganda said that Raxio's carrier neutral data centre would "reduce the total cost of ownership, improve operational efficiencies and allow clients to free up capital that can otherwise be used for client facing roles."
James Byaruhanga, Raxio's General Manager, said that Raxio exists to provide an environment where organisations- public sector, private sector and not-for-profit – run their critical systems with increased reliability, connectivity and security.
"Our commercial model offers ISPAUs members an opportunity to improve their operational efficiencies through economies of scale. For example we have an option to lease out equipment for those who do not have adequate capital to buy brand new equipment" he said, adding: "In addition we also have a service where we help new clients move their equipment to the new data center", he added.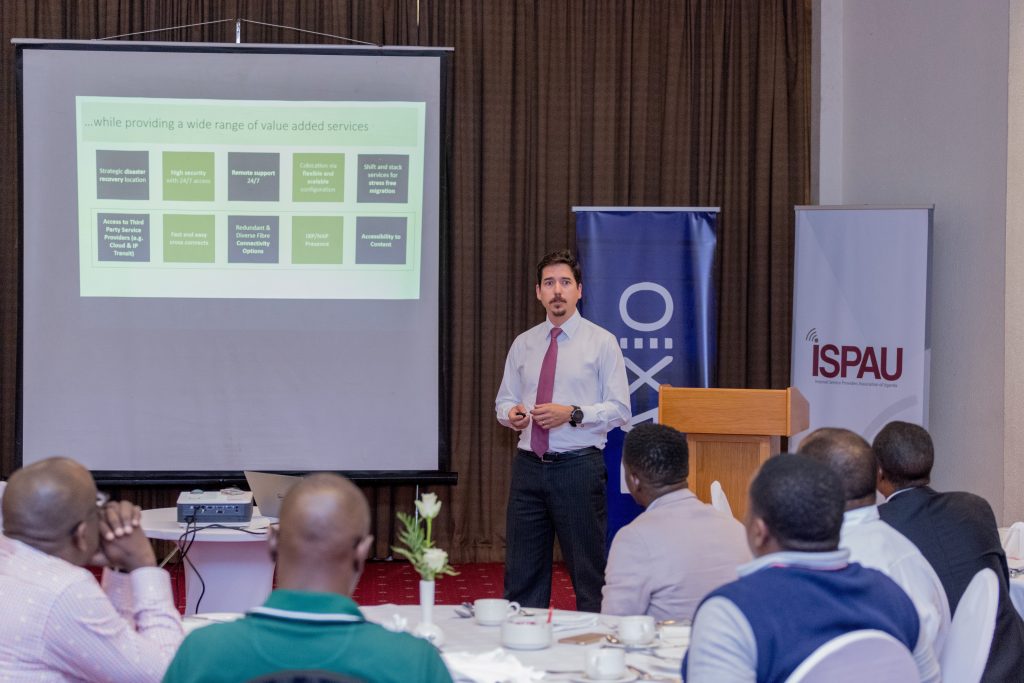 He also announced that ISPAU members stood to benefit from up to 30% in discounts, if they signed up between now and 31st July 2019.
Raxio, is a First Brick Holdings' (FBH) company; itself a portfolio company of US-based investment firm, Roha Group Inc. FBH, plans to build multiple data centres in the East and Southern Africa region – a total investment of approximately $50 million that will see at least up to 5 data centres going live by 2022. Raxio is constructing its first data centre at the Kampala Industrial and Business Park, Namanve. At full capacity, the data centre will be able to house up to 400 racks; in an optimally controlled, 24/7 secured and redundant environment and shall consume up to 3MW of Hydro Electric Power.