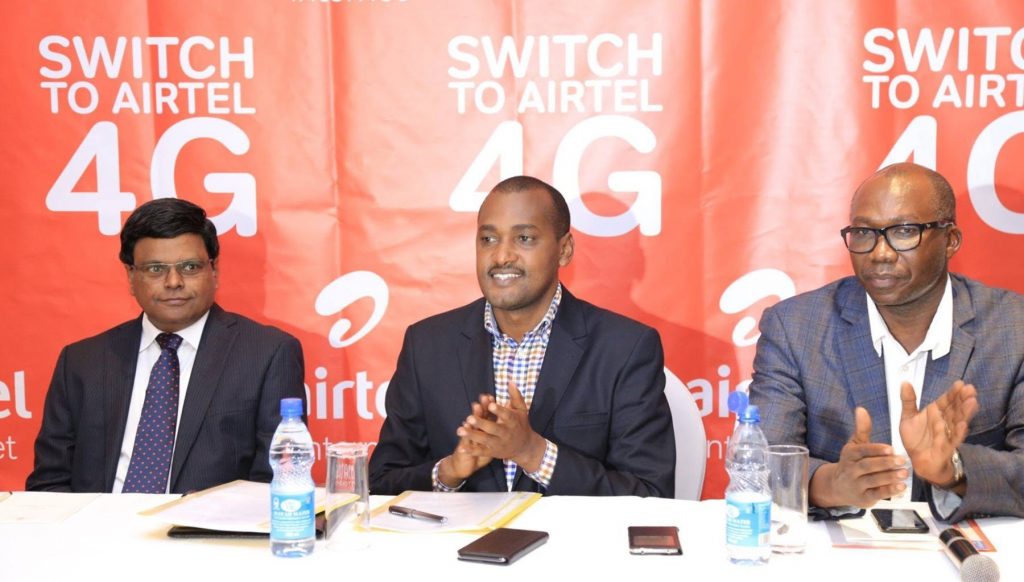 Airtel Uganda, made a profit of UGX338 billion (USD91 million) in 2018, thanks to yet another good year of sales.
A meticulous 4 months research into the financials of the two telecom companies, shows that Airtel's turnover in 2018, grew 5% from UGX1.16 trillion in 2017 to UGX1.21 trillion. Net profit grew much healthier- an impressive 38%- from UGX245 billion to UGX338.1 billion.
MTN Uganda, the leading telecom company in Uganda, at least by turnover, on the other hand registered a 44% growth in profit from UGX152.6 billion in 2017 to UGX220 billion in 2018. Gross turnover grew 8% from UGX1.4 trillion in 2017 to UGX1.6 trillion.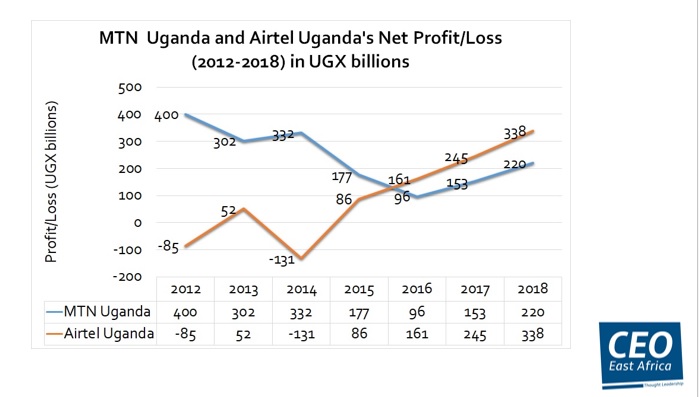 This is the 4th straight profitable year for Airtel Uganda, since they acquired Warid Telecom in 2013. That year (2013) Airtel made perhaps its first profit ever in Uganda of UGX52 billion, but in the following year (2014), that, relapsed to a loss of UGX131.4 billion.
Airtel then bounced back in 2015 with a UGX52 billion profit and hasn't looked back since then. In 2015, the telecom that is 100% owned by India's Bharti Airtel bounced back with a profit of UGX86 billion, then UGX160.1 billion in 2016, UGX245 billion in 2017 and finally UGX338 billion in 2018.
On the other hand, in 2012, just before Airtel acquired Warid, MTN had just posted UGX400.4 billion in profit and this reduced to UGX302 billion in 2013. In 2014 MTN Uganda's profit was 331.6 billion while in 2015, profit went down by 46.7% to UGX176.8 billion and further reduced to UGX96.3 billion in 2016.
In 2017, MTN profit picked up by 58.5% to UGX152.7 billion, reaching UGX219.5 billion in 2018.
The Warid factor
In April 2013, by the time Airtel Uganda acquired Warid Telecom, at a reported USD100m, MTN was the only profit making telecom company. The other 3 players, Airtel, Warid and Orange were all crippled by debts occasioned by years of loss making- giving MTN a big-boy market position.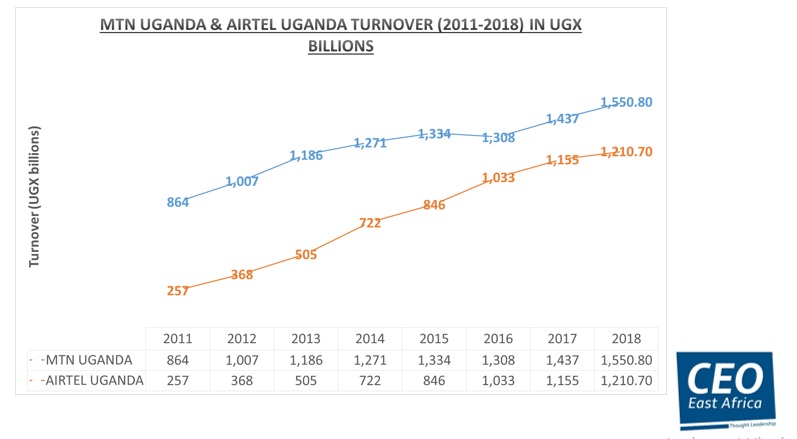 Although the merger between Airtel and Warid did not give Airtel an immediate advantage in sales- MTN's gross sales in 2013, stood at UGX1.2 trillion compared to UGX505 billion for the new Airtel, it is said to have earned Airtel, millions of customers.
It is these numbers that Airtel has leveraged to build a solid business- reducing the turnover gap between itself and MTN from UGX681 billion in 2013 to UGX340 billion at end of 2018- MTN took in UGX1.55 trillion and Airtel UGX1.21 trillion in gross sales at the end of 2018, compared to UGX1.18 trillion vs Airtel's UGX505 billion in 2013 respectively.
Will Airtel Uganda one day, win back the No.1 market position?
Even though MTN remains the market leader- the unmistakable fact is that its growth has slowed down while Airtel's growth is your typical fast and furious.
Comparatively, between 2013 and 2018 MTN's Compound Annual Growth Rate (CAGR) in gross turnover and profit has been 5% and -5% respectively, while Airtel's has been 16% and 37%.
This reporter asked both the MTN CEO Wim Vanhelleputte and the Chairman, Mr Charles Mbiire on what is causing the slow down and what they were doing to re-stimulate growth, but they did not respond in 4 days, despite promises of getting back to us.
An email inquiry to Airtel's CEO Mr V.G Somashekar and the spokesperson, Ms Sumin Namaganda was also not responded to despite an acknowledgement of receipt.
Both companies, however did not contest our figures.