Two years after Sadolin-Plascon paint wars; Plascon emerges nearly unharmed as the new Sadolin struggles to get a grip on the market
Kansai Plascon's USD$126 mn (UGX452.5 bn) of the former Sadolin Paints (Uganda) Limited, Sadolin Paints (Tanzania) Limited and Sadolin Paints (EA) Ltd of Kenya was perhaps one East Africa's biggest acquisitions in 2017. Even bigger, especially in Uganda, was the fight between Akzo Nobel the owners of the Sadolin brand and Kansai Plascon the new operators of the infrastructure and distribution network, left after Akzo Nobel had taken away its Sadolin name.
Two years, after the introduction of Plascon paints to replace the Sadolin brand and the re-launch of Sadolin into the market, CEO East Africa's Muhereza Kyamutetera looks back at the contested takeover and who is winning the share of wallet war.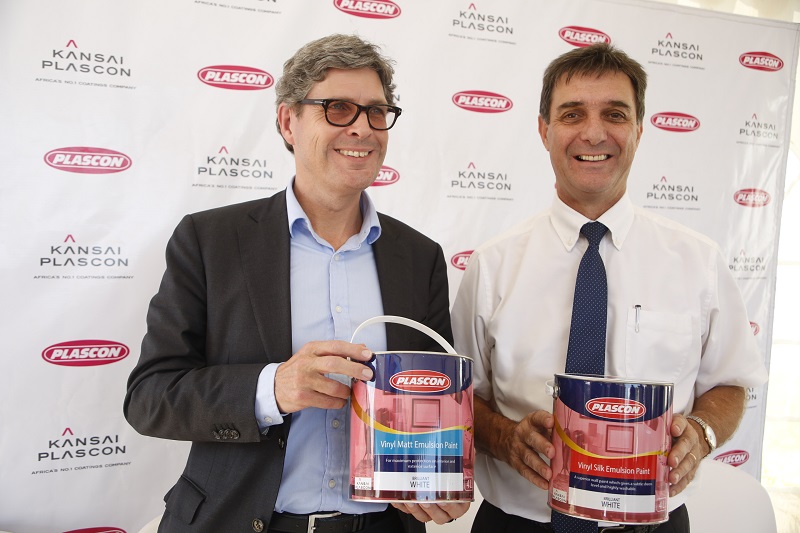 For over 23 years, Sadolin Paints Uganda had been the exclusive manufacturer and distributor of paint under the Sadolin trademark by virtue of a trademark licence with Akzo Nobel Coatings International B.V. the Dutch owners of the Sadolin brand.
The contract was renewed on the 1st of May 2015 till December 2019. Under the agreement, Akzo Nobel was entitled to royalty fees equivalent to 2% of net sales.
However, according to documents seen by CEO East Africa Magazine, around 2016, Akzo Nobel hinted that it planned to increase royalty fees to 5% after 2019 and also rebrand from Sadolin to Dulux- their largest global brand that already had good presence in South Africa.
Sadolin Uganda and their shareholders, who had a franchise to run Kenya, Tanzania, Rwanda, Burundi, South Sudan, Ethiopia, Eastern Democratic Republic of Congo, Somalia and Djibouti were not happy about the rumblings by Akzo Nobel.
There were also other complaints like- Akzo Nobel failing to meet their end of the bargain in especially marketing support.
Then an opportunity came if form of Kansai Plascon- the out-of-Japan paint manufacturer and one of the global top 10 giants- just like Akzo Nobel. Kansai Plascon, as they are largely known- had been in South Africa for some time and was kin on expanding northwards.
To Kansai Plascon, a partnership with Sadolin Uganda owners, who also had operations in Kenya under Sadolin Paints East Africa Limited (SPEAL) and Sadolin (Tanzania) Ltd with ongoing export business to Rwanda, Burundi, South Sudan, Ethiopia, Eastern Democratic Republic of Congo, Somalia and Djibouti was God-sent.
A deal was struck for Kansai Plascon East Africa Proprietary Limited (KPEA) to acquire 100% of Shalvik Investments Limited- registered in Guernsey that owned 85% of Sadolin Paints (Uganda) Limited and 80% of Sadolin Paints (Tanzania) Limited respectively. Along with acquisition of other minority shareholders KPEA, on 1st August 2017, secured 92.5% of Plascon Uganda and 90% of Sadolin Paints (Tanzania) Ltd. The two were immediately renamed Kansai Plascon Uganda Ltd and Kansai Plascon Tanzania Ltd (Respectively).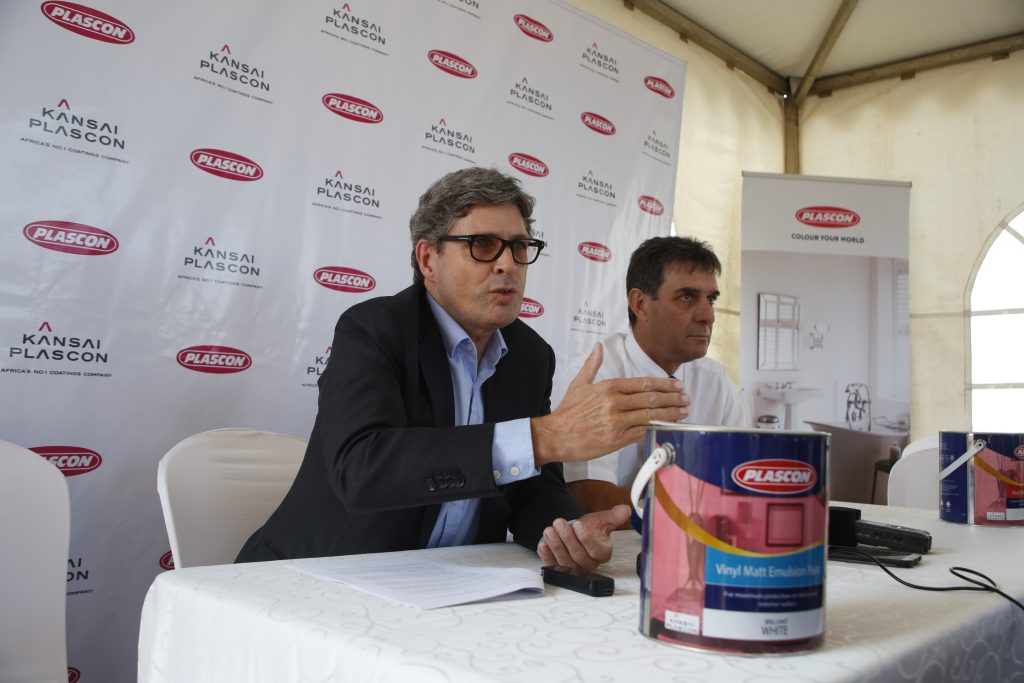 KPEA also acquired 85% of Sadolin Paints (EA) Ltd and renamed it Kansai Plascon (Kenya) Ltd. The company in its 2017 report said it hoped to acquire all the remaining shares so as to acquire a 100% controlling stake in the Group.
According to their 2018 Annual Report, Kansai Plascon agreed to pay USD40.8 mn for the three companies' current assets, USD46m for non-current assets like plants, vehicles and buildings as well as USD83.1 mn as goodwill. Less theliabilities and cash acquired, the final price came to USD$126 mn (UGX452.5 bn).
All payments were made in cash!
The specific amounts for the Uganda acquisition is not mentioned in the report, but according to the East Africa Venture Capital Association (EAVCA) and KPMG Private Equity Sector Survey of East Africa for the period 2017 to 2018, the Ugandan operation being the biggest of the three- was cashed out for an irresistible USD88 mn (UGX316 bn).
But Akzo Nobel had gotten wind of the deal in its infancy stages and had moved to on 31st January, 2017 to serve Sadolin a 12 months' notice to terminate the contract. However on getting knowledge that KansaiPlascon had completed the takeover deal with Sadolin and that they were in advanced stages of ditching Sadolin branded paints even before the expiry of the notice period and were to launch their own Plascon paints brand, Akzo on 2nd June 2017- served Sadolin a 15 day notice to terminate the Trademark Licence Agreement.
Meantime, Akzo Nobel had hatched a master stroke up their sleeves- they were planning, following the termination to use their production facilities in South Africa and Zambia- which operate under the Dulux brand to manufacture and reintroduce into Uganda, Sadolin paint. Their bet, was hedged on the fact that Sadolin as a brand certainly had higher awareness and trust levels, that they would, working with some staff poached from the former Sadolin Uganda, use to penetrate the very same distribution networks that Sadolin Uganda had cultivated and hopefully crowd out Plascon who would no doubt need a little bit more time to gain traction in the market.
You cannot approach Sadolin's former distribution network- Court Tells Akzo Nobel
Somehow, Kansai Plascon managed to learn of this Akzo Nobel plan and went to work- putting their money, literary where their mouth was.
According to their 2018 Annual Report, Kansai Plascon reported spending another USD5.3 mn (UGX19 bn) on various consultants to complete the deal but also smoothen their landing and hit the ground running.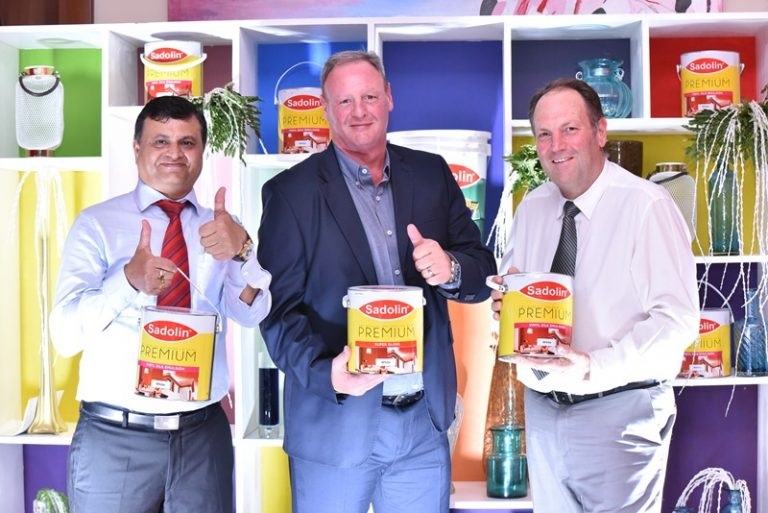 In Uganda, Kansai Plascon hired TBWA Uganda one of the best advertising agencies to handle their market launch. They also hired Corporate Image Limited, a brand and reputation agency to manage both the awareness needs but also any potential image and reputation issues.
On the legal front they hired M/s Muwema & Mugerwa Advocates & Solicitors – a law firm known for their hard-hitting and unconventional approach to the law.
Fred Muwema, the firm's founding and Managing Partner holds over 20 years of extensive experience in Commercial legal practice and litigation. He has handled numerous commercial transactions on mergers and business acquisitions, receiverships, legal audits, company formations and restructures for business ranging from banking, manufacturing and mining etc.
He is also known for handling some of Uganda's major disputes in areas of trade, tax, telecom, broadcasting sector, banking, intellectual property and constitutional law and he didn't disappoint.
Muwema advised Kansai Plascon to sue Akzo Nobel in the commercial court for seeking to unjustly enrich themselves by taking advantage of and grabbing Sadolin's market profile and customer base, once the company ceased trading under the Sadolin brand.
He subsequently dragged Akzo Nobel to court for "actively and aggressively approaching former Sadolin Uganda's (now Kansai Plascon Uganda) customers who have been grown over time, to switch allegiance and continue buying Sadolin products under a new arrangement."
In the case, Miscellaneous Cause No 163 of 2017, Muwema successfully argued that Sadolin Uganda (now Kansai Plascon) had "invested a lot of effort and resources in promoting Sadolin as the number one paint brand in Uganda with little help from Akzo Nobel" and that it was "therefore unfair for Akzo Nobel to take benefit of Kansai Plascon' customers without compensating it."
On 07th July 2017, court granted a 3 months injunction against Akzo Nobel, up to 11th October 2017 upon which the two parties would enter into arbitration proceedings.
"An interim measure of protection doth issue restraining the respondent (Akzo Nobel), its agents, assigns or licensees from: Directly or indirectly soliciting and or selling any Sadolin paint products to the distribution network or customer base developed by the applicant in Uganda under the trademark license agreement of 1st May 2015, between the applicant and the respondent pending a hearing and determination of the arbitration proceedings," reads an extract from the ruling by the commercial court registrar.
With this injunction Kansai Plascon had secured a very important window and did not waste any single minute of it.
After closing the acquisition deal on 1st August 2017, two days later on 3rd August 2017, Kansai organised a press conference at their Namanve factory to announce the acquisition of the former Sadolin Paints Uganda and the rebranding to Kansai Plascon. A few days later they would roll over a nationwide radio, outdoor, online and TV campaign to announce the new brand name.
Sadolin is now Plascon, they told the market. They would also roll over a trade campaign that rewarded several distributors, painters and house owners.
According to audited results for Kansai Plascon Uganda that CEO East Africa has had access to, the company in 2017 alone increased their cost of advertising by 59.1% from UGX4.9bn in 2016 to UGX7.8bn.
How Kansai Plascon managed to stay a step ahead of Akzo Nobel remains a mystery but a clue could lie in the a one, Mr Wim Bramer a senior executive who worked for Akzo Nobel for 11 years as Director International Business Development based in London- but but was involved in branding, distribution footprint, exports, licensing, joint ventures and acquisitions in Europe, Middle East, Africa, Central Asia, Far East and South America.
Mr Bramer had left Akzo Nobel and joined Kansai Plascon as the Managing Director for East Africa in January 2016.
Akzo Nobel revises plan, relaunches under Regal Paints
Paint companies- like all other construction supplies manufacturers, use the same distribution channels- hardware outlets and duukas. So it is not uncommon to find one hardware shop, stocking products, in this case, paint from over 15 paint makers.
So, thwarted by Kansai Plascon's legal manoeuvre, Akzo Nobel, decided they would instead pick an existing company to manufacture and distribute their Sadolin brand. An existing company would after all already be using the same distribution channels as any other paint maker. With this strategy, they could still ride on the popularity of their Sadolin name.
Akso Nobel couldn't find a better partner than Crown Paints East Africa, to manufacture and sell their Sadolin paint in East Africa.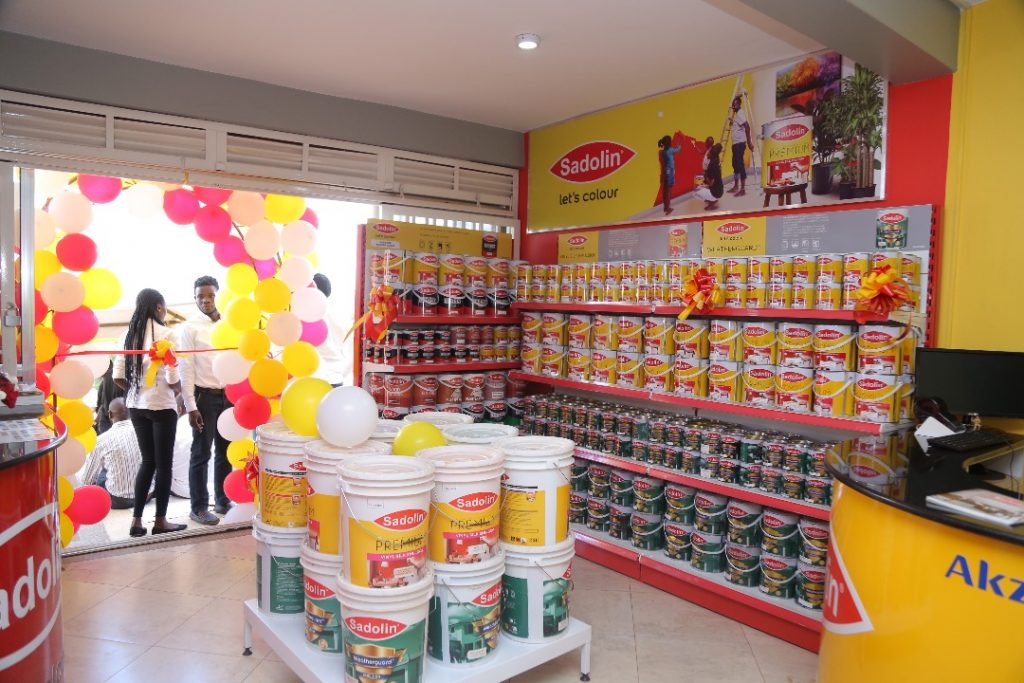 The company had been operating in East Africa since in 1958 and in Uganda since 2006- under Regal Painnts- a company they own 100%. In Kenya, Crown Paints is said to be a market with an annual turnover of about KShs7.4bn (UGX260.4bn) in 2017 and is the only paint company listed in the Nairobi Securities Exchange. The Company also has presence in the three major East African markets- Kenya, Uganda and Tanzania.
In Uganda, Regal Paints, is among the top 10 paint brands with an already established distribution network across the country.
However, Crown Paints was a little bit cash strapped to fund the quick regional rollout of Sadolin products, but Akzo Nobel, desperate to make this deal work, had to lend an equivalent of KShs136,380,000 (UGX4.9 billion) to Crown Paints Tanzania Limited and KShs41,616,000 (UGX1.5bn) to Crown Paints Rwanda Limited as working capital- all because then needed to keep the Sadolin brand alive and present in every corner of the region.
With the deal, done and dusted, on September 28, 2017, Johann Smidt and Deon Nieuwoudt the Managing Director and Africa Executive respectively, at South Africa's ICI Dulux Pty Ltd- a subsidiary of Akzo Nobel and Rakesh Rao the Crown Paints East Africa Group CEO put up a powerful relaunch of Sadolin at Kampala's Sheraton Hotel, complete, with pomp and sabre-rattling.
Johann, according to The Independent, a weekly news magazine in Kampala, said that Akzo Nobel was putting up their own UGX10bn plant at Regal Paints' Kampala Industrial and Business Park, Namanve compound to produce Sadolin Paint for local and regional markets.
"Our Sadolin plant in the KIBP now under construction will be the primary site for manufacturing and distribution of Sadolin," he told stakeholders and the media.
Rakesh Rao, on his part said that the partnership signalled a strong statement on Akzo Nobel's investments and continuity of the Sadolin brand in Uganda and the region.
"Sadolin brand has been a household name for many years," he said, adding that the firm would sell its own Regal Paint products besides Sadolin Paints in the market.
Sadolin strategy yet to bear fruits
But how much of this Akzo Nobel/Sadolin strategy has succeeded?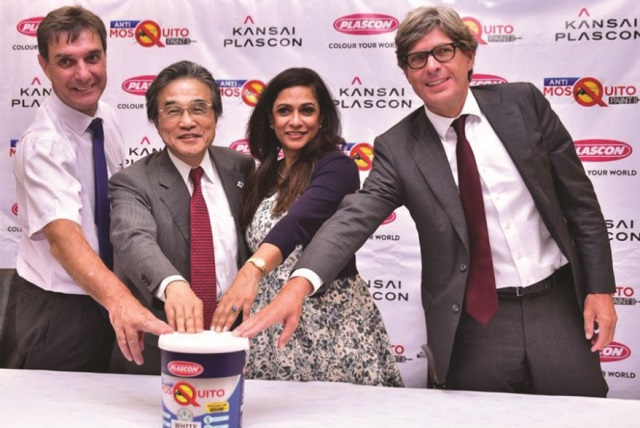 To track how and if the Akzo Nobel/Sadolin strategy has succeeded in disrupting Kansai Plascon, we looked for Regal Paints's financials to gauge the performance of the business before and after the October 2017 Sadolin partnership.
According to the financials for Regal Paints that CEO East Africa Magazine has had access to, between 2015 and 2016, Regal Paints' sales turnover declined by a minor 2% from UGX15.1 bn in 2015 to UGX14.8bn in 2016. However, even with the declining sales, Regal Paints managed to reduce their losses from UGX1.1bn in 2015 to UGX500mn in 2016.
But in 2017, Regal Paints turnover, rebounded by 14.86% from UGX14.8bn to UGX17bn- perhaps partly driven by the Sadolin portfolio. Regal Paints even declared a UGX100 mn profit that year.
2018 would have been the year when Sadolin's full impact would be felt- but Regal Paints' turnover, only grew by 8.82% to UGX18.5bn. The company also registered losses of UGX2.9 bn.
However, thanks to what is believed to be an Akzo Nobel's investment and increased stock in the market, Regal Paints' assets, doubled from UGX3.2bn in 2017 to UGX7.1bn- particularly, the value of plant and machinery grew from UGX2.6bn to UGX6.3bn a sign that perhaps Akzo Nobel was delivering on their investments into Regal Paints' operations so as to fortify them against a raging Kansai Plascon.
Kansai Plascon progresses, largely unharmed
For Kansai Plascon Uganda, it appears they have maintained their previous growth levels with little or no visible impact as a result of Sadolin's re-entry into the market.
According to their audited books, sales turnover for Kansai Plascon (then Sadolin Uganda) in 2016, grew by 3.9% from UGX146.6bn in 2015 to UGX152.3bn in 2016. That year, profits, grew by 60.8% from UGX16.6bn in 2015 to UGX26.7bn.
In 2017, Kansai Plascon grew slightly faster that in 2016- turnover improved by 4.6% from UGX152.5bn to UGX159.3bn. However the cost transiting from Sadolin to Plascon, took a toll on profitability.
According to information available to us, in 2017 total operating expenses nearly doubled, growing by 92.3% from UGX5.2bn in 2016 to UGX10bn in 2017. This was largely driven by a 59.1% rise in the cost of advertising from UGX4.9bn to UGX7.8bn. Administration expenses also shot up by 112.5% from UGX4.8bn to UGX10.2bn.
Consequently, 2017 saw a 69% dip in profitability to UGX8.3bn, from UGX16.6bn.
In 2018, turnover further grew by 4.7%, reaching UGX166.8bn. However, expenses remained high- operating costs, although they eased down by 15% to UGX8.5bn, driven by a 28.2% reduction in the advertising bill to UGX5.6bn, administration costs further went up by 10.5% from UGX10.2bn to UGX11.4bn.
But the company still remained profitable- although there was a slight 3.6% reduction in profit to UGX8bn compared to the previous year.
Two years down the road, all odds seem to be in favour of Kansai Plascon; it remains to be seen how 2019 will pan out- but it is less likely that Akzo Nobel (Sadolin/Regal Paints) can cover up the huge gap between itself and its archival.
EXECUTIVE APPOINTMENT: Post Bank Uganda appoints Julius Kakeeto as M.D replacing Steven Mukweli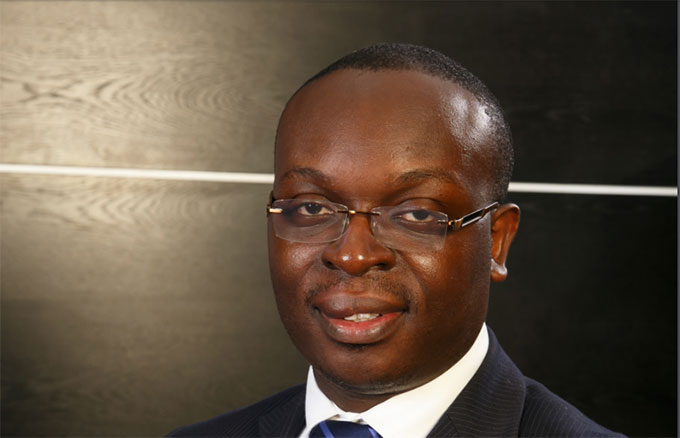 Post Bank Uganda Limited has appointed Mr Julius Kakeeto as the bank's new Managing Director.
He replaces Stephen Mukweli who has served in this role for the last 15 years.
Mr Kakeeto has a wealth of banking experience spanning over 19 years in Uganda and the United Kingdom.
He started his career with Ernst and Young before joining Citibank where he served in various capacities.
After Citibank, he joined Equity Bank Uganda as a Finance Director before joining Orient Bank.
His most recent assignment has been Managing Director/CEO of Orient Bank for the last 4 and a half years.
Mr Kakeeto is a fellow of the Association of Chartered Certified Accountants (FCCA), a member of the Institue of Certified Public Accountants of Uganda and an alumni of Manchester Business School in the United Kingdom (UK) where he obtained an MBA.
PostBank Uganda is ranked in fourth position in financial inclusion with a network of 43 branches and 12 mobile banking vans serving several customers countrywide.
The bank is looking forward to it's next chapter that is aimed at promotion to a Tier 1 financial institution.
PostBank Uganda Limited was established in 1997.
It is fully government owned with over 2 million clients.
Post Bank is audited by Ernest & Young.
Adman, Colin Asiimwe bounces back to Uganda as MultiChoice Uganda Head of Marketing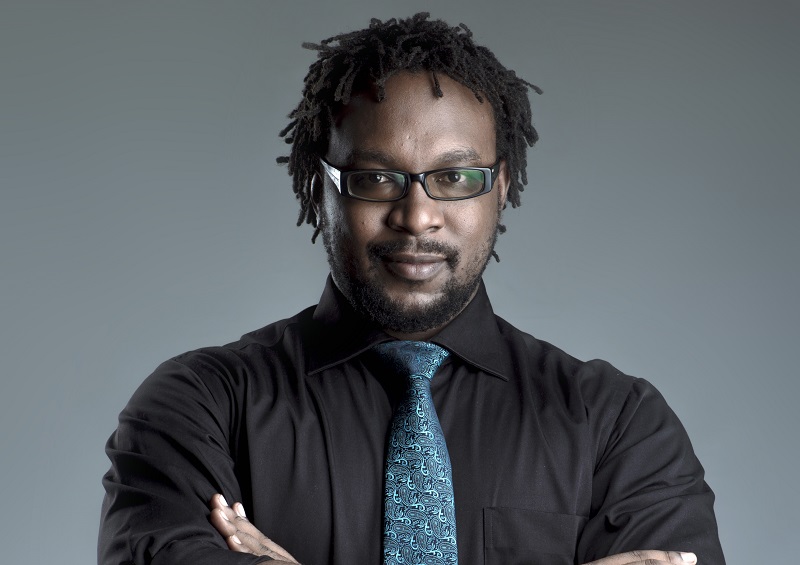 PayTV Company, MultiChoice Uganda, has chosen advertising guru, Colin Asiimwe as their new Head of Marketing.
Mr. Asiimwe started work at the Kololo-based company 1st November 2019.
He will be in charge of both the Dstv and Gotv brands. He joins MultiChoice Uganda from Creative VMLY&R, an integrated marketing agency in Kenya where he was the Head of Strategy and Planning.
Born and bred in Uganda, between November 2011 and November 2012, he was the Account Director at WPP ScanGroup's Uganda unit before heading to QG Group Uganda (Saatchi & Saatchi) as Client Services Director between November 2012- October 2014. He then became the Uganda Country Manager for Tonic International (a creative advertising & branding agency out of Dubai) for a year.
Between January 2016 and July 2018 he worked at Metropolitan Republic first as Head of Strategy and then later as Head of Strategy and Digital. While at Metropolitan Republic, he was instrumental in the relaunch of Uganda Waragi and Bell Lager rebranding amongst other brands.
In July 2018 he left for Nairobi to take on the role of Head of Strategy & Planning at Creative VMLY&R.
From branding and communications to bringing innovative new to world ideas to life, Mr. Asiimwe has worked across the East African region with various multinationals and local entities at both operational and management levels to successfully deliver communication and business strategies across multiple categories- FMCG, social and behaviour change communication, financial services and public sector.
A battle-hardened general, he brings rigour, leadership and strong project management skills to MultiChoice Uganda.
Asiimwe is the second senior executive to be hired by MultiChoice this H2 2019. Just this August, MultiChoice got a new Managing Director- Mr. Hassan Saleh, previously the GM Sales & Distribution for MTN Sudan and before that, the Chief Officer, Sales & Distribution at Vodacom Tanzania. Mr. Saleh replaced Mr. Charles Hamya, the company's long time General Manager, who retired early this year.
The number of PayTv subscribers, according to Uganda Communications Commission, grew by 83% from 1.2 million active subscribers in January 2018 to 2.2 million in December 2018. There are eight (8) licensed PayTv providers in Uganda.
Asiimwe holds a Bachelor of Mass Communication degree from Makerere University and has a hands-on background in journalism and public relations.
A keen enthusiast of the digital economy and hobbyist photographer, Asiimwe says he is motivated by the idea of constant motion- "the idea that when we don't give up, we control our outcomes in an otherwise capricious world."
He says he lives this philosophy through the daily expression of "the Beast Mode" exemplified by his personal motto "Orbis non Sufficit" – the world is not enough.
LUXURY IN THE WILD: Uganda's 25 most luxurious safari lodges you must visit before you die!
.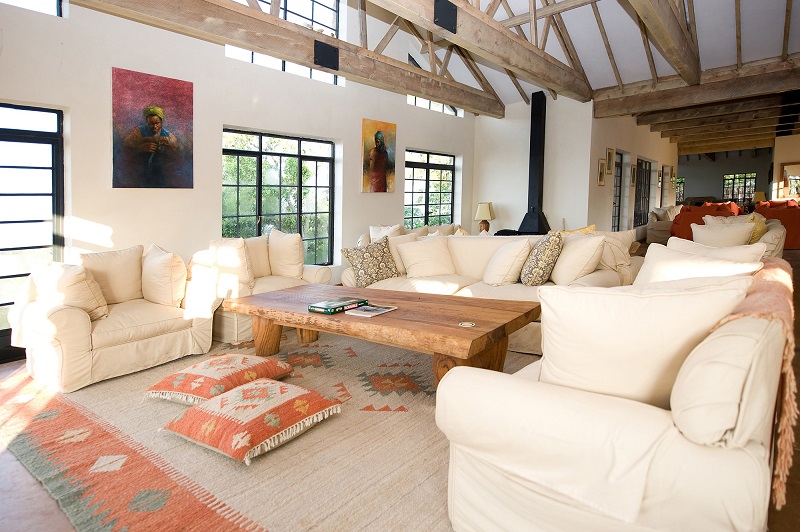 Uganda is no doubt the Pearl of Africa!
Sir Winston Churchill, trying to qualify this famous statement, said that Uganda is the place to go "for magnificence, for variety of form and colour, for profusion of brilliant life – bird, insect, reptile, and beast – for vast scale."
Probably, if Churchill was still alive, and were to return today, he would add: "for sheer luxury in the wild – and a little bit of party after party!"
As we head into the Festive Season, our team, building on their own experiences, did extensive consultations with tour and travel experts as well as consulted online travel and hospitality platforms such as TripAdvisor and other user reviews and compiled what we think is Uganda's 25 most luxurious safari lodges.
The lodges are not necessarily presented in any ranked order, as each of them has some uniqueness and allure, probably unique to it only. So to avoid the biases, we have presented them in an alphabetical order.
Behold, Uganda's 25 most luxurious safari lodges!
---
1 of 25: Apoka Safari Lodge
Kidepo Valley National Park
---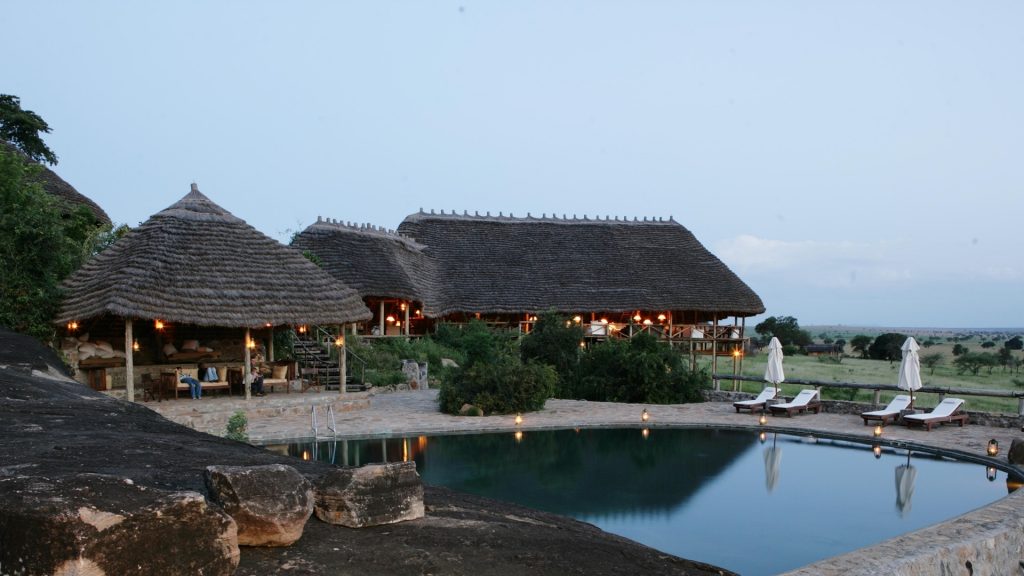 When you close your eyes and think of Africa; the landscape you imagine – the jagged hills, the golden grasses, the plains dotted with wildlife, the soft glowing light – is likely to be Kidepo Valley National Park.
This is Uganda's remotest park, far far away from city life. It is the place you go to literally run away from the madness of the city.
And if you are looking for a little luxury in the wild, Apoka Safari Lodge the place for you. To get there, you have to brace tour self for up to 10 hours on the road via the Kampala Gulu highway. There are also chartered flights to Kidepo from Kajjansi Airstrip (Kampala), Entebbe Eagle Aviation and with Kampala Aero Club to Lomej airstrip near Apoka. The flight take 2 hours.
Apoka is one of the high end safari lodges in the park. It overlooks the Narus river valley one of the two river systems in the part. When the park dries up in the dry season, most of the animals flock to the wetlands and remnant pools along the Narus valley, increasing chances of visitors taking in as many animals as there are in the park.
It has 10 bedrooms that each have a spacious sitting room, tropical showers, sheltered terraces, private verandas and stone bath tubs on their outside. The rooms have the touch of Africa with just their architecture, hand woven carpets and the art pieces that are hang on the walls of the room. As much as Apoka is in the wilderness, they try as much as possible to ensure that their guests stay with the comfort they experience when they are in the city.
Apoka safari lodge also has a restaurant that serves a variety of dishes from continental to African. The restaurant also serves different wines and beers to their guests. They also have a magnificent pool that automatically gives you the urge to jump into it when you look at it.
The owners of the Apoka Lodge- Wildplaces Africa, who pride themselves in providing "the finest accommodation in Uganda's wildest places," also own Semliki Safari Lodge in the Semliki Valley Wildlife Reserve and Clouds Mountain Gorilla Lodge next to the famous Bwindi Impenetrable Forest National Park.
To make reservations simply call +256 (0) 414 251 182 or +256 (0) 772 489 497. You can also send and email to reservations@wildplacesafrica.comWildplaces Africa or even better make your booking on Trip advisor.
---
2 of 25: Baker's Lodge
Murchison Falls National Park
---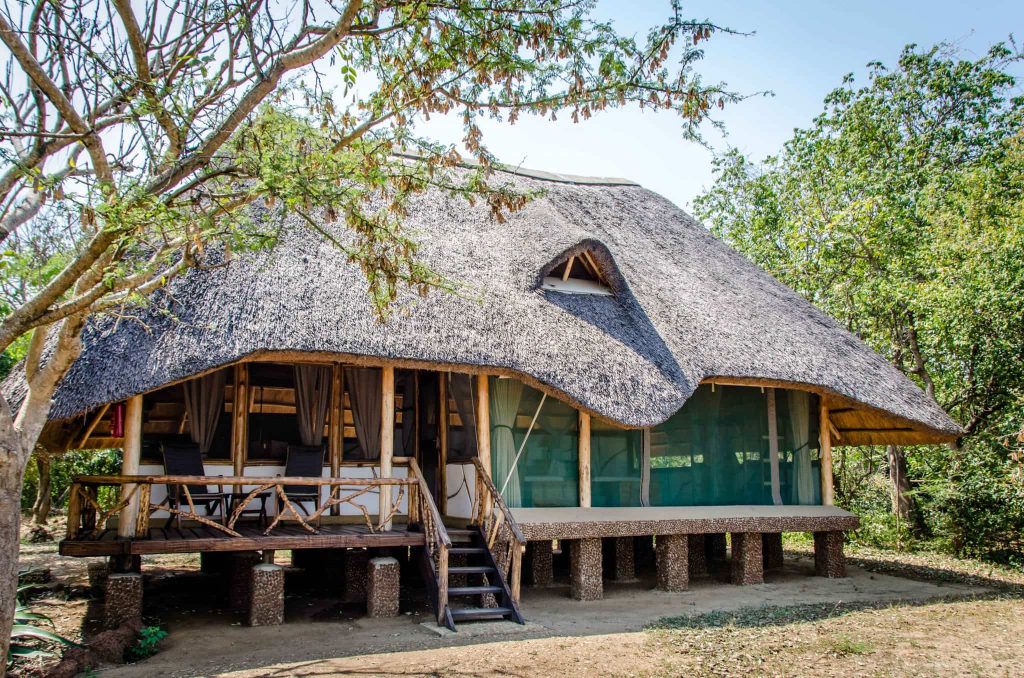 Opened in 2015, by Wild Frontiers Ltd, in Murchison Falls National Park, on the southern bank of the mighty Nile River, Baker's Lodge is named after the English explorer Sir Samuel Baker – the first European to view and name the Murchison Falls
Under their Exclusive Camps mother brand, Wild Frontiers runs three other camps, namely; Ishasha Wilderness Camp, Buhoma Lodge and Platinum Camp
Baker's Lodge rests amongst large shady trees fading into a wetland vegetation. This cozy, safari-styled lodge offers vast and magnificent views of the river with its small islands teaming with birds, elephants bathing and pods of hippos.
This lodge is a 5 hours' drive from Kampala via Kampala-Masindi route. It is found on the shores of the tranquil waters of the river Nile within the Murchison falls national park.
Bakers' lodge has 10 suites that are individually thatched and raised from the ground on supporting pillars and each has a deck overlooking the river. The suites have customized wooden furniture, en-suite bathrooms with hot water showers and bath tubs in some units.
With a thatched central lounge, dining and bar area, and a refreshing swimming pool, the eco-friendly lodge offers an 'Africa of old' feel. The main lounge has 180-degree views of the river and the cool and refreshing breezes that come with it.
The rates for the rooms are full board and therefore include 3 multiple course meals per day, hot beverages all day, bar snacks, house drinks and other camp services.
The lodge has on-site vehicles that can be used for safari drives in the national park. Guests can also have a boat ride on the River Nile arranged for them.
We recommend a stay of between two to four nights as this varied eco-system offers so much to see and do.
Contact the team at Bakers Safari lodge by sending and email to reservations@ugandaexclusivecamps.com. You can also call them on +256 772 721 155 to make your reservation.
---
3 of 25: Brovad Sands Lodge
Kalangala District, Ssese Islands
---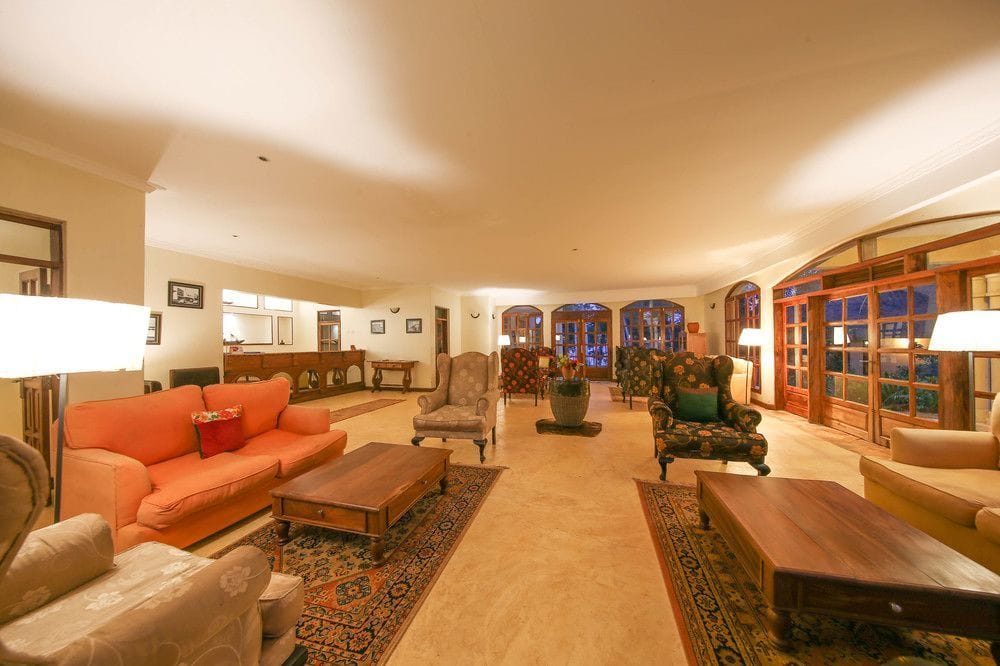 Probably the best lodge on any of the 83 islands of Lake Victoria, Brovad Sands Lodge is neatly and secretly nestled in fully grown natural forests of Bugala Island- the second biggest of all Lake Victoria islands.
With direct access to the lake and with shores all lined up with sandy beaches, Brovad is a perfect escape destination for a blissful beach holiday, in an inviting, cozy and relaxing atmosphere.
Perhaps the appeal of Brovad lies in being so near to Kampala- it takes on average about 3-4 hours to the island, yet very far, because of the limited interconnectivity to the island, allowing you to enjoy an uninterrupted rest.
The MV Kalangala ferry operates a daily route from Nakiwogo Landing Site, Entebbe every 2pm and a return journey every morning at 08am- a journey of about 3 hours. Alternatively, you can use the MV Vanessa, a private boat that charges about UGX85,000 per head for a 1 hour and 15 minutes ride to the island- ideal if you do not have a lot of luggage.
There is also a second ferry option, through Masaka, Bukakata where there are more ferry crossings, almost every hour. The ferry options are ideal if you would like go along with a vehicle. But even without a vehicle, Brovad operates pick-ups from the ferry.
The lodge has 40 cottages – a mix of suites, cottages and family villas- all finished with an African touch and with a rustic coastal feel. There are spacious walk-in showers and full body bath tubs for a more relaxed dip.
The lodge sits on the shores of Lake Victoria so guests get to enjoy the sandy beaches as well as the spectacular views and a breath of fresh air from the lake. Every evening, there are campfires by the lakeside to warm the guests.
On top of the swimming pool, Brovad has a steam and sauna, spa, also a conference hall where corporate events can be held.
Reservations for Brovad can be made on Trip advisor, Booking.com. You can also physically visit their office at Communication house, Kampala Ground floor shop number 4.
---
4 of 25: Buhoma Lodge
Bwindi Impenetrable Forest
---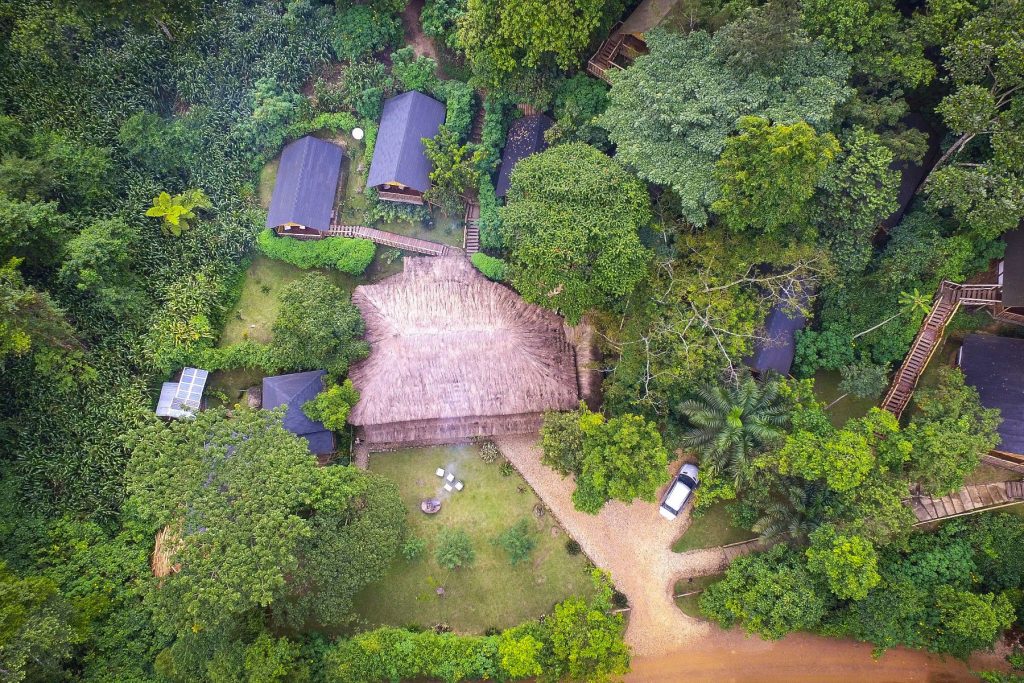 "A slice of luxury at the doorstep of Bwindi Impenetrable Forest," that is how the owners of Buhoma describe this top quality and intimate property that commands spectacular and uninterrupted views of the Bwindi Impenetrable Forest National Park, home to the rare and elusive Mountain Gorilla.
Located, a short distance from the starting point for gorilla tracking, this lodge is certainly a must-visit whether for gorilla tracking or simply a wild-wild getaway.
Buhoma has ten, largely wooden chalets mostly handcrafted with locally sourced building materials like thatches, reeds and bamboo and stones. Each of the chalets opens to private verandas with extensive views of the green canopy beyond the horizon.
The large beds inside the spacious rooms with roomy en-suite bathrooms with flush toilet and a warm rain shower bathrooms will for a minute make you forget you are in the wild, hundreds of kilometers away from the city centre. Some chalets also offer a bath-tub for just a little bit more spoiling and your money's worth. The family / honeymoon chalet is a little bit more embellished with a separate lounge room with an open fire place, to set the hearts on fire.
For reservations, CLICK HERE and fill in the form or simply call +256 772 721 155
---
5 of 25: Chobe Safari Lodge
Murchison Falls National Park
---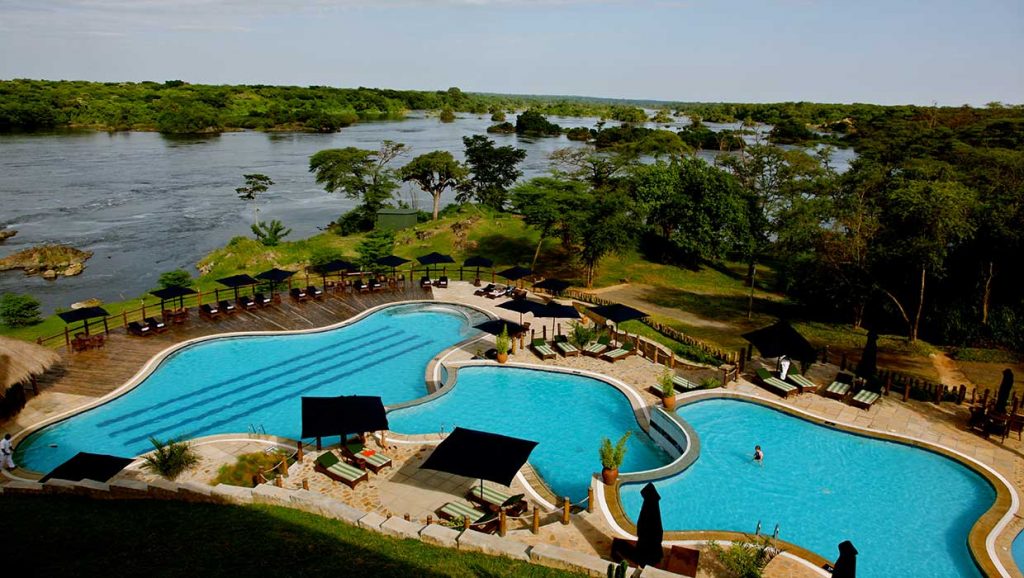 Another of those gems, owned by the Marasa Africa, Chobe Safari lodge is also found in the famous Murchison Falls National Park. This five-star lodge is one of the biggest gems in Uganda's tourism industry. It has hosted popular Hollywood stars Kim Kardarshian and Kanye West during their visit to Uganda.
It is a three and a half hour's drive from Kawempe (Kampala), along Kampala Gulu highway and after a cool 248km, past the Karuma Bridge, you branch off at the sign post and drive for about 14km to the lodge.
Alternatively, you can travel by air from Entebbe airstrip to Chobe Airstrip which is within the lodge for just an hour.
Chobe has 26 elegant rooms, 21 luxury tents, 4 suites and one presidential cottage. The River Nile is the most breath-taking feature at Chobe so all the rooms have balconies that have a view of the river.
The pool at Chobe is one of the most extra ordinary features of the lodge. It has 3 tiers with each overlooking the River Nile. It is idle to cool of in the pool as you watch the sunset and the Nile flow on its journey.
Chobe also has a restaurant and bar that serve international and African cuisines and drinks respectively. It also has a business centre, gift shop and room for corporate events.
Because Chobe is situated in a park with a variety of mammals and bird species, there are a variety of things you can do. You can fish, have game drives, visit the Murchison falls, hike, have bush breakfast among many other activities.
To make a reservation at one of Uganda's tourism gems, go to tripadvisor.com or simply call +256 372 259300 .
---
6 of 25: Clouds Mountain Gorilla Lodge
Bwindi Impenetrable National Park
---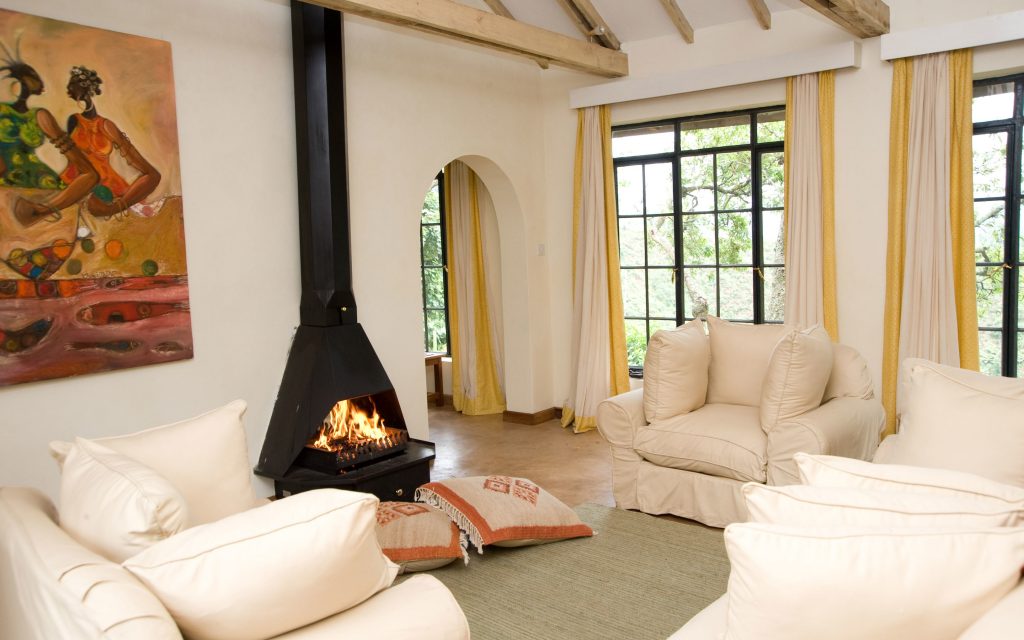 Clouds Mountain Gorilla Lodge, is probably one of those reasons the word remote begins to make a lot of sense.
But the lodge is also beautiful and located just in the right place- on the outskirts of Bwindi Impenetrable National Park; far enough from the city, yet so near to one of the world's most prized tourism assets- the mountain gorilla.
And at over 2,000 metres above sea level, it is also Uganda's highest lodge.
The owners of the lodge, Wild Places Africa are so much in love with their lodge that we chose to use their own words, to describe it.
"Guests at Clouds stay in their own cottage. Built of local volcanic stone, every cottage has a large sitting room with fireplace, vast overstuffed armchairs, and hand-woven carpets. Each individual cottage features the work of one of Uganda's most respected artists (we call them the 'Clouds 9')," write the owners on the lodge's website.
"The main lodge feels like someplace else – soaring ceilings, massive exposed wooden beams, big picture windows with endless views of treetops, volcanoes and mountains. It feels like a ski chalet in the alps. Or a stone palace in the Rocky Mountains," they add.
And we agree with them.
For those crazy about road trips, this is just the perfect trip for you- 9 hours' drive from Kampala using the Kampala-Mbarara-Kabale road. But you can shorten the trip by flying there to the nearest Kihiihi Airstrip.
And when you spend your money here, be rest assured that you are spending it on a good cause- because some of it goes to benefit local communities.
Reservations for Clouds Mountain Gorilla lodge can be made by visiting the physical office for Wildplaces Africa at Plot 5, Binayomba Rd in Bugolobi Kampala. You can also contact Wildplaces Africa by calling +256 (0) 772 489 497.
---
7 of 25: Crater Safari Lodge
Kibale Forest National Park
---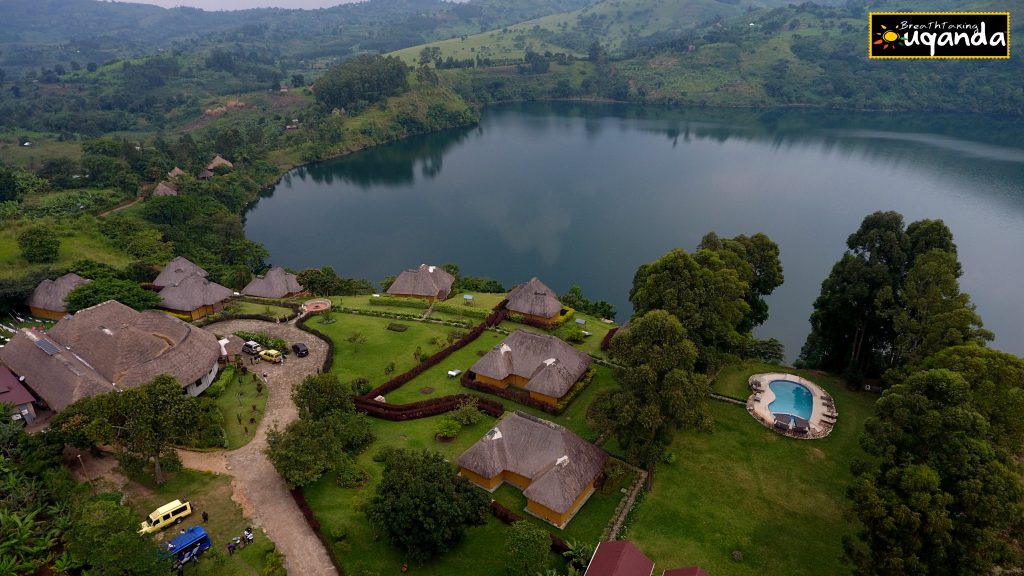 Recognized as a top Luxury Eco Safari Lodge in East Africa by The World Luxury Hotel Awards for 2018 and 2019, Crater Safari Lodge is an undiscovered gem.
Set, just a couple of minutes from the famous Kibale Forest National Park, on the cliff edge of Nyinabulitwa Crater Lake, Crater Safari Lodge is a combination of luxury set amidst panoramic landscapes- just the ideal location for a tranquil escape.
But for the adventurous nature lovers, Crater Safari Lodge's setting; just next to Bigodi Wetland Sanctuary, Kibale Forest National Park, famous for its flora and fauna, especially the primate life as well as the nearby 9 crater lakes- there is simply too much to take in.
But Whatever you do, do not leave Crater Safari Lodge without taking the Top of the World Hike to the nearby highest vantage point to take in the crater lakes, tea plantations and village life.
The lodge is run under the Crystal Lodges umbrella, owned and run by a Ugandan, Christine Mwinike, the founder and proprietor of Crystal Safaris. The group also owns and runs Gorilla Safari Lodge on the outskirts of Bwindi Impenetrable Forest, famous for Gorillas.
Accommodation comes in two configurations- either 11 thatched stand-alone wooden cabins/cottages and 10 standard pool facing cabanas- all touched with a mix of African décor tinctured with modernity.
When the temperatures go up, there's a swimming pool to cool off and when temperatures get down, there is always a fire to warm the spirits.
Through Crystal Safaris, Guests can also arrange for tailor made safaris including flight packages, accommodation and transportation to and from nearby airstrips and activities.
For reservations, visit https://crystallodgesuganda.com/contact-us
---
8 of 25: Elephant Plains Game Lodge
Queen Elizabeth National Park
---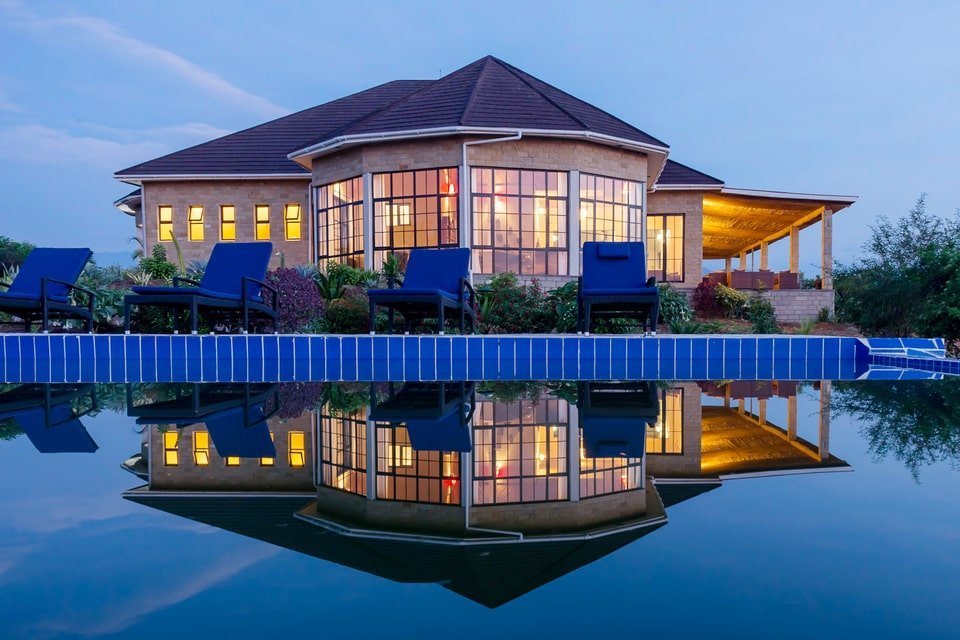 The latest of the Uganda Lodges babies, Elephant Plains is one of Uganda's newest lodges that is located in Queen Elizabeth National Park in Western Uganda. It is
Sitted on the Northside edge of Queen Elizabeth National Park, at 941 metres above sea level; on the western escarpment of the Albertine rift valley- just a few minutes on the norther flanks of the Equator line, Elephant Plains is a medley of many good things.
The lodge is a 6 and a half hours' drive from Kampala using Kampala-Masaka-Mbarara-Kasese road and just 2 minutes from the Queen Elizabeth National Park gate.
Elephant plains has 6 spacious double en-suite cottages with large private verandas and huge glass for guests to have a view of the lake from the comfort of their rooms. It also has 2 family cottages with 2 en-suite bedrooms and these have space for up to 5 people. All the rooms have large bath tubs, walk-in showers.
All the rooms overlook Lake Kikorongo with stunning views and occasional sightings of animals, especially elephants.
The lodge has a spacious restaurant with an outside dining deck with 270º views of the landscape. The restaurant serves an international menu coupled with a well-stocked bar that serves a variety of drinks for guests as they enjoy the views.
Reservations can be made on Trip Advisor and Booking.com.
---
9 of 25: Emburara Farm Lodge
Mbarara-Ibanda Road, Mbarara District
---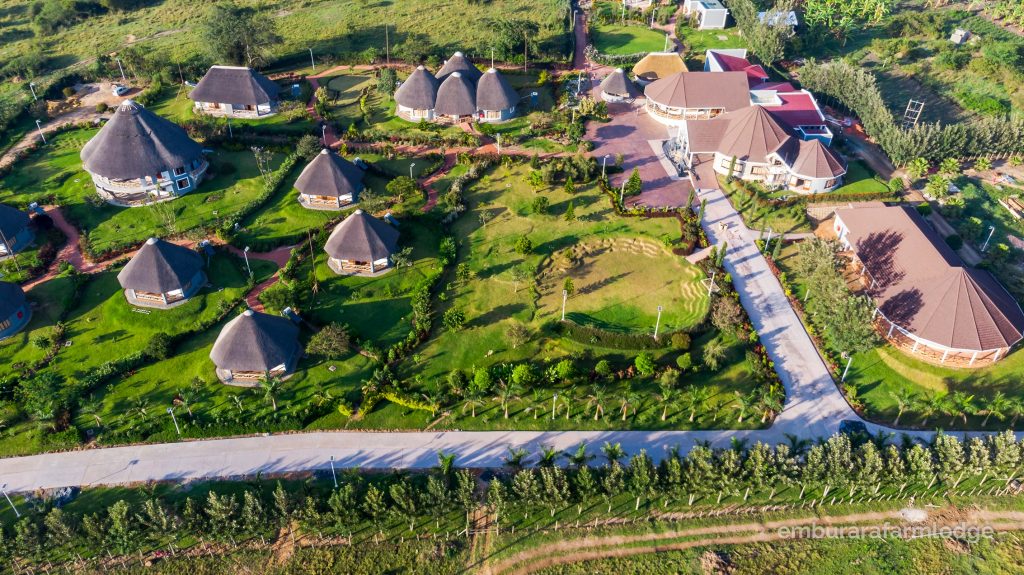 Emburara is an eco-luxury lodge, neatly perched on a hill, just 14 kms away from Mbarara city center, at a cattle farm along Mbarara-Ibanda road, just 1.5km after the Civil Aviation Authority (CAA) run Nyakisharara airstrip to your left.
For the uninitiated, an eco-lodge is a hospitality facility designed to have the minimum possible impact on the natural environment in which it is situated.
Emburara derives its name from a local tall grass- Emburara (Hyperemia ruffa); a 'delicacy' for Ankole cows & famous 4 boosting milk fat content. It is also said that Mbarara district where the lodge is located, also picks its name from this grass.
A story is told of when the first colonialists came to Ankole, they were awed by the beauty of this grass that straddled the hills and valleys of the place. The British colonialists asked the local people what the grass was called and they were told it is Emburara. As expected, the white man could not pronounce the word Emburara correctly and ended up mispronouncing it as Mbarara. The mispronounced word "Mbarara", would end up in all the written literature- remember the locals did not know how to write then, and like they say, the rest is history.
Emburara Farm Lodge is uniquely designed, built, finished and furnished with a tasteful mixture of traditional and modern materials- giving off an aura of class and culture.
In total, there are 27 mixed-use spacious rooms- VVIP rooms (nyaruju), honeymoon suite (ekitu) 9 in 1 deluxe rooms (enju), 5-in 1 family cottages (eka), 2 in 1 blocks, 2 in 1 cottages and some single cottages.
There is a modern kitchen and restaurant called egabo (runyankore for food) that serves both local and Intercontinental cuisines. The aptly named inzoga bar (Kinyarwanda word for beer pot) bar is both tastefully finished and fully stocked to quench all types of thirst (emphasis mine)!
Emburara also has conference facilities, a business centre and free Wi-Fi, amongst other facilities.
Away from the luxurious finishing, Emburara has it all- the breath-taking views- rolling hills, countryside farms, flora & fauna- it is basically a fresh breath of air.
Emburara is basically perfect for either individual and or group getaways, family vacations or honey moons, as well as educational tours.
To stay in one of Western Uganda's pride lodges, you can make reservations on booking.com, tripadvisor.com, and expedia.com
---
10 of 25: Ishasha Wilderness Camp
Queen Elizabeth National Park
---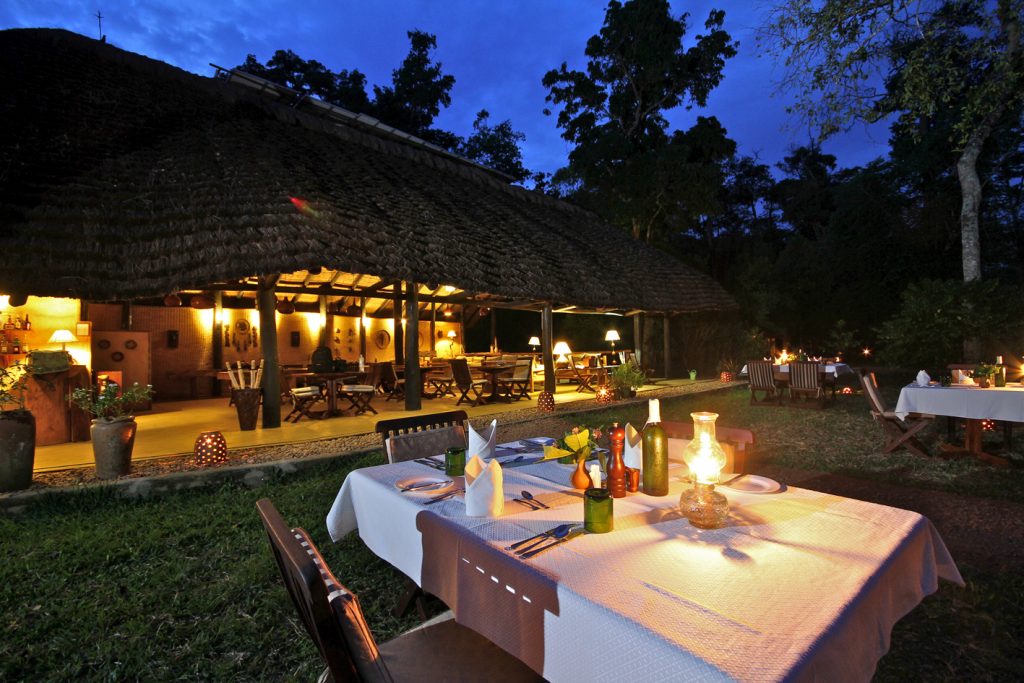 Another Wild Frontiers property, Ishasha Wilderness Camp is an idyllic retreat for people who truly enjoy the wilderness. This intimate camp has been awarded a TripAdvisor Certificate of Excellence for its superb quality accommodation and exceptional service. It is very popular for the tree climbing lions in the park.
It is located in the Southern Ishasha sector of Queen Elizabeth National Park which is a 7 and a half hours' drive from Kampala.
Set next to the Ntungwe River, each of the camp's ten spacious canvas tented rooms has a private verandah overlooking the river. Comfortably furnished with large mosquito-netted beds, all rooms are en suite with hot 'bush' showers, running water for hand basins and a flushing 'eco-friendly' toilet.
The thatched central lounge and dining area provides a comfortable setting for meals and relaxation. In the evening, the outdoor fireplace offers a perfect place for guests to relax with sundowners and share their day's experiences.
Being within the park, as you drive to the camp, guests often get bonus views of the animals such as elephants bathing in the river, buffalos grazing and the resident troops of Black-and-White Colobus and vervet monkeys playing about.
If you are lucky, George, the lone hippo, can also be seen within the camp premises. There is attentive security staff always on standby to escort and assist guests, should they feel the wildlife is too close!
Bush breakfasts and sundowners within the park complete the 'bush' experience offered at Ishasha Wilderness Camp.
Reservations can be made on both trip advisor and booking.com. You can also contact the team by calling +256 772 721 155 to make a reservation.
---
11 of 25: Kyambura Gorge Lodge
Kyambura Gorge, Rubirizi District
---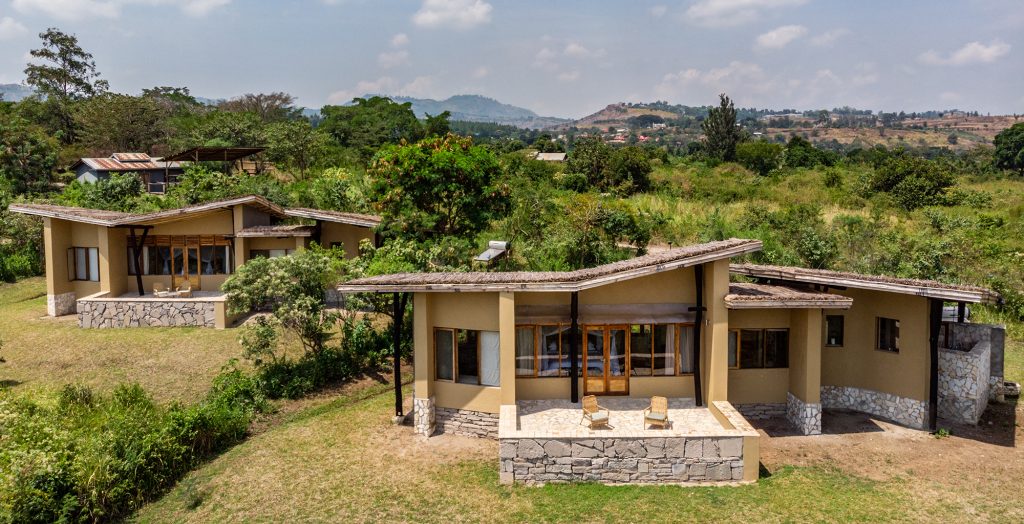 Kyambura Gorge lodge is located in Queen Elizabeth National Park and overlooks the Kyambura gorge hence its name.
The gorge itself is filled with a tropical rain forests right close to the equator crossing making it home to chimpanzees and several bird species. The only primates in the park are found in this area- a golden reason for staying at the lodge.
There are also 3 crater lakes in the vicinity that that attract huge numbers of flamingos – the only place you can see flamingos in the entire Uganda.
The lodge, owned by Volcanoes Safaris, has 8 uniquely designed and built bandas, borrowing a lot from the local architecture and materials- each with a private balcony and a personal butler for personalized service.
The lodge also has Wifi accessibility for the guests, a massage parlor and a swimming pool for cooling off the heat from rift valley. They also have a restaurant that prepares exquisite meals for their guests.
At the lodge guests can do chimpanzee tracking, gorge hiking or do boat rides at the nearby Kazinga Channel that connects Lakes Edward and George. Needless to say, the nearby Queen Elizabeth National Park, Maramagambo Forest and the 32 crater lakes of Bunyaruguru are all within an hour's reach.
So much for just one lodge!
Volcanoes Safari can be contacted to make a reservation at this beautiful lodge by simply filling in THIS FORM.
---
12 of 25: Kyangabi Crater Lodge
Rubirizi District, Western Uganda
---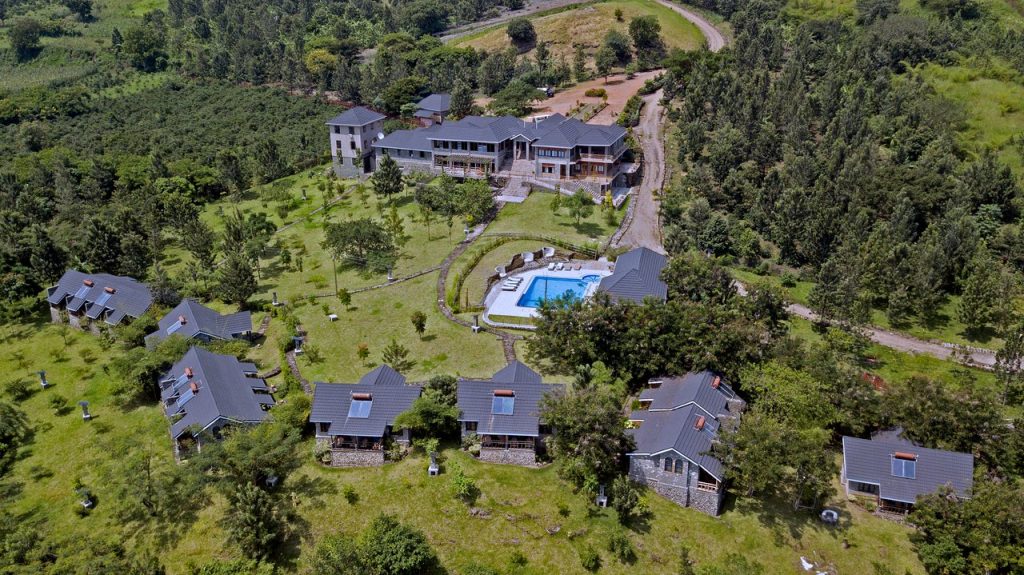 In our view, Kyangabi Crater Resort is a little piece of heaven waiting to be discovered.
Located in Rubirizi District, in Western Uganda just on the edges of Queen Elizabeth National Park in an area alive with 32 crater lakes, Kyangabi is an ideal place you go to forget about your troubles, release your inner spirit and set your soul on fire.
The lodge has 32 differently styled rooms that are designed to meet and or can be reconfigured to meet the preferences of the guests. The rooms are divided into family rooms, double rooms and twin rooms. The family rooms have a sitting room with a master bedroom and a twin room- all with en-suite bathrooms.
To complement the serenity, the facility also has a wellness center with a massage parlor, gym and a very beautiful swimming pool where guests can comfortably relax. There are also a variety of activities ranging from nature walks, fruit-picking adventure, bird watching, craft shop, children's games, tourist attractions, boat cruises and swimming.
Reservations can be made on booking.com and tripadvisor.com
---
13 of 25: Kyaninga Lodge
Kibale Forest National Park
---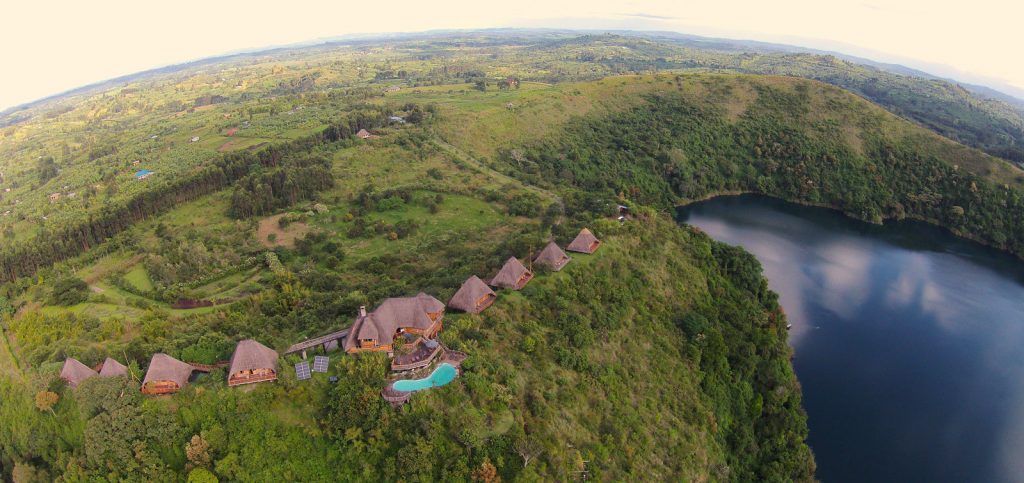 Perched on a volcanic cliff overlooking Lake Kyaninga, itself a volcanically formed crater lake, Kyaninga Lodge is located in one of the most romantic places in Western Uganda.
It is aptly named as well- since Okuninga from which the word Kyaninga is derived, in the local Rutooro language means spoiling someone. Indeed, Kyaninga Lodge is the place you go to either spoil yourself or your loved one.
Other than the spectacular backdrop of Lake Kyaninga, here you can also see the 'Mountains of the Moon'- especially in the mornings and evening- a very beautiful African experience if you ask me.
Getting there is roughly a 4 and a half hours' drive from Kampala using the Mubende-Mityana-Fort Portal route.
Kyaninga has 9 cottages that are raised on platforms with views of the lake. Each cottage comes with a choice of twin or double beds with soft linens and feather pillows. The cottages have en-suite bathrooms and also have private decks where guests can view both the lake and the Mountain ranges.
The main lodge has a restaurant that offers a three-course cuisine. Its menu is basically of European cuisines coupled with some local dishes as well. The bar is also well stocked with a variety of drinks from beers to wines, whiskeys and so much more.
The terrace at the lodge leads to the pool that overlooks the Lake Kyaninga. At this point, guests get the feel of being a thousand miles away from the world because the views are very tropical- a full encounter of the wilderness.
The guests can also walk down to the Crater Lake for a swim and or simply a nature walk around the lake. The lodge is also a 40 minutes' drive to Kibale National park where guests can go and do chimpanzee tracking, bird sighting, hiking, among other activities.
Reservations can be made by calling +256 772 999750 or by visiting any of the online travel sites like tripadvisor.com
---
14 of 25: Mahogany Springs Safari Lodge
Bwindi Impenetrable National Park
---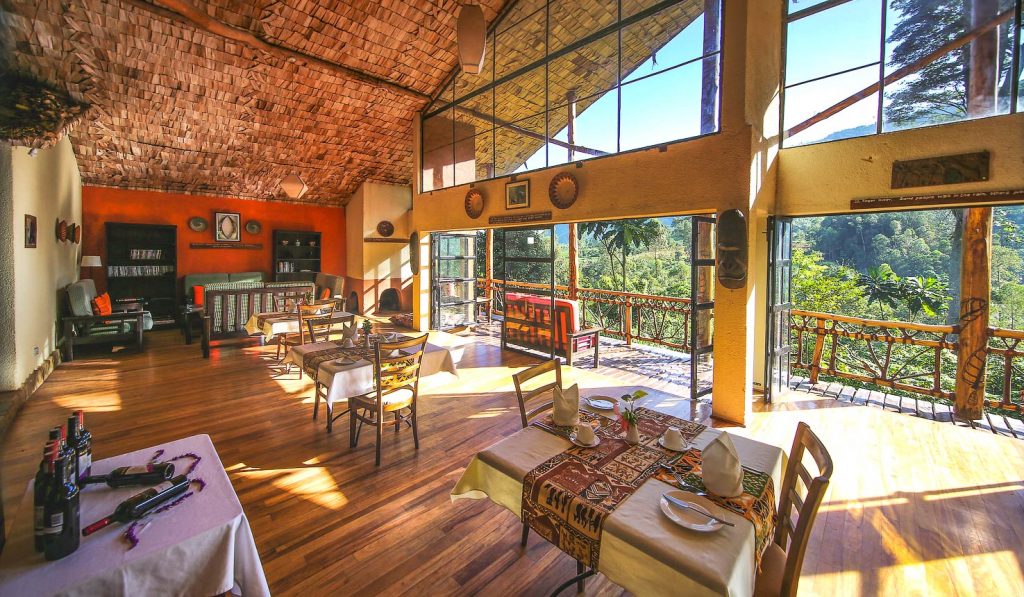 Opened in 2011, Mahogany Springs Lodge is one of the newest lodges in Buhoma, in the Northern sector of Bwindi Impenetrable National Park.
Built by River Munyanga, just on the edges of the park the enriching views of the tropical forests and the constant sounds of the river are a permanent feature here, punctuated by the raucous cacophony of birds- music to the ears nonetheless.
The architecture here- like with most lodges here is a rich mixture of modern fittings and local materials like thatches and banana fibres, expertly blended, to give off an old-meets-new sensation.
Accommodation at Mahogany Springs is of three (types), namely: Superior Suites than can be configured to twin, double or triple settings; the presidential/family suite, featuring 2 bedrooms, 2 bathrooms, a private lounge and large terrace; and a honey moon suite.
The Honeymoon Suite was opened in 2016, soon after the The Huffington Post named Uganda the number 2 Most Unforgettable Honeymoon Destination in 2016 and Mahogany Springs was the recommended safari lodge for Gorilla Tracking- the main activity here.
And it is not difficult to see why- the lodge, other than a magnificent view of the rain forest, it also happens to be proximal to 5 groups of most tracked Gorilla groups i.e. Rushegura, Mubare, Habinyanja, Oruzogo, Bitukura. And every once in a while the Gorillas literally take off time to feed around the lodge- providing a golden up-close and personal opportunity.
Each room has large windows to allow guests to have breath taking views even when they are in their rooms. It is also one of the few lodges in Uganda that uses hydro-electric power so guests are guaranteed to have power for lighting and also to charge their electronics.
The lodge is a 9 hours' drive from Kampala using Kampala-Mbarara-Kabale route. It is found in Kanungu district which is in south western Uganda. Tourists can also fly from Entebbe airport to Kihihi airstrip which is near the park.
You can contact the lodge manager Jotham Awiti on +256 (0)7818 44354 or call their reservation team on + 256 (0) 414 346667/8/9 .
---
15 of 25: Mihingo Safari Lodge
Lake Mburo National Park
---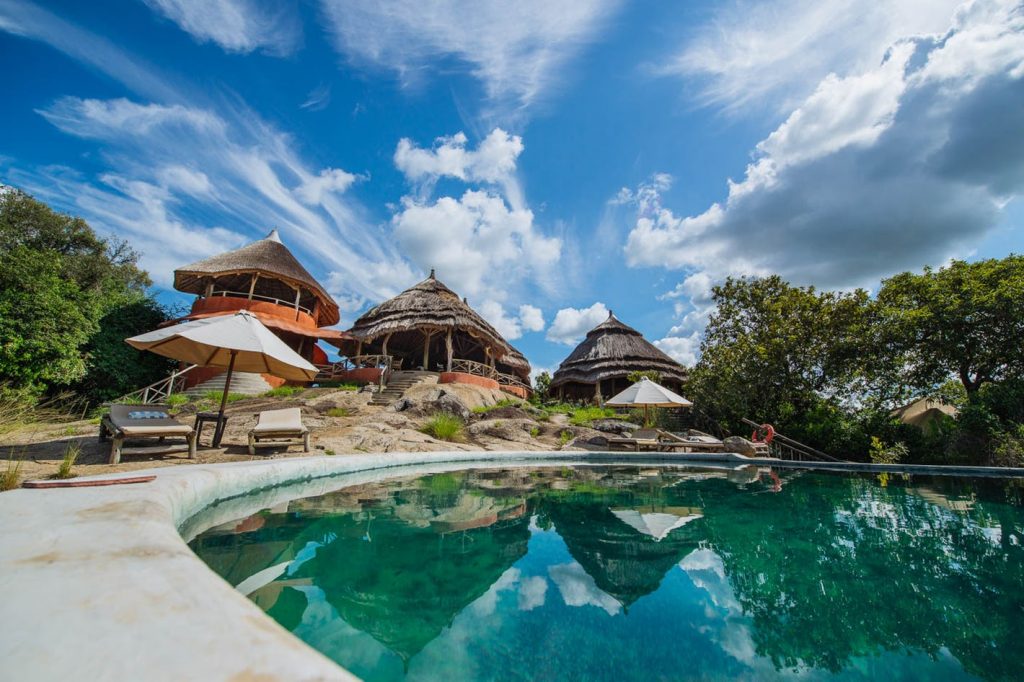 Mihingo Safari lodge is located in Lake Mburo national park in western Uganda, atop a kopje rock outcrop in the eastern part of the park.
It is a 5 hours' drive from Kampala, on the Masaka-Mbarara highway around Lyantode town. The lodge is some 22km from the main road.
The lodge gives a very peaceful and exclusive retreat as you overlook the savannah grasslands and the lake. It has 12 tented luxury rooms, each of which provides a unique charm and character. Each tent has an en suite bathroom with both hot and cold running water. The rooms were also carefully designed to blend with the environment around the lodge.
It has an infinity pool that overlooks the valley where buffalos, elands, impala, warthogs, bush bucks, zebras can be seen.
The lodge also offers exquisite foods, wines, whiskeys, spirits and so much more. They also have a massage parlor where guests can go to relax.
Here you can do a variety of activities from boat rides on the lake to game drives in the park and also carry out horse safaris.
Reservations can be made by calling +256 752 410 509 or by sending an email to reservations@mihingolodge.com
---
17 of 25: Mount Gahinga Lodge
Mgahinga National Park
---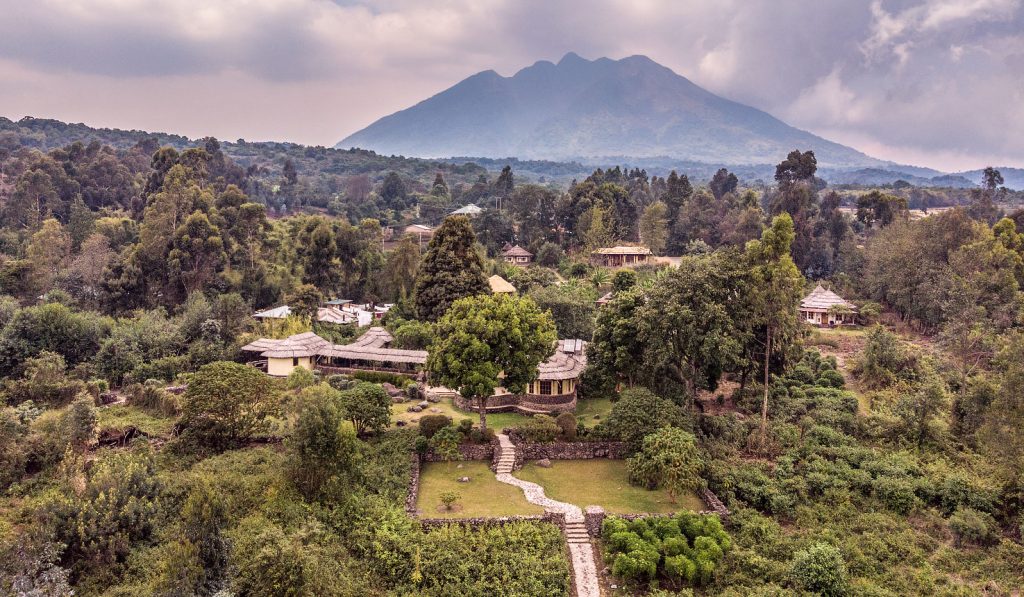 Snuggled at the foothills of the Virunga Volcanoes, Mount Gahinga is an exclusive adventure lodge set against the backdrop of three of the Virunga volcanoes- Mt. Muhavura, Mt Gahinga and Mt Sabinyo. It is arguably one of the perfect locations to go start gorilla tracking on the Ugandan side of the Virungas.
First built in 1997 by Volcanoes Safaris, Mount Gahinga Lodge was the first lodge in their stylish contemporary, yet rustic collection that has since grown to include: Bwindi and Kyambura Gorge Lodges in Uganda and Virunga Lodge in Rwanda.
However early this year, the lodge was reimagined, maintaining its traditional touch; only adding a little more flavour to the lounge, dining room, and gardens and two new deluxe bandas added.
Altogether now, the lodge features 8 luxury bandas, each with an en suite luxury shower room, fireplace and private porch.
Reservations can be made by filling in this FORM or by visiting tripadvisor.com
---
18 of 25: Mweya Safari Lodge
Queen Elizabeth National Park
---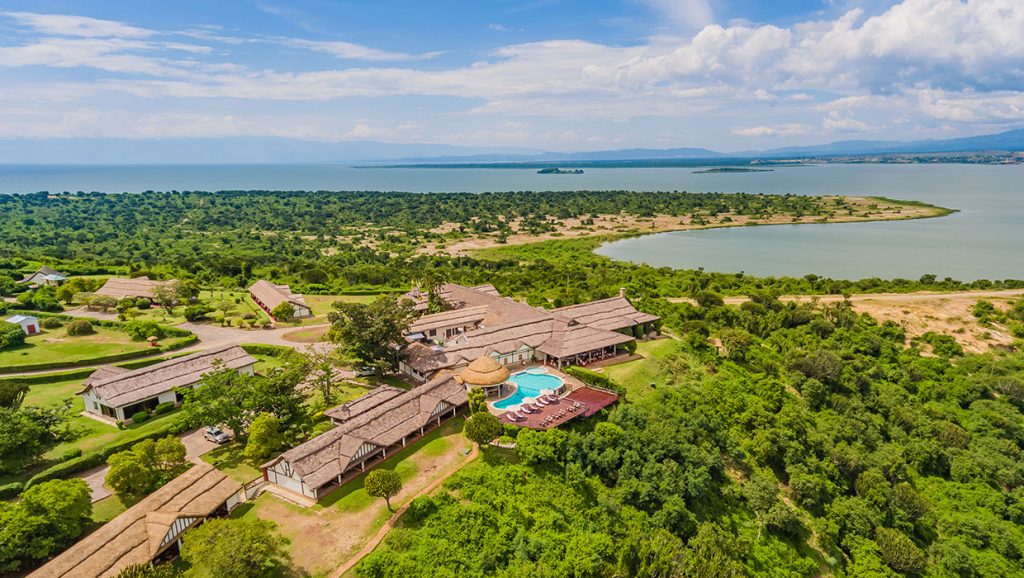 Set on a peninsula within the heart of the Queen Elizabeth National Park, on the banks of the Kazinga Channel, that links lakes George and Edward, Mweya Safari Lodge has defied time and remains one of Uganda's finest lodges.
Owned by Marasa Africa, part of the Madhvani Group, Mweya Safari Lodge, is truly a hidden gem of luxury; skillfully tucked away, in the midst of the wildest surroundings and within close proximity to the magical Rwenzori Mountains, rightly described as the 'Mountains of the Moon'.
The proximal location within the Great Rift Valley allows visitors, access to the hundreds of tourist attractions that include the 32 crater lakes in the Bunyaruguru area and within the Queen Elizabeth National Park itself. Do not forget that Queen Elizabeth National Park is Uganda's most visited national park and is home to over 95 mammal and over 500 bird species.
Like most wild lodges in Uganda, Mweya Safari Lodge's architecture is a mix of traditional materials beautifully interwoven with contemporary luxury finishes, exuding the best of two worlds.
The property has 32 standard rooms, 12 deluxe rooms, all air-conditioned and 2 suites.
For families, there are two family cottages- "The Rwenzori Cottage" and "The Royal Cottage". Two other cottages- "Queens Cottage" and "The Presidential Cottage" offer a little bit more exclusive luxury. The cottages can be numerously configured to suit individual needs and requirements.
For the adventurous, there are also two luxury tents and 2 standard tents.
Marasa Africa also owns the famous Chobe Safari Lodge and Paraa Safari Lodge in Murchison Falls National Park and the Silverback Lodge, located in the Buhoma sector of Bwindi Impenetrable Forest National Park in western Uganda. The Group also owns The Ark Lodge, Aberdare Country Club and Mara Leisure Camp in Kenya.
Getting there: Mweya Safari Lodge, is roughly 410 km away from Kampala, Uganda's capital city by road and is accessible either through the Kampala-Mubende-Fortporal-Kasese road or the Kampala-Mbarara-Kasese road. Both roads offer more than 6 hours of scenic viewing of rural Uganda punctuated by wild animals, happy people, lakes, rivers and dense forests as well as open savannah grasslands.
Both roads are in fine condition- except for ongoing repairs on the Fort Portal-Kasese-Ishaka road stretch. By air, Mweya is only an hour away, through the nearby Mweya airstrip or through Kasese airfield. The nearby Kihihi Airstrip can also get you there.
For reservation, visit tripadvisor.com, booking.com or simply call +256 392 796773 and get in touch with the team at Mweya.
---
18 of 25: Ndali Lodge
Kibale Forest National Park
---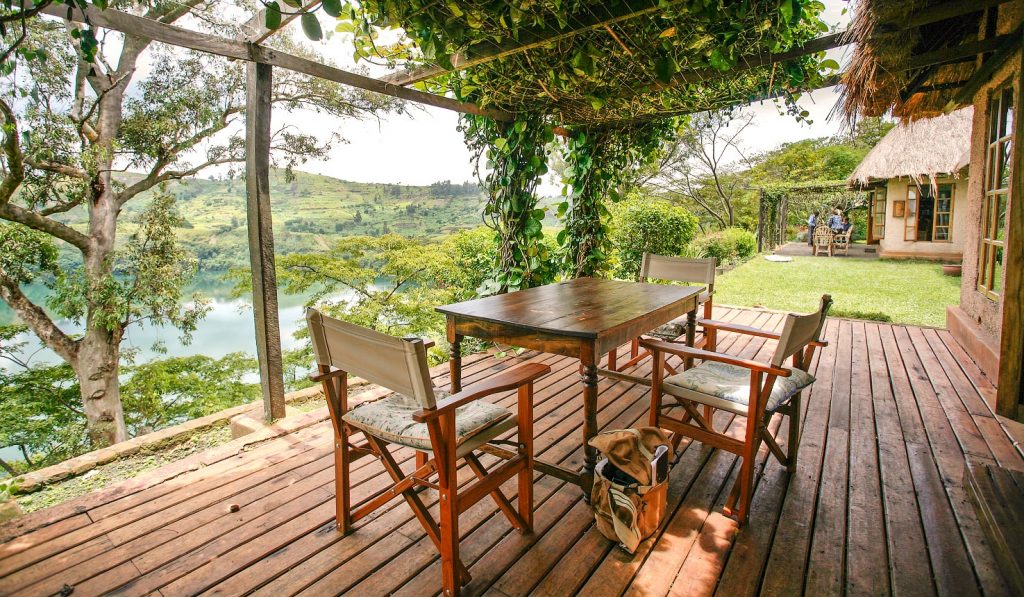 Ndali Lodge is located 45 minutes from Kibale National Park in Western Uganda. It is perched on the rim of an extinct volcano which, since its demise, the caldera has filled with water to become the breathtaking Lake Nyinambuga. Across the lodge, on the horizons, you can also view the Rwenzori Mountain and its snowcapped peaks.
The lodge is built on land that was originally a tea farm owned by a Major Trevor Price, since the 1920s and is now run by his grandson Aubrey Price. The designs of the property are attributed to Mark Price, Aubrey's father.
The lodge is a 5 hours' drive from Kampala and a 40 minutes' drive from Kasese airstrip in case you are arriving on a chartered flight.
Ndali has 8 en suite cottages that are suitable for families. The interior finishing is is a combination of locally available materials, with a touch of modrernity here and there. Each cottage has a bathroom wit a shower, a private verandah with magnificent views of sunsets over the Rwenzori Mountains.
The lodge has a restaurant that offers buffets, food for picnics and communal dining as well for especially residents. The lodge also has a pool for guests to relax and cool off.
Because the lodge is near Kibale National Park, guests can also get there to go for chimpanzee tracking. They can also do hiking and boat rides in the lake and also visit the nearby Mahoma waterfalls, the farms and do village walks around the community.
Contact Ndali lodge by calling +256793503426 or visiting their physical office on Bukoto Street, Opp Asiatic Sports, Kampala Uganda.
---
19 of 25: Nile Safari Lodge
Murchison Falls National Park
---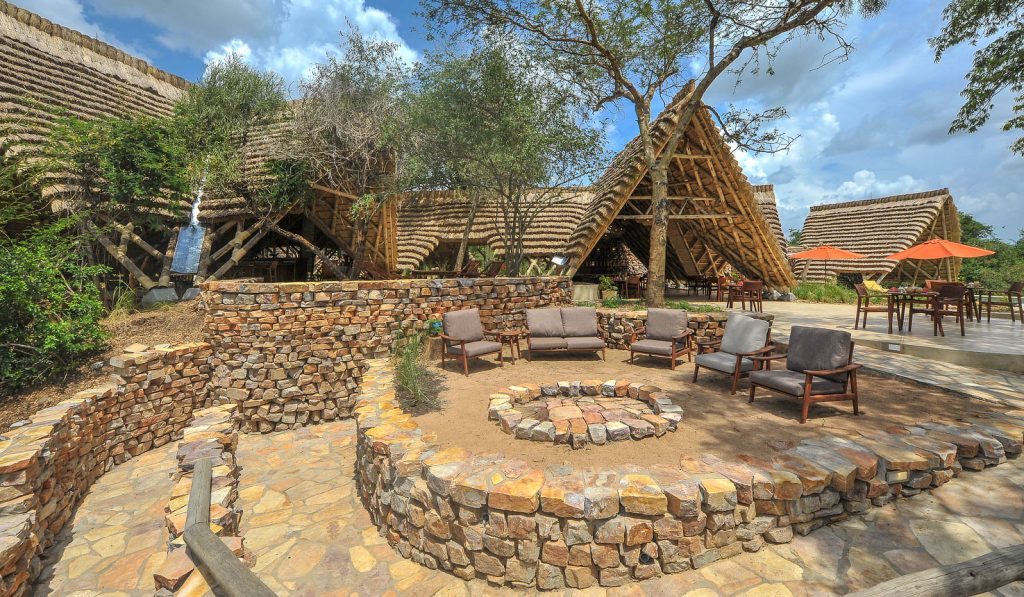 There are many lodges along the entire breadth of the might River Nile, by Nile Safari Lodge has a character of its own. Immaculately set on the souther banks of the River Nile, the unique architecture of its thatched wooden challenge probably sets it apart from the rest of the lodges on this list.
Those who have been to the lodge, praise it for its simple yet sophisticated touch to luxury, this ecology offers.
Accommodation varies from wooden chalets to the luxury tents but either way, spectacular views of the surrounding wilderness are a constant.
Presently, there are ten rooms among which are five luxury tents plus five wooden chalets. All of these are well appointed with en suite bathrooms, spacious rooms, each with a private balcony with views of River Nile and there you can enjoy your breakfast or an evening tan as you take in views of the river, the surrounding vegetation teaming with birdlife as well as the crocodiles and hippos basking in the sun.
Some of the nice facilities you will find here are: a well-stocked bar, a lounge plus a restaurant. There is a campfire where guests usually gather in the evenings to warm up and share the safari experiences of the day and enjoy some drinks.
There is also a swimming pool where guests loosen up in the evening after their adventure inside the park.
Reservations can be made at their physical office located at Quality Shopping Mall Lubowa, Room Q.26. You can also call +256 772 363 362 /+256 757 363 362 to make a reservation.
---
20 of 25: Papaya Lake Lodge
Kabarole District, Western Uganda
---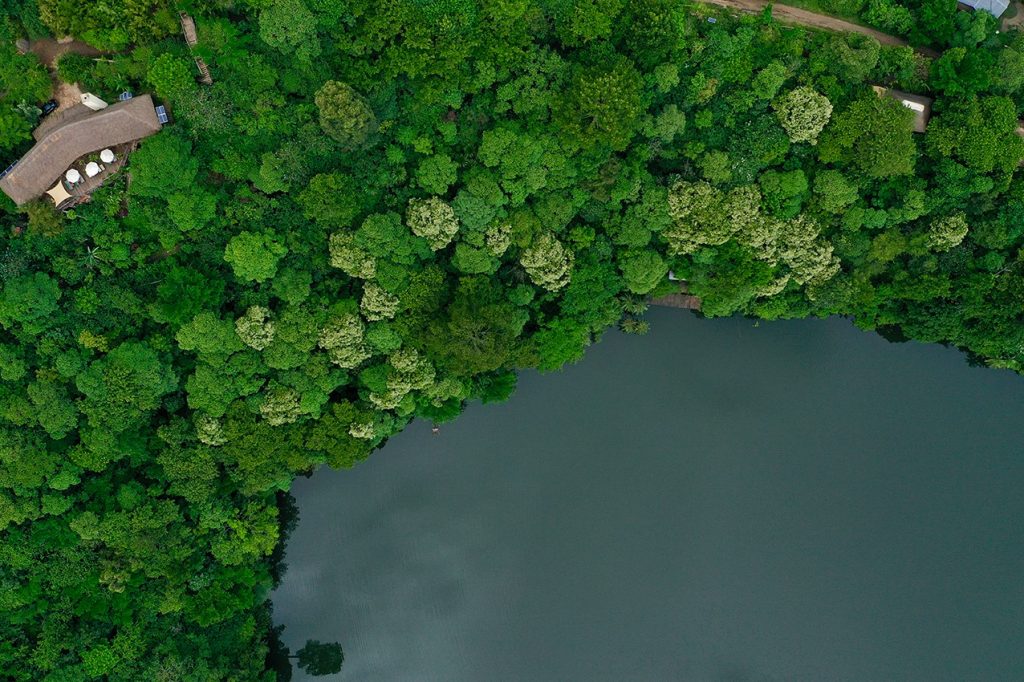 Papaya lodge is surrounded by lush evergreen landscapes of the great crater lakes of the western rift valley in western Uganda. It is set between two extinct volcanoes and nestled amidst Lakes Lyantonde and Kifuruka in near Fort Portal town in Kabarole district.
It is a 5 hours' drive from Kampala.
The exclusive and peaceful Papaya Lake Lodge has 9 luxury cottages with high-beam ceilings, warm wooden decor and unique local art & crafts. One of the cottages is a family cottage with 3 bedrooms, a living room, a fireplace, a spacious bathroom and a large terrace. The other 8 have one king sized bed and a single bed.
The pool at Papaya Lake Lodge is situated atop a hill with 360º unobstructed views of the two crater lakes, the Rwenzoris and the tropical surrounding; probably the pool with the best view.
The lodge has a restaurant with very unique cuisine featuring tastes from different parts of the world. The lodge uses fresh products with fruits and vegetables grown locally.
Reservations can be made by calling +256 (0) 793 388 277/+256 (0) 773 496 456/+256 (0) 757 121 410 . They can also be made on tripadvisor.com
---
21 of 25: Paraa Safari Lodge
Murchison Falls National Park
---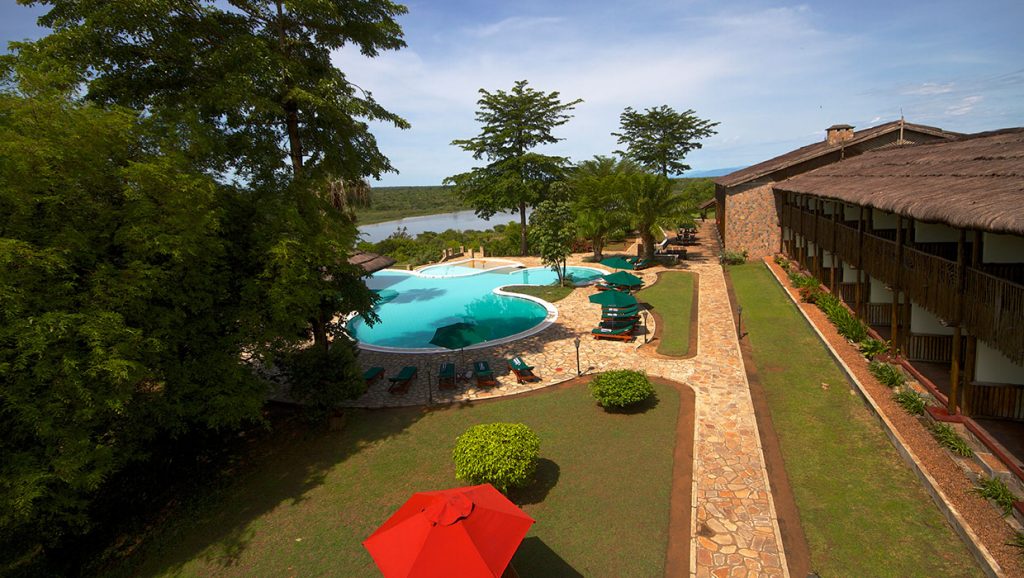 Although first established as early as 1954 by Marasa Africa, Paraa Safari Lodge in Murchisons Falls National Park in North Western Uganda, still has that cosmopolitan and contemporary allure to it. The lodge overlooks the mighty River Nile as it lazily snakes its way to the nearby Lake Albert and moments after leaving the nearby thunderous Murchison Falls.
Paraa Safari Lodge is a 6 hours' drive away from the city centre using Kampala Gulu highway. This route also passes through Ziwa Rhino Santuary where Rhino sightseeing is guaranteed.
Paraa Safari lodge has 54 rooms in total and these vary from cottages, suites, doubles, twins and singles. Each of the rooms have a private balcony and an en suite private bathroom. For guests who want to have the full safari experience, the lodge has 3 standard tents that are well furnished with a mix of modern and African styles.
The lodge has a number of facilities from the swimming pool to a business centre and gift shop. It also has rooms for meetings and conferences as well.
The lodge has a restaurant that serves a variety of cuisines prepared by professional chefs and an explorer's bar with a variety of drinks to offer.
There are a number of activities that can be done here like chimpanzee trekking, safari drives in the park, bird watching, visiting the Murchison falls, hot air balloon safaris among others.
Paraa is a must visit place for any lover of adventure.
Reservations can be made by calling +256 200 414100 /+256 752788880 . They are also on trip advisor and booking.com.
---
22 of 25: Park View Safari Lodge
Kyambura Gorge, Rubirizi District, Western Uganda
---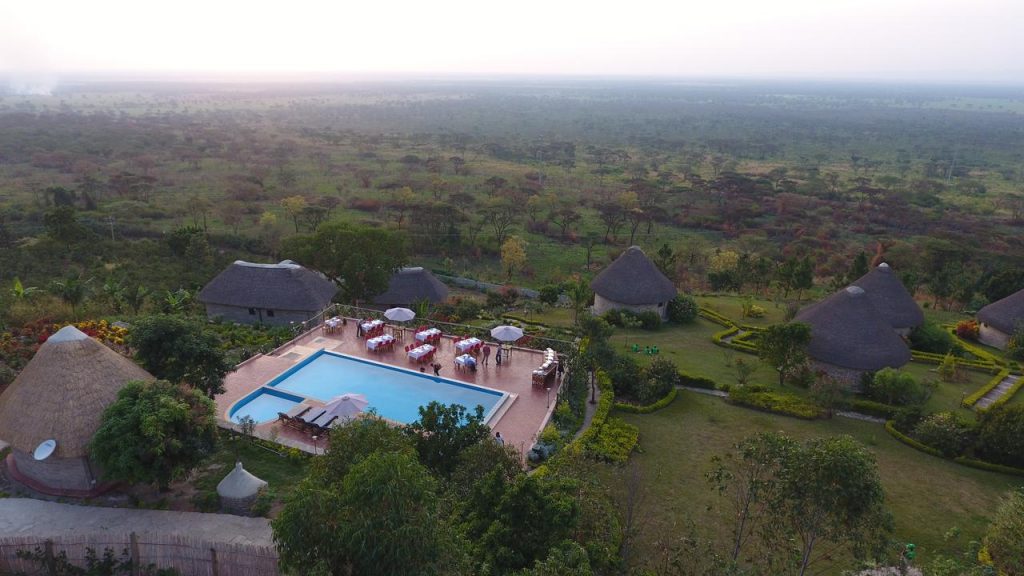 Set in the wilderness on the edge of the famous Kyambura Gorge, Park View Safari Lodge has a character of its own.
The lodge is a 6 hours' drive from Kampala using the Kampala-Mbarara-Kasese route. It is one of the nearest lodges to the main gate of Queen Elizabeth National Park.
All the cottages at Park View are very spacious with Wi-fi, air conditioners and unmatched view of the Rwenzori ranges, the western Rift Valley, and Kazinga Channel; hence the name 'Park View.' The cottages are grass thatched with big bathtubs and showers that have hot and cold running water.
Park view also has an onsite restaurant, a pool, a souvenir shop, a travel desk, a formal bar among other facilities.
Travel enthusiast and Ugandanist– Belinda Namutebi describes the lodge as thus: "Underneath the meticulous grass thatched roofs, that look like inverted silver cones from a distance, is an experience of pure luxury- the perfect place to lodge after your jungle experience in Queen Elizabeth National Park."
Seated on the balcony of one of the cottages, seeing the sun set, Ms. Namutebi has this to say: "As the sun makes its way home, the Rwenzori mountain ranges are covered in a mist. As it moves closer to the horizon, it casts rays over Lakes Edward and George. The clouds, now consumed by the radiance of the retiring sun, give off a golden reflection. The sun takes a bow and the night curtain begins to fall. This is Queen Elizabeth National Park where the sun rests its head after a long day. This is its home; there beyond the horizon."
Describing what is on the menu for your eyes to take in, she writes: "On my left, is a vast view of Savannah grasslands dotted with green shrubs spreading as far as the eye can reach. On my right, towards the two lakes, is a long stretch of greenery contrasting the surrounding vegetation- the tropical rain forest of the Kyambura Gorge. The sunset, mountain ranges, lakes, tropical rain forests and tree shrubs spread over the vast lands now confirm to me that I will be spending the night in the jungle," she adds.
At the lodge you can do a game drive of the park, bird watching, a boat drive on the Kazinga channel, amongst very many other activities.
Reservations can be made by sending and email to reservations@parkviewsafarilodge.com or by calling +256392178731 │ +256200907201 │ +256752974500 │ +256751070855
---
23 of 25: Primates Lodge, Kibale
Kibale Forest National Park
---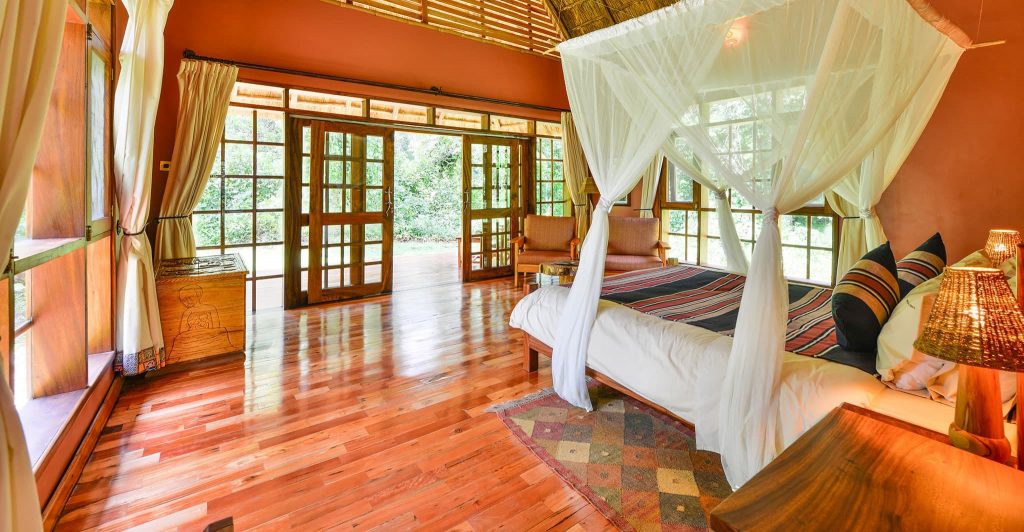 Suitably named, probably because of its location in Kibale National Park, with up to 13 species of primates, including the Chimpanzees, Primates Lodge blends jungle life and serenity in one.
The lodge which recently got a facelift by its owners, Uganda Lodges- features 16 rooms in different categories i.e. 9 luxury cottages and 7 standard cottages. Other lodge amenities include a spacious dining terrace, a well-stocked bar, a secluded lounge area with a small library, complimentary room service, an evening camp fire, laundry service (at a small fee) as well as free Wi-Fi in the public areas.
Key activities at the lodge, include: chimp tracking and the chimp habituation experience, forest and nature walks, birding, nocturnal walk, Bigodi swamp and village walk, exploration of over 52 crater lakes in the region, cultural heritage and nature trail, climbing the Rwenzori Mountains and visits to the famous Fort Portal tea estates.
Uganda lodges is owned by tourism entrepreneur and activist Amos Wekesa Masaba who also owns Great Lakes Safaris, one of Uganda's biggest tour companies. Other lodges owned by the company include Elephant Plains on the edges of Queen Elizabeth National Park, Budongo Eco Lodge in Budongo Forest and Simba Safari Camp, also on the periphery of Queen Elizabeth National Park.
Visit tripadvisor.com or booking.com to make a reservation at Primates lodge.
---
24 of 25: Trackers Safari Lodge
Bwindi Impenetrable National Park
---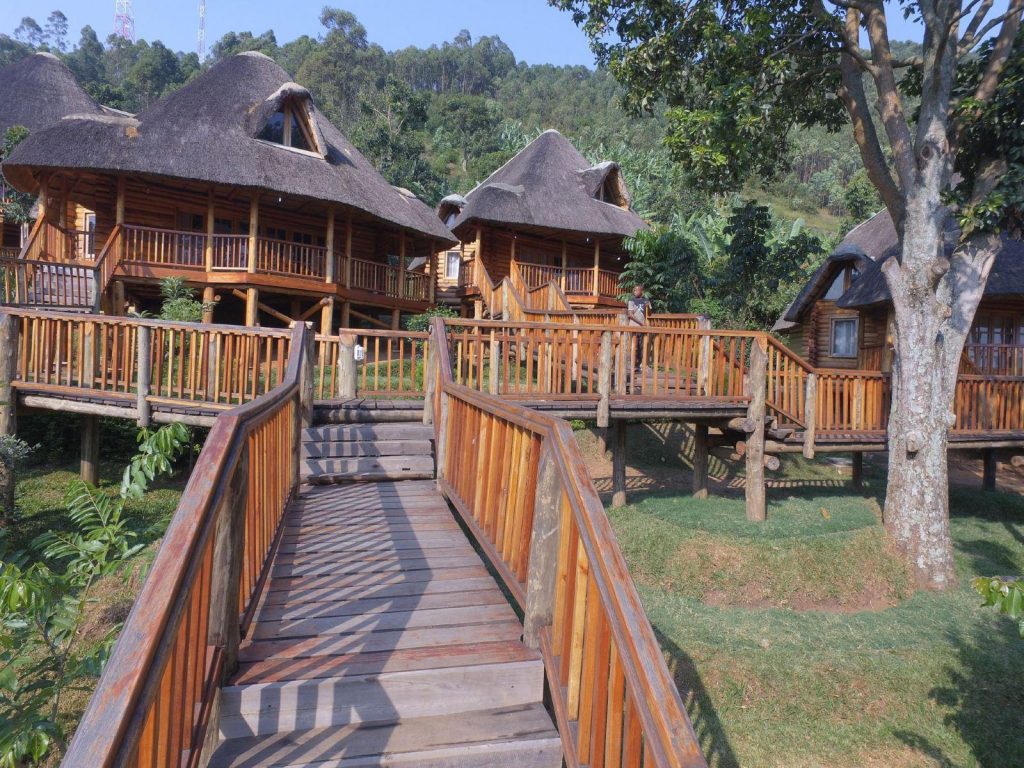 Trackers Safari Lodge is a luxury safari lodge in Uganda's Greater Bwindi National Park that "exudes the romance and beauty of the mighty Bwindi Forest while offering every modern comfort and convenience."
It is a 9 hours' drive to Buhoma in the park where the lodge is found.
The lodge has family cottages, singles and double cottages with views of the impenetrable forest.
Trackers' Safari Lodge also has a swimming pool, jacuzzi, sauna and steam and a spa to enhance the relaxation of the guests who visit the lodge.
Visit the Kampala physcial office on Plot 1305, Block 214,Kisota Road,Kisasi to make a reservation or call +256 772 465 023/+256 772 411715
---
25 of 25: Wildwaters Lodge
River Nile, Jinja, Central Uganda
---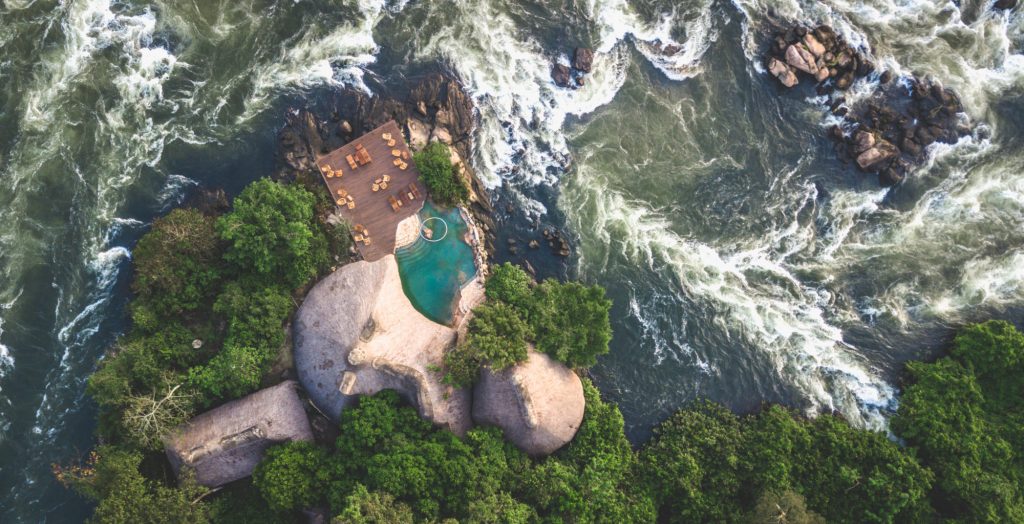 Built on granite rocks on a private mid-stream island in the River Nile and surrounded by thunderous white rapids, Wild Waters Lodge is a lodge like no other.
Probably the only one of its kind in Africa- the best way we can describe it, is ask you to go there. It is simply breath taking!
To get there, you take the Kampala-Jinja highway. Upon reaching Jinja at Nile Breweries, just before the bridge, you take the left turn onto Kayunga road for 26km; then branch off at Kangulumira town; for another 3km. Once on the banks of the River Nile, a boat will pick you for the less than 5 minutes ride to paradise.
The whole journey could take up to about 2-3 hours; depending on the number of stops you make along the way.
It has ten standalone suites that are all linked by raised wooden walkways to the main lodge house where the restaurant and bar are found. Each of the suites have locally handmade furniture, stylish bathrooms with rain showers, secluded wooden decks with free standing open bath tubs.
Wild Waters Lodge also provides delicious meals accompanied with a candle-lit five course dinner for lovers to romantically bond over. The bar is well stocked with a variety of drinks that guests can also enjoy.
The pool at Wild Waters Lodge allows guests to relax as they watch the River Nile breakaway from its source a few kilometers away and embark on its 3,000 km trek to Egypt and the Mediterranean Sea.
Wild Waters is very ideal for viewing some of the 1,000 bird species in Uganda from turacos to cuckoos and so much more.
Wild Waters is the perfect place for romantics or even someone seeking to reward themselves for a job well-done.
Reservations can be made by calling +256 (0)772 237400. However, bookings can also be made on trip advisor and bookings.com

---
---