In layman terms, what does UAP Financial (U) Limited do? What kind of services do you offer and what kind of clients do you target? What kind of problems do you solve for your clients?
UAP Old Mutual Financial Services (U) Limited is an investment advisor. We spend a lot of time thinking, reflecting, and executing on our clients' investment goals. Our overriding principle is focused on enabling our different stakeholders to meet their lifetime financial objectives. We interact with different market segments, broadly split between retail individuals and corporate entities.
What makes UAP Old Mutual Financial Services (U) Limited stand out from the rest of the players in the market?
We have a deep conviction of our promise which is aimed at enabling our clients to meet their financial goals, so that means we take time to listen and think. This has worked out well for us. The customer is always at the center of everything we do.
This 2020 marks 175 years of UAP Old Mutual in Africa, 100 in East Africa but for yourselves, it also marks 10 years in Uganda. What have been the major milestones in these 10 years?
We have seen several achievements but one that really stands tall is the establishment of the collective investment schemes. We started off from the wrong side, where previous providers of such had struggled to hit the critical mass as a proof of concept. We came through and were able to demonstrate the viability of this product and now there are a number of players that have since set up shop and others are coming in as well.

The other milestone I hold in high regard is the overall increased level of financial literacy across the country. We have spent some time now preaching this gospel and we are seeing the number of converts increase. The learning curve remains steep but the progress is there regardless.
Covid-19 has successfully disrupted the world, creating what people are calling the new normal. But even this normal is not normal because we can't be sure what's coming next- until, health experts say, we have a vaccine and or treatment. If there has ever been a time to use investment/financial advisors, this uncertain period should be it. How can UAP Old Mutual Financial Services (U) Limited make a difference?
The way of doing things has somewhat changed as a result of the pandemic. We have seen for example during the lockdowns, that many homesteads were exposed financially; several businesses have also been exposed by the continued shutdowns. Our reading of this goes a long way in firming up our mission. Now more than ever do the words savings and investment resonate with everyone. What we are saying is we are the certain friend in uncertain times. We are here to ensure more and more people and businesses are woken up financially with one purpose-creating and maintaining wealth.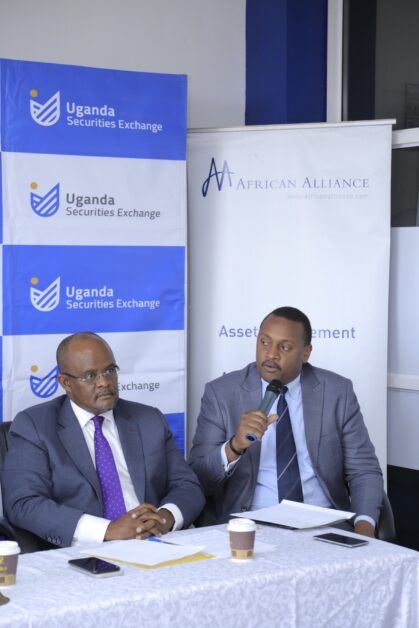 Looking at your industry and the operating environment, Ugandans do not seem to use a lot of your services. What are some of the key regulatory changes and or incentives, you think the government can institute to make the industry grow and help the market benefit more from your services?
Frankly speaking, the operating environment is very accommodative, to say the least. We think a number of the initiatives the government has put in place are working. I mean, when for example you consider the tax exemption on unit trust funds, this should ideally spur savings and an investment culture.
Nonetheless, we think there is still loads of room for improvement, for example in the space of mobile money. The charges and tax is rather prohibitive especially when looking at overall financial inclusion. Consideration could be made to probably have these removed especially when capital is moving into savings and investment products. That way, we shall see more and more traction in the mass savings and investment segments.
Where do you see the future of the industry as well as that of UAPFS- in the next 10 or so years, compared to the last 10 years?
I think the industry is on track, the future is very bright. I see the capital markets getting more and more robust especially increased financial literacy that I mentioned earlier. The cost of capital will keep getting lower as more investment solutions come up. Generally speaking, the road ahead is littered with opportunity and UAP Old Mutual Financial Services (U) Limited will be part and parcel of this.
How does being part of a 175/100 year legacy help in accelerating that growth?
Well, being part of the centenarian club is truly humbling. I mean, there are loads of lessons and experiences you can pick on. But what easily comes to mind is the long term approach to doing things; always thinking legacy and knowing the task at hand which is standing tall on the shoulders of those before you, while laying a solid foundation for those after you. That said, we have our work cut out, meaning we have to think and move faster, constantly evolving and ready to listen. I believe this should make things work out well.