Oil Money will not be for Consumption or even Salaries – President Museveni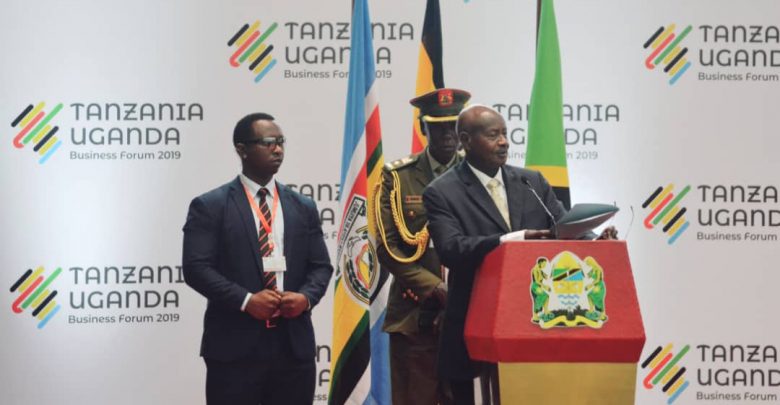 President Yoweri Museveni has echoed that Uganda's cash from the oil resource will not be used for consumption or even salaries to civil servants.
The President made the remarks on Friday while addressing the business community attending a 3-day Uganda-Tanzania Business Forum 2019 at the Julius Nyerere International Convention Centre in Dar-es-Salaam, the Tanzanian capital. The First Lady and Minister of Education and Sports Hon. Janet Kataha Museveni was among other cabinet ministers and private sector officials at the forum.
"Under my leadership, the money from oil will not be used for consumption or salaries. Why? Because it is a resource that is exhaustible and finite. One day there will no longer be oil. That is why I insisted that money from these resources should only be used to create durable capacity for the Ugandan economy namely; build power dams, irrigation schemes, the railway, scientific innovations and some aspects of education," he said.
The forum is the first of its kind and was the initiative of the partnership of Tanzanian Private Sector Foundation (TPSF) and the Private Sector Foundation of Uganda (PSFU). It aims at offering a platform for the business community to share experiences, explore investment opportunities across borders, create business to business networks, identify and discuss challenges in the presence of the Heads of State and Government Ministers and policy makers.
The forum also lays emphasis on issues relating to the steps that can be taken to address and overcome the bottlenecks to the thriving of the bilateral trade between Uganda and Tanzania. Earlier, President Museveni and his Tanzanian counterpart, John Pombe Magufuli were conducted on a guided tour of exhibition stalls in which Ugandan companies and government ministries including Uganda Airlines, Uganda Investment Authority, Uganda Railways Corporation, Kakira Sugar Works, Stanbic Bank, National Social Security Fund, NITA, UCC, Ugandan Petroleum sector, the Ministry of Energy, and the National Oil Company, among others, showcased what they offer.
President Museveni said he is interested in learning the conclusions of the forum on topics relating to the attractiveness of the 2 countries as destinations of investments, harmonisation of the strategies and partnerships in the emerging data economy, trade and infrastructure, reducing the cost of doing business between Uganda and Tanzania and the local content as a key to the unlocking of the long term value in extractive industries.
The President and his host concurred on the plan to enhance water transport from the Port of Mwanza in Tanzania to Port Bell in Uganda adding that railway transport between the two countries would go a long way in promoting sustainable trade and investment between the two countries. Mr. Museveni revealed that the East African governments are working aggressively on power saying that in Uganda today total power generation will soon be 2,000 megawatts which will ensure reliable power supply transmission and the lowering of power costs for manufacturers.
President Magufuli described the 1st business forum between Uganda and Tanzania as a historical occasion. He thanked the organizers for effecting the forum and President Museveni for honouring it with his presence. "The cooperation between Uganda and Tanzania has been in existence since time immemorial even before colonial time. The borders cannot separate us. We shall continue working together in development," he said.
He stressed that it was important for the two countries to strengthen their cooperation in development drawing on the potential of their own natural resources in the sectors of agriculture, tourism and manufacturing. President Magufuli revealed that to ensure faster movement of people and goods between Uganda and Tanzania, his government is going to institute only two checkpoints from Dar-es-Salaam to the Ugandan border.
President Magufuli added that measures are underway to ensure that goods move freely in the EAC region with a view to increasing trade and investment. "The room for investment is very wide for Uganda and Tanzania business sector. This bilateral forum should be promoted for our people in business. Let's agree and do business and stop lagging behind in development," he added.
The Tanzanian leader disclosed that President Museveni and himself took the decision and agreed to the building of an oil pipeline from Hoima to Tanga, one of the longest pipelines in the world, as a sign of commitment between the two countries. During the Forum, the two leaders witnessed the signing of a number of Memoranda of Understanding between Uganda and Tanzania in the fields of Agriculture, Foreign Affairs and Migration. President Magufuli also hosted President Museveni and First Lady Janet Museveni to a luncheon at State House, Dar-es-Salaam.
Shilling gains strength, forms new support level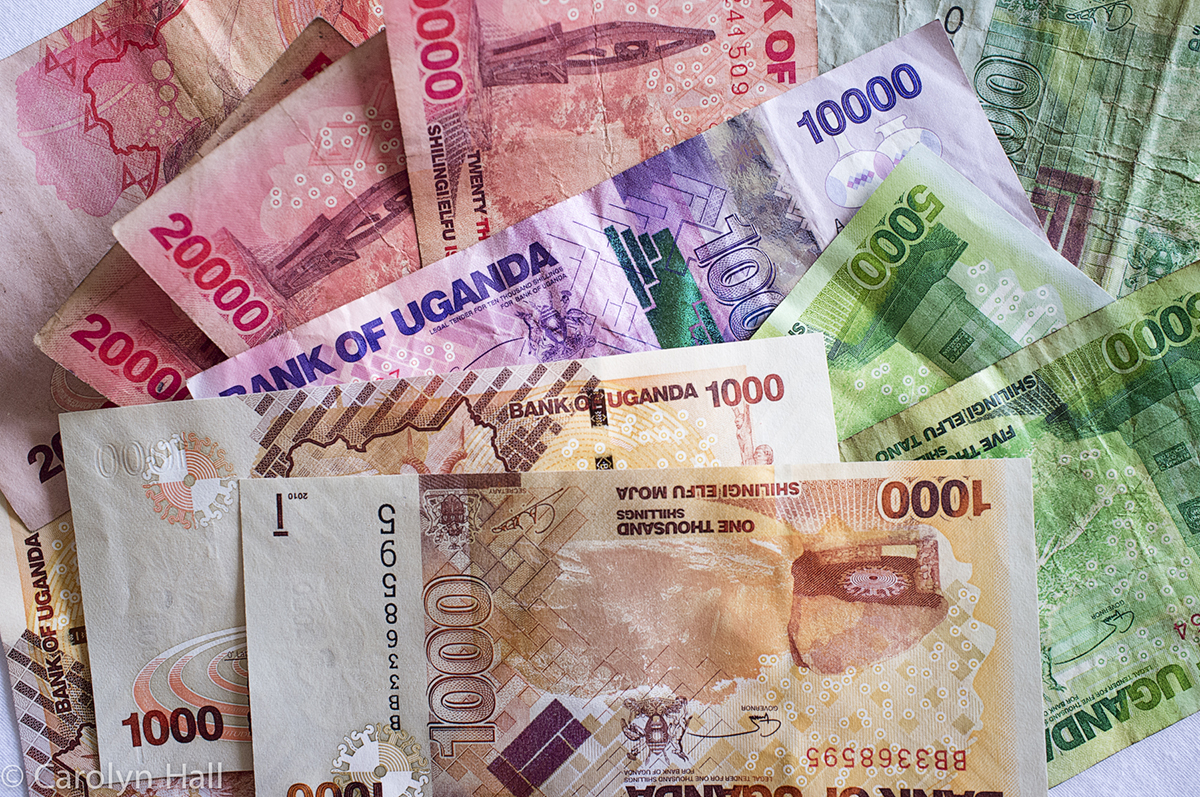 The Uganda shilling strengthened, establishing a new support level of 3650, market activity was underpinned by low appetite for forex from commercial banks and importers.

The unit was also supported by inflows from offshore investor's participation in the treasury bill auction.

Trading was in the range of 3657/3667. In the interbank money market, overnight funds quoted at 7% while one week averaged 10%.
In the fixed income segment, 220 billion was on offer for the Treasury bill auction. Yields remained relatively flat at 8.604%, 10.555% and 11.630% for 91, 182, 364 days respectively. All tenors were oversubscribed.

In the regional currency markets, the Kenya shilling gained ground, on account of tightening liquidity conditions in the local money market and reduced dollar demand. Trading was in the range of 103.55/75.
In the global markets, the dollar held firm against the major currencies as markets focused on the Federal Reserve likely action at its upcoming meeting where it is widely expected that it would cut rates.

Relatedly, President Trump took aim at the Fed, in a tweet stating that the ECB is succeeding in depreciating the Euro against the dollar hurting US exports while the Fed only sits.

Also in support of the greenback was the scaled back pessimism about the US- China talks, with growing chances of an interim trade pact coming soon than later.

In the UK, the pound gained 0.3% on the dollar after the British parliament moved to block a no deal exit from EU. However the sterling remained vulnerable over the uncertainty on the terms of exit.
In the Eurozone, the Euro dropped 0.75% after ECB cut its main deposit rate by 10 basis points to -0.5%, a record low, but in line with market expectations. The ECB also relaunched a quantitative easing program to boost the regional economy.

"In the coming week, the Uganda shilling seen trading in a stable range as mid-month corporate tax payments limit the demand for dollars," says Stephen Kaboyo, an analyst and Managing Director at Alpha Capital Partners.
Uganda Hosts 55 African Customs Experts Conference at Munyonyo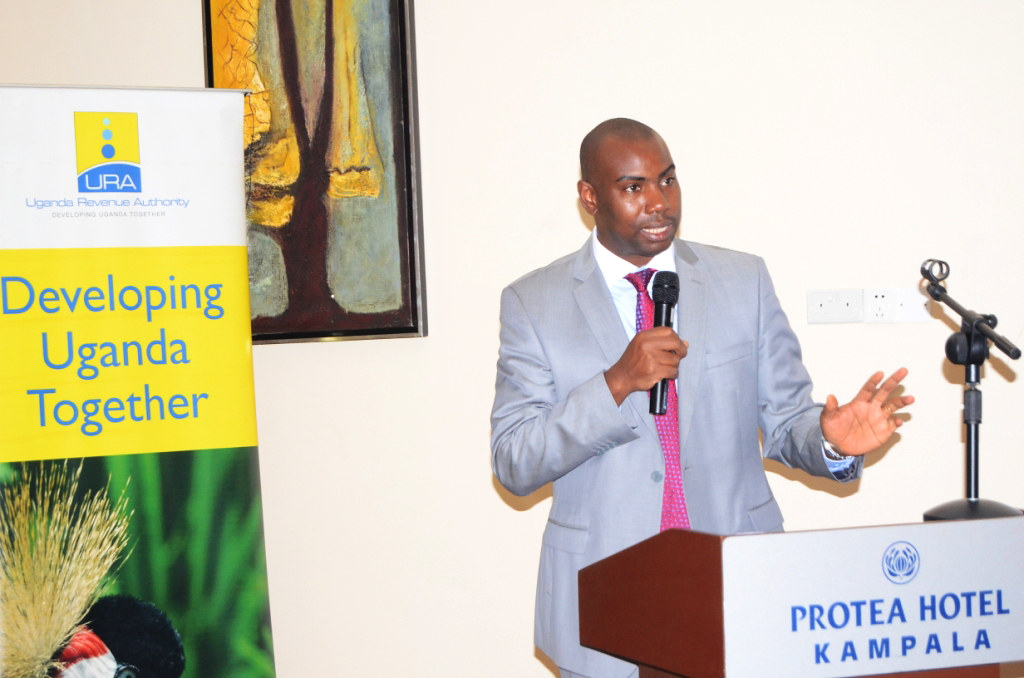 "It is a privilege for Uganda to be hosting such a high level annual continental meeting, and it speaks to the confidence the continent has in Uganda in terms of hospitality and diplomacy," said Dicksons Kateshumbwa, who is Commissioner Customs, URA and Chairman World Customs Union (WCO) Council.
Over 50 African customs bosses and technocrats from international bodies such as World Customs Organization, UNCTAD, IGAD and various diplomats are currently in Kampala at Speke Resort Hotel, Munyonyo for the continental customs conference.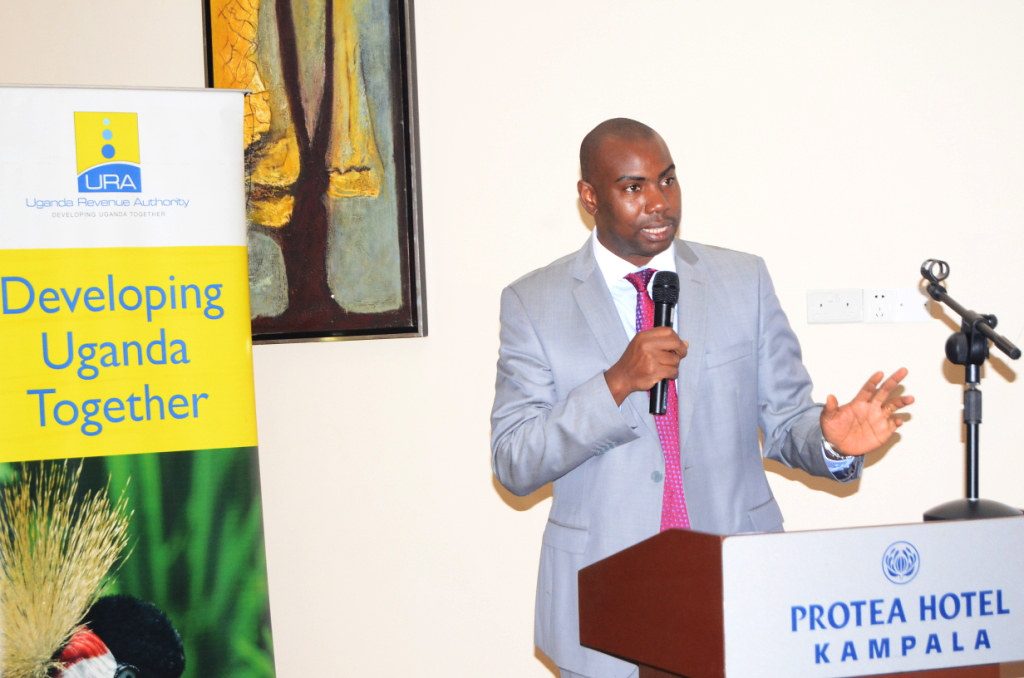 The conference which kicked off today will end on 20th September. Uganda is hosting Directors General and Commissioners of Customs from 55 African Union (AU) member countries.
This conference will hold discussions on matters of customs and action points from last year's 10th meeting held in Moroni Comoros that ended with a Moroni Declaration on Combating Corruption in Customs and the adoption of the AU Draft Trade Facilitation Strategy.
In Munyonyo, the main discussion will be on implementation of the AfCFTA and the theme of the conference is "The Entry into Force of the Agreement establishing the African Continental Free Trade Area (AfCFTA) – Implications to African Customs Administrations."
"It is a privilege for Uganda to be hosting such a high level annual continental meeting, and it speaks to the confidence the continent has in Uganda in terms of hospitality and diplomacy," said Dicksons Kateshumbwa, who is Commissioner Customs, URA and Chairman World Customs Union (WCO) Council.
He added that, "This meeting also comes a time when Uganda is chairing the World Customs Organization Council, whose global conference was held in Africa for the first time in Kampala last year. It is also an opportunity for Uganda to show case its abilities to the rest of the continent such as the various trade facilitation initiatives by URA customs."
The Constitutive Act of the African Union provides for Specialized Technical Committees. These Specialized Technical Committees report are responsible to the Executive Council. The African Union Sub Committee of Directors General of Customs is responsible to the Specialized Technical Committee on Trade, Customs and Immigration.
The Sub- Committee is responsible for Customs Cooperation one of the Thematic areas under the Department of Trade and Industry. The AU Subcommittee of Directors General of Customs (also referred to as Commissioners of Customs meet annually and the meeting Uganda is hosting is the 11th while the 10th Conference was held last year in Moroni, Commoros.
The new African Union Trade Observatory Dashboard is another step towards the African Continental Free Trade Area, which will help the continent harness its economic potential. It will provide the African Union, the African countries and the private sector with data and statistics that are essential for the sound monitoring of continental trade and evidence-based policy-making.
The Observatory will collect data and analyse trade across borders in Africa, addressing the current lack of up-to date-and reliable data and statistics. This information will be made available for policymakers and interested stakeholders, including economic operators. This will enable them to identify promising market opportunities and will facilitate the effective monitoring of the African Continental Free Trade Area implementation and impact once in place.
Why Absa tapped Nazim Mahmood, to complete its separation with Barclays in Uganda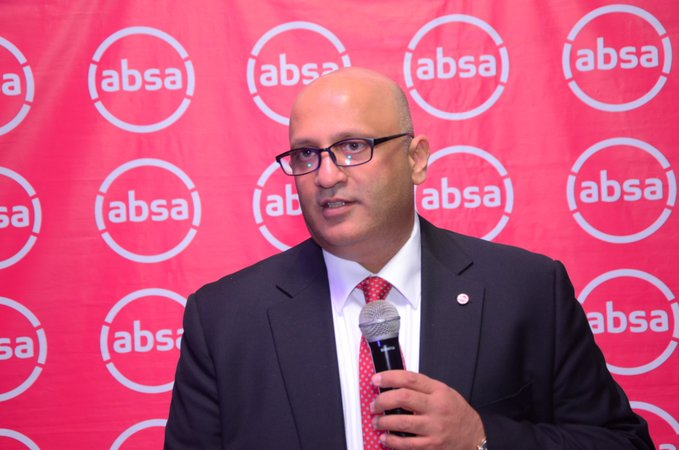 When it comes to migration, integration and rebranding, Barclays Bank has had a nasty experience in Uganda before. The 2009/10 integration of newly acquired Nile Bank into Barclays was such a pandemonium that at some point it sparked false fears that the bank was closing- but all that is in the past.
Barclays Bank has since stabilized today. It is the 5th largest bank by assets, lending, customer deposits and profitability, with approximately 10% market share on all those parameters. It, in 2018 registered UGX2.8 trillion in assets, UGX1.2 trillion in lending, UGX1.8 trillion in deposits and UGX69 billion in profits.
This time, with Barclays Bank metamorphosing into Absa, the powers that be know better than repeating the mistakes of the past and they couldn't have tapped on a better person than Nazim Mahmood to head the Ugandan execution.
Mr. Nazim Mahmood was in June 2019 appointed as Managing Director/Chief Executive Officer replacing Mr. Rakesh Jha who had served Barclays for four and half years, leaving the bank in a solid position.
During Jha's time (2018 to mid-2019), Barclays, saw a Compound Annual Growth Rate (CAGR) of 13.3% in assets- on the back of a 63% growth in deposits and 98% growth in lending as at end of 2018.
Profitability grew by 67.4% as at end of 2018.
Not only does Nazim, come in with a wealth of retail, SME and corporate banking experience, spanning nearly two decades in between 3 global banking giants (Citibank, Standard Chartered and Barclays) in Asia and Africa, but he also possesses prior Ugandan experience, having worked as Director Retail & Business Banking (Commercial & SME) at Barclays Uganda, between August 2013 and August 2017. It is from here that he rose to Barclays Africa, Headquarters in Johannesburg as the Director Core Banking Transformation in charge of Greater Africa.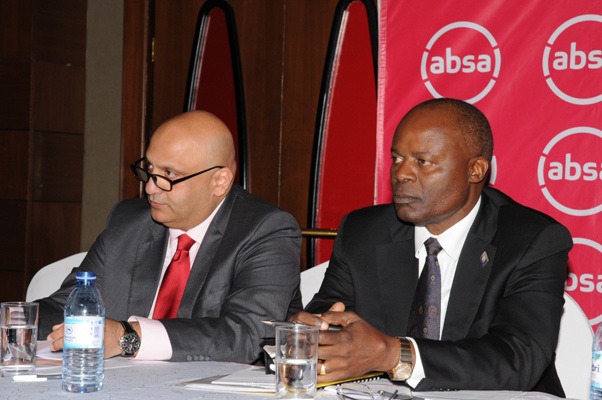 It is perhaps his most immediate job as Director Core Banking Transformation, which made him more suitable for the Barclays Bank Uganda top job, whose key KPI is the delicate transition from Barclays Uganda to Absa Uganda, a process that the bank says will be completed by mid-2020.
Core banking is at the heart of modern banking especially in today's world where banks are racing to provide seamless banking across multiple branches and branchless channels- both in-country and across the world and as such the migration from Barclays to Absa would first of all have to be seamless in-country but more importantly allow Barclays customers to continue transacting globally in the new Absa environment.
As Director Core Banking Transformation he was closely involved in the successful migration of banking platform of six African Barclays/Absa subsidiaries- Botswana, Ghana, Mauritius, Tanzania, Seychelles and Zambia – from Barclays Plc's data centre in the United Kingdom to Absa's data centre in South Africa. This migration, which took place during 12th to 14th April, entailed moving customer transaction-processing capability and data from IT systems owned and housed by Barclays to systems owned by Absa in South Africa- a delicate process that Absa announced had been successful on 16th April 2019.
Between 18th – 19th May 2019 Nazim was also involved in the successful migration of digital channels and their respective account origination applications used by ten African subsidiaries — Tanzania, Ghana, Botswana, Zambia, Mauritius, Seychelles, Uganda, Kenya, Mozambique and National Bank of Commerce in Tanzania (NBC) (majority owned by Absa) — from the Barclays PLC data center in the United Kingdom to Absa's data centre in South Africa.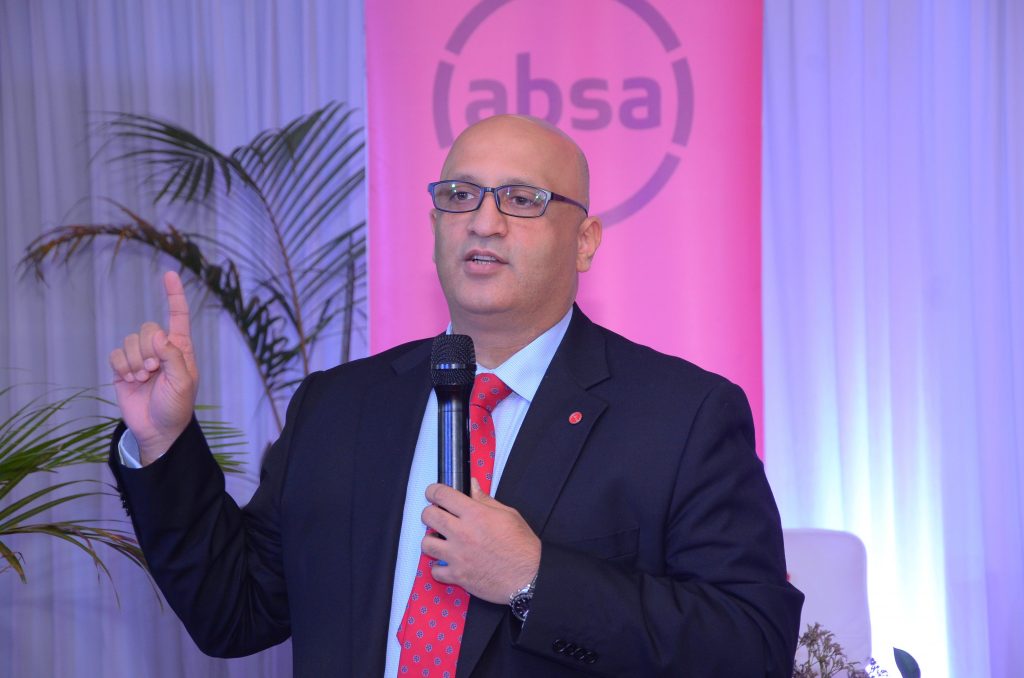 With the heart and nerve centre of the transition done, Absa on 07th June 2019 announced that the programme to separate from Barclays PLC was 69% complete, with 184 of the 266 projects having been successfully delivered, two years into the three-year programme.
So the decision to bring Nazim to Uganda, to head Barclays' full integration into Absa was just in time, as Absa now moves into the phase of actual name change and subsequently the blue to red transition.
Part of the Absa Group's separation agreement with Barclays PLC was to remove the Barclays brand from all assets by mid-2020 at the latest.
Nigeria was on July 3, the first market out of South Africa to fully change over to Absa.
About Nazim Mahmood
He started his banking career as the Credit Policy Head at Citibank, Karachi Pakistan (2002 – 2005) from where he became the Head of Risk Management, SME & Secured at Standard Chartered Bank in Dubai, UAE.
He then joined Barclays, as the Head of Branch Banking & Investments in Cairo, Egypt (August 2007 – September 2008) and went on to become the Head of Retail Business Development – Emerging Markets within the same bank. Between February 2009 and September 2011, he rose to become the Regional Head of Credit Operations at Barclays, Egypt.
From August 2010 to July 2013, he rejoined Standard Chartered Bank as the General Manager, Priority & International Banking in Karachi, Pakistan and in August 2013, he made a comeback to Barclays Africa, this time as the Director Retail & Business Banking (Commercial & SME) at Barclays Uganda.
In September 2017, he left for Barclays Africa, in Johannesburg to work as Director Core Banking Transformation, Greater Africa, his most immediate position before being appointed Managing Director / Chief Executive for Barclays Bank Uganda. The seasoned banker holds an MBA (Finance) from the Bentley University's Graduate School of Business as well as a bachelor's degree in business administration from the University of Massachusetts, Amherst in the United States of America.