WHO Director General visits Uganda to assess Ebola response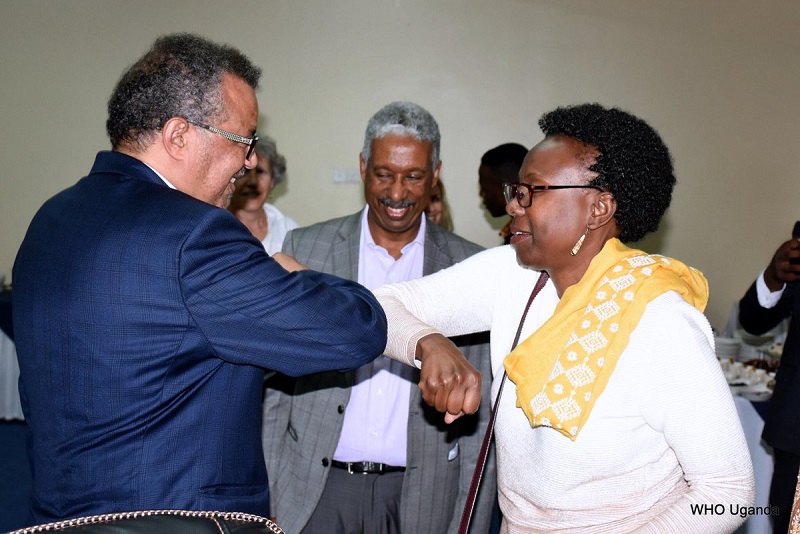 World Health Organization (WHO) Director General, Dr. Tedros Adhanom Ghebreyesus, is in the country to assess Uganda's response to the current Ebola outbreak in Kasese District, Western Uganda. 
Kasese is one of 127 Ugandan districts, located in western Uganda and 400km away from the capital, Kampala.
Dr. Tedros made a stopover in Uganda while on his way from the Democratic Republic of Congo (DRC) where he visited the Ebola hotspots, Butembo and Katwa. This is his third visit to Uganda since the Ebola outbreak was declared in August 2018 in DRC.
He was received by the Minister of Health, Hon. Dr. Jane Ruth Aceng and her technical teams, Mrs Rosa Malango the UN Resident Representative, Dr Yonas Tegyn the WHO Country Representative to Uganda and Dr Lisa Nelson, the Centers for Disease Control and Prevention (CDC) Director in Uganda, yesterday at Protea Hotel in Entebbe at 7:00PM.
In his remarks, Dr. Tedros pledged continued support to Uganda to contain this outbreak. "From our side, I would like to pledge that we will continue mobilizing global and regional support to control this outbreak as soon as possible. It is not clean until the outbreak in DRC is finished"
Dr Tedros commented on the seemingly declining trends in Butembo and Katwa. He said, "There appears to be a decline in Butembo and Katwa areas. However, in my discussions with my colleagues, we agreed to be very careful with optimism but very cautious optimism because the Ebola situation in DRC has been very unpredictable with up and down trends.
He further said that Mabalako where the Ebola outbreak was first confirmed in August 2018 has once again become a hot bed of new infections.
"Mabalako is now the hottest place where cases actually came from to Uganda" Dr Tedros noted.
Dr. Tedros explained that "I have accepted the assessment of the WHO Emergency Committee that although the Ebola outbreak in DRC is an emergency in the country and the region, it does not currently constitute a Public Health Emergency of International Concern (PHEIC)."
He also revealed that in December 2018, WHO requested international pharmaceuticals giant, MERCK to produce more doses of the 'Ebola-rVSV' vaccine, to continue supporting the outbreak.
In her remarks, the Minister of Health, Hon. Dr. Jane Ruth Aceng said that, the transition from a preparedness mode to a response mode was not difficult given that Ministry of Health and partners had invested heavily in ten months of preparations to handle any eventualities. However, she said, "The challenge is that we now have to again mobilize resources for the response phase."
She appreciated the WHO for the support with the Ebola vaccines during the preparedness phase, where over 4,200 frontline health workers and other workers were vaccinated in Uganda.
"During this response phase, we have received a total of 3,400 doses of the vaccine. A donation of 400 doses from the DRC as a quick initial measure to kick start vaccination of contacts, frontline health workers and other workers who were not vaccinated, and an additional 3,000 doses sent in by WHO. All these arrived very timely and vaccinations commenced last Saturday, 15 June 2019 where over 20 contacts were vaccinated. Today, we expected to vaccinate over 70 people and the process will continue," she said.
Dr Tedros is expected to meet the President of Republic of Uganda H. E. Yoweri Museveni on Monday, 17th June 2019 for a bilateral on the current Ebola outbreak that has spilled over to Uganda.
Dr Aceng appreciated the efforts and contributions of all partners in Uganda towards the containment of the Ebola outbreak.
The UN resident Coordinator, Rosa Malango appreciated the political commitment of Government in responding to emergencies. "I have discussed with Dr. Yonas, and agreed to meet on Monday 17th June 2019, to once again analyze the gaps and identify where support is needed in terms of financial resources" she said.
As of now, Uganda has no confirmed case of Ebola. Two suspect cases were under isolation in Bwera Ebola Treatment Unit as of Sunday 16th June. One of the suspect cases tested negative for Ebola and has been discharged, while results of the other suspect cases is pending.
The European Commission on 13th June 2019 announced an emergency funding of €3.5 million, of which €2.5 million is for Uganda and €1 million for South Sudan to strengthen rapid detection and reaction to Ebola cases. This is over and above the €17 million in EU funding for Ebola response since 2018 in the Democratic Republic of Congo and prevention and preparedness actions in Uganda, South Sudan, Rwanda and Burundi.
UNICEF, the UN Child Agency has provided over 5500 hand washing facilities to critical areas such as hospitals, schools and border entry points in 17 districts across Western Uganda.
The Government of Ireland has also stepped in with a donation of two all-terrain 4*4s to improve the mobility and logistics by Ministry of Health workers.
EMBRACING TECHNOLOGY: URA to rollout digital tax stamps to improve compliance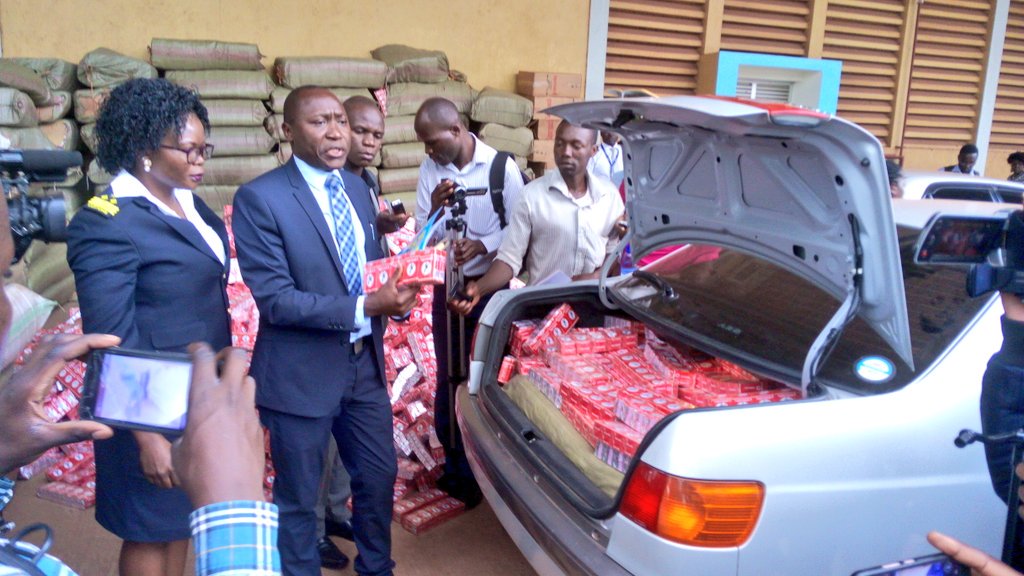 " The new tax solution is part of URA's scheme to combat illicit trade, seal revenue leakages and boost collection and increased efficiency in managing taxpayer compliance. The solution is expected to enable manufacturers, distributors, retailers and consumers to conveniently verify and trace all specified goods throughout the distribution chain."
The implementation of the Uganda Revenue Authority Digital Tax Stamp Solution (DTSS) is set to go live soon, after the last stage of installing equipment in factories is completed.
Speaking during the launch of the taxpayers' appreciation month for Northern Uganda, Mr Cyprian Chillanyang, the URA business policy assistant commissioner, said the implementation had already started, noting that the rollout plan, which will have its first phase implemented throughout the 2019/20 financial year, will start with water, beer, soda, juices, cigarettes and other soft drinks.
"Right now we are preparing soda and water factories to install equipment. Government has contracted a Swiss company (SICPA) that is going to put these tracking features in factories," Mr Chillanyang said.
The new tax solution is part of URA's scheme to combat illicit trade, seal revenue leakages and boost collection and increased efficiency in managing taxpayer compliance. The solution is expected to enable manufacturers, distributors, retailers and consumers to conveniently verify and trace all specified goods throughout the distribution chain.
In a statement, the URA Assistant Commissioner Public and Corporate Affairs, Mr. Vincent Seruma said,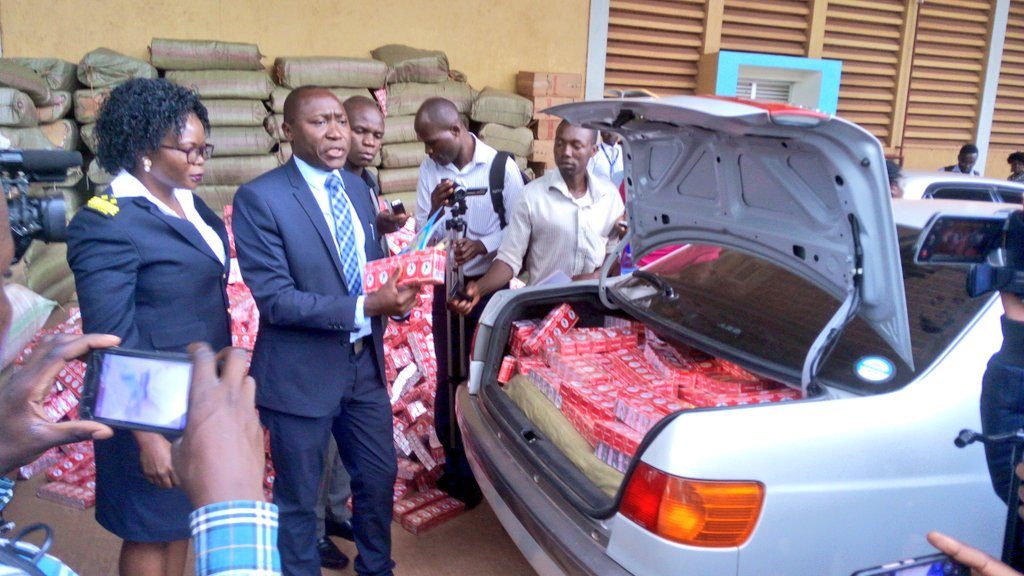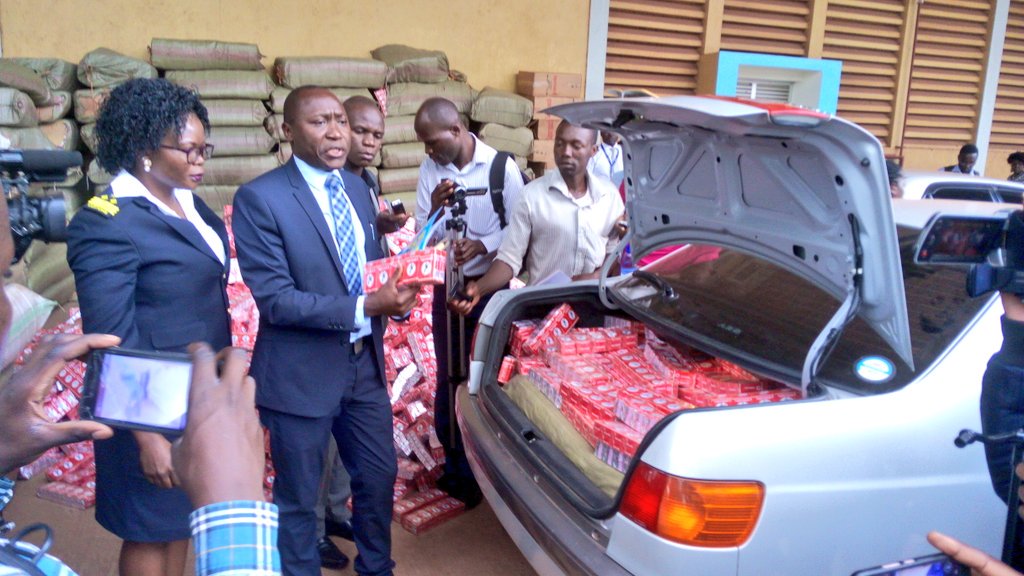 "Rumours of URA suspending the implementation of the digital tax solution are false; what was communicated to the manufacturers was the change in the go live dates to allow for the completion of installation of machinery at the factories and also make sure the due process of gazetting the solution is complete. URA will notify the manufacturers and the general public through appropriate channels including a public notice on the date of implementation." He concluded by urging stakeholders and manufacturers to embrace the digital tax stamps as it is a critical tool in the fight against illicit trade and counterfeit goods.
These digital tax stamps also improve on accountability of production and protect local manufacturers. Uganda isn't the first in the region to embrace the digital tax stamps, it has been implemented in Tanzania, Rwanda and Kenya and they are benefiting from the solution.
The roll out of digital stamps had been delayed by the lack of resources after Parliament in May queried more than Shs103b, which URA had requested through a supplementary request to implement the system. URA was also put to task to explain why it had procured the services of SICPA without a competitive bidding process.
A section of traders and private sector players have also recently asked URA not to introduce a system that will transfer burdensome costs on an already loaded business community.
Recently, Ms Barbara Mulwana, the Uganda Manufacturers Association chairperson, said: "We are very disturbed about the digital tax stamps, in a way it is negative and it is going to add to the costs of doing business."
Digital stamps, according to URA, will address challenges of illicit trade, counterfeit products and unfair competition.
"… we want to ensure that consumers are not duped into buying fake products." Mr Chillanyang said.
According to Uganda National Bureau of Standards, nearly 54 per cent of products on the Ugandan market are either faked or counterfeited.
URA has previously implemented tax stamping although in a version it says was too manual and became prone to forgery.
Customers bank deposits in Uganda now protected up to Ugx 10m – Government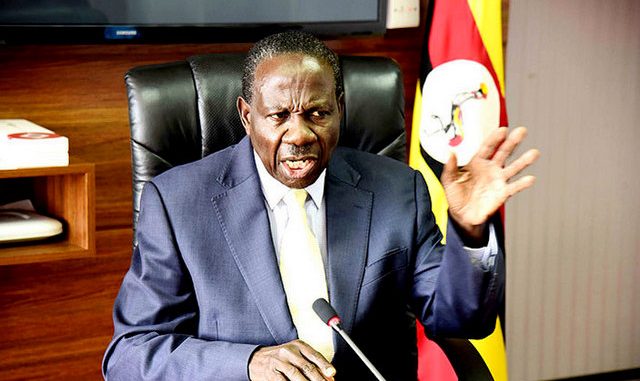 The government has increased bank deposit insurance limit from the current Shs. 3million to Shs.10million. This is the amount of money that is put aside to cater for misfortunes like the closure of a bank, as a guarantee that depositors can be refunded to that limit.
This money is kept by the Deposit Protection Fund, an independent agency created under the Financial Institutions Act, 2004. The Fund, previously under Bank of Uganda, was operationalized in 2017 after the enactment of the Public Finance Management Act, 2016.
The increment in the insurance limit means that if a bank collapses and you had deposited there 10 million, all your money will be refunded from the fund. But if you had deposited 20 million Shillings, you will only be entitled to the insured amount of 10 million Shillings.
Finance minister Matia Kasaija said that the decision had been taken after considering the changing environment, including inflation, the exchange rate and growth of deposits in the banks.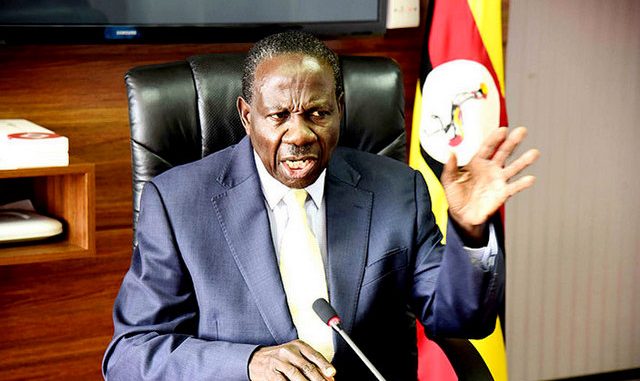 Kasaija added that it is a cushion that people who have saved their money must get justice in case a bank or financial institution has closed. This creates confidence in the financial sector and helps people to be certain that when they save their money, they will get it back.
The money in the deposit protection fund is contributed by commercial banks credit institutions and microfinance deposit-taking institutions. These institutions contribute 0.2 per cent of all the deposits they collect annually said Wilbrod Awor, the executive director of the Uganda Bankers' Association (UBA).
This will not change, he added. Therefore, this will not affect financial institutions finances. The Fund now is headed by Julia Clare Olima Oyet as the Executive Director and Patrick Kagoro as the board chairperson.
Oil Money will not be for Consumption or even Salaries – President Museveni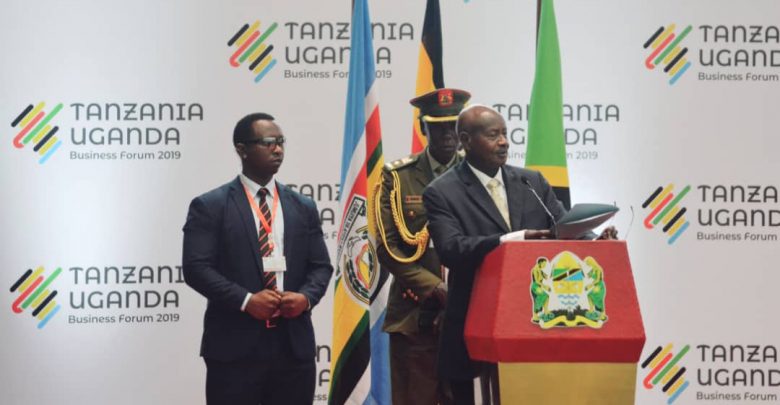 President Yoweri Museveni has echoed that Uganda's cash from the oil resource will not be used for consumption or even salaries to civil servants.
The President made the remarks on Friday while addressing the business community attending a 3-day Uganda-Tanzania Business Forum 2019 at the Julius Nyerere International Convention Centre in Dar-es-Salaam, the Tanzanian capital. The First Lady and Minister of Education and Sports Hon. Janet Kataha Museveni was among other cabinet ministers and private sector officials at the forum.
"Under my leadership, the money from oil will not be used for consumption or salaries. Why? Because it is a resource that is exhaustible and finite. One day there will no longer be oil. That is why I insisted that money from these resources should only be used to create durable capacity for the Ugandan economy namely; build power dams, irrigation schemes, the railway, scientific innovations and some aspects of education," he said.
The forum is the first of its kind and was the initiative of the partnership of Tanzanian Private Sector Foundation (TPSF) and the Private Sector Foundation of Uganda (PSFU). It aims at offering a platform for the business community to share experiences, explore investment opportunities across borders, create business to business networks, identify and discuss challenges in the presence of the Heads of State and Government Ministers and policy makers.
The forum also lays emphasis on issues relating to the steps that can be taken to address and overcome the bottlenecks to the thriving of the bilateral trade between Uganda and Tanzania. Earlier, President Museveni and his Tanzanian counterpart, John Pombe Magufuli were conducted on a guided tour of exhibition stalls in which Ugandan companies and government ministries including Uganda Airlines, Uganda Investment Authority, Uganda Railways Corporation, Kakira Sugar Works, Stanbic Bank, National Social Security Fund, NITA, UCC, Ugandan Petroleum sector, the Ministry of Energy, and the National Oil Company, among others, showcased what they offer.
President Museveni said he is interested in learning the conclusions of the forum on topics relating to the attractiveness of the 2 countries as destinations of investments, harmonisation of the strategies and partnerships in the emerging data economy, trade and infrastructure, reducing the cost of doing business between Uganda and Tanzania and the local content as a key to the unlocking of the long term value in extractive industries.
The President and his host concurred on the plan to enhance water transport from the Port of Mwanza in Tanzania to Port Bell in Uganda adding that railway transport between the two countries would go a long way in promoting sustainable trade and investment between the two countries. Mr. Museveni revealed that the East African governments are working aggressively on power saying that in Uganda today total power generation will soon be 2,000 megawatts which will ensure reliable power supply transmission and the lowering of power costs for manufacturers.
President Magufuli described the 1st business forum between Uganda and Tanzania as a historical occasion. He thanked the organizers for effecting the forum and President Museveni for honouring it with his presence. "The cooperation between Uganda and Tanzania has been in existence since time immemorial even before colonial time. The borders cannot separate us. We shall continue working together in development," he said.
He stressed that it was important for the two countries to strengthen their cooperation in development drawing on the potential of their own natural resources in the sectors of agriculture, tourism and manufacturing. President Magufuli revealed that to ensure faster movement of people and goods between Uganda and Tanzania, his government is going to institute only two checkpoints from Dar-es-Salaam to the Ugandan border.
President Magufuli added that measures are underway to ensure that goods move freely in the EAC region with a view to increasing trade and investment. "The room for investment is very wide for Uganda and Tanzania business sector. This bilateral forum should be promoted for our people in business. Let's agree and do business and stop lagging behind in development," he added.
The Tanzanian leader disclosed that President Museveni and himself took the decision and agreed to the building of an oil pipeline from Hoima to Tanga, one of the longest pipelines in the world, as a sign of commitment between the two countries. During the Forum, the two leaders witnessed the signing of a number of Memoranda of Understanding between Uganda and Tanzania in the fields of Agriculture, Foreign Affairs and Migration. President Magufuli also hosted President Museveni and First Lady Janet Museveni to a luncheon at State House, Dar-es-Salaam.