Uganda Revenue Authority (URA) during the Q1 FY2020/21 (July to September 2020), took in UGX 4,070.3 billion in tax revenue, against a target of UGX 2,999.8 billion. This is 135.7 percent above target, an equivalent of UGX 1,070.6 billion surplus, John Rujooki Musinguzi, the Uganda Revenue Authority Commissioner General told the media at a press conference this week.
Speaking at the quarterly performance release breakfast, held on October 13th, the Commissioner-General said this performance, was also UGX64.8 billion (1.64 percent) above what was collected during a similar period in FY2019/20. This is as monthly revenue collections recovered from Covid-19 related shocks that saw revenue decline in the last three months of FY2019/20. Collections, accordingly declined in April by 27.52 percent, in May by 32.10 percent, and June by 15.1 percent.
FY2020/21 started with a minor decline of 5.38 percent in July 2020, but revenue collections picked up by 1.4 percent in August 2020, gathering steam, to grow at 8.3 percent in September 2020, Mr. Musinguzi explained.
He said this growth was boosted by domestic tax collection that reached UGX 2,456.5 billion in the quarter— 131.7 percent above target or UGX590.8 billion in surplus. This is equivalent to UGX 51 billion (2.12 percent) above what was collected in a similar period in FY2019/20. International trade tax collections in the period were UGX 1,714.1 billion or 138.9 percent above target — a surplus of UGX 479.79 billion. Compared to the period July to September 2019, international tax (customs) collections grew by UGX 23.93 billion (1.42 percent).
The URA Commissioner General said that 75.9 percent of all the tax revenue was realised from five (5) sectors, with the wholesale and retail sector contributing 30.7 percent, the manufacturing sector 23.2 percent, and the information and communication sector 9.3 percent. Financial and insurance services contributed 7.7 percent and the public administration sector contributed 5.1 percent. However, revenue from the accommodation and food services sector declined by 58.8 percent, the education sector by 32 percent, the arts, entertainment, and recreation by 55.6 percent, and water supply by 33.6 percent. The decline is attributed to a slowdown in business in these sectors owing to COVID 19.
Digital Tracking Solution tracks new taxpayers
For the first time in three years, URA registered a surplus in Local Excise Duty (LED), a feat that Mr. Musinguzi attributed to increased activity in the telecoms sector as well as the implementation of the Digital Tracking Solution (DTS) that was fully rolled out in Q4 2019/20.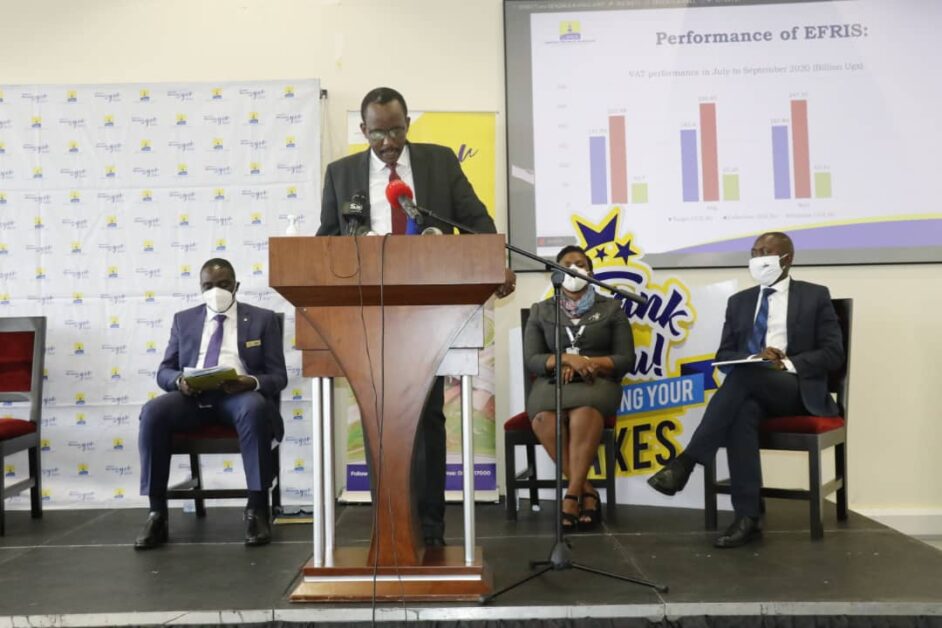 Local Excise Duty contributed a surplus of UGX 107.87 billion, which was mainly from mobile money transfers (UGX 17.52 billion surplus), phone talk time (UGX 12.51 billion surplus), beer (UGX 27.69 billion surplus), and Over the Top Tax (UGX 8.2 7 billion).
"The surplus can be explained by increased transactions via phone through voice and text owing to limited movement of people amidst the COVID 19. Beer production increased by 7.34 percent in the period, which was matched by an increase of 6.5 percent in beer sales," he said.
He also said that because of DTS implementation, "twenty (20) new manufacturers who used to operate informally and unknown to URA have since been identified and registered for tax." Due to DTS, fifty (50) manufacturers registered growth in excise duty of UGX. 6,196,848,395 over and above their expected duty average growth rates.
DTS also caused VAT collections to go up.
"Twenty-seven (27) manufacturers registered growth in VAT revenue of UGX. 16,896,354,747 over and above their expected average growth rates. Three (03) importers registered growth in VAT revenue of UGX. 357,244,068 over and above their expected average growth rates while UGX. 975,198,098 was recovered from enforcement activities due to non-compliance and under declaration of production volumes," he added.
Besides DTS, elsewhere, VAT collections also increased, registering a surplus of UGX179.35 billion.
"Cement contributed a surplus of UGX 28.53 billion, phone talk time, a surplus of UGX 17.89 billion, wholesale and retail a surplus of UGX 22.56 billion while spirits registered a surplus of UGX 12.84 billion," Musinguzi explained, adding: "the ongoing infrastructure developments in the country have boosted demand for cement leading to an increase in sales by 28.63percent."
"The production and sale of spirits increased by 42.77 percent and 45.68 percent respectively, owing to spirits being a raw material to the highly demanded sanitizers," added the Commissioner-General.
Corporation tax also registered a surplus of UGX 35.20 billion, partly driven by out of court settlements of the pending suits in court.
Integrity, technology, voluntary compliance, and efficient service delivery
The above performance is Mr. Musinguzi's first results in what you could say is his first real year since he joined the revenue authority in March 2020, towards the end of a financial year started by Doris Akol, his predecessor.
This financial year, he and his team must correct UGX 19,698 billion, compared to UGX2,0344.1 billion in FY2019/21. Although the FY2020/21 targets are approximately UGX2 trillion less than the earlier UGX21,810 billion target that was slashed to due to Covid-19, the new targets are still quite a challenge, given that the economy is still in partial lockdown, with key sectors like tourism and education in limbo.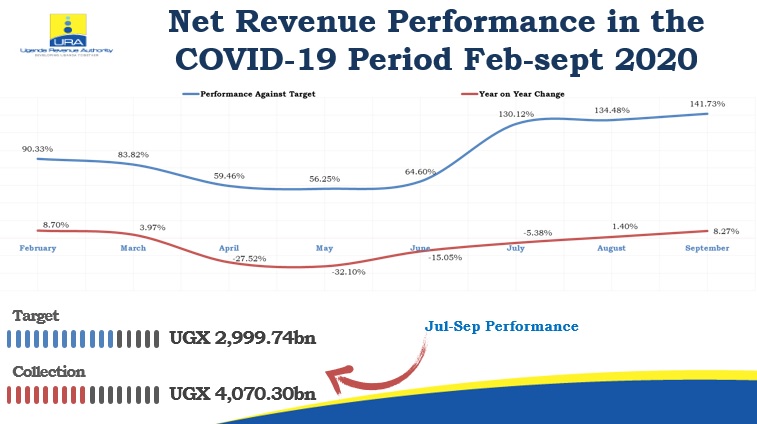 For example from a UGX 2,999.8 billion target in Q1, this Q2 URA needs to collect UGX4,400 billion, 50 percent more than the previous quarter.
Yet according to the Bank of Uganda, economic growth in Financial Year (FY) 2020/21 is projected in the range of 3.0-4.0 percent, further increasing to 5.0-6.0 percent in FY 2021/22. Economic growth is consequently expected to remain below the potential growth rate until FY 2022/23.
"For the second quarter, the target is much steeper, and that's why I call upon all our taxpayers and revenue officers, to tighten their belts and work even harder for us to be even able to meet our 2nd quarter targets," he says, adding: "As URA, we are putting up our best efforts to collect as much tax as we can and we will be happy to meet the set targets, exceed it without relenting or feeling like we have arrived."
So what is his key strategy to meet his targets without killing the golden goose that lays the egg?
Musinguzi says URA is employing a mix of carrot and stick measures that include: integrity enhancement, voluntary disclosure, full implementation of compliance initiatives like the Electronic Fiscal Invoicing and Receipting Solution (EFRIS), and the Digital Tracking Solution as well as alternative dispute resolution, with enforcement as the last resort.
"There's a new dispensation at Uganda Revenue Authority, where staff integrity and efficient service delivery are our number one priority. We are reviewing a number of organisational structures, our human management practices, to ensure that we carry out this noble task with the integrity and accountability that is expected of us," he explains.
"Going forward integrity, patriotism and professionalism are the core values that define us as the URA team. We will have no tolerance at all for corruption. I therefore want to take this opportunity to call upon the public, especially our taxpaying community to support us on this journey of enhancing integrity and accountability in our service to the nation," he beckons.
Whereas URA has an option to bring the long hand of the law on errant taxpayers, he also says the tax agency is instead choosing a more peaceful option- voluntary disclosure.
"We are urging all our taxpayers to on their own without any prompting from the URA, to come forward and disclose their tax liabilities or any omissions in their tax declarations so as to be compliant with the tax obligations in accordance to the law. We encourage taxpayers to fill the voluntary disclosure form, which is available on the URA portal and make payments of the principal tax only. The taxpayer who voluntarily discloses and pays the principal tax is entitled to a waiver of penalties, of interest, and any other applicable fines. We call upon members of the public and our taxpayers to take advantage of this window and voluntarily declare their tax positions and avoid paying any penalties or interest on those obligations," he says.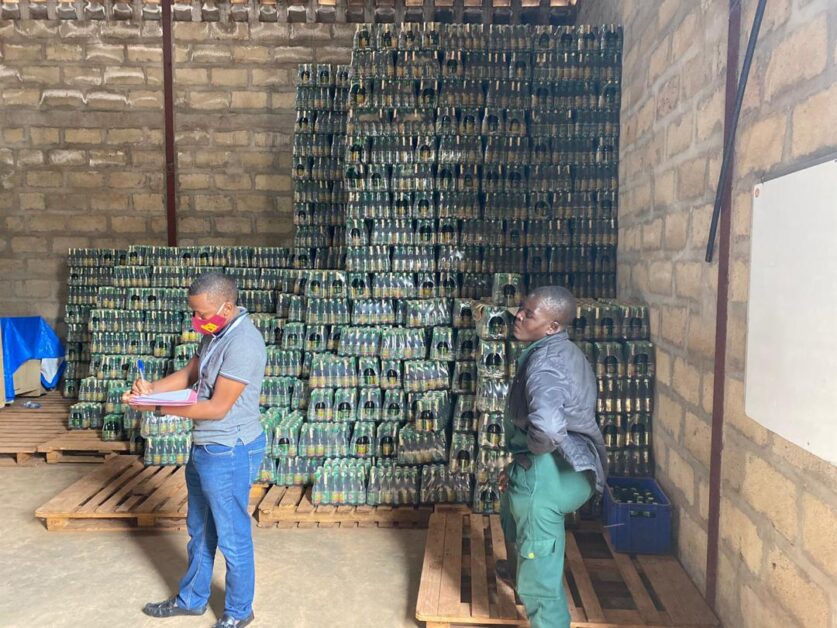 Other than promoting tax repentance, Musinguzi is also extending another olive branch to taxpayers, in form of alternative dispute resolution.
"Alternative Dispute Resolution is a win-win solution. Both the taxpayer and the URA save their time, save their costs in handling these matters in the courts of law. And it is an approach that we promote and would like to encourage a number of our taxpayers who are ready to settle their tax issues, to approach us and we will be able to peacefully and amicably settle these tax disputes and save our time and costs that we normally incur when we spend so many years in court fighting to settle these matters," he says.
Both peaceful methods are yielding results already- for example, during the just-ended quarter, URA recovered UGX16.5 billion from voluntary disclosures alone. ADR yielded an even richer harvest- UGX100 billion was collected through amicable out-of-court settlements. Although there is up to UGX1.3 trillion still held up in the court system, this is a good start.
Of course, Musinguzi is keen to remind the taxpaying public that although URA is offering taxpayers a chance for dialogue, "the story is different when URA finds out on its own without the cooperation of the taxpayer."
Big brother: You can run but you can't hide
Just in case you are wondering how URA will catch you if you remain unrepentant, Musinguzi, says URA is investing significantly in technology, largely to create efficiency and cut the cost and time of tax compliance, but while at it, catch some errant taxpayers too.
"We have introduced and we will continue to promote the use of technology to enhance the taxpayers' experience and revenue administration," he says adding: "We will focus and deepen our data analytics. URA going forward will be guided by data, analytics, and intelligence to enhance our efficiency and guide our decision-making process."
Just in case you don't know or have forgotten, Musinguzi is a tech guru himself, with a Master's degree in Computing and Information Systems from the University of Greenwich in the United Kingdom. He also holds a Bachelor of Science in Mathematics from Makerere University. From July 2015 until his appointment, he has been a Senior Presidential Advisor to H.E the President of Uganda on IT, and before that he held various IT, project management, and business development roles in the private sector as well as head of the finance and audit department in the Special Revenue Protection Services (SRPS). In October 2019, he was also appointed as the Board Chairman of the National IT Authority (NITA).
Some of the technology that URA has invested in, includes: intensified surveillance for wider coverage of porous borders by use of satellite technologies, Regional Electronic Cargo Tracking Systems (RECTs), drones, and enhanced cross-border intelligence information exchanges. The revenue authority will also continue to automate its key business processes. for example, he said that URA had commenced the auto-conversion of the transit entries into warehousing entries and this would translate into reduced clearance time at arrival by over 48 hours, facilitate instant cargo offloading and examination at warehouse, less cumbersome clearance of cargo from the warehouse, improved cargo and bond control and monitoring.
But the major two technology interventions, remain DTS and EFRIS.
EFRIS, making VAT compliance easier and faster
EFRIS is the Electronic Fiscal Receipting and Invoicing System (EFRIS). Introduced on 1st July 2020, EFRIS is part of the Domestic Revenue Mobilization Strategy (2019/20 – 2023/24) that shall be used by all businesses to manage the issuance of e-receipts and e-invoices. The system is designed to improve business efficiencies and reduce the cost of compliance through; improved record-keeping among taxpayers; ability to track and authenticate business transactions in real-time for efficient business management; fast-tracking payment of refund claims using e-receipts or e-invoices given that the information shall be available in the system.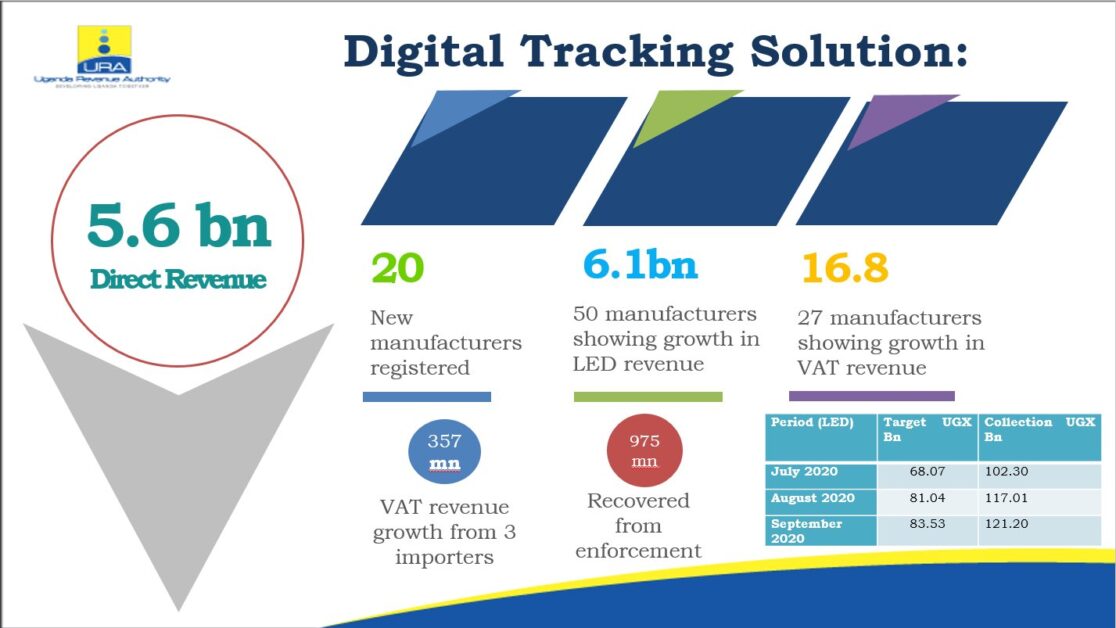 Other benefits of EFRIS include: elimination of the risk of physical loss of tax invoices as transactional data since copies are digitally stored in the system as well as enabling URA avail taxpayers with prefilled tax returns in the future to minimize delays and costs involved in filing tax returns.
Although some taxpayers have failed to beat the 1st October 2021 deadline, because of Covid-19, Musinguzi says URA is keen on handholding taxpayers to ensure no one is left behind.
"The first EFRIS phase focusing on the VAT registered taxpayers was expected to end on 1st October 2020. We however noted that some taxpayers were still experiencing challenges in integrating their respective systems with the EFRIS. Because of the lockdown again, some of them needed to fly in their experts to do the integration and following some meetings with our taxpayers, we agreed to adjust the implementation deadline by another three months. So by the end of November, we expect all our taxpayers to have prepared themselves and completed the integration process, we will have the month of December to test and confirm that the systems are running well. And come 1st January 2021, we will start the enforcement actions for the use of EFRIS for VAT registered taxpayers," he says.
"During this period, URA will continue to train and also offer the desired support to address any challenges," he adds.
He says that in everything that URA is doing, efficiency and taxpayer empathy is key.
"We are looking at ways of supporting businesses so that they don't go under and that's why there are things like expediting the process of refunds, deferring of returns and payment of taxes, waiver of penalties and interest, settlements out of court, etc. This is all to acknowledge, there is a stressed economic environment, businesses are struggling, let us try to be as understanding as possible, in going through this season till when things are normal," he further explains.
Stakeholder engagement and celebrating compliant taxpayers
When all is said and done, Musinguzi says that URA will also continue to celebrate compliant taxpayers and has this year widened its annual taxpayer appreciation week from a week to three months. The appreciation campaign will now run from October to December 2020.
"This will enable us to reach out to more taxpayers under the theme, "Celebrating the Taxpayers of Uganda," he said.
Activities for the Taxpayer Appreciation Season (TPAS) shall include: profiling of the top 10 most compliant taxpayers per district, the top 50 by region, and the top 15 at the national level. It will also include several – free business development seminars in November dubbed Online Bomba Ya Business.
"These seminars will provide insights to businesses on how to survive beyond Covid19. They will feature carefully selected experts who will offer customized business solutions," he says.
The season will climax with an award ceremony of the top compliant taxpayers by the President of Uganda, H.E Yoweri Kaguta Museveni.
Musinguzi doesn't forget his over 2,000 men and women working across Uganda, day and night, rain or sunshine to collect tax revenue.
"I want to thank the URA staff, who are the true combatants of this economic revolution that will liberate our country from economic dependence, by raising enough revenue, to manage the affairs of our nation. They work so hard, they are committed. They are zealous," but gain is quick to remind them, he won't tolerate any deviant behavior.
"I ask members of the community and all our taxpayers to support the revenue officers in carrying out this task and also to report any diversion from doing this honourably and with integrity."