TAGORE LIVING: Grab a piece of these 28 elegant Kampala City urban homes
Ruparelia Group ventures into build-to-sell residential real estate with Tagore Living- a 28 urban homes project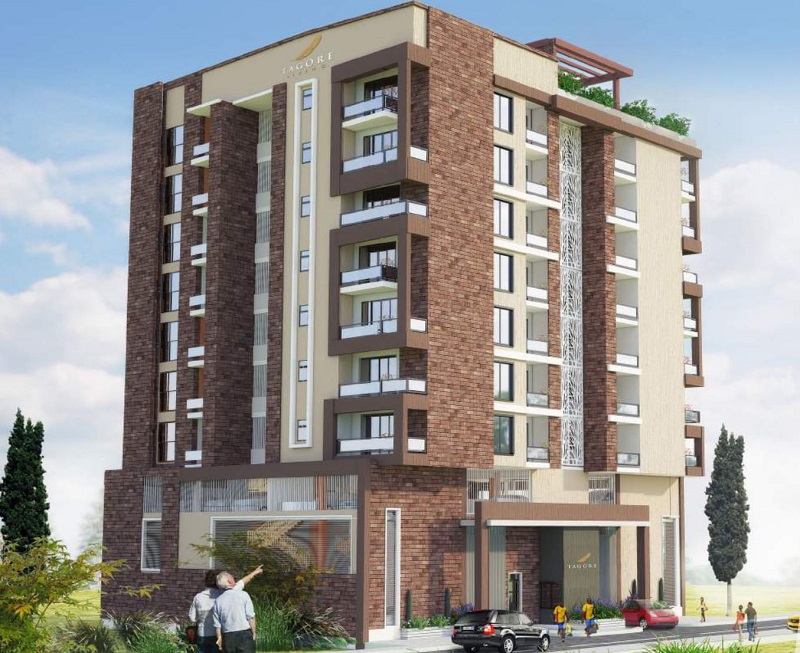 Meera Investments Limited (MIL), Uganda's largest property owner and developer has commenced sales for their Tagore Living Project- their latest urban homes project.
According to Dr. Sudhir Ruparelia, the Ruparelia Group Chairman, the parent company of MIL, Tagore Living, is the group's first built-to-sell residential development project, aimed at "creating an opportunity for both Ugandans and foreigners to invest and own property in Uganda, for either residential or investment purposes."
"Tagore living offers buyers a unique one-off opportunity to invest in a development- either as a long term rentable investment or to live in," he said.
---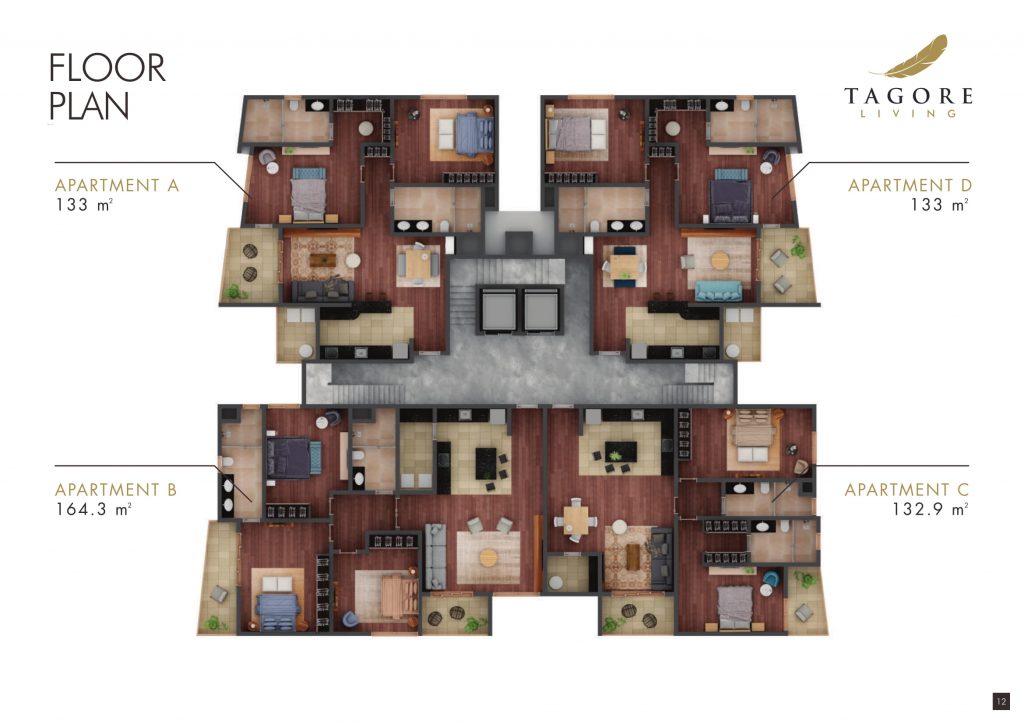 ---
Meera owns over 300 for-rent properties in Kampala and other major towns like Mukono, Jinja, Mbale and Mbarara. The company also owns the largest number of ongoing real estate projects and is the largest private owner of commercial land in Kampala.
Tagore Living comprises of twenty eight (28) apartments located in Kamwokya-Kisementi, just a stone throw-away from Acacia Mall, the Kisementi shopping precinct, Kitante Golf-Course and the affluent Kololo neighborhood.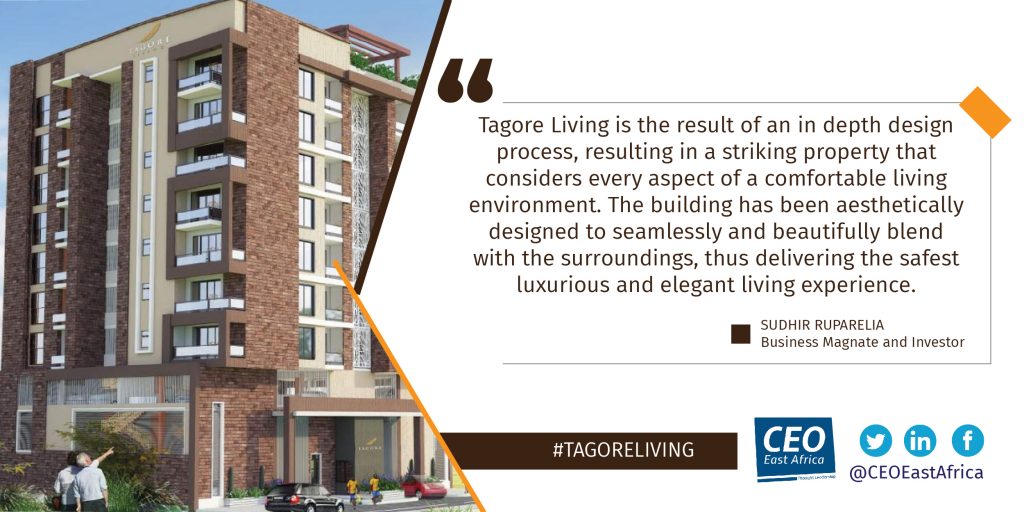 There are 3 configurations of the 2-bedroom apartments- but each with a kitchen, a living room, dining room and a spacious balcony from the living room. The 3-bedroom apartments also come with a kitchen and dining room, a lounge and an even more spacious balcony.
The apartments complex according to the developers is connected to a 3-phase mains power supply with a 24-hour back-up generator. It is also equipped with a duplex passenger lift as well as car lift to the two covered parking levels.
The facility is monitored by 24-hour high intensity surveillance CCTV cameras, a 24/7 operational control room and security personnel. The apartments are also served by a common laundry/utility room and have provisioning for Wi-Fi internet connection, split Air conditioning and cable TV amongst the many other amenities.
---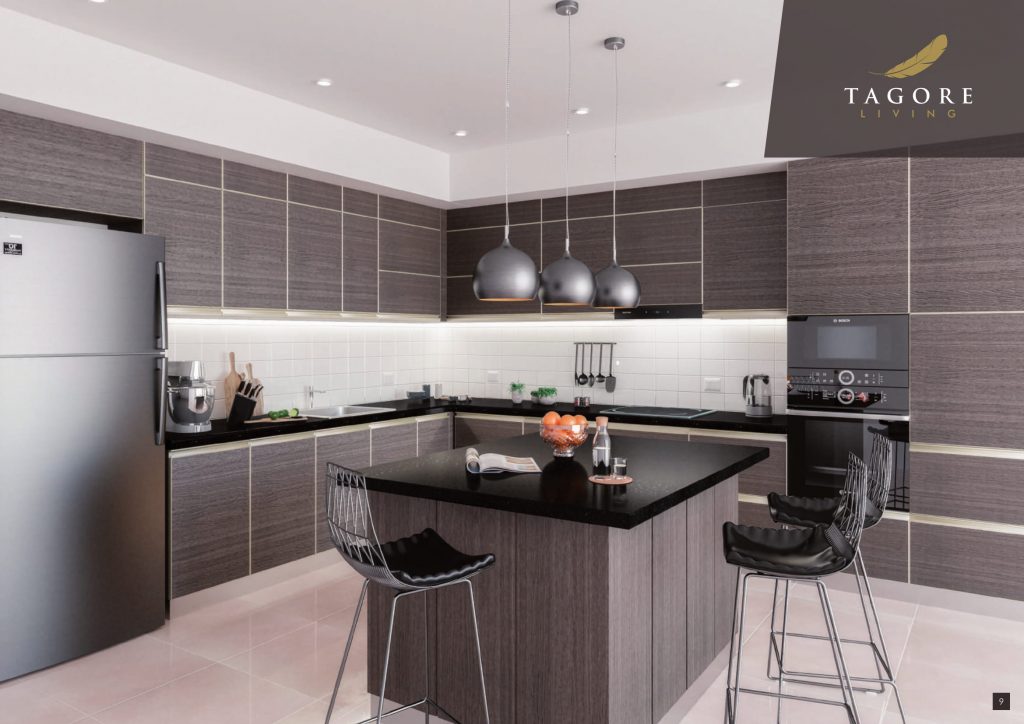 ---
"For Tagore Living, we sourced and procured the finest and most durable building materials that set aside our developments from the rest. In addition, we are committed to delivering the highest quality, leaving no detail untouched. With our experience in the industry we have tried and tested numerous materials and our aim is to deliver high quality finishing with minimal maintenance. We believe in long term satisfaction and we are confident you will find this at Tagore Living," commented Rajiv Ruparelia, the Group Managing Director.
Dr. Sudhir said: "Tagore Living is the result of an in depth design process, resulting in a striking property that considers every aspect of a comfortable living environment. The building has been aesthetically designed to seamlessly and beautifully blend with the surroundings, thus delivering the safest luxurious and elegant living experience."
He said the project benefits from both the group's financial muscle and over "33 years of experience in building developments ranging from schools, hotels and commercial projects."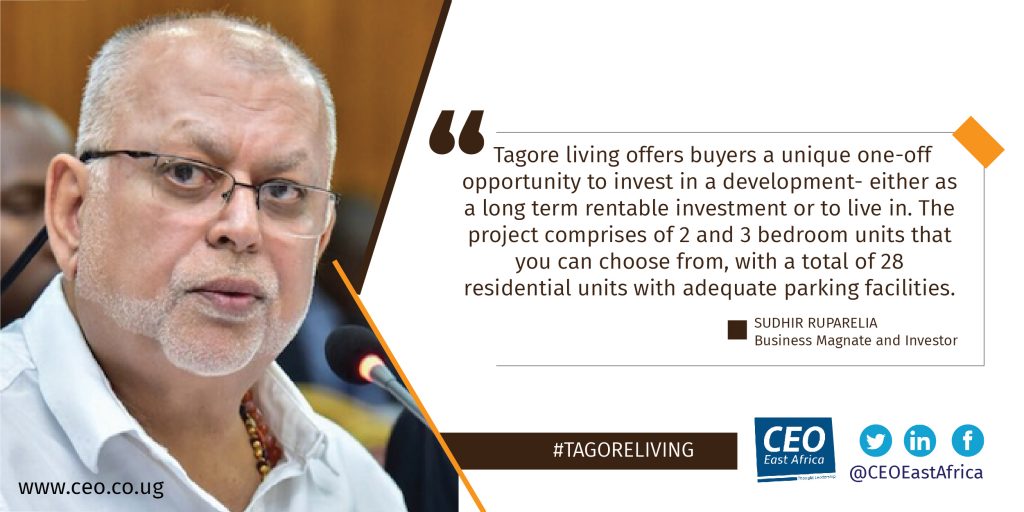 "Meera Investments is one of the leading and most recognized developers in Uganda. A testament to our credentials and credibility can be seen in Kampala's skyline, which is dominated by our projects," he said.
The Knight Frank Uganda, Kampala Property Market Report for H1, 2019 noted that there was nearly a 10 percentage points rise in ooccupancy rates for prime residential suburbs of Nakasero, Kololo, Naguru, Mbuya and Bugolobi- from 69% in H1 2018 to 78% in H1 2019.
Knight Frank also reported a 7% increase in rental rates for 2-bedroom apartments from an average of USD 2,100 registered in H1 2018 to USD 2,250 in H1 2019 due to "demand outstripping supply as evidenced by an increase in expatriate accommodation for singles and couples for 2 –bedroom units."
---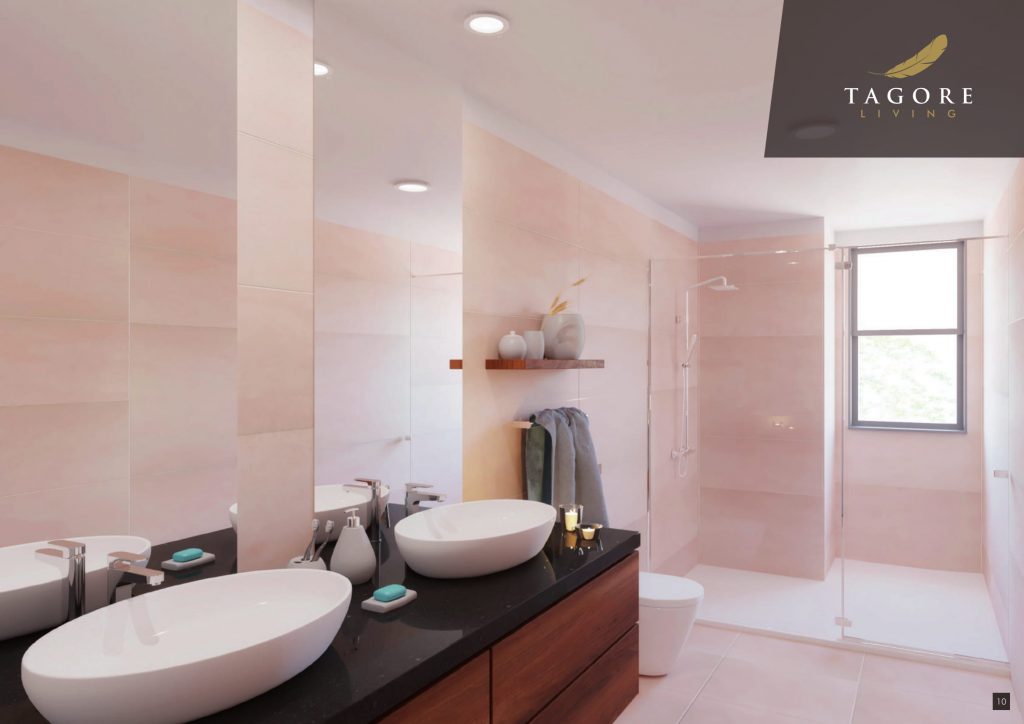 ---
There was however a 5% decline in average rents for 3-bedroom apartments from USD 2,900 in H1 2018, down to USD 2,750 in H1 2019 due to a slowdown in demand.
According to Knight Frank, average sale prices for 2-bedroom apartments in prime residential areas stood at USD280,000 while 3-bedroom apartments sold for USD325,000. Prices for 4-5 bungalows on 0.25-0.5 acres of land went for an average USD1 million.
For further sales information and pricelist please contact Crane Management Services on: info@cms.co.ug or gm@cms.co.ug.
The sales office can also be reached on the following numbers: +256 752 711 750, +256 702 711 142 and +256 414 343 552 or 4th floor, Crane Chambers, Plot 36 Kampala Road.
The rise of Cafe Javas and the price competition has to pay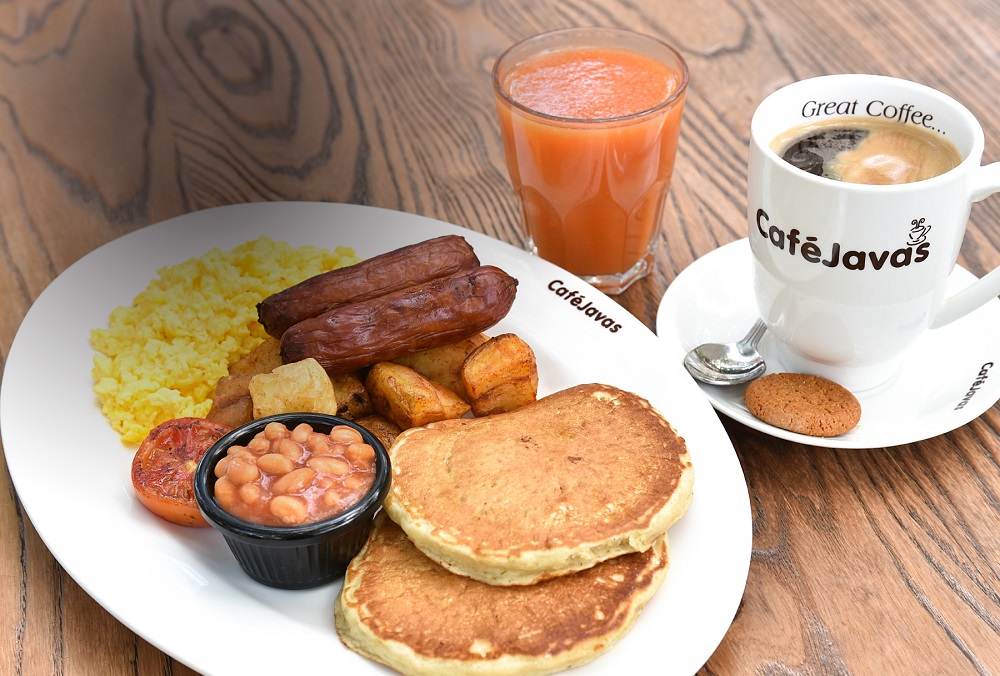 Café Javas ended 2018 at a high- a gross turnover of UGX27.1 billion, according to our highly placed sources.
This was a 48.1% jump from the UGX18.3 billion turned over in 2017, marking yet another year of growth for the food and beverage outlet, which has become famous for good food, ambience and great service in Kampala.
And the public has rewarded them with a proportionate share of their throats and wallets as well.
In the 4 years to 2018, sales turnover has been growing at annual compounded growth rate of 31%. Buttressed by an expanded foot print- now made of 9 outlets; 8 in Kampala and 1 in Entebbe, Café Javas has ramped-up their sales revenue from the UGX9.2 billion in 2015, growing it to UGX13.6 billion in 2016, then UGX18.3 billion in 2017 and closing 2018 at UGX27.1 billion.
Even if this is yet to translate into fat net profits- Café Javas netted UGX100 million in 2015, UGX200 million in 2016, UGX900 million in 2017, ending 2018 with a net profit of UGX1.2 billion- on average an annual growth rate of 86%, their performance to date could be a sign of good things to come.
A memorable dining experience
Café Javas is part of Mandela Group of Companies, the parent company to Cafe Javas, City Tyres, City Oil, City Lubes, City World, Savers, Mandela Millers and Mandela Auto Spares.
The group was founded by businessman Omar Mandela.
On their website, Café Javas, describes itself as "a fully-fledged restaurant specializing in delivering a relaxed and memorable dining experience."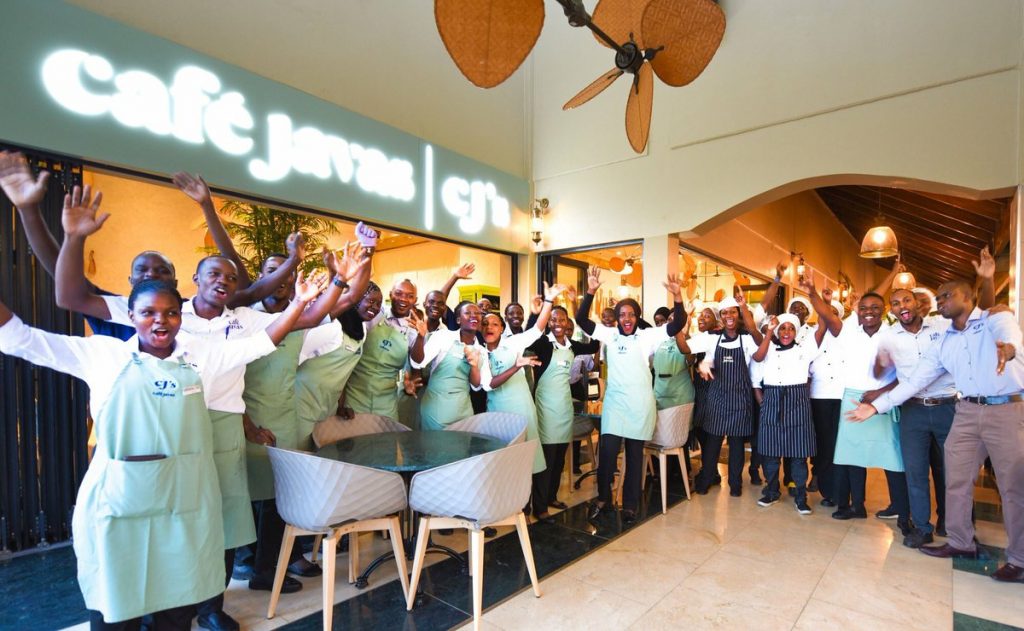 They currently have 12 locations; 8 in Kampala, 1 in Entebbe and 3 in Nairobi. In fact they are one of a handful of Ugandan businesses to expand to Kenya and they seem to be doing well.
According to the website- each location features a "unique ambience with tasteful décor, specially designed" for individual comfort, complemented by "over 300 carefully selected, mouth-watering menu items."
"Whatever your taste, it's well catered for," they dare their customers.
They also boast of great customer service.
"We value you. That's why you'll always be served with excellence by each member of our highly skilled team members. Eager to serve you, our experienced wait staff greet you at the door and lead you to the table of your choice in the well thought out seating arrangement," they claim.
A walk into any of their restaurants- actually proves this; the outlets may be different in architecture and look and feel- but if there is one thing most customers agree on, is the swift service, freshness of food and yes, their portions are generous too!
Café Javas is also not afraid to show off what they say is the "rich aroma" of their "freshly ground coffee" which in their words, is "the handiwork of skilled baristas, adept in latte art."
"This ensures you get a freshly prepared cup of coffee as the beans are roasted on site," they show-off.
Café Javas turns up the heat for competition
But don't let the Café Javas' juicy and sizzling story fool you into thinking Kampala's food business is all that a feisty growth story.
In fact Café Javas growth seems to be taking a toll on some of their closest rivals.
One such rival is Java House Africa, the out-of-Nairobi coffee-led restaurant.
Late last year, when Café Javas opened their 9th Ugandan store at Game Stores' Lugogo Mall, social media commentators, said the nearby Java House outlet at Shell Lugogo would fall. Well it didn't, but their signature outlet at Bugolobi's Village Mall, closed, a few months later, reducing their foot print from 6 to 5 outlets.
And it didn't just close, it gave way to Cafesserie, one of their competitors.
Although Java House brushed off Café Java's rise as a cause of their problems- in fact, Emily Nyiha, the Communications &Events Coordinator at Java House Africa in Nairobi, in a phone call to this reporter, prefers to think they don't have any problems at all, calling the closure of the Bugolobi branch a mere "re-alignment of the business", the truth is not difficult to see.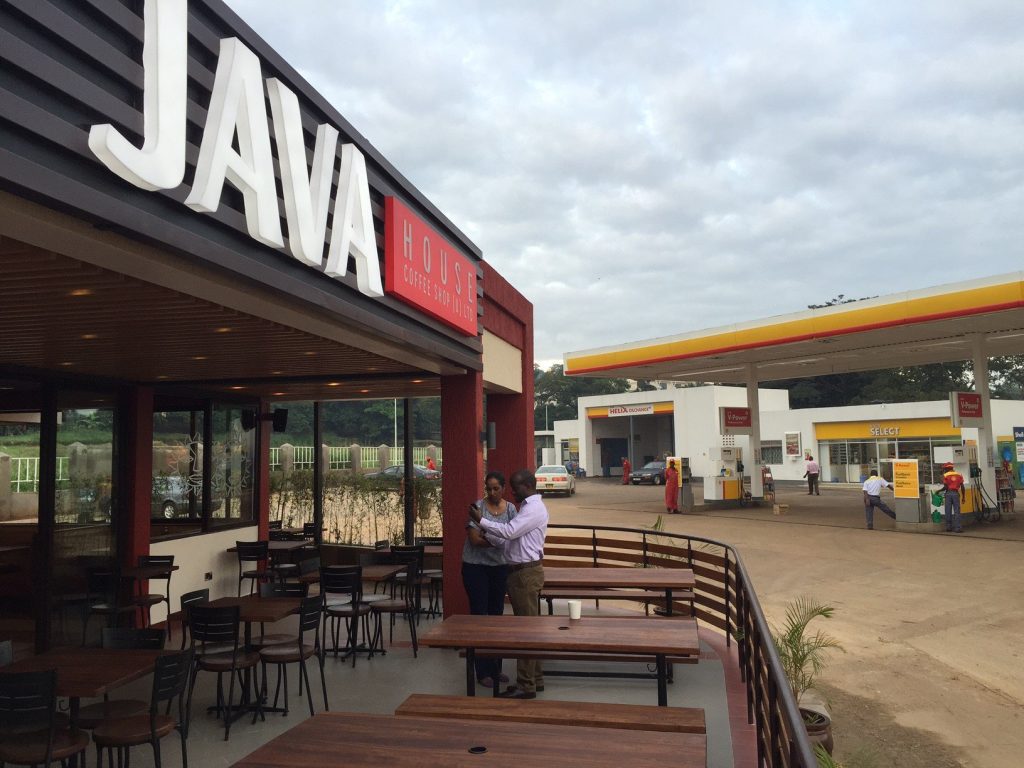 A close look at their figures, indeed shows a little bit more than a mere realignment.
For example while Java House grew their turnover by 101% from UGX5.2 billion in 2016 to UGX10.5bn in 2017, in 2018, they experienced a 17.1 % decline in turnover, to UGX8.7 billion. And this has put more pressure on their net revenue- for the 3 years, they have been loss making- from a loss of UGX3.2 billion in 2016, to a loss of UGX4.1 billion in 2017. This reduced slightly to UGX3 billion in losses in 2018.
Asked about the losses and if the closure of the Bugolobi outlet was meant to partly cut down on costs- especially the over UGX264 million in annual rent, Nyiha instead sidestepped the question and said, Java House was preparing for a major expansion exercise in the region.
"As you are aware, we are growing in the region and are planning more outlets in the coming days," she said.
This July, Actis, a global emerging markets investment firm focused on the private equity, energy, infrastructure, and real estate asset classes announced it had assumed management rights on Abraaj Private Equity Fund IV (APEF IV), Abraaj Africa Fund III (AAF III)- a transaction that includes 14 portfolio companies, including Java House Africa.
ALSO READ: FOOD WARS: Cafesserie pushes Java House out of Village Mall; to open second branch in October https://www.ceo.co.ug/food-wars-cafesserie-pushes-java-house-out-of-village-mall-to-open-second-branch-in-october/
Abraaj Holdings, is the troubled Dubai private equity firm that acquired 90% of Java House Africa, for a reported $100 million, in late 2017. This would mean that now Actis is the new owner at Java House and hopefully this will infuse some fresh energy and cash too!
This January 2019, Java House announced they would infuse a further $10 million in an expansion exercise in the region and have since opened up a handful of outlets in Nairobi and 1 in Kigali Rwanda.
Cafesserie under pressure too
Don't let Cafesserie's move to Village Mall fool you into thinking theirs has been too rosy a picture!
They are under pressure too and are looking to a second outlet to increase their share-of-throat and hopefully share of wallet too.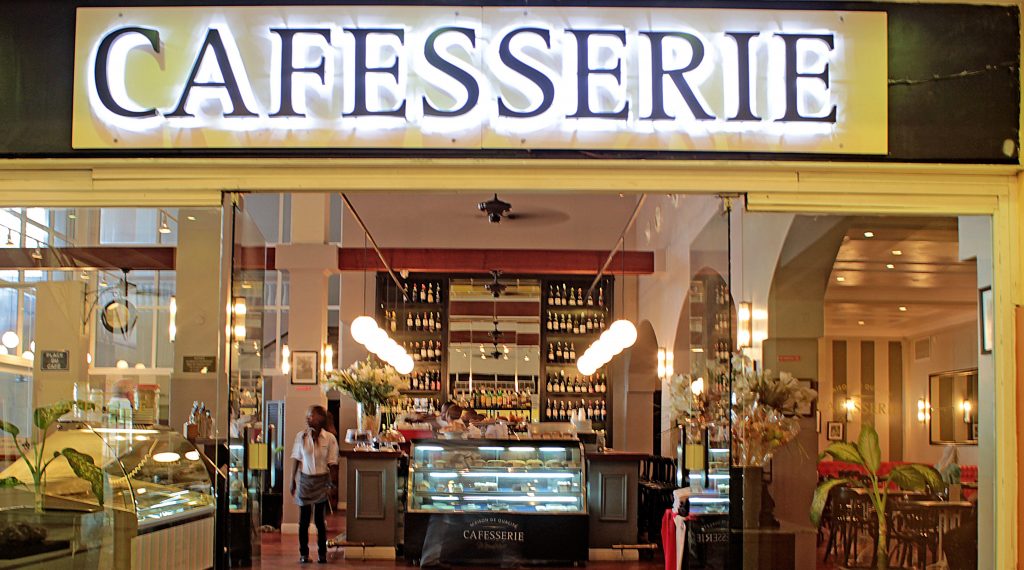 Cafesserie, with their one outlet at the swanky Acacia Mall in Kololo is famous for their Italian coffee, French bakery and continental cuisine.
They opened in Uganda in 2014 and by the end of 2015, business was brisk- they turned over UGX2.5 billion and a profit of UGX400 million; a rare story of profitability in just less than 2 years.
But in 2016, turnover reduced to UGX2.4 billion and they made a loss of UGX200 million. In 2017 sales turnover grew by UGX600 million, reaching UGX3.1 billion, but they still made a UGX200 million loss. Last year, turnover grew cheerlessly to UGX3.2 billion and the losses still hovered at UGX150 million.
Although it is difficult to directly link their lukewarm performance to the rise of Café Java's, considering the fact that between 2015 and 2018 Cafesserie's annual growth averaged at 6% compared to Café Javas galloping 31%- facts speak for themselves.
We are now well deep into 2019 and can't wait tell the second part of this story, come 2020.
TREATING SMALL BUSINESSES: Dr. Innocent Nahabwe's practical guide on how to handle partnerships, money, people and competition for entrepreneurs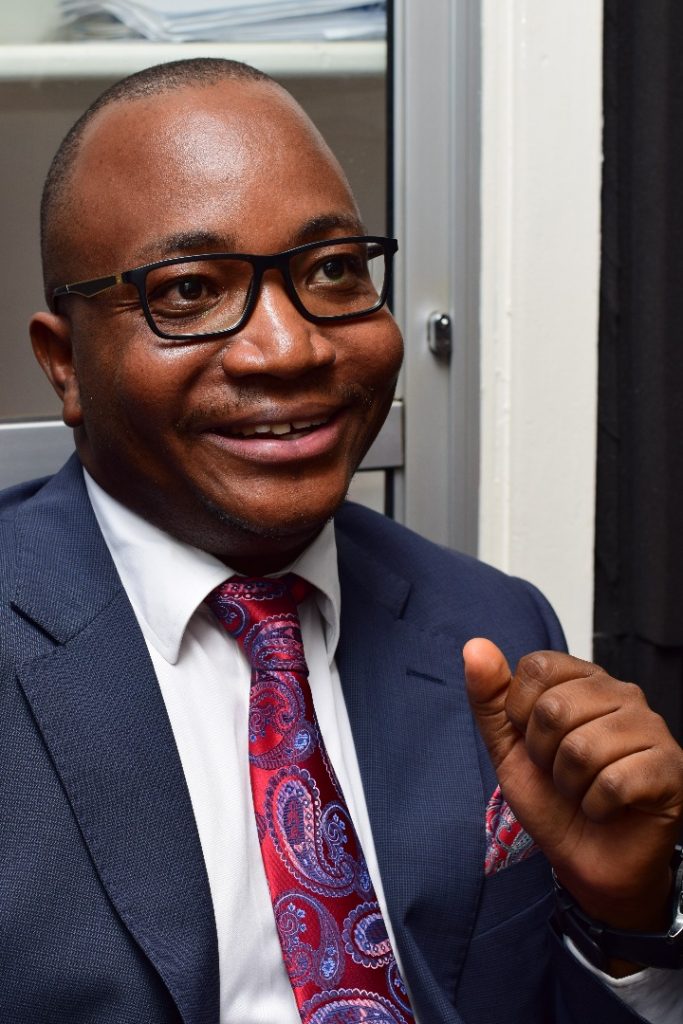 Dr. Innocent Nahabwe is best described as a jack of many trades, and perhaps, master of many of them. He is an all-round entrepreneur, marketing pundit, writer, veterinary doctor and father.
He recently outed a book, Treating Small Businesses- a smooth cocktail of how to handle partnerships, money, people, competition and marketing and how to remain sane in a crazy business environment.
CEO East Africa Magazine's Muhereza Kyamutetera, sat him down both for insights from his book as well as from him experience running small businesses.
---
Describe Innocent Nahabwe for us.
I am many things. I am a human, 38 would make me middle age, male. I am a veterinary Doctor by training who has ventured into Marketing (I hold an MSc Marketing from Makerere University). I am businessman, media practitioner who has made attempts at writing.
I am a father and son. In short, I am a hustler struggling to stay afloat.
What inspired you to write your book, Treating Small Businesses?
I realised that whereas everyone aspires to have big business, most of us will realistically only do small business. Access to capital; the issues with the stock exchange that keep out small business from the Stock exchange hence denying them capital, lack of accessible investment banks or firms continues to limit how far most entrepreneurs will go.
Uganda has been listed among the most entrepreneurial countries but most entrepreneurs will remain small businesses and the bulk of these entrepreneurs are into the service sector – boutiques, saloons, bars, restaurants, cottage firms etc. Most of these start and fail before their first anniversary causing lots of frustration to budding entrepreneurs and those after them.
I have been lucky to run and sustain several small businesses and it was my hope and desire to share the little information I have with fellow small business owners.
This inspired the book.
Why should anyone want to read or buy the book?
The book serves two purposes. One, it shares my experiences told in a humorous manner that most people will relate to. I am within the age bracket of most of the targeted readers. I go through their challenges. I lose some, win some and share honestly my experiences. It's best to buy the book and learn from my mistakes than learn from your own. Books I have read have helped shape my approach towards business and I share honestly and in detail.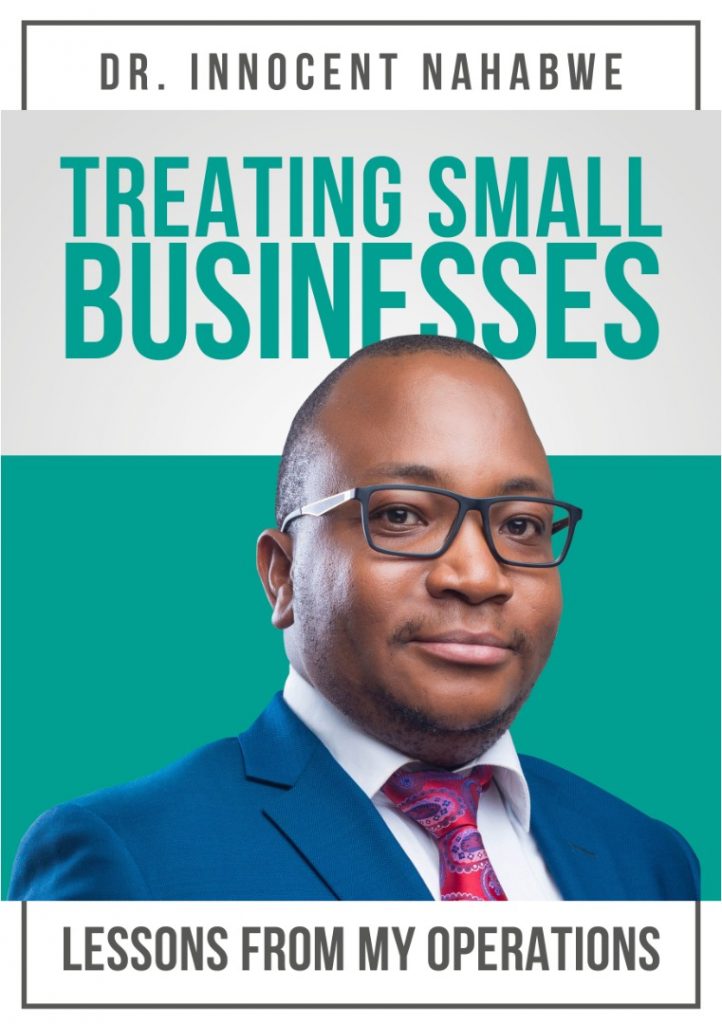 Also, I share my lessons and insights on what makes or breaks business. For anyone trying to do business, this is important for them.
What would you say are the top 5 pieces of advice from the book?
I don't want to pre-empt the book but I share about how to handle staff, how to handle money, how to handle competition, how to market and how to remain sane in this crazy business environment.
Based on your experience- what would you say are the top 5 mistakes small businesses make?
Most people want instant success: Business grows slowly. Even Apple started in a garage many years ago. Dr. Sudhir Ruparelia and others have taken 30 or so years in the game. We can't want to live like them in 2 years. We will kill the business.
Most people mix business money and their own money: The business is an extension of their pockets. This makes accounting hard and most of us kill our businesses ourselves by being bad parasites. We become cannibals.
Lack of book keeping: Most people have shops and don't know the value of the stock they have. Money comes in and goes based on intuition. Stocking is done based on requests. In the book, I suggest simple mathematics (Primary 4 mathematics is enough) with a simple equation to use to track performance, and have proper records. It is a must for every business to have proper records and track performance.
Not giving business enough time: Most people have business as their side hustle. We keep our jobs and hope business will grow on its own. Just like a baby, I explain in the book how to look at your business and create more time within the regular day and get the best out of the business. You can't invest in a business and let it be a by the way.
Mixing emotions and business: Many of us get emotional. We look at business as our baby. We do what we love. We do business for us and not the customer. Even when it fails, we stick with it and it sucks us dry. We need to understand that business is business. It is about money- treat it as business; principally for money.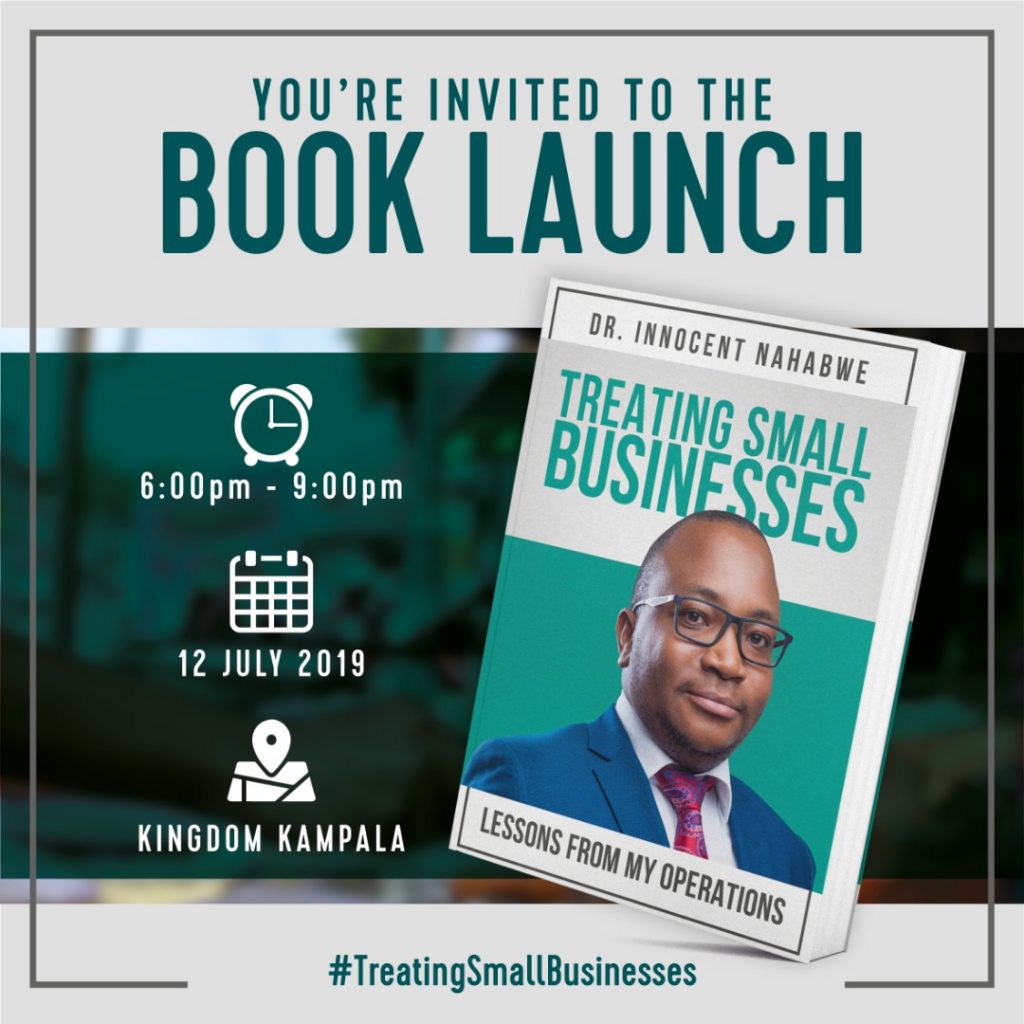 Don't mix family, relatives, friends in the business. Debts must be paid. It must make money. If it fails to work, regardless of how much you love it, let it go. If you get a good offer that makes business sense, sell. Don't be attached.
More, I share in the book.
Given your experience, would you say government has been helpful to small businesses?
I think so.
There are still many challenges but there have been improvements in power, infrastructure, and government systems such as Uganda Revenue Authority (URA). You can now handle your own taxes easily. However, a lot more can be done. We need more skills. We need centralised marketing. I think cooperatives that allow small holder firms to trade together like Coffee Marketing Board , Lint Marketing Board etc. can help farmers manage quality, work on prices, take advantage of economies of scale, bargain for supplies, access extension services and expertise, buy similar equipment for ease of repair, have strategic partnerships which would make it easier.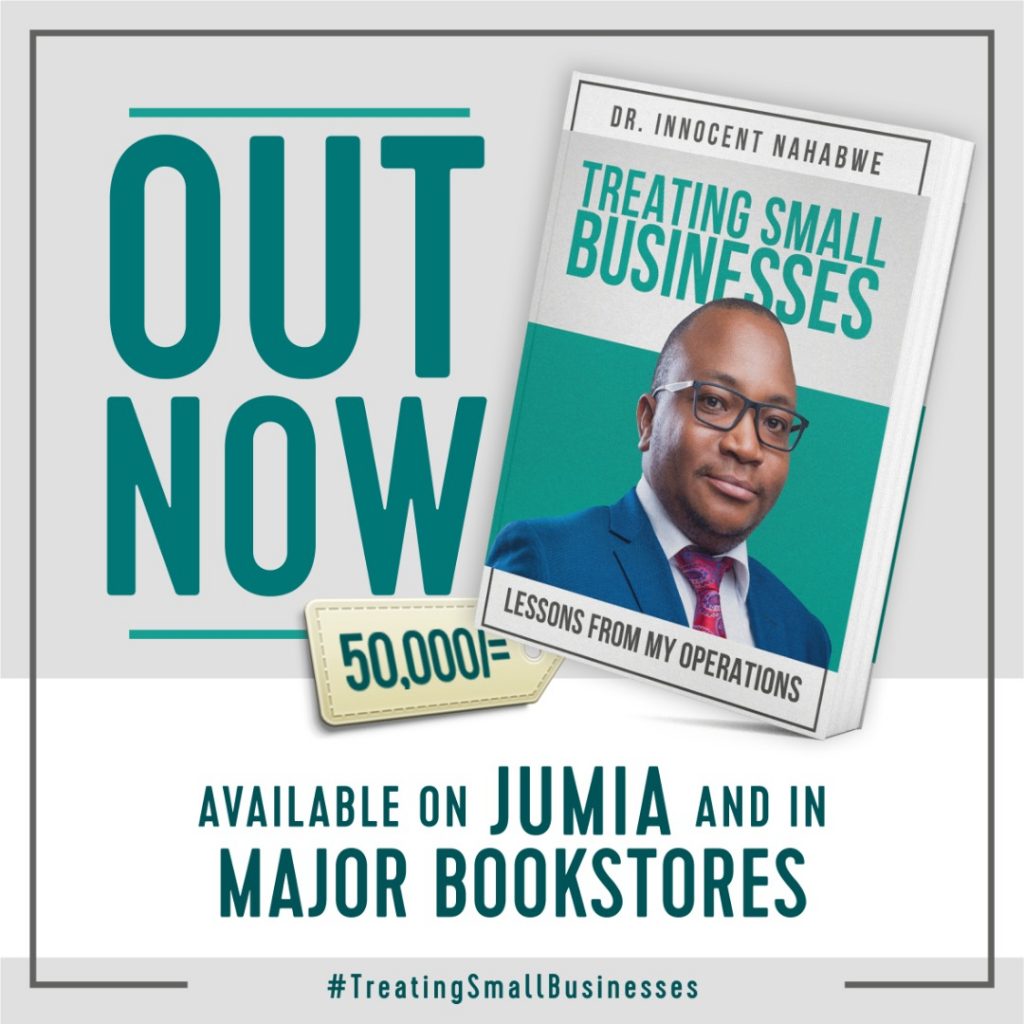 If you were appointed the minister of finance today or if you became president what are some of the things you would do to help small businesses?
I fear politics.
I would probably give one look at providing advisory roles. I would organise all industries into cooperatives. We would zone businesses so that particular areas produce particular products. That helps in corroboration and government support. If Coffee was from Masaka and Mbale, focus would be easier. Then milk from Mbarara, millet from Soroti and may be rice from the Eastern region. This would help support farmers and small industries with market, storage, extension services etc. As of now, everything is everywhere.
Considering that most people are into agriculture, most support would go to value addition and agricultural processing followed by aggressive marketing. We have a competitive advantage as well as comparative advantage here. All year good weather, multiple seasons, fertile soils, central location within the region, a vast hinterland. All these would help make us a food basket mostly for organic food.
What next, after this book? Are we going to see another book soon?
Yes, I am working on another book. We are also going to do a small business clinic, a multimedia platform for helping small businesses. We will have small business master classes and work towards spreading this gospel of growing small business in as many places as possible.
About the Author
Dr. Innocent Nahabwe is a serial entrepreneur and a man of many firsts as well. He is CEO and founder to Kagwirawo, Uganda's first online sports betting company; Bluecube, a leading mobile solutions company before SMS business became commonplace and Howwe.biz, the No.1 music streaming and showbiz platform, as well as Club Amnesia a popular city nightspot.
He is also CEO of 100.2 Galaxy FM – a Pioneer urban Youth Luganda station that he founded in 2013, but had by its 5th anniversary risen to an award winning station and amongst the top 5 radio stations in its category.
He also holds an MBA (Marketing) from Makerere University.
PICTORIAL: Ruparelia Group unveils 83 luxurious Speke Apartments at Kitante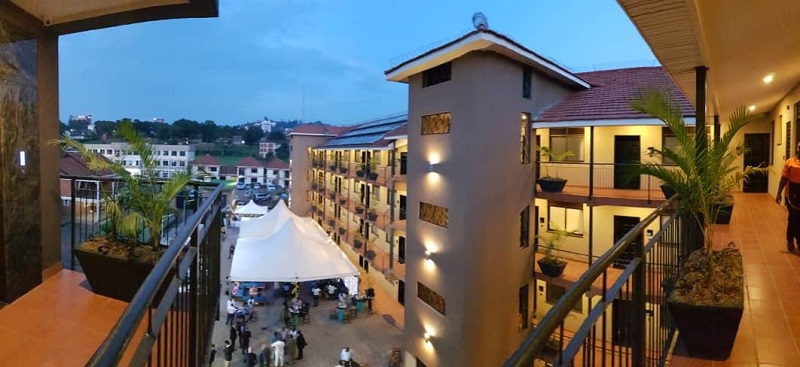 Fresh from commissioning their multi-million dollar, Kingdom Kampala building, Ruparelia Group, yesterday, June 17th 2019, officially unveiled Speke Apartments, Kitante, a collection of 83 fully furnished apartments.
Conveniently located on Kitante Close, off Yusuf Lule Road, in the affluent leafy lower Kololo, Speke Apartments, Kitante features 64 one-bedroom apartments, 10 two-bedroom apartments and 9 two bedroom superior apartments.
Rajiv Ruparelia, the Ruparelia Group Managing Director hosted guests to a cocktail and familiarisation tour of the project.
Speke Apartments specialises in self-catering apartments for corporate, leisure and family travellers in Kampala for short or long term lets.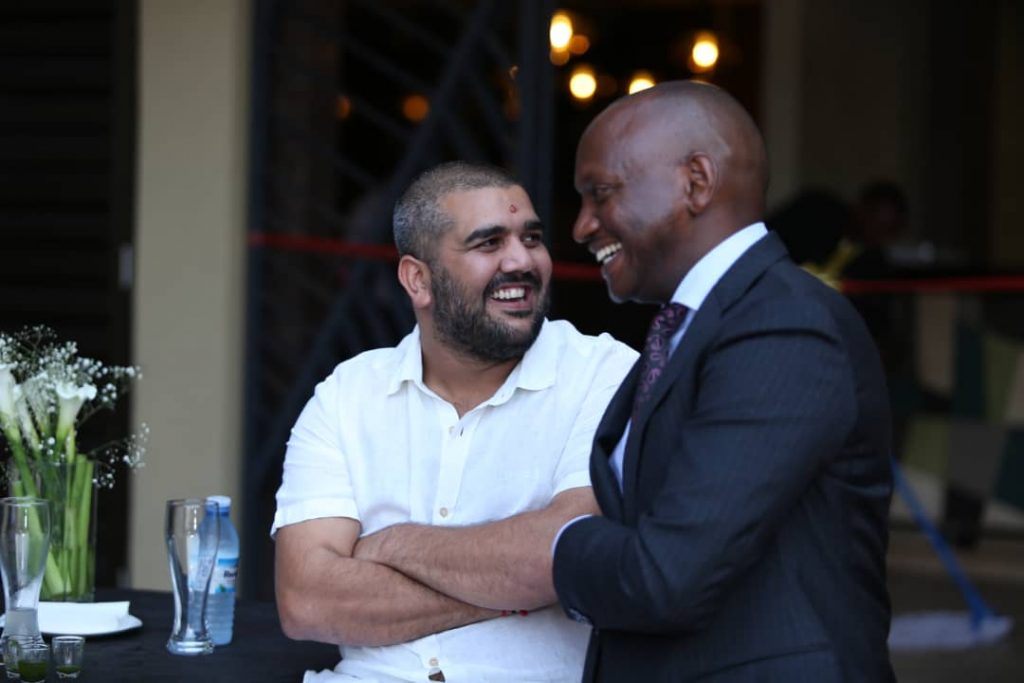 In a side interview with this reporter, Mr Ruparelia said the serviced residences are uniquely located in "a secure, quiet, clean environment."
He said the apartments have been built to British Standards and come with a fully fitted kitchen, double glazed sound proofed windows, led flat screen TVs with customized sets of channels, complimentary high speed Wifi internet, air conditioning, ample parking space and 24 hour security.
Residents have free access to the nearby Kabira Country Club and Speke Apartments Wampewo state-of-art health clubs.
Long term residents get up to 49% discounts.