Fresh Kid wows parents and pupils as Kampala Parents School sees off its P7 pupils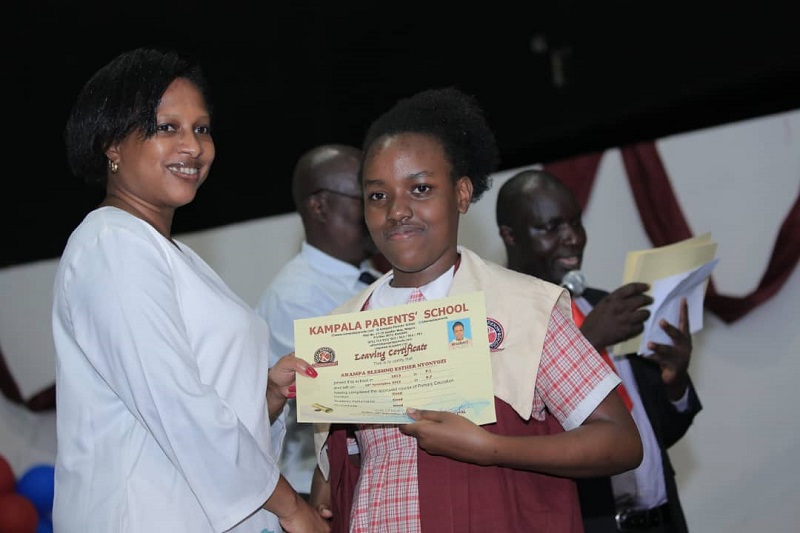 It was joy and celebrations today at Kampala Parents School, as the Ruparelia Group saw off its Primary 7 pupils who have just completed their Primary Leaving Examinations (PLE).
In total, 236 sat their PLE exams this year, compared to 234 pupils in 2018. All of 2018 candidates passed in first grade.
The P7 graduation at the school's 13-acre Naguru campus, was graced by Dr. Sudhir Ruparelia, the Ruparelia Group Chairman as well as Rajiv Ruparelia, the Group Managing Director and School Director.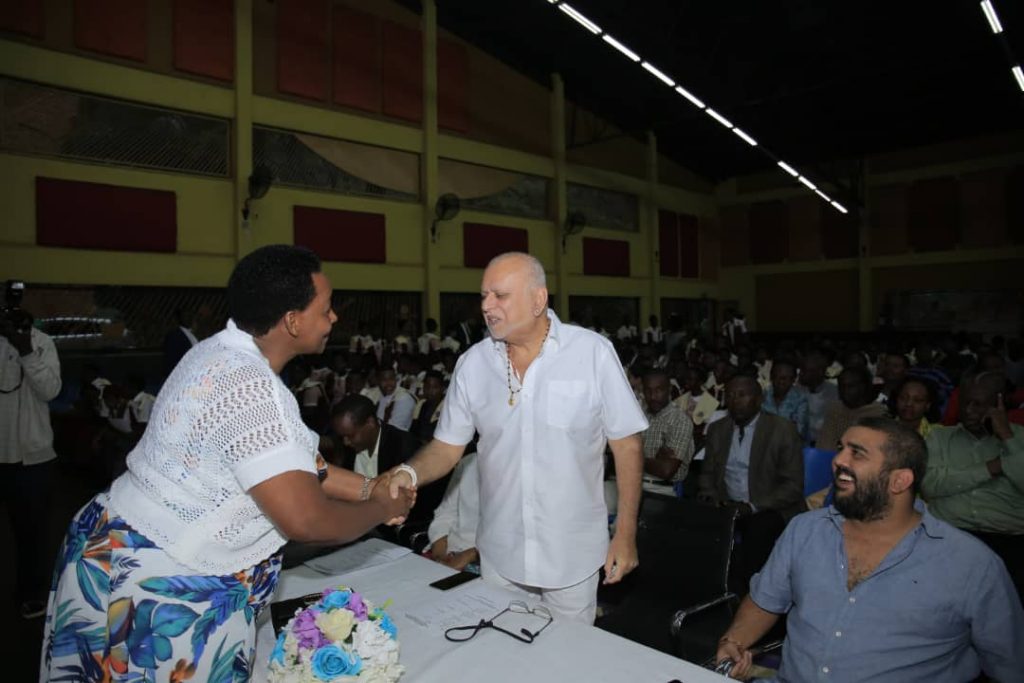 Rapping sensation and pupil at the school, Fresh Kid, wowed the audience with a variety of performances. He is a recipient of a Ruparelia Foundation education scholarship.
In 2011, the group invested $7 million in the school transforming it into a well-equipped, well-staffed purposed built educational institution on a 13-acre campus with an installed capacity of 3000 pupils in primary school and 700 pupils in pre-primary. With over 130 well trained teachers and over 150 non-teaching staff, not only is Kampala Parents' School well-equipped, it is also one of the best performing schools.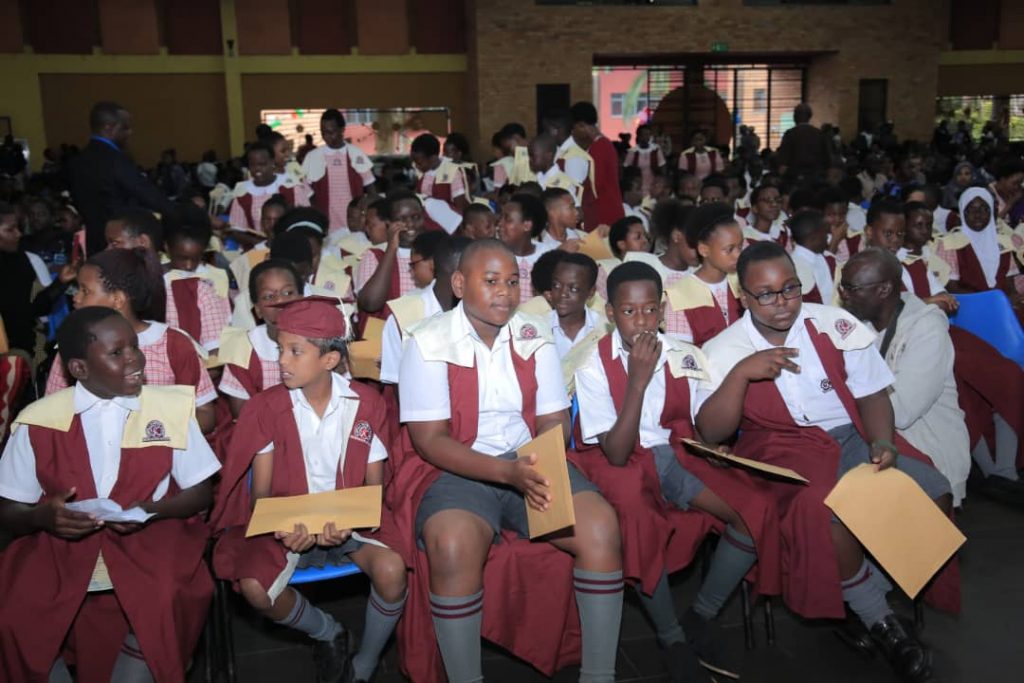 The day school, offers local curriculum at international standards. The school prides itself in offering a well-balanced curriculum that includes several hands-on skills like computer and home economics.
Conrad van Niekerk, Coca Cola's Uganda chief appointed regional Managing Director; role includes Uganda oversight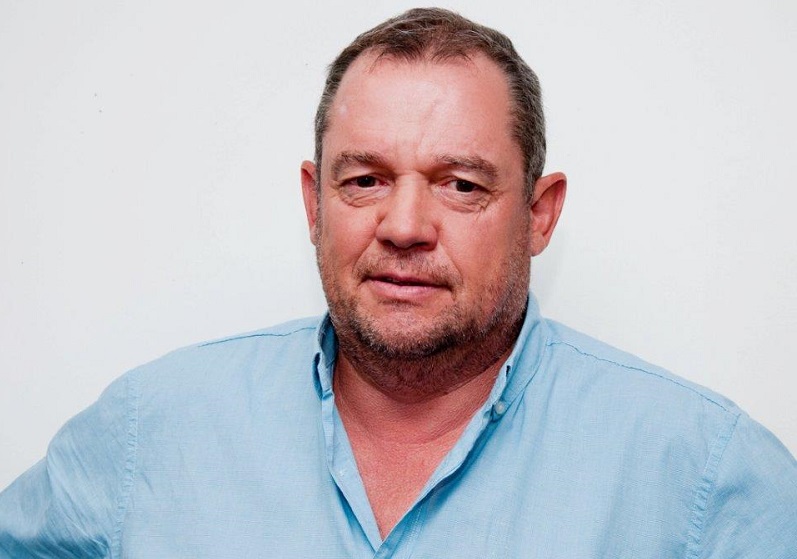 Conrad van Niekerk, formerly head of Coca Cola Beverages in Uganda, has been appointed the Coca-Cola Beverages Africa Managing Director for the Central Africa Region, covering Uganda, Tanzania and Ghana.
He will still sit in Uganda.
In another management change, Melkamu Abebe has been appointed General Manager of Uganda. He will now lead the Ugandan Country Management Team, reporting to Conrad, now the Central Africa Region Managing Director.
Melkamu has been the Supply Chain Director in Uganda since August 2018. Before that, he occupied a number of leadership positions in the supply chain function since joining the Coca-Cola system as a graduate trainee in Ethiopia in 2008.
"He (Melkamu) has developed an in-depth proficiency in supply chain management and demonstrated strong leadership and innovation skills," said a statement from the company.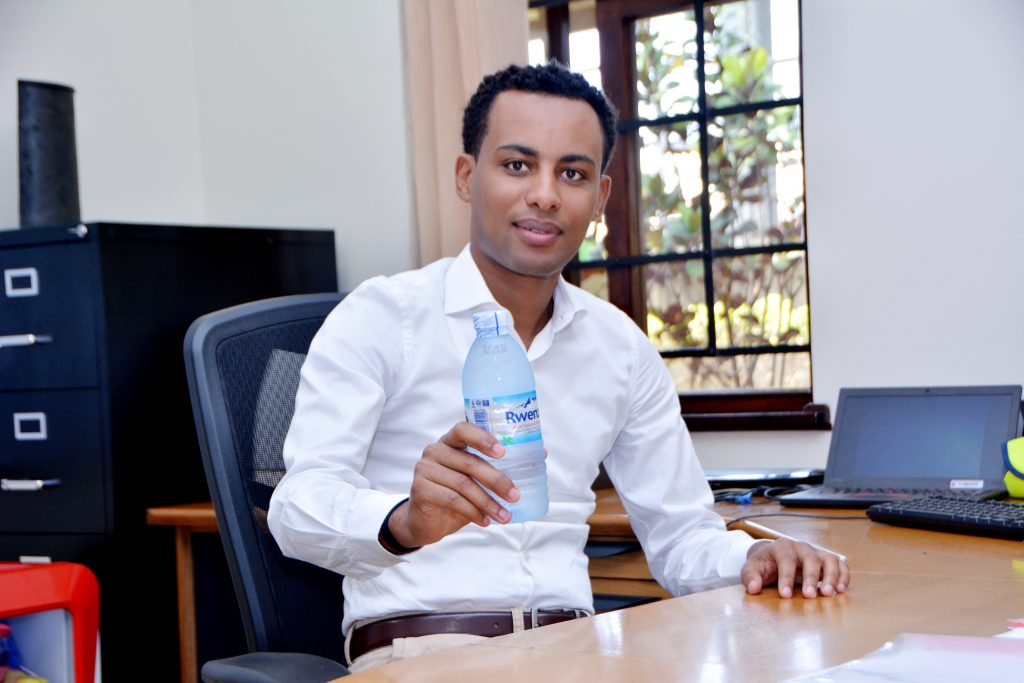 He holds a Degree in Mechanical Engineering from the Addis Ababa University and "is passionate about developing talent within organisations and learning something new every single day," according to the company statement.
Conrad, according to the same company was described as "an international commercial leader and strategist with over 30 years' experience with Coca-Cola, the world's most recognisable brand."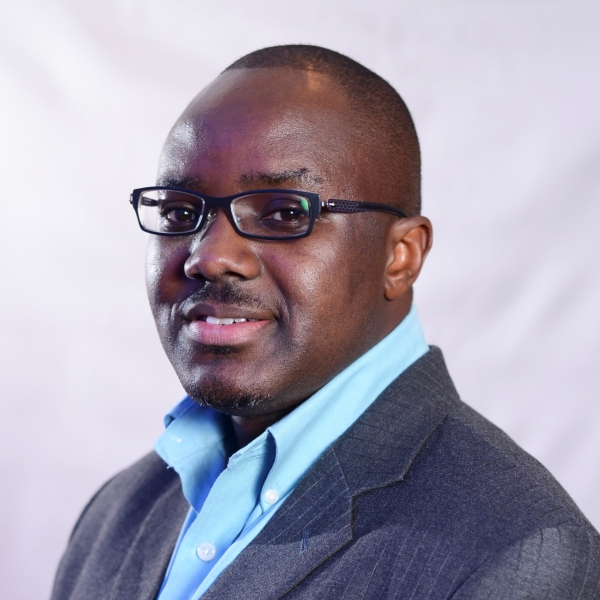 "He has held executive roles within the Coca-Cola system with direct experience in people and talent development, sales strategy and execution, and product development," further read the statement.
Conrad started his career in Coca-Cola SABCO (South Africa) in 1990 and subsequently took up leadership roles working for The Coca-Cola Company in South Africa, Egypt and northern Africa in general, before heading up the Ghana bottler as Managing Director from 2008.
He was eventually appointed Regional Manager for West Africa managing nine countries while based in Barcelona, Spain.
He arrived in Uganda in 2016.
During his time, according to figures available to CEO EA Magazine, he grew the business' turnover by 12% from UGX383.4 billion to UGX426.7 billion, maintaining Coca Cola's market leadership against a resurgent competition.
In 2018 Conrad also led a USD15 million (UGX55 billion) investment plan for Coca-Cola Beverages Africa in Uganda that included a USD8.35million (UGX 30.7billion) manufacturing line in April 2018.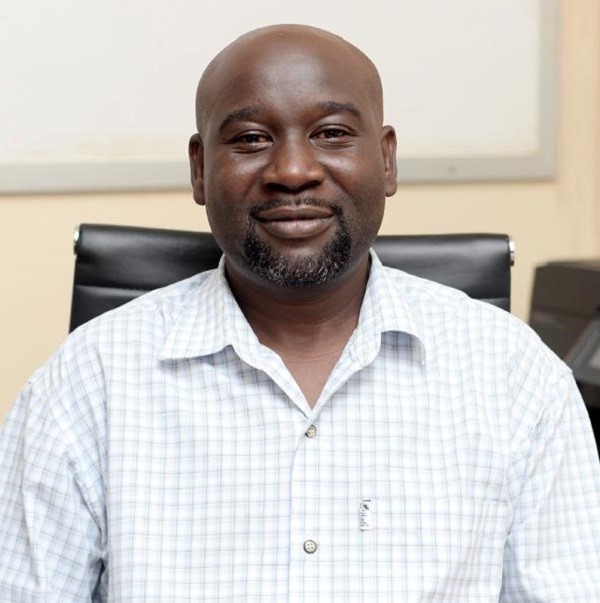 He is also credited for leading several product innovations that especially use local law materials, such as Climb Up Milk- bottled by Rwenzori Bottling Company Limited, a subsidiary of Coca-Cola Beverages Africa. Climb Up Milk is made out of Uganda milk supplied by Lato Milk, which directly benefits Ugandan dairy farmers; sugar supplied by the Sugar Corporation of Uganda Limited (SCOUL) that supports sugar cane farmers in Lugazi, and packaging elements supplied by Riley Packaging Industries, Bhumi Tapes and Graphic Systems Limited.
Other Coca-Cola Beverages Africa people changes
In another Uganda team change, Edward Ojede, previously the Country Engineering Manager for Uganda, has been appointed the Manufacturing Director for Uganda.
"Edward joined the Coca-Cola system at Century Bottling Company in 2007 and has distinguished himself over the years as an Engineering professional, occupying a number of technical leadership roles and gathering a wealth of experience in his field of expertise. He has in-depth technical knowledge of manufacturing processes and demonstrates superior project management skills. He is known for his agility as a leader and his superior interpersonal skills," said a company statement.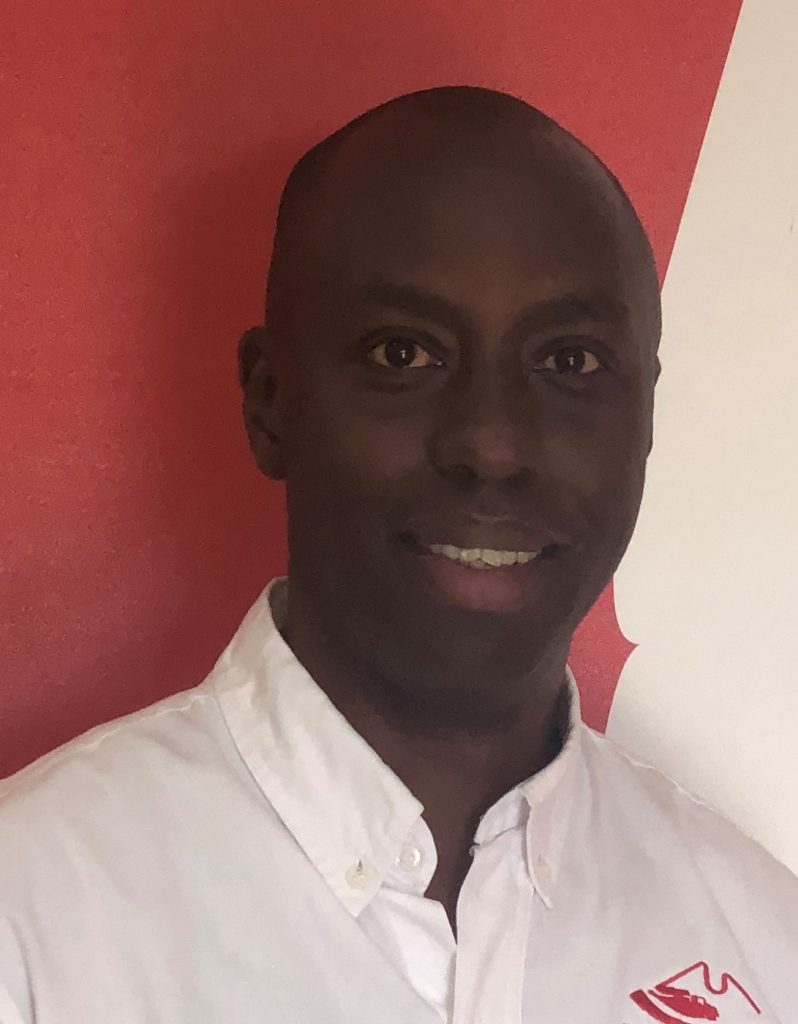 Edward holds a BSc in Mechanical Engineering from Makerere University and is in the process of completing his MBA. He is a member of the Uganda Institution of Professional Engineers and a Board Member of the Manufacturing Skills Sector Committee under the Uganda Ministry of Education and Sports.
Outside Uganda, Herbert Nuwamanya has been moved into the role of General Manager of Zambia, "after playing a crucial role in the integration of the two Coca-Cola Beverages Africa operations in Zambia as Commercial Director for Coca-Cola Beverages Zambia."
Before that, Herbert held various senior commercial roles in East and West Africa in Coca-Cola Sabco and Coca-Cola Hellenic.
"Over the years Herbert has built up a seasoned multi-cultural, multi-country and multi-bottler experience with great impact in strategic business and commercial growth," said the company statement.
Herbert holds an MSc degree and will continue to be based in Zambia, leading the Country Management Team.
In another change, Andrew Musingo Otieno has been appointed General Manager of Tanzania, leading the Country Management Team and reporting to the Central Africa Region Managing Director.
Andrew has previously served as Coca-Cola Beverages Africa's Head of Sustainability, before which he was Public Affairs & Communications Director for the Group's International Division.
Goat Races Charity: Ruparelia Foundation to build 5 green toilets in Kampala slums annually
According to Kampala Slum Settlements: Where access to Safe Water and Sanitation is still a Challenge, a report by Development Research and Training (DRT), Lutheran World Federation (LWF) and ACTogether up to 70% of urban dwellers do not have private sanitation in their home and rely on an informal network of shared toilets. In Kawempe and Makindye 16% and 4.2% of households respectively use paid for Public toilets. In one of Makindye slum a public toilet is located in another zone and serves 3 zones.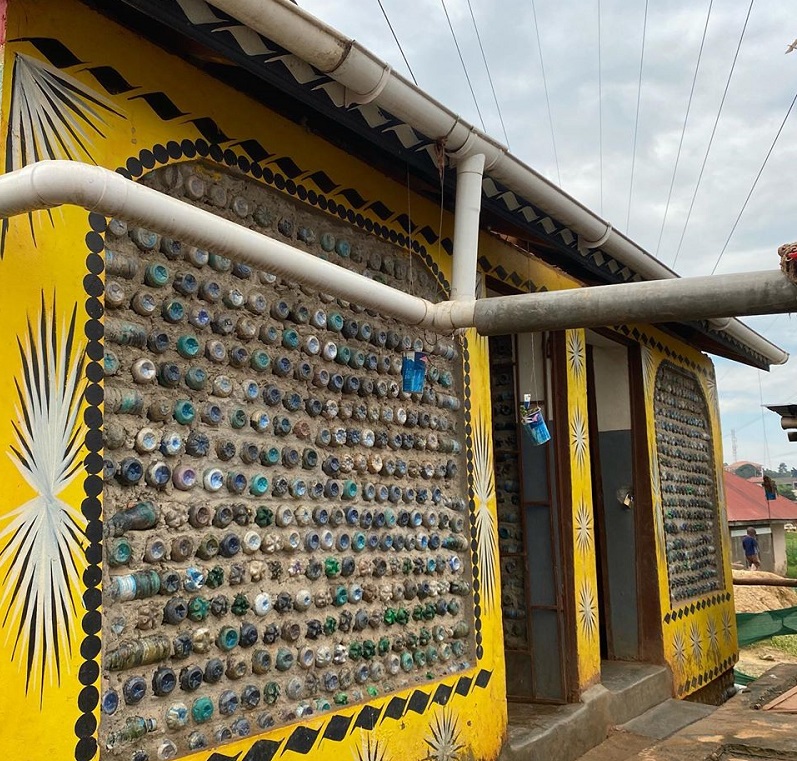 Ruparelia Foundation, the charitable arm of Ruparelia Group, is to build 5 green toilets annually in selected Kampala slums, Rajiv Ruparelia the Group's Managing Director has said.
Speaking at a function to commission the building of an eco-friendly toilet facility at Good Samaritan Primary School in Kamwokya on December 6th 2019, Rajiv said that the project will be funded by proceeds from the Royal Ascot Goat Races.
The 6-stance toilet- 2 for boys, 2 for girls and 2 for teachers, will serve the school of over 500 pupils and will be built using the Eco Brick. The Eco Brick, is a product of Ghetto Research Labs, a community-based NGO in the Kamwokya slums.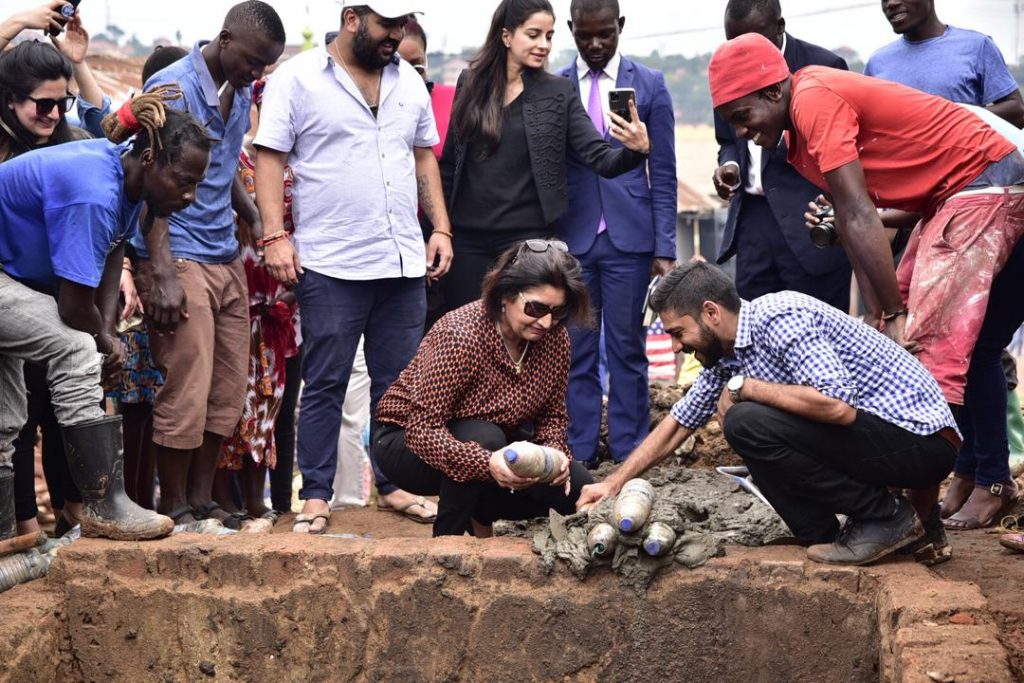 The brick is made out of stuffing and compacting polythene bags, commonly known as kaveera into plastic bottles and sealing it off with the bottle's original cap. A one-litre bottle can accommodate up to 750 kaveera. The eco-bricks are then used as substitutes for normal clay bricks and are then used along with normal cement and sand mortar to erect wall structures.
The project is a brainchild of Mujuzi Patrick, a trained teacher. He uses unemployed slum dwellers to collect the kaveera and plastic bottles from the ghettos.
"This is a wonderful project which helps communities in many ways. It unblocks all the drainage channels clogged by the polythene bags, recycles the plastic bags and keeps the ghettos clean. The stipend given to the ghetto youths to collect the plastic bags and bottles keeps them away from crime. The eco-brick itself is youth environment friendly. Good sanitation, other than keeping the ghettos clean and healthy, also helps keep more children in school and education is fundamental to every society," noted Rajiv Ruparelia.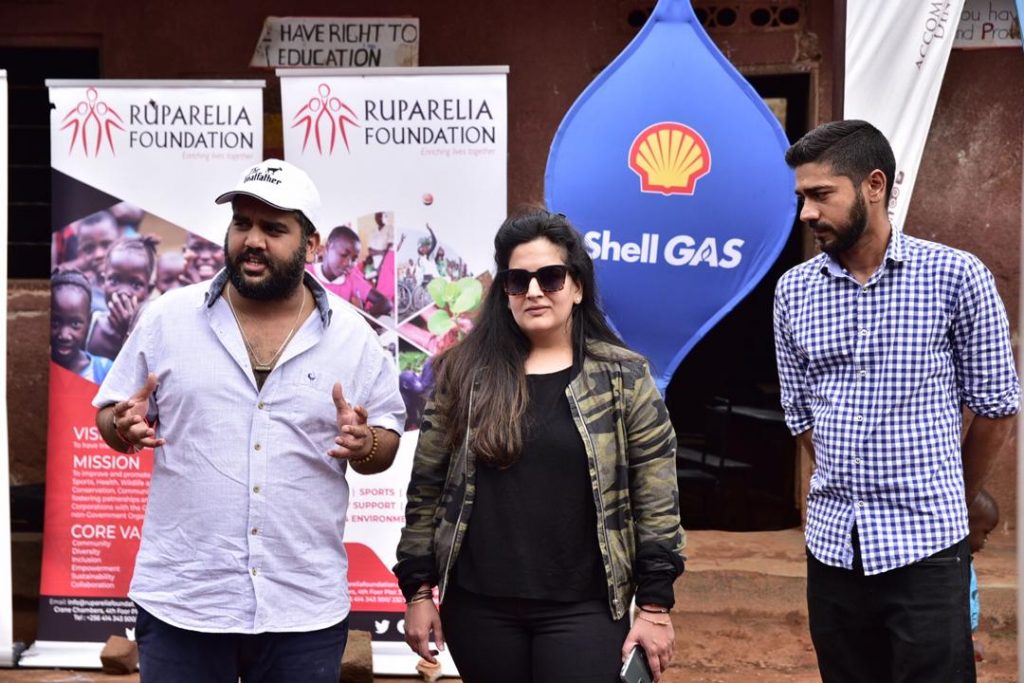 He said henceforth, the Ruparelia Group would collect all the used bottles from their chain of hotels for the project.
"We have given them a target to build 5 toilets a year in different Kampala ghettos first and after that, we shall take it national," said Rajiv.
Rajiv thanked the Royal Ascot Goat Races sponsors- SanyuFm, Speke Resort Munyonyo, NTV Uganda, Yo Kuku, Euroflex, Orient Bank, Brussels Airlines, Shell Gas, Farm Equipment & Construction Ltd and Robbialac Paints for making a difference.
Rajiv who is a trustee to the foundation was flanked by Mrs Jyostna Ruparelia a co-founder of the foundation as well as well as Sheena Ruparelia and Naiya Ruparelia who are also trustees.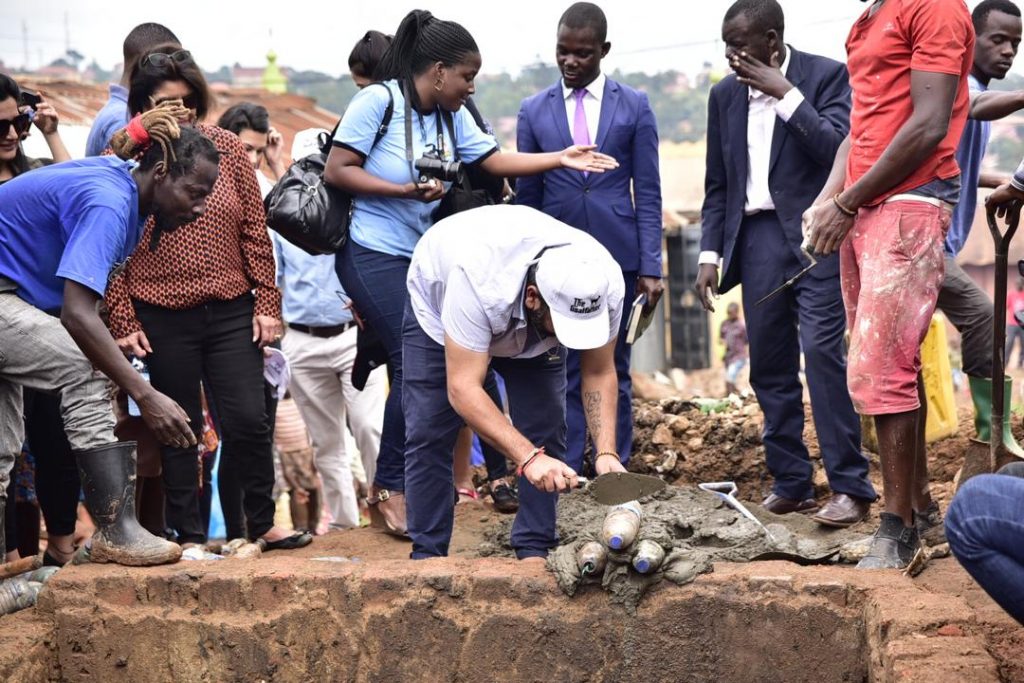 According to Kampala Slum Settlements: Where access to Safe Water and Sanitation is still a Challenge, a report by Development Research and Training (DRT), Lutheran World Federation (LWF) and ACTogether up to 70% of urban dwellers do not have private sanitation in their home and rely on an informal network of shared toilets. In Kawempe and Makindye 16% and 4.2% of households respectively use paid for Public toilets. In one of Makindye slum a public toilet is located in another zone and serves 3 zones.
Kampala, the Capital City of Uganda, has got over 57 slum settlements.
Ruparelia Foundation: Enriching lives together
The Ruparelia Foundation was founded in 2012 by Dr & Mrs Sudhir Ruparelia and runs its programmes under the theme: "Enriching Lives Together".
It funds startups, education, environment preservation, health, general welfare, religious charity, research, sports, wildlife and animal conservation.
Todate, more than 600 charitable cause have been funded by the charity.
Previous beneficiaries of Goat Races charity include Katalemwa Cheshire Home who specialise in providing assistance to the physically disabled including provision of medical, orthopaedic and surgical facilities, education and training as well as Nsambya Babies Home.
DOUBLE WIN: The Innovation Village secures a double win at Top 100 Mid-sized Companies Gala Awards 2019
The leading Ugandan start up hub – The Innovation Village – secured two awards at the 2019 Top 100 Mid-sized Companies Award Gala held at Hotel Africana on Friday 29th November, 2019.
The double awards – one for the fastest growing company and another for the most innovative company – were handed over to The Innovation Village Team at the awards gala following the Top 100 Mid-sized Companies Index Survey whose results were released last week.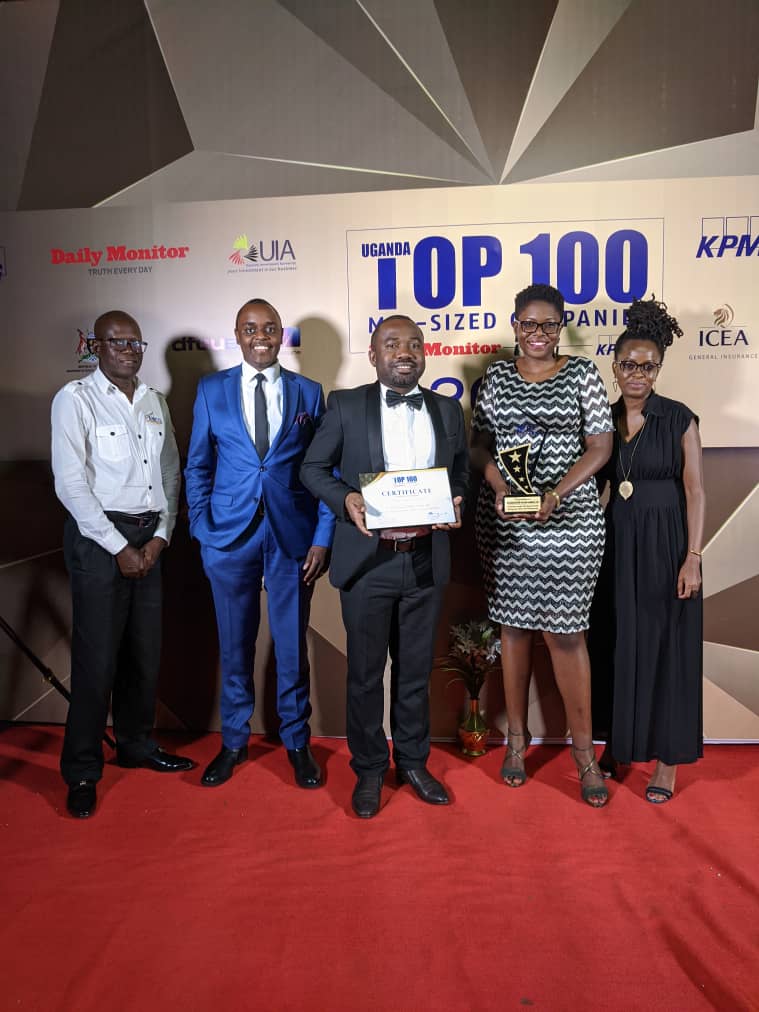 In what was in reference to the struggles that entrepreneurs face, CK Japheth, Founder and CEO of The Innovation Village, dedicated the awards to all those out there building businesses out of big dreams:
"I dedicate this to every entrepreneur with a dream too big it makes you look crazy, hustling with no evidence of results and not fazed by rejection and that entrepreneur who is discouraged not because people do not understand you but because you don't understand yourself", he said.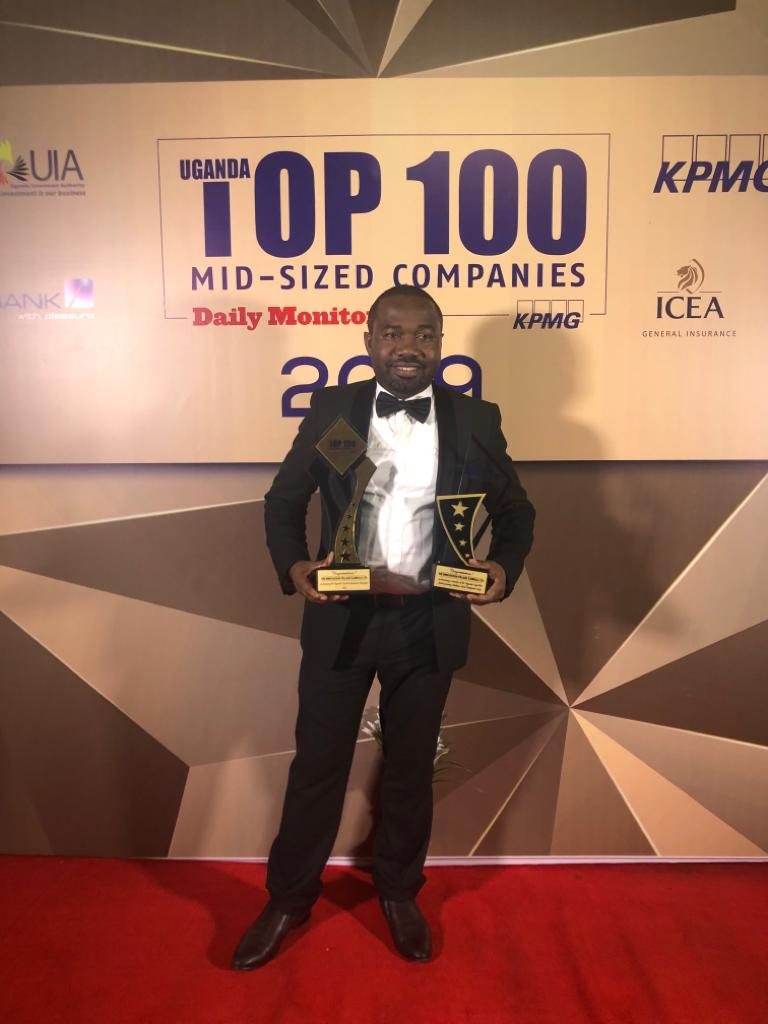 Drawing on his own lessons of being an entrepreneur, CK Japheth went on to encourage other entrepreneurs who are on the tough journey to realizing their dreams by dedicating the next decade to the entrepreneurs:
"2020-2030 is the decade of the entrepreneur, the defining decade dedicated to young hungry entrepreneurs who have not had a fighting chance. We are armed, locked & ready to unlock the massive untapped potential".
In a message posted on his LinkedIn page, he went to thank his team who have dedicated their lives to enabling and unlocking potential and various partners – including Mastercard Foundation – for believing in them and supporting their work to make it possible for thousands of entrepreneurs to achieve their dreams.
He ended by stating the need for a more formalized approach to supporting entrepreneurship and innovation which can help corporate businesses and Government organisations grow:
"We need to institutionalise Uganda's innovation industry by building strong, credible institutions that work together with entrepreneurs to drive innovation and as a result increase business growth".
The awards were organized by Monitor Publications Limited, KPMG, the Daily Monitor, DFCU Bank, the Uganda Investment Authority and the Ministry of Science Technology and Innovations among other partners.