4th Edition of Innovation Series: Infrastructure Experts to Discuss Innovative Approaches that Advance Timely Delivery of Projects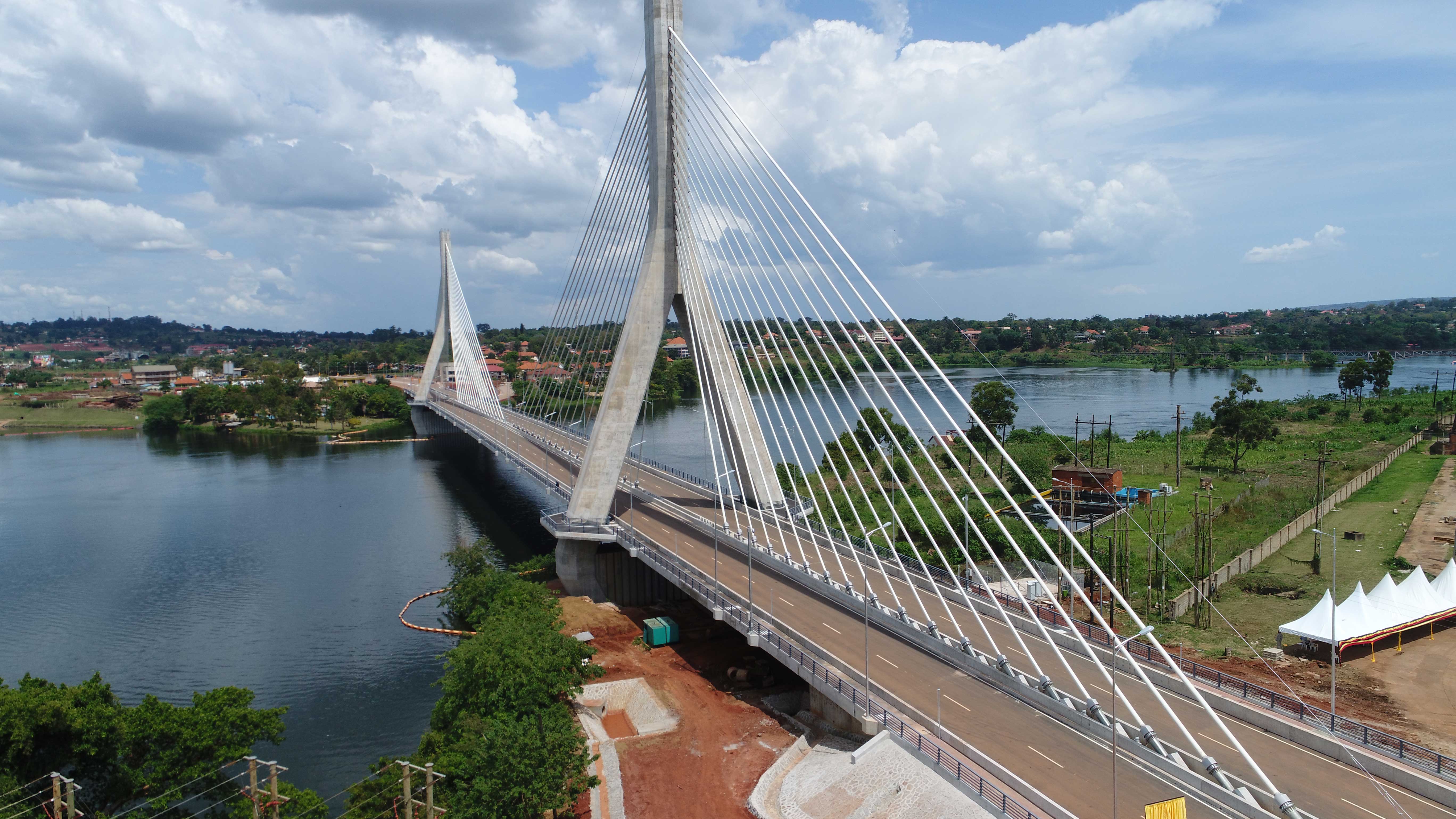 brainchild Burson Cohn and Wolfe(Public Relations & Events agency) has launched the 4th Edition of its signature thought leadership events branded Innovation Series.
Announcing the event on Tuesday, Walter Wafula, the Business Unit Head at brainchild BCW, said; "This edition of Innovation Series will convene key and influential players in Uganda's infrastructure sector, to deliberate on innovation techniques and trends in project planning, and development to foster faster delivery of roads, internet and power to the last mile."
The background to the next edition, he said, was the recurrent delays in infrastructure project completion that cost both the government and the citizens over Shs2.8 trillion (Us$800m) in national income and productive work time, per annum, according to a World Bank study.
"Apart from Isimba Hydropower dam, we have seen various road and power infrastructure projects whose completion has stalled not only because of land compensation issues but also the fact that many contractors are not leveraging the power of innovation to fast-track the delivery of these projects. Therefore, Innovation Series, provides a perfect platform to showcase and discuss new and cost-effective ways of delivering infrastructure in Uganda," Wafula explained.
He added that the 4th Edition will be held at the Golf Course Hotel, in Kampala, at 5:30pm, on October 31st, 2019, under the theme: Fast-tracking Infrastructure Project Completion Through Innovation.
According to Emerging Trends in Infrastructure, 2019, a report by global auditing firm KPMG, three quarters of innovative leaders in the global infrastructure development sector, acknowledge that they are ahead of their competitors because, they lead in adopting new operational technologies like; BIM, drones, Virtual Reality, Augmented Reality, Smart Sensors, Machine learning and Artificial Intelligence, in project planning, management and development.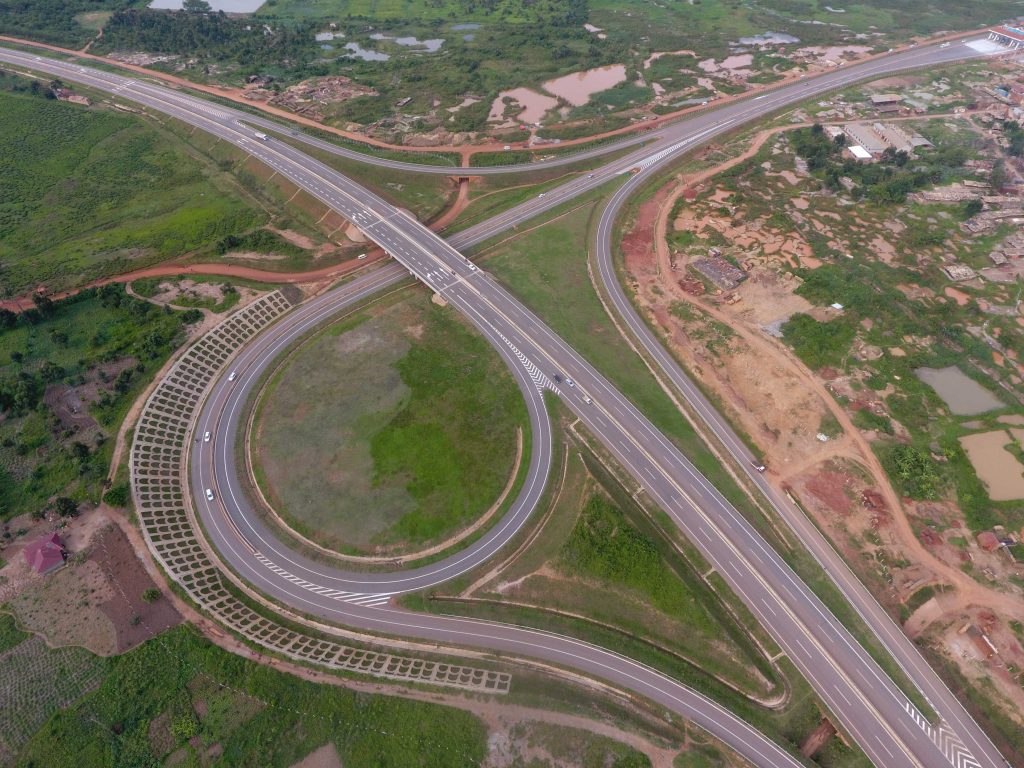 "Global Industry executives who operate in Europe, hold the perception that within 5 years, 83% feel organizations will be data-driven, including; routine use of data analytics and predictive modelling for project planning and monitoring while 69% expect to see new entrants challenging traditional players," the report that is based on a global sector survey reads in part.
The findings of the report which was released in February 2019 were based on a survey among 223 engineering and construction companies and project owners from a variety of industries.
"Technology is providing the scope for radically different solutions to infrastructure needs, and often much more cost effectively. In fact, in some cases, the answer may not involve any civil engineering or building at all," the report says, adding that, "As a result, there is significant potential for emerging markets to leapfrog the developed world."
In line with this thinking, some of the key focus areas to be discussed under the theme of Innovation Series 4 include; new and cost-effective models of delivering roads and bridges, alternative infrastructure financing options for project contractors, investible cities infrastructure projects for venture capital and equity investments, and next generation infrastructure development requirements and preparedness, among others.
Uganda is currently pursuing a number of infrastructure projects across the transport, energy and information communication technology (ICT). In an effort to improve the national transport network, the Government of Uganda this financial year, 2019/20, allocated over UGX6.4 trillion to the works and transport sector while UGX3.1 trillion allocated to energy and ICT infrastructure to promote economic growth and transformation.
Over the past two years, brainchild BCW has held successful editions of Innovation Series focusing on different subjects including; Game-Changing Creativity: The Road to Hyper Growth in Hospitality for the third edition event which was held on March 7th 2019, Packaging Products for the 21st Century Consumer in 2017, and Making Real Estate Ownership a Reality, Practical Innovations for Ugandans at the second event.
About Innovation Series:
Innovation Series is a set of thought leadership events aimed at promoting innovation in business through thought-provoking discussions on new and cost-effective ways of delivering products, and services which affect the growth of firms or organizations. The events bring together business leaders, managers, government technocrats, individuals and the media, under one roof. We held our inaugural event on 13th September 2017, the second edition on the 26th of April 2018, third on 07th March 2019, focusing on different themes and sectors of the economy. Since establishment, Innovation Series has hosted nearly 800 delegates, 250 companies, 20 key speakers and panelists, 3 editions, and become a number one trend on Twitter on its event days.
ISPs warm up to Raxio's Data Centre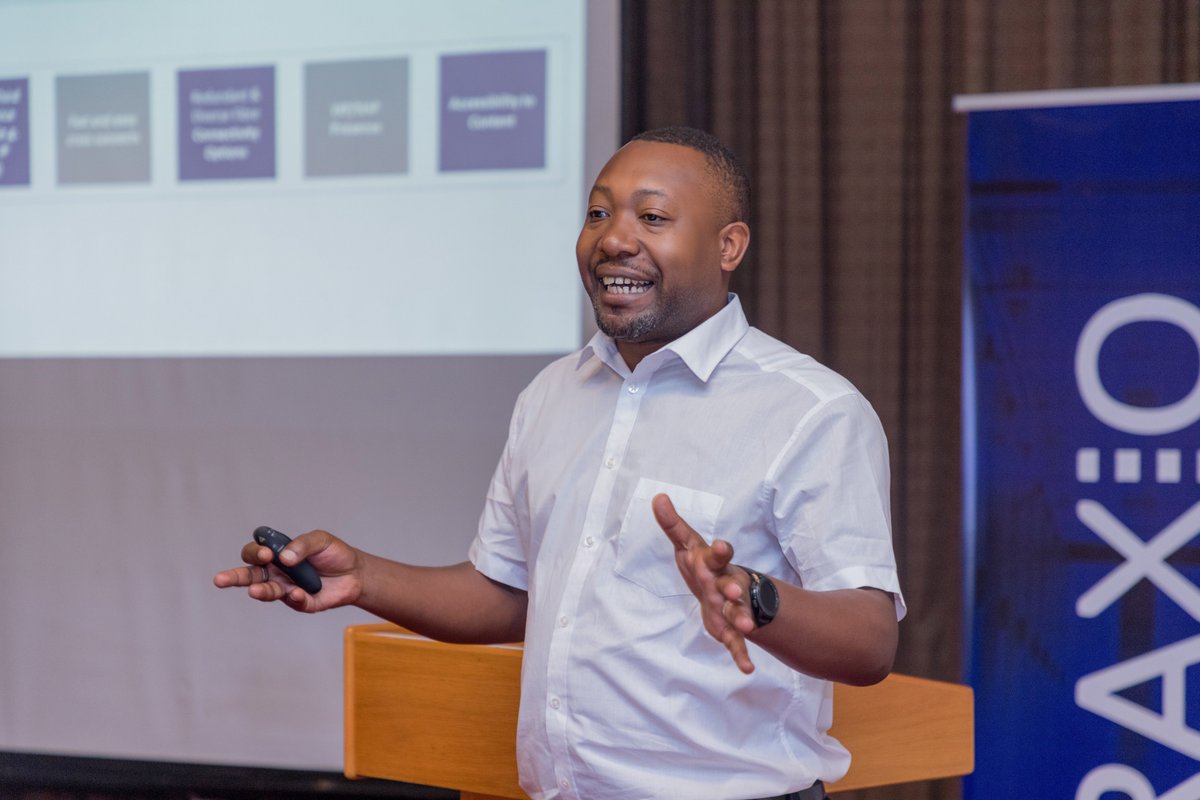 Internet service providers in Uganda have warmed up to Raxio's carrier neutral data centre, currently under development, saying the project will create operational efficiencies and save up the much needed capital for investment in other areas.
Speaking on Friday 3rd May 2019, at a breakfast hosted for the Internet Service Providers Association of Uganda (ISPAU) by Raxio, Godfrey Sserwamukoko, ISPAU chairman, said Raxio's entry into the market was a stitch in time.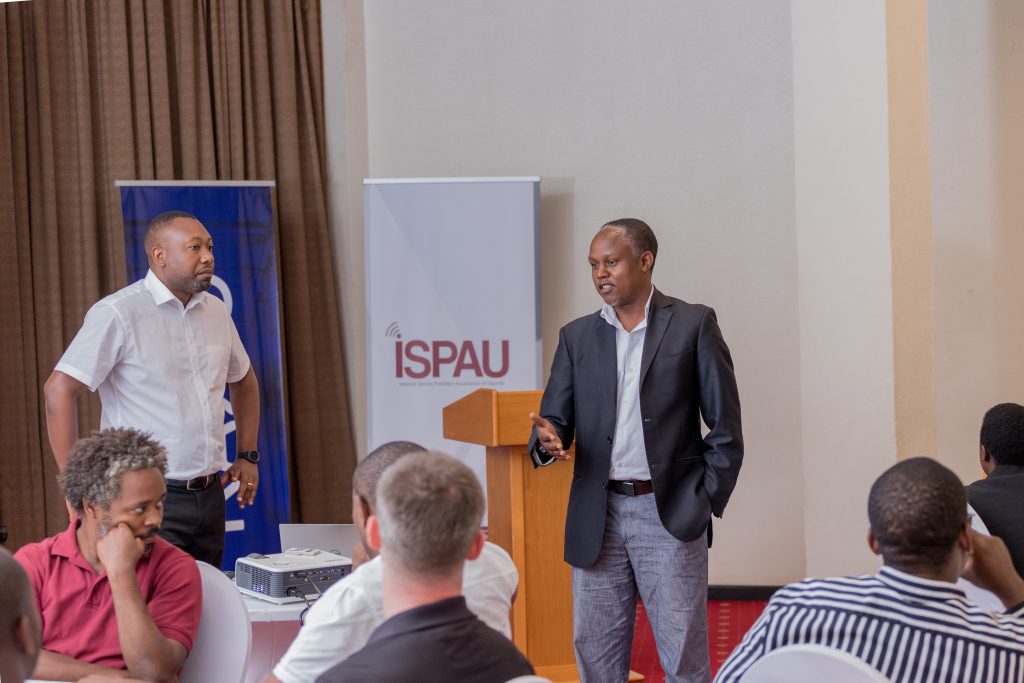 "As an association, many of our members are constrained by challenges ranging from inadequate financing for ICT capex to the use of inefficient infrastructure. With Raxio's solutions, our members and the wider market is set to benefit from a unique range of solutions fit for every type of business," he said.
Mr. Robert Mullins the Executive Director of First Brick Holdings (FBH), the parent company of Raxio Uganda said that Raxio's carrier neutral data centre would "reduce the total cost of ownership, improve operational efficiencies and allow clients to free up capital that can otherwise be used for client facing roles."
James Byaruhanga, Raxio's General Manager, said that Raxio exists to provide an environment where organisations- public sector, private sector and not-for-profit – run their critical systems with increased reliability, connectivity and security.
"Our commercial model offers ISPAUs members an opportunity to improve their operational efficiencies through economies of scale. For example we have an option to lease out equipment for those who do not have adequate capital to buy brand new equipment" he said, adding: "In addition we also have a service where we help new clients move their equipment to the new data center", he added.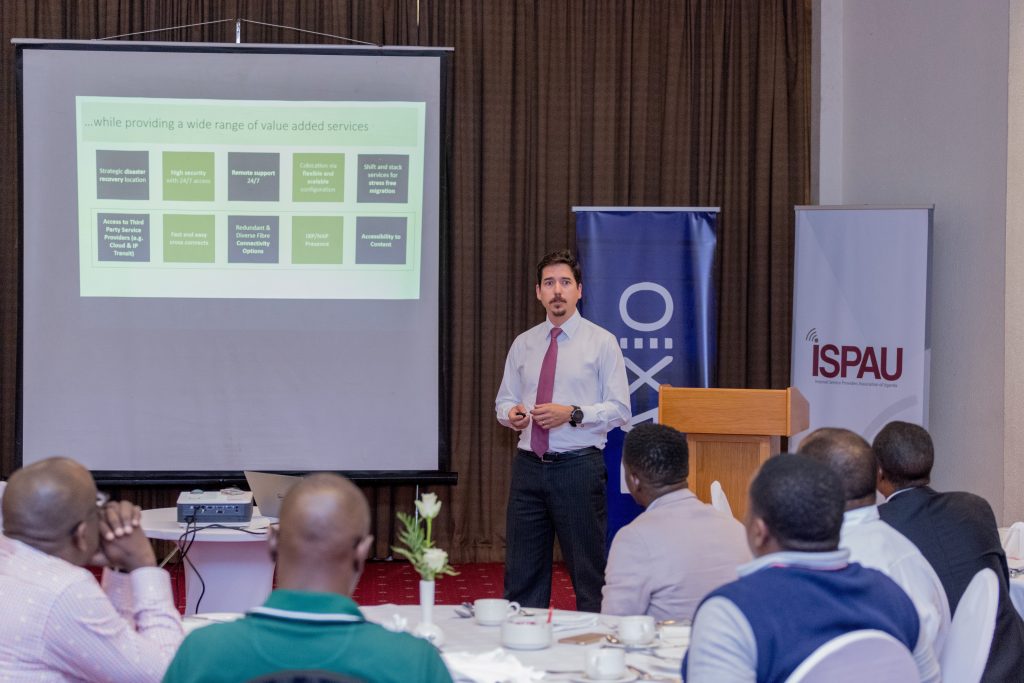 He also announced that ISPAU members stood to benefit from up to 30% in discounts, if they signed up between now and 31st July 2019.
Raxio, is a First Brick Holdings' (FBH) company; itself a portfolio company of US-based investment firm, Roha Group Inc. FBH, plans to build multiple data centres in the East and Southern Africa region – a total investment of approximately $50 million that will see at least up to 5 data centres going live by 2022. Raxio is constructing its first data centre at the Kampala Industrial and Business Park, Namanve. At full capacity, the data centre will be able to house up to 400 racks; in an optimally controlled, 24/7 secured and redundant environment and shall consume up to 3MW of Hydro Electric Power.
Get your credit worthiness report on your phone with Metropol's Crystobol Solution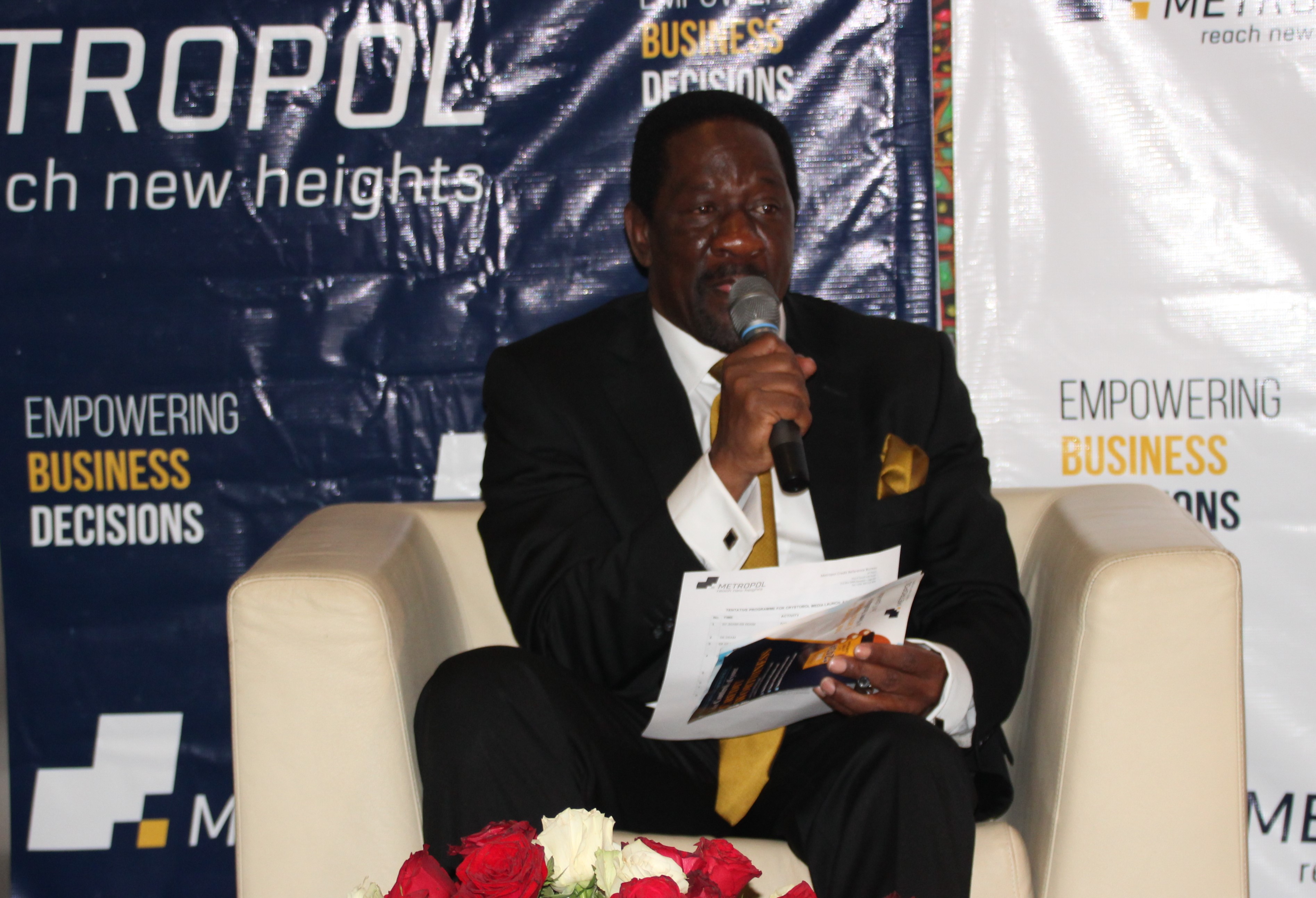 Metropol Credit Reference Bureau (MCRB) on Wednesday May 8th, 2019 launched its new product delivery platform code-named Metropol Crystobol.
A first of its kind in Uganda, Metropol Crystobol gives borrowers direct access and control of their credit information and other bureau products via mobile phones.
The service is available upon an easy mobile phone-based registration. To register, customers dial *243# on their mobile phones, for all networks, then key in their Financial Card number and follow the message prompts to complete registration.
According to Samuel Umukoko, the CEO of Metropol Credit Reference Bureau, registered members will then have easy access to any of the bureau's four main products that include: Credit Reports, Listing Status, Metro-Score And Who Has Listed Me.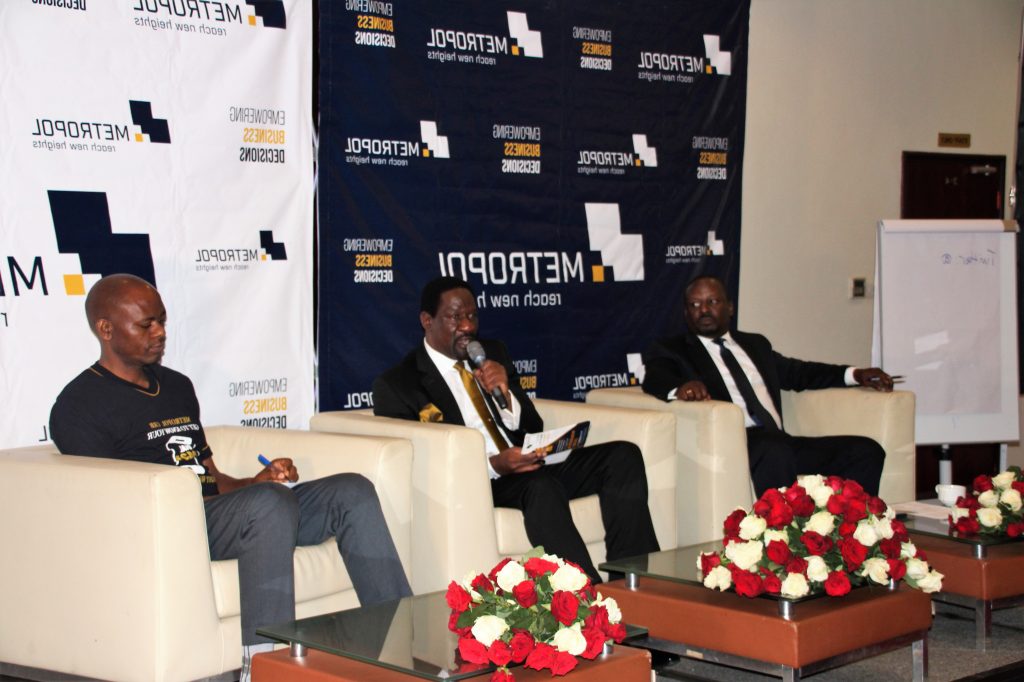 A Credit Report is a detailed account of one's lifetime borrowing with all current credit providers and their performance in terms of repayment. The report is used by all lenders to determine loan approvals.
Upon registration, all customers will be entitled to a free annual credit report.
Clients will also be able to know their listing status as reported by their various lenders. Green means one has no credit history; black means one has a negative (default) credit history and lastly, Gold means one has a positive credit history.
Under the "Who Has Listed Me" service clients will be able to know the list of all the lenders who have contributed information about a client to Metropol Credit Reference Bureau.
Metro-Score
The Metro-Score® according to Mr Umukoko, "measures one's credit worthiness and the likelihood that they will meet their financial obligations."
"The Metro Score has become the industry standard that all lenders use to assess borrower credit worthiness and is also used by lenders to determine appropriate interest rates to charge for various types of credit facilities. The Metro-Score ranges between 200 – 900, with 450 being the middle mark. Customers that score below 450 have marginal to poor credit quality while those that score above 450 have good to excellent credit quality," explained Umukoko.
Empowering borrowers
Umukoko said that the Metropol Crystobol will empower borrowers to "take control of their credit worthiness by allowing them easy access to affordable credit, negotiate favourable credit terms with lenders and above all, enjoy the freedom to choose their preferred lender."
"This will significantly impact on the lender-borrower relations in the Ugandan market, where we shall see borrowers obtaining increased bargaining power by taking advantage of their positive credit profiles," he said, in a statement.
Metropol Credit Reference Bureau is a subsidiary of Metropol Corporation Limited, a data driven entrepreneurial company based in Nairobi, Kenya and which has been in existence for the past 23 years.
Metropol CRB was licensed by Bank of Uganda in 2015 and has been in operation since then. It receives credit data on a monthly basis from all the Bank of Uganda licensed financial Institutions and processes this data into credit reports and other value added solutions necessary for making sound credit decisions.
The high cost of money still remains a major stumbling block to businesses and individuals alike.
Although the central Bank has over the last 24 months cut down the Central Bank Rate (CBR) by 41.18% from 17% in January 2016 to 10% at the end of December 2018, interest rates have not fallen by the same rates- only declining by 17% from an average 24.29% to 20.1% in the same period.
One the contributory factors to high interest rates is poor credit worthiness.
Consumer credit worthiness ignorance also makes it less likely for consumers to plan, budget and improve their credit scores.
Other than improving negotiating powers with lenders, having easy access to credit worthiness reports, especially via mobile phone will help consumers improve their credit ratings.
Introducing Bukoto Living- your opportunity to own an affordable stylish apartment in Bukoto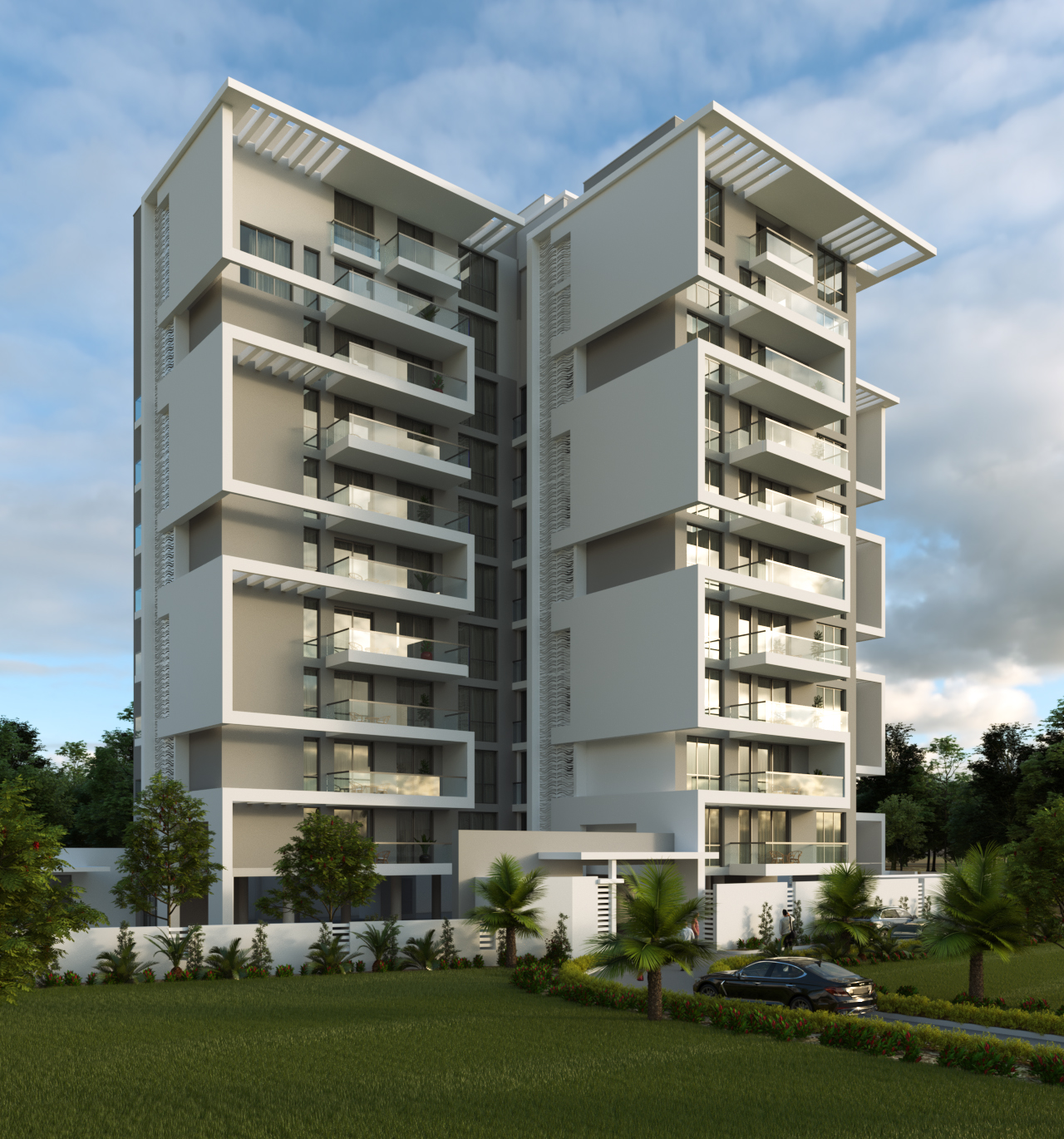 Have you thought of owning- a stylishly finished apartment in an up and coming suburb of Kampala such as Bukoto, but are turned off by the many what-ifs and the world of unknowns in the real estate sector?
Well, Bukoto Living, is an opportunity for you to own- either to occupy or to rent two and three bedroom apartments as well as four and five bedroom duplex penthouses, just 6 kilometres away from the city centre.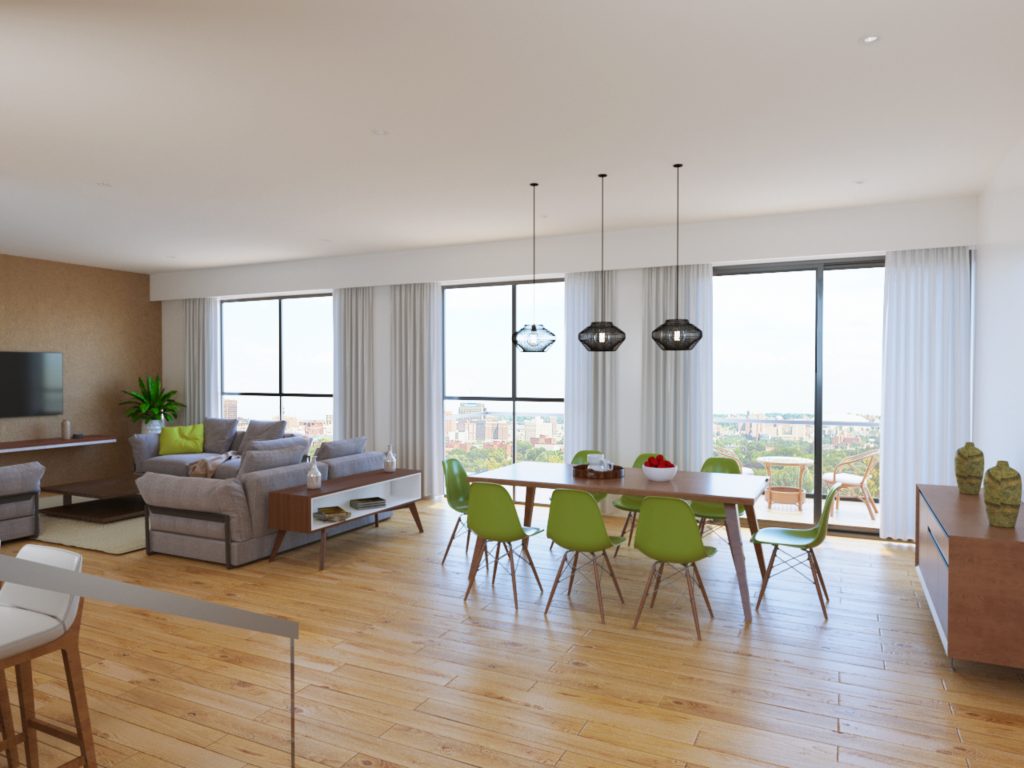 Situated at the confluence of the boarders of Bukoto, Naguru and Ntinda and only 150 meters from the main road, Bukoto Living presents 9 floors and 27 two, three, four and five bedroom units- enough choice to find something that meets your desires.
All the 27 apartments are available for sale.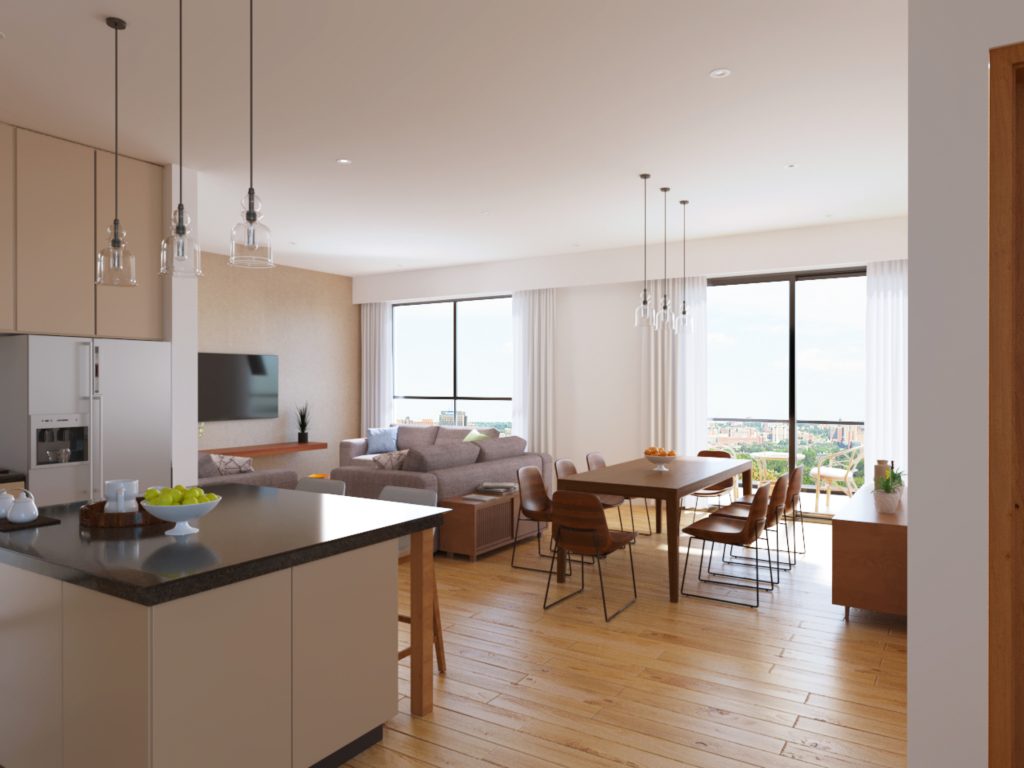 The project is a brainchild of Rajiv Ruparelia the Managing Director of Ruparelia Group and Sheena Ruparelia, also a director in the group.
Surrounded by shopping facilities, hospitals, educational institutions, hotels and restaurants as well as places of worship coupled with luxurious views overlooking the whole of Kampala, Bukoto Living is the perfect place to buy an apartment in Kampala for seasoned real estate investors and first time home buyers alike.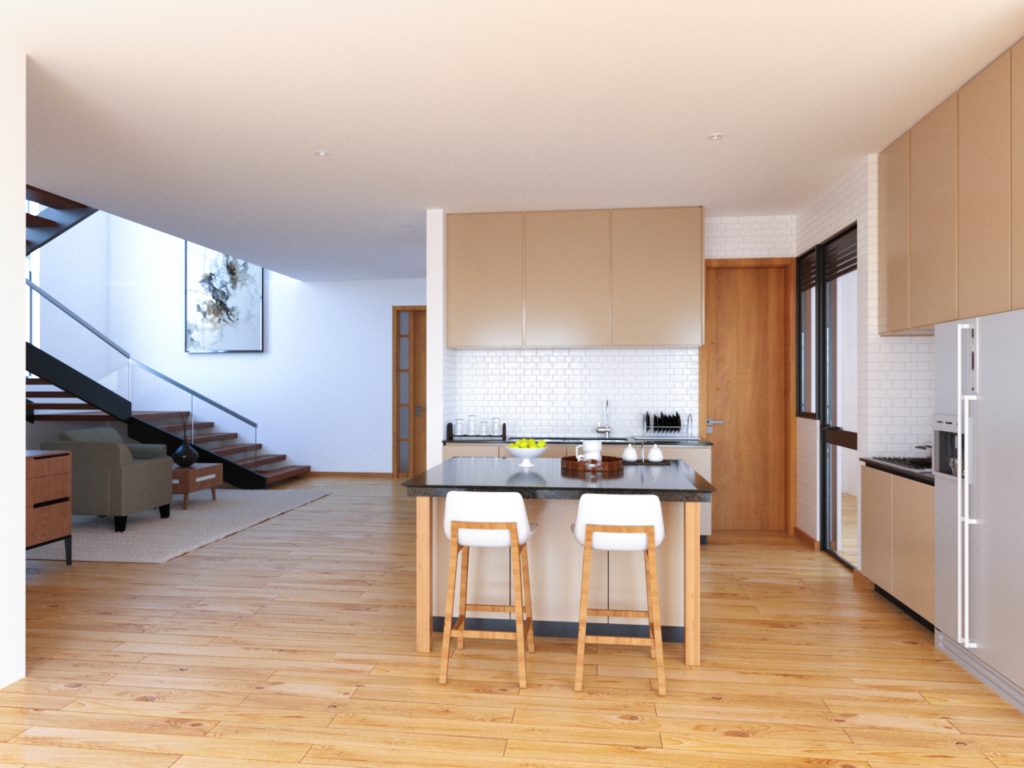 A 2 bedroom apartment with 160sqm of space (Apartment A) goes for $168,000 while a 3 bedroom apartment (apartment B) with 200sqm of space goes for $210,000. A 4-bedroom apartment (Penthouse C) measuring 215sqm goes for $330,750 while a 5-bedroom apartment (Penthouse D) measuring 345sqm goes for $352,250.
According to Sheena Ruparelia, all apartments have been "thoughtfully planned as a stylish home, designed with the intention to serve as an opportunity to invest in the homes either as an investor or to live in."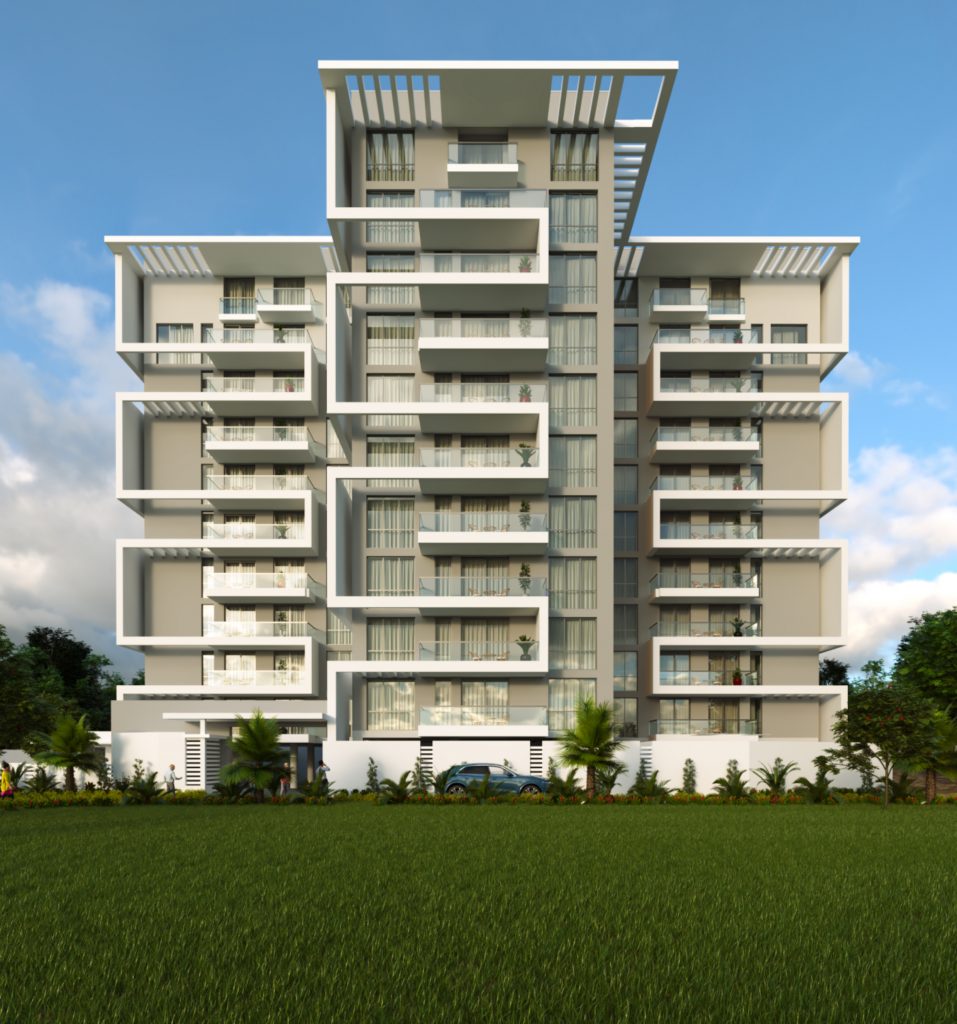 "We offer an excellent location, landscaped gardens, contemporary architecture, efficient layouts and beautiful finishes thus creating a compelling investment proposition, with up to 9% anticipated return on investment and potential for healthy capital appreciation. This development is an exclusive opportunity," said Sheena.
The apartments feature an entrance lobby with a security desk, spacious balcony from the living room, a laundry room / utility room, provision for Wi-Fi internet connection within the apartments and walk-in closets.
The building is serviced by a duplex passenger lift and a 24-hrs standby generator.
On top of ample parking space, the apartments also feature electrical door bell and intercom facilities, building lightening arrestors, provisional points of split air conditioning in the living room & bedrooms as well as a provision for cable TV connection in the living and bedrooms, a waste garbage collection room and maids quarters.
"Bukoto Living is the result of an in depth design process, resulting in a striking property that considers every aspect of a comfortable living environment, delivering the highest and safest living standards," said Sheena.
Expected date of completion July 2020
For further information, all inquiries can be placed to +256 755 996 997 or +256 702 711 142 as well as by email via sales@bukotoliving.com