Blood donors all over Uganda, collected 1,318 units of blood on the first day of the 5-Day NSSF Blood Drive- roughly 13% of the total target over the 5-day campaign.
The Fund, in their annual blood donation campaign, launched yesterday, January 13th 2020, aims at collecting 10,000 units this year to bridge a cyclic blood shortage in Uganda's hospital system. The campaign runs until Friday January 17th, at 23 locations in the country.
1,318 units is roughly almost enough of what is required daily in Uganda's health system- an estimated 1,500 units daily, yet on average only 1,250 is donated daily, leaving a 17% deadly shortage.
A 17% shortage means that for every 100 people who need blood, 17 people never get it.daily creating a deficit of 250 units or 17%.
At the launch, Dr. Dorothy Kyeyune, the Executive Director of the Uganda Blood Transfusion Services (UBTS) at the Ministry of Health said that the annual shortage hits its peak during the December- January season when students who are the biggest blood donors are on holiday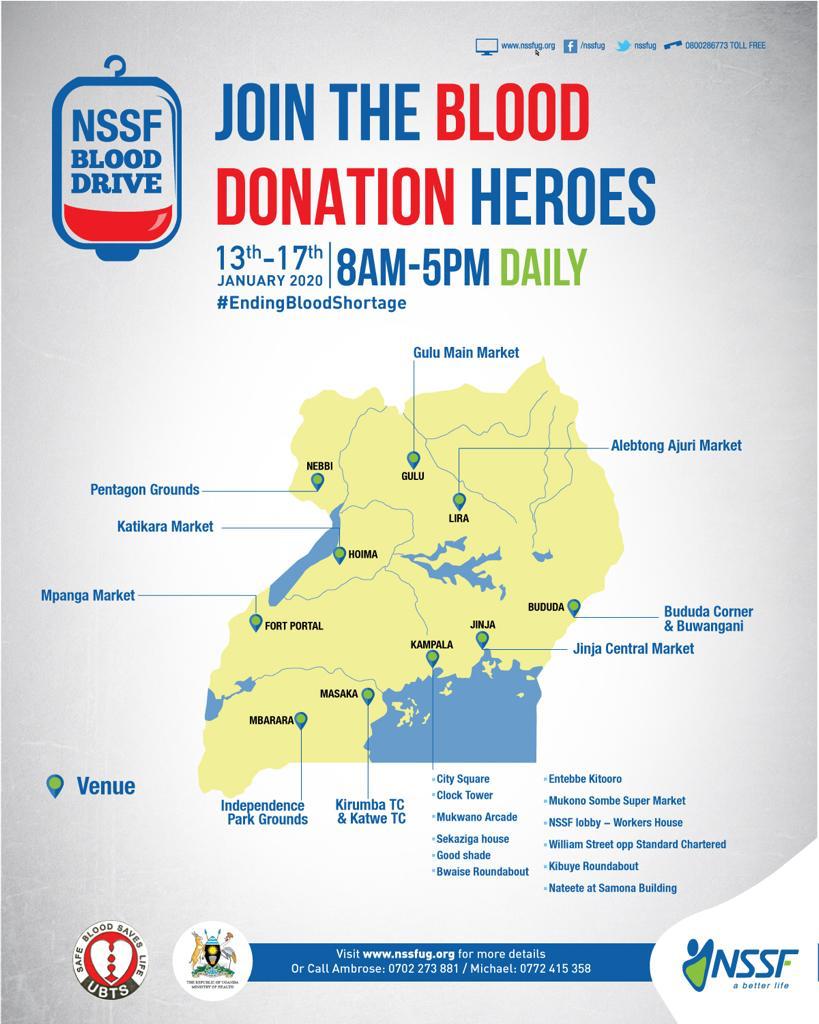 23 donation centres have been set up across the entire country. In Kampala, donors can go to City Square, Clock Tower, Mukwano Arcade, Sekaziga House, Good Shade, Bwaise Roundabout, Workers House Lobby, William Street, Kibuye Roundabout and Nateete at Samona Building.
In Mukono, the centre is located at Sombe Supermarket and in Entebbe, at Kitooro town.
Other centres are located in major towns countrywide. These include Hoima (Katikara Market), Masaka (Kirumba TC and Katwe TC), Jinja (Central Market), Mbarara (Independence Park Grounds) and Gulu (Gulu Main Market).
In Lira the drive will take place at Alebtong Ajuri Market, Fort Portal at Mpanga Market, Bududa at Bududa Corner and in Nebbi at Pentagon Grounds.
Addressing the media at Workers House in Kampala, NSSF Managing Director Richard Byarugaba said that "given that blood is unique and cannot be manufactured, it therefore means that regular donations by unpaid blood donors remains the only source of sufficient, quality and safe blood. Our campaign is aimed at recruiting voluntary, unpaid blood donors across the country."
Byarugaba said that for sustainability purposes, the NSSF Blood Donation campaign also aims at promoting a blood donation culture amongst Ugandans, thus enabling Uganda to meet the health sector's safe blood requirements.
According to the World Health Organisation, the recommended blood collection rate is 10 whole blood units per 1,000 inhabitants.