With up to 46% discounts, Munyonyo Commonwealth Resort and Speke Resort Munyonyo is the place to be this Easter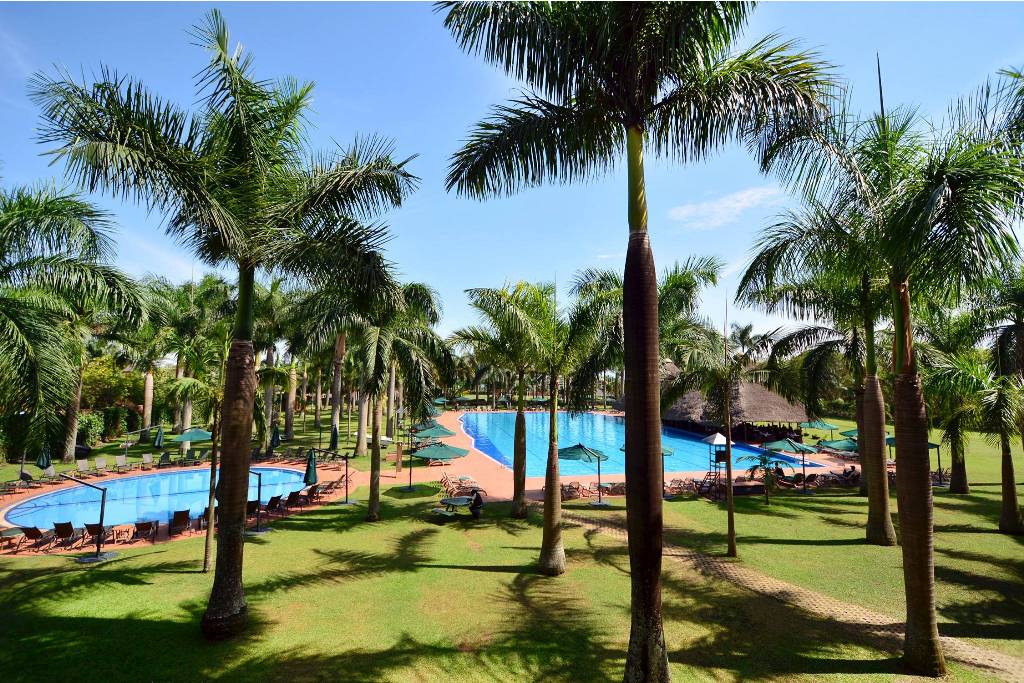 Munyonyo Commonwealth Resort and Speke Resort Munyonyo have extended their heavily discounted weekend packages that normally run from Fridays to Sundays to also cover the entire Easter weekend.
This in effect constitutes discounts ranging from 17% to 46% on selected room packages, for individuals, couples and families/groups of up to 4 people.
In an email to this news site, Mr Ajit Singh, the Rooms Division Manager at the 2 hotels said the weekend package has been extended from Thursday 18th April – Monday 22nd April, 2019 (both days included).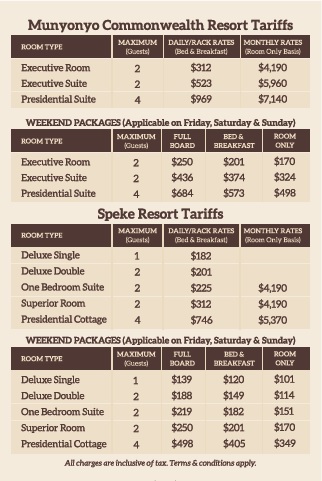 MEGA DISCOUNTS: This Easter, Munyonyo Commonwealth Resort & Speke Resort Munyonyo are giving up to 46% discount on selected rooms and packages
According to the rate card shared with this new site, executive rooms at Munyonyo Commonwealth Resort have been discounted by 20% from USD312 to USD250 on a bed and breakfast basis while the presidential suite that accommodates up to 4 people has been discounted by 29% from USD969 to USD684! An executive suite has been discounted by 17% from USD523 to USD436.
At Speke Resort, the presidential cottage that accommodates up to 4 people and has self-catering facilities, has been discounted by 46% from USD746 to USD 405. Superior rooms have been discounted by 36% from USD312 to USD201 while a single deluxe room has been discounted by 34% from USD182 to USD120.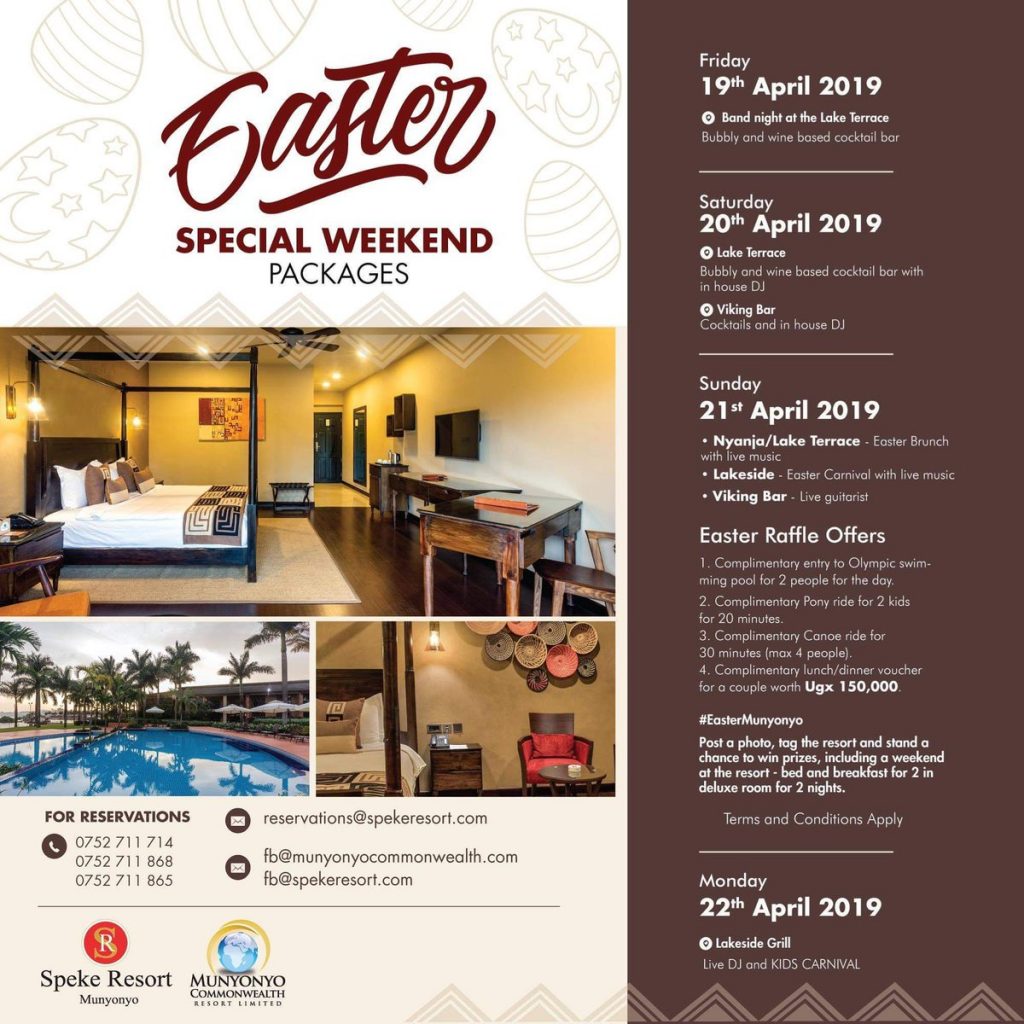 There are other full board packages as well as room only deals on a family weekly or monthly basis.
According to Ajit, guests can discuss more personalised packages. To discuss personalised quotes/packages and for more inquiries, guests can call +256 414 227 111, +256 417 716 000 or call +256 752 711 714 on mobile.
Alternatively, guests can email the hotel using reservations@spekeresort.com or reservations@munyonyocommonwealth.com.
Guests taking these packages are entitled to a complementary 30-minutes boat ride on the scenic Lake Victoria, a 10-minutes pony ride for kids, access to the Olympic-size pool, use of gym, steam & sauna and free Wi-Fi.
Speke Resort is rated among the top 3 hotels in Kampala on Trip Advisor and have been awarded with "Certificate of Excellence" by Trip Advisor for four consecutive years- 2015 – 2018.
Recently, both Munyonyo Commonwealth Resort and Speke Resort Munyonyo won the coveted 2018 World Luxury Hotel Awards in the regional and country categories respectively.
For more information, you can also visit their websites:
www.spekeresort.com and www.munyonyocommonwealth.com
To take a virtual tour of the hotels follow the links below:
http://360.hotlist.co.ke/commonwealthresort/
Dfcu Bank confirms fraud; declines to give details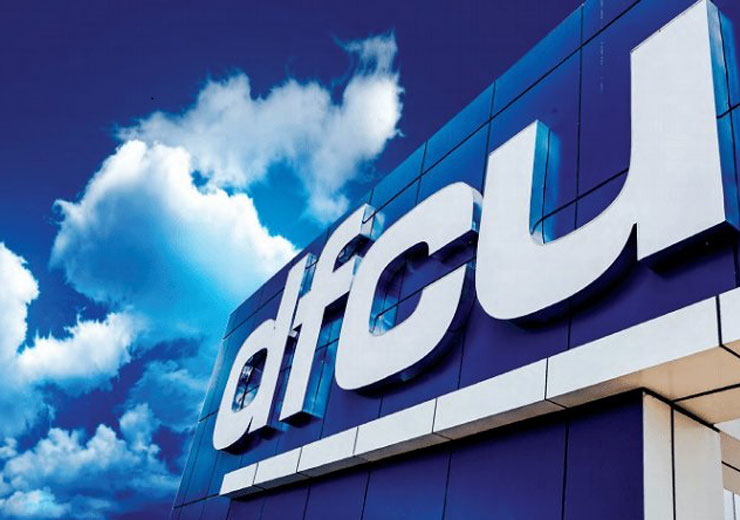 Dfcu bank, has this evening confirmed that there was indeed fraud at the bank, but declined to divulge details of how much and who was involved, but said investigations were on going.
In a series of tweets, on their official twitter account (@dfcugroup), the bank said that "In May 2019, the Bank detected a case of fraud that was immediately reported to the police (CID HDQTRS GEF 604/2019) and investigations are ongoing."
The bank which has been mum since the story was broken on Friday, went on to claim that the incident had "been grossly and maliciously misrepresented in an attempt to damage the reputation of the Bank, destabilise the banking sector and the economy in general," but offered nor further detail on what had been misrepresented.
Several media houses that broke the story have reported that up to $2.6m was lost to hackers who breached the bank's system, citing unnamed bank sources.
"The Bank takes these malicious reports seriously and reserves the right to take legal action as well as to refer the authors and disseminators to the relevant law enforcement authorities," the bank threatened in one of the tweets.
Dfcu Bank is one of the domestic systemically important banks (DSIBs) together with Stanbic Bank, Standard and Chartered Bank and fraud at the institution would be of national interest.
DSIB is a term used to describe banks whose business failures may widely impact the economy. These are deemed too big to fail because if their broad business networks across the economy.
UBL board hails Mark Ocitti for resounding growth and innovation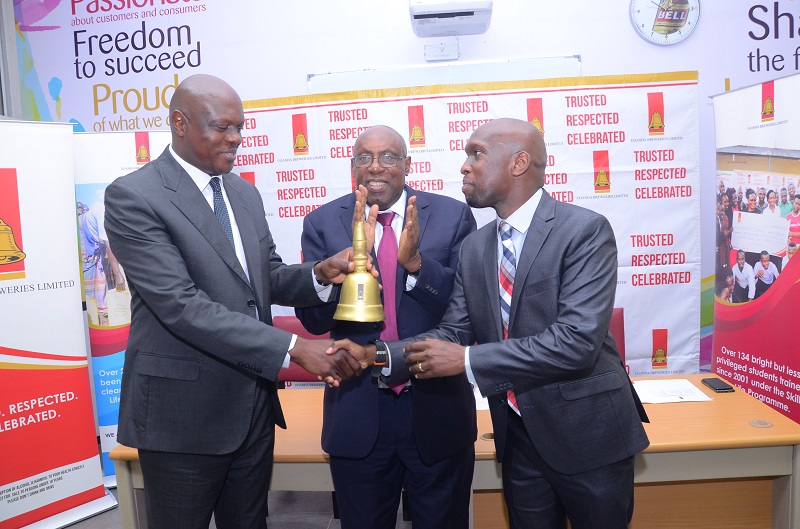 The Uganda Breweries Limited (UBL) Board of Directors, has hailed outgoing its Managing Director, Mark Ocitti for what they called: "great milestones, resounding business growth, capacity expansion, impactful community projects in education, sanitation and a spirited, empowered staff."
Addressing a farewell press conference, on Thurday, July 11th attended by UBL's senior and middle management as well as members of the media, UBL board Chairman Japheth Katto, said that Ocitti's 3 years at the brewery have set up a great foundation to deliver future "great performances" thereby "returning significant value to our investors for years to come."
"In the last 3 years, the business has registered a year-on-year average growth rate of over 30% in volumes and over 6% in topline delivery, which has cemented our market leadership of over 54% of market share by value in Total Beverage Alcohol (TBA) in beer and spirits," said an excited Katto.
"We have significantly grown our numeric distribution by over 25%, which has manifested in the distinctive visibility and increased availability of key brands like Bell, Pilsner, Tusker Lite and Guinness. This is reflected in the growth of the retail outlets handling our products by 28,000 outlets in 3 years thus growing the households we impact positively by over 80,000," he added.
Although Kato did not delve into the specific details of UBL's financial performance under Ocitti, CEO East Africa Magazine, understands that Ocitti inherited a gross turnover book of UGX377.8 billion and a profit of UGX34.6 billion for the year, ended March 2016.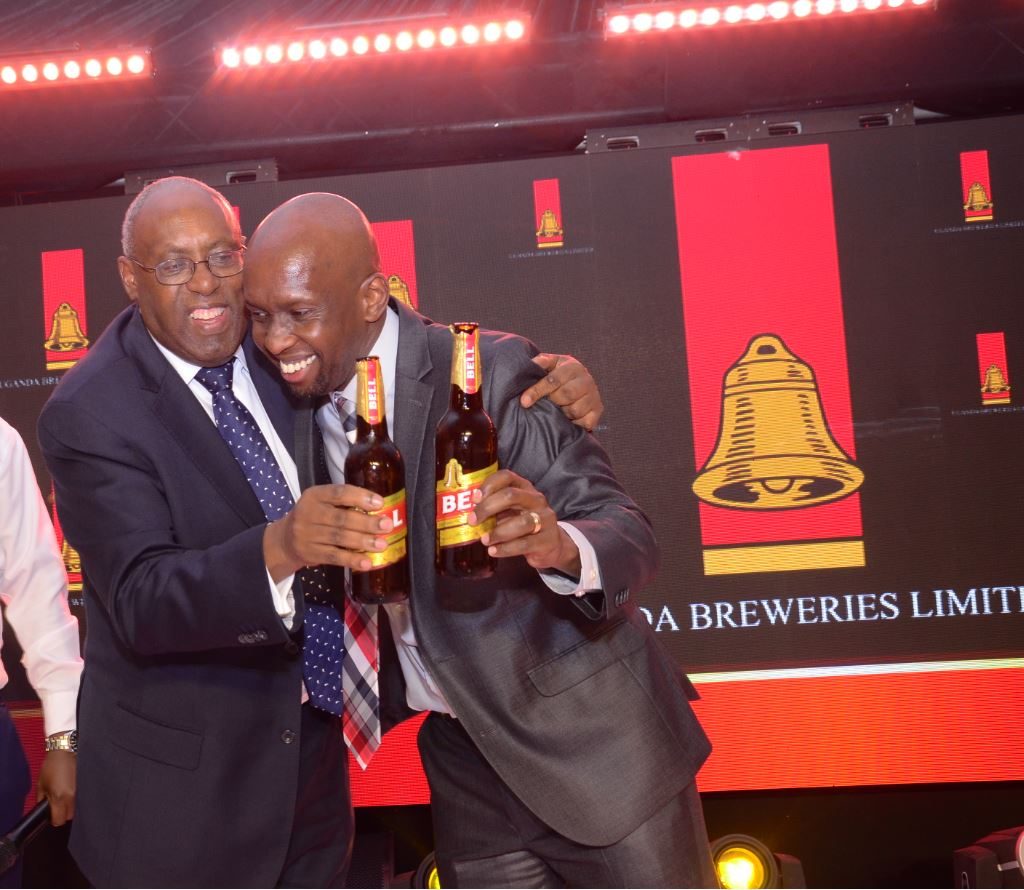 By end of March 2017, sales revenue grew by 6.5% to UGX402.5bn and in the year ending March 2018, sales revenue jumped by a further 6% to UGX426.7bn- a compound annual growth rate (CAGR) of 4% across the 3 years.
During this time, Ocitti who is a sales and commercial expert by background, narrowed down the gap between UBL and Nile Breweries, their arch-rivals from UGX189bn in 2016 to UGX126.4 billion- UBL's gross turnover for 2016 was UGX377.8bn compared to NBL's 567.7bn while in 2017 UBL sold UGX402.5bn worth of drinks compared to NBL's 528.9bn.
Ocitti's exciting, challenging and fulfilling 3 years
Mr. Ocitti is heading to Tanzania as the Managing Director for Serengeti Breweries Limited, a member of the East African Breweries Group and as such, part of Diageo, effective August 1, 2019. Ocitti who possesses over 20 years of business leadership in Oil & Gas, telecoms and beverages sectors, is the second Ugandan to lead UBL after Baker Magunda is also the second Ugandan Managing Director within the Diageo family working on the African continent, outside their home market. Ocitti also joins 14 other Ugandans that Uganda Breweries has exported to Diageo's affiliate companies in Kenya and the United Kingdom.
"On behalf of the Board and our investors, I thank you, Mark for your hard work and delivering on your commitment to build and grow the business you were given charge of. Your stewardship has sustained our leadership in innovation, delivered market share command and significantly improved the opportunity for our consumers to access their favorite brands. We challenge you to carry the winning attitude you infused in the staff and fly the Ugandan flag high in Tanzania and wherever else you will go after that," he said.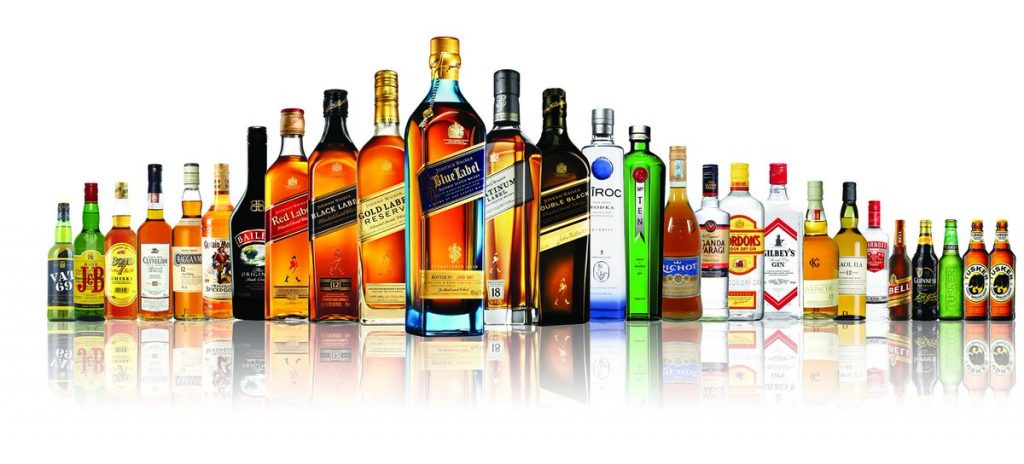 Mark will be succeeded by Alvin M. Mbugua
A seasoned commercial professional, Mbugua joined East African Breweries Limited (EABL) in May 2013 as the Group Finance Controller before transitioning to Uganda as Finance and Strategy Director in October 2015. Prior to his new appointment, Mbugua was Head of Sales of the biggest Sales division in Kenya Breweries Limited (KBL), a role that he has held for the last 17 months.
Mbugua was also recognized as 2017 Chief Finance Officer of the Year and took home the Strategy Execution Award at the Annual CFO Awards organized by the Association of Chartered and Certified Accountants (ACCA) and Deloitte Uganda.
On his part, Ocitti said he was "really honored to have presided over Uganda Breweries at a time when it has achieved the kind of growth that has been spelled out by my Chairman," he said adding that the three years had been "exciting, challenging and fulfilling all at the same time."
He said the three years, had "defined the legacy of Uganda Breweries for years to come" as UBL had "received the most overwhelming stamp of approval from our consumers as they sampled one or more each of our wide category of alcoholic beverages.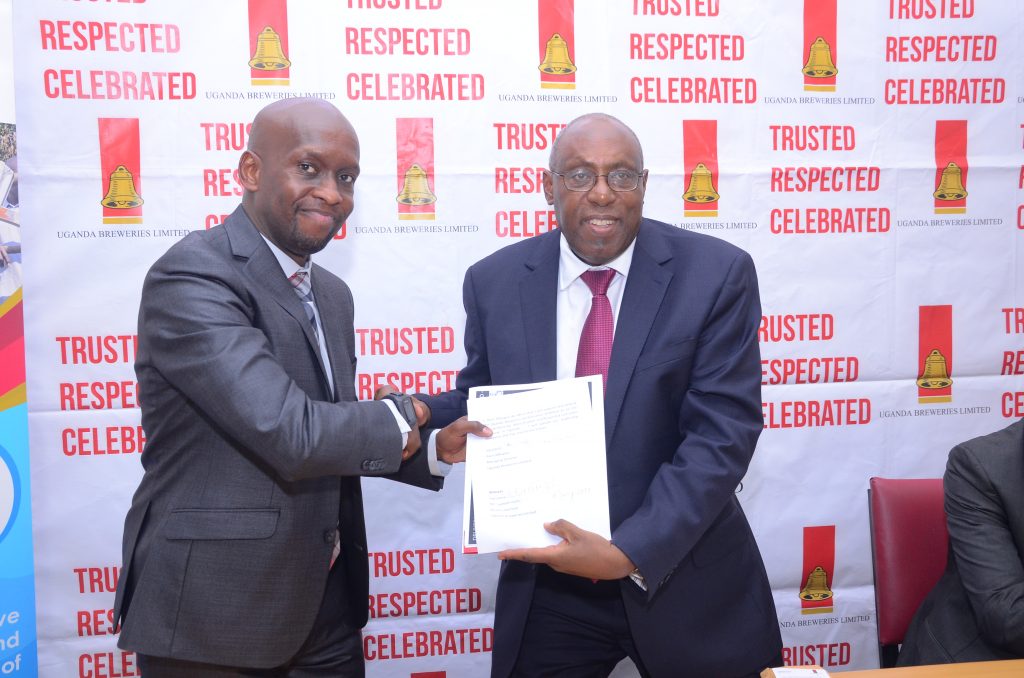 "I am really honored to have presided over Uganda Breweries at a time when it has achieved the kind of growth that has been spelled out by my Chairman," he said adding that the three years had been "exciting, challenging and fulfilling all at the same time."
Truly, truly excited to be back
Welcoming Mbugua, Katto said that he was confident in his abilities to lead the company forward as Uganda's most trusted, respected and celebrated company.
"I have no doubt that the leader we are getting in Mr. Mbugua will enable us to continue to deliver unprecedented sustainable growth whilst continuing to drive a winning culture for our staff so we can export more Ugandan talent to take over more corners of this continent," said Kato.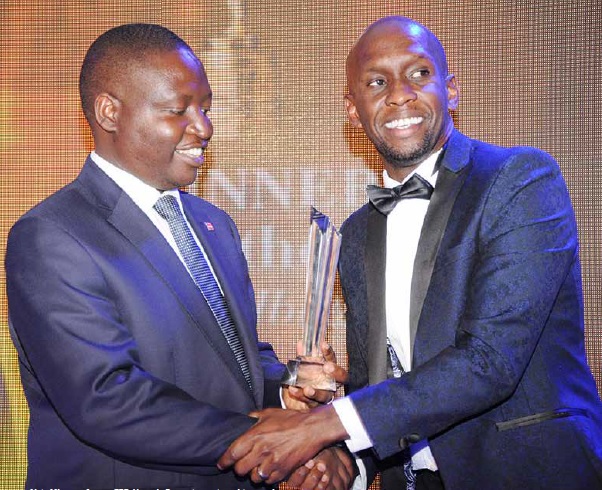 Mbugua, who said he was "truly, truly excited to be back" said his return was a in "a big way a continuation of the building blocks" laid before when he was Finance & Strategy Director and that he returns as a "much more experienced and fine leader" following the commercial role he played in Nairobi, after Uganda.
"I truly feel humbled to be taking the stewardship of the 4th largest tax payer in Uganda. It is no light task, I must bear witness to that. Chairman, with the confidence that comes from the board and yourself, I really want to lay out and commit, on behalf of myself and my team, that we will continue the great work and achievements left by Mark Ocitti and the other MDS who left before," he said.
"UBL has been around now for over 70 years. We are the generation that is taking UBL into the 2020s and see UBL become 80 years old; it is no mean feat and we do not take it lightly. We understand what our forefathers have done before, we appreciate what Mark and his team have done up to this point and ours is to continue the heritage; that great story and hopefully, pass over a company to the next generation that is far greater than what we found it. That is the only gift that we can give back to Uganda, the young people coming up, and to ourselves, as we serve in leadership at this time," he said.
Hima Cement former MD Speaks out on why he left his job and why Hima made UGX32 bn losses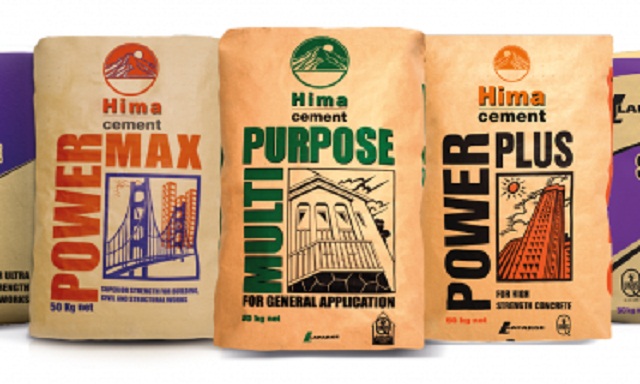 Hima Cement, in 2018 made a loss of UGX32.5 billion, down from a profit of UGX71.7 billion in 2017, according to the company's results, this reporter has had access to.
According to the 2018 audited company accounts, the Lafarge-Holcim subsidiary in Uganda also suffered a 9% drop in sales, from UGX537.4 billion in 2017 to UGX489.5 billion.
This is despite having opened a new USD40 million plant in Tororo, in May 2018, with a promise to increase production from 0.9 million tonnes to 1.7 million tonnes annually.
In June 2019, Nicholas George the Hima Cement CEO suddenly left the company, under unexplained circumstances, just after 16 months, to take up another job outside Lafarge-Holcim in Cambodia.
CEO East Africa Magazine has not yet established a direct link between the CEO's exit and the poor business performance.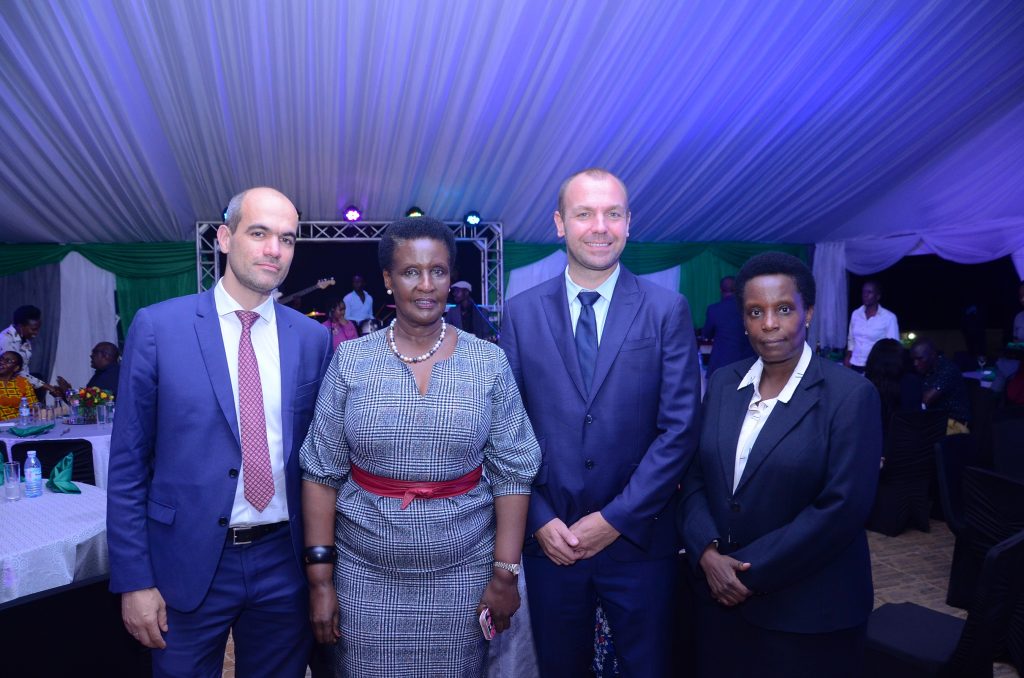 However, a press statement released by the company, at a function to bid farewell to the outgoing CEO and welcome Mr. Jean-Michel Pons (42), the new CEO, Barbara Mulwana the new Hima Cement board chairman said that the outgoing CEO, had helped grow sales as well as Hima Cement's profits by 15%.
Michel Pons, joins the company from LafargeHolcim Moldova. Pons, who has been with LafargeHolcim Group since 2011, has worked in Russia, Serbia, Algeria, France and more recently Moldova. He brings a wealth of knowledge of the construction industry from his previous deployments.
This reporter, in an email, to Ms. Mulwana asked about the differences between the figures we had had access to and the said 15% growth in profits, but she did not answer back. Attempts by this reporter to also get a statement from the company's spokesperson about the company's performance, were futile as the promised response never came through for over 4 days.
According to results available to us, Hima Cement enjoyed good sales growth between 2014 and 2016 in which sales grew from UGX475.2 billion in 2014 to UGX550.1 billion in 2015 and UGX564.1 billion in 2016. Similarly net profits in the same period grew from UGX47.2 billion in 2014, to UGX63 billion in 2015, peaking at UGX72.5 billion at the end of 2016.
However in 2017, sales reduced to UGX537.4 billion and further to UGX489.5 billion in 2018. Net profits also reduced to UGX71.7 billion in 2017, before a tailspin tumble to UGX32.5 billion loss in 2018.
Nicolas George, the former MD responds; blames losses on past mismanagement
In response to our LinkedIn inquiry, Nicolas George clarified that he had left Hima Cement following completion of his assignment to "clean up" the business and that he had received an irresistible offer from his current employers.
"I came to Hima to clean the company following few years of mismanagement. You can easily see it if you read the annual report of Bamburi cement,' he said, without going into more details.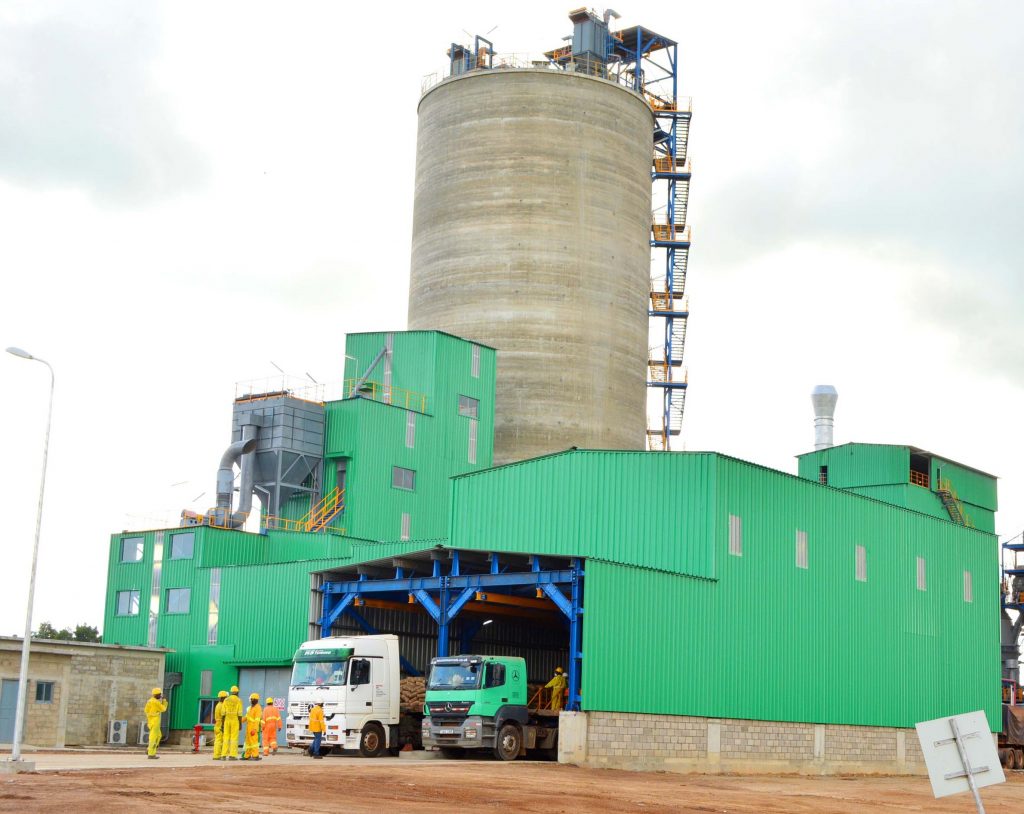 "The results were negative because we had to write off a lot of things, clean the bad debts that were hidden," he further explained, adding: "The job was done, the management team completely changed and the company is doing good in H1 2019, except for the loss of Rwanda market due to border closure."
"My job was completed with success. Feel free to check with Hima management if you want. I left because I had completed the clean-up I was hired for and because I had been with the group for almost 15 years and I got an opportunity I could not refuse," he said.
Both Dr. John P. N. Simba and Seddiq Hassani the Bamburi Group Chairman and Group Managing Director respectively, in the 2018 Annual Report, blamed Hima's bad performance on rising costs of operations; namely fuel, coal and petcoke costs following global market price increases as well as slow growth in the cement market and "higher levels of provisioning."
A provision is an amount of cash set aside from the profits in the accounts of a business to cover a known liability or to account for depreciation of an asset. This lends a lot of Credence to Nicholas George's earlier claims of past mismanagement and cover-ups that necessitated massive write-offs.
For example, Hima Cement recently had to return hundreds of acres of community land in Tororo, Eastern Uganda, that it said had been bought in ways that contravened Lafarge Group's known principles and in the process lost several billions of shillings. This is after Nicholas George appeared before the Justice Bamugemereire land probe committee and pledged to return the land.
Leadership cleanup at Hima Cement
Nicolas George who has since taken up a new post as CEO at Chipmong Insee a Cambodian cement company in South East Asia, became Hima Cement CEO in February 2018 replacing Allan Ssemakula, who served in an acting capacity, between November 2017 and February 2018, following the sudden departure of then CEO Daniel Pettersson over what is now believed to be compliance issues.
Much of the bad performance happened during the time Hima Cement did not have a substantive CEO and Nicolas George's time.
Hannington Karuhanga, then board chairman has quietly left the Hima Cement board and has been replaced by Barbara Mulwana. Semakula has also since left Hima Cement and is now Enterprise Director at Airtel Uganda.
Karuhanga is also Airtel Board Chairman. Losses largely blamed on the cost of provisioning for damages caused by past mismanagement, hidden bad debts and bad procurements