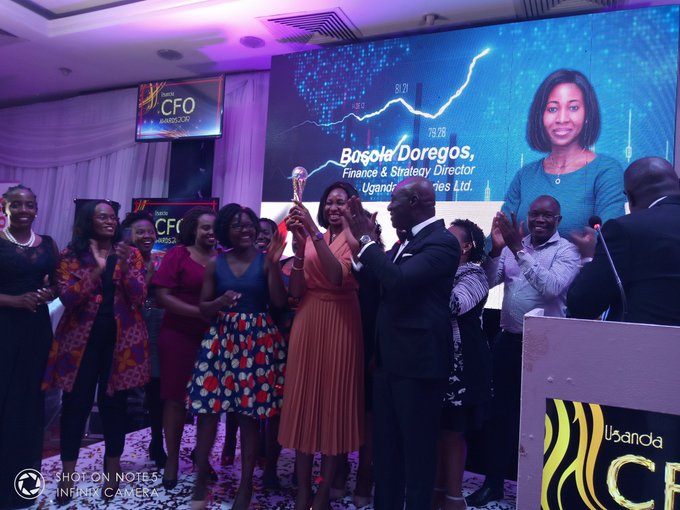 Uganda Breweries Limited's Finance and Strategy Manager, Busola Doregos, is the 2019 Chief Finance Officer of the Year!
Judges, chose her over Coca Cola's Ivan Bombom and Centenary Bank's Godfrey Byekwaso, the other two finalists in what has now become probably the most prestigious individual meritorious award in Uganda's finance managers' profession.
Byekwaso, however won the Strategy Execution Award for his role in spearheading the automation and the reconciliation processes of Centenary Bank.
In the only double win of the night, Busola, also tied up with Moses Kargbo of Tugende; a boda-boda microfinancing social enterprise for the Finance Transformation Award.
Busola, also the first female CFO of the year, now walks the footsteps of Alvin Mbugua (then CFO but now Managing Director Uganda Breweries Limited) the winner of the very first 2017 CFO of the Year Award and Sam Mwogeza the Stanbic Bank CFO who won the 2018 accolade.
Busola holds a Bachelor of Science (Accounting) degree from the University of Lagos and an MBA from the University of Kent. She is a Chartered Accountant.
Between 2007 and 2014, she held various roles within Diageo in the UK and in Nigeria. In June 2014 she got appointed as the Business Supply Manager at Guinness Nigeria and rose to the position of Financial Controller in April 2016. In May 2018 she Joined Uganda Breweries Limited- a subsidiary of EABL, itself a subsidiary of Diageo as Finance & Strategy Director.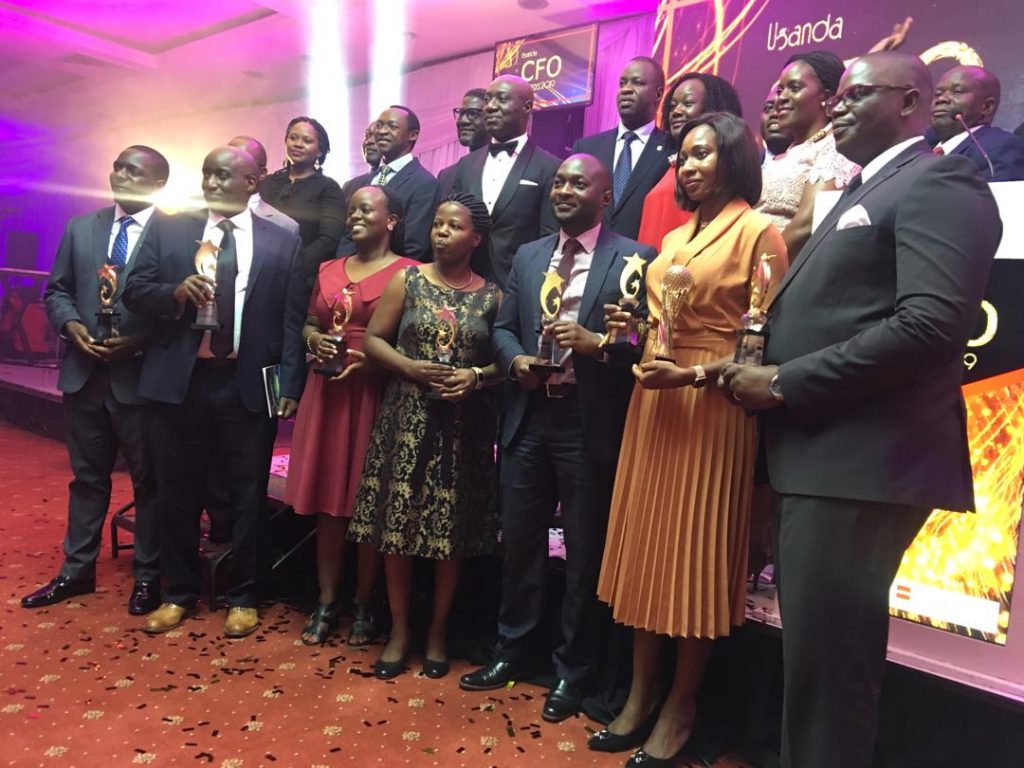 To win, judges were looking for finance managers that have exhibited excellence in the seven vital quotients or skills of an accountant i.e. intelligence, creativity, digital knowledge, emotional intelligence, experience, vision, and technical and ethical skills.
The 2019 CFO Awards were organised by ACCA Uganda and Deloitte Uganda and sponsored by Stanbic Bank and Uganda Breweries Limited.
Full List of Winners
CFO Of the Year: Busola Doregos, Finance & Strategy Manager, Uganda Breweries Ltd.
Strategy Execution Award: Godfrey Byekwaso, General Manager, Finance; Centenary Bank
Not For Profit Awards: Martha Sebunya, Finance Manager, Mengo Hospital
Young CFO of The Year Award: Brian Collins Amanyire, CFO, Bank of Africa
Finance Transformation Award: Busola Doregos, Finance & Strategy Manager, Uganda and Breweries Ltd and Moses Kargbo, Finance Manager, Tugende.
SME Sector Award: Maxwell Odera, Finance Manager, Fiduga Uganda
Public Sector Award: Joshua Karamagi, CFO, Uganda Electricity Generation Company Ltd (UEGCL)