dfcu Bank has caved in to pressure from Meera Investments Ltd, to drop city law firm, Sebalu & Lule Advocates as legal representatives of the bank, in a case in which the real estate company accuses the bank of fraudulently transferring Meera's land into the bank's names.
In a Change of Advocates notice dated 20th November, 2019 that this news website has seen, M/s Kalenge, Bwanika, Ssawa & Co Advocates, has been hired to replace the embattled Sebalu & Lule Advocates in High Court Civil Court Suit No. 948 of 2017.
"Take notices that we M/s Kalenge, Bwanika, Ssawa & Co Advocates of Plot 30, Lumumba Avenue…. have been instructed by the 1st Respondent (dfcu bank) to represent it in the above proceeddngs in place of M/s Sebalu & Lule Advocates. We request that all further correspondences , communications and or court processes in connection thereto be forwarded to us at the address indicated above," read the notice, filed by M/s Kalenge, Bwanika, Ssawa & Co Advocates.
Meera Investments, the Property arm of Ruparelia Group, in High Court Civil Court Suit No. 948 of 2017, in the Land Division jointly sued the bank with the Commissioner for Land Registration, who they accuse of "illegally effecting a transfer of the suit properties into the names of dfcu."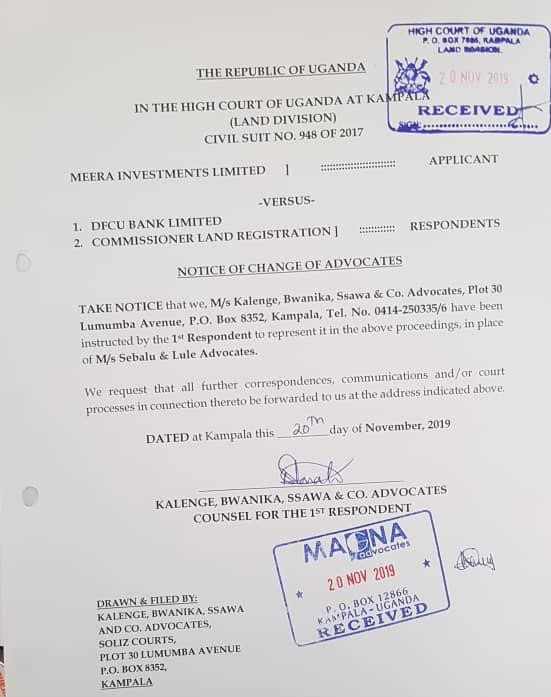 The case emanates from leases for 48 properties that were passed onto dfcu bank by Bank of Uganda during the now-heavily contested and controversial Crane Bank acquisition. BoU was supposed to handover freehold possession of the titles within 24 months which they have failed to do.
But even before the 24 months elapsed, Sebalu & Lule Advocates advised a reluctant dfcu bank to transfer the said leases from Crane Bank into dfcu Bank's names. This was done without the consent of the original owner, Meera Investments, contrary to the law, prompting Meera Investments to drag dfcu Bank and The Commissioner, Lands Registration to court.
Meera wants court to order that Meera Investments is the registered proprietor of the suit properties and should have been consulted in any transfers of the land to dfcu and that since Meera was never consulted, the said transactions were illegal and fraudulent.
Dfcu through, Sebalu & Lule Advocates argued that the ownership of the properties was still subject to a court decision in High Court Civil Suit No. 493 of 2017 and therefore it was premature for Meera to claim them.
However, court dismissed High Court Civil Suit No. 493 of 2017 in which BoU sought to acquire the properties from the Meera, scattering dfcu's defence. Dfcu has since started a process to handover the properties back to BoU- even before the case against it is decided.
According to information available to this website, Dr Sudhir Ruparelia had threated to yet again drag Sebalu & Lule to court following an earlier win mid this year in which Justice Paul Gadenya of the Commercial Court, found Sebalu & Lule Advocates who were once Ruparelia Group's lawyers, severally in breach of "For the record, the engagement of the 1st respondent (Sebalu & Lule) as counsel for the 2nd respondent (dfcu) violated Regulation 4, 9 and 10 of the Advocates (Professional Conduct) Regulations.
Justice Gadenya accordingly ordered them off representing dfcu Bank in the case against the businessman and setting a precedent, which we believe could have been relied on by dfcu to dismiss Sebalu & Lule Advocates.
Dfcu Bank is separately battling two other court cases in which Meera and Crane Management Services (CMS) another of Ruparelia Group's companies are demanding up to UGX36bn in costs in respect to several breaches of rental contracts that dfcu Bank inherited from the now defunct Crane Bank.
In both cases, dfcu is being sued, on account of being the successor in title to Crane Bank (in receivership) and as such "having by its conduct assumed the rights and obligations under the tenancies in respect of the suit properties."