Ruparelia Group completes, iconic Kingdom Kampala Mall, sets eyes on 21-storey tower in second phase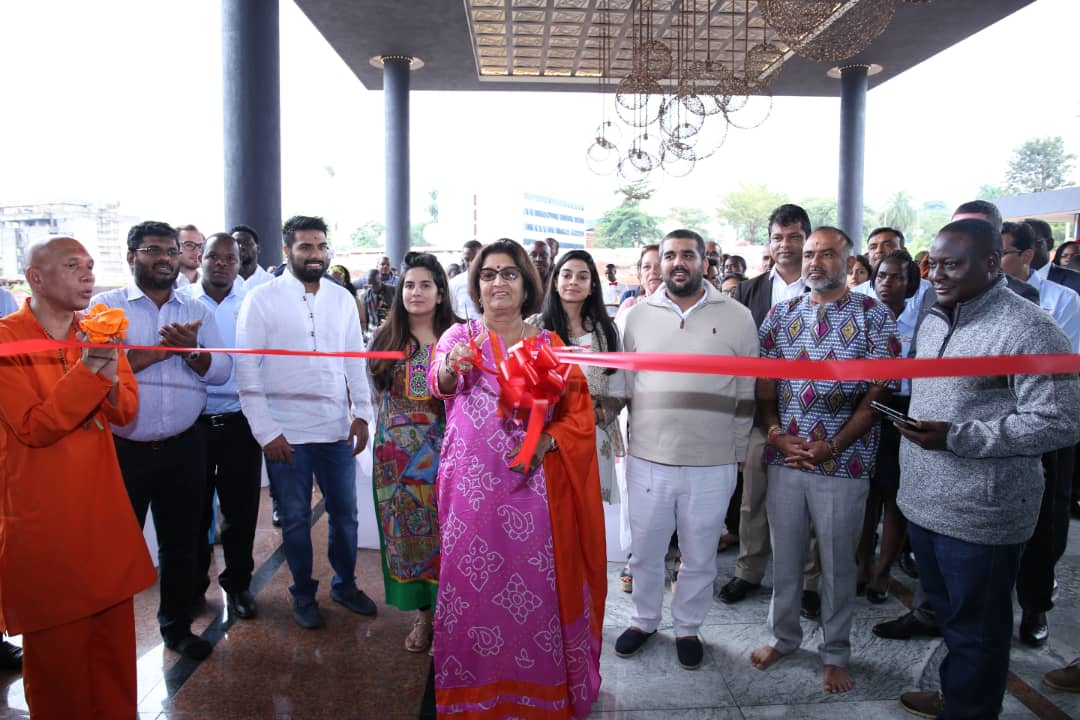 Meera Investments Limited, yesterday, May 19th 2019, officially opened their iconic Kingdom Kampala Mall, releasing onto the market, a fresh 22,000m2 of Grade A retail and office space.
Meera is the property development arm of Ruparelia Group and is the largest developer of commercial and residential space, with over 300 properties in Kampala and surrounding towns.
According to Rajiv Ruparelia, the Group Managing Director, the completion of the "built to international standards" property, clears way for the next phase of development at the 14-acre site- located on Nile Avenue, Yusuf Lule Road and Dewinton Roads, just to the north-east of Kampala's Central Business District.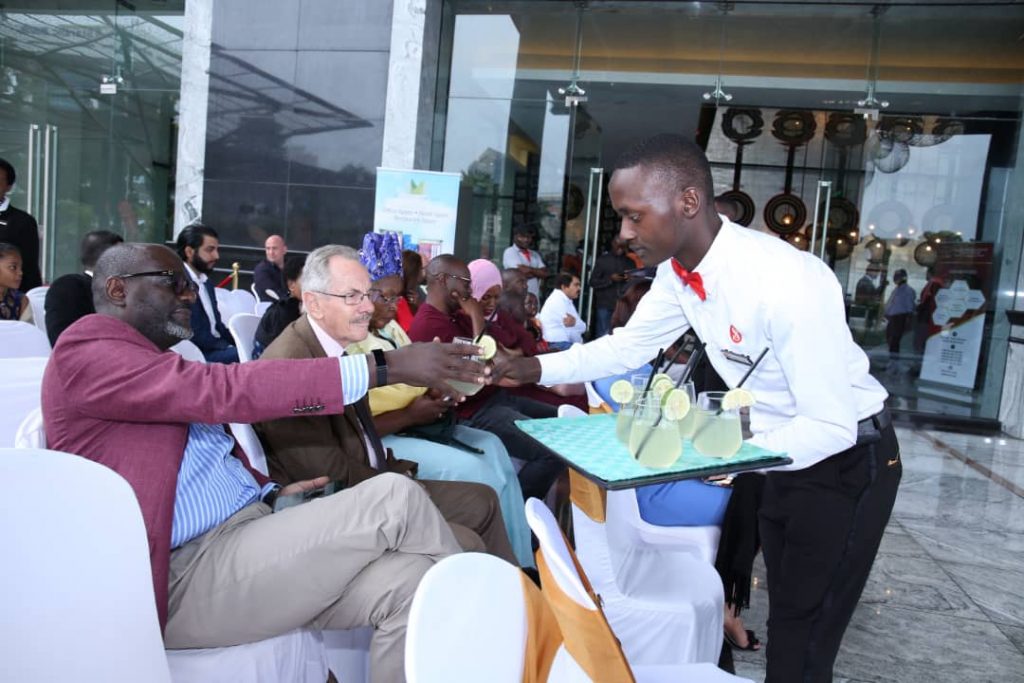 "We are happy to unveil our Grade A property to the public. Nothing has been left to chance- everything has been built to international standards," he told the press, adding: "It has been a 2 years long journey with my team and finally today, we are there; I want to thank all our contractors, architects, cleaners and all Ruparelia Group staff who worked on the project. Without you, it wouldn't have been possible."
"We are glad to launch at this strategic time when Uganda is progressing in the oil and gas developments. We hope and believe the oil companies will reach the Final Investment Decision (FID) this year- that will stimulate extreme economic opportunities, in Uganda," he said.
Rajiv subtly hinted on the group's next phase, saying that group will next put up a "21-storeyed building."
He did not say whether it will be a hotel or office tower.
According to development plans on the project's website, the group intends to develop the 14-acre land in 4 phases. Following the first phase, the next 3 phases, will consist of a 5 star hotel, a shopping mall, another office tower and serviced apartments- in no particular order.
Modern building; modern amenities
Kingdom Kampala Mall is a mixed-use building- a blend of light retail as well as 10 floors of office space.
Out of the 40,000m2 built up area, 22,000m2 is lettable, consisting of 18,000m2 of office space, 4,000m2 of retail as well as parking for up to 450 cars.
"We have 10 floors of office space, 47 retail units and 3 floors of basement parking," said Rajiv, during an earlier media tour of the property.
The building has been fitted with a modern sprinkler fire suppression system consisting of a 200,000 litre water tank and 2 fire pumps with a back-up generator. There is a separate holding water tank with a capacity of 150,000 litres.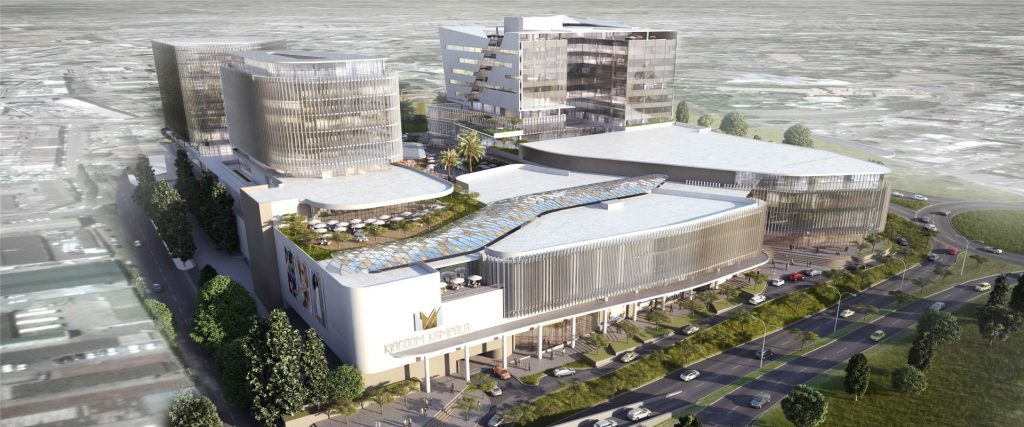 The building is also equipped with 6 lifts- four with a capacity of 13 passengers and two with a capacity of 20 passengers. It also has three 500kva backup generators with a 15,000 diesel tank and has been fitted with 400 CCTVs for security.
"The building can run for 4-5 days off-grid," he said.
"I don't think we have left out anything for this not to be called a Grade A building," said Rajiv, adding: "This building has been tastefully designed to create unmatched shopping and working environments in line with our philosophy of satisfying the unmet need for affordable yet modern space."
Shimoni served its purpose
Rajiv, defended the Group's developments at a piece of land formerly occupied by Shimoni Demonstration Primary School, saying that a modern city needs matching modern infrastructure to meet the needs of a fast growing population.
"Shimoni did its purpose; it is now time to develop the city into the metropolitan modern city that we all need. When Shimoni was here, Kampala had a small population, today Kampala has grown to close to 4.5 million people," he said.
According to official census figures, the Greater Kampala Metropolitan Area (GKMA) population in 2002 was 1.96 million people. In 2008 it was estimated at 2.5 million and is expected to reach 4.5 million in 2023.
At a growth of 4% the GKMA population is growing faster than the national average of 3.3%.
"The city needs to grow and provide the necessary services for the people. As the middle class grows, they will need more and more office space and serviced apartments and other supporting infrastructure- we just need to develop our city," he said.
Shimoni land was originally owned by the government but in 2006, the land was given to Kingdom Holdings in Dubai which was supposed to put up a five- star hotel for the Commonwealth Heads of Government Meeting (Chogm) that took place in 2007.
Kingdom Holdings paid $2 million for the land.
In 2010, the land however changed hands to businessman, Ashish Thakkar's Mara Group, who reportedly paid $2.6 million and said they would put up a shopping complex and a 34-storey hotel with 250 luxury rooms.
Mara Group is said to have entered into a partnership with Ruparelia Group, through Meera Investments, to develop the property.
UNHACKED: Nile Breweries launches Nile Special Stout; beer goes on sale this Friday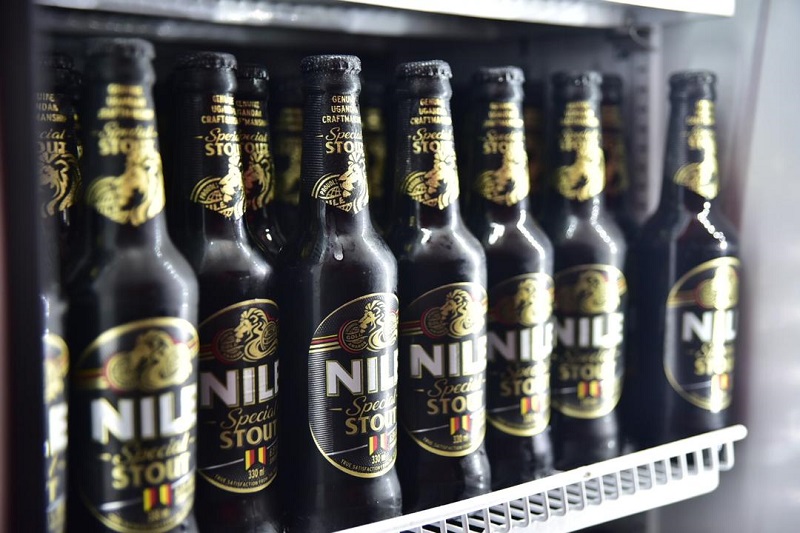 Nile Breweries Limited, a subsidiary of AB InBev has launched a new beer- Nile Special Stout.
The "dark, bold and satisfying"Nile Special Stout, that is "brewed with the finest Ugandan malts and roasted barley" according to Moses Musisi, the retiring Nile Breweries' Master Brewer goes on sale starting this Friday November, 29th 2019.
"Nile Special Stout is a stout Uganda can be proud of. It is brewed at the Source of the River Nile. The liquid is beautifully dark and has a truly satisfying rich taste with a long lingering but surprisingly clean after taste," he told journalists at the launch held at Nile Breweries' Kampala Office on November 27th 2019.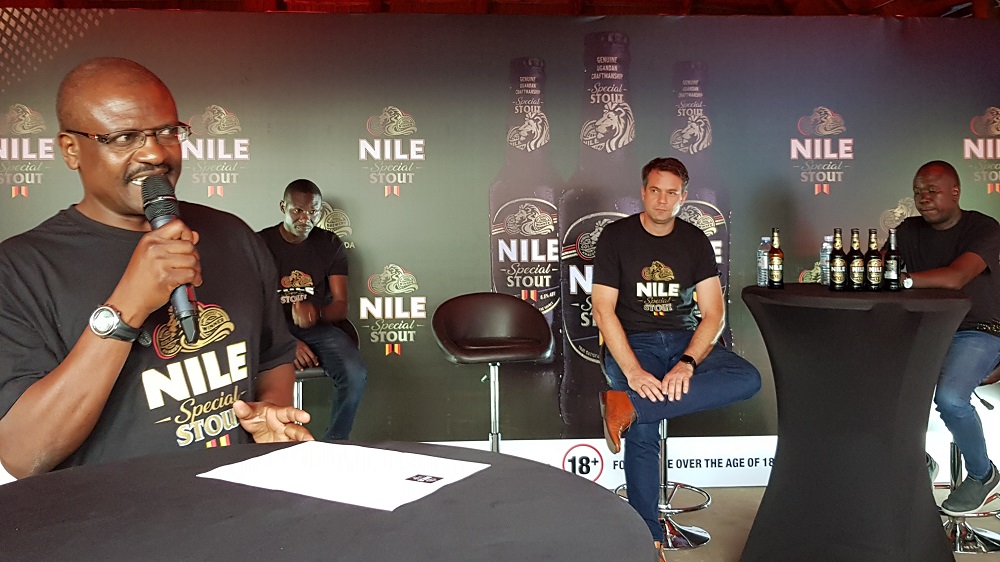 "It is a drinking experience crafted specifically for the growing appetite for richer and more rewarding beers in Uganda," he added.
Musisi said Nile Special Stout is 99% made of Ugandan ingredients- barley and maize that are locally grown in Uganda, then malted in Jinja and brewed at the Source of the Nile, using water from the mighty Nile River.
Musisi is the brain behind some of Nile Breweries' successful and award-winning brands such as Nile Special, Club and Eagle.
Speaking at the launch, Thomas Kamphuis, the Country Director, Nile Breweries Ltd, said Nile Special Stout was made largely in celebration of Mr. Musisi's iconic career in brewing.
"Nile Breweries' charismatic master brewer, Moses Musisi will start enjoying his well-deserved retirement in a few weeks. When discussing his retirement plans late last year he mentioned his passion for Ugandan beer and the lack of a proper Ugandan Stout," narrated Kamphuis.
He told of how Musisi observed that while Uganda had local dark lagers and imported stouts on the market, he really wanted to "create a stout that will make Uganda proud."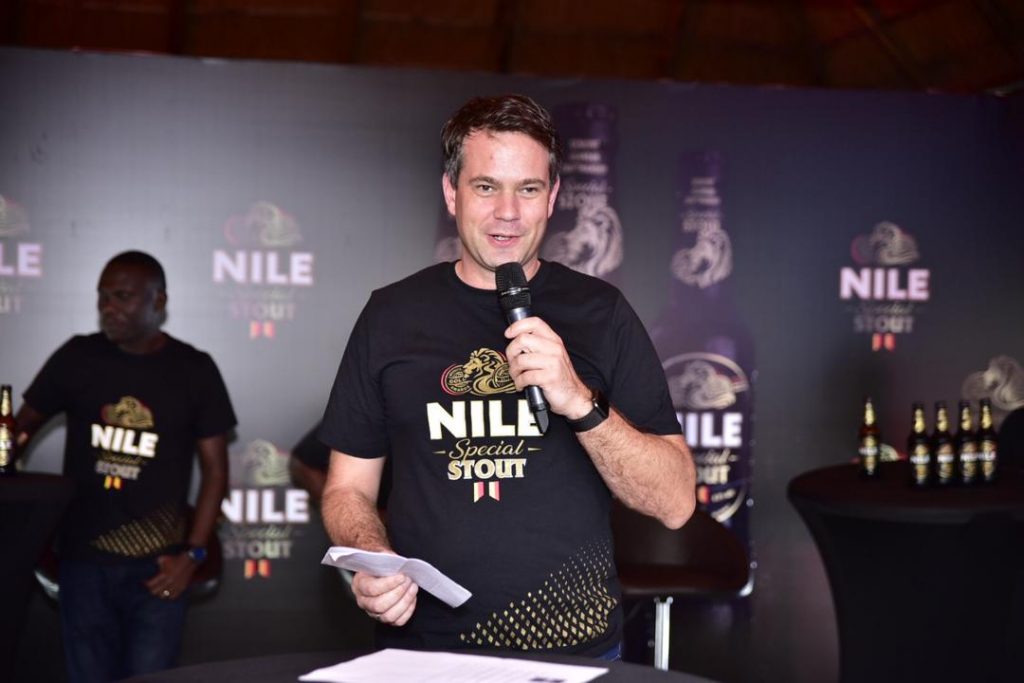 "We have tremendous confidence in Moses' brewing skills; he is a definition of a true craftsman, so when he expressed his wish to do something truly remarkable and create something that will be of value for the country, we quickly agreed to move ahead with the project. It is fantastic to see that after many months of crafting the liquid he got it absolutely right," said a triumphant Kamphuis.
"In my view this is the legacy every brewer wants to leave," he said.
Nile Special Stout will be for sale to consumers from 29th November.
"As it is a black beer, launching on Black Friday is giving the launch a nice touch," he said.
Amou Majok, the Nile Breweries Marketing Head said there will be a consumer launch at Kyadondo Rugby Club "where consumers can experience this great beer while we kick off the new rugby season."
"As one of Uganda's most iconic companies and the undisputed leader of the beer industry with 57.7% market share. We remain committed to brewing great-tasting, high-quality beers that have satisfied beer drinkers for generations. We are proud that 100% of our beers are made in Uganda," she added.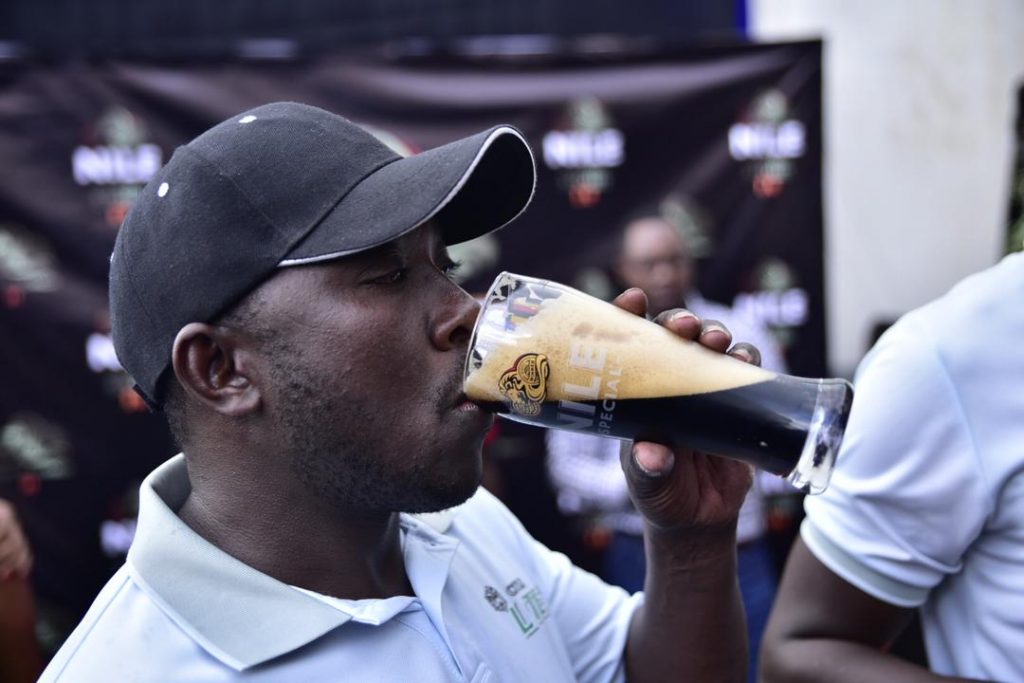 Asked about competition, Mr. Kamphuis said that Nile Special Stout was eyeing a huge chunk of the 150,000 hectoliters stout market- that forms an estimated 5% of the formal beer market.
Nile Breweries, partnered with CEO EA Magazine for a marketing launch stunt, where an alleged hacker is supposed to have taken over Nile Breweries' website demanding that the beer brewer releases the formula to a secret beer or the hacker releases it to the public within 24 hours.
When asked about the 'Hack' Majok commented: "In a world where attention is scarce, we needed to use a stunt that was 'bold and strong' to get the attention we believe this beer deserves. The campaign truly shows the power of social media and we have been blown away by how quickly it was picked up and the amount of attention it got."
TAGORE LIVING: Grab a piece of these 28 elegant Kampala City urban homes
Ruparelia Group ventures into build-to-sell residential real estate with Tagore Living- a 28 urban homes project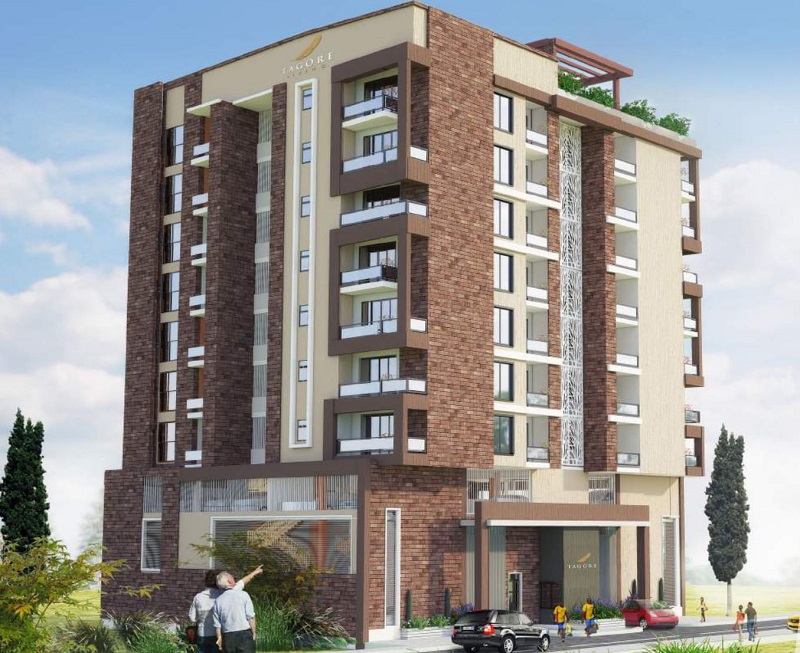 Meera Investments Limited (MIL), Uganda's largest property owner and developer has commenced sales for their Tagore Living Project- their latest urban homes project.
According to Dr. Sudhir Ruparelia, the Ruparelia Group Chairman, the parent company of MIL, Tagore Living, is the group's first built-to-sell residential development project, aimed at "creating an opportunity for both Ugandans and foreigners to invest and own property in Uganda, for either residential or investment purposes."
"Tagore living offers buyers a unique one-off opportunity to invest in a development- either as a long term rentable investment or to live in," he said.
---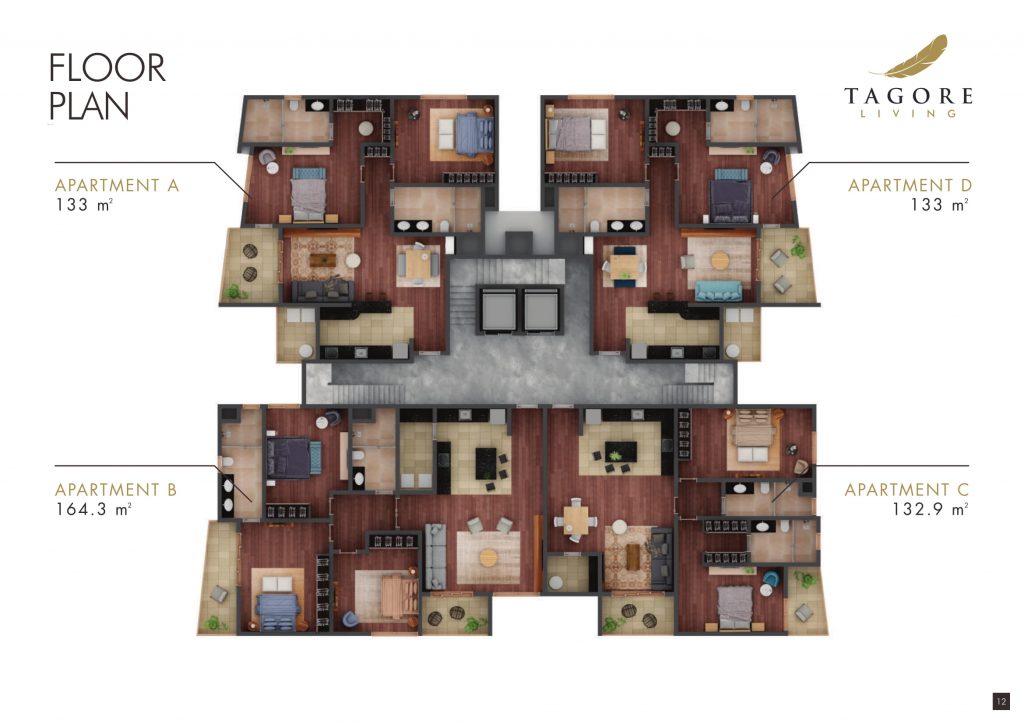 ---
Meera owns over 300 for-rent properties in Kampala and other major towns like Mukono, Jinja, Mbale and Mbarara. The company also owns the largest number of ongoing real estate projects and is the largest private owner of commercial land in Kampala.
Tagore Living comprises of twenty eight (28) apartments located in Kamwokya-Kisementi, just a stone throw-away from Acacia Mall, the Kisementi shopping precinct, Kitante Golf-Course and the affluent Kololo neighborhood.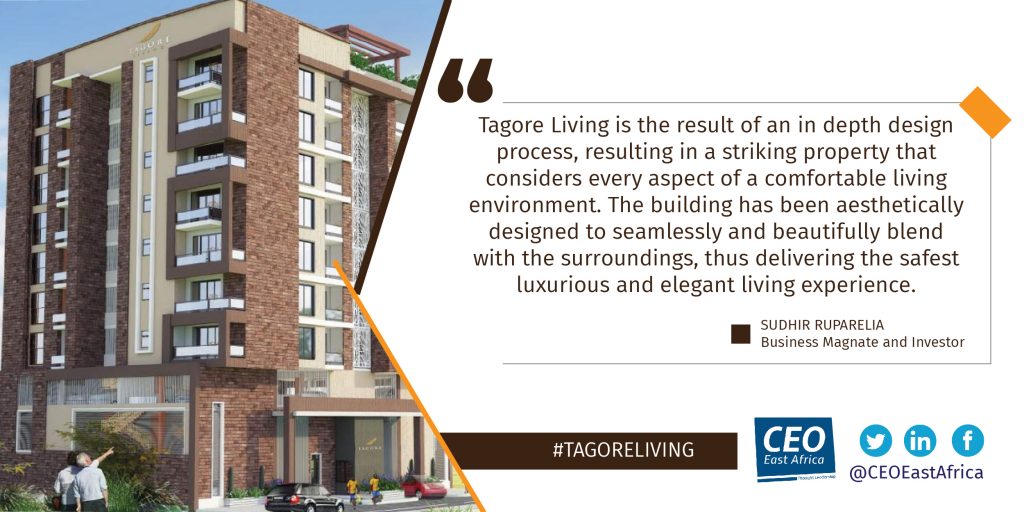 There are 3 configurations of the 2-bedroom apartments- but each with a kitchen, a living room, dining room and a spacious balcony from the living room. The 3-bedroom apartments also come with a kitchen and dining room, a lounge and an even more spacious balcony.
The apartments complex according to the developers is connected to a 3-phase mains power supply with a 24-hour back-up generator. It is also equipped with a duplex passenger lift as well as car lift to the two covered parking levels.
The facility is monitored by 24-hour high intensity surveillance CCTV cameras, a 24/7 operational control room and security personnel. The apartments are also served by a common laundry/utility room and have provisioning for Wi-Fi internet connection, split Air conditioning and cable TV amongst the many other amenities.
---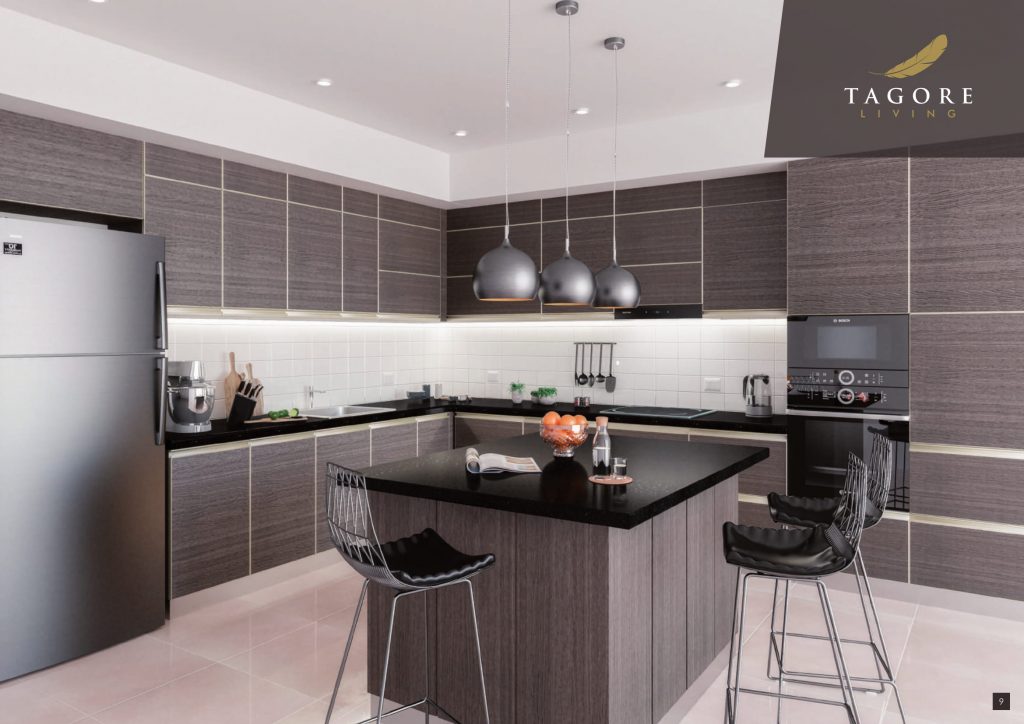 ---
"For Tagore Living, we sourced and procured the finest and most durable building materials that set aside our developments from the rest. In addition, we are committed to delivering the highest quality, leaving no detail untouched. With our experience in the industry we have tried and tested numerous materials and our aim is to deliver high quality finishing with minimal maintenance. We believe in long term satisfaction and we are confident you will find this at Tagore Living," commented Rajiv Ruparelia, the Group Managing Director.
Dr. Sudhir said: "Tagore Living is the result of an in depth design process, resulting in a striking property that considers every aspect of a comfortable living environment. The building has been aesthetically designed to seamlessly and beautifully blend with the surroundings, thus delivering the safest luxurious and elegant living experience."
He said the project benefits from both the group's financial muscle and over "33 years of experience in building developments ranging from schools, hotels and commercial projects."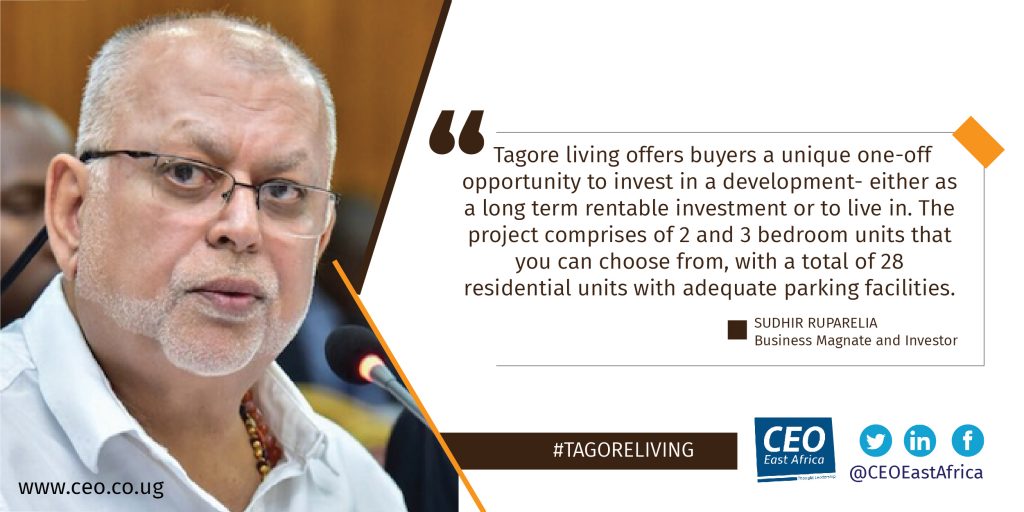 "Meera Investments is one of the leading and most recognized developers in Uganda. A testament to our credentials and credibility can be seen in Kampala's skyline, which is dominated by our projects," he said.
The Knight Frank Uganda, Kampala Property Market Report for H1, 2019 noted that there was nearly a 10 percentage points rise in ooccupancy rates for prime residential suburbs of Nakasero, Kololo, Naguru, Mbuya and Bugolobi- from 69% in H1 2018 to 78% in H1 2019.
Knight Frank also reported a 7% increase in rental rates for 2-bedroom apartments from an average of USD 2,100 registered in H1 2018 to USD 2,250 in H1 2019 due to "demand outstripping supply as evidenced by an increase in expatriate accommodation for singles and couples for 2 –bedroom units."
---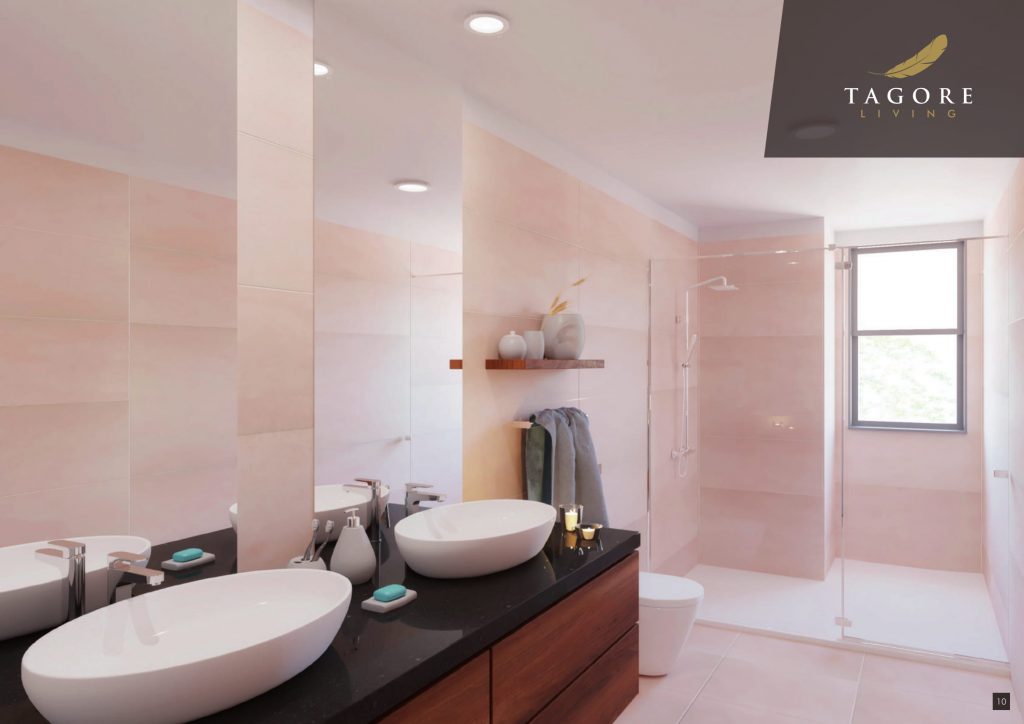 ---
There was however a 5% decline in average rents for 3-bedroom apartments from USD 2,900 in H1 2018, down to USD 2,750 in H1 2019 due to a slowdown in demand.
According to Knight Frank, average sale prices for 2-bedroom apartments in prime residential areas stood at USD280,000 while 3-bedroom apartments sold for USD325,000. Prices for 4-5 bungalows on 0.25-0.5 acres of land went for an average USD1 million.
For further sales information and pricelist please contact Crane Management Services on: info@cms.co.ug or gm@cms.co.ug.
The sales office can also be reached on the following numbers: +256 752 711 750, +256 702 711 142 and +256 414 343 552 or 4th floor, Crane Chambers, Plot 36 Kampala Road.
The rise of Cafe Javas and the price competition has to pay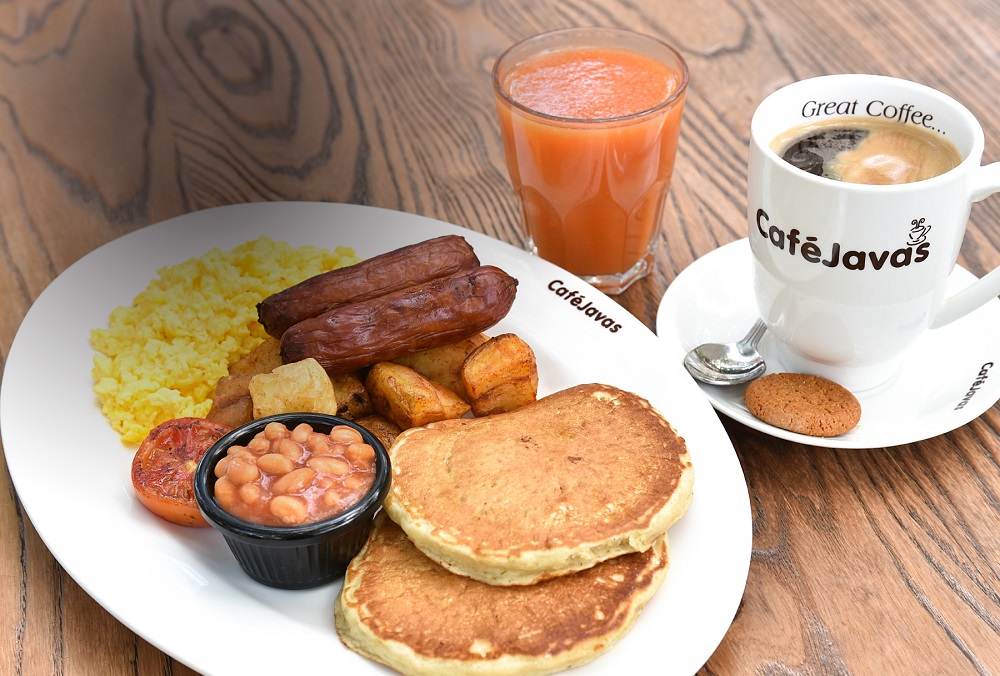 Café Javas ended 2018 at a high- a gross turnover of UGX27.1 billion, according to our highly placed sources.
This was a 48.1% jump from the UGX18.3 billion turned over in 2017, marking yet another year of growth for the food and beverage outlet, which has become famous for good food, ambience and great service in Kampala.
And the public has rewarded them with a proportionate share of their throats and wallets as well.
In the 4 years to 2018, sales turnover has been growing at annual compounded growth rate of 31%. Buttressed by an expanded foot print- now made of 9 outlets; 8 in Kampala and 1 in Entebbe, Café Javas has ramped-up their sales revenue from the UGX9.2 billion in 2015, growing it to UGX13.6 billion in 2016, then UGX18.3 billion in 2017 and closing 2018 at UGX27.1 billion.
Even if this is yet to translate into fat net profits- Café Javas netted UGX100 million in 2015, UGX200 million in 2016, UGX900 million in 2017, ending 2018 with a net profit of UGX1.2 billion- on average an annual growth rate of 86%, their performance to date could be a sign of good things to come.
A memorable dining experience
Café Javas is part of Mandela Group of Companies, the parent company to Cafe Javas, City Tyres, City Oil, City Lubes, City World, Savers, Mandela Millers and Mandela Auto Spares.
The group was founded by businessman Omar Mandela.
On their website, Café Javas, describes itself as "a fully-fledged restaurant specializing in delivering a relaxed and memorable dining experience."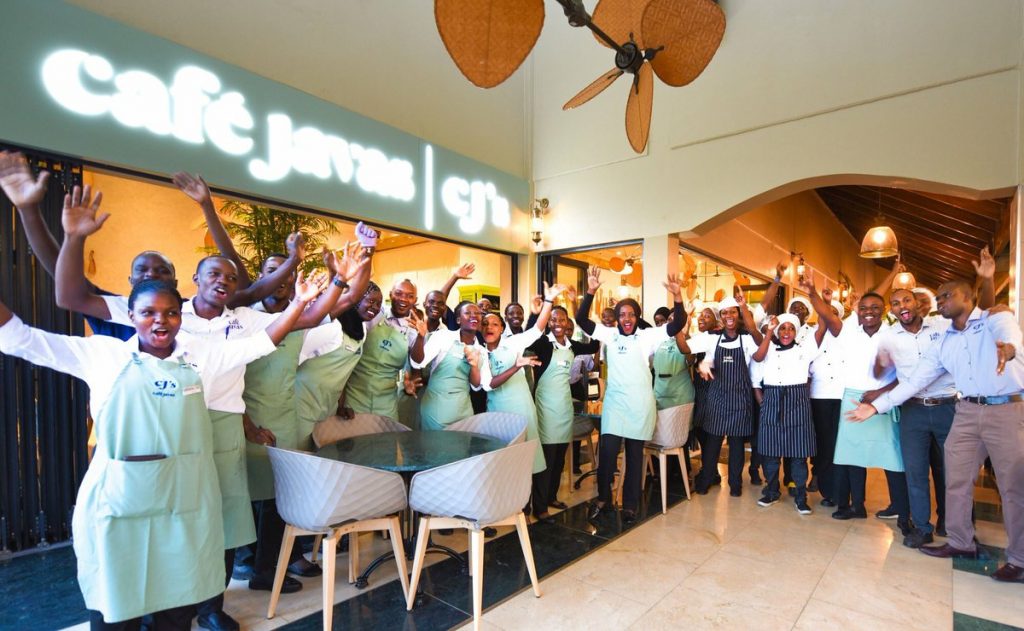 They currently have 12 locations; 8 in Kampala, 1 in Entebbe and 3 in Nairobi. In fact they are one of a handful of Ugandan businesses to expand to Kenya and they seem to be doing well.
According to the website- each location features a "unique ambience with tasteful décor, specially designed" for individual comfort, complemented by "over 300 carefully selected, mouth-watering menu items."
"Whatever your taste, it's well catered for," they dare their customers.
They also boast of great customer service.
"We value you. That's why you'll always be served with excellence by each member of our highly skilled team members. Eager to serve you, our experienced wait staff greet you at the door and lead you to the table of your choice in the well thought out seating arrangement," they claim.
A walk into any of their restaurants- actually proves this; the outlets may be different in architecture and look and feel- but if there is one thing most customers agree on, is the swift service, freshness of food and yes, their portions are generous too!
Café Javas is also not afraid to show off what they say is the "rich aroma" of their "freshly ground coffee" which in their words, is "the handiwork of skilled baristas, adept in latte art."
"This ensures you get a freshly prepared cup of coffee as the beans are roasted on site," they show-off.
Café Javas turns up the heat for competition
But don't let the Café Javas' juicy and sizzling story fool you into thinking Kampala's food business is all that a feisty growth story.
In fact Café Javas growth seems to be taking a toll on some of their closest rivals.
One such rival is Java House Africa, the out-of-Nairobi coffee-led restaurant.
Late last year, when Café Javas opened their 9th Ugandan store at Game Stores' Lugogo Mall, social media commentators, said the nearby Java House outlet at Shell Lugogo would fall. Well it didn't, but their signature outlet at Bugolobi's Village Mall, closed, a few months later, reducing their foot print from 6 to 5 outlets.
And it didn't just close, it gave way to Cafesserie, one of their competitors.
Although Java House brushed off Café Java's rise as a cause of their problems- in fact, Emily Nyiha, the Communications &Events Coordinator at Java House Africa in Nairobi, in a phone call to this reporter, prefers to think they don't have any problems at all, calling the closure of the Bugolobi branch a mere "re-alignment of the business", the truth is not difficult to see.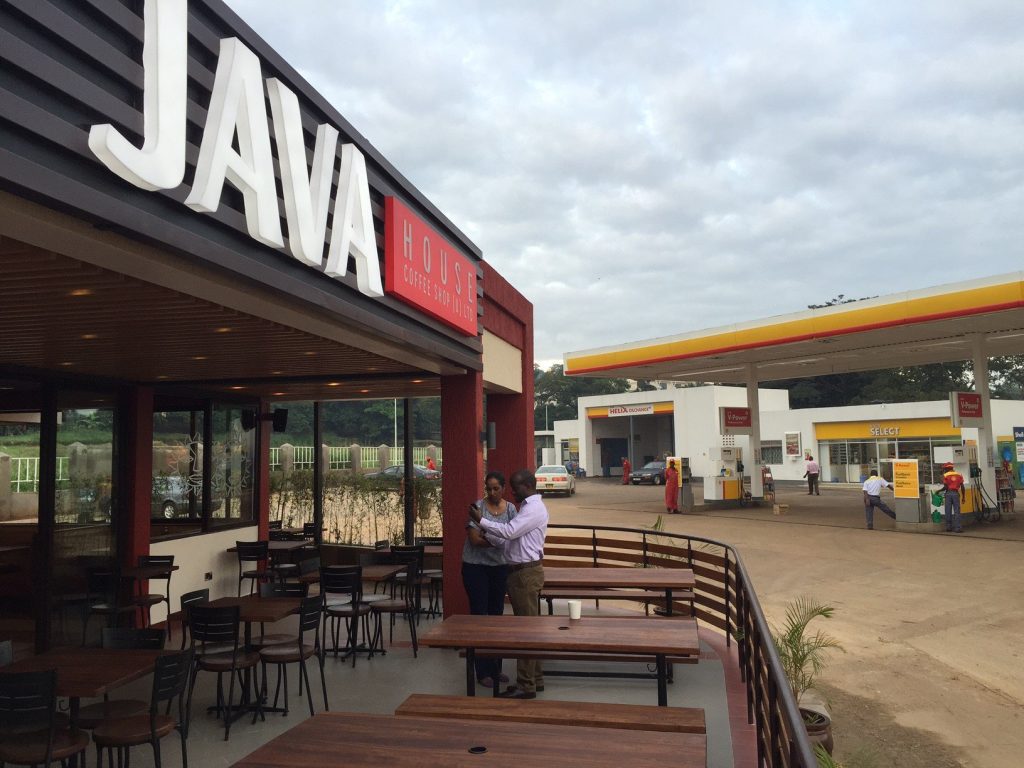 A close look at their figures, indeed shows a little bit more than a mere realignment.
For example while Java House grew their turnover by 101% from UGX5.2 billion in 2016 to UGX10.5bn in 2017, in 2018, they experienced a 17.1 % decline in turnover, to UGX8.7 billion. And this has put more pressure on their net revenue- for the 3 years, they have been loss making- from a loss of UGX3.2 billion in 2016, to a loss of UGX4.1 billion in 2017. This reduced slightly to UGX3 billion in losses in 2018.
Asked about the losses and if the closure of the Bugolobi outlet was meant to partly cut down on costs- especially the over UGX264 million in annual rent, Nyiha instead sidestepped the question and said, Java House was preparing for a major expansion exercise in the region.
"As you are aware, we are growing in the region and are planning more outlets in the coming days," she said.
This July, Actis, a global emerging markets investment firm focused on the private equity, energy, infrastructure, and real estate asset classes announced it had assumed management rights on Abraaj Private Equity Fund IV (APEF IV), Abraaj Africa Fund III (AAF III)- a transaction that includes 14 portfolio companies, including Java House Africa.
ALSO READ: FOOD WARS: Cafesserie pushes Java House out of Village Mall; to open second branch in October https://www.ceo.co.ug/food-wars-cafesserie-pushes-java-house-out-of-village-mall-to-open-second-branch-in-october/
Abraaj Holdings, is the troubled Dubai private equity firm that acquired 90% of Java House Africa, for a reported $100 million, in late 2017. This would mean that now Actis is the new owner at Java House and hopefully this will infuse some fresh energy and cash too!
This January 2019, Java House announced they would infuse a further $10 million in an expansion exercise in the region and have since opened up a handful of outlets in Nairobi and 1 in Kigali Rwanda.
Cafesserie under pressure too
Don't let Cafesserie's move to Village Mall fool you into thinking theirs has been too rosy a picture!
They are under pressure too and are looking to a second outlet to increase their share-of-throat and hopefully share of wallet too.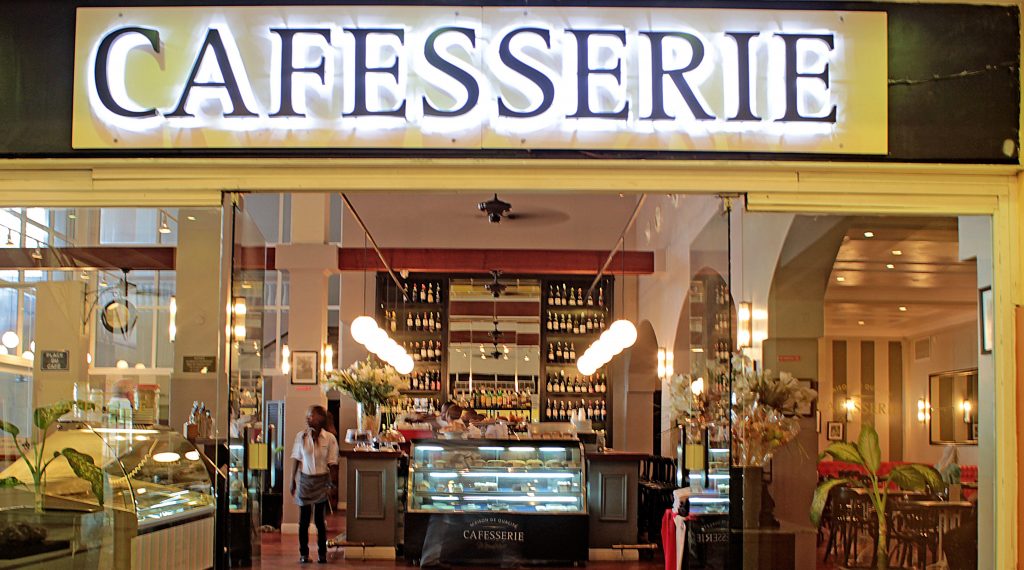 Cafesserie, with their one outlet at the swanky Acacia Mall in Kololo is famous for their Italian coffee, French bakery and continental cuisine.
They opened in Uganda in 2014 and by the end of 2015, business was brisk- they turned over UGX2.5 billion and a profit of UGX400 million; a rare story of profitability in just less than 2 years.
But in 2016, turnover reduced to UGX2.4 billion and they made a loss of UGX200 million. In 2017 sales turnover grew by UGX600 million, reaching UGX3.1 billion, but they still made a UGX200 million loss. Last year, turnover grew cheerlessly to UGX3.2 billion and the losses still hovered at UGX150 million.
Although it is difficult to directly link their lukewarm performance to the rise of Café Java's, considering the fact that between 2015 and 2018 Cafesserie's annual growth averaged at 6% compared to Café Javas galloping 31%- facts speak for themselves.
We are now well deep into 2019 and can't wait tell the second part of this story, come 2020.