First of all, let us start with a review of 2019. How would you summarise it in terms of the industry and for Airtel Uganda in particular?
I think 2019 has been a year of investment? In 2019, Airtel invested ahead of the curve with an outlook on the future but also to consolidate and stabilize our position in the market.
We have a huge aspiration and ambition for Uganda and that is why, at the beginning of 2019, we invested in 100 percent 4G capability at all our sites. Uganda was among the first countries where Airtel made such an investment, which to me is a huge leap of faith. Huge, considering that internet usage and penetration in this market are still improving, we just made one shot; 100 percent 4G. There are not many countries in Africa which have achieved that milestone.
We know that the future of telecommunication networks and the future of consumer needs is about internet and that's why we made this forward looking step and made the big investment in country-wide 4G internet.
Secondly, in 2019, we also scaled up our network dramatically from about 1,300 sites in 2017. We expect to hit the 2,000 sites milestone by March 2020. All our sites do offer 100 per cent 2G, 3G and 4G; we do not have a single site that does not serve all the three technologies. We now reach 100% of the districts and all the sub counties and between 5,500-6000 parishes, roughly 95% plus of the population. We now have highway coverage, rural coverage, parish coverage; we are every 24/7. This is phenomenal.
What we are demonstrating is that telecommunications is not only for the elite, rich and the famous especially in the urban areas, but we are saying that after food, water, clothing and shelter is telecommunications, which is why we have invested in giving access to telecommunications to everybody, everywhere. Our focus is providing universal access for voice, data and mobile money countrywide.
Since the acquisition, between 2013 and 2018, Airtel's gross revenues have grown by a compounded annual growth rate (CAGR) of 16% while profitability has grown at a CAGR of 37%- which is more than 3 times the growth rate of your closest competition. As a person who has presided over most of this growth- how do you explain Airtel's rise from a very weak No.2 to the current position where you are even more profitable than MTN?
I would really attribute Airtel's success in the market to our triple play of accessibility, affordability and simplicity.
I have already talked about accessibility- we have invested in a modern network of nearly 2,000 sites, each with 100 percent 2G, 3G and 4G across the country that cover over 95% of the population.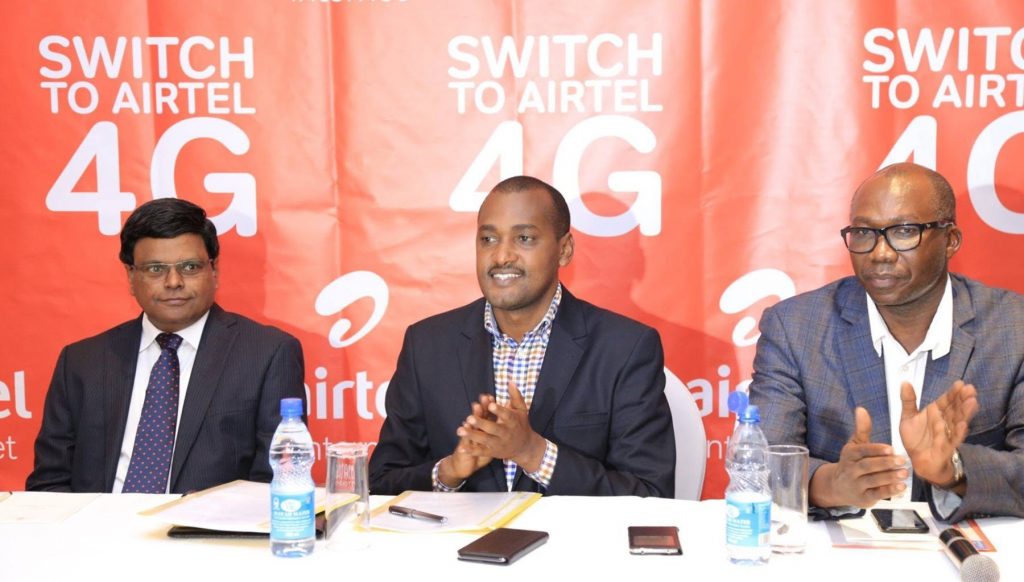 Regarding affordability, for a very long time, our pricing has been on a per second basis- you can't get more granular that. We have also moved our recharging to digital- you can recharge airtime for as low as UGX50; as you want, whenever you want- we do not predetermine your purchase. Now, we have, what I think, are the most affordable bundles- for example look at our Pakalast, one of our most popular bundles- for UGX1,000 you get 30 minutes for a day or 2,000 minutes in a month for UGX30,000- which we call the Corporate Mega Bonus- we have kept this pricing consistent for 6 years now. The Shilling has depreciated, fuel has gone up, fuel prices have gone, input costs gone but regardless, we have kept the pricing for this voice bundle consistent.
Over time, we have also consistently reduced our call rates across networks from UGX5 to UGX4 and now UGX3- so basically if you want to call Airtel to Airtel, we have the best rates and Airtel to other networks is as low as UGX3- except during the peak hours (05pm-10pm) when it is UGX4.
The third element is affinity or simplicity- our products are designed to be simple and friendly. If you for example want to send money, you dial *185*1# and you are able to send money in the next 3 moves. No confusing or difficult products; we want the customer to feel comfortable when engaging with Airtel. Next, the future of customer experience will be intuitive and self-service which is why we launched what we call service access. Traditionally, our service access used to be a call-centre- we have over 40 Airtel Service Centres. But now we have online, we have launched Android and iOS Airtel Apps- so our customers can almost do anything in the App. We think and believe the future is digitized customer service.
I don't think we have put in place- an out of the world strategy- when you create accessibility, affordability and simplicity, consistently for 6 years, then you get a compounding effect. We have been honest to our consumers. The brand Airtel has grown in the minds of people- our network is seen as modern, reliable and affordable. We have made promises and we've delivered on those promises. Airtel is now seen as a trustworthy brand. We have been very mindful to ensure that we don't fall short of our promises, whether it is government, our staff, consumers, society etc. We have remained consistent to our promises.
The above 3 have been roped in by creating strategic partnerships with our people- internally with our staff and externally with various stakeholders.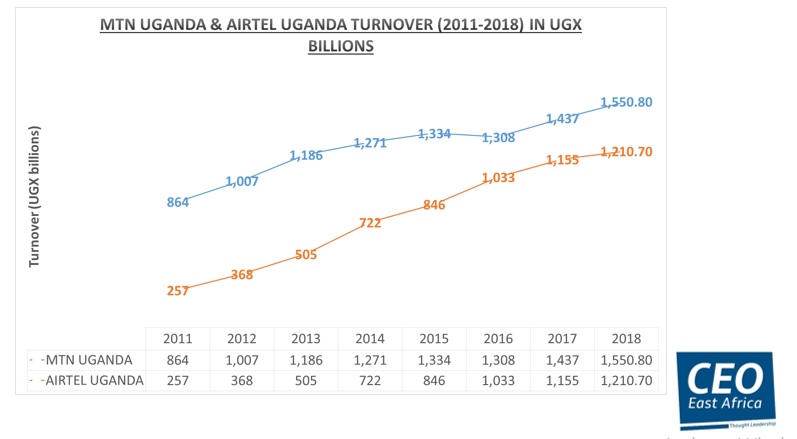 I must say, Airtel has had the benefit to attract very high quality people- whom we have been able to provide a reasonable environment to make them feel that Airtel is their company. We have also remained consistent in our promises to our people. Our shareholders have been extremely, not only generous but consistent in investing, ahead of the curve and that is creating opportunities for our people, giving them reason to stay longer. Many of our senior executives have been with us for between 7 and 10 years. Just like we have created opportunities for our consumers, we have also created opportunities for our managers. I also think, the stability of the company has created a good career path for many of our staff.
We have increasingly become Ugandan- 99% of our team is Ugandan. At most, we have about six-seven expats out of a team of about 600 people. Therefore the way we think, design our products and the way we ran our brand is built on local knowledge. We fuse local knowledge with global best practices.
Lastly, Airtel has built very strong partnerships with the people of Uganda especially through our CSR programmes and particularly sports where we have partnered with the Uganda Cranes since 2013 and we recently renewed for another 4-years. We have not just sponsored the Uganda Cranes, but we have taken to football at various levels such as Airtel Rising Stars- a very unique initiative that identifies under-17 teams of boys and girls who compete at the district, region and national level and the best team is recognized as the Airtel Rising Stars. Over the years, we have seen most of them naturally graduate to play with the Uganda Cranes and then go on to play at other national and international clubs. It is therefore no surprise that under our partnership with Uganda Cranes, they have gone to the Africa Cup of Nations twice.
Another strong partnership we have built is with the Buganda Kingdom where have built the Kabaka Run into one of Uganda's biggest sporting events in terms of numbers of people participating. This April 2020, we targeting to attract 60,000 for Charity. We started small and have grown big- first by supporting the fight against fistula, then sickle cells and we are going to HIV prevention and AIDS control. Again, we have been consistent.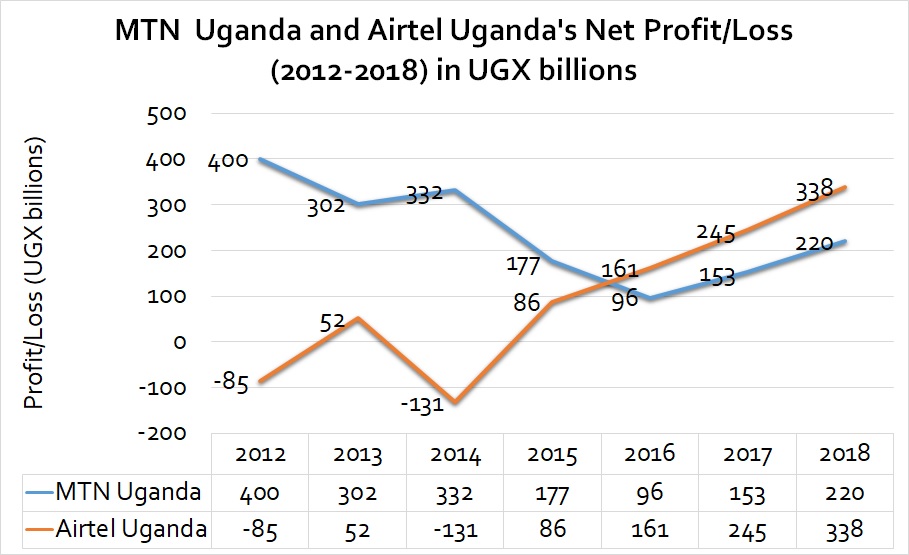 That said, I wouldn't say we got everything right 100 percent, but I think we are conscious and working towards getting it better.
What would you say is your current market share?
I would say that today the gap between Airtel and MTN is less than a million customers. I think this has become a two player market. Two players control 96% of the 23 million telecommunications customers in Uganda.
With all this money invested in the networks, I am sure shareholders want a return- how do you then reconcile that with affordability? In other industries, we would be talking of charging a premium. How do you balance mega investments, affordability and profitability?
One of the strongest fundamentals in running our business is what we call unit economics. In everything we do, we ask ourselves one question; does it have unit economics? We have a common saying that we have the money to invest, but not a dollar to waste. We are willing to invest USD10 million, but we shouldn't even waste USD1,000. The simplest example is if for every customer you acquire, you lose UGX500 and then you go ahead and acquire 1 million customers, that means you will have lost UGX500 million and this does not make sense.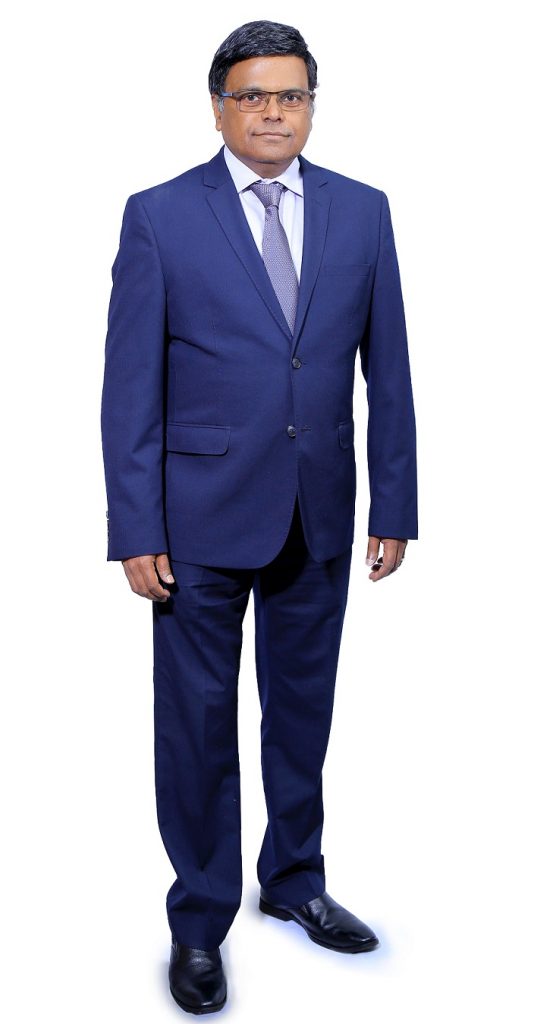 As a group, we also get the benefit of cost efficiency at scale- because Airtel is not only in Uganda, we are in 15 other operations in Africa as well as India which operation is bigger than all of Africa put together. So the benefit of scale and expertise of operating in all these countries kind of gives us the right modelling to say how do you invest? We have a very strong cost efficiency mindset at project design level- a very deep understanding of cost. That has helped to achieve scale while remaining cost efficient and then eventually passing on that benefit in form of affordability to the consumer. The telecoms industry is all about scale- if your fixed cost is amortised over a larger number of subscribers, then your return on investment is higher.
What is the future of voice? It seems we are moving into the era of data/internet and fintech as the major drivers of business- is voice still a big thing?
You seem to be insinuating that voice is on the decline, but not at all. Let me tell you, African telecoms, especially Sub-Saharan telecoms have a very different trajectory compared to the western world where there are more and more smart devices and over the years customers have moved lesser into voice and more into data. For Africa and Uganda for example the business is growing on three pillars- voice, data and Airtel money- you have to push all the three.
Uganda has 40 million people and MTN and Airtel put together give or take, have 23 million subscribers- that is about 60% penetration. But in the western markets, SIM penetration is always greater than population, because in the world of Internet of Things (IoT) you will find one household with several mobile connections, a fixed broadband connection and Wi-Fi and as IoT comes to scale, the devices also grow.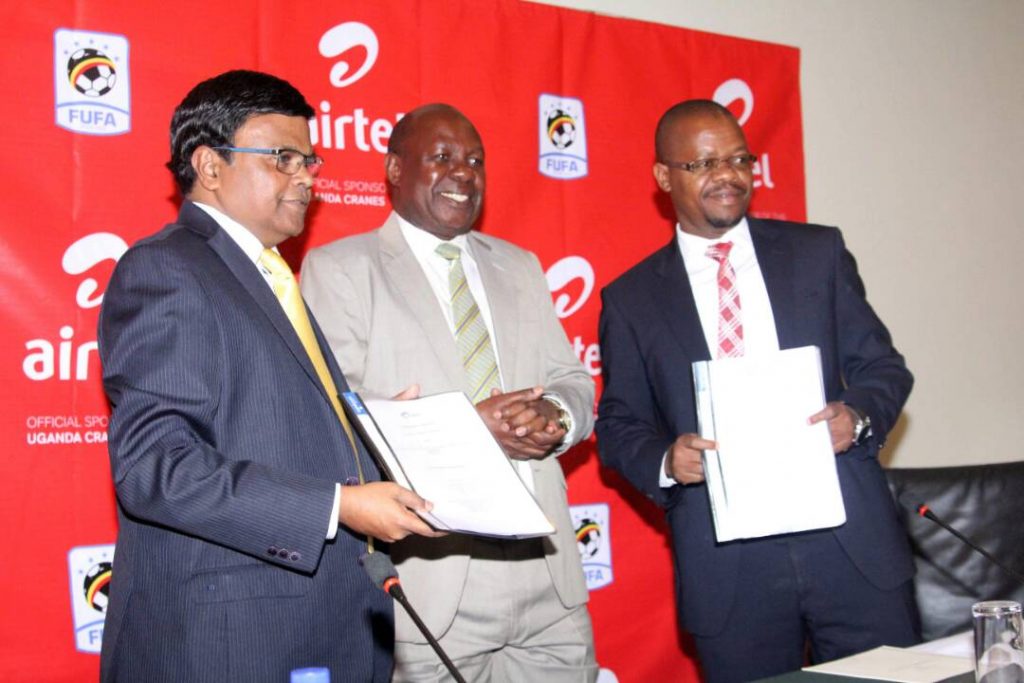 But in Africa, there is opportunity to grow voice plus data plus Airtel money simultaneously.
Do you foresee very soon, Airtel overtaking MTN to become the undisputable number one player in the telecom market?
I wouldn't want to play the numbers game or a numbers race but I think Airtel has already become a leader brand. Consumers recognise us as strong network- clearly number one, with 100 percent 2G, 3G, and 4G. We are far ahead of any other operator in the country.
In terms of affinity and brand, I think we are winning over the masses especially the youth because we give them better play. This year for example we have invested in broadband, broadband and internet for all. We recently launched a broadband product where every home and every SME can have internet 24/7 and it need not be expensive. We have ensured the cost of data has come down significantly- for example, you get 9GB of mobile data when you pay UGX30,000- the cost of 1 GB is now down to UGX3,300- that is less than one dollar. But for broadband, you pay UGX300,000 for 200 GB which brings down the cost to UGX1,500 per GB- which is about less than 30 US cents. Even a rolex (Editor: Rolex is a Uganda popular street food made of eggs omelet and vegetables, rolled in a chapatti) is more expensive.
Given the many other telecoms that have launched and fallen flat in this market, do you think there is room for another player or the market is very crowded? How many more players do you think this market can accommodate and in line with that, where do you see much of the growth coming from- existing clients or new subcribers?
If I go back in time when Airtel came into Uganda, we had MTN, Airtel, Warid, Orange and Uganda Telecom. When Airtel bought out Warid, the resulting consolidation led to a strong number two Airtel. Subsequently as more consolidation happened, Orange exited, which kind of led to further dilution of that asset and I don't think Africell has done a lot or gained significant market share.
I you ask me there is probably going to be only three strong players in the market. I think that will create the right level of intensity, competition, investment etc. Beyond the three strong players, I doubt whether this market will be able to accommodate the others. If you see the trend globally, I think telecom industries are getting even more consolidated. For example in the US in November 2019, Sprint and T-Mobile merged, forming a $26 billion player. That is telling, especially as the industry starts migration to 5G where the amount of investment needed is so enormous; it will be increasingly difficult for many small companies to operate profitably.
In terms of the growth potential, we are in a market where the population is growing at 3.3% annually- that is about 1 million people born every year, so I don't see any reason why sector growth will not continue, especially organically. The next level of growth will be customers who upgrade from feature phones to smart phones and will now be spending on data- that will mean that the average revenue per user (ARPU) will start growing. This is also an area with great potential. Right now, smart phone penetration in Uganda is about 33%, compared to 90% in the western world- but by end of 2020, we should cross 50% penetration and then start moving towards 75% – 80% in the medium term.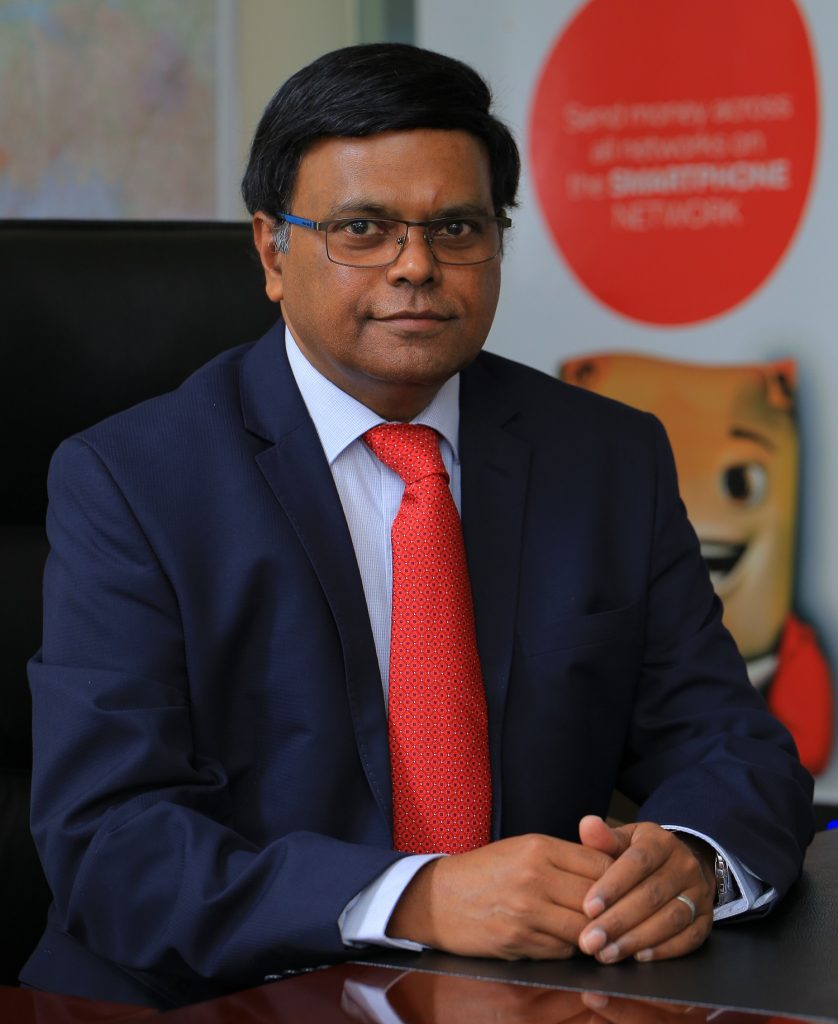 That will probably be the best thing that can happen to this economy- that will be when ICT will really begin to drive the economy and everything. The third sphere of growth will be mobile money- or mobile banks which is really going to deepen financial inclusion.
Airtel is really investing in scaling up things even much faster than we have done over the past 5 years. We are going to build a network of over 100,000 agents across the country. Again, with Airtel Money, we are building it on our accessibility, affordability and simplicity, model e.g. if you are sending money, person to person, like your brother, Airtel has only three price points i.e. UGX100, UGX500 and UGX1,000. We have also reduced the cost of receiving- it used to be as high as UGX20,000 or even UGX40,000 but now, the maximum is UGX12,500.
I see a very positive growth trajectory in the future and that is why we have invested significantly.
You are so upbeat about the potential of the industry. What are some of the regulatory and policy changes you would require from government to accelerate the digital dividend especially that we are entering the budgeting phase which ends in May?
I think the last one and a half years the industry has been generally been a little bit damper. The prolonged implementation of the Know Your Customer (KYC) regulations from UCC and then the introduction of OTT Tax and tax on mobile money kind of stifled the growth and we are now kind of recovering from it. Let me explain what I mean.
First of all, I think the introduction of KYC has been a very repetitive, iterative and evolving on the go; but as telecom companies were are now at the forefront of it, I think today I would say that the KYC process has matured and stabilized. What happened in the last 24 months, is you had to connect your mobile phone to a national ID. Then it had to be verified and if when during verification, it failed, it got disconnected. Then we introduced national IDs and then biometrics and then online verification with the National Identification and Registration Authority (NIRA). We have gone through all these massive changes, so I would say that Uganda has one of the most stringent, robust KYC processes.
Now, since the National ID is a prerequisite to getting a mobile phone connection and therefore mobile money- for financial inclusion, we need to quickly work towards more Ugandans having national IDs so that as many people as possible can also have access to SIM cards as well. Making the national ID widely, easily and swiftly available is key.
Secondly, the introduction of mobile money tax has been a big damper in mobile money. I think it has created a very poor level playing field that has kind of affected the growth of mobile money. In fact, we've lost one year of growth, otherwise, we would have seen another 30% increase in mobile money subscribers in 2019. Sometimes I feel these initiatives have been counterproductive, for example the introduction of cash withdrawal charges of 1%- then revised to 0.5%, has seen high value transactions moving away from mobile money to agency banking and mainstream banking.
The fundamental question should be why are there no taxes when you withdraw from the bank and tax when you withdraw on mobile money? That has created a much unlevelled playing field. My expectation really, which has been at the centre of our dialogue with the government, is that we need to drive digital penetration.
As far as mobile money is concerned, I would really think we need a level playing field because in reality, technology has removed the barrier between conventional banking and fintech- there is no difference between mobile money and agency banking. If you don't have regulation which is consistent across the sphere; across the sectors, then you're going to create imbalanced growth, which is counterproductive.
The regarding OTT, the story of its negative impact on internet usage is well documented. We need to review whether OTT has really served its purpose; I would really urge for a review of OTT tax. I would really urge these two things (OTT and mobile money tax) to be reviewed.
We had this dialogue in various sectoral meetings and other meetings with the government and I am really hopeful that in 2020, they revisit this.
Uganda's GDP is growing at the rate of 6%, but the telecom sector has the power to grow at 12%. So if telecom is the lead engine of Uganda's economy, do you want it to grow faster or slower? If you want it to grow faster; and it is a liberalised sector- government is not investing anything, what are the things you need to do to make sure it grows further faster? I think Government just needs to regulate it sustainably – because ICT can be a forerunner of Uganda's economic growth.
What would you say are the major trends in the telecoms sector that are going to emerge and drive growth over the next 5-10 years that business leaders need to be aware of and prepare for?
I think that is a topic that you can spend a long time on- but from an African point of view, from a Ugandan point of view, I think the first trend for Africa Uganda will be penetration- we must be able to achieve 100% tele density and at least 75% digital penetration. We just need to make the handsets more affordable because the services are available. It's like saying we have built the roads, where are the cars? So we need to bring in smartphones at more affordable rates and virtually help digitise every human being by putting a smartphone in their hands, giving them internet access and make them do things more efficiently.
What in western world is called a payments, the Visa cards and the rest of all the plastic money; that has been replaced by mobile/digital money. I don't think we have seen or will see much of the plastic economy in Uganda- we have leapfrogged plastic to digital.
---
PROFILE: V.G Somasekhar, the architect of Airtel's 'rebirth' in Uganda
---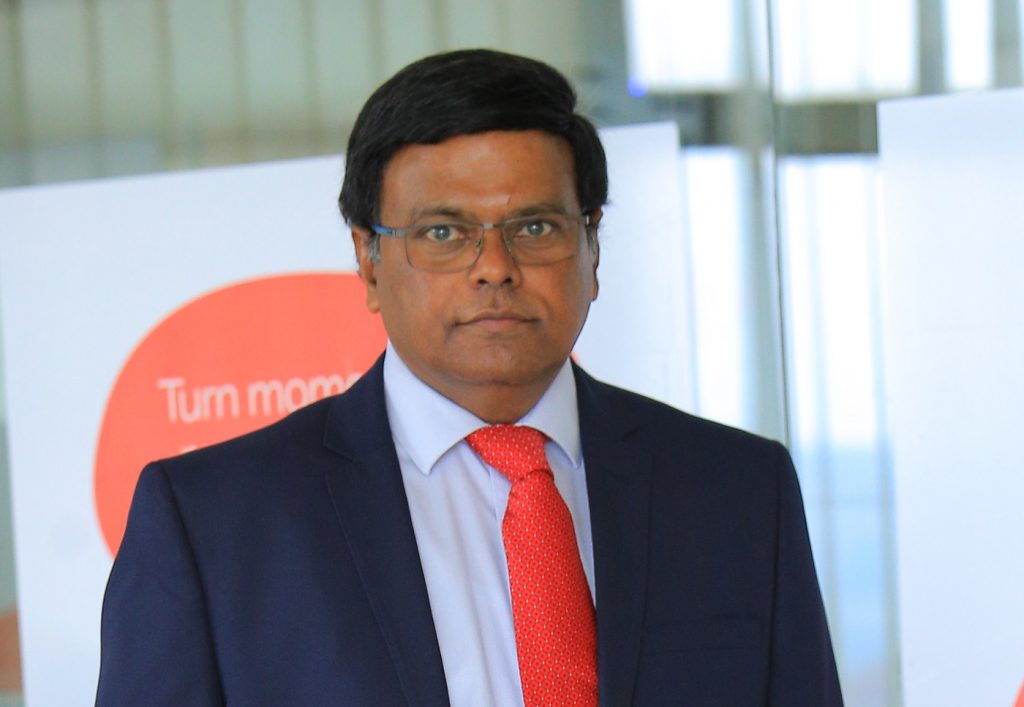 ---
This June, it will be 10 years since India's Bharti Airtel acquired the operations of Zain Mobile in 15 African countries, including Uganda, for a gigantic $8.97 billion in 2010. Bharti Airtel in December 2010 appointed V.G Somasekhar, then with over 15 years' experience in telecoms to lead the Airtel Uganda operation, then the second biggest telecom company, albeit loss making. In April 2013, Somasekhar would lead the acquisition of equally loss-making Warid Telecom for a reported $120 million and the subsequent merger into a stronger No.2 with a turnover of UGX505 billion at end of 2013 versus MTN's UGX1 trillion.
Somasekhar then left in February 2014 and following some assignments within the Bharti Airtel Group, he returned in September 2017 to lead a now much bigger Airtel, then with nearly UGX1.16 trillion in turnover and UGX245 billion in net profit as at end of 2017. By end of 2018 Airtel's turnover grew 5% from UGX1.16 trillion in 2017 to UGX1.21 trillion and net profit grew much healthier- an impressive 38%- from UGX245 billion to UGX338.1 billion ahead of MTN's UGX220 billion on a gross UGX1.6 trillion in revenue, making Airtel, Uganda's most profitable telecom company.
---
---
Aside from that, I see content driving a lot of the digital future. So I think the responsibility of telecoms is really not to build the networks alone, but the major question is now- what are you going to consume on those networks? We will be partnering with content providers to make content available, which means that we will really see entertainment change. We will be moving to appointment viewing of TV to video on demand and streaming- you watch at your convenience and that is what broadband at home enables.
The other trend is going to be gaming- the Western world has already seen gaming as a major change. I think if you companies like Apple and Google, they are getting majorly into gaming because entertainment is now not only viewing, but gaming as well and I would say Uganda isn't very far from that. But I think entertainment and gaming will become big.
I think the other side of growth will be enterprise- large, medium, small and micro; all will benefit from the power of internet. That is where we are investing now. While our consumer business is very well developed and visible to the consumer, we're developing the enterprise side of the business i.e. Airtel Enterprise Business. We are looking at how we partner with every enterprise and the best way to serve them- take care of their voice, internet and payments. For example, why pay cash to wage earners, yet we can give you a mobile wallet to transfer money electronically to their digital accounts.
So I think in summary, what is Airtel standing for? I would say two things: first, leading in the digitization and getting Uganda ready for the fourth industrial revolution- a digital Uganda. Airtel has made a firm commitment and we are already sowing the seeds for the fourth industrial revolution with our 100 per cent 4G sites, taking internet everywhere because data is the new oil. We have also ensured that it is affordable; at less than one US dollar for 1 GB and it is going to even be cheaper when you get to broadband bundles.
The other way, we are driving the revolution is creating deeper financial inclusion with affordable Airtel Money. Right now, our Airtel money team is now looking at international money transfers. We're looking at loans and savings. We're looking at many other services, which consumers will naturally need from us. If we are a full-fledged telecom company, we will be a full-fledged mobile financial services provider. The future of partnerships will be content and it will be a large partnership game. I would like to see Airtel bring the pipe (network and connection), the content and the wallet to consume that.
The enterprise business will really get scaled up, that is a rule for IoT, but I think it's already playing out in things like vehicle tracking systems, ATM connectivity etc. and we are doing well on that and we need to do more of that.
---