Tina Wamala, is a seasoned professional with a wealth of experience in public relations, has been at the forefront of PRAU's strategic initiatives. Tina's dedication to the profession was evident in her pivotal role in steering PRAU towards hosting the 2nd edition of the East Africa PR Week that run between the 6th and 10th November 2023 at the luxury Jinja Nile Resort.. Her ability to unite professionals and create a platform for knowledge exchange has been instrumental in the event's success. Her leadership ensured that the EAPRW not only met but exceeded expectations, fostering a collaborative environment for PR practitioners from across Africa to learn, connect, and share insights.
PRAU is the umbrella body of all private and public PR professionals, communication specialists, brand managers, mass communication & other related disciplines striving to promote PR excellence in Uganda.
PRAU was founded in 1976 as a membership-based professional body of Public Relations (PR) practitioners in Uganda. The association is affiliated to regional and global bodies such as the East African Public Relations Association (EAPRA), the African Public Relations Association (APRA) and the International Public Relations Association (IPRA).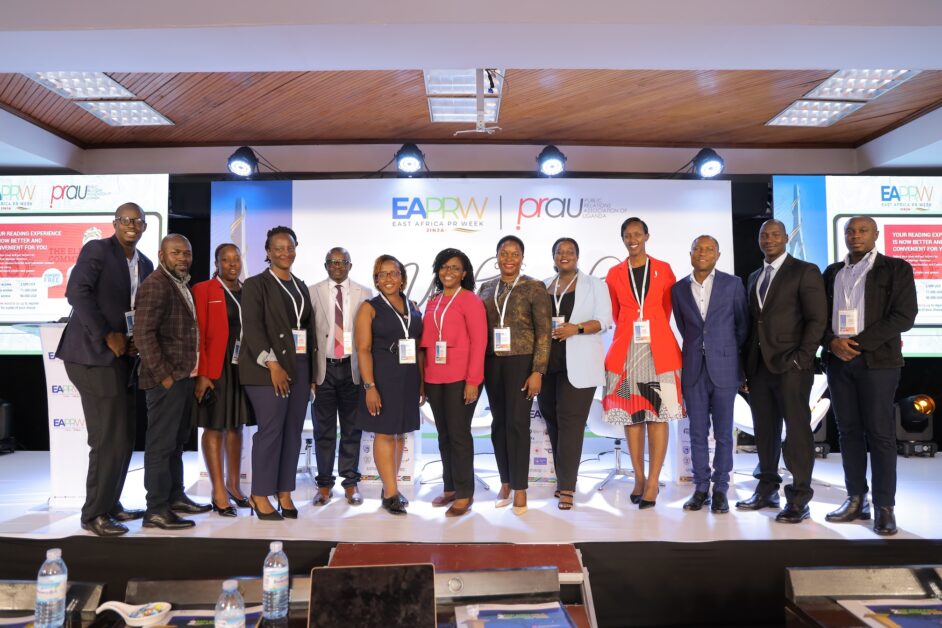 Started by the Public Relations Society of Kenya (PRSK) to commemorate their 50th Anniversary in November 2022, the East Africa PR Week has subsequently emerged into a one-of-a-kind event that brings together PR professionals in the region. Uganda is the second country to host the EAPRW 2023, which was marked by a series of insightful sessions, engaging discussions, and unparalleled networking opportunities. The week-long extravaganza showcased the industry's vibrancy, resilience, and commitment to continuous growth.
Eminent industry leaders, and experts from Uganda, Kenya, Tanzania, Rwanda, Burundi, Zambia, and Nigeria convened to dissect pertinent PR trends, challenges, and future prospects. The diversity of thought and experience brought depth to the discussions, offering attendees valuable insights.
The event was graced by the Vice President of Uganda, Hon Jessica Alupo as the Guest of Honor.
The pinnacle of EAPRW was the PRAU Excellence Awards ceremony, honouring outstanding achievements in the field. Notably, the Life Achievement award went to the remarkable, Hajji Juma Walusimbi, a testament to his strategic communication brilliance and impact.
Behind the success of EAPRW 2023 was a throng of sponsors that included:Uganda Communications Commission, Bank of Uganda, Deposit Protection Fund, Uganda Civil Aviation Authority, Stanbic Bank Uganda, Uganda National Oil Company, Nile Breweries Limited, Uganda Red Cross Society, Uganda Wildlife Authority, Uganda Microfinance Regulatory Authority, Nation Media Group, Electoral Commission, Centenary Bank and Uganda Airlines.