Hon Judith Nabakooba, the new Minister of ICT and National Guidance, together with her Minister of State, Hon Peter Ogwang took office today, pledging to continue executing Digital Uganda Vision, the ministry's national policy and strategic framework that seeks to align all government agencies to drive universal connectivity, local ICT Innovations, e-government and cybersecurity in line with Vision 2040.
While receiving instruments of office from the exiting Minister, Hon Frank Tumwebaze at a handover ceremony held at the ministry's headquarters on Parliament Avenue, in Kampala, Hon Nabakooba said that while she would give the ministry and ministry agency teams all the necessary support, the new ministers would focus on focus on driving results while fighting corruption-in case where it exists.
"I want to pledge my total support to you, but what I need from you is working. That is what I will need from you basically," she told ministry senior civil servants and senior executives from the ministry's constituent agencies present.
"When the president was speaking to us, yesterday (January 13th) he was very clear on what he wanted us to do. He gave us six points, but one key point was the one that touched corruption. He said he is tired of corruption. He said he is tired of corrupt people. He wants to see us delivering services to the people. If we are talking about connectivity, are we going to evaluate ourselves on how far we have reached in that area of connectivity? If it is innovations, have we delivered up to the expectations? If not, what are the challenges?" she said.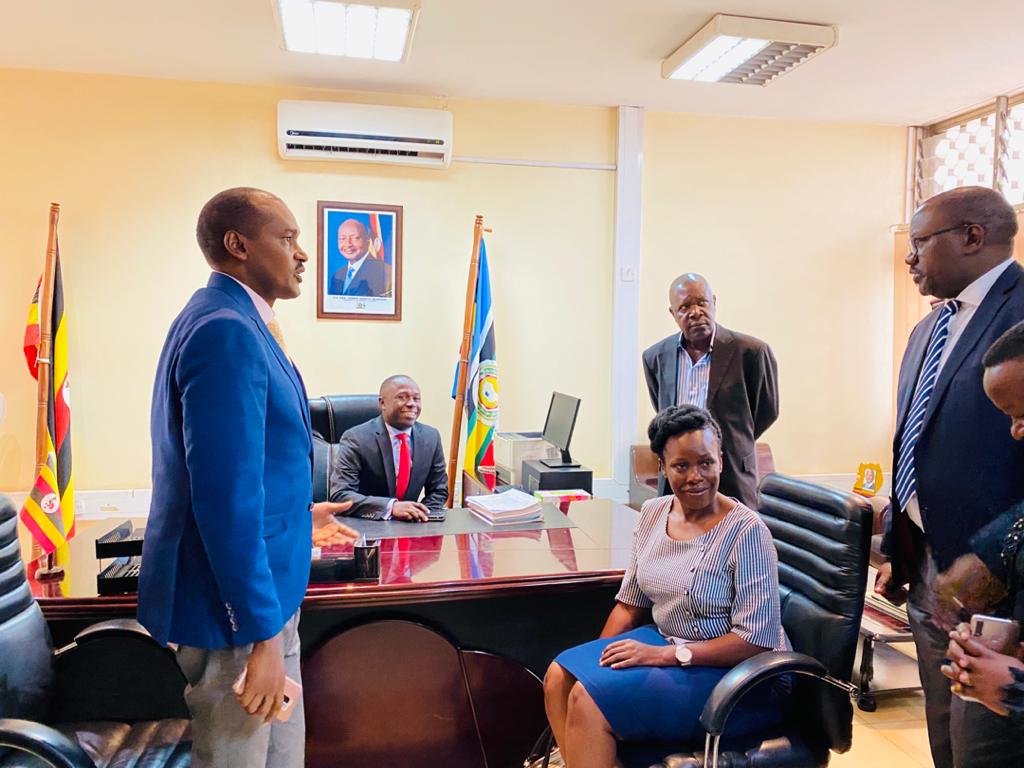 The handover was attended by ministry senior officials as well as the chief executives from the ministry's constituent agencies, namely: Uganda Broadcasting Corporation (UBC), National Information Technology Authority (NITA-U), Uganda Communications Commission (UCC) and Uganda Institute of Information and Communications Technology (UICT). Others present, included Posta Uganda, the Media Council and the Uganda Media Center.
Support for local ICT start-ups a top priority
In his remarks, the ministry's Permanent Secretary, Hon. Vincent Waiswa Bagiire on behalf of the ministry staff and the ministry agencies thanked Hon Tumwebaze for what he said was an undying support to the ICT sector.
"I want to sincerely thank Hon Frank Tumwebaze for his contribution to the ICT Sector. We have had support from the minister and I can attest that the agencies and the staff here at the ministry have enjoyed working with him and we are confident that we are going to enjoy working with the new team," he said.
On his part, the incoming Minister of State, Hon Ogwang too was steadfast on corruption: "His (the president) message to us was very clear, especially on corruption. We also want to begin from day 1. You will forgive us but we may be a bit tougher. Because that was his executive message to us. He does not want a corrupt sector, a corrupt ministry, a corrupt country," he said, adding: "I want to promise that we shall work with you, but if you go beyond the red line, definitely, I don't think we shall be able to entertain that."
In his final message, Frank Tumwebaze enumerated the many successes achieved by the sector under his and the outgoing Minister of State, Hon Aidah Nantaba's guidance but above all, he urged the incoming ministers to continue to the push for both regulatory and commercial protection of Uganda's young ICT sector, especially the start-ups.
"I am happy that 3 years ago we started this journey (of promoting local guided ICT Innovations) and today we have locally developed ICT products that are on the market, being applied to solving real solutions. If we don't support these innovations, we shall not benefit from the investments we have made in connectivity. We shall only be investing to consume content of other people," he said.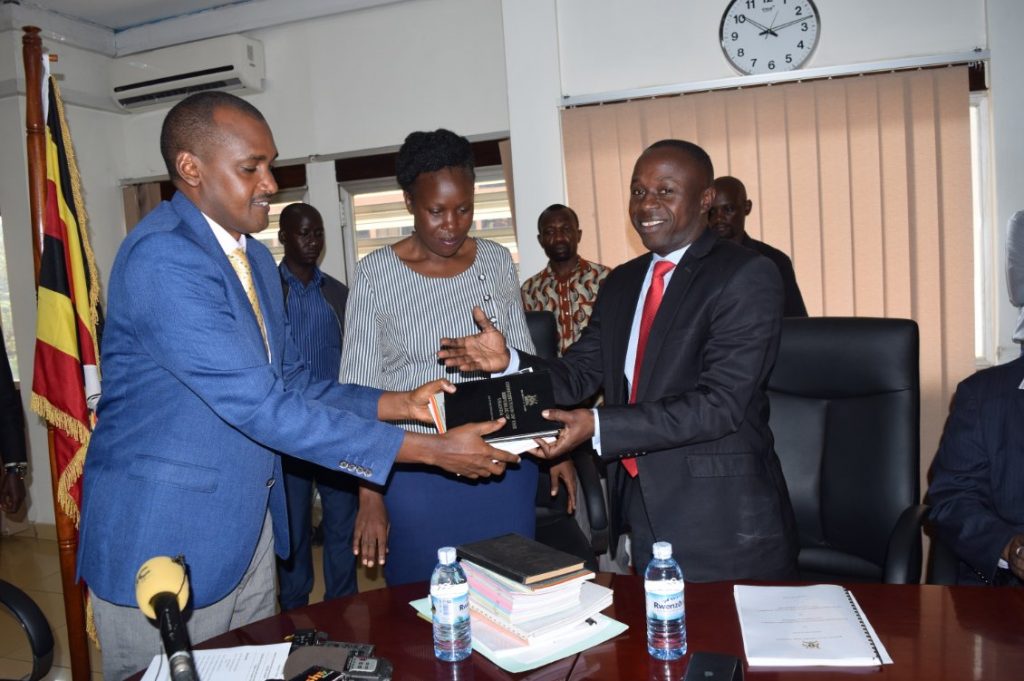 "If we can have a law that protects start-ups; that protects innovators and compels government agencies to give preference in procurements of these local ICT solutions, that will be a great, great achievement for the sector," he added.
From a national guidance perspective, Nabakooba urged the media industry, which is largely dominated by private sector commercial players to give more space for government's policies and development programmes and focus less on politics.
"There is a lot that is going on in the different ministries- but when you are allocating space, we are given an eighth or even less. Can you help us to promote government programmes and policies? Can you give government ministers space to speak and explain to the wanainchi what government is going?" she appealed.
About Judith Nabakooba
Born on 28 October 1977, Hon. Nabakooba is the current Mityana District Woman MP in the Parliament of Uganda, where she also chairs the Uganda Parliamentary Committee on Defense and Internal Affairs.
She is a former spokesperson of the Uganda Police Force.
Hon. Nabakooba holds a Master's Degree in Human Rights and a Bachelors in Mass Communication, both from Makerere University. She also holds a diploma in Management from Uganda Management Institute in Kampala as well as another diploma in Strategic Leadership Management from the Chartered Management Institute (CMI) in UK.