Museveni's 132KV power-line and UGX6 billion valley dams 'gift' to Karamoja; pledges to industrialize the region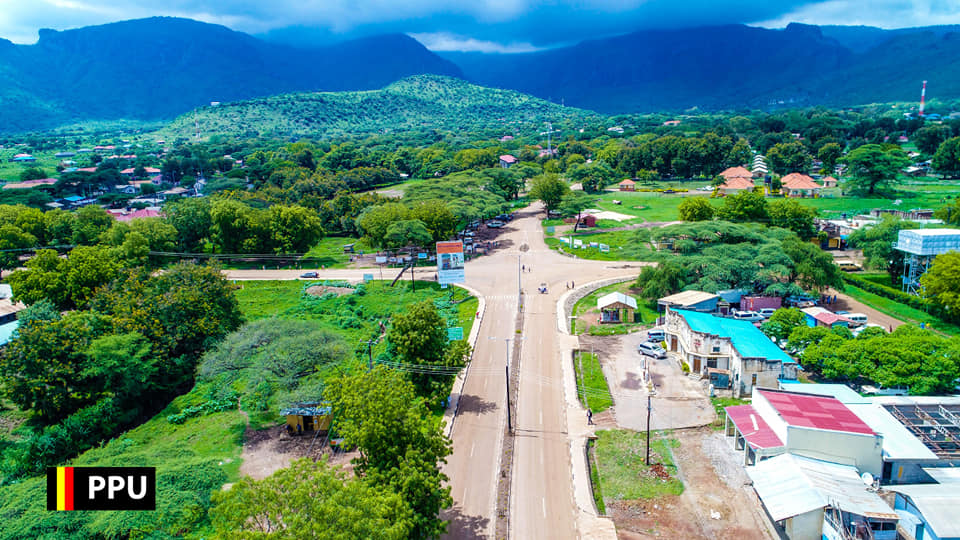 Government has embarked on the construction of a 132KV power-line to support the industrialization of Karamoja sub-region including the fast tracking of the construction of the cement factory to create jobs.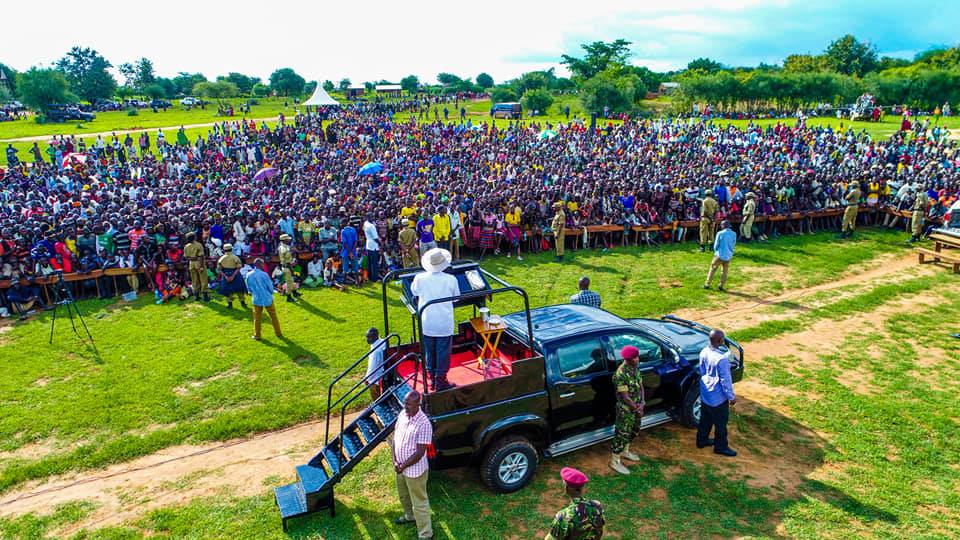 Addressing regional leaders on June 12th 2019, at Naitakwae village, North Division in Moroto district during his job and wealth creation tours, President Museveni said the government is also going to build 20 valley dams for water security.
"After peace, our next priority is water. Am glad we have done some dams but they are not enough. I have come to check on what we can do to solve this problem completely. Part of the problem is touching many things at a go. In our estimation big dams will cost about Shs6bn (two million dollars each with a enough water to support 1,200 heads of cattle for three months. It is not true that there is no water in Karamoja, it comes and goes and you follow it to Teso. This must stop. The water must stay here. We are going to build about 20 dams," he said.
The President who also commissioned the newly completed Soroti-Akisim-Moroto road noted that the government is going to further improve the infrastructure in the sub region by constructing a tarmac road from Moroto-Kotido-Kaabong, Moroto-Nakapiripirit, as well as the Kitgum-Karenga road.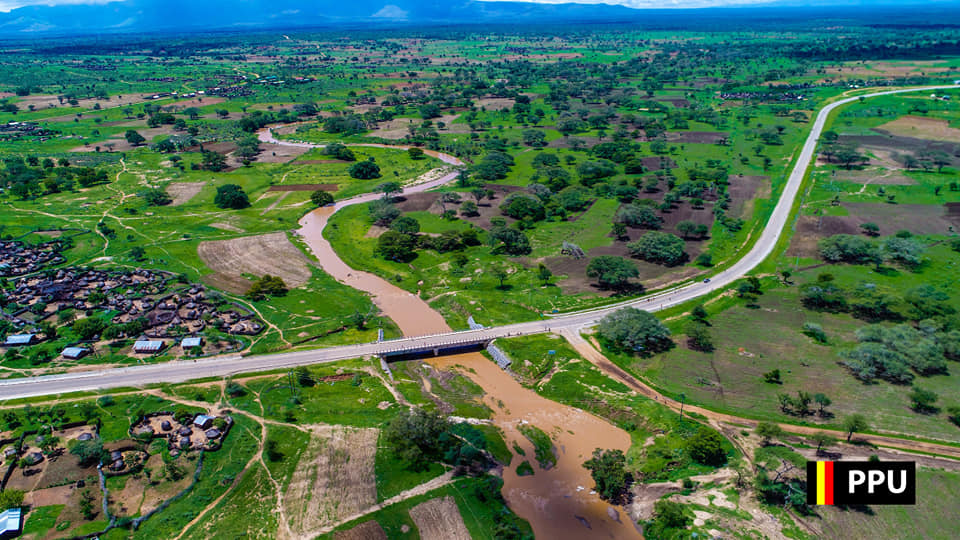 "This is part of the development of Karamoja and is ongoing. The NRM (Uganda's ruling party) brought peace, there is water and roads. The next big battle is fighting working for only the stomach. You have none-stomach needs like education, health etc. Wake up and make money and support your children. Build better houses, the manyattas are good but you need grass every time. Do agriculture for food security and incomes," he stressed.
President Museveni called on the leaders who included members of parliament, RDCs, LCV chairpersons and councilors, NRM district executive committees and district league chairpersons, district departmental heads, OWC officers, NRM sub-county chairpersons, Municipal chairpersons and councillors and NRM municipality executives and league chairpersons, to educate their masses on income generation by engaging in modern agro-production by engaging in enterprises that are cost effective including fruits, poultry, piggery etc.
"Everybody must be engaged in modern commercial agriculture, that's what I have come to talk to you about. Modern agriculture must be done in a planned way," he emphasized.
The President who is in the region as part of the national campaign to promote the job and wealth creation campaign, equated political work with salvation work saying the work of leaders should save people from poverty and underdevelopment rather than propaganda and politicking. He said those talking about jobs should know that they come from wealth creation.
The President cautioned the people of Karamoja against bush burning saying it destroys the environment.
"When you want new hair, do you burn your head? Grass can be cut and stored as hay for your cows. Don't burn it," he said. He also warned against the poor practice of property fragmentation and urged families to share what comes out of the property but not fragmenting it saying it loses value.
The Minister for the Presidency Hon. Esther Mbayo commended the President for the development in Karamoja sub-region.
The State Minister for Karamoja, Hon. John Byabagambi saluted the President and the NRM government for the development in Karamoja saying with peace, development is possible.
Presidential Committee recommends urgent and comprehensive sweeping Central Bank reforms
A committee appointed by President Yoweri Museveni to study several complaints made to the Inspectorate of Government and Parliament about Bank of Uganda, has recommended "urgent and comprehensive review" of what it believes is an archaic "legal regime governing the Bank of Uganda." "The Bank of Uganda Act Cap 51 was last amended in 1993, […]
A committee appointed by President Yoweri Museveni to study several complaints made to the Inspectorate of Government and Parliament about Bank of Uganda, has recommended "urgent and comprehensive review" of what it believes is an archaic "legal regime governing the Bank of Uganda." "The Bank of Uganda Act Cap 51 was last amended in 1993, […]
Gov't refutes missing money allegations at BoU but confirms currency related scandal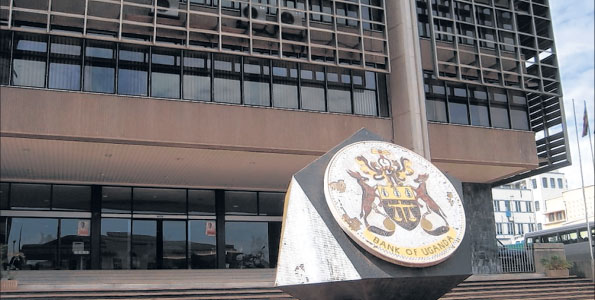 Government has refuted claims that any money is missing at Bank of Uganda but confirmed an investigation is going on to establish how illegitimate cargo, found itself on a chattered plane carrying new BoU banknotes on April 27th.
On June 14th, nearly 24 hours after it was first reported by online media houses, government spokesperson and Executive Director of the Uganda Media Centre, Ofwono Opondo P'Odel told a hastily organised press conference that while there was no money missing.
"No arrests have been made, it's just investigations of about six to eight Bank of Uganda officials in procurement, currency and legal for failing to do due diligence. Others are customs officials from the airport," the Uganda Media Centre official twitter channel posted.
He however did not explain why it took nearly 50 days, for government to come out openly about the scandal.
Ofwono Opondo said that following the discovery on arrival in Uganda, that the cargo plane, belonging to a yet unnamed carrier, was carrying 5 more cargo palettes, BoU officials reported to the Governor, who then called in the Statehouse anti-graft Unit to investigate.
""Governor of Bank of Uganda Prof Tumusiime Mutebile then wrote a letter to the Anti-Corruption Unit at Statehouse to conduct a special expeditious investigation," Ofwono said.
Earlier statements by both the Statehouse anti-corruption Unit and Bank of Uganda had confirmed an investigation was going on, but declined to specify the nature of the crime and the extent.
Both a letter to the Anti-Corruption Unit at Statehouse to conduct a special expeditious investigation," Ofwono said.
Lt. Col. Edith Nakalema's State House Anti-Corruption Unit called it a "special investigation on a matter pertaining to the Bank's procurement and supply chain activities" while a statement by Bank of Uganda Governor, called it "an anomaly in the inventory of the expected consignment."
Mutebile in his statement said that following the anomaly, he "requested the Anti-Corruption Unit (ACU) of State House to investigate the matter."
"The ACU has started investigations and Bank of Uganda is fully co-operating with the process," Mutebile added.
Ofwono Opondo said that preliminary investigations showed that the extra 5 palettes belonged to 13 different entities that among others included the United Nations, USAID and city businessman Charles Mbiire.
Cash heist?
When the story first leaked to the media, unconfirmed reports on several online media platforms said, Lt.Col Edith Nakalema's unit raided the central bank this week and arrested five officials in the currency department over what is said to be unauthorised printing of vast sums of currency- said to be in excess of UGX90 billion, for private benefit.
It was also alleged that the money entered into the country via Entebbe International Airport, but never made it to the central bank's strong rooms.
BoU's Director of Communications, a one, Charity Mugumya was unreachable.
This reporter spoke to BoU Tumubweine Twinemanzi, the Executive Director, Bank Supervision and Mrs. Susan Wasagali Kanyemibwa, the Bank Secretary (Executive Director), who both declined to talk about the matter and referred this reporter back to the central bank's spokesperson.
An answered questions remain
Even though government has refuted claims that any money is missing, it is unclear why it took more than a month to come out about the scandal.
It also remains to be understood why BoU senior officials initially denied knowledge of the scandal.
We will over the coming days unveil more details about the scandal.
BUDGET: Kasaija to spend UGX982, 187 on every Ugandan in 2019/20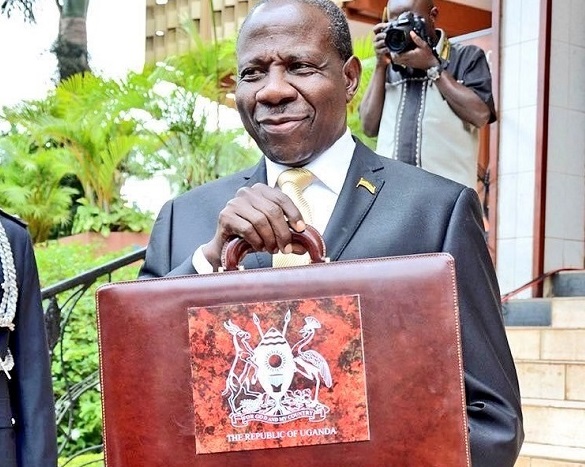 Next year, in 2019/20, the government of Uganda plans to spend 23.8% more money than it has spent, this year financial year. According to a national budget read yesterday, by Finance, Planning and Economic Development (MoFPED) minister, Hon Matia Kasaija, Uganda will in 2019/20 spend UGX40.5 trillion, up from UGX32.7 trillion in 2018/19.
Given Uganda Bureau of Statistics (UBOS) population projections of 40 million and 41.2 million people for 2019 and 2020 respectively, that is an increase of 20.2% from UGX817,433 to UGX982,187.
But where will he get this money from?
According to Kasaija, out of the UGX40.5 trillion, UGX20.9 trillion (51.6%) will be tax and non-tax revenue raised locally. As a result Uganda Revenue Authority (URA) must collect 25% more revenue- their targets have been raised from UGX16.4 trillion in 2018/19 to UGX20.45 trillion next financial year.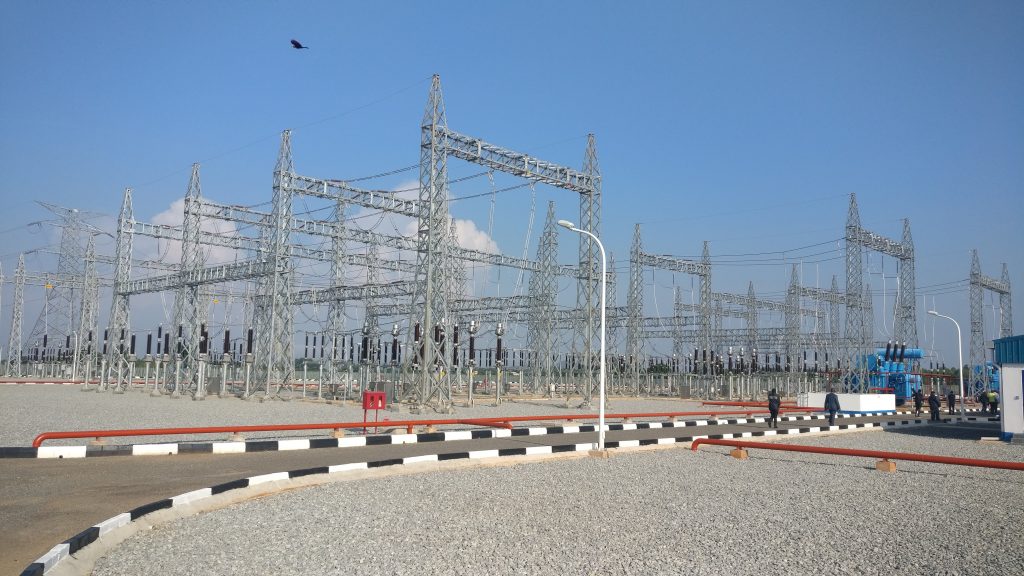 KAsaija also expects to borrow UGX2.8 trillion (7%) from local financial markets. The finance minister also plans to borrow from external sources, as well as receive project support from Uganda's foreign development partners, altogether, UGX9.4 trillion (15.9%).
He also expects general budget support of up to UGX675.2 billion (1.7%) and aid of up to UGX201.1 billion.
Because of the heavy debt burden, domestic debt re-financing will account for UGX6.5 trillion or 15.9% of the resource envelope- this is not actual money though.
According to Kasaija, the stock of Government debt rose to UGX42.8 trillion (USD11.5 billion) as at end-December 2018, up by 15.1% from UGX37.2 billion (USD10.2 billion). Of this external debt constitutes is 66.5%- UGX28.4 trillion or USD7.7 billion.
How will the money be spent?
Thanks to a burgeoning debt and the attendant need to restructure, Uganda will spend UGX10.6 trillion on debt repayment.
Kasaija however insists that our debt, although high, it is still sustainable- at 41.8% of GDP in nominal terms and 31.7% of GDP in present value terms, as of December 2018. This is well below the threshold of 50% Debt to GDP ratio contained in the Charter for Fiscal Responsibility and the East African Community (EAC).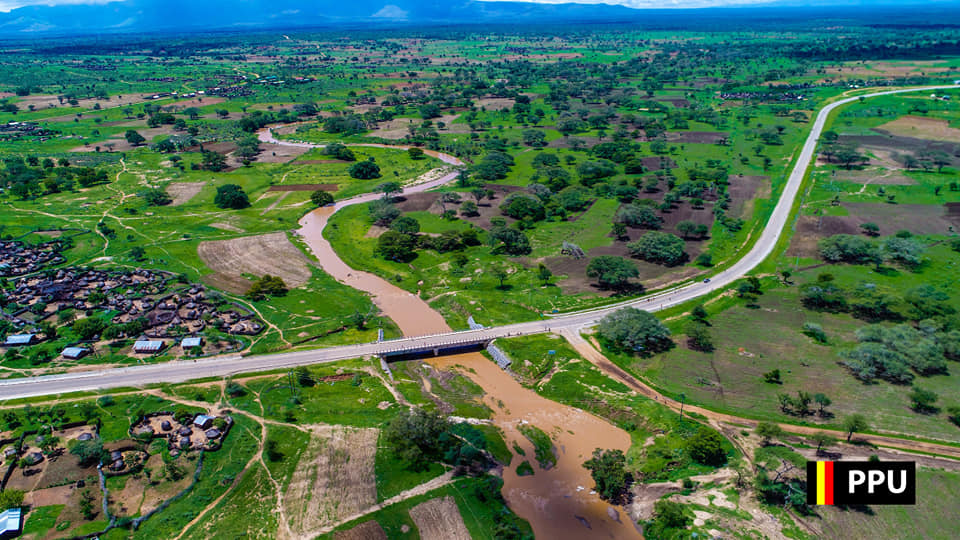 Works and transport will take UGX6.46 trillion, while security will account for UGX3.62 trillion and education and sports UGX3.37 trillion. The government will spend UGX3.14 trillion on interest payments, UGX3 trillion on the energy and minerals sector, UGX2.62 trillion to health and UGX1.73 trillion to the Justice/Law and order sectors.
The accountability sector will be apportioned UGX1.54 trillion while local governments will get UGX1.25 trillion. The agriculture, animal industry and fisheries as well as water and environment sectors will each get UGX1.1 trillion. Others are: public administration (UGX979.1 billion), Public Sector Management (UGX857 billion), legislature (UGX687.8 billion) and Lands, Housing and Urban Development at UGX227 billion. Trade and industry will get UGX202.8 billion, social development UGX219.2billion, tourism will get UGX193.7 billion and Science, Technology and Innovation, UGX186 billion.