Kabira Country Club to open 269 serviced apartments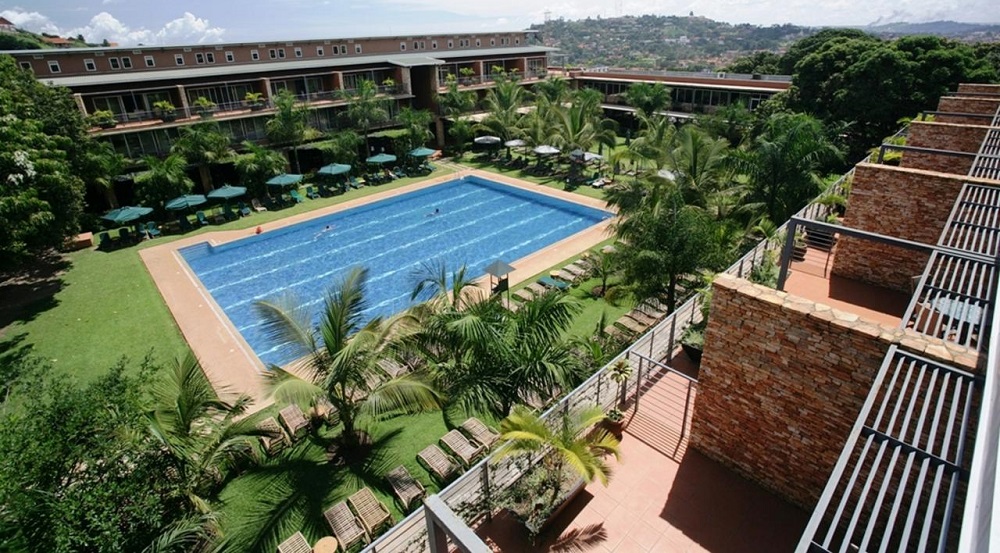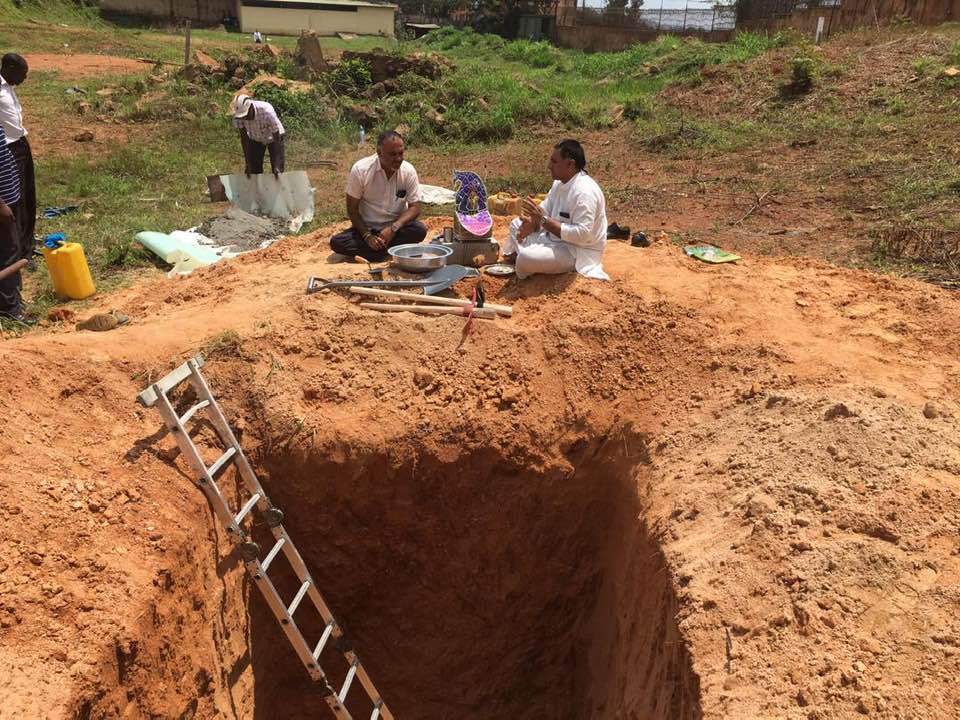 Kabira Country Club, one of the Ruparelia Group hotels, yesterday August 13th broke ground for the construction of 269 serviced apartments on Old Kira Road, just next to Kabira Country Club.
The project involves one, two and three bedroom apartments, with two levels of underground parking- altogether 62,000 square metres of built up space.
The project according to Dr. Sudhir Ruparelia, the Ruparelia Group Chairman will sit on 4 acres of land and will take 30 months to finish.
"These will be fully furnished and serviced apartments built to British standards. They will have a fully fitted modern kitchen, double glazed sound proofed windows, LED flat screen TVs with customized sets of channels, complimentary high speed Wi-fi internet, air conditioning, ample parking space and 24 hour security," Ruparelia told this reporter.
He said, the self-catering apartments that target the corporate, leisure and family travellers segments shall be both open to both short and long term clients.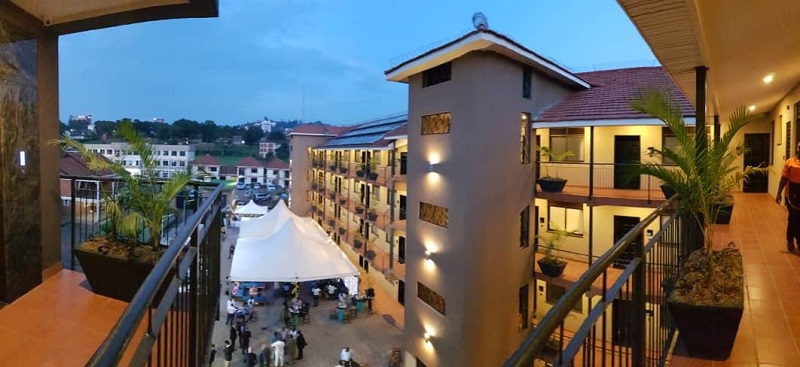 In June, Speke Apartments, another hospitality brand of the Ruparelia Group unveiled their Speke Apartments, Kitante, a collection of 83 fully furnished apartments.
The developments come in handy for brand Destination Uganda as the country works to bolster is competitiveness in the global USD1.4 trillion meetings, incentives, conferencing, and exhibitions (MICE) market.
According to the Uganda Hotels Owners Association (UHOA) by end of 2018, there was an estimated over 6,000 accommodation facilities in Uganda offering about 487,000 beds and 410,000 rooms.
"Kenya has 800,000 rooms combined. For us to attract the MICE market we should be pushing for at least 1,000,000 rooms country wide. This is a long away from being a reality but it's the only way we can be competitive as a market," Jean Byamugisha, the UHOA Chief Executive Officer, told this reporter.
The rise of Cafe Javas and the price competition has to pay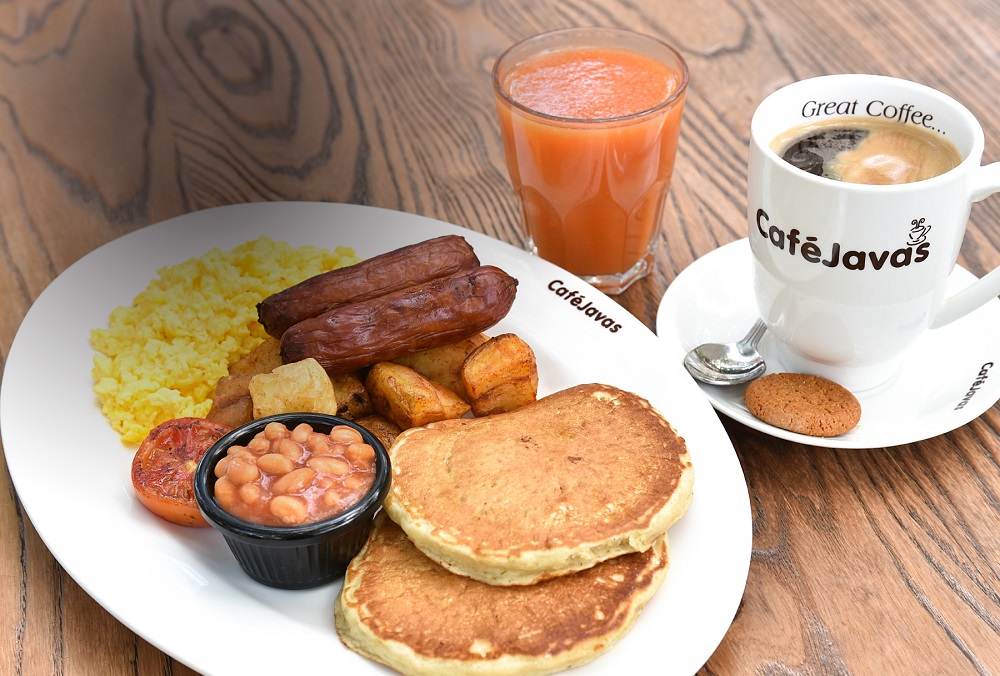 Café Javas ended 2018 at a high- a gross turnover of UGX27.1 billion, according to our highly placed sources.
This was a 48.1% jump from the UGX18.3 billion turned over in 2017, marking yet another year of growth for the food and beverage outlet, which has become famous for good food, ambience and great service in Kampala.
And the public has rewarded them with a proportionate share of their throats and wallets as well.
In the 4 years to 2018, sales turnover has been growing at annual compounded growth rate of 31%. Buttressed by an expanded foot print- now made of 9 outlets; 8 in Kampala and 1 in Entebbe, Café Javas has ramped-up their sales revenue from the UGX9.2 billion in 2015, growing it to UGX13.6 billion in 2016, then UGX18.3 billion in 2017 and closing 2018 at UGX27.1 billion.
Even if this is yet to translate into fat net profits- Café Javas netted UGX100 million in 2015, UGX200 million in 2016, UGX900 million in 2017, ending 2018 with a net profit of UGX1.2 billion- on average an annual growth rate of 86%, their performance to date could be a sign of good things to come.
A memorable dining experience
Café Javas is part of Mandela Group of Companies, the parent company to Cafe Javas, City Tyres, City Oil, City Lubes, City World, Savers, Mandela Millers and Mandela Auto Spares.
The group was founded by businessman Omar Mandela.
On their website, Café Javas, describes itself as "a fully-fledged restaurant specializing in delivering a relaxed and memorable dining experience."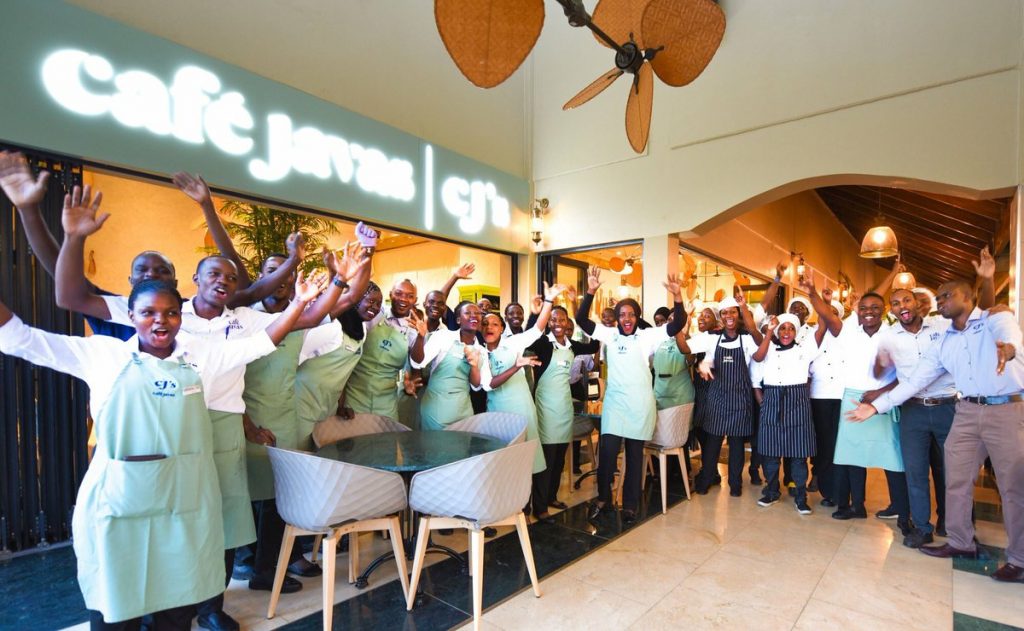 They currently have 12 locations; 8 in Kampala, 1 in Entebbe and 3 in Nairobi. In fact they are one of a handful of Ugandan businesses to expand to Kenya and they seem to be doing well.
According to the website- each location features a "unique ambience with tasteful décor, specially designed" for individual comfort, complemented by "over 300 carefully selected, mouth-watering menu items."
"Whatever your taste, it's well catered for," they dare their customers.
They also boast of great customer service.
"We value you. That's why you'll always be served with excellence by each member of our highly skilled team members. Eager to serve you, our experienced wait staff greet you at the door and lead you to the table of your choice in the well thought out seating arrangement," they claim.
A walk into any of their restaurants- actually proves this; the outlets may be different in architecture and look and feel- but if there is one thing most customers agree on, is the swift service, freshness of food and yes, their portions are generous too!
Café Javas is also not afraid to show off what they say is the "rich aroma" of their "freshly ground coffee" which in their words, is "the handiwork of skilled baristas, adept in latte art."
"This ensures you get a freshly prepared cup of coffee as the beans are roasted on site," they show-off.
Café Javas turns up the heat for competition
But don't let the Café Javas' juicy and sizzling story fool you into thinking Kampala's food business is all that a feisty growth story.
In fact Café Javas growth seems to be taking a toll on some of their closest rivals.
One such rival is Java House Africa, the out-of-Nairobi coffee-led restaurant.
Late last year, when Café Javas opened their 9th Ugandan store at Game Stores' Lugogo Mall, social media commentators, said the nearby Java House outlet at Shell Lugogo would fall. Well it didn't, but their signature outlet at Bugolobi's Village Mall, closed, a few months later, reducing their foot print from 6 to 5 outlets.
And it didn't just close, it gave way to Cafesserie, one of their competitors.
Although Java House brushed off Café Java's rise as a cause of their problems- in fact, Emily Nyiha, the Communications &Events Coordinator at Java House Africa in Nairobi, in a phone call to this reporter, prefers to think they don't have any problems at all, calling the closure of the Bugolobi branch a mere "re-alignment of the business", the truth is not difficult to see.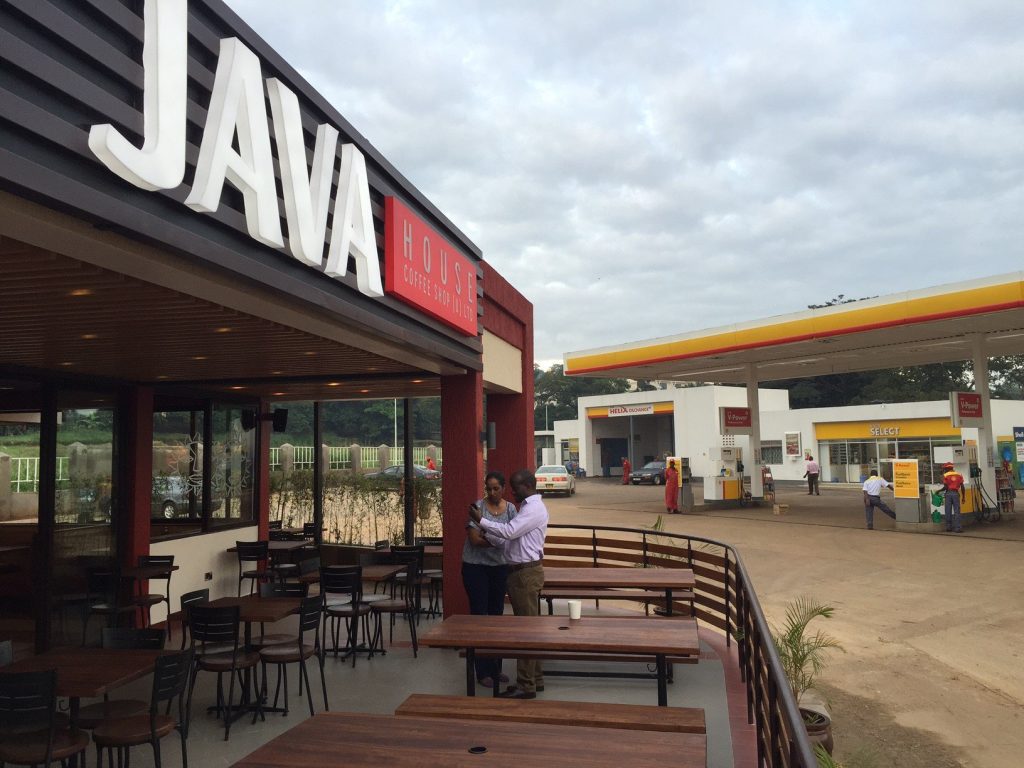 A close look at their figures, indeed shows a little bit more than a mere realignment.
For example while Java House grew their turnover by 101% from UGX5.2 billion in 2016 to UGX10.5bn in 2017, in 2018, they experienced a 17.1 % decline in turnover, to UGX8.7 billion. And this has put more pressure on their net revenue- for the 3 years, they have been loss making- from a loss of UGX3.2 billion in 2016, to a loss of UGX4.1 billion in 2017. This reduced slightly to UGX3 billion in losses in 2018.
Asked about the losses and if the closure of the Bugolobi outlet was meant to partly cut down on costs- especially the over UGX264 million in annual rent, Nyiha instead sidestepped the question and said, Java House was preparing for a major expansion exercise in the region.
"As you are aware, we are growing in the region and are planning more outlets in the coming days," she said.
This July, Actis, a global emerging markets investment firm focused on the private equity, energy, infrastructure, and real estate asset classes announced it had assumed management rights on Abraaj Private Equity Fund IV (APEF IV), Abraaj Africa Fund III (AAF III)- a transaction that includes 14 portfolio companies, including Java House Africa.
ALSO READ: FOOD WARS: Cafesserie pushes Java House out of Village Mall; to open second branch in October https://www.ceo.co.ug/food-wars-cafesserie-pushes-java-house-out-of-village-mall-to-open-second-branch-in-october/
Abraaj Holdings, is the troubled Dubai private equity firm that acquired 90% of Java House Africa, for a reported $100 million, in late 2017. This would mean that now Actis is the new owner at Java House and hopefully this will infuse some fresh energy and cash too!
This January 2019, Java House announced they would infuse a further $10 million in an expansion exercise in the region and have since opened up a handful of outlets in Nairobi and 1 in Kigali Rwanda.
Cafesserie under pressure too
Don't let Cafesserie's move to Village Mall fool you into thinking theirs has been too rosy a picture!
They are under pressure too and are looking to a second outlet to increase their share-of-throat and hopefully share of wallet too.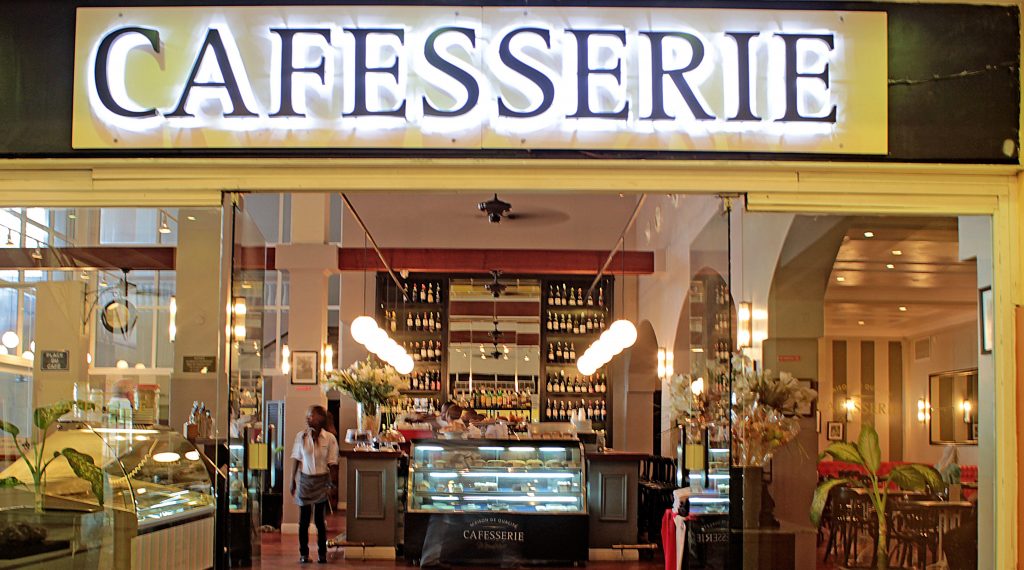 Cafesserie, with their one outlet at the swanky Acacia Mall in Kololo is famous for their Italian coffee, French bakery and continental cuisine.
They opened in Uganda in 2014 and by the end of 2015, business was brisk- they turned over UGX2.5 billion and a profit of UGX400 million; a rare story of profitability in just less than 2 years.
But in 2016, turnover reduced to UGX2.4 billion and they made a loss of UGX200 million. In 2017 sales turnover grew by UGX600 million, reaching UGX3.1 billion, but they still made a UGX200 million loss. Last year, turnover grew cheerlessly to UGX3.2 billion and the losses still hovered at UGX150 million.
Although it is difficult to directly link their lukewarm performance to the rise of Café Java's, considering the fact that between 2015 and 2018 Cafesserie's annual growth averaged at 6% compared to Café Javas galloping 31%- facts speak for themselves.
We are now well deep into 2019 and can't wait tell the second part of this story, come 2020.
Introducing Bukoto Living- your opportunity to own an affordable stylish apartment in Bukoto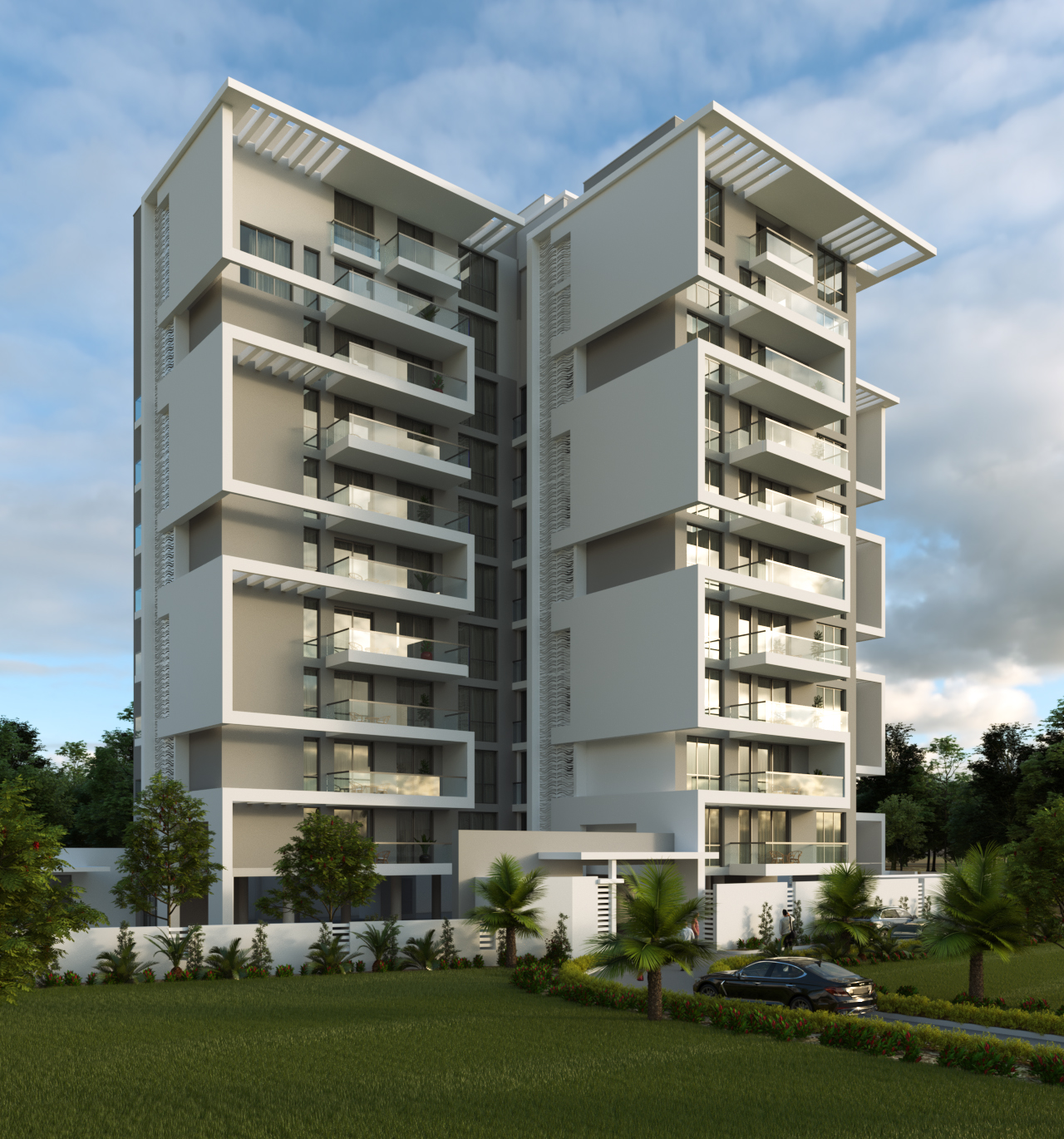 Have you thought of owning- a stylishly finished apartment in an up and coming suburb of Kampala such as Bukoto, but are turned off by the many what-ifs and the world of unknowns in the real estate sector?
Well, Bukoto Living, is an opportunity for you to own- either to occupy or to rent two and three bedroom apartments as well as four and five bedroom duplex penthouses, just 6 kilometres away from the city centre.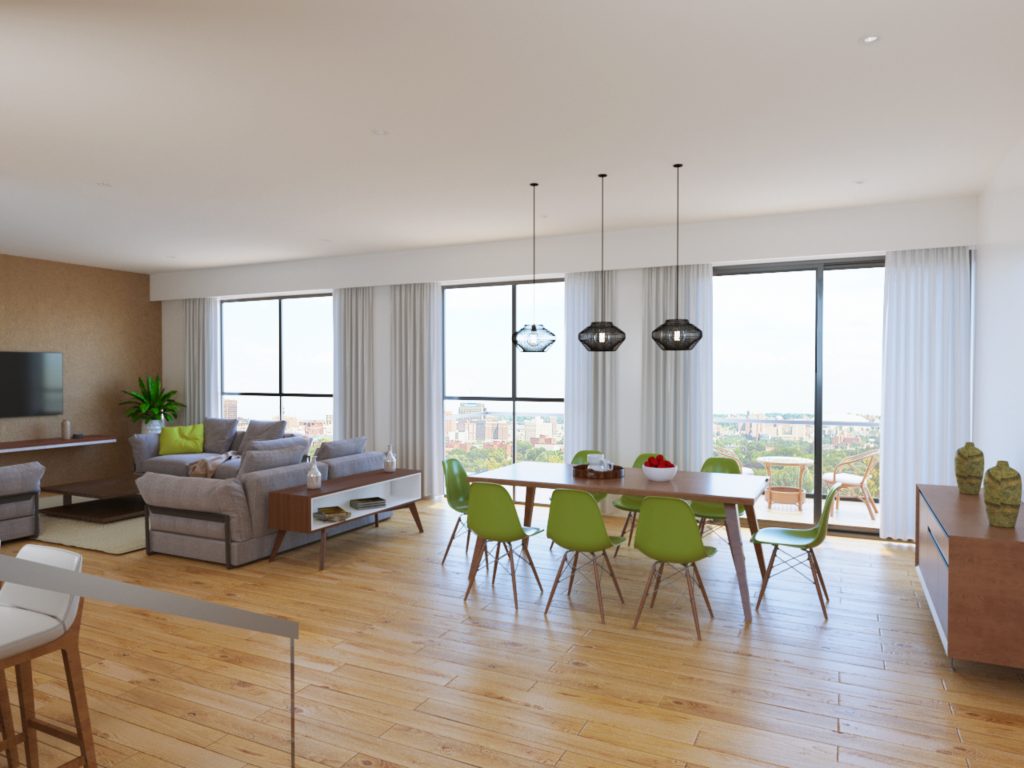 Situated at the confluence of the boarders of Bukoto, Naguru and Ntinda and only 150 meters from the main road, Bukoto Living presents 9 floors and 27 two, three, four and five bedroom units- enough choice to find something that meets your desires.
All the 27 apartments are available for sale.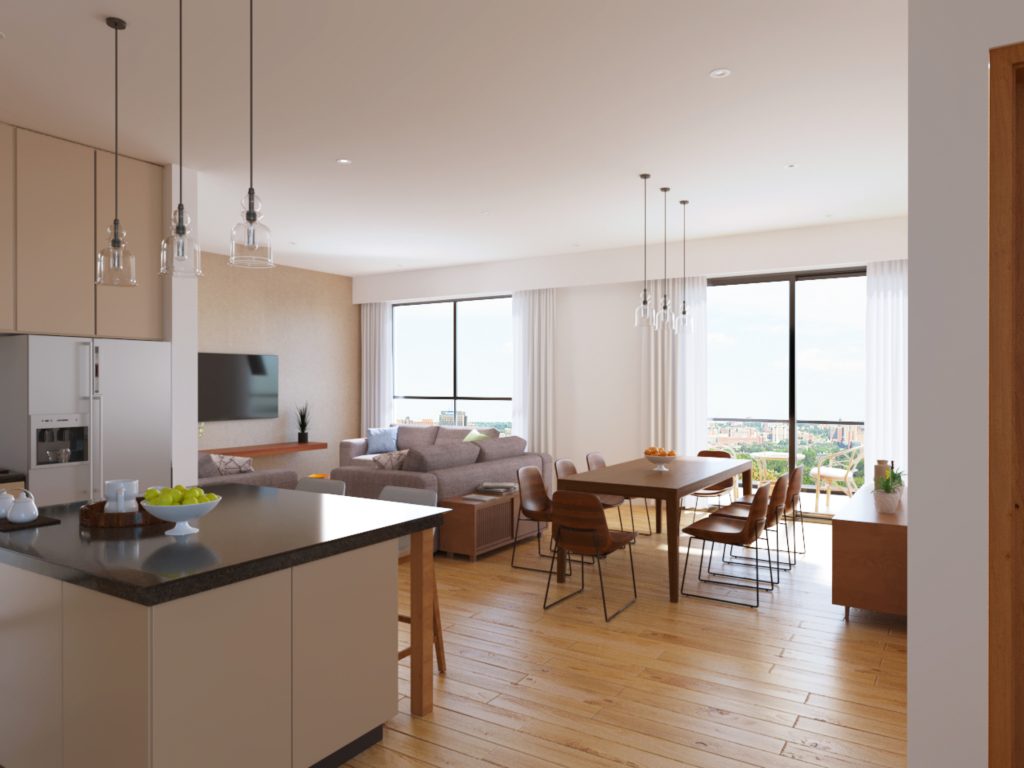 The project is a brainchild of Rajiv Ruparelia the Managing Director of Ruparelia Group and Sheena Ruparelia, also a director in the group.
Surrounded by shopping facilities, hospitals, educational institutions, hotels and restaurants as well as places of worship coupled with luxurious views overlooking the whole of Kampala, Bukoto Living is the perfect place to buy an apartment in Kampala for seasoned real estate investors and first time home buyers alike.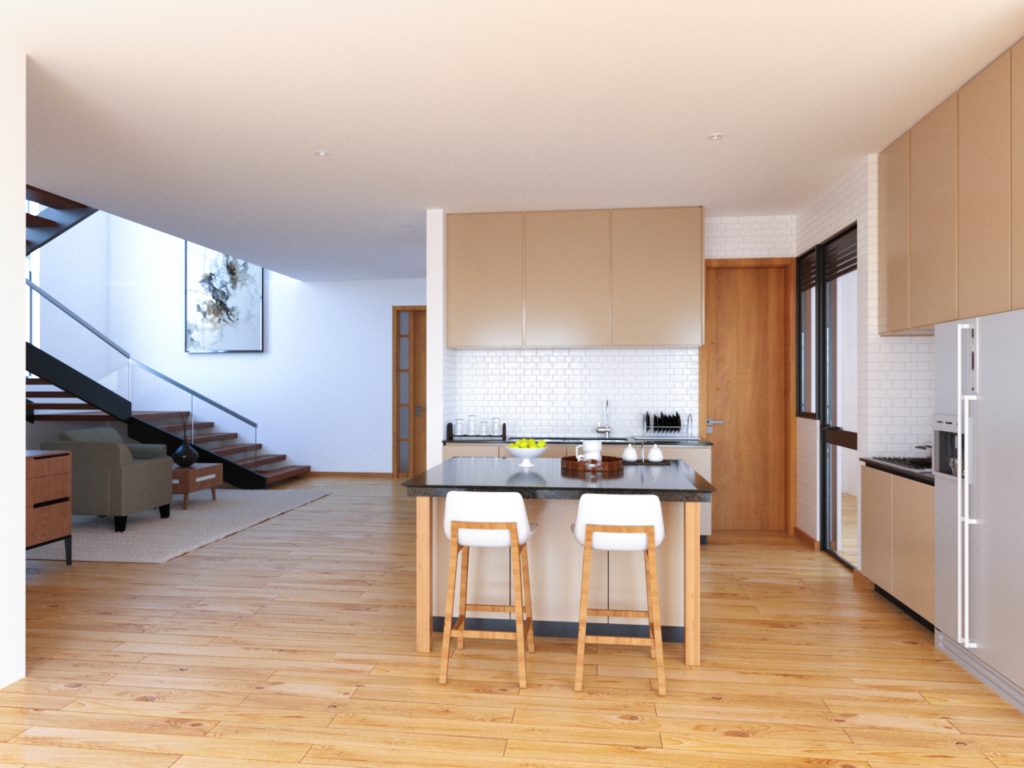 A 2 bedroom apartment with 160sqm of space (Apartment A) goes for $168,000 while a 3 bedroom apartment (apartment B) with 200sqm of space goes for $210,000. A 4-bedroom apartment (Penthouse C) measuring 215sqm goes for $330,750 while a 5-bedroom apartment (Penthouse D) measuring 345sqm goes for $352,250.
According to Sheena Ruparelia, all apartments have been "thoughtfully planned as a stylish home, designed with the intention to serve as an opportunity to invest in the homes either as an investor or to live in."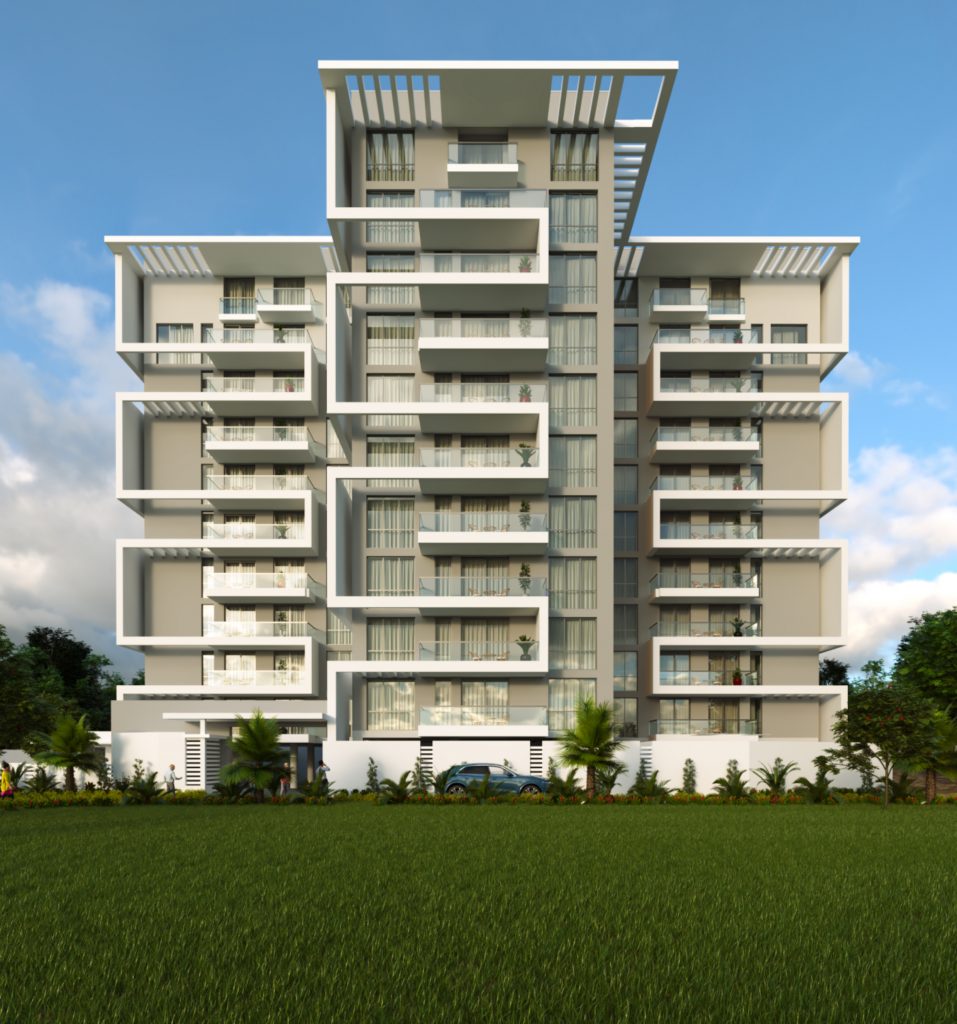 "We offer an excellent location, landscaped gardens, contemporary architecture, efficient layouts and beautiful finishes thus creating a compelling investment proposition, with up to 9% anticipated return on investment and potential for healthy capital appreciation. This development is an exclusive opportunity," said Sheena.
The apartments feature an entrance lobby with a security desk, spacious balcony from the living room, a laundry room / utility room, provision for Wi-Fi internet connection within the apartments and walk-in closets.
The building is serviced by a duplex passenger lift and a 24-hrs standby generator.
On top of ample parking space, the apartments also feature electrical door bell and intercom facilities, building lightening arrestors, provisional points of split air conditioning in the living room & bedrooms as well as a provision for cable TV connection in the living and bedrooms, a waste garbage collection room and maids quarters.
"Bukoto Living is the result of an in depth design process, resulting in a striking property that considers every aspect of a comfortable living environment, delivering the highest and safest living standards," said Sheena.
Expected date of completion July 2020
For further information, all inquiries can be placed to +256 755 996 997 or +256 702 711 142 as well as by email via sales@bukotoliving.com
PICTORIAL: Speke Apartments unveils 83 new apartments on Kitante Road- long term residents to get up to 49% in discounts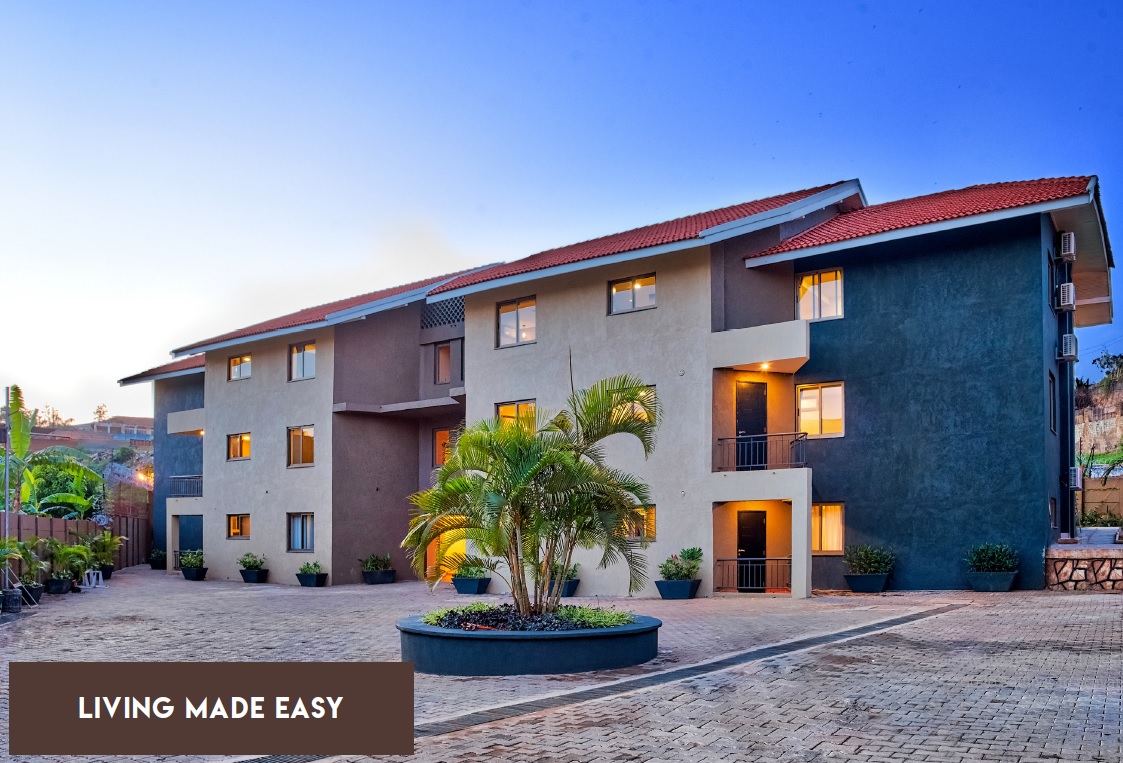 Following the expansion of its flagship, Speke Apartments on Wampewo Avenue, last year, Ruparelia Group, has announced the completion of yet another 83 fully furnished apartments, this time on Kitante Road.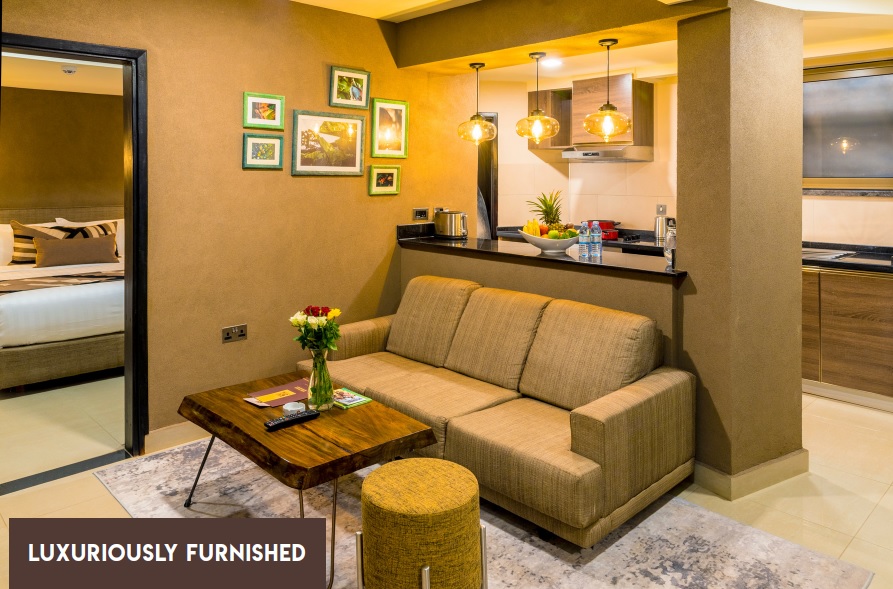 Known as Speke Apartments Kitante, the group, in a press statement said that the apartments are yet another "luxurious and finest housing project."
Speke Apartments specialises in self-catering apartments for corporate, leisure and family travellers in Kampala for short or long term lets.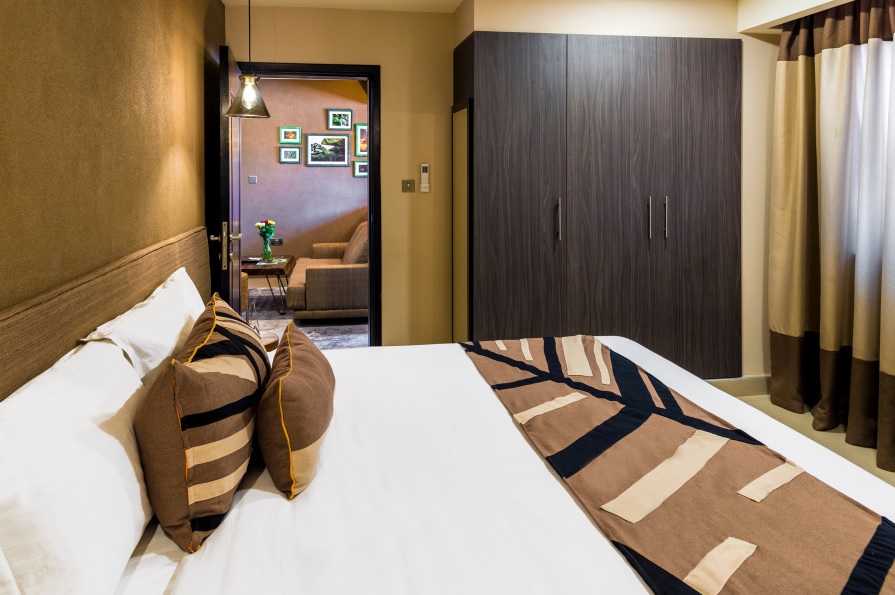 The group said, Speke Apartments in Kitante, like all other group properties, combines "a great location with a secure, quiet, clean, serviced apartment accommodation spread out over five floors."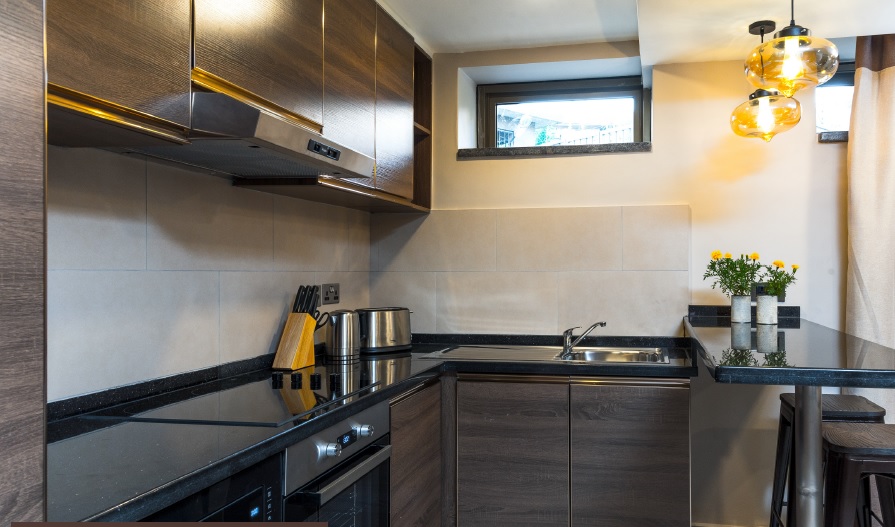 The one and two bedroom fully-furnished and serviced apartments, are according to the group built British Standards and come with a fully fitted kitchen, double glazed sound proofed windows, led flat screen TVs with customized sets of channels, complimentary high speed Wifi internet, air conditioning, ample parking space and 24 hour security.
A restaurant and bar are under construction and residents have free access to the Kabira Country Club and Speke Apartments Wampewo state-of-art health clubs.
"Our two and three bedroom apartments balance the style and hospitality of an intimate hotel with the space and comfort of a fully appointed luxury rooms," said the group in a statement.
One bedroom apartments go for $130 a night while monthly residents get a 49% discount; paying $2,000 monthly instead of $3,900.
A two bedroom apartment goes for $160 daily and $2,500 monthly.
A two bedroom superior apartment goes for $180 daily and $2,800 monthly- a 48% discount for monthly residents.
The above rates are exclusive of 18% value added tax.
Ruparelia Group is Uganda's largest hotel chain with a portfolio of luxury and budget hospitality facilities that include: Speke Resort and Conference Centre (www.spekehotel.com), Munyonyo Commonwealth Resort (https://www.munyonyocommonwealth.com), Kabira Country Club (https://www.kabiracountryclub.com), Dolphin Suites (https://www.dolphinsuites.co.ug), Forest Cottages (www.forest-cottages.com) and Speke Apartments (https://www.spekeapartments.com)
Other group hotels/accommodation facilities include: Speke Resort Bujagali, Kitante Apartments, Bukoto Heights, Naguru Apartments and Boulevard Suites.
Recently, the Ruparelia Group announced plans to construct a 5-star Speke Resort and Convention Centre, in Entebbe.