Kabira Country Club to open 269 serviced apartments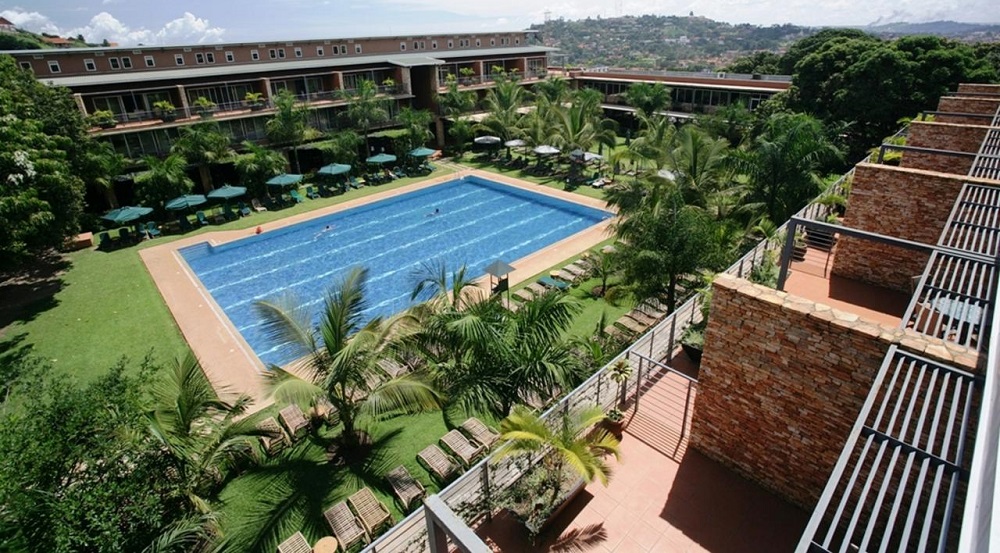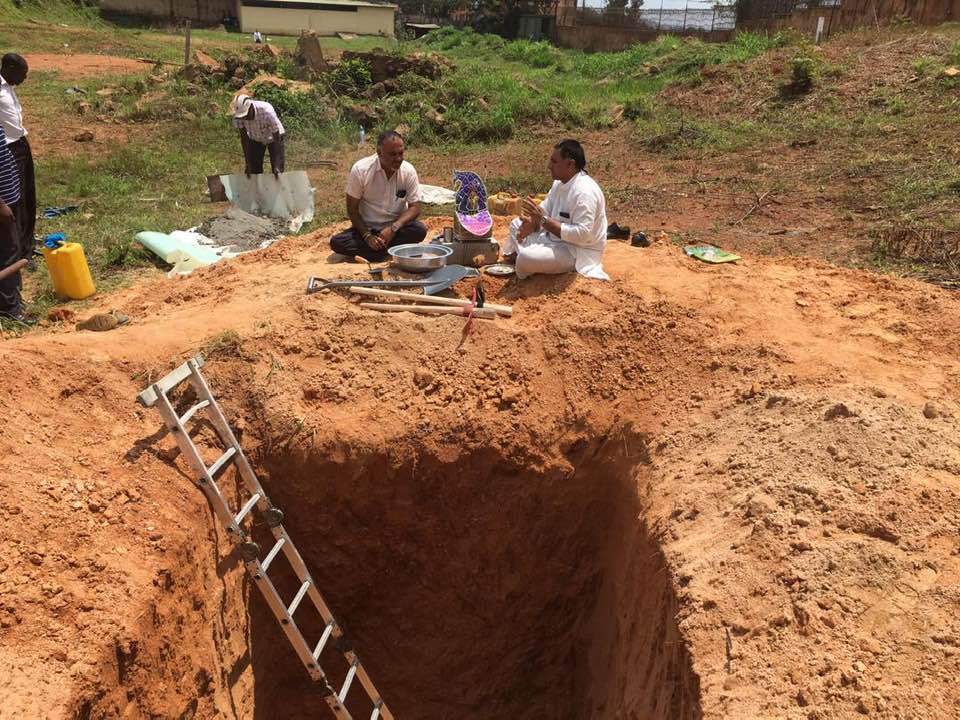 Kabira Country Club, one of the Ruparelia Group hotels, yesterday August 13th broke ground for the construction of 269 serviced apartments on Old Kira Road, just next to Kabira Country Club.
The project involves one, two and three bedroom apartments, with two levels of underground parking- altogether 62,000 square metres of built up space.
The project according to Dr. Sudhir Ruparelia, the Ruparelia Group Chairman will sit on 4 acres of land and will take 30 months to finish.
"These will be fully furnished and serviced apartments built to British standards. They will have a fully fitted modern kitchen, double glazed sound proofed windows, LED flat screen TVs with customized sets of channels, complimentary high speed Wi-fi internet, air conditioning, ample parking space and 24 hour security," Ruparelia told this reporter.
He said, the self-catering apartments that target the corporate, leisure and family travellers segments shall be both open to both short and long term clients.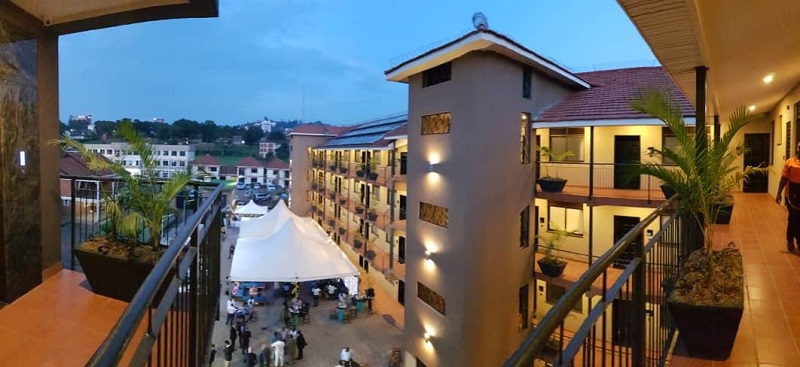 In June, Speke Apartments, another hospitality brand of the Ruparelia Group unveiled their Speke Apartments, Kitante, a collection of 83 fully furnished apartments.
The developments come in handy for brand Destination Uganda as the country works to bolster is competitiveness in the global USD1.4 trillion meetings, incentives, conferencing, and exhibitions (MICE) market.
According to the Uganda Hotels Owners Association (UHOA) by end of 2018, there was an estimated over 6,000 accommodation facilities in Uganda offering about 487,000 beds and 410,000 rooms.
"Kenya has 800,000 rooms combined. For us to attract the MICE market we should be pushing for at least 1,000,000 rooms country wide. This is a long away from being a reality but it's the only way we can be competitive as a market," Jean Byamugisha, the UHOA Chief Executive Officer, told this reporter.
Inside the USD15m Latitude 0° Kampala Hotel- a modern urban Africa with a cosmopolitan touch!
Even though there is quite some competition in Kampala's hotel space- with average occupancy rates standing at about 58% (a hotel needs about 40% occupancy to break even), with key noticeable names like Sheraton, Speke, Marriott, Serena, Hilton and Protea, all jostling for guests, Latitude 00 has also decided it has what it takes to compete with the big boys. And yes, they have put up quite a marvel of a property. Our lifestyle reporter, Pearl Kitimbo, gave them a visit and brings you quite some fascinating reviews!
The Latitude hotel group recently opened their third location in Kampala named: Latitude 00. The hotel is located at the hill top of Makindye hill, just opposite the Kizungu police station. It is named after the Equator which crosses Uganda.
It is not like any other hotel that you have visited, it is different!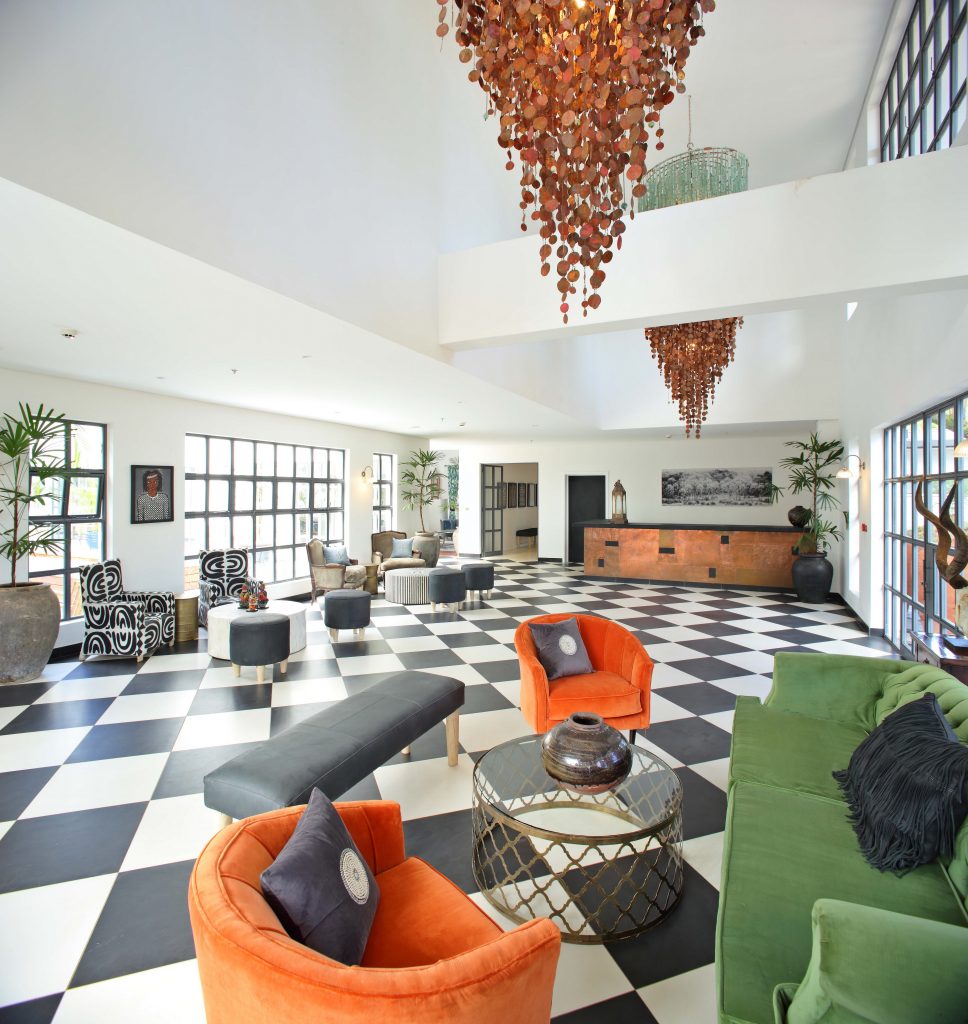 On the way to the hotel, the green indigenous trees give you a feel that you are going to a hideout away from the chaos of town. Latitude 00 is indeed that place that everyone needs to visit every once in a while. I am not sure I want to term this hotel as a 5-star but perhaps an 11 star (wish there was something like this), because it is one of a kind and has a different personality it.
On entering the hotel, the hanging chandeliers from the ceiling attract your attention. They are made of recycled glass from the other Latitude hotels in Lilongwe, Malawi and Lusaka, Zambia. The hotel automatically gives a warm African feel with just the furniture and décor you see.
From the main reception, you are captivated by the very rich art collected from various artists and artisans around Africa and especially Uganda. The sculptures are particularly made by a Ugandan artist called Patrick Mulundo and that alone makes you understand that the hotel looks at giving their guests more than hospitality but a touch of Uganda as well.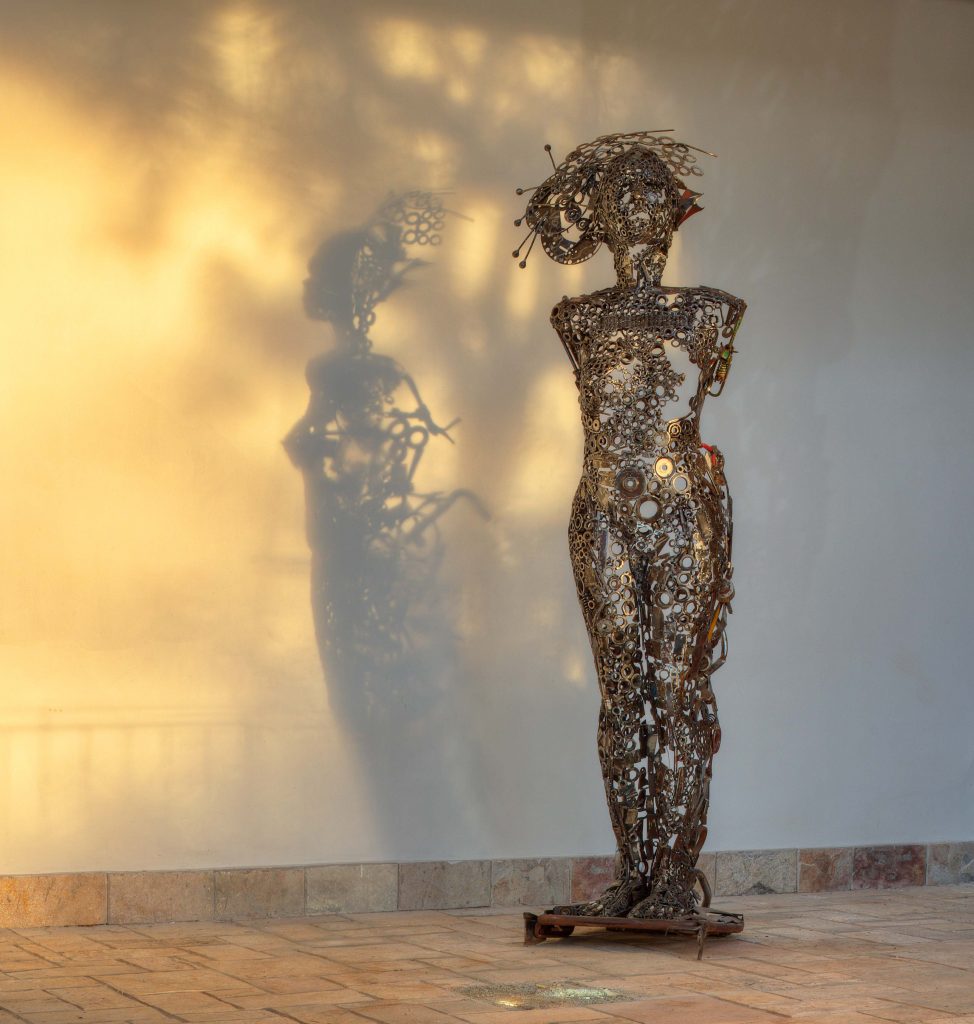 Three Restaurants
Latitude 00 has three restaurants in its compound. The main restaurant is the Latitude Restaurant. The restaurant is very rich with African decoration from the painting to the tables and even to the tiles. It serves African and continental foods, has its own bar and also has a beautiful lounge with a view of many of the hills that make up Kampala; punctuated by indigenous orchid-filled trees.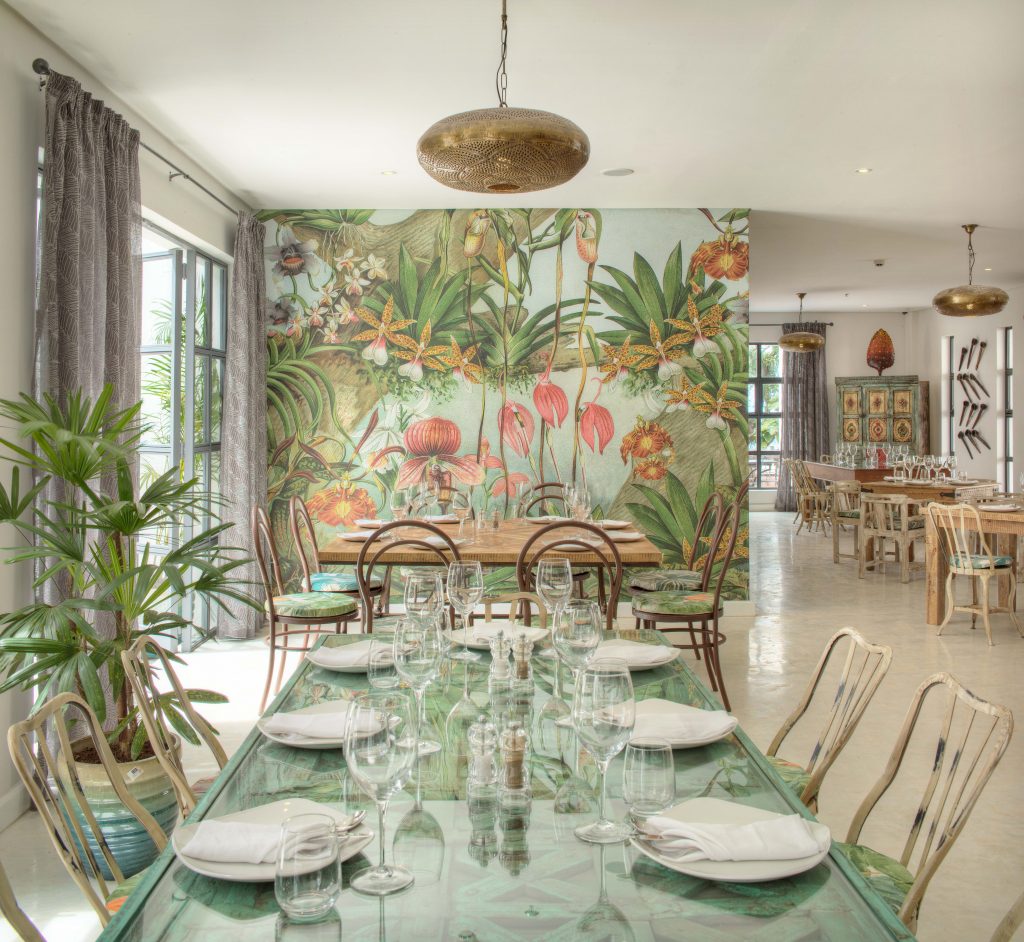 The second restaurant is "The Other Side" restaurant. This is named after the expansion that the group did at their first hotel; Latitude 13 in Malawi after they received so many guests. The Other Side restaurant is the one side where you take someone you want to impress because it is made for fine dining. Other than the entrance through the main reception area, this restaurant can be accessed using its own independent entrance.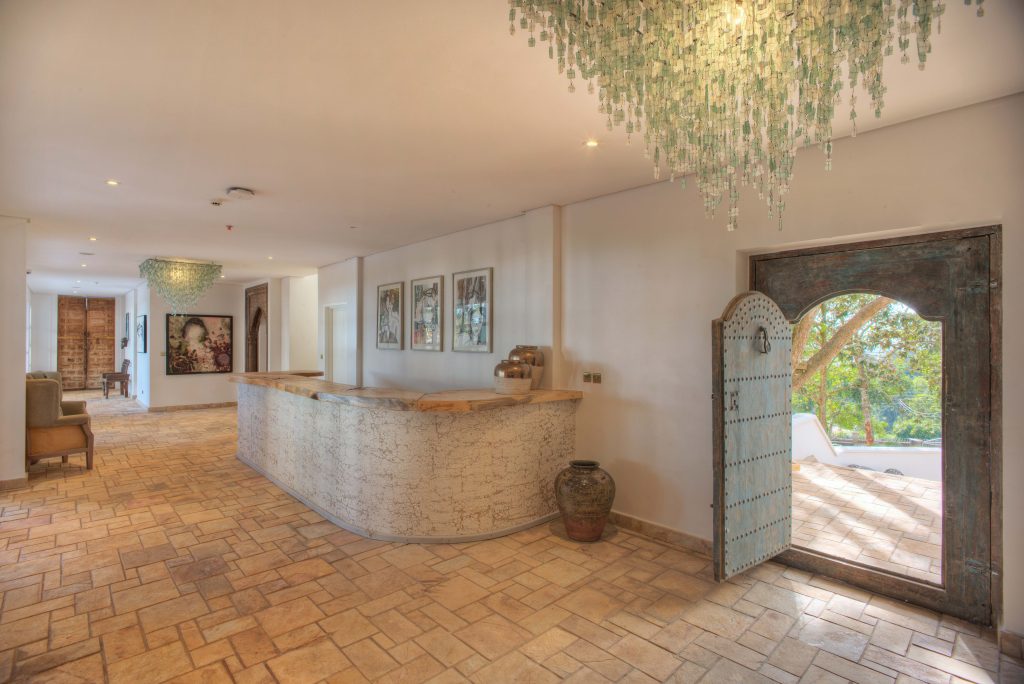 This restaurant also features a bar and a lounge that has a view of Kampala and the hotel swimming pool. However, in the near future, the "Other Side" might be turned into a restaurant for private members of the hotel, according to management. For now it is accessible, on reservation.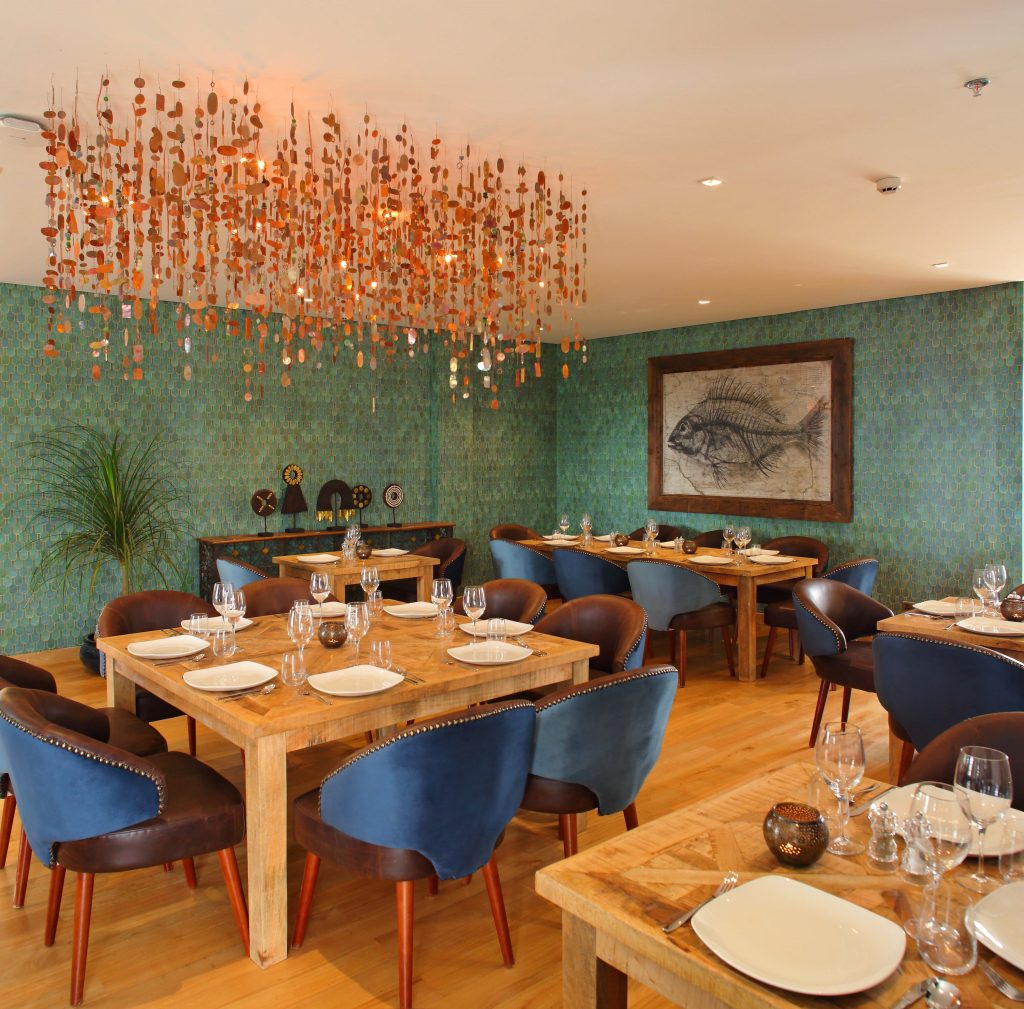 The third restaurant is "The Upside" restaurant. This is a bit more relaxed and has a beach feel to it. It has a very beautiful view of Kampala and Lake Victoria can also be seen from here. The restaurant serves Asian and Japanese foods mainly.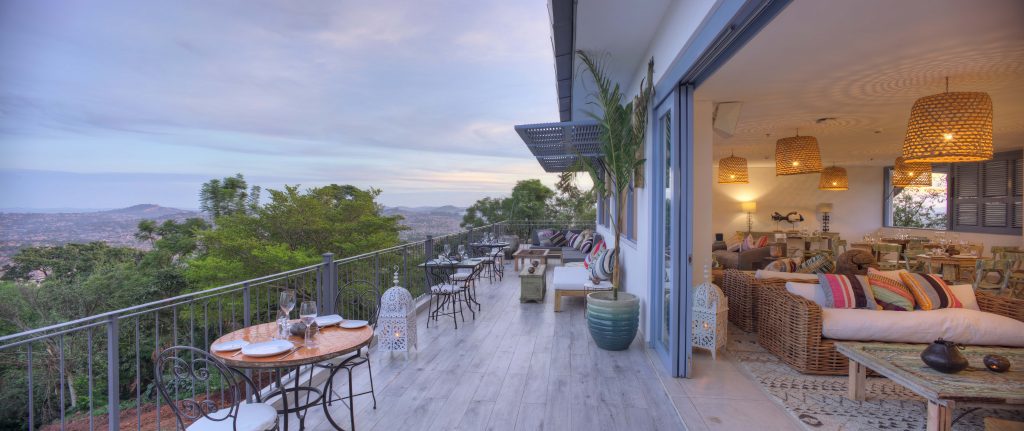 The food in the restaurants ranges between UGX50,000 to UGX100,000. The bars have a variety of drinks from locally made drinks to imported drinks.
The hotel purifies their own water for drinking but also serves still and sparkling water at no cost. They also do not use any plastics so their water is bottled in their own branded glass bottles that they re-use after washing. They use locally made natural straws that are made by a company called Natural Roots in Uganda- a very eco-friendly hotel, if you ask me.
According to management, for the staff of Latitude 0 to be able to serve you and give you the best service you can best experience at their hotels, it is best that you make a reservation so that you get the very best from them. Reservations can be made by calling +256750189404 or just sending an email to 0@thelatitudehotels.com.
The rooms
Latitude 00 has 47 rooms in total; 2 diplomatic suites, 5 suites, 12 superior rooms with a lake view, 11 superior rooms and 17 standard rooms. These all have a view of Kampala city.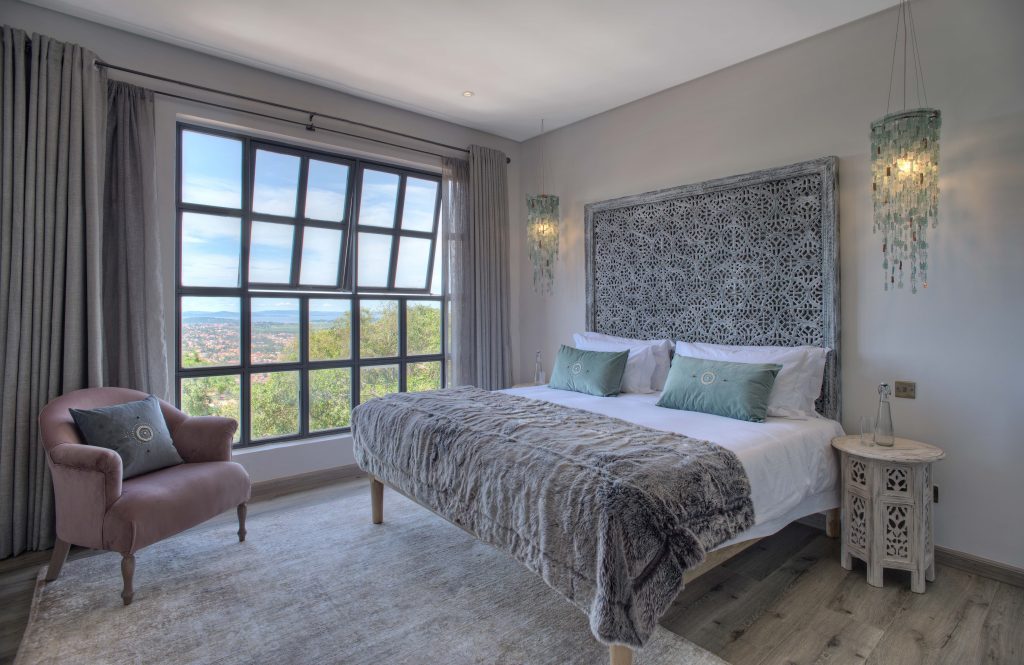 The guests have their own pool and deck outside the rooms wing where they can privately swim without interacting or being interrupted by the other non-resident guests.
Since the hotel just opened up, the hotel has cut it's accommodation rates by USD91 on all their rooms. The standard single which is usually USD260D is now at USD169, the superior lake view double room which is usually USD330 is at USD239 and the suite double which is usually USD340 is at USD249.
I bet now would be a great time to visit the hotel as the promotion is still on going.
To view more pictures of Latitude 0, Kampala, click here
Other Latitude Facilities
Latitude 00 has a couple of other interesting facilities besides the swimming pool, gym, spa and sauna that almost every hotel has. They have an 18M swimming pool that is accessible to everyone.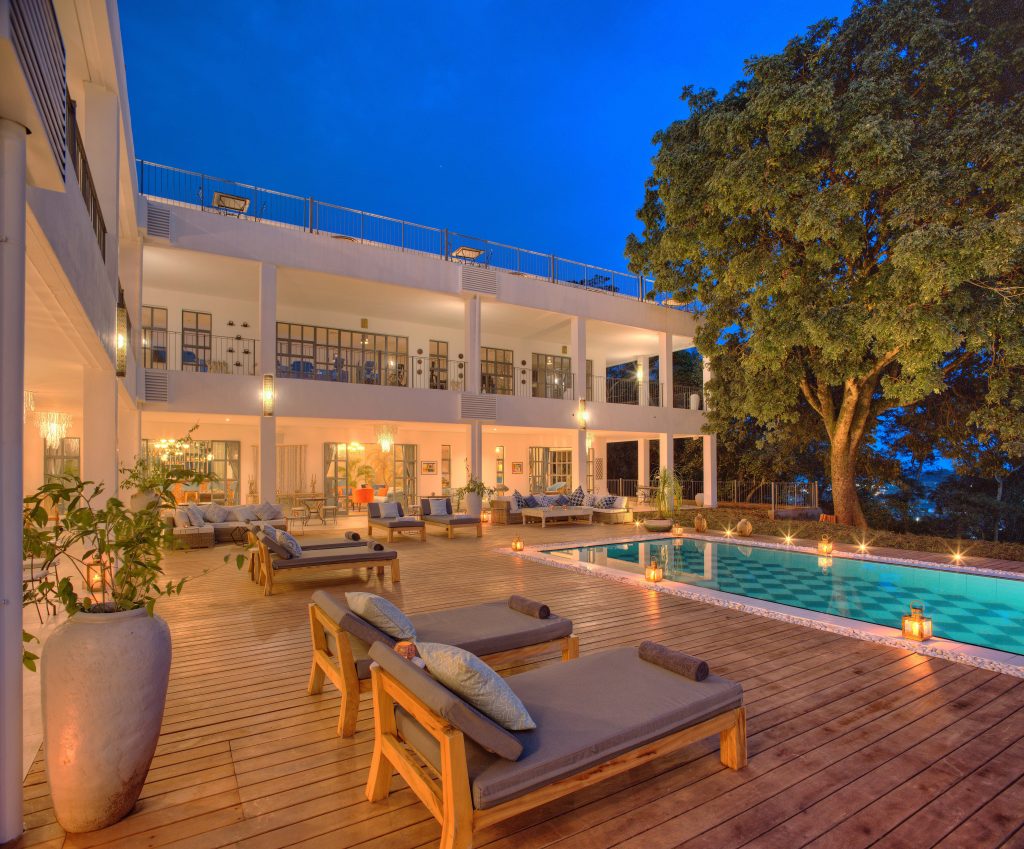 Their gym is fully air conditioned and well equipped with all the machines you need for your work outs from dumbbells to cardio wheels to kettle bells and so much more. They also have have a space for yoga and meditation.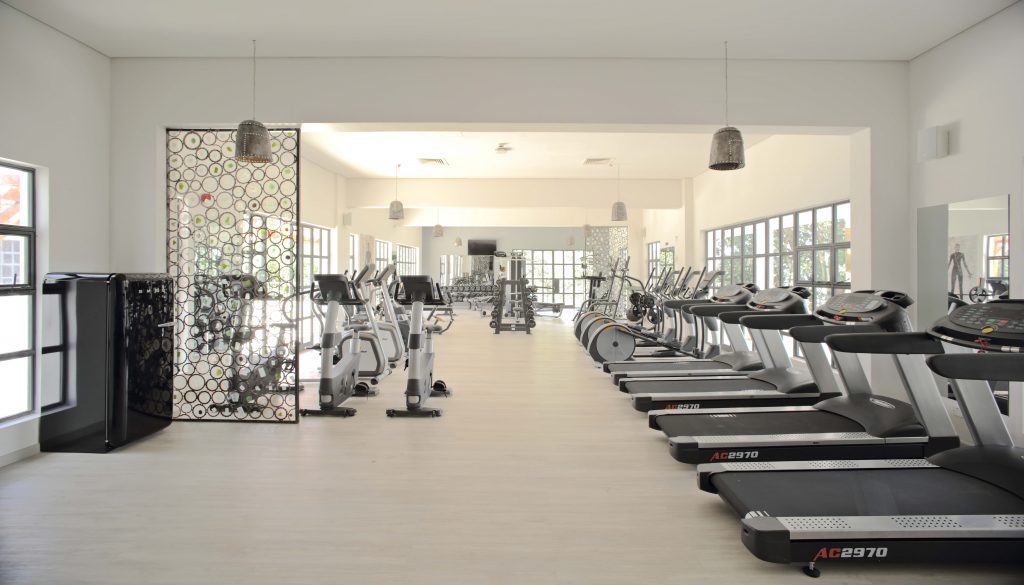 The spa treatments vary in price depending on what exactly you want. Facial treatments range from UGX80,000 to UGX160,000. The body treatments range from relaxing massages to deep tissues massages and even aromatherapy massages and so many others. The cost for massages ranges from UGX70,000 to UGX200,000. This all depends on the type of the massage and the time spent. It also has a manicure and pedicure section for guests.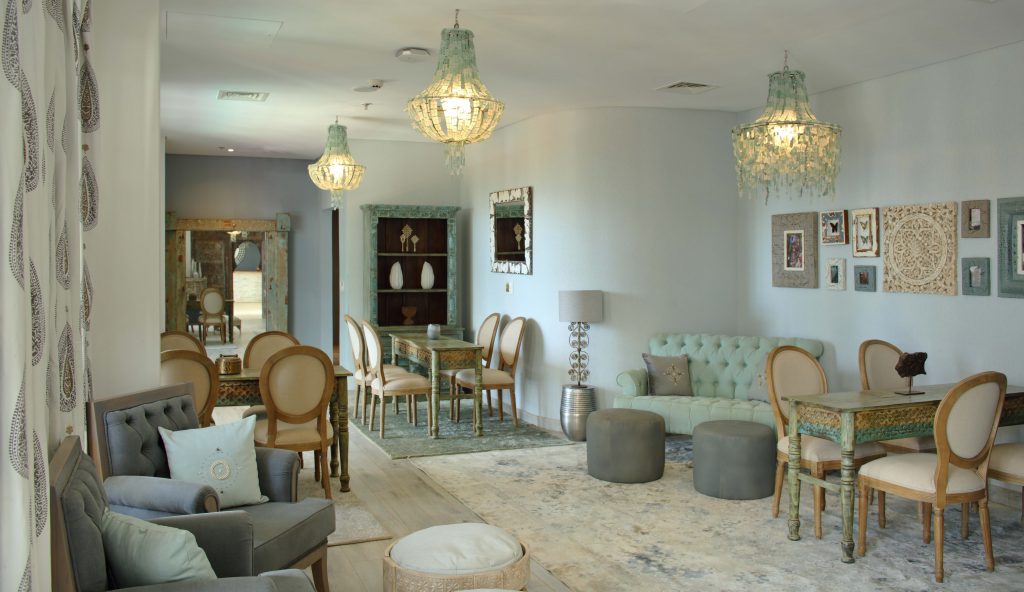 They also have a private room called The Den where guests can go to relax privately and enjoy a couple of directions and probably also a couple of drinks from the bar.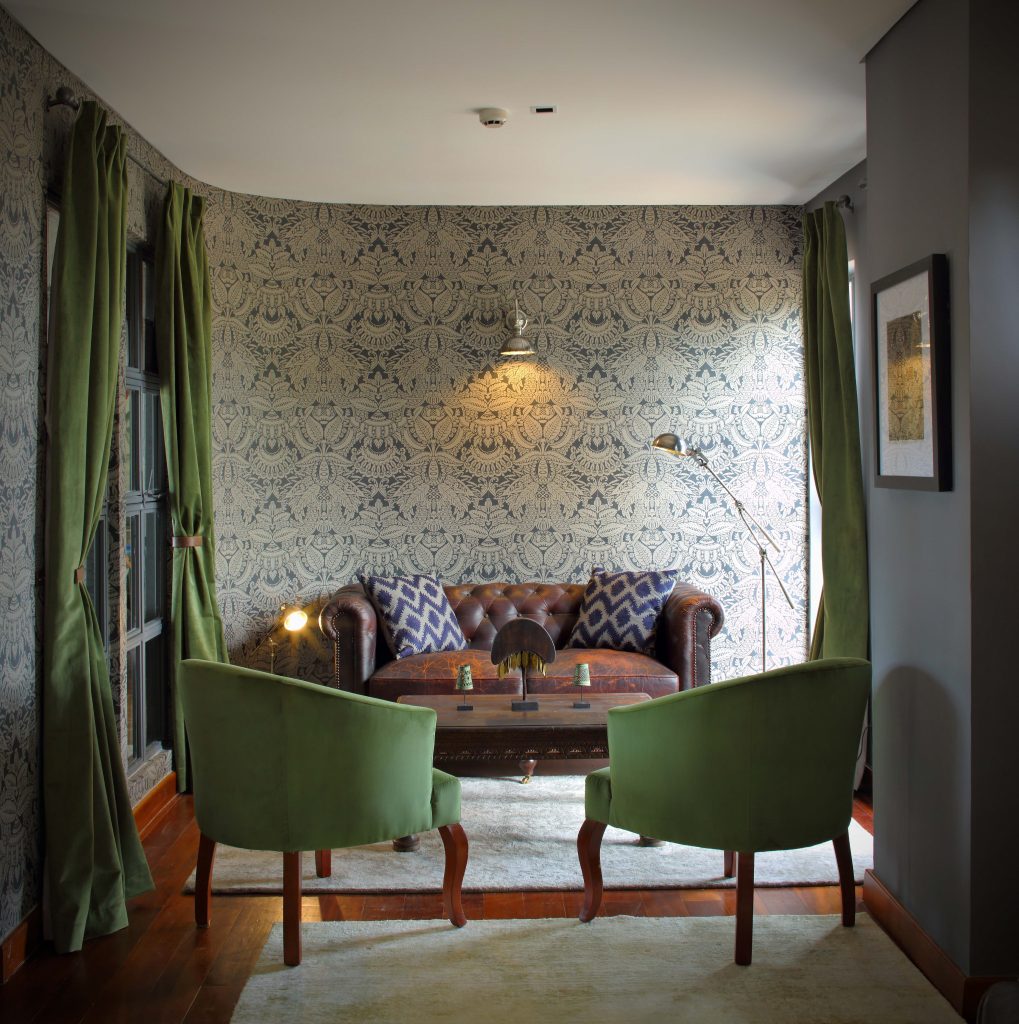 Then there is The Distraction- a room for letting loose and indulging in games like pool table, monopoly, cards, chess and so many others.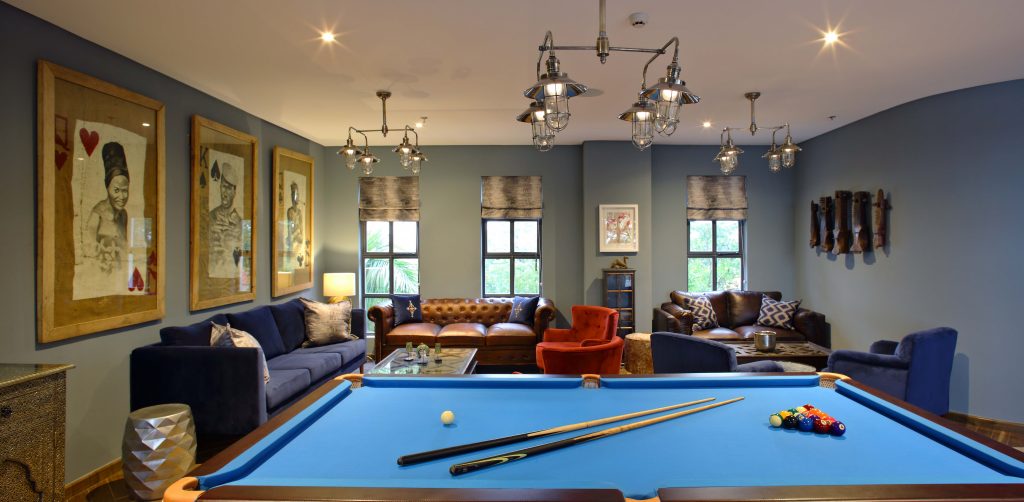 One of my most interesting facilities I found at the hotel is the Cinema. It accommodates up to 25 people and has a variety of movies for guests. The room can also be rented out and used for private meetings and presentations.
For the workaholics who love to mix work and play, the hotel also offers some spaces- The Works. These are group and also private rooms where guests can go to do their work as opposed to going to their rooms and sleeping off as they try to work.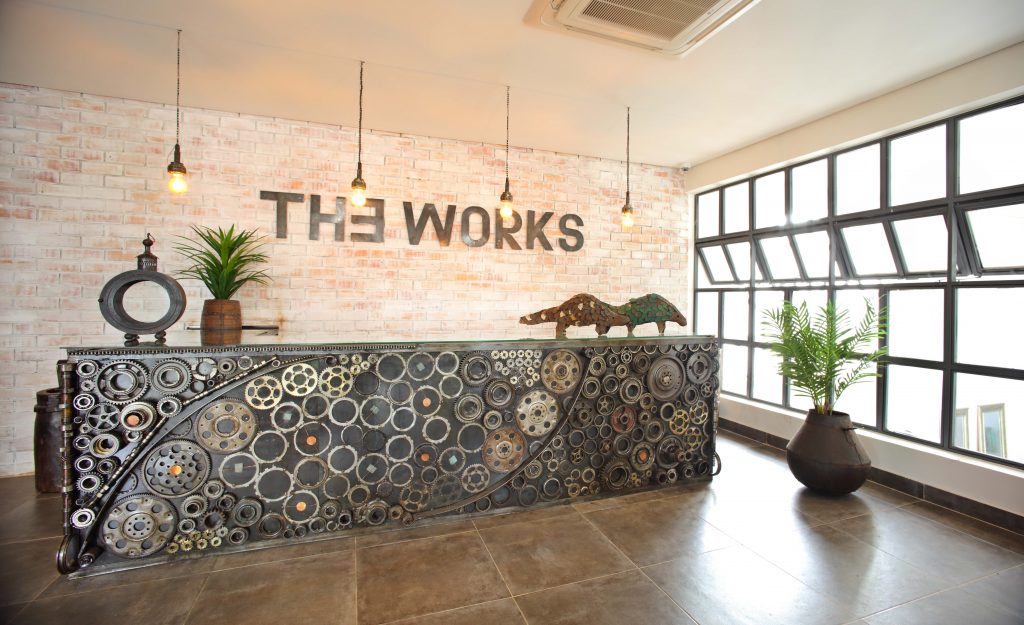 It is in The Works that you will also find the conference room where events and meetings can be held. The Works, has access to The Other Side restaurant, spa and also the pool.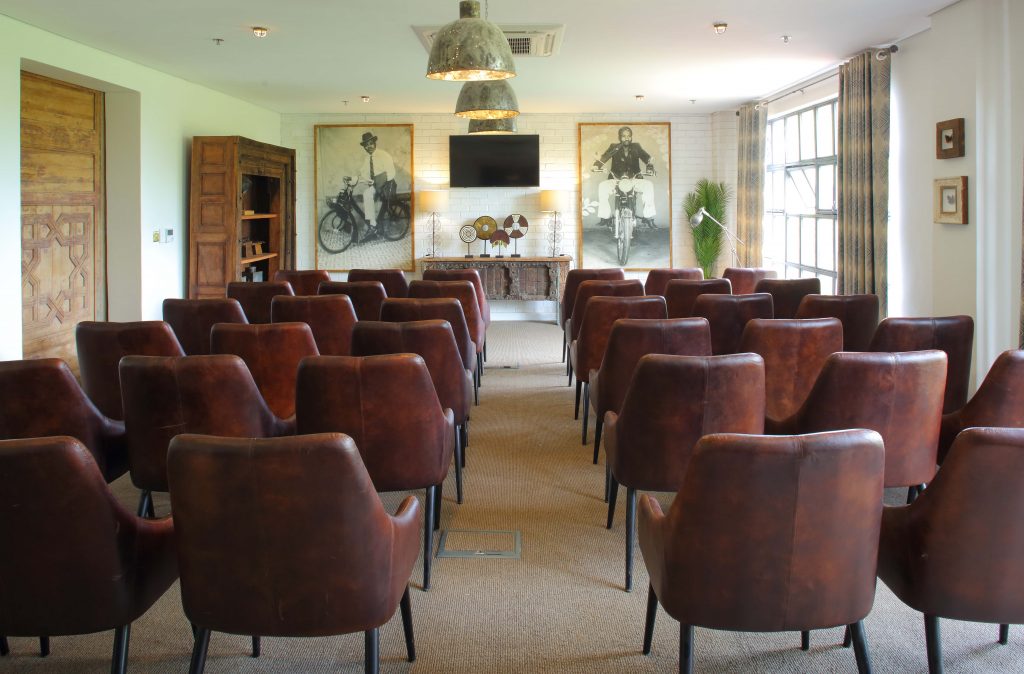 The Staff
Latitude 0o employs 169 staff and out of all these, 165 are purely Ugandan. The staff were trained for 4 months prior to the opening of the hotel to ensure that they give the very best to the guests of the hotel. According to the Group Commercial director, Nicholas Best, for 80% of the staff, this could be their first job ever or even their first time working in the hospitality industry. This is because the group believes in giving opportunities to people regardless of their background.
Latitude 00 is a place that everyone should get to visit. You can only understand its uniqueness and beauty when you visit it. Like the group commercial director Nicholas Best said,"The Latitude group is bringing their own unique taste to Ugandan hospitality so be sure to take off time and enjoy the hotel."
Reservations for the hotel can be done on www.booking.com or www.tripadvisor.com or you can simply send an email to 0@thelatitudehotels.com to make your reservation. Reservations can also be made by calling the hotel on +256750189404.
PICTORIAL: More breathtaking views inside the new Kampala Latitude 0° Hotel
On their website, this is how Latitude 0° describe themselves: "We are more than just a hotel with 47 guest rooms and suites, a 24-hour front desk, and fast airport transfers. We are two restaurants and three bars with culinary delights and a wide variety of drinks from all corners of the world. We are a haven for relaxation and fitness through our spa, gym and swimming pools. We are a socialising and networking centre with lounges, rooftop bar, private dining and entertaining spaces, and a calendar filled with music, art, fashion and business events. We are a co-working hub with private workspaces, meeting and conference rooms. A unique African lifestyle hospitality, blending modern urban Africa with a cosmopolitan twist.
We can't agree more.
We hope you agree with us too!
1 of 10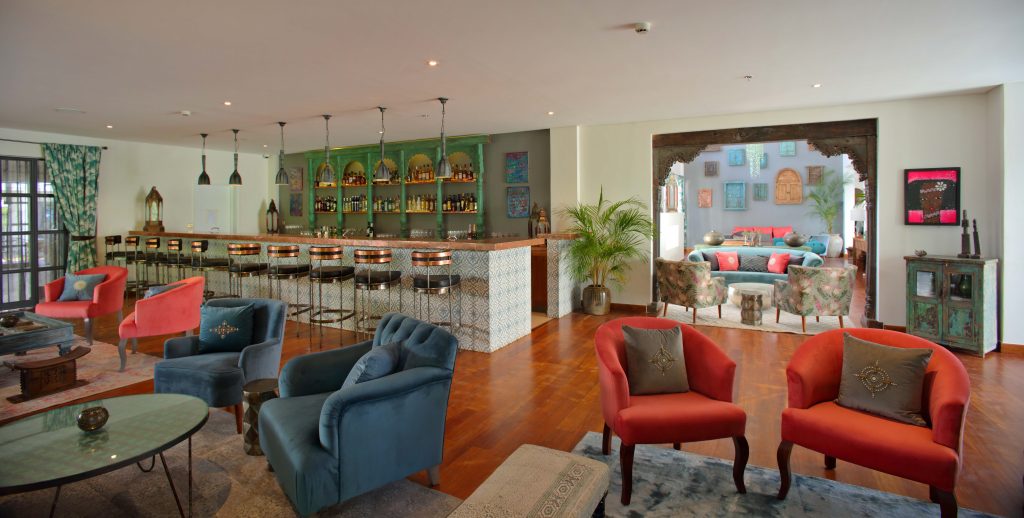 ---
2 of 10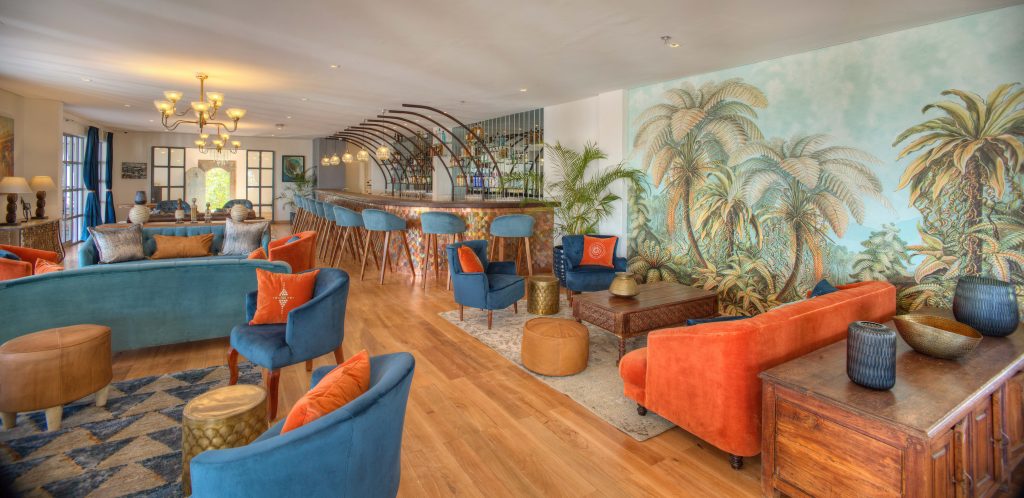 3 of 10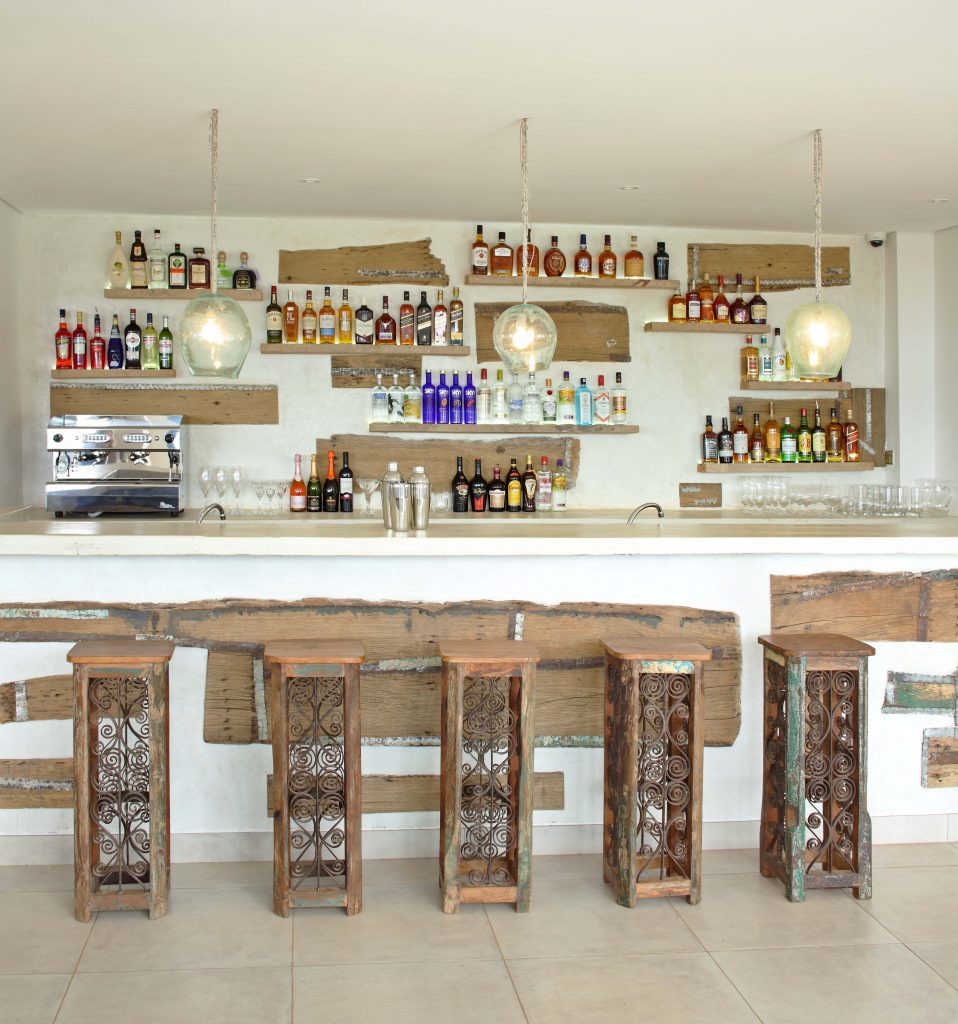 4 of 10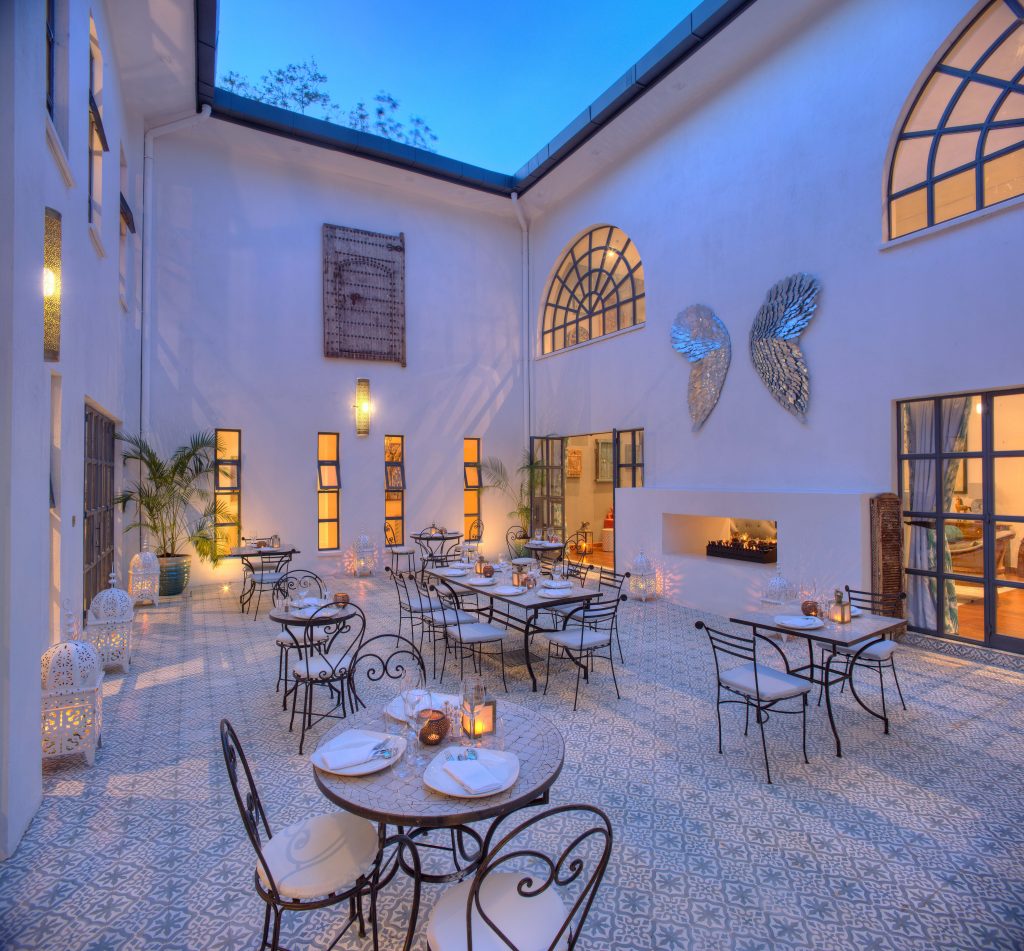 5 of 10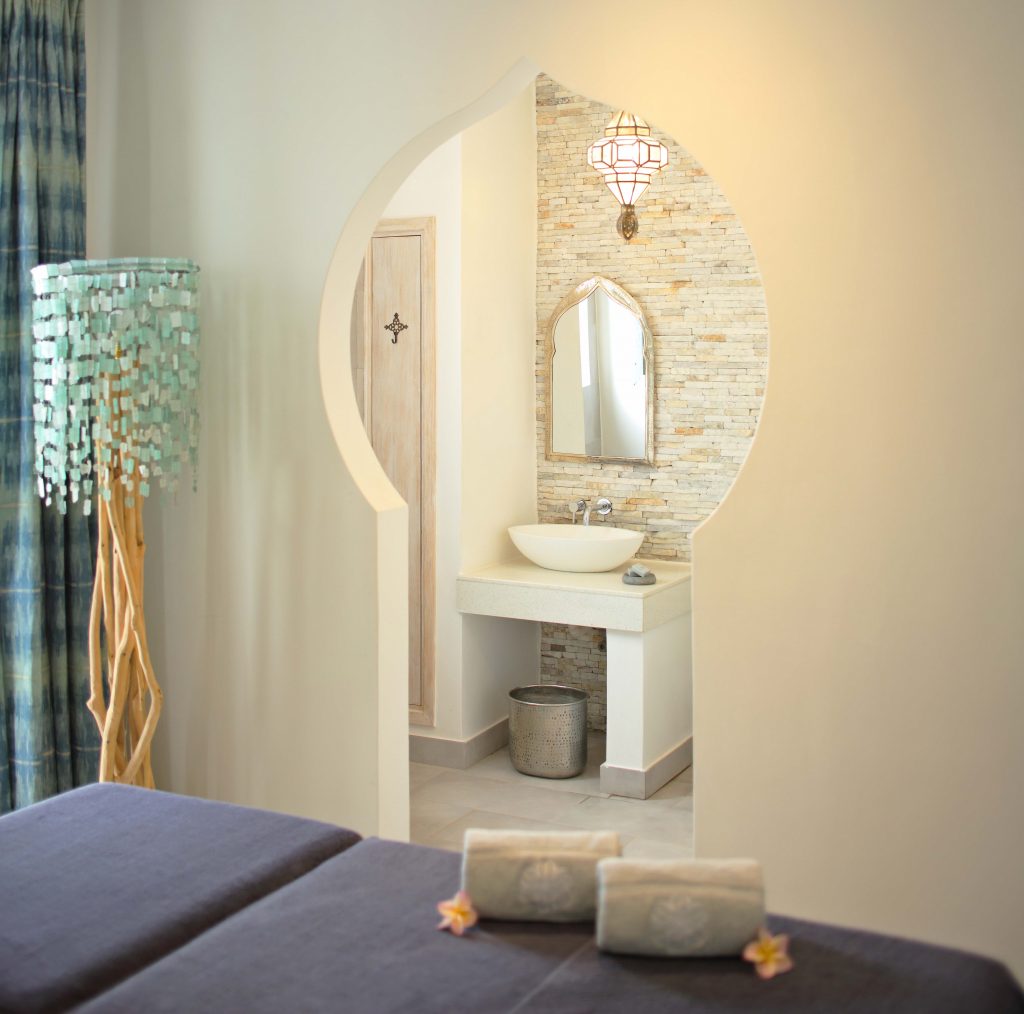 6 of 10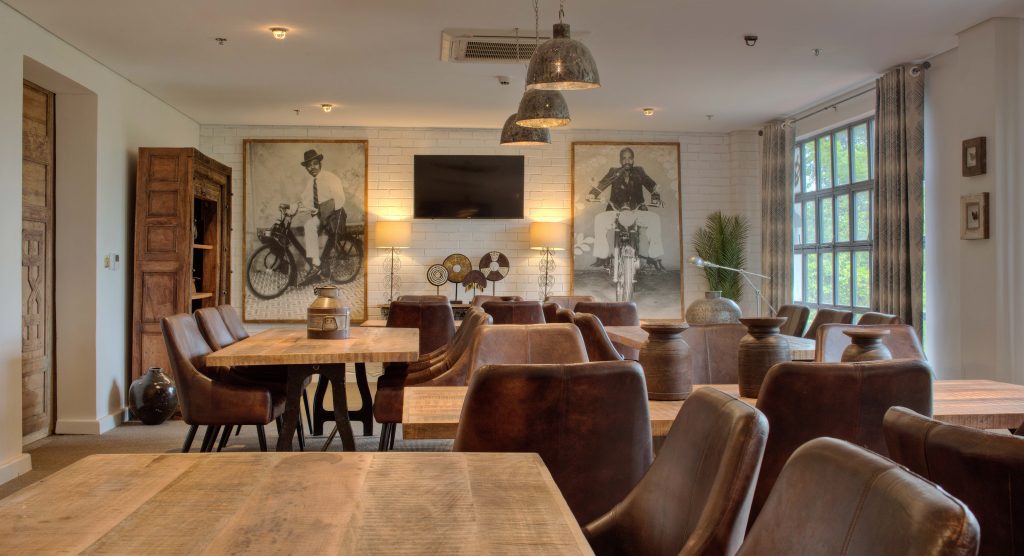 7 of 10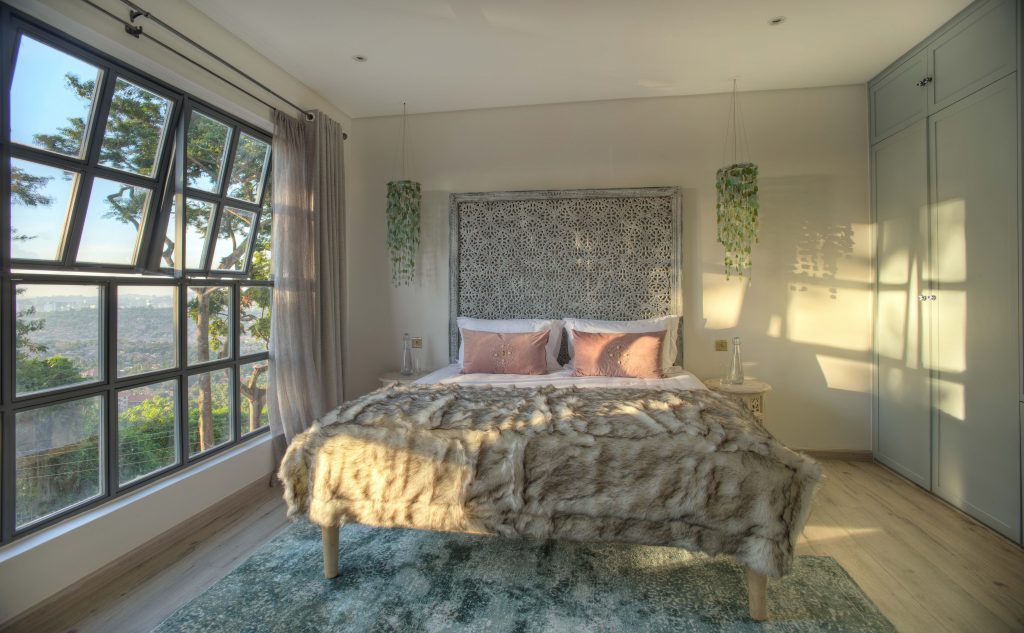 8 of 10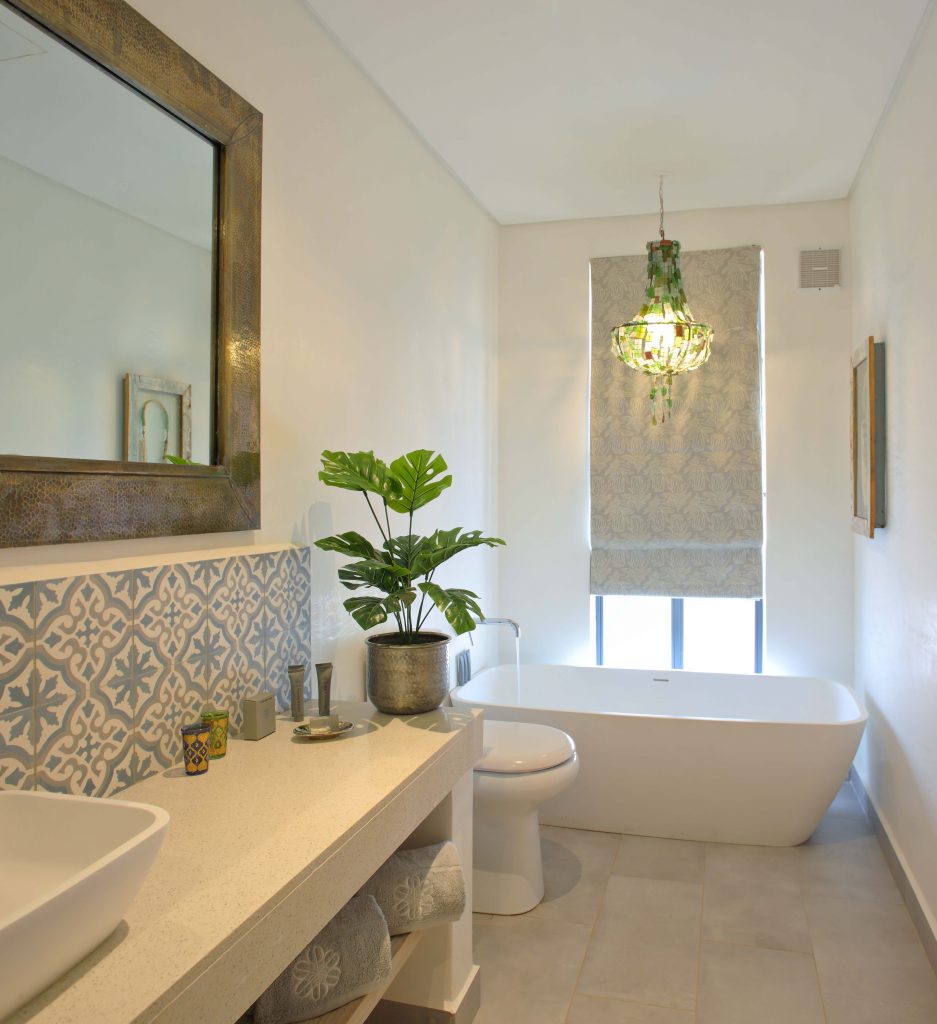 9 of 10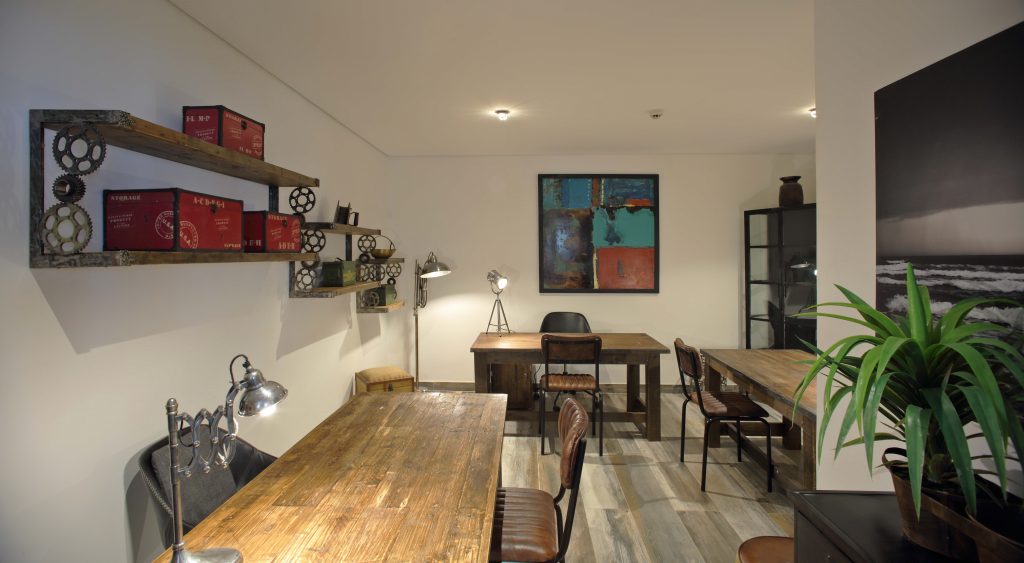 10 0f 10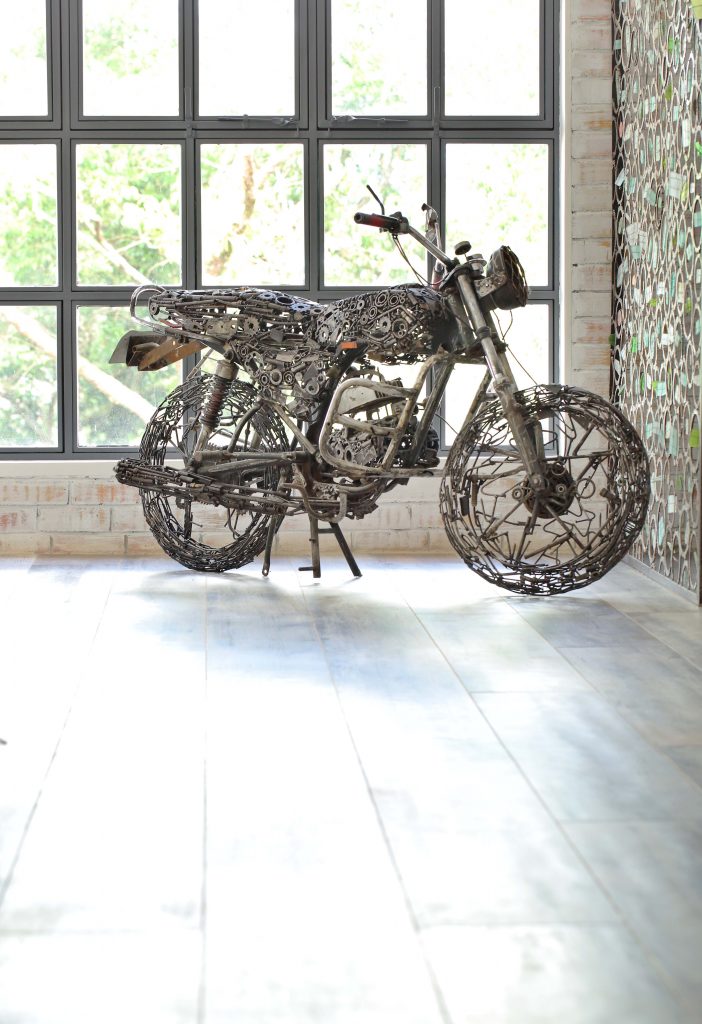 To read more about Latitude's new location click here
Three Ruparelia Group Hotels win World Luxury Hotel Awards 2019
This is the second time Munyonyo Commonwealth Resort and Speke Resort and Conference Centre are winning at the prestigious awards, following a 2018 win the in the country and regional categories respectively. Other winners from Uganda are: Gorilla Safari Lodge which won the Luxury Eco Safari Lodge, on the African Continent and Crater Safari Lodge, Kibale which won the Africa Luxury Lodge Category at the regional level. Mestil Hotels won the Luxury Business Hotel award in the Country (Uganda) category.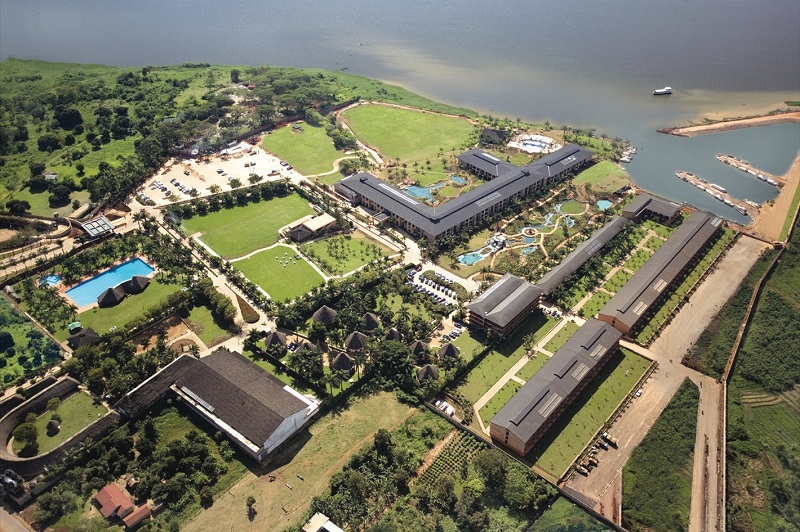 Speke Resort and Conference Centre has been named Africa's best Luxury Lakeside Resort in the 13th Annual World Luxury Hotel Awards, 2019.
Munyonyo Commonwealth Resort- another of the Ruparelia Group hotels that is adjacent to Speke Resort and Conference Centre has been named the Regional Winner, in East Africa, in the Luxury Hotel & Conference Centre category.
Kabira Country Club won the top regional accolade in the Luxury Boutique Hotel category.
"This award serves as recognition of sustained commitment to excellence in hoteliering and outstanding achievement in the international luxury hospitality industry. World Luxury Hotel Awards hereby certifies the participation of the winner in the 2019 awards and congratulates them in this accomplishment," read certificate awarded to the winners, signed by Tanique Echardt, Executive Manager and Brandon Lourens (Shairman and CEO) of the World Luxury Hotel Awards respectively.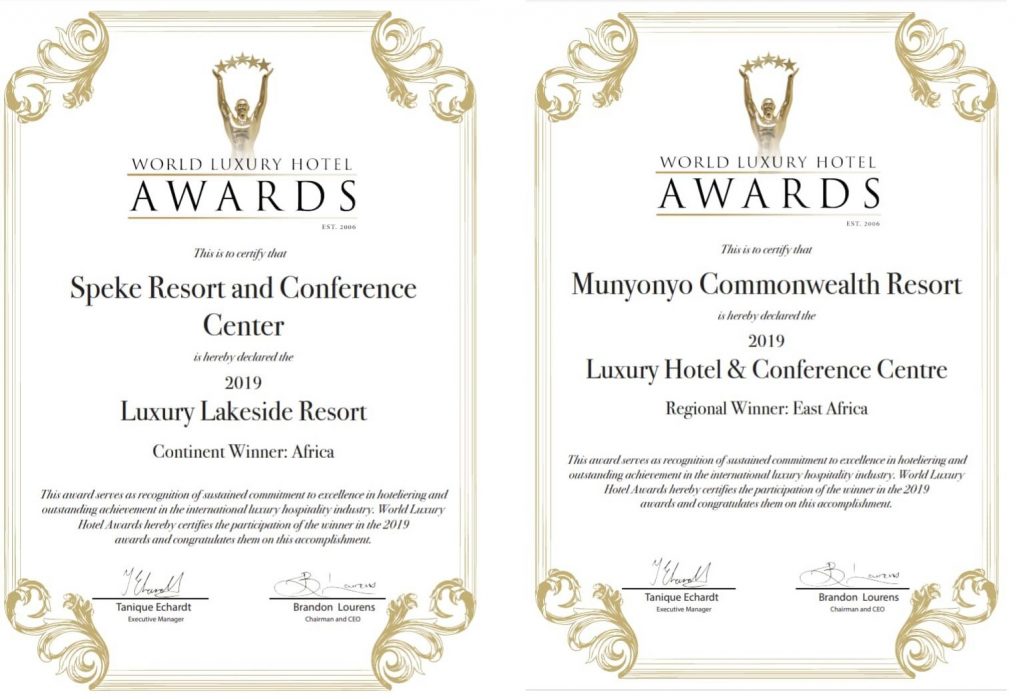 Other winners from Uganda are: Gorilla Safari Lodge which won the Luxury Eco Safari Lodge, on the African Continent and Crater Safari Lodge, Kibale which won the Africa Luxury Lodge Category at the regional level.
Mestil Hotels won the Luxury Business Hotel award in the Country (Uganda) category.
The overall 2019 World Luxury Hotel award was won by the Mandarin Oriental, Bodrum of Turkey.
Winners will be awarded at the World Luxury Hotel Awards Gala Ceremony – Saturday, 12th October 2019 – Arctic Tree House Hotel, Finland.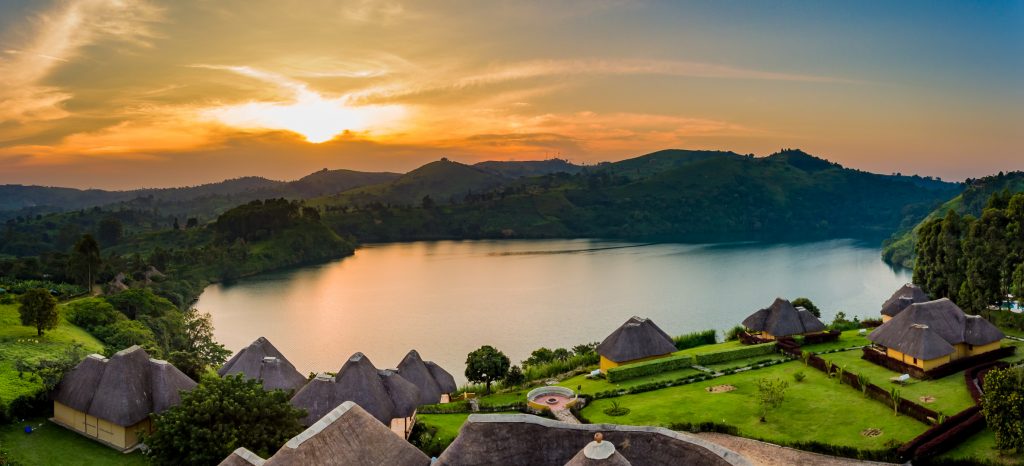 Established in 2006, World Luxury Hotel Awards is described by the organisers as the "pinnacle of achievement in the luxury hotel industry offering international recognition as voted by guests, travellers and industry players alike."
Over 300 000 international travellers voted in the 2019 edition, over a four-week period to select the winners.
In 2018, Munyonyo Commonwealth Resort and Speke Resort and Conference Centre won the 2018 World Luxury Hotel Awards country and regional categories respectively.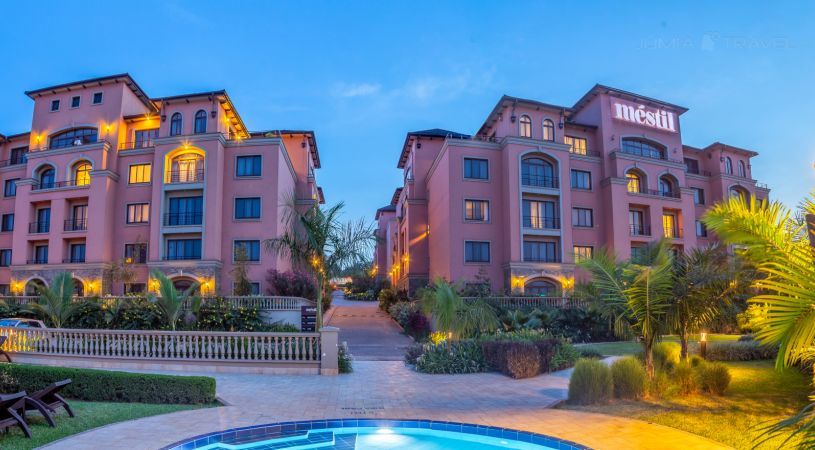 Built on an expansive 100 acres by the breezy shores of Lake Victoria, Speke Resort Munyonyo and Commonwealth Resort, Munyonyo have a combined 450 tastefully finished rooms and 25 international standard conference rooms.
The Ruparelia Group has the largest chain of hotels in Uganda, operating under the Speke brand. Other group hotels are: include: Speke Hotel, Dolphin Suites, Forest Cottages, Speke Resort Bujagali Falls and the recently expanded Speke Apartments.