EDITORIAL: Why Dfcu Bank's UGX47 bn claim for Sudhir properties is wrong, legally, morally and an abuse of taxpayers' trust in BoU
In 3 years alone, dfcu has earned in excess of UGX60 bn in profits from the Crane Bank deal. Add that to the UGX39 billion dfcu was aided to evade in interest on the deferred purchase price to the UGX37 billion profit dfcu stands to make, if BoU goes ahead to pay the UGX47 billion claim, dfcu Bank will have earned about UGX140 billion- that is all before they even complete the full UGX200bn purchase price for Crane Bank!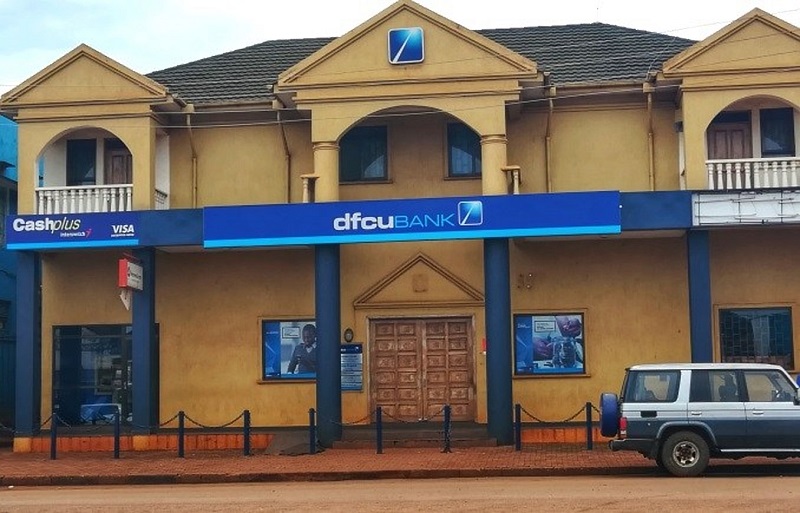 It was recently reported in the media that following BoU's failure to annex 48 properties belonging to Meera Investments Limited; properties it had wrongfully sold to dfcu and dfcu Bank had fraudulently gone ahead to transfer them into the bank's names, dfcu had now decided to return the bank branches to Bank of Uganda.
That would have been the right thing to do in the first place, because dfcu should never have, knowingly purported to transfer the leases for the properties into its names without the consent of Meera Investments Limited, the lessor, but the fact that dfcu now wants to be paid UGX47 billion makes the whole move, all the more ugly.
According to information in the media dfcu, at acquisition stage, is said to have paid to BoU only UGX10 billion for the 48 properties, but on acquisition of the properties, had them revalued to UGX47 billion- the actual price they should have paid in the first place- because that is what PriceWaterhouseCoopers (PwC) had valued them at, before the takeover; however both BoU and dfcu conveniently forgot about this valuation at the sale stage.
Thank God, there are reports that now, the Governor, Bank of Uganda, Professor Tumusiime Mutebile has opposed the move to pay the UGX47 billion to dfcu Bank, saying it is undeserved. Compensating dfcu this humongous amount of money, would make dfcu bank UGX37bn richer- never mind that they have been occupying the properties for nearly 3 years without paying rent.
This happening even before action is taken on the Public Accounts Committee on Commissions, State Authorities and State Enterprises (PAC – COSASE) report on BoU's mismanagement of the takeover of 7 defunct banks in which for example, it was found that Bank of Uganda did not value Crane Bank's assets and liabilities as required by law and as such the purchase price of UGX200bn- payable over 30 months at no interest rate was unreasonable, is tantamount to abuse of justice especially for the owners of the closed banks.
It shall be recalled that the Auditor General in his report to parliament had also found out that, as if intentionally undervaluing Crane Bank was not enough, Bank of Uganda went ahead to allow dfcu bank to pay the purchase price over a 30 months period without any interest, causing tax payers a loss of UGX39bn in lost interest.
Upon acquiring Crane Bank on the low, dfcu overnight increased their assets by 74% from UGX1.8 trillion to UGX3.1 trillion and profits by 134% from UGX45.3 billion in 2016 to UGX106.2 billion! As a result dfcu moved from being the 4th largest bank to the second largest overnight.
In fact if you add the profits associated with the Crane Bank acquisition earned by dfcu in year one alone, estimated to be at between UGX50 billion and UGX60 billion, to the UGX39 billion they should have paid to BoU as interest on the prolonged payment and now the UGX37 billion profit dfcu stands to make, if BoU went ahead to compensate them, dfcu will have earned about UGX140 billion. And that is before adding goodwill of the business they got as well as the UGX600 billion bad loan book that belonged to Crane Bank shareholders that BoU literary donated to dfcu- as it was never part of the purchase agreement.
But that's not all- there is an going case by Meera Investments in High Court Civil Court Suit No. 948 of 2017, in the Land Division- Meera Investments Ltd Vs dfcu Bank Limited and The Commissioner for Land Registration, challenging the transfer as an "illegality" and a "fraud."
Meera, wants vacant possession of the properties and a refund of "mesne profits" (profits of an estate received by a tenant in wrongful possession and recoverable by the landlord) with 20% interest, as well as damages and costs for the suit.
Dfcu, attempting to reverse the possible fraud before court pronounces itself on the matter, is an attempt to subvert justice, especially to the aggrieved party.
EXECUTIVE APPOINTMENT: Post Bank Uganda appoints Julius Kakeeto as M.D replacing Steven Mukweli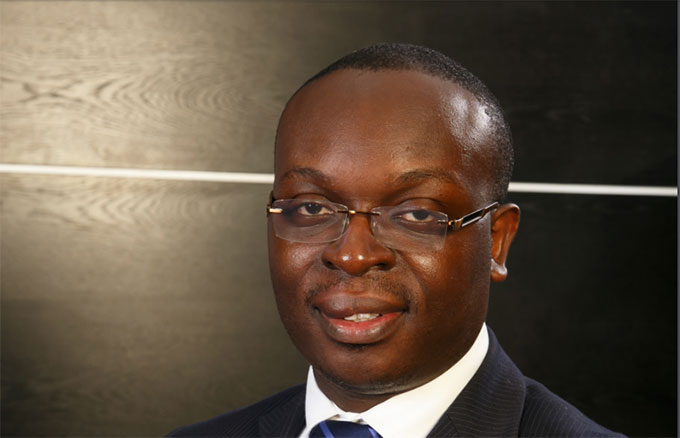 Post Bank Uganda Limited has appointed Mr Julius Kakeeto as the bank's new Managing Director.
He replaces Stephen Mukweli who has served in this role for the last 15 years.
Mr Kakeeto has a wealth of banking experience spanning over 19 years in Uganda and the United Kingdom.
He started his career with Ernst and Young before joining Citibank where he served in various capacities.
After Citibank, he joined Equity Bank Uganda as a Finance Director before joining Orient Bank.
His most recent assignment has been Managing Director/CEO of Orient Bank for the last 4 and a half years.
Mr Kakeeto is a fellow of the Association of Chartered Certified Accountants (FCCA), a member of the Institue of Certified Public Accountants of Uganda and an alumni of Manchester Business School in the United Kingdom (UK) where he obtained an MBA.
PostBank Uganda is ranked in fourth position in financial inclusion with a network of 43 branches and 12 mobile banking vans serving several customers countrywide.
The bank is looking forward to it's next chapter that is aimed at promotion to a Tier 1 financial institution.
PostBank Uganda Limited was established in 1997.
It is fully government owned with over 2 million clients.
Post Bank is audited by Ernest & Young.
SOURCES: Anne Juuko reportedly frontrunner for Stanbic top job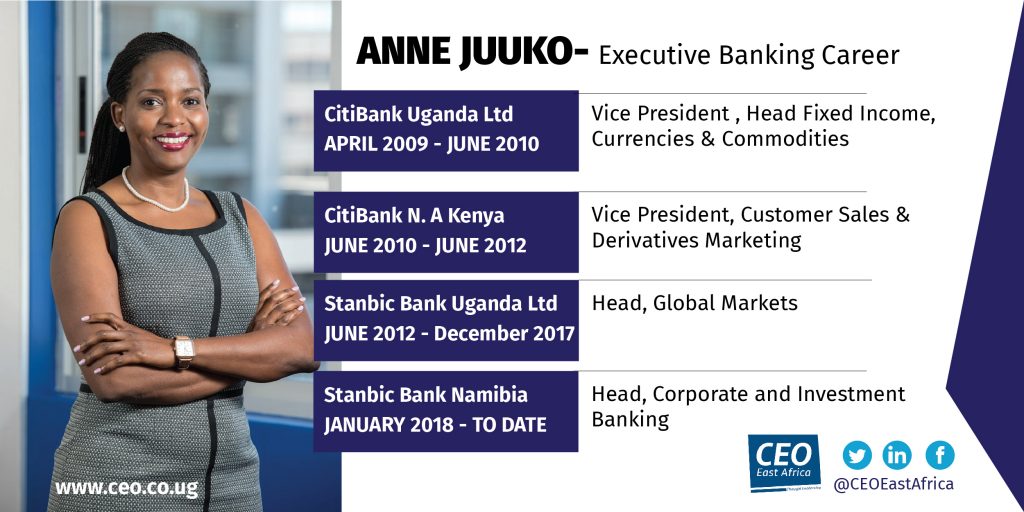 Ugandan banker, Anne Juuko is said to be the most likely next Chief Executive Officer for Stanbic Bank, Uganda's largest bank- according to information corroborated with several industry sources.
Juuko, reportedly beat Sam Mwogeza the bank's current CFO and Kevin Wingfield, the Executive Director and Head Personal and Business Banking, to one of the most coveted and well-paying jobs in corporate Uganda.
If she indeed does ascend to the role, she will probably be the youngest Stanbic Uganda CEO, the first female and the second Ugandan to head the Stanbic, since South Africa's Standard Bank acquired a controlling stake in Uganda Commercial Bank in 2001 and subsequently rebranded the bank to Stanbic Uganda.
ALSO READ: EARNINGS OF CEOS AND EXECUTIVE DIRECTORS OF 23 OF 24 OF UGANDA'S BANKS https://www.ceo.co.ug/exclusive-earnings-of-ceos-and-executive-directors-of-23-of-24-of-ugandas-banks/
Juuko will be replacing Patrick Mweheire, who also according to sources is heading to Nairobi to take up the Regional Chief Executive, East Africa and replacing, a one Greg Brackenridge who was one of the key players in managing the acquisition of Uganda Commercial Bank by Standard Bank.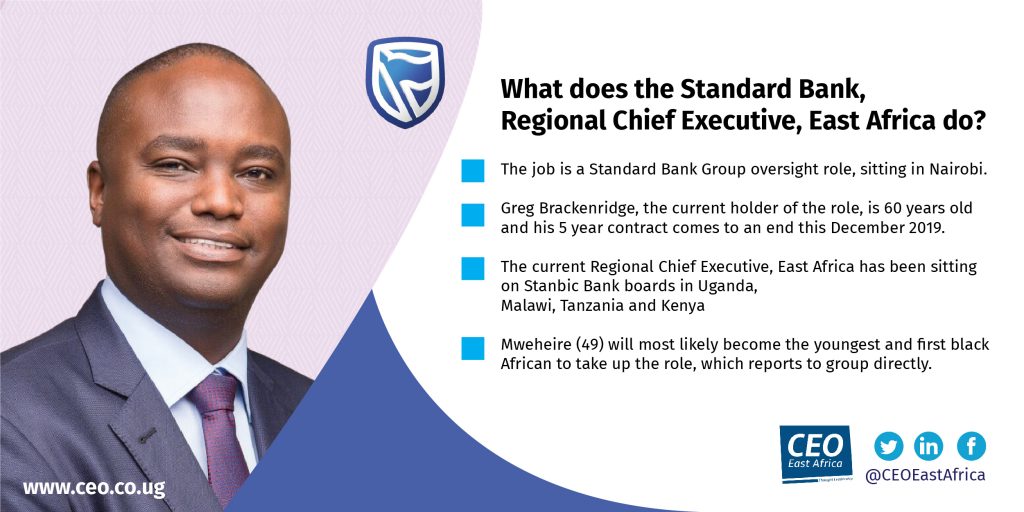 The Regional Chief Executive is a Standard Bank Group oversight role, based in Nairobi. Brackenridge, the current holder of the role, is 60 years old and his 5 year contract comes to an end this December 2019. The regional role, involves board directorships for Stanbic Bank Uganda, Tanzania and Kenya as well as Standard Bank, Malawi.
Mr. Brackenridge has been with the Standard/Stanbic Bank group for almost 25 years, having worked in several African countries including Zimbabwe, Nigeria, South Africa and Kenya where he headed the Stanbic unit there; his last assignment before becoming the Regional Chief Executive.
ALSO READ: UNPLUGGED; ALMOST EVERYTHING YOU NEED TO KNOW ABOUT STANBIC BANK CEO, PATRICK MWEHEIRE https://www.ceo.co.ug/unplugged-almost-everything-you-need-to-know-about-stanbic-bank-ceo-patrick-mweheire/
Mweheire (49) will most likely become the youngest and first black African to take up the role, which reports to group.
The Harvard trained banker, presided over Stanbic Bank's rosiest 5 years, nearly doubling assets from UGX3.7 trillion in 2015 to UGX6.1 trillion as of June 2019.
The regional role is largely interpreted to mean group's endorsement of Mweheire's performance record that has seen the bank become Uganda's most profitable bank with nearly 30% of industry profitability.
Who is Anne Juuko?
Juuko, holds a Bachelor of Commerce degree from Makerere University in Kampala, Uganda and a master's degree in Strategic Planning from the Herriot Watt Business School in Edinburgh, Scotland.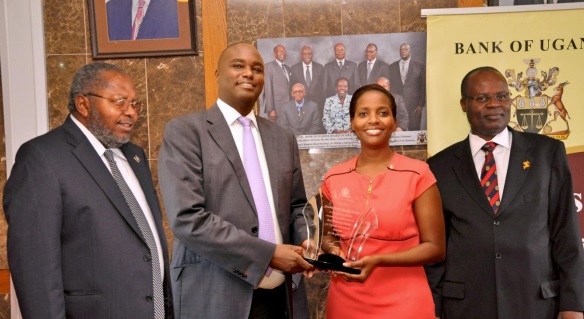 Juuko was between April 2009 a VP, Head Fixed Income, Currencies and Commodities at Citibank Uganda Limited, before heading to Citibank Kenya as VP, Customer Sales and Derivatives Marketing, a role she served between June 2010 and June 2012. She then returned to Stanbic Bank to take a Head, Global Markets role till December 2017 when she got appointed, Head, Corporates and Investment Banking at Standard Bank, Namibia; a role she took up in January 2018.   
ALSO READ: SALARIES OF CEOS AND EXECUTIVE DIRECTORS OF 23 OF 24 OF UGANDA'S BANKS https://www.ceo.co.ug/exclusive-earnings-of-ceos-and-executive-directors-of-23-of-24-of-ugandas-banks/
While as head of Global Markets, Juuko is said to have exhibited all-star performance, winning the highly coveted Primary Dealer of the Year award for 6 consecutive years. Juuko's breadth of treasury and investment banking knowledge is said to have caught the attention of Mweheire, himself an investment banker, who is said to have had a role in seconding her to the Namibia job.
Juuko's experience fits well within Stanbic's business strategy whose non-lending income constitutes more about 45% of total income. CEO East Africa is yet to establish how much Juuko will be compensated, but if Patrick Mweheire's UGX131,830,596 monthly salary is anything to go by, Juuko's compensation will be in nine (9) figures.
IN CASE YOU MISSED THIS: MONEY MEN; THE 8 GENTLEMEN WHO CONTROL 77% OF UGANDA'S BANKING INDUSTRY https://www.ceo.co.ug/money-men-the-8-gentlemen-who-control-77-of-ugandas-banking-industry/
EXCLUSIVE: Patrick Mweheire to leave Stanbic Uganda for a regional role; Sam Mwogeza, Kevin Wingfield and Anne Juuko- a Ugandan at Standard Bank in Namibia top contenders for his job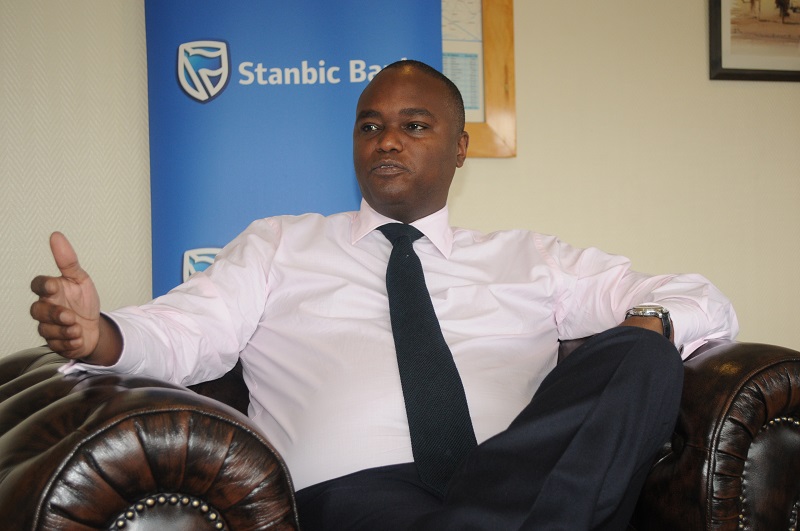 Patrick Mweheire, the Stanbic Bank Uganda, Chief Executive Officer will be leaving his job for a yet to be named regional role within the Standard Bank Group, when his contract expires at the end of this year, CEO East Africa Magazine has confirmed from various sources within the banking industry in Uganda and in Nairobi.
We also understand that the race to replace him is in advanced stages with three contenders for the job being Sam Mwogeza; the bank's current Chief Finance Officer, Kevin Wingfield; the current Head, Personal and Business Banking as well as Anne Juuko, a Ugandan working as Head, Corporate and Investment Banking at Standard Bank, Namibia.
Standard Bank is the parent company for Stanbic Bank and holds 80% shareholding, of Uganda's largest bank by assets, lending, deposits and profits.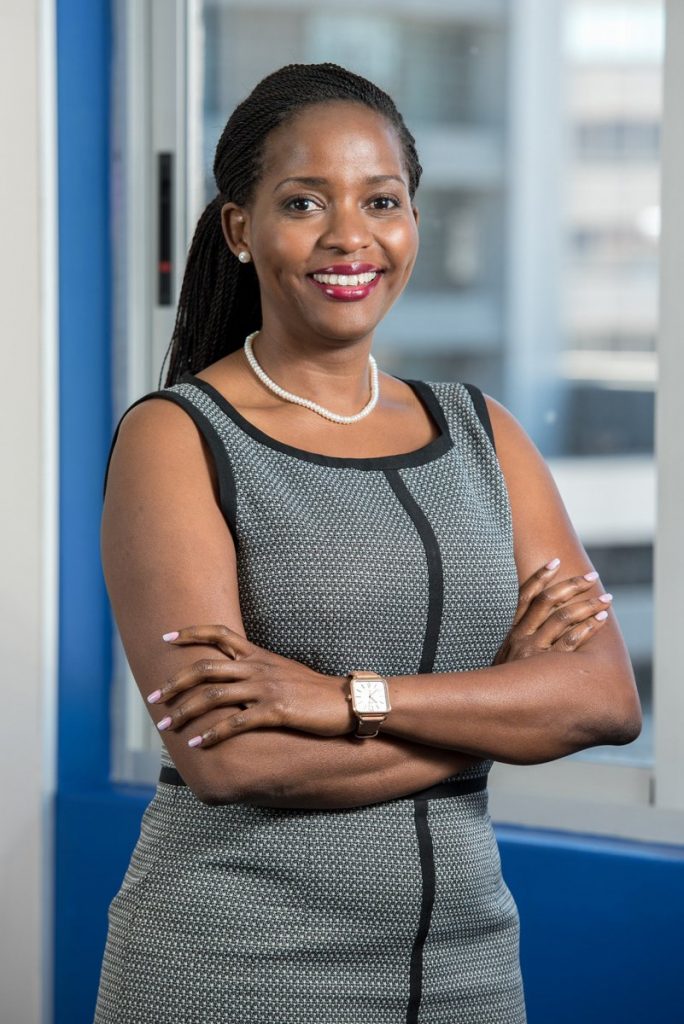 "I cannot comment yet," said Patrick Mweheire, via WhatsApp, when this reporter reached him for comment.
Japheth Katto, the bank's board chairman had not responded to our request for comment when we reached him via his LinkedIn mail box.
Who is Patrick Mweheire?
Born and raised in Uganda, Patrick Mweheire, went to Buganda Road Primary School and then to Kings College Budo for six years. At the age of 18 years, he left for the United States of America where he would spend most of his education and work life.
He graduated from Daemen College in New York in 1994 with a Bachelor of Science in Economics with a distinction. At the age of 23, he started off work at Prudential Securities as a Financial Analyst.
In June 1999 he completed an MBA from the prestigious Ivy League Harvard University and immediately joined Prudential Securities Inc. (1994-97) as a Financial Analyst and went on to work at Merrill Lynch & Co, one of the top 5 biggest investment banks, as an Associate- Mergers & Acquisition Group. In 2002, he was promoted to Director- Financial Services Group for a colourful 6 years that saw him get involved either as a Mergers & Acquisition Advisor and or Book Runner in several major transactions, worth a combined $11 billion.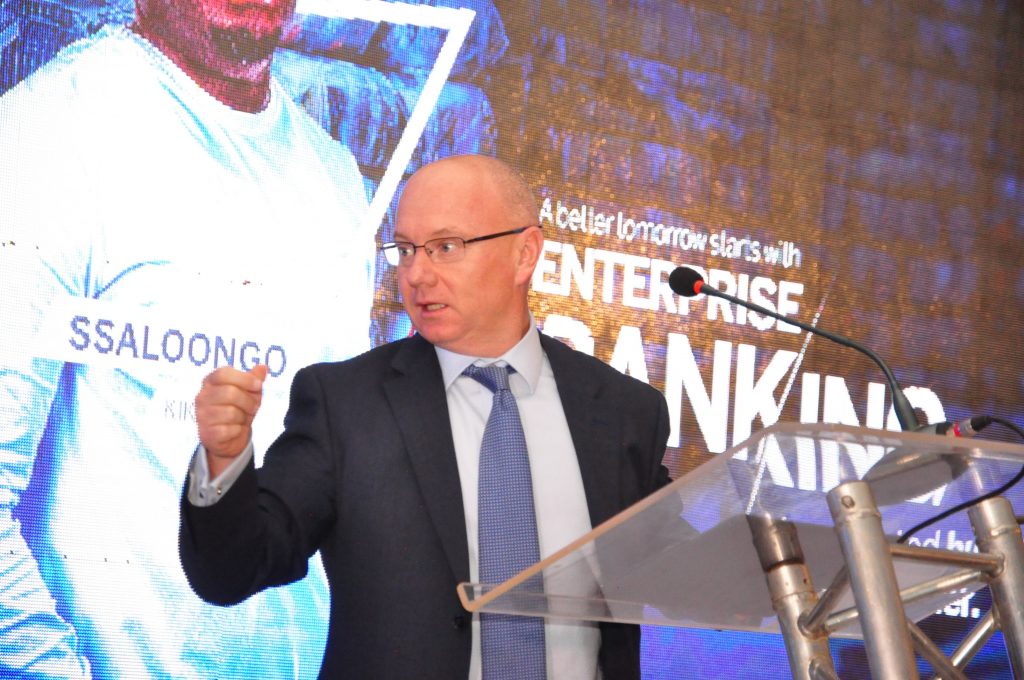 He returned to Uganda in 2008 and took up a position as Managing Director- Head of Investment Banking Africa and CEO East Africa, for Renaissance Capital, one of Russia's largest investment banks with offices across the world. After 4 years, he in 2012, joined Standard Bank Group as Executive Director- Head of Corporate & Investment Banking at Stanbic Uganda.
In January 2015, he was appointed Managing Director of Stanbic Bank, Uganda's largest bank.
In the 4 years, he has been at the bank, he's led a 9.91% average annual growth rate in assets from UGX3.7 trillion in 2015 to UGX5.4 trillion. During his time, customer lending has grown from UGX1.9 trillion to UGX2.5 trillion (CAGR 7.10%) and Customer deposits have grown from UGX2.4 trillion to UGX3.9 trillion (CAGR 12.91%). He has also maintained steady growth in income from UGX533 billion in 2015 to UGX 661.1 billion.
As a result, there's been a 9.33% CAGR in profitability from UGX151 billion in 2015 to UGC215.1 billion in 2018.
In August this year, the bank announced H1 2019 net profits had grown by 39.5% from UGX96.1 billion in June 2018 to UGX134 billion at the end of June 2019- an indicator that the bank is on course for yet another full flowery 2019.
The bank's customer deposits in June 2019 reached a record UGX4.1 trillion and total assets increased by 17.9% to reach a record UGX6.1 trillion.
More about the top 3 contenders
Anne Juuko was between April 2009 a VP, Head Fixed Income, Currencies and Commodities at Citibank Uganda Limited, before heading to Citibank Kenya as VP, Customer Sales and Derivatives Marketing, a role she served between June 2010 and June 2012. She then returned to Stanbic Bank to take a Head, Global Markets role till December 2017 when she got appointed, Head, Corporates and Investment Banking at Standard Bank, Namibia; a role she took up in January 2018.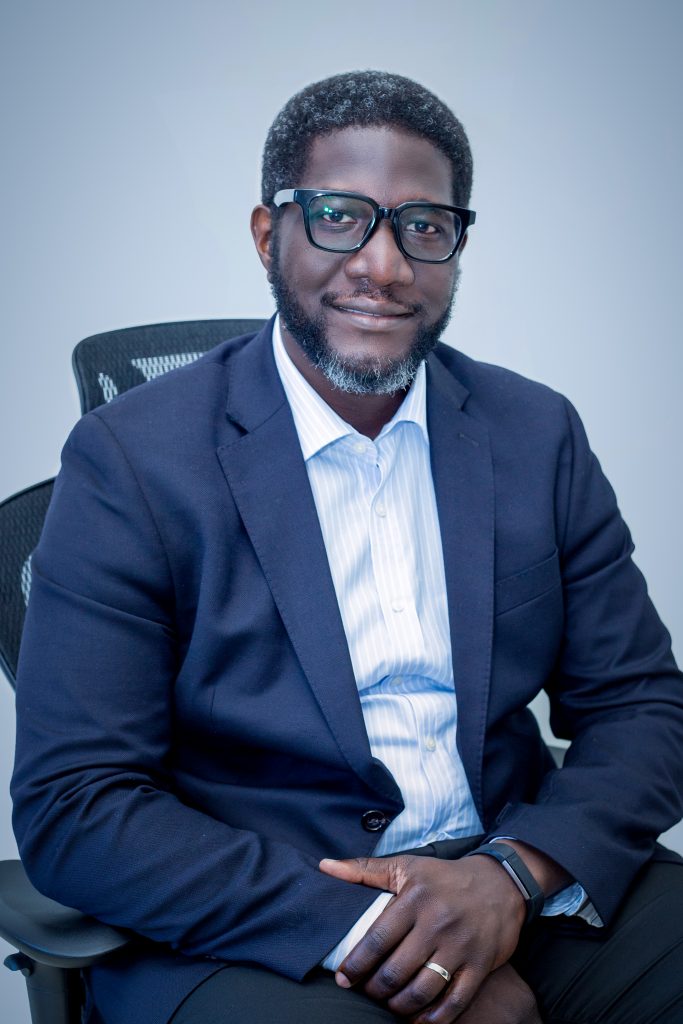 According to his LinkedIn Profile, Sam Mwogeza, is an ACCA Fellow and holds an MBA from the famous Edinburgh School of Business. He, between June 2003 and September 2007 worked at Citibank Uganda as the head of Business Services and Operations and then moved to Barclays Bank Uganda in April 2008 as Head, Commercial MI & Analytics till April 2010. In May 2010 he crossed over to Stanbic Bank Uganda as the Finance Manager, Corporate & Investment Bank and after 2 years, he moved to become a Financial Controller for nearly four years, before being appointed the CFO in November 2015
Sam Mwogeza won the 2018 CFO of the Year Award, organised by ACCA Uganda and Deloitte. In September 2019, he was also declared the CPA of the Year at the 2019 Accountancy Service Awards (ASA) by the Institute of Certified Public Accountants of Uganda (ICPAU). He is also the technical lead on the Uganda Bankers Association (UBA) CFO Executive Committee.
Kevin Wingfield, spent his early days at PriceWaterhouseCoopers in South Africa and Australia. He joined the Standard Bank Group as the Director Finance for Africa for 4 years and between 2003 and November 2007, he became the Director, Strategic Finance at Stanbic Africa. Between December 2007 and March 2010, he became the Director, Customer Strategy and Channel Development at the Stanbic Africa division. In April 2010, he joined Stanbic Ghana as the Head, Personal and Business Banking until October 2013. In November 2013 to 2015, he served as the head of Customer Channels, Personal and Business Banking; Africa, before becoming the Head Personal and Business Banking, Stanbic Bank Uganda, a job he holds till today.