The High Court, on Thursday, 19th December 2019 stopped Capital Markets Authority (CMA) from cancelling the license of ALTX East Africa Limited.
Launched in 2014, by Joseph Kitamirike, the former CEO of Uganda Securities Exchange, ALTX is Uganda's first automated stock brokerage service that did not require prospective investors to go through stock brokers, but instead offered digital channels such as mobile phones and the internet to buy and sell shares.
On 25 February 2019, ALTX announced that it had pioneered mobile money payments for the purchase of securities, allowing investors to invest for as little as UGX10,000 a week.
High Court judge, Hon. Justice Ssekaana Musa said that in the "interest of justice" he was issuing a "mandatory injunction" against CMA, "since the injury complained of is immediate and it is likely to cause serious prejudice to the applicant (ALTX)."
This means that the orders given by CMA to ALTX on 19th November, 2019 to cancel ALTX's license will be frozen, until ALTX's main application for a judicial review of CMA's order is disposed of or CMA successfully challenges the injunction in court.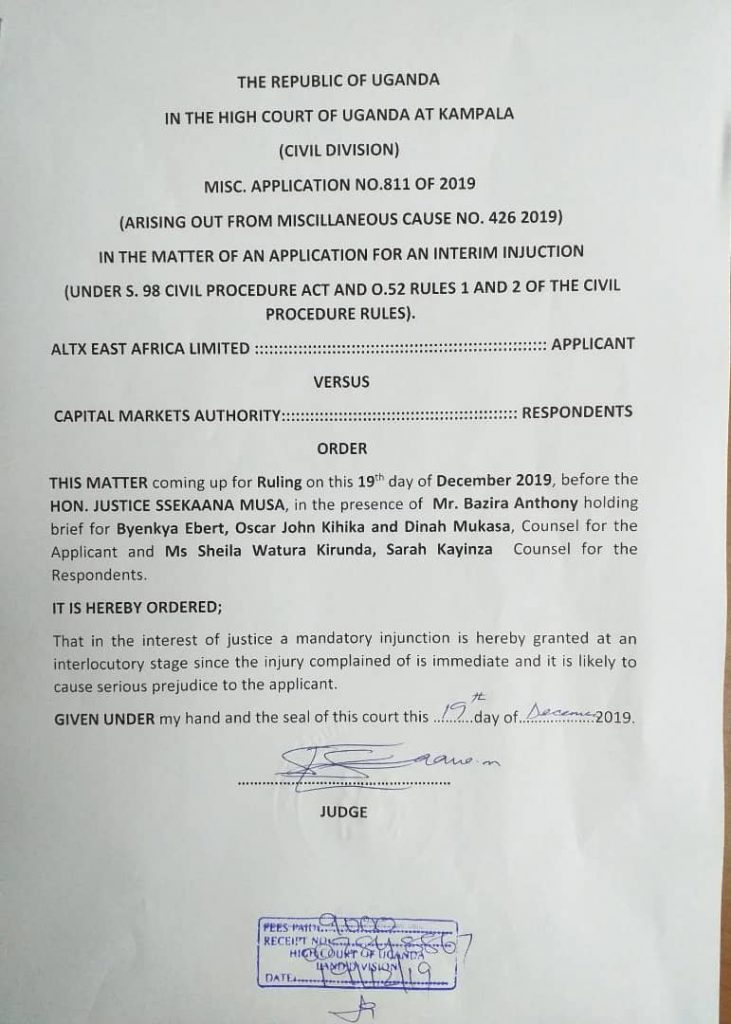 CMA's orders that were "pursuant to Section 24 (7) of the Capital Markets Authority Act" were to take effect from 19th February 2020. According to CMA, the closure of ALTX was over "several challenges including governance issues and issues with their financial position."
However Kitamirike, contests this, saying that both the basis of closure and the manner in the closure was done are contestable.
"The action CMA took was under section 24 after they accused us of noncompliance under section 28. If you review both sections of the CMA Act, you will appreciate that the cancellation by CMA is contestable," Kitamirike told this reporter in an earlier interview. He further said that: "CMA did not disclose to us the reasons for the cancellation" further arguing that on everything they (ALX) are required by law to pay attention to, ALTX was fully compliant.
According to Kitamirike, ALTX's suit (Miscellaneous Cause No. 426 of 2019) seeks to "quash CMA's decision because of breach and unfairness."
Why we closed ALTX, Capital Markets Authority CEO, Keith Kalyegira speaks out
In a 29th November 2019 interview with this reporter, Keith Kalyegira, the CMA CEO said that ALX was given time to respond to the issues at hand but they instead chose to object to the legality of the raised regulatory concerns rather than addressing them.
"Well, they were represented in that last meeting; they sent their legal counsel with both written and verbal instructions to us that we should drop the entire notice to show cause why their license shouldn't be withdrawn. When the question was put very clearly to them that: are you asking for an adjournment to have a discussion of these issues or are you insisting on a withdrawal? Their message was very clear that they were insisting on a withdrawal of the entire process," explained Kalyegira.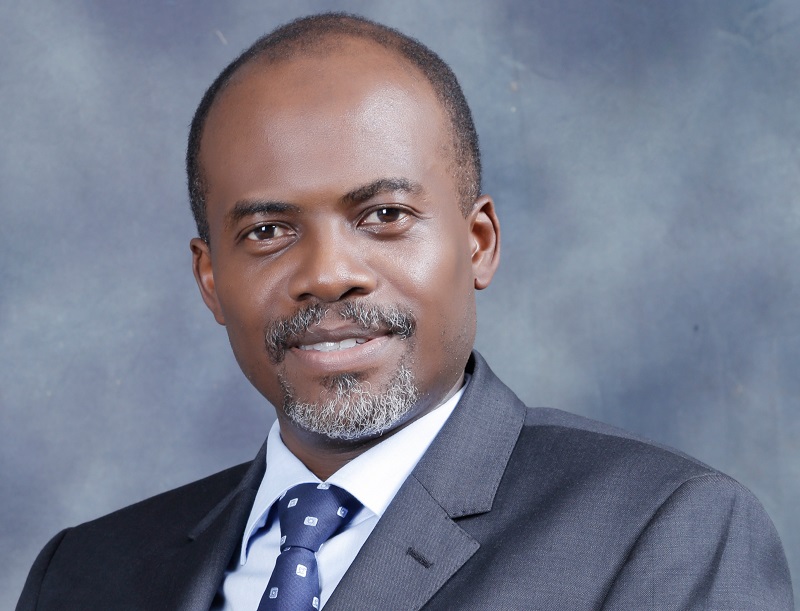 "So to say they weren't given sufficient notice in a sense, could have some validity but the question was put forward to them; that do you want extra time to have a discussion on the issues at hand? And they were very clear that they didn't want to pursue this process because they thought it was illegal. So I think they lost the opportunity to share what they had in mind," said Kalyegira.
Kitamirike who is a former Chief Executive Officer of Uganda Securities Exchange (August 2010-AUgust 2013) founded ALTX in 2014. ALTX applied and obtained its first exchange and depository licenses in Uganda in partnership with GMEX group in 2014 and 2015 respectively. GMEX Group is a UK company dealing in a range of digital technologies for securities trading.
At its launch, it was hoped, ALTX would ease trading on the exchange for especially the individual investors, who now didn't need to go through stock brokers but the internet and mobile phones.
The closure of ALTX is another setback for Uganda's stock markets which is already bedecked by low activity. Investment services firm African Alliance in April this year closed its stock broking arm over low market activity. The company had operated in Uganda for over 15 years.
According to a Uganda Securities Exchange (USE) report seen by this reporter, there was a 12.6% decline in the volume of shares traded- from 674,594,177 shares in 2017 compared to 589,579,887 shares in 2018. Turnover too reduced by 53.24% from UGX95.6 billion to UGX44.7bn while the number of trade deals also went down by 52% from 12,652 to 6,072
2019 doesn't look significantly better either- although it is set to be better than 2018. Turnover, as of September 2019 stood at UGX40.9bn- 5.1% above the UGX38.9bn in the same period in 2018. The number of deals however went down by 18.3%- from 4,791 deals to 3914.
The highest turnover recorded at USE in the last seven years was UGX466.4bn in 2014