Sudhir Ruparelia, under Meera Investments Limited – an investment arm of the Ruparelia Group of Companies, is the new owner of Simbamanyo House on Plot 2 Lumumba Avenue, home to Ministry of Gender, Labour and Social Development.
Meera Investments acquired the building through an auction put up by Equity bank in order to recover an unpaid loan amounting to US$8.1 million (UGX30 billion)
Equity Bank and Simbamanyo Estates have been embroiled in a court battle over the building for a long time now after the later failed to clear a loan with the bank.
CL Risk Management Services, who auctioned the building on behalf of the bank said in a statement to tenants, occupants and users of Simbamanyo House on Thursday October 8, 20202 that the tenants on the property will now be dealing with Meera Investments Limited as the new landlord.
"We act for and behalf of Equity Bank Uganda "hereinafter referred to as "the Bank") to notify you that Equity Bank has SOLD the above mentioned Property today 8th day of October 2020, having been mortgaged to the Bank by Simbamanyo Estates Limited, your former Landlord and following a default in the performance of their loan obligations. The property has been sold to Meera Investments Limited thus making them your new landlord," the statement signed by Christopher Lumala, the Managing Director, CL Risk Management Services, reads in part.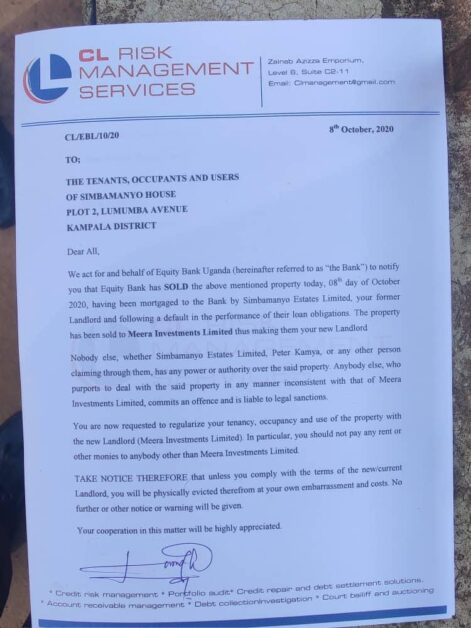 Accordingly, the title has now been transferred into Meera Investments Limited name after the sale under Instrument Number KCCA 00074649.
About Meera Investments
25 Years of Property Development: Founded in 1994, Meera Investments is one of Uganda's oldest property development companies. The company provides modern and innovative retail, living and office space solutions to over 150,000 people in Kampala.
With 300+ properties, the company is the largest owner of commercial and residential space. The company also boasts of having the largest number of ongoing real estate projects and being the largest private owner of commercial land in Kampala.
Meera Investments has for 6 years in a row been recognised by Uganda Revenue Authority (URA) as both the biggest and most compliant tax payer in the real estate sector.