BoU and law firm MMAKS on the spot over "exorbitant" fees
Before the dust settles on the explosive Auditor General's report into the closure and sale of 7 defunct banks, in which Bank of Uganda was implicated for gross negligence and causing financial loss, to taxpayers, fresh details leaking from BoU indicate Governor Emmanuel Mutebile unsuccessfully tried to fight off "exorbitant
Conrad van Niekerk, Coca Cola's Uganda chief appointed regional Managing Director; role includes Uganda oversight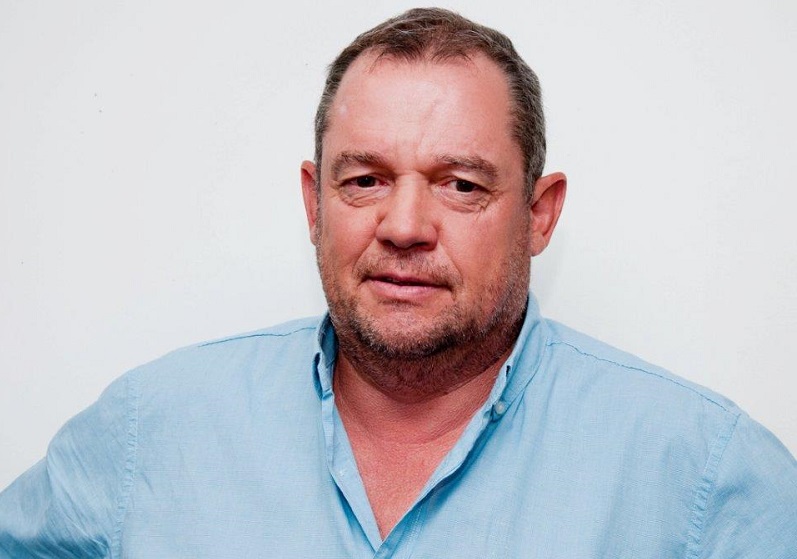 Conrad van Niekerk, formerly head of Coca Cola Beverages in Uganda, has been appointed the Coca-Cola Beverages Africa Managing Director for the Central Africa Region, covering Uganda, Tanzania and Ghana.
He will still sit in Uganda.
In another management change, Melkamu Abebe has been appointed General Manager of Uganda. He will now lead the Ugandan Country Management Team, reporting to Conrad, now the Central Africa Region Managing Director.
Melkamu has been the Supply Chain Director in Uganda since August 2018. Before that, he occupied a number of leadership positions in the supply chain function since joining the Coca-Cola system as a graduate trainee in Ethiopia in 2008.
"He (Melkamu) has developed an in-depth proficiency in supply chain management and demonstrated strong leadership and innovation skills," said a statement from the company.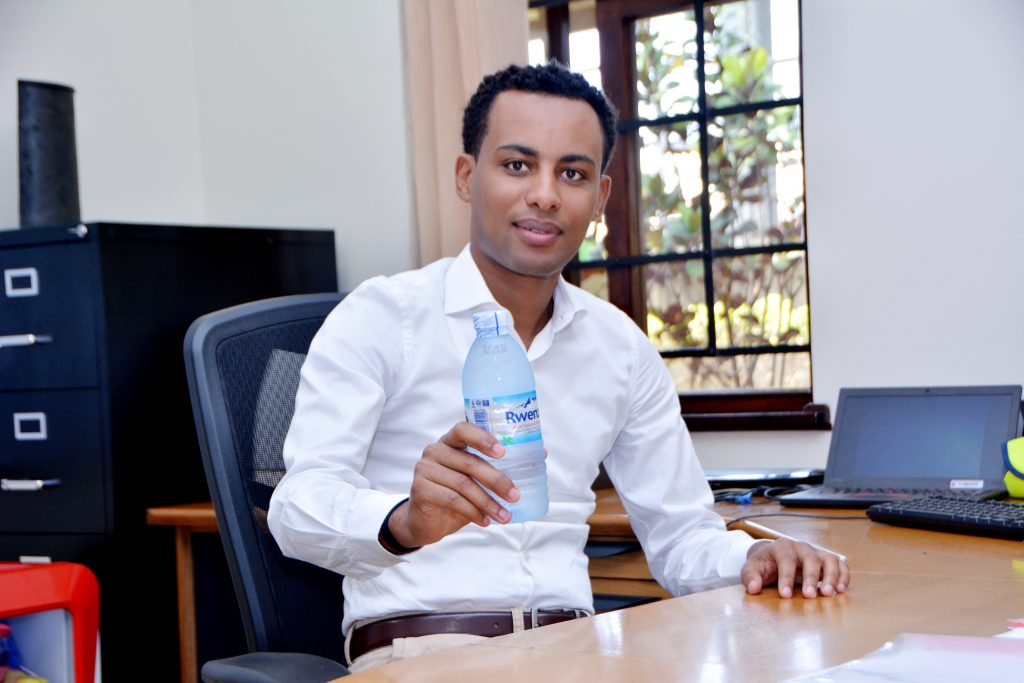 He holds a Degree in Mechanical Engineering from the Addis Ababa University and "is passionate about developing talent within organisations and learning something new every single day," according to the company statement.
Conrad, according to the same company was described as "an international commercial leader and strategist with over 30 years' experience with Coca-Cola, the world's most recognisable brand."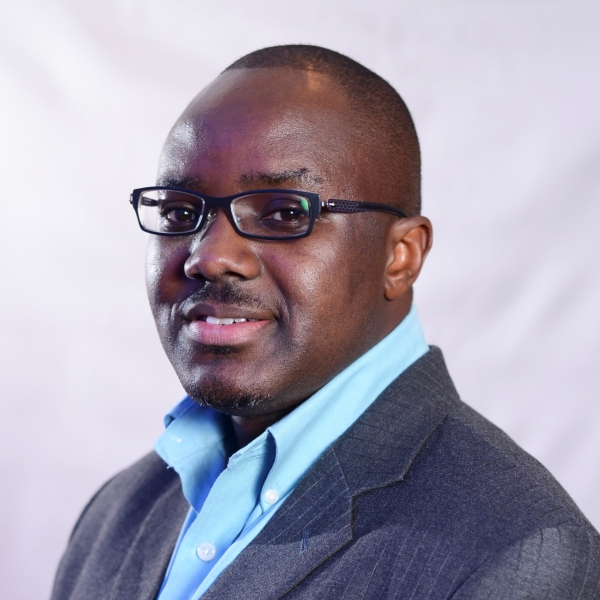 "He has held executive roles within the Coca-Cola system with direct experience in people and talent development, sales strategy and execution, and product development," further read the statement.
Conrad started his career in Coca-Cola SABCO (South Africa) in 1990 and subsequently took up leadership roles working for The Coca-Cola Company in South Africa, Egypt and northern Africa in general, before heading up the Ghana bottler as Managing Director from 2008.
He was eventually appointed Regional Manager for West Africa managing nine countries while based in Barcelona, Spain.
He arrived in Uganda in 2016.
During his time, according to figures available to CEO EA Magazine, he grew the business' turnover by 12% from UGX383.4 billion to UGX426.7 billion, maintaining Coca Cola's market leadership against a resurgent competition.
In 2018 Conrad also led a USD15 million (UGX55 billion) investment plan for Coca-Cola Beverages Africa in Uganda that included a USD8.35million (UGX 30.7billion) manufacturing line in April 2018.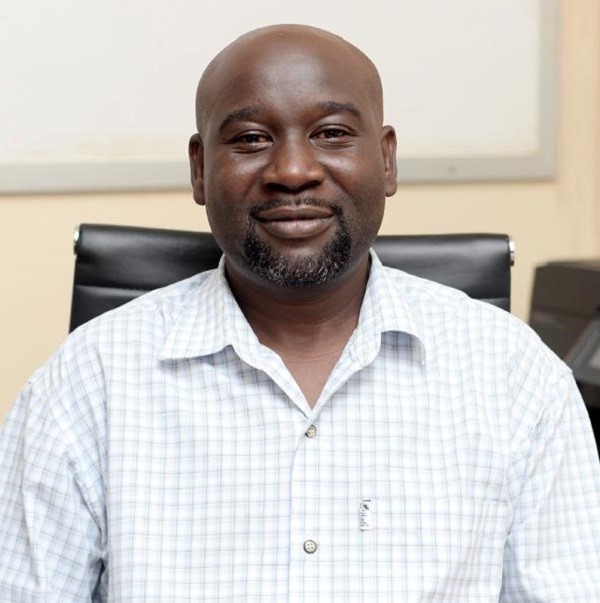 He is also credited for leading several product innovations that especially use local law materials, such as Climb Up Milk- bottled by Rwenzori Bottling Company Limited, a subsidiary of Coca-Cola Beverages Africa. Climb Up Milk is made out of Uganda milk supplied by Lato Milk, which directly benefits Ugandan dairy farmers; sugar supplied by the Sugar Corporation of Uganda Limited (SCOUL) that supports sugar cane farmers in Lugazi, and packaging elements supplied by Riley Packaging Industries, Bhumi Tapes and Graphic Systems Limited.
Other Coca-Cola Beverages Africa people changes
In another Uganda team change, Edward Ojede, previously the Country Engineering Manager for Uganda, has been appointed the Manufacturing Director for Uganda.
"Edward joined the Coca-Cola system at Century Bottling Company in 2007 and has distinguished himself over the years as an Engineering professional, occupying a number of technical leadership roles and gathering a wealth of experience in his field of expertise. He has in-depth technical knowledge of manufacturing processes and demonstrates superior project management skills. He is known for his agility as a leader and his superior interpersonal skills," said a company statement.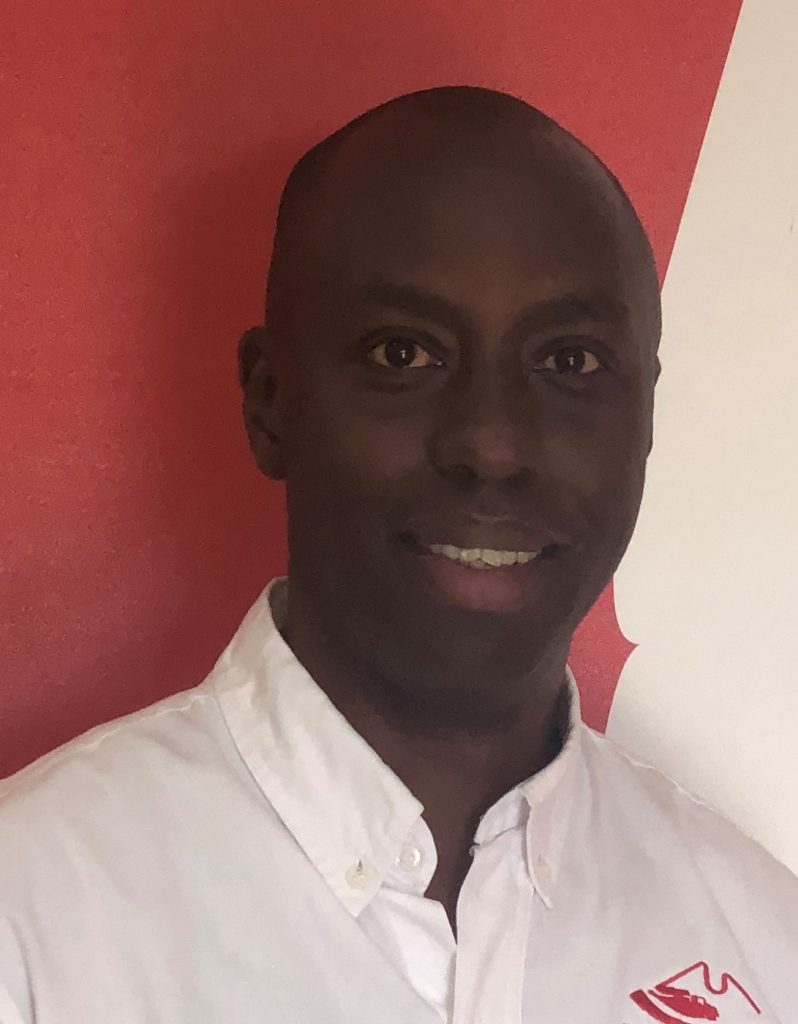 Edward holds a BSc in Mechanical Engineering from Makerere University and is in the process of completing his MBA. He is a member of the Uganda Institution of Professional Engineers and a Board Member of the Manufacturing Skills Sector Committee under the Uganda Ministry of Education and Sports.
Outside Uganda, Herbert Nuwamanya has been moved into the role of General Manager of Zambia, "after playing a crucial role in the integration of the two Coca-Cola Beverages Africa operations in Zambia as Commercial Director for Coca-Cola Beverages Zambia."
Before that, Herbert held various senior commercial roles in East and West Africa in Coca-Cola Sabco and Coca-Cola Hellenic.
"Over the years Herbert has built up a seasoned multi-cultural, multi-country and multi-bottler experience with great impact in strategic business and commercial growth," said the company statement.
Herbert holds an MSc degree and will continue to be based in Zambia, leading the Country Management Team.
In another change, Andrew Musingo Otieno has been appointed General Manager of Tanzania, leading the Country Management Team and reporting to the Central Africa Region Managing Director.
Andrew has previously served as Coca-Cola Beverages Africa's Head of Sustainability, before which he was Public Affairs & Communications Director for the Group's International Division.
MEMORABLE 2019 XMAS: Four pocket-friendly reasons to spend this Festive Season at any of Speke Group's 9 hotels and residences
You have worked hard all year long. The festive season is a time to be together with your loved ones, rekindle the love and toast to the year's joys as you usher in the New Year with gratitude. But you don't have to break the bank. Speke Group of Hotels, Uganda's largest chain of hotels with a portfolio of luxury and budget hospitality facilities has put together special packages for you, to make this festive season a memory to behold.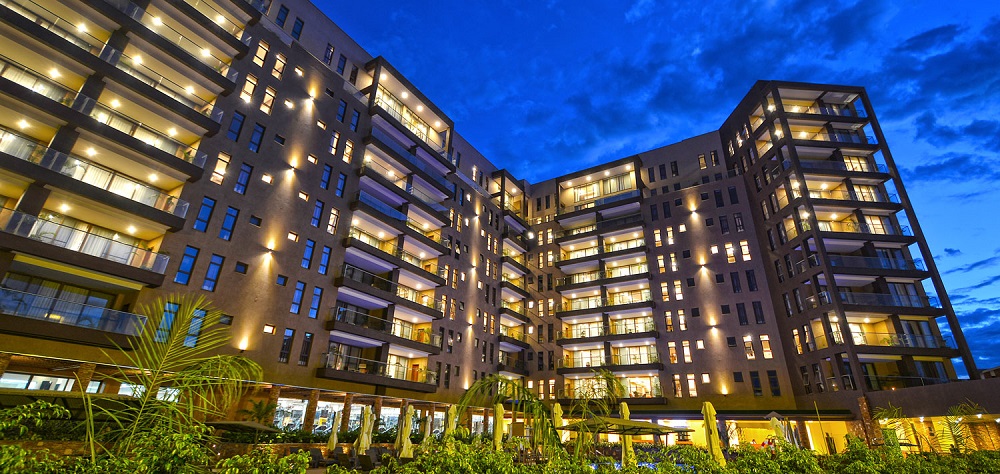 Christmas season is the longest holiday anyone can have. The moment December starts you can get the feel of the festivities approaching with the Christmas trees, the decoration and Christmas lights spread all over malls, offices and even homes.
Christmas time is with no doubt family time. It is time to bond with your entire family and catch up with them. So people get to travel upcountry while others travel back into the country/ the city to meet their families since they are having a break from work. It is the time that you get to create memories with your family and this Christmas and the Ruparelia group hotels are giving you the perfect plans for you and your family to create more memories together.
Aside from having prestigious hotels around the city, the Ruparelia group has made sure that their guests during the festive season get to enjoy themselves to full capacity by creating a number of discounts so that they get to enjoy the great service that the group has to offer.
Here are 4 reasons why you should spend your Christmas with the Ruparelia group hotels;
---
1. Discounted Accommodation Packages
---
Munyonyo Commonwealth Resort and the adjacent Speke Resort and Conference Centre are the flagship hotel brands of the Speke Group of Hotels.
The two hotels are throwing a variety of discounts this festive season to make sure you enjoy, without breaking a bank or two.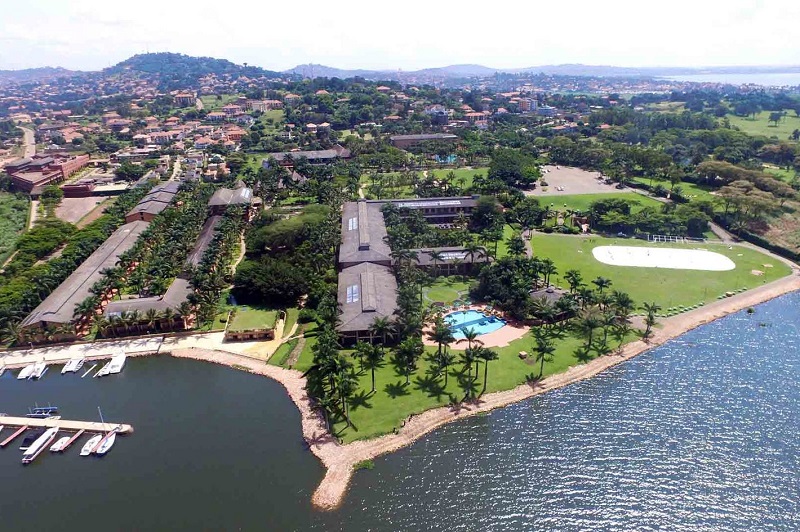 From 13th December to 23rd December and from 26th December to 5th January, their single deluxe rooms will be charged at $139 and the double deluxe will be at $188. The one bedroom suite that takes up to 2 people will be at $219, the superior room and the executive room will be each at $250. The executive suite will be charged at $436. The presidential cottage and presidential suites which take up 4 people each will be charged at $498 and $684 respectively.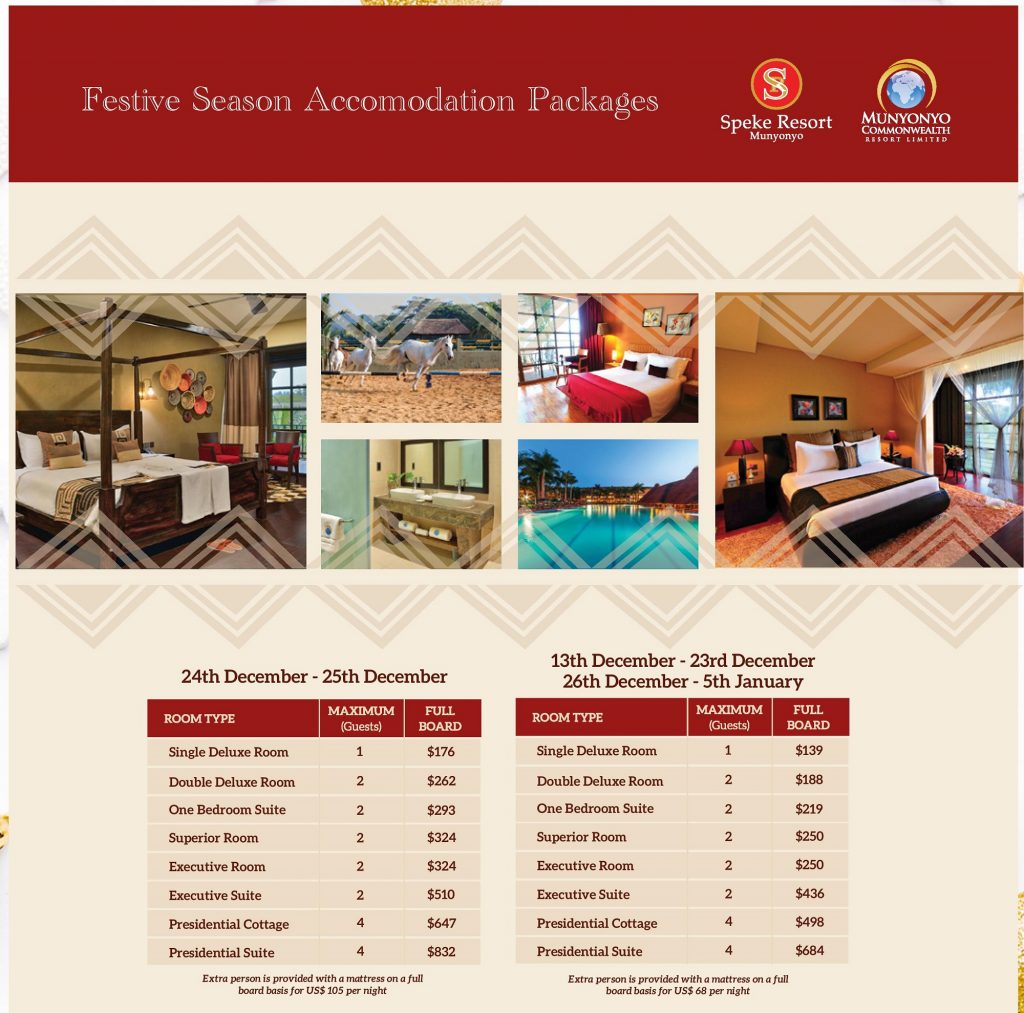 However, on Christmas eve and Christmas day, the rooms will have slithly higher. The single deluxe room will be charge at $176, The double deluxe will be charged at $262, the one bedroom suite will be charged at $293. Both the superior room and the executive room will be charged at $324. The executive room, executive suite, presidential cottage and presidential suite will be charged at $324, $510, $647, $832 respectively.
All rates are full board- breakfast, lunch and dinner. On 25th December there will be a Grand Christmas Buffet by the Olympic swimming pool. They are also inclusive of a 30 minutes boat ride and a 10 minutes pony ride for children. On top of all that, the guests will also have access to the swimming pool, gym, spa and sauna.
---
2. A variety of options to pick from
---
Speke Group of hotels, has a variety of luxurious and budget options to pick from- hotels and self-catering apartments. The include: Speke Resort and Conference Centre (www.spekehotel.com), Munyonyo Commonwealth Resort (https://www.munyonyocommonwealth.com), Kabira Country Club (https://www.kabiracountryclub.com), Dolphin Suites (https://www.dolphinsuites.co.ug), Forest Cottages (www.forest-cottages.com), Bukoto Heights (https://www.bukotoheights.com/) and Speke Apartments (https://www.spekeapartments.com)
If it a lakeside room that you want, Speke Resort Munyonyo has you covered with rooms over looking the calm waters of Lake Victoria.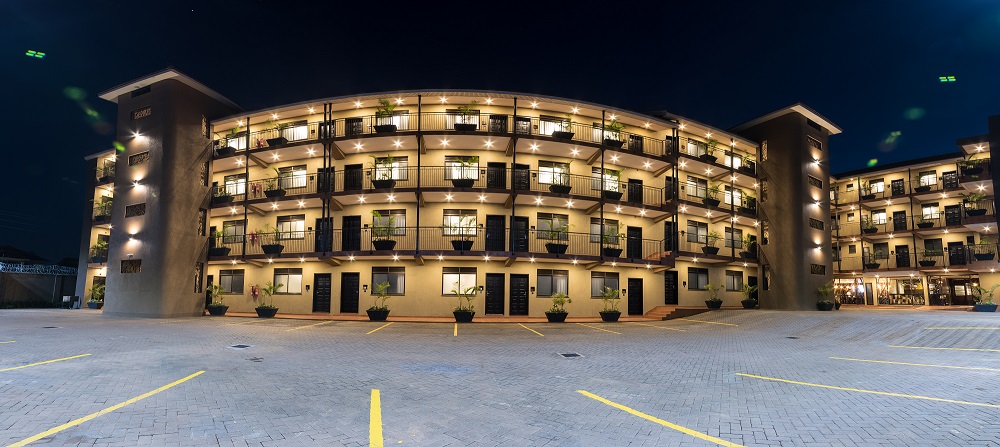 Speke Apartments (Wampewo & Kitante) as well as Bukoto Heights are luxury self- catering apartments that are suitable for both pleasure and business. The apartments are located near town so you are not far from any amenities that you need for you and your family.
The Forest cottages are set in serene environment with ever green trees hovering over the cottages. They give a feel of a get away from town yet they are not so far from the city centre.
Kabira Country Club has a variety of room types that cater for both individuals and families as well.
---
3. Christmas and New Year's day programmes
---
Christmas comes with a lot of excitement and the mention of food cannot be excluded from it all. Normally, women in the house have to get into the kitchen and cook large feasts to feed their family but as opposed to doing that, you can visit any of the Speke Group hotels and enjoy the different kinds of buffets they have planned for this Christmas.
On Christmas day, Speke Resort Munyonyo will serve a lunch buffet at the Speke Resort Poolside. Each adult will be charged Ugx 175,000 and children under 14 will be charged Ugx 75,000.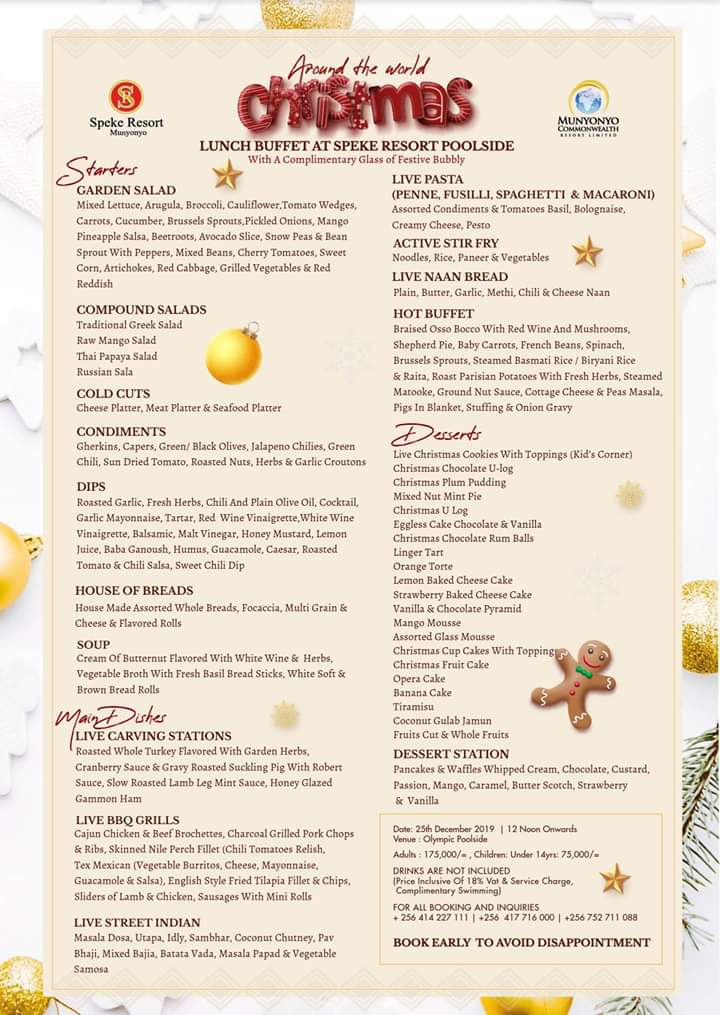 It will be a 3 course menu that will consist of starters made of salads, cold cuts, dips, soups and bread. The main dishes will have turkey, chicken, beef, pasta, naan bread, hot buffet and so much more. The desserts will comprise of different cakes, fruits, mousse, and so much more.
---
The La Cabana restaurant at Speke Apartments, Wampewo avenue will also have a 3 course meal to serve its guests on Christmas day. Adults will be charged Ugx 125,000 and the kids will be charged 50% less and have free access to the pool.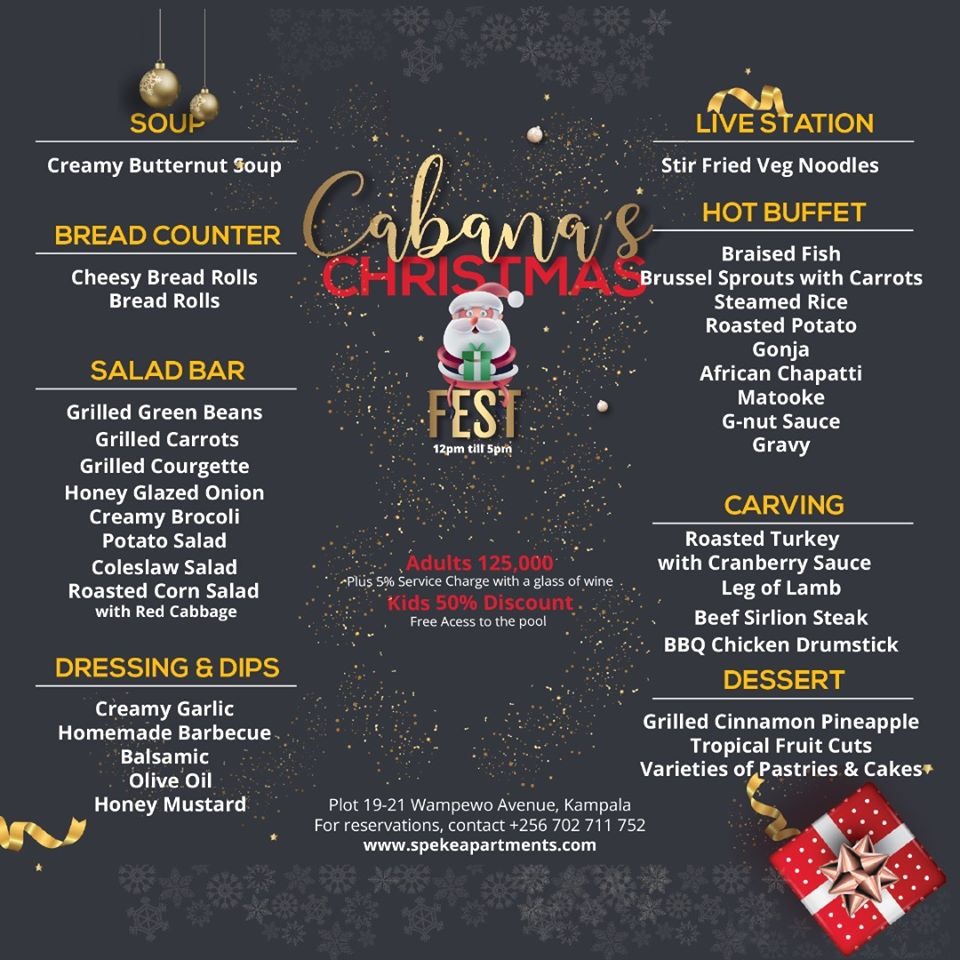 ---
Would you prefer burgers by the pool for Christmas? Forest Cottages will be serving these and adults will be charged UGX 50,000 and children will be charged Ugx 40,000. This all comes with a glass of wine and juice respectively.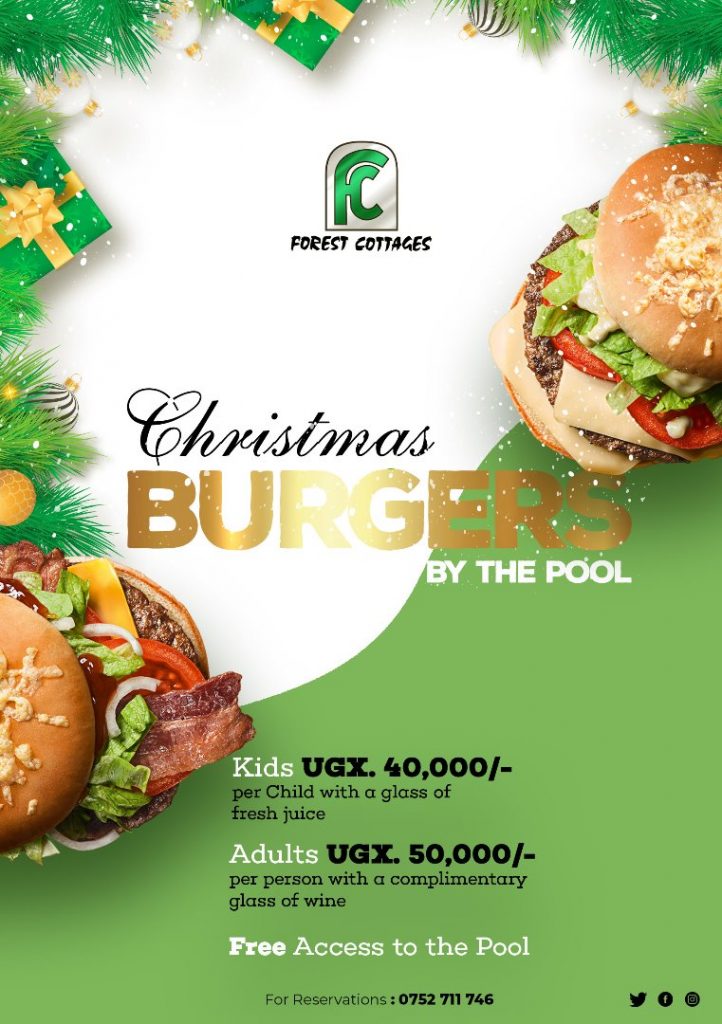 ---
Kabira Country club will serve a barbecue meal for Christmas where adults will be charged UGX75,000 and children will be charged UGX 45,000.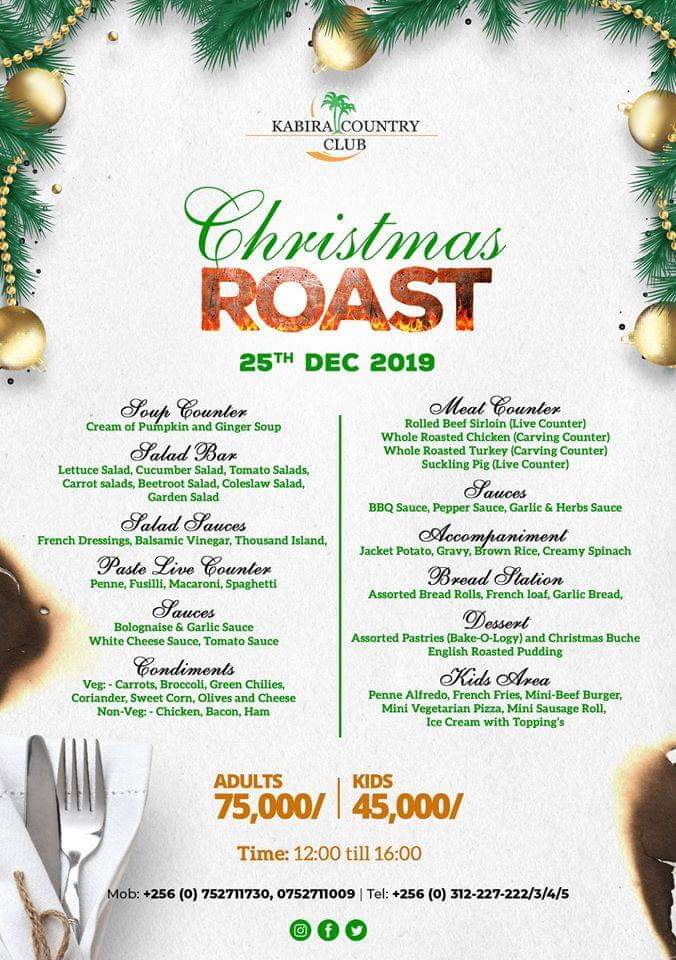 ---
And if you are in the mood for something more chilled and relaxing like a pool party, Dophlin Suites will be having a pool party on Christmas day with a bouncing castle and face painting for children at UGX 35,000.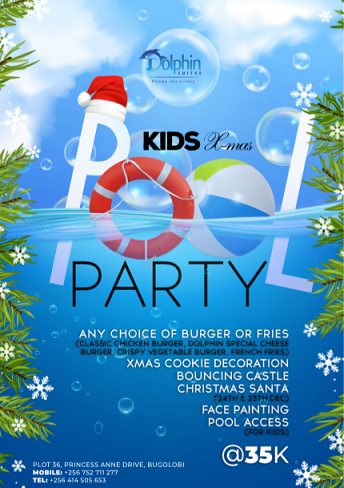 ---
4. Well equipped amenities & activities for kids
Don't let all the Xmas eating scare you- you can break down all the food in the variety of swimming pools, gyms and health clubs- in nearly each of the facilities.
Kabira Country Club, Speke Apartments, Dolphin Suites, Speke Resort Munyonyo and Forest Cottages all have swimming pools where guests can go and relax.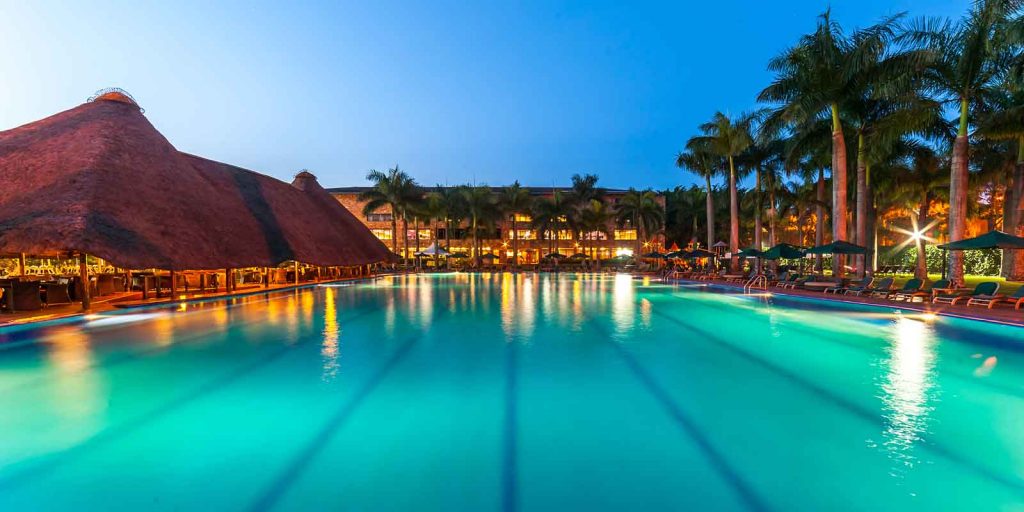 They also have gyms that are well equipped with a variety of equipment from treadmills, benches, treadmills, station bikes among so many other kinds of equipment. This can be used by guests to work out and stay fit even during the festivities.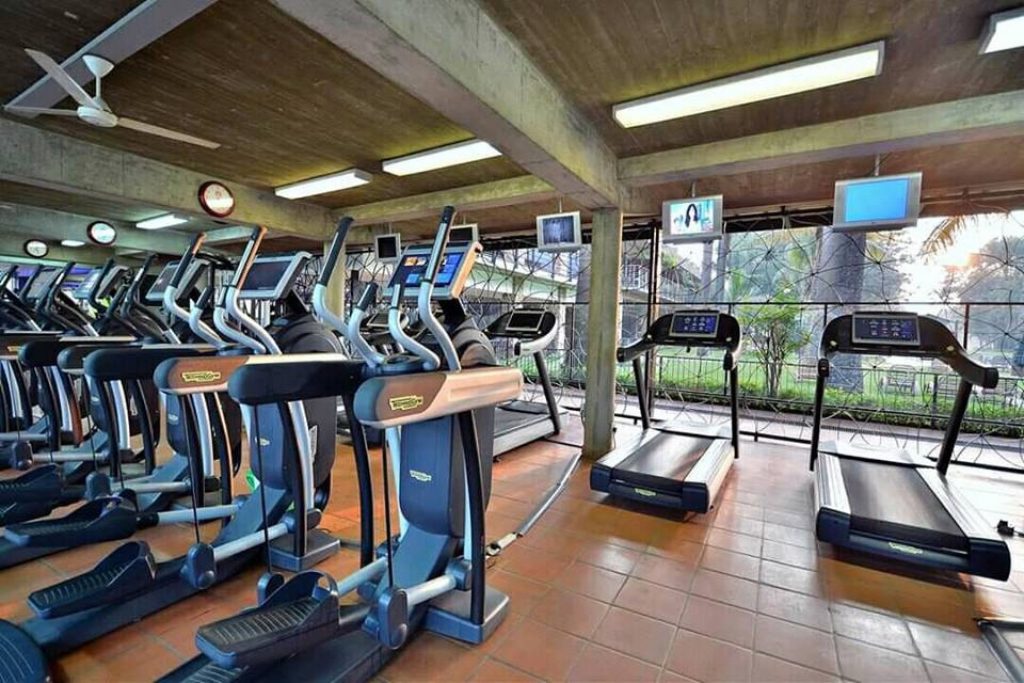 Now you know.
For more inquiries please reach out to the hotels using contacts on their websites and have yourself a Merry Christmas and A happy new Year!
Bank of Uganda clarifies on staff with unreconciled dates of birth story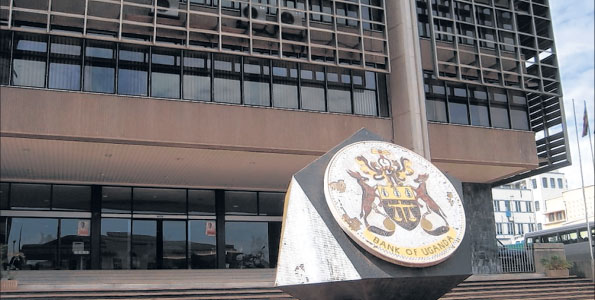 Reference is made to a story we wrote earlier today (but has since been taken down) titled: CONFLICT OF INTEREST: BoU board breaks own rules; fails to fire 12 staff for falsifying their age.
Whereas we had made attempts to speak to the Bank of Uganda Deputy Governor, Dr. Louis Kasekende, before writing the story and did not get any response from him, we have since spoken to the BoU Board Secretary, Mrs. Susan Kanyemibwa who has since clarified the following:
The Bank of Uganda, Director of Human Resources, Dr. Jan Tibamwenda has denied ever authoring the memo particularly referred to in the article addressed to the Deputy Governor proposing a particular course of action on staff with unreconciled dates of birth.
Whereas it is true that Bank of Uganda like many other public institution is undertaking a reconciliation process of their staff records to align them with biodata presented to the National Identification and Registration Authority (NIRA) and National Social Security Fund (NSSF), this matter is still a management matter and has not yet been brought to the attention of Bank of Uganda Board as alleged in our story and as claimed by the purported memo to the Deputy Governor. In fact, there was no meeting of the Board of Directors to discuss the matter as alleged in the article.
Some of the Bank of Uganda officials mentioned in the purported memo and therefore in our story have not been affected by the said unreconciled biodata records.
The management of CEO East Africa Magazine regrets the inaccuracies above and has since pulled down the story. We have started a process of streamlining media inquiries with the central bank to ensure improved and more factual reporting.
We pledge to hold our sources more accountable in the future.