Beyond being Amama Mbabazi's daughter, who is Rachel Ciconco Mbabazi?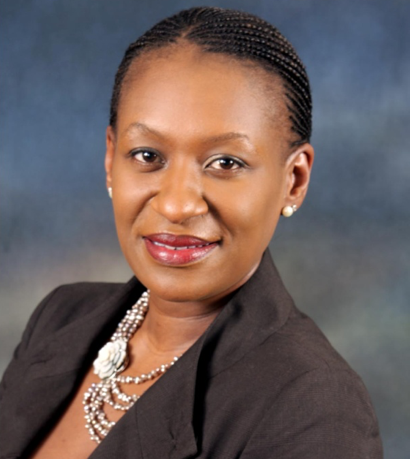 Cabinet, sitting in their Monday, 4th November meeting at Statehouse Entebbe, approved the appointment of four members to the National Water and Sewerage Corporation (NWSC) board of directors.
The four are: Rachel Ciconco Mbabazi (chairperson), Ms. Onyiru Sarah, Mr. Runge George Muzungyo and Col. (Rtd.) Stephen Mwesigye Basaliza.
Some of NWSC's directors whose terms variously expired in the recent past and are to be replaced by the new appointees, include: Dr. Cecilia Atim Oyet, Mr. Dennis Mwebaze Nduhura, Ms. Ziria Aliza Ndifuna and Mr. Henry Kibirige.
But who is Rachel Ciconco Mbabazi?
Rachel is the first born of John Patrick Amama Mbabazi and Jacqueline Mbabazi of Kanungu District. Born on 29th March, 1974 in Kampala. The former is a Prime Minister Emeritus of Uganda.
She is married with a daughter and two sons. Rachel is a graduate of Business
Administration (Finance), from Strayer University in Washington, DC, USA and has over 20 years of work experience.
She is currently pursuing a Master's degree in Public Administration at Uganda Management Institute (UMI). She attended Makerere High School for A' Level and
Gayaza High School for O' Level.
According to her resume, sent to CEO EA Magazine, Rachel has served in various management positions in Uganda and currently serves on several boards in the fields of water and sanitation, commercial farming, a farmer's association and a charitable organisation.
She says her key expertise lies in high-volume trade negotiations, lobbying; strategic planning for large scale capital investment, planning and execution of turn-key projects, management and team leadership as well as public policy formulation and advocacy.
She is the current Board Chair of the Rice Association of Uganda- and entity that represents rice farmers in Uganda to promote and safeguard the domestic rice sector in Uganda. She is also the Country Representative – East African Community Rice Platform from July 2019 to date.
She also sits on the board of the Uganda North American Youth Development Association as well as the board of Africa Infrastructure Development Company Ltd, a Hong Kong company.
She is a director in Quantum Mining Company Limited and a Managing Partner (Finance & Administration) for Tilo Monitoring Systems Limited.
She has previously worked as a Managing Partner (Finance & Administration) for 3D Tracking (Uganda) Limited from 2008 –May 2010 and as General Manager for Achelis (Uganda) Limited- an equipment leasing and renting company, from 2004 – 2008.
Between 2002 and 2004 she worked as Business Development Manager for Roko Technical Services, a construction company and before that, she was a Marketing Coordinator for Schirmer Engineering Corporation (later AON Fire Engineering Group) in Washington, DC, U.S.A from 1998 – 2002.
Barclays officially becomes Absa Bank Uganda; BoU recognises name change with license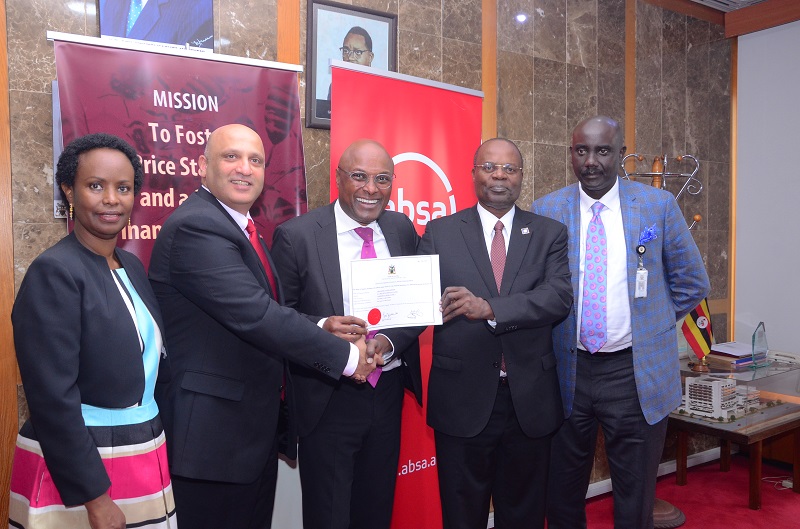 Absa Bank Uganda, a subsidiary of Absa Group Limited has today received the license to operateand trade under its new name from Bank of Uganda. Formerly known as Barclays Bank Uganda, the name change marks the start of a new era for the bank's operations, one that sees the realisation of an ambition to become an independent African bank.
The license was officially handed over to the bank's Managing Director, Nazim Mahmood by Prof. Emmanuel Mutebile, Governor, Bank of Uganda at the Central Bank head office.
"Today we begin a new chapter as Absa Bank Uganda Limited, adopting our parent company's name and brand while retaining our indelible commitment to Uganda and its people. Our new brand is a commitment to Uganda and to the wider continent: Absa is a truly African bank, with global scalability and reach," said Nazim Mahmood, Managing Director of Absa Bank Uganda Limited.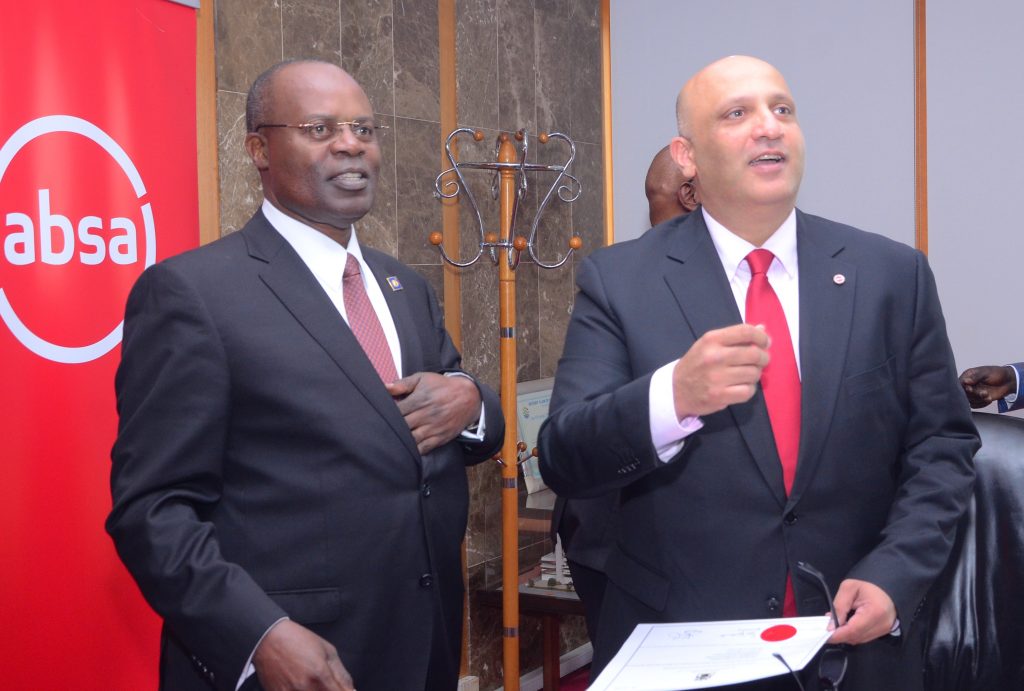 The company, which has been operating in Uganda for close 92 years, reiterated its commitment to the country's growth and economic development under the Absa brand.
"We have invested in crucial sectors of development of the national economy, including trade, agriculture, SMEs, infrastructure and investments. We will continue to play a critical role by investing in these sectors without neglecting the ordinary citizen who seeks quality financial services and safe investments for their hard-earned money," said Mahmood.
The Governor commended Absa Bank Uganda for contributing to the growth of the banking sector in the past and urged them to continue to deliver quality and affordable financial services.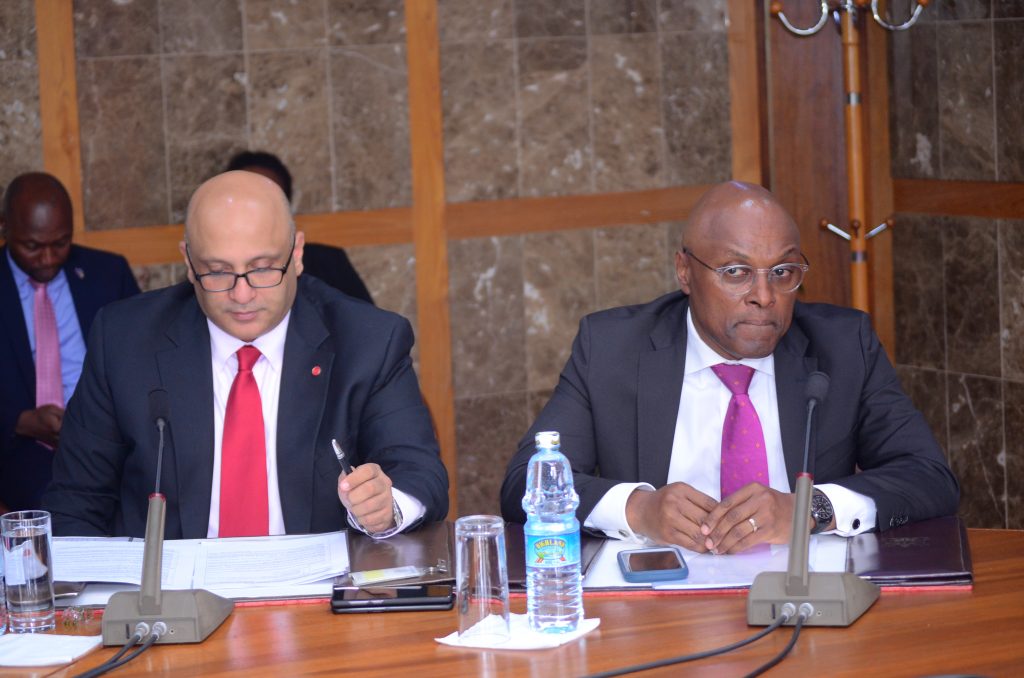 "Key to our agenda is the provision of affordable financial services to Ugandans especially the rural population, who remain unbanked and therefore financially excluded. We are keen to see continuity with Absa in provision of quality financial services and drive the private sector development agenda," Prof.Mutebile said.
For customers, there will be no change to their account details and there will no fee changes associated with the name change. The bank's branches will continue to operate as usual.
From 11 November 2019, all new cards and cheque books will be issued under the Absa brand. Barclays' cards will continue to work as normal until their date of expiry. Customers can continue to use their Barclays' cheque books until April 2020. After that date only cheques drawn on from an Absa cheque book will be accepted.
The bank urged customers to be particularly vigilant during this time, as fraudsters are always looking for opportunities to obtain important personal information.
Mahmood reaffirmed that the bank would remain a significant player in the banking and financial services sector in Uganda and a contributor to Uganda's economy.
"As Absa, our ambition is to become a digitally led bank that is centred around the ever changing needs of customers. We believe we have a role to play and intend to leverage digital technology to expand reach and access of financial services but also provide affordable services." he said.
As part of the bank's financial inclusion agenda, the bank announced that it now had a network of 450 active agents spread across the country offering agency banking services and a high volume of transactions totalling to 248,000 this year alone.
About Absa Uganda and Absa Group
Absa Bank Uganda Limited is part of Absa Group Limited, one of Africa's largest diversified financial services groups listed on the Johannesburg Stock Exchange.The bank has 39 Branches and 76 ATM's country wide.
Absa Group Limited ('Absa Group') is listed on the Johannesburg Stock Exchange and is one of Africa's largest diversified financial services groups.
Absa Group offers an integrated set of products and services across personal and business banking, corporate and investment banking, wealth and investment management and insurance.
Absa Group has a presence in 12 countries in Africa, with approximately 40,000 employees.
The Group owns majority stakes in banks in Botswana, Ghana, Kenya, Mauritius, Mozambique, Seychelles, South Africa (Absa Bank), Tanzania (Barclays Bank Tanzania and National Bank of Commerce), Uganda and Zambia. The Group also has representative offices in Namibia and Nigeria, as well as insurance operations in Botswana, Kenya, Mozambique, South Africa, Tanzania and Zambia, and an International Representative Office in London.
Adman, Colin Asiimwe bounces back to Uganda as MultiChoice Uganda Head of Marketing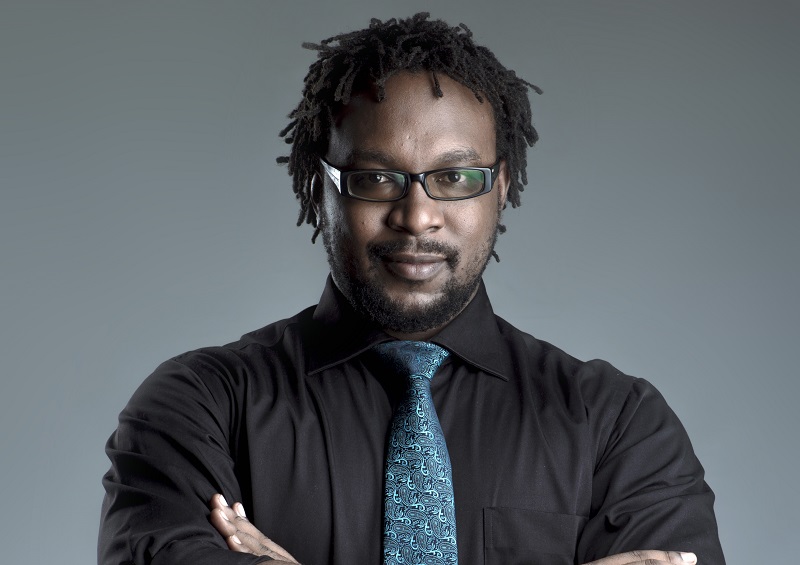 PayTV Company, MultiChoice Uganda, has chosen advertising guru, Colin Asiimwe as their new Head of Marketing.
Mr. Asiimwe started work at the Kololo-based company 1st November 2019.
He will be in charge of both the Dstv and Gotv brands. He joins MultiChoice Uganda from Creative VMLY&R, an integrated marketing agency in Kenya where he was the Head of Strategy and Planning.
Born and bred in Uganda, between November 2011 and November 2012, he was the Account Director at WPP ScanGroup's Uganda unit before heading to QG Group Uganda (Saatchi & Saatchi) as Client Services Director between November 2012- October 2014. He then became the Uganda Country Manager for Tonic International (a creative advertising & branding agency out of Dubai) for a year.
Between January 2016 and July 2018 he worked at Metropolitan Republic first as Head of Strategy and then later as Head of Strategy and Digital. While at Metropolitan Republic, he was instrumental in the relaunch of Uganda Waragi and Bell Lager rebranding amongst other brands.
In July 2018 he left for Nairobi to take on the role of Head of Strategy & Planning at Creative VMLY&R.
From branding and communications to bringing innovative new to world ideas to life, Mr. Asiimwe has worked across the East African region with various multinationals and local entities at both operational and management levels to successfully deliver communication and business strategies across multiple categories- FMCG, social and behaviour change communication, financial services and public sector.
A battle-hardened general, he brings rigour, leadership and strong project management skills to MultiChoice Uganda.
Asiimwe is the second senior executive to be hired by MultiChoice this H2 2019. Just this August, MultiChoice got a new Managing Director- Mr. Hassan Saleh, previously the GM Sales & Distribution for MTN Sudan and before that, the Chief Officer, Sales & Distribution at Vodacom Tanzania. Mr. Saleh replaced Mr. Charles Hamya, the company's long time General Manager, who retired early this year.
The number of PayTv subscribers, according to Uganda Communications Commission, grew by 83% from 1.2 million active subscribers in January 2018 to 2.2 million in December 2018. There are eight (8) licensed PayTv providers in Uganda.
Asiimwe holds a Bachelor of Mass Communication degree from Makerere University and has a hands-on background in journalism and public relations.
A keen enthusiast of the digital economy and hobbyist photographer, Asiimwe says he is motivated by the idea of constant motion- "the idea that when we don't give up, we control our outcomes in an otherwise capricious world."
He says he lives this philosophy through the daily expression of "the Beast Mode" exemplified by his personal motto "Orbis non Sufficit" – the world is not enough.
SOURCES: Anne Juuko reportedly frontrunner for Stanbic top job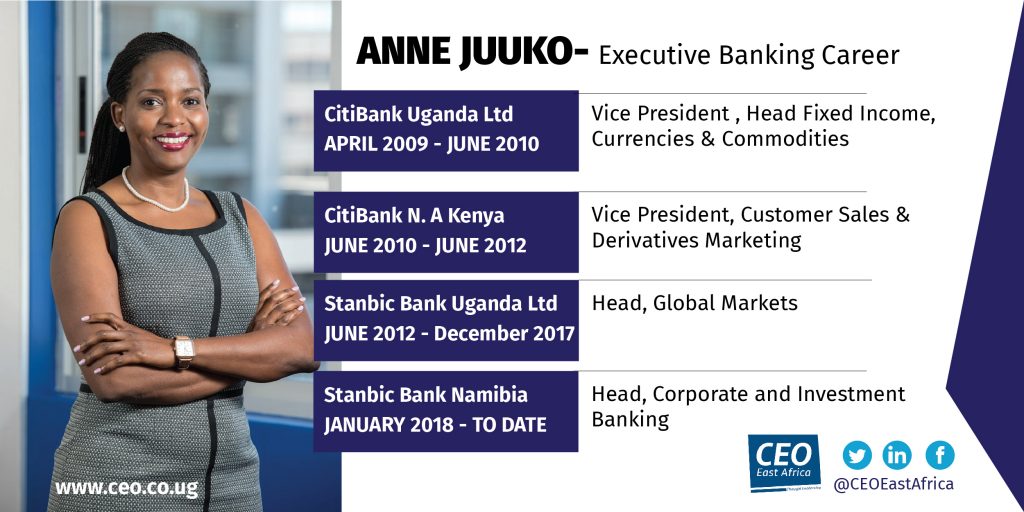 Ugandan banker, Anne Juuko is said to be the most likely next Chief Executive Officer for Stanbic Bank, Uganda's largest bank- according to information corroborated with several industry sources.
Juuko, reportedly beat Sam Mwogeza the bank's current CFO and Kevin Wingfield, the Executive Director and Head Personal and Business Banking, to one of the most coveted and well-paying jobs in corporate Uganda.
If she indeed does ascend to the role, she will probably be the youngest Stanbic Uganda CEO, the first female and the second Ugandan to head the Stanbic, since South Africa's Standard Bank acquired a controlling stake in Uganda Commercial Bank in 2001 and subsequently rebranded the bank to Stanbic Uganda.
ALSO READ: EARNINGS OF CEOS AND EXECUTIVE DIRECTORS OF 23 OF 24 OF UGANDA'S BANKS https://www.ceo.co.ug/exclusive-earnings-of-ceos-and-executive-directors-of-23-of-24-of-ugandas-banks/
Juuko will be replacing Patrick Mweheire, who also according to sources is heading to Nairobi to take up the Regional Chief Executive, East Africa and replacing, a one Greg Brackenridge who was one of the key players in managing the acquisition of Uganda Commercial Bank by Standard Bank.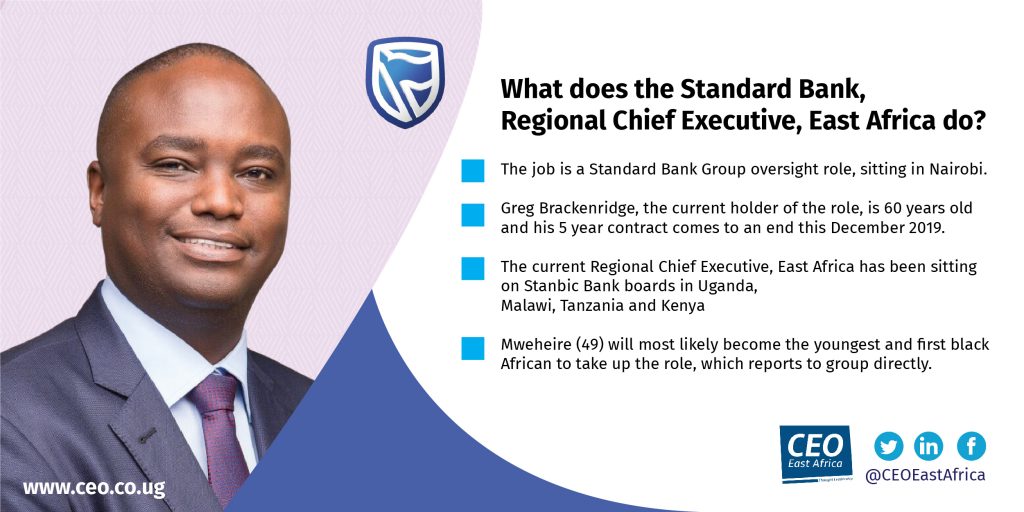 The Regional Chief Executive is a Standard Bank Group oversight role, based in Nairobi. Brackenridge, the current holder of the role, is 60 years old and his 5 year contract comes to an end this December 2019. The regional role, involves board directorships for Stanbic Bank Uganda, Tanzania and Kenya as well as Standard Bank, Malawi.
Mr. Brackenridge has been with the Standard/Stanbic Bank group for almost 25 years, having worked in several African countries including Zimbabwe, Nigeria, South Africa and Kenya where he headed the Stanbic unit there; his last assignment before becoming the Regional Chief Executive.
ALSO READ: UNPLUGGED; ALMOST EVERYTHING YOU NEED TO KNOW ABOUT STANBIC BANK CEO, PATRICK MWEHEIRE https://www.ceo.co.ug/unplugged-almost-everything-you-need-to-know-about-stanbic-bank-ceo-patrick-mweheire/
Mweheire (49) will most likely become the youngest and first black African to take up the role, which reports to group.
The Harvard trained banker, presided over Stanbic Bank's rosiest 5 years, nearly doubling assets from UGX3.7 trillion in 2015 to UGX6.1 trillion as of June 2019.
The regional role is largely interpreted to mean group's endorsement of Mweheire's performance record that has seen the bank become Uganda's most profitable bank with nearly 30% of industry profitability.
Who is Anne Juuko?
Juuko, holds a Bachelor of Commerce degree from Makerere University in Kampala, Uganda and a master's degree in Strategic Planning from the Herriot Watt Business School in Edinburgh, Scotland.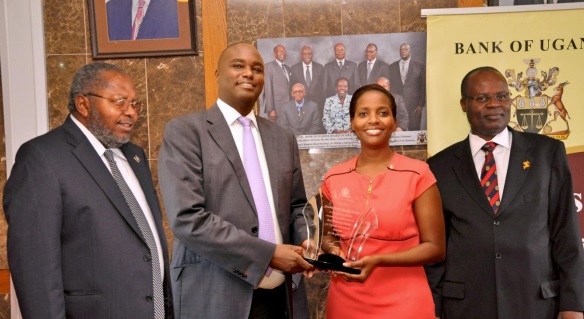 Juuko was between April 2009 a VP, Head Fixed Income, Currencies and Commodities at Citibank Uganda Limited, before heading to Citibank Kenya as VP, Customer Sales and Derivatives Marketing, a role she served between June 2010 and June 2012. She then returned to Stanbic Bank to take a Head, Global Markets role till December 2017 when she got appointed, Head, Corporates and Investment Banking at Standard Bank, Namibia; a role she took up in January 2018.   
ALSO READ: SALARIES OF CEOS AND EXECUTIVE DIRECTORS OF 23 OF 24 OF UGANDA'S BANKS https://www.ceo.co.ug/exclusive-earnings-of-ceos-and-executive-directors-of-23-of-24-of-ugandas-banks/
While as head of Global Markets, Juuko is said to have exhibited all-star performance, winning the highly coveted Primary Dealer of the Year award for 6 consecutive years. Juuko's breadth of treasury and investment banking knowledge is said to have caught the attention of Mweheire, himself an investment banker, who is said to have had a role in seconding her to the Namibia job.
Juuko's experience fits well within Stanbic's business strategy whose non-lending income constitutes more about 45% of total income. CEO East Africa is yet to establish how much Juuko will be compensated, but if Patrick Mweheire's UGX131,830,596 monthly salary is anything to go by, Juuko's compensation will be in nine (9) figures.
IN CASE YOU MISSED THIS: MONEY MEN; THE 8 GENTLEMEN WHO CONTROL 77% OF UGANDA'S BANKING INDUSTRY https://www.ceo.co.ug/money-men-the-8-gentlemen-who-control-77-of-ugandas-banking-industry/