Unscrupulous Tour Operator Arrested
Tourism police have arrested a rogue tour operator accused of fleecing tourists of $21,500. The suspect has been identified as Richard Tusasibwe, director of Gatatu Safaris Limited in Kigezi. According to CP Frank Mwesigwa, Tusasibwe, he was arrested at Arcadia Cottages in Kabale; near Lake Bunyonyi; where he had taken other tourists for a […]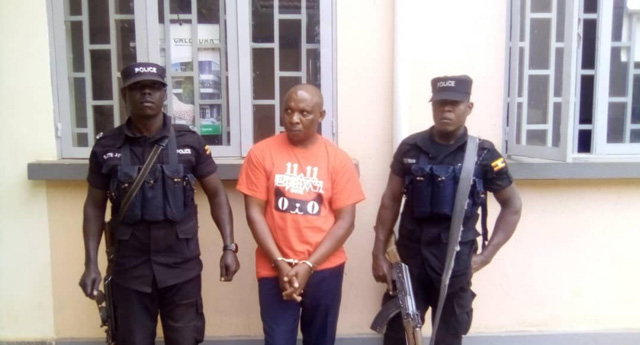 Tourism police in Kabale have arrested a rogue tour operator accused of fleecing tourists of $21,500. The suspect has been identified as Richard Tusasibwe, the director of Gatatu Safaris Limited in Kigezi.  
According to CP Frank Mwesigwa, Tusasibwe, was arrested at Arcadia Cottages in Kabale; near Lake Bunyonyi; where he had taken other tourists for a trip.
He added that the arrest came after a tip off by suspecting people who had fallen victims of his unscrupulous behavior and the covert teams at check-in were able to arrest him. He is currently being held at Kabale Police station and charged with obtaining money by false pretense.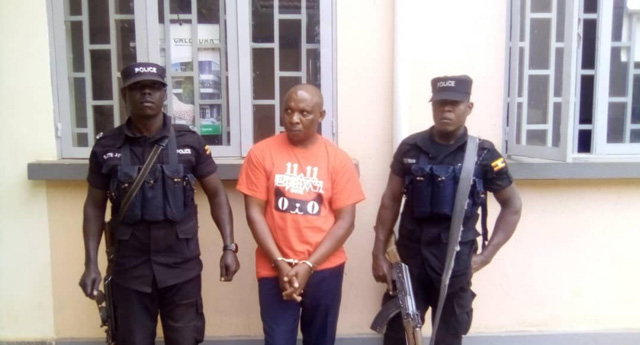 Tusasibwe is alleged to have been contracted by 5 American tourists to organize chimpanzee and gorilla tracking expedition in Uganda. After an airport pickup and arrival in Kisoro, Tusasibwe abandoned the tourists at a lodge and has been on the run for the past two weeks.
Uganda Tourism Board Quality Assurance Manager, Samora Semakula said that the board was working around the clock to ensure that quality standards and the law are upheld in the tourism sector and that rogue operators face the law.
"We are pleased that the police has arrested a rogue operator who has been on the run for the last two weeks since this case was brought to our attention. Rogue tour operators are a peril to the growth and development of the sector. Uganda Tourism Board will continue to work with the tourism police and other players in the sector to ensure that the vice is brought to a conclusive end," Semakula said.
Mwesigwa reassures tourists saying, "As tourism police, we are committed to clean up quack tour operators who con our tourists. Uganda remains a peaceful and secure country and all efforts together with stakeholders is to ensure that law and order is upheld in the tourism sector and the country at large."
As mandated by the Tourism Act (2008) Uganda Tourism Board earlier this year kicked of a registration and licensing exercise of all tour operators and facilities in the tourism value chain. This process is aimed to effectively regulate the tourism sector and promote quality assurance across the value chain.
Tourism Board's CEO, Lilly Ajarova conquers Mt Muhabura; sets eyes on Elgon and Rwenzori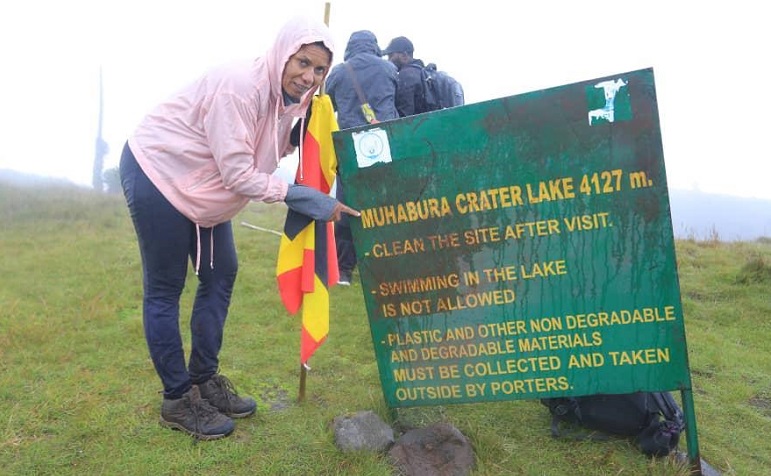 New Uganda Tourism Board (UTB) Chief Executive Officer, Lilly Ajarova, on Sunday June 2nd 2019 braved the rain and chilly weather to reach the top of Mt Muhabura.
Ajarova, is the first UTB CEO to first ever successfully climb Mt. Muhabura, one of Uganda's favourite mountains for mountaineers.
At 4,127 metres above sea-level, Mt Muhabura's actual height from the base to top is 1, 530 metres.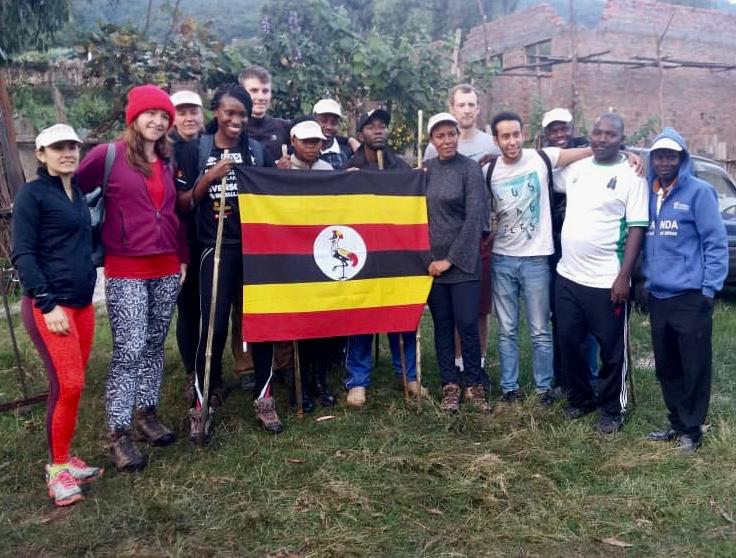 Ajarova together with friends and members of the Mountaineers Club of Uganda led by Pascqa Lorna Abur of Matoke Tours, started the climb at 08:20am on Sunday 4th June 2019 and following a gruelling 8-hours, reached the peak of Mt. Muhabura at about 5pm.
The descent was relatively shorter- about 4 hours. The team returned to base camp at about 09:00pm.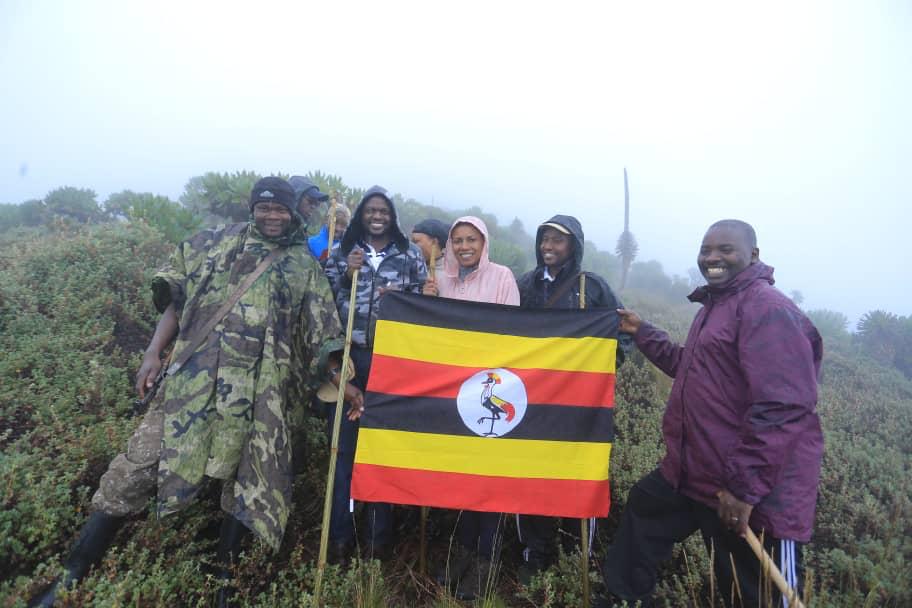 Speaking to CEO East Africa Magazine on June 5th an excited Ajarova said following the successful ascent of Mt. Muhabura, she now had her eyes on Mt. Elgon and Mt Rwenzori. She said the trip was to promote mountaineering in Uganda.
Although Uganda is home to 2 of Africa's tallest mountains- Elgon and Rwenzori, mountaineering is not a well-known activity.
Mt Rwenzori, the legendary mountains of the moon, is the only mountain in the world with a snow cap on the equator.
Muhabura, the Guide
Mount Muhabura, is an extinct volcano in the Virunga Mountains on the border between Rwanda and Uganda. At 4,127 metres (13,540 feet.) Muhabura is the third highest of the eight major mountains of the Virunga mountain range, itself part of the Albertine Rifeet, the western branch of the East African Rifeet Valley.
The Virunga rage- spans Uganda, Rwanda and Democratic Republic of Congo.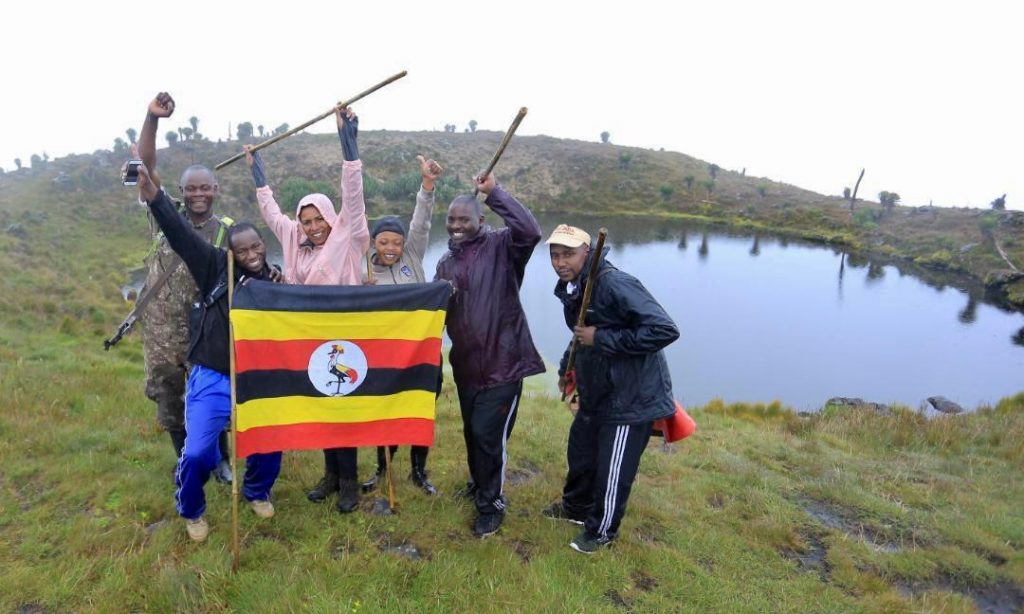 Mount Karisimbi is the highest volcano at 4,507 metres (14,787 feet) and the oldest mountain is Mount Sabyinyo, which rises 3,634 metres (11,923 feet) above sea level. The other ibirunga are: Gahinga (3,474 metres or 11,400 feet), Mikeno (4,437 metres or 14,560 feet) , Bisoke (3,711 metres or 12,180 feet), Nyiragongo (3,470 metres or 11,400 feet) and Nyamuragira (3,063 metres or 10,049 feet).
The name Muhabura means "The Guide" in the local language, Kifumbira/Kinyarwanda. Virunga is said to be English distortion of the Kinyarwanda word, "ibirunga", which means "volcanoes".
Although not the tallest, Muhabura's substantially steeper slopes make climbing Muhabura a more challenging but fulfilling adventure in equal measure.
A Muhabura climbing trip takes about 8 hours on average.
Other than the rich and rare high altitude flora on your way up, Muhabura presents climbers with very beautiful and amazing bird's-eye views of the other Virunga volcanoes, Lakes Bunyonyi, George and Lake Edward as well as Queen Elizabeth National Park, the Rwenzori Mountains, and the Bwindi Impenetrable Forest National Park.
Uganda, according to Tourism Minister, Hon. Prof. Ephraim Kamuntu grew her tourism foreign exchange earnings by 18% from USD1.37 billion in 2015/16 to USD1.63 billion in 2018 as a result of a 19% growth in tourist arrivals- 1.3 million to 1.54million in the same period.
Average expenditure per tourist also went up by 32% from USD1,036 to USD1,371 Job creation by the sector also grew by 25% – from 504,000 to 628,000 jobs.