Uganda needs more pensions reforms to ensure more Ugandans save more and longer for a more meaningful retirement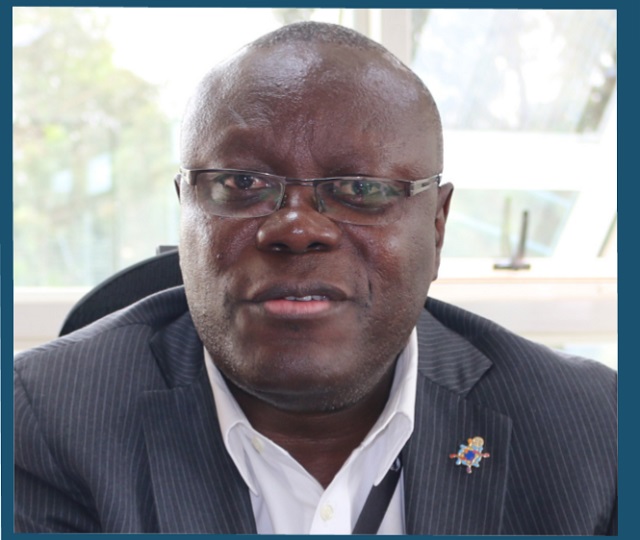 In March 2018, Mr. Martin Nsubuga the Director of Supervision and Compliance at the Uganda Retirement Benefits Regulatory Authority (URBRA) was appointed to serve as the Ag. Chief Executive Officer and subsequently confirmed in June 2019.
CEO East Africa Magazine's Muhereza Kyamutetera sought him out on a number of developments in the retirement benefits sector.
It was recently announced by South Africa's Alexander Forbes Emerging Markets (AFEM) and Kent Holdings, a Ugandan entity that the latter had acquired the 51% held by AFEM in Alexander Forbes Financial Services Uganda Limited. Recently it was also announced that Stanlib, wholly owned by Liberty Holdings Limited, itself majority owned by Standard Bank was also quitting Uganda. Why now?
I think you need to look at what is happening both at a regional and domestic level.
Alexander Forbes Emerging Markets, which is South African has been quitting the East African region slowly and I think we are the last market to exit, after Tanzania and Kenya.
Stanlib as you mentioned is also quitting the Kenyan and Ugandan markets as well. You should appreciate that Stanlib was the first services provider in this market even before the liberalization bill and even before the establishment of URBRA; they were the first fund managers.
Their anticipation was big business but I believe the pulling down of the Liberalisation Bill that was before parliament by Ministry of Finance, distorted market dynamics and plans of those who had high expectations in this market.
The pulling of the liberalization bill meant that we will continue to have NSSF which is a giant in this market holding the largest portfolio – with about UGX2 trillion in contributions and gains on investment every year. If you have all this money coming to NSSF alone, ideally it crowds out any other player that would have been interested in this market.
The liberalization bill was looking at the opportunity in this market for other contributors who may want to opt out of NSSF; not taking out money currently held by NSSF but the new money/savings would be seeded or managed by another entity, but this did not happen in this market.
Besides that, I think after the restructuring of Stanbic Bank into Stanbic Uganda Holdings Limited and in the process creating entities that could either be interested in fund management or engage in investment activities e.g. investment in government securities, that Stanlib itself has been doing, the owners of Stanlib didn't see it necessary to have another entity doing the same here in Uganda.
Does that mean that there is no room for other operators?
No. Not at all, other funds can operate but not extensively.
The market, has in the last 3 years, seen new entries; we have had Britam Asset Management the asset management arm of Britam Group coming into this market and in February this year, we licensed EnWealth, a pensions administrator from Kenya as well as Xeno Technologies, another new player was licensed.
So, what is your projection about the future of this industry?
The sector is steadily growing!
We are proud of the sector- it is the fastest growing sector in this economy. Sector assets in 2018 grew by 26.1% to UGX 11.6 trillion (11.5% of GDP) compared to UGX 9.2 trillion (10% of GDP) in 2017.
Although 75% of this is invested in government securities but we can still say that largely, the sector is providing huge liquidity into this market.
The only limitation is that much as we have grown on the liquidity side, the demand side might have constraints going forward. That is why as government, we need to think of other alternative investments to tap into high liquidity investment vehicles.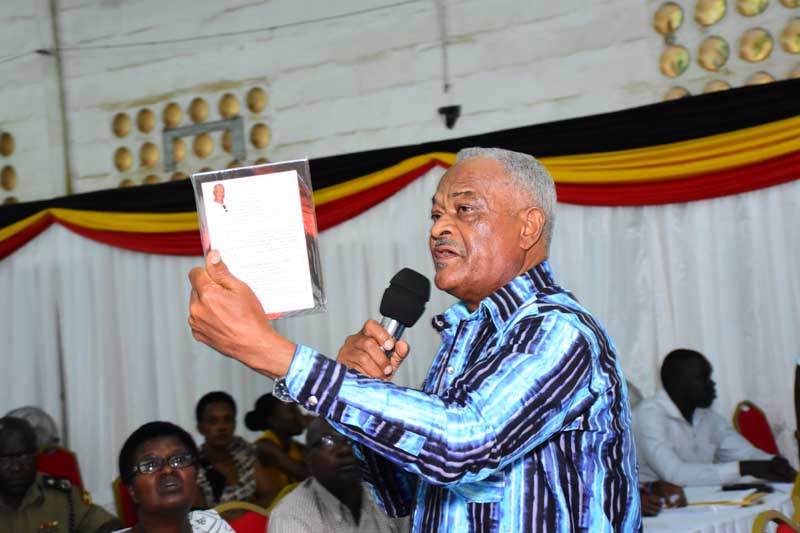 That said, we also see liquidity spilling over to other areas that were not attracting these funds such as non-listed equities. Although just 2% of sector portfolio in unquoted equities, it is still quite a substantial amount from zero- it is a move in the right direction as it compels the non-listed entities to reorganize and tap into these funds instead of the expensive commercial finance.
However, the equities market has not been so good in this market; the Kenyan equities market has helped in one way or another. Most of the investments in Uganda are largely supported by the returns on government securities although some players like NSSF are investing significantly in the property market.
Looking forward, what worries you about the sector?
Like I have said, we are not worried about growth, the 20% + growth will continue, unless there is a serious collapse in the economy and the employment structure in this country and there are no jobs completely.
As a regulator, what worries us, is the lump sum payments being paid to beneficiaries- that is not sustainable. It doesn't matter how long you have worked, how much you have been paid – if your retirements benefits are paid lump sum, it is very unlikely that you will continue to have this money throughout retirement.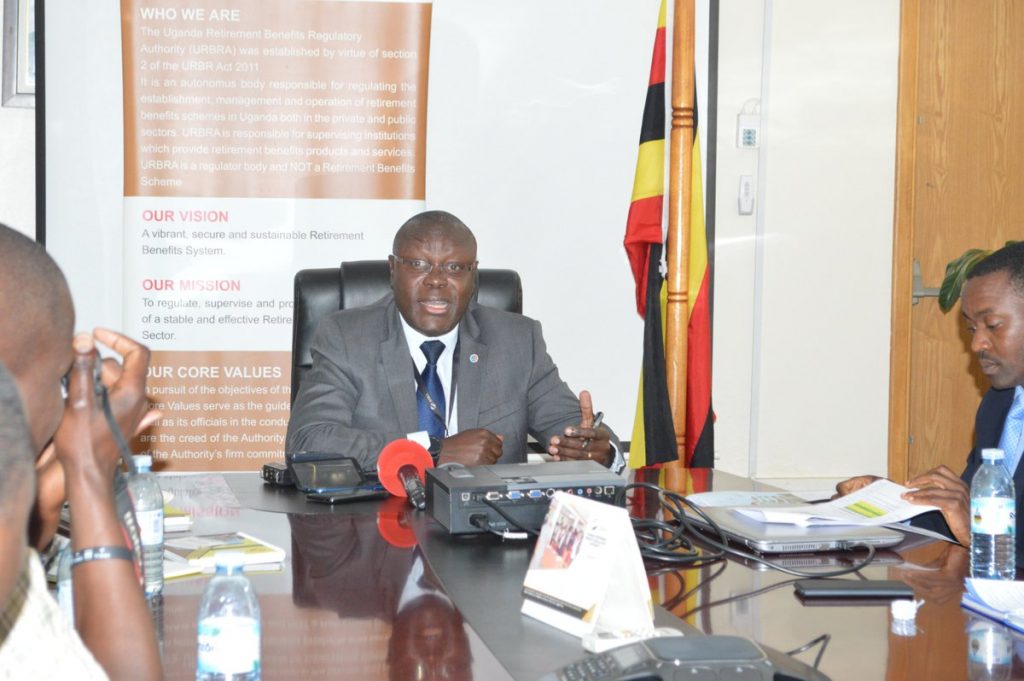 Research has shown that most of the people who have got their benefits after retirement, deplete it in less than 3 years- the how is also a different story. Research has also shown that life expectancy after retirement is 13 years, so it means that the person will live the remaining 10 years in abject poverty.
It is also a fact that less than 5% of the people who save with NSSF have an average of Shs50 million in accumulated savings and that means that the majority – over 90% don't have money that is enough to sustain them in retirement.
We are saying, instead of paying one a lump sum of UGX50 million, if you spread it over a period of 10 years, this would give you an average of Shs500,000 per month- not much but quite decent for someone who used to earn about UGX2500,000 per month and hopefully this time, they do not have as many obligations.
That is why we say we urgently need reforms in benefits payment as well.
In pensions language, the replacement rate in our pensions sector, is extremely low, which is why we also need to look at how people can enhance their savings for retirement. For example, we also note that some of the people who are saving with NSSF have other savings in occupational schemes at their work places; we are trying to work out reforms to consolidate all those savings so that they are not accessible till retirement.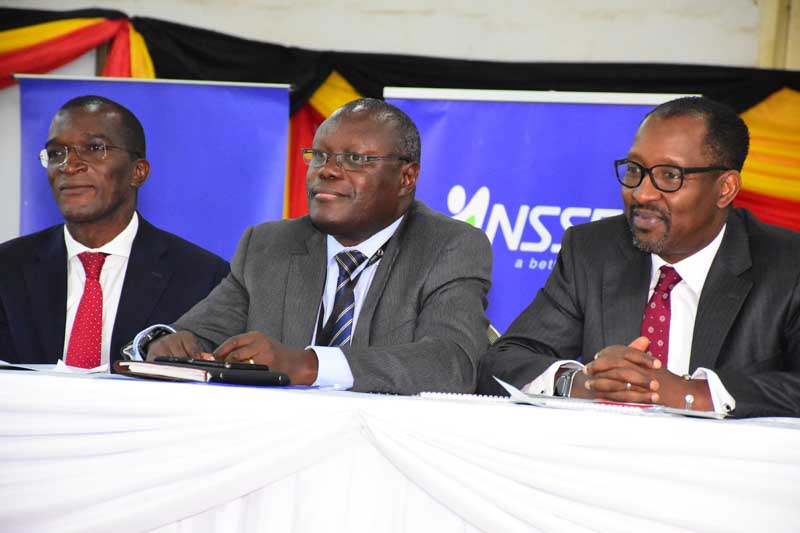 What we have in this market right now is that when Mr X has savings in an occupational in-house scheme and they leave that company, they will be paid these savings in full- thus losing out on the benefits of accumulation of this fund. So we are saying, when you leave employer Y to employer X, you can carry your savings to the new employer so that it accumulates.
The beauty about this is that the schemes we have today are independent of the sponsor for example, if you are saving with a scheme under Uganda Revenue Authority (URA), the scheme is independent of URA – we supervise it and funds are invested in a segregated regime, so we can provide that comfort that your funds are secure and intact even if you are no longer with URA. But there is a lot of resistance and the reason is that the benefits are not well understood and we need to continuously educate the masses.
And that brings me to the next challenge or focus that we need to look into – we need serious awareness for people to appreciate that we need to save for retirement, you can only benefit if you leave your funds to grow. That's the message we want to send out there.
But we are talking about 15% of the working population, but there is another 85% that is not catered for. Whatever that I have talked about is for the 15% of the working population. So we also have to increase our effort to see that we also support the unemployed segment to save for their retirement.
That is why we authorized NSSF to pursue the voluntary savings window and that will be regularized in the NSSF Amendment Bill. We have also authorized 6 or 7 schemes that are attracting voluntary schemes as well. We are coming up with a means that will help to support these agencies grow their sector as we go into the public to educate people about saving for retirement. We also need to talk about these agencies in the market so that people have alternatives to consider in terms of voluntary savings for retirement such that savings are not limited to one agency.
There has been schemes which have come up and duped people, so sometimes people lose confidence especially in the organizations which are Ugandan. How do people tell genuine from fake schemes? People would rather trust traditional savings means like land and other property.
Schemes regulated by us are strongly and highly regulated- they are very different from savings in Rotating savings and credit association (ROSCAS) commonly known as nigina, where trustees disappear with people's money every once in a while.
Schemes regulated by URBRA are different. First of all, the money is not kept with the scheme but rather with a custodian who is a commercial bank and is separately regulated by Bank of Uganda but licensed by us.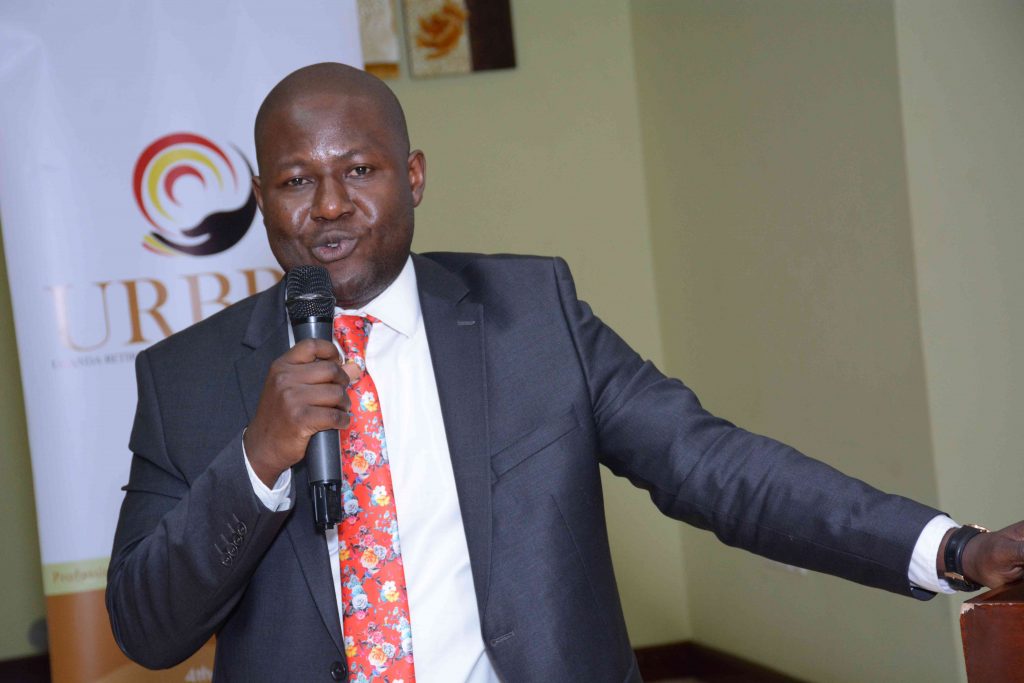 Number two, the funds are not invested by that scheme- the scheme only performs the administrative function. Funds are invested by specialized fund managers. Today, we have about 10 licensed fund managers in this market who are highly professional, they have stringent supervisory requirements they are supposed to meet in order to operate in this space.
Number 3, the scheme must be run by a fiduciary (trustees); themselves licensed and supervised by URBRA. The trustees must undergo a fit and proper test. Some of the things we look at is a certificate of good conduct from Interpol, a credibility test by the credit reference bureau, tax compliance by URA as well as their valid academic documents showing they have the right technical abilities.
If there is any whistleblower regarding the trustee, we can deregister or suspend them for some time because we have all the power. All this combined, gives confidence to a member that their funds are intact.
PROFILE: About Martin A. Nsubuga
Mr. Martin Nsubuga was in March 2018, appointed Ag. Chief Executive Officer, while still serving as the Director of Supervision and Compliance at the Uganda Retirement Benefits Regulatory Authority (URBRA. He was confirmed in that position in June 2019.
Before joining URBRA, he spent close to 15 years at the Ministry of Finance, Planning & Economic Development (MoFPED), working in different capacities where he initiated policy and regulatory reforms in insurance, pensions and capital markets.
Mr. Nsubuga coordinated the Pension Reform Task Force under the MoFPED between 2004 to 2011, and was part of the team that drafted the Uganda Retirement Benefits Regulatory Authority Act including some of the Regulations under the Act. He also served as a Director on the Board of the Insurance Regulatory Authority of Uganda between 2010 -2013 where he chaired the Audit Committee, and was a member on the Technical and Human Resource Committees.
Mr. Nsubuga is a Chartered Accountant and a Member of the Association of Chartered Certified Accountants (ACCA). He holds a BSc. in Economics, MSc. in Financial Management and is an accredited Fellow of the Macroeconomic and Financial Management Institute (MEFMI) of Eastern and Southern Africa.
EXECUTIVE APPOINTMENT: Post Bank Uganda appoints Julius Kakeeto as M.D replacing Steven Mukweli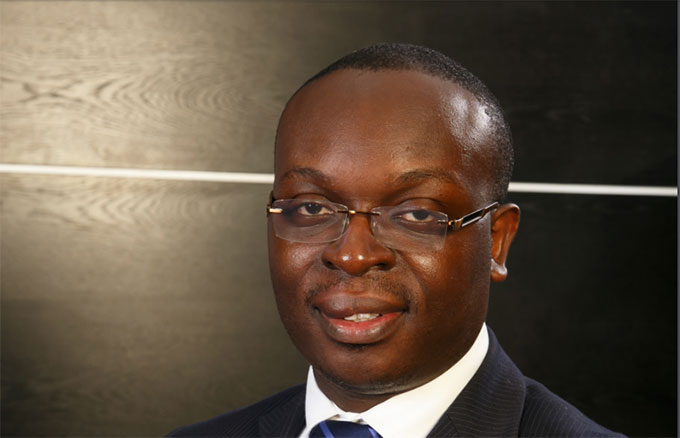 Post Bank Uganda Limited has appointed Mr Julius Kakeeto as the bank's new Managing Director.
He replaces Stephen Mukweli who has served in this role for the last 15 years.
Mr Kakeeto has a wealth of banking experience spanning over 19 years in Uganda and the United Kingdom.
He started his career with Ernst and Young before joining Citibank where he served in various capacities.
After Citibank, he joined Equity Bank Uganda as a Finance Director before joining Orient Bank.
His most recent assignment has been Managing Director/CEO of Orient Bank for the last 4 and a half years.
Mr Kakeeto is a fellow of the Association of Chartered Certified Accountants (FCCA), a member of the Institue of Certified Public Accountants of Uganda and an alumni of Manchester Business School in the United Kingdom (UK) where he obtained an MBA.
PostBank Uganda is ranked in fourth position in financial inclusion with a network of 43 branches and 12 mobile banking vans serving several customers countrywide.
The bank is looking forward to it's next chapter that is aimed at promotion to a Tier 1 financial institution.
PostBank Uganda Limited was established in 1997.
It is fully government owned with over 2 million clients.
Post Bank is audited by Ernest & Young.
SOURCES: Anne Juuko reportedly frontrunner for Stanbic top job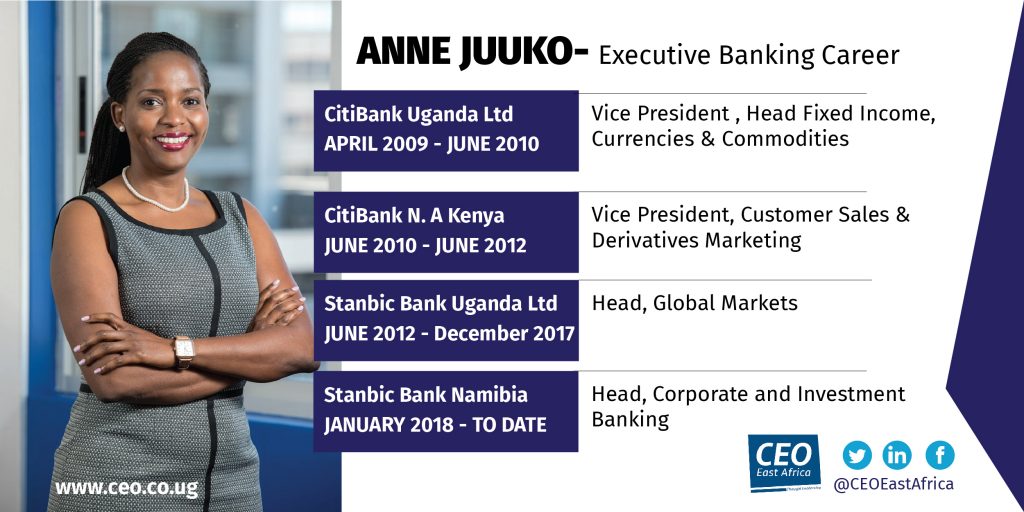 Ugandan banker, Anne Juuko is said to be the most likely next Chief Executive Officer for Stanbic Bank, Uganda's largest bank- according to information corroborated with several industry sources.
Juuko, reportedly beat Sam Mwogeza the bank's current CFO and Kevin Wingfield, the Executive Director and Head Personal and Business Banking, to one of the most coveted and well-paying jobs in corporate Uganda.
If she indeed does ascend to the role, she will probably be the youngest Stanbic Uganda CEO, the first female and the second Ugandan to head the Stanbic, since South Africa's Standard Bank acquired a controlling stake in Uganda Commercial Bank in 2001 and subsequently rebranded the bank to Stanbic Uganda.
ALSO READ: EARNINGS OF CEOS AND EXECUTIVE DIRECTORS OF 23 OF 24 OF UGANDA'S BANKS https://www.ceo.co.ug/exclusive-earnings-of-ceos-and-executive-directors-of-23-of-24-of-ugandas-banks/
Juuko will be replacing Patrick Mweheire, who also according to sources is heading to Nairobi to take up the Regional Chief Executive, East Africa and replacing, a one Greg Brackenridge who was one of the key players in managing the acquisition of Uganda Commercial Bank by Standard Bank.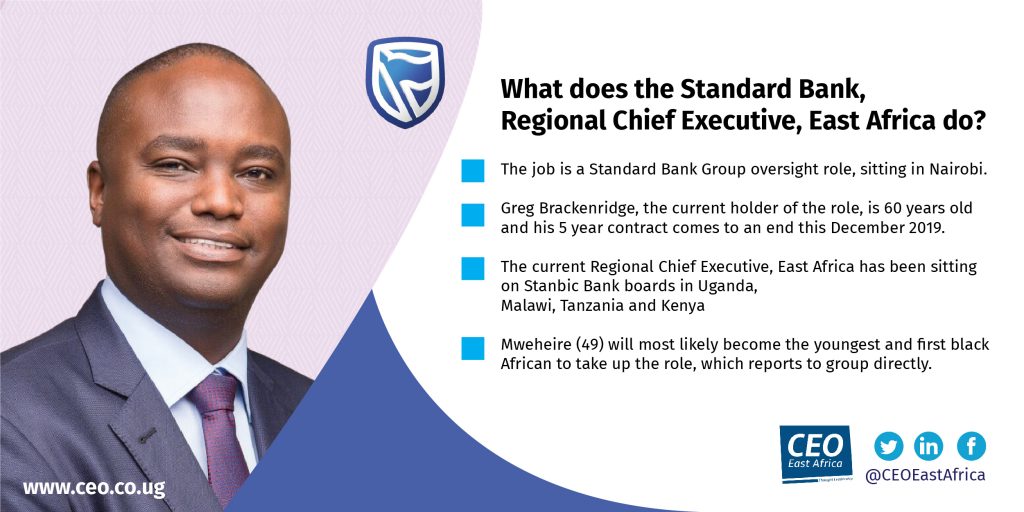 The Regional Chief Executive is a Standard Bank Group oversight role, based in Nairobi. Brackenridge, the current holder of the role, is 60 years old and his 5 year contract comes to an end this December 2019. The regional role, involves board directorships for Stanbic Bank Uganda, Tanzania and Kenya as well as Standard Bank, Malawi.
Mr. Brackenridge has been with the Standard/Stanbic Bank group for almost 25 years, having worked in several African countries including Zimbabwe, Nigeria, South Africa and Kenya where he headed the Stanbic unit there; his last assignment before becoming the Regional Chief Executive.
ALSO READ: UNPLUGGED; ALMOST EVERYTHING YOU NEED TO KNOW ABOUT STANBIC BANK CEO, PATRICK MWEHEIRE https://www.ceo.co.ug/unplugged-almost-everything-you-need-to-know-about-stanbic-bank-ceo-patrick-mweheire/
Mweheire (49) will most likely become the youngest and first black African to take up the role, which reports to group.
The Harvard trained banker, presided over Stanbic Bank's rosiest 5 years, nearly doubling assets from UGX3.7 trillion in 2015 to UGX6.1 trillion as of June 2019.
The regional role is largely interpreted to mean group's endorsement of Mweheire's performance record that has seen the bank become Uganda's most profitable bank with nearly 30% of industry profitability.
Who is Anne Juuko?
Juuko, holds a Bachelor of Commerce degree from Makerere University in Kampala, Uganda and a master's degree in Strategic Planning from the Herriot Watt Business School in Edinburgh, Scotland.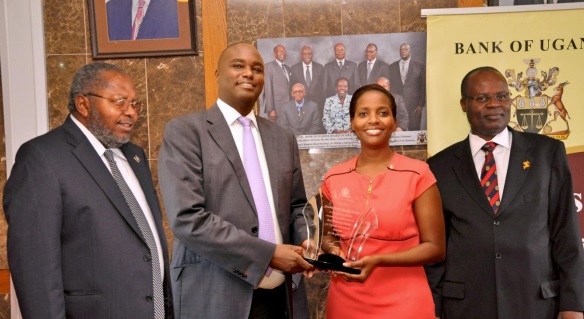 Juuko was between April 2009 a VP, Head Fixed Income, Currencies and Commodities at Citibank Uganda Limited, before heading to Citibank Kenya as VP, Customer Sales and Derivatives Marketing, a role she served between June 2010 and June 2012. She then returned to Stanbic Bank to take a Head, Global Markets role till December 2017 when she got appointed, Head, Corporates and Investment Banking at Standard Bank, Namibia; a role she took up in January 2018.   
ALSO READ: SALARIES OF CEOS AND EXECUTIVE DIRECTORS OF 23 OF 24 OF UGANDA'S BANKS https://www.ceo.co.ug/exclusive-earnings-of-ceos-and-executive-directors-of-23-of-24-of-ugandas-banks/
While as head of Global Markets, Juuko is said to have exhibited all-star performance, winning the highly coveted Primary Dealer of the Year award for 6 consecutive years. Juuko's breadth of treasury and investment banking knowledge is said to have caught the attention of Mweheire, himself an investment banker, who is said to have had a role in seconding her to the Namibia job.
Juuko's experience fits well within Stanbic's business strategy whose non-lending income constitutes more about 45% of total income. CEO East Africa is yet to establish how much Juuko will be compensated, but if Patrick Mweheire's UGX131,830,596 monthly salary is anything to go by, Juuko's compensation will be in nine (9) figures.
IN CASE YOU MISSED THIS: MONEY MEN; THE 8 GENTLEMEN WHO CONTROL 77% OF UGANDA'S BANKING INDUSTRY https://www.ceo.co.ug/money-men-the-8-gentlemen-who-control-77-of-ugandas-banking-industry/
Meet Abdulaziz Mansur, Tropical Bank's new Managing Director and the task he faces in turning around the bank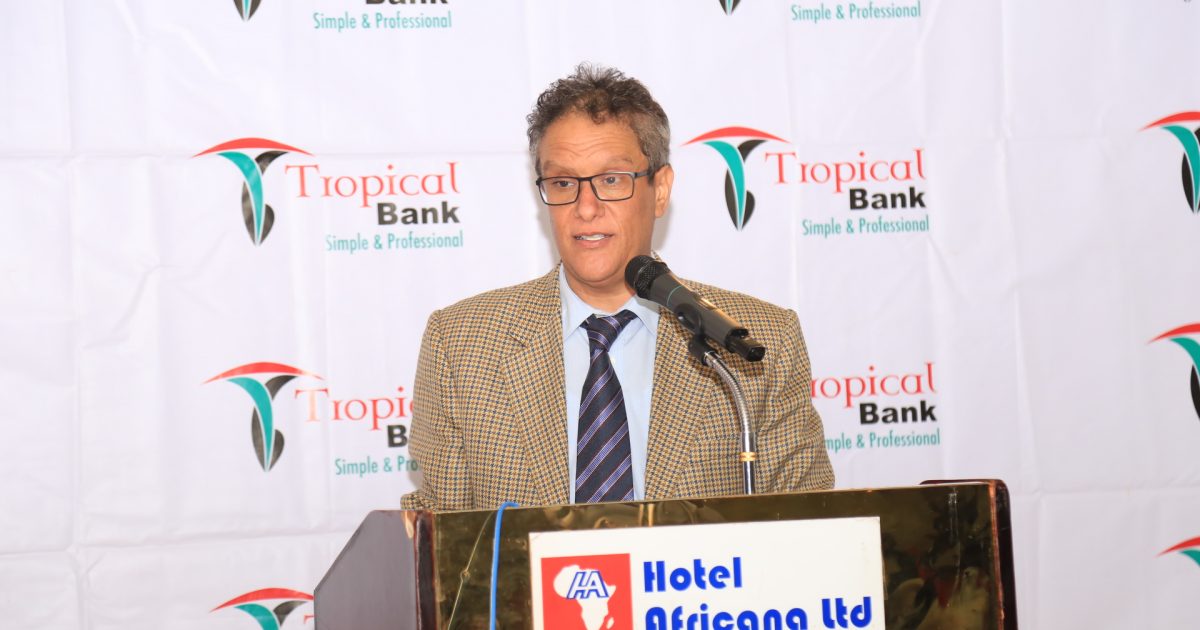 Tropical Bank Limited has unveiled Abdulaziz M.A Mansur as its substantive Managing Director.
Dennis Mugagga Kakeeto, the bank's Executive Director, has been doubling as Managing Director in acting capacity, since October 2018, following the summary sacking of Sameh M. Krekshi, the then Managing Director, who was fired by the board on orders of Bank of Uganda over apparently consistently overdrawing his salary account.
Abdulaziz M.A Mansur, who has more than 28 years' experience in the financial services industry, holds a Master of Business Administration (MBA) in Accounting and Finance from the Yeditepe University in Turkey.
For five and a half years (2000-2005) he was seconded by the Libya Foreign Bank (LFB) to work as the head of audit at A&T Leasing Company, in Turkey, a subsidiary of A&T Bank, also in Turkey- itself majority owned by the Libyan Foreign Bank- an investment arm of the Libyan Central Bank.
LFB and the government of Uganda are joint shareholders in Tropical Bank, but LFB is the majority shareholder.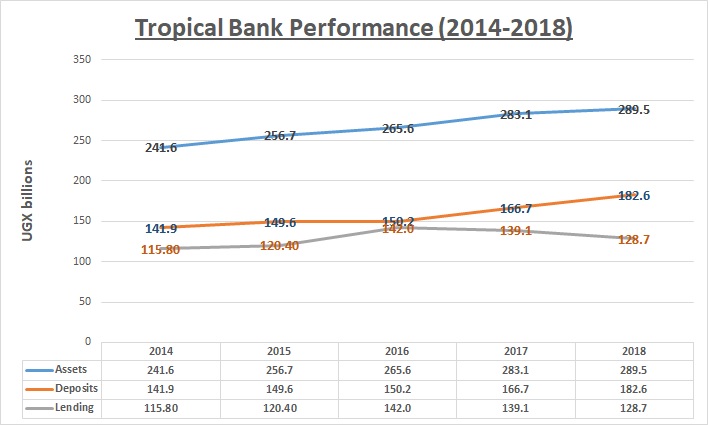 Between 2005 and November 2010, Abdulaziz, moved back to Tripoli, Libya and served as the Deputy Manager, Risk Management and Manager HR at Libya Foreign Bank. From December 2010 to September 2019 he served as the General Manager and one of the key people in starting up Nuran Bank- a joint venture between Libya Foreign Bank and Qatar Holding LLC- the investment arm of the Qatar Investment Authority.
Righting the wrongs of past management
Although Sameh M. Krekshi, who joined the bank in 2015, was sacked for seemingly overdrawing his salary account, a closer look at the bank's performance between 2014 and 2018, reveals tells a story of gross performance failure, characterized by imprudent lending and subsequent debt write-offs and losses- perhaps the real reason why the former MD was summarily fired.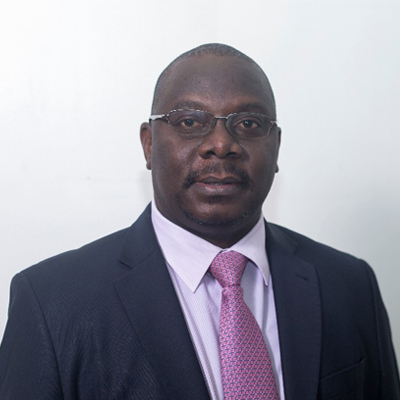 While deposits grew by 28.7% from UGX141.9 billion in 2014 to UGX182.6 billion in 2018, growth in lending was mixed. Between 2014 and 2016, the bank's loan portfolio grew 22.6% from UGX115.8 billion to UGX142 billion, but during this time the bank got exposed to several defaults, causing Non Performing Loans (NPLs) to jump from UGX8.3 billion in 2014, to UGX14.9 billion in 2015; in 2016, NPLs more than doubled to UGX38.2 billion.
Although the bank slowed down lending, from UGX142 billion in 2016, to 139.1 billion in 2017 and then 128.7 billion in 2018, higher than normal NPLs refused to go away- UGX28.7 billion in 2017 and UGX21.9 billion in 2018. As a result, Tropical bank wrote down UGX11.8 billion in 2016, UGX12.06 billion in 2017 and UGX17 billion in 2018.
The NPLs drag effect combined with reduced lending severely impacted on the bank's income and profit performance. Profitability has been mixed- while the bank posted a profit of UGX4.3 billion in 2014 and UGX1.9bn in 2015, in 2016, it was hit by a UGX13.4 billion loss, then another UGX5.5bn loss in 2017 and another UGX5.8bn loss in 2018.
Altogether, between 2016 and 2018, the bank has registered combined losses, amounting to UGX24.7 billion.
Total assets have also grown quite slowly- by 19.8% since 2014, from UGX241.7 billion to UGX289.5 billion in 2018- a compounded annual growth rate of 4%.
Abdul-Aziz's job is clearly cut-out!
"I am here to help Ugandan businesses flourish," Abdulaziz speaks out
Addressing the bank's corporate customers at a dinner held at Hotel Africana on Thursday 26th September 2019, Mansur said that Tropical Bank's objective is to support trade and development in Uganda.
"When the Bank was established in 1973 as a joint venture between the government of Uganda and Libyan Foreign Bank, its main objective was to support trade and development in Uganda and provide support in foreign trade with the outside world," Mansur said.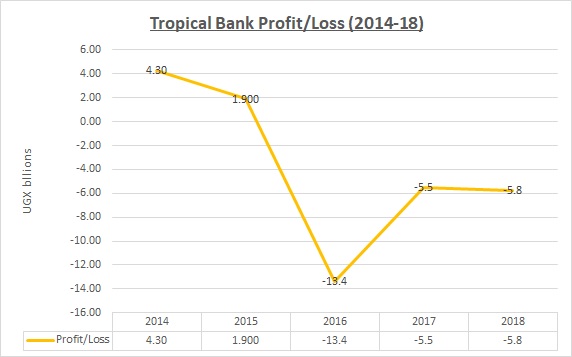 "This is still our objective and I have come here as the new Managing Director of Tropical Bank to reinforce this vision. We strongly want our customers and their businesses to flourish and be successful. If our customers fail, so shall we as a Bank."
He promised to offer customers unmatched financial services that are designed to meet their business requirements.
"Our doors are and will always be open to you. Just be transparent with us and allow us be the partners that will help you achieve your vision," he added.
He said that the bank had committed resources to continuous innovation especially in the area of electronic and agent banking so as to make banking simple and easy for customers.
"Our Mobile Banking application and service is up and running. You can now have the bank in the palm of your hands, through your mobile phone. We have also introduced electronic fees payment through the use of School Pay system and in addition we are agents for Bancassurance services. We aspire to provide you with all banking services that you need, from high yield deposit products, to fairly priced lending products, insurance services, trade finance products and electronic banking channels," he added.
Tropical bank has a network of 15 branches around the country, 8 of which are in Kampala. As at end of 2018, it was the 16th biggest bank (out of 24 banks) by assets (UGX289.5 billion), 17th biggest by lending (UGX128.7 billion) and customer deposits (UGX182.6 billion).