UBL board hails Mark Ocitti for resounding growth and innovation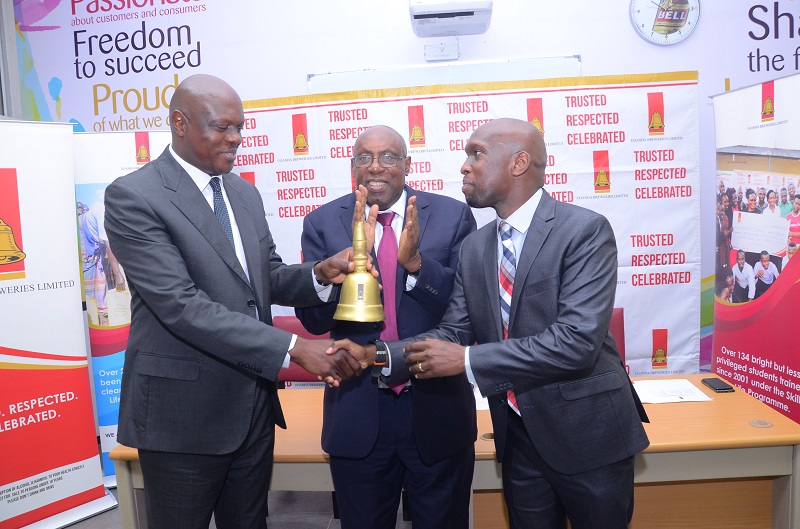 The Uganda Breweries Limited (UBL) Board of Directors, has hailed outgoing its Managing Director, Mark Ocitti for what they called: "great milestones, resounding business growth, capacity expansion, impactful community projects in education, sanitation and a spirited, empowered staff."
Addressing a farewell press conference, on Thurday, July 11th attended by UBL's senior and middle management as well as members of the media, UBL board Chairman Japheth Katto, said that Ocitti's 3 years at the brewery have set up a great foundation to deliver future "great performances" thereby "returning significant value to our investors for years to come."
"In the last 3 years, the business has registered a year-on-year average growth rate of over 30% in volumes and over 6% in topline delivery, which has cemented our market leadership of over 54% of market share by value in Total Beverage Alcohol (TBA) in beer and spirits," said an excited Katto.
"We have significantly grown our numeric distribution by over 25%, which has manifested in the distinctive visibility and increased availability of key brands like Bell, Pilsner, Tusker Lite and Guinness. This is reflected in the growth of the retail outlets handling our products by 28,000 outlets in 3 years thus growing the households we impact positively by over 80,000," he added.
Although Kato did not delve into the specific details of UBL's financial performance under Ocitti, CEO East Africa Magazine, understands that Ocitti inherited a gross turnover book of UGX377.8 billion and a profit of UGX34.6 billion for the year, ended March 2016.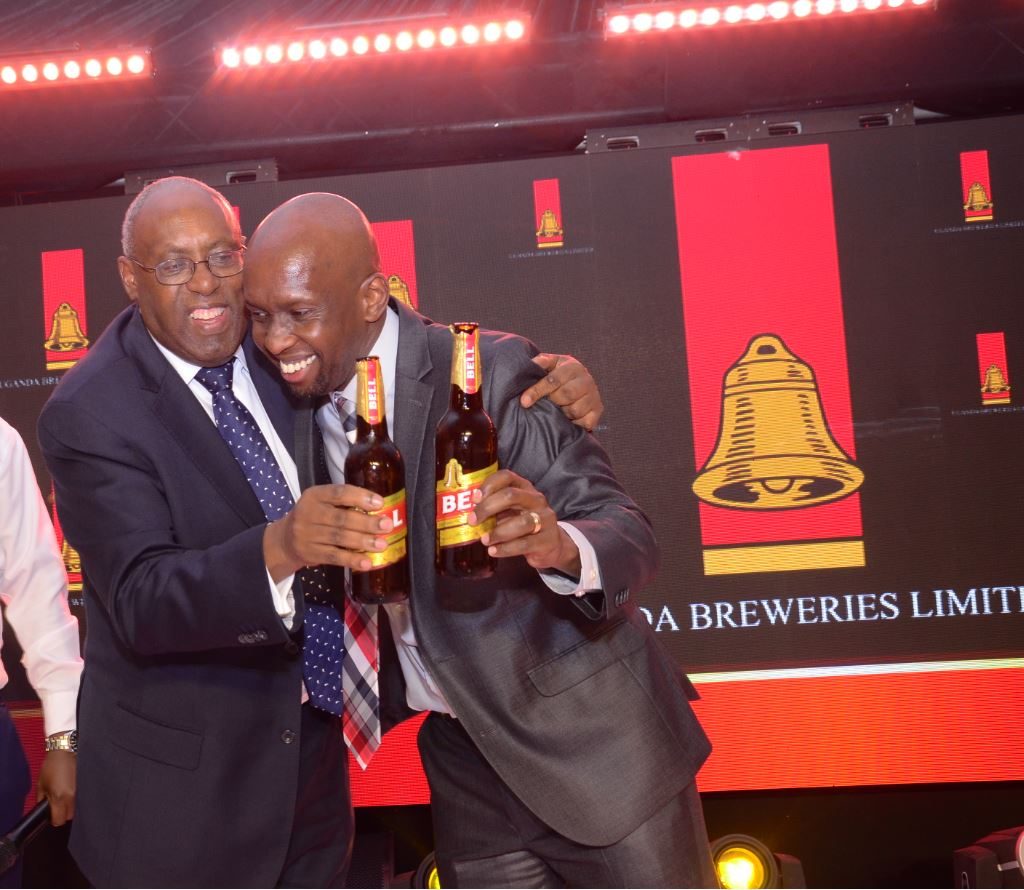 By end of March 2017, sales revenue grew by 6.5% to UGX402.5bn and in the year ending March 2018, sales revenue jumped by a further 6% to UGX426.7bn- a compound annual growth rate (CAGR) of 4% across the 3 years.
During this time, Ocitti who is a sales and commercial expert by background, narrowed down the gap between UBL and Nile Breweries, their arch-rivals from UGX189bn in 2016 to UGX126.4 billion- UBL's gross turnover for 2016 was UGX377.8bn compared to NBL's 567.7bn while in 2017 UBL sold UGX402.5bn worth of drinks compared to NBL's 528.9bn.
Ocitti's exciting, challenging and fulfilling 3 years
Mr. Ocitti is heading to Tanzania as the Managing Director for Serengeti Breweries Limited, a member of the East African Breweries Group and as such, part of Diageo, effective August 1, 2019. Ocitti who possesses over 20 years of business leadership in Oil & Gas, telecoms and beverages sectors, is the second Ugandan to lead UBL after Baker Magunda is also the second Ugandan Managing Director within the Diageo family working on the African continent, outside their home market. Ocitti also joins 14 other Ugandans that Uganda Breweries has exported to Diageo's affiliate companies in Kenya and the United Kingdom.
"On behalf of the Board and our investors, I thank you, Mark for your hard work and delivering on your commitment to build and grow the business you were given charge of. Your stewardship has sustained our leadership in innovation, delivered market share command and significantly improved the opportunity for our consumers to access their favorite brands. We challenge you to carry the winning attitude you infused in the staff and fly the Ugandan flag high in Tanzania and wherever else you will go after that," he said.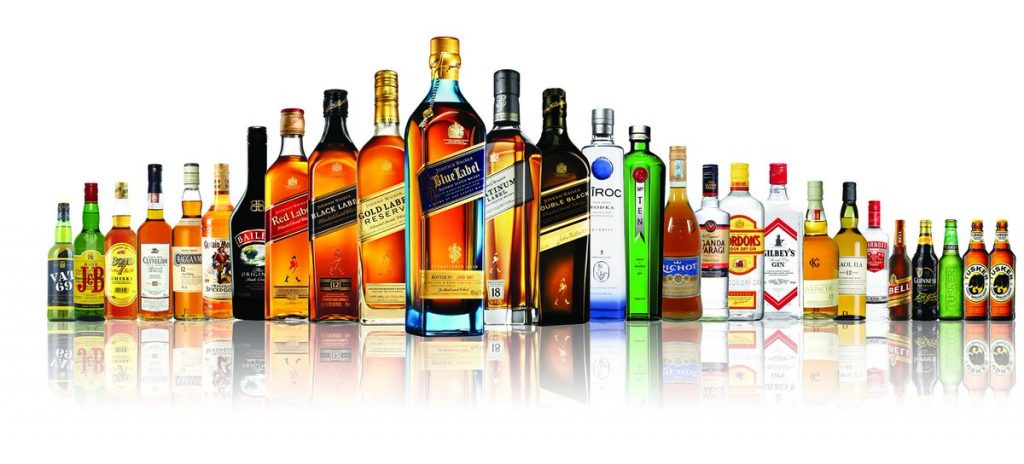 Mark will be succeeded by Alvin M. Mbugua
A seasoned commercial professional, Mbugua joined East African Breweries Limited (EABL) in May 2013 as the Group Finance Controller before transitioning to Uganda as Finance and Strategy Director in October 2015. Prior to his new appointment, Mbugua was Head of Sales of the biggest Sales division in Kenya Breweries Limited (KBL), a role that he has held for the last 17 months.
Mbugua was also recognized as 2017 Chief Finance Officer of the Year and took home the Strategy Execution Award at the Annual CFO Awards organized by the Association of Chartered and Certified Accountants (ACCA) and Deloitte Uganda.
On his part, Ocitti said he was "really honored to have presided over Uganda Breweries at a time when it has achieved the kind of growth that has been spelled out by my Chairman," he said adding that the three years had been "exciting, challenging and fulfilling all at the same time."
He said the three years, had "defined the legacy of Uganda Breweries for years to come" as UBL had "received the most overwhelming stamp of approval from our consumers as they sampled one or more each of our wide category of alcoholic beverages.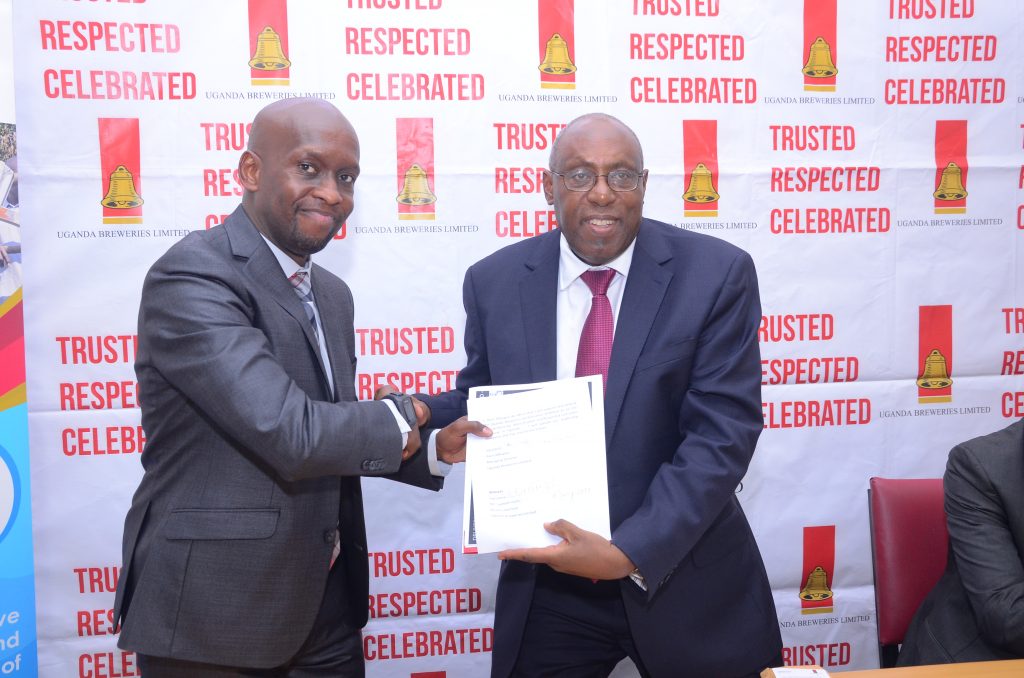 "I am really honored to have presided over Uganda Breweries at a time when it has achieved the kind of growth that has been spelled out by my Chairman," he said adding that the three years had been "exciting, challenging and fulfilling all at the same time."
Truly, truly excited to be back
Welcoming Mbugua, Katto said that he was confident in his abilities to lead the company forward as Uganda's most trusted, respected and celebrated company.
"I have no doubt that the leader we are getting in Mr. Mbugua will enable us to continue to deliver unprecedented sustainable growth whilst continuing to drive a winning culture for our staff so we can export more Ugandan talent to take over more corners of this continent," said Kato.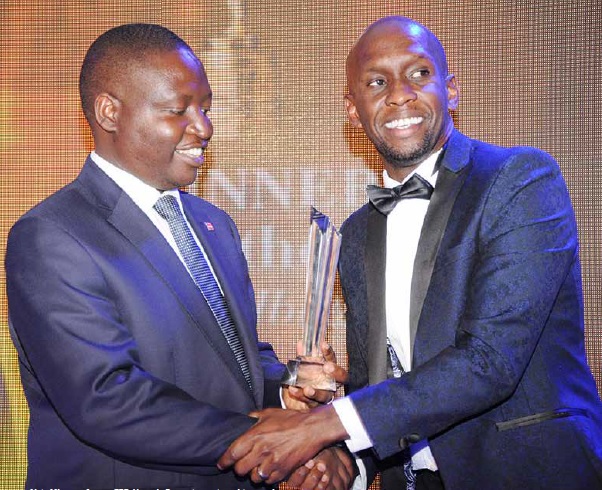 Mbugua, who said he was "truly, truly excited to be back" said his return was a in "a big way a continuation of the building blocks" laid before when he was Finance & Strategy Director and that he returns as a "much more experienced and fine leader" following the commercial role he played in Nairobi, after Uganda.
"I truly feel humbled to be taking the stewardship of the 4th largest tax payer in Uganda. It is no light task, I must bear witness to that. Chairman, with the confidence that comes from the board and yourself, I really want to lay out and commit, on behalf of myself and my team, that we will continue the great work and achievements left by Mark Ocitti and the other MDS who left before," he said.
"UBL has been around now for over 70 years. We are the generation that is taking UBL into the 2020s and see UBL become 80 years old; it is no mean feat and we do not take it lightly. We understand what our forefathers have done before, we appreciate what Mark and his team have done up to this point and ours is to continue the heritage; that great story and hopefully, pass over a company to the next generation that is far greater than what we found it. That is the only gift that we can give back to Uganda, the young people coming up, and to ourselves, as we serve in leadership at this time," he said.
Kwame Ejalu's Kent Holdings, acquires Alexander Forbes' Ugandan unit; rebrands to Zamara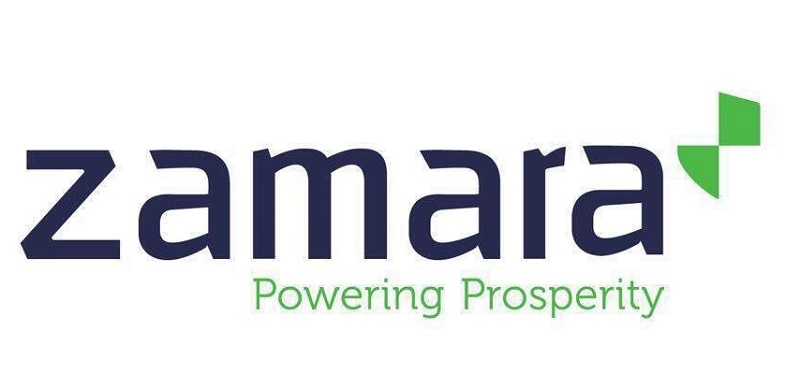 Alexander Forbes Financial Services Uganda Limited is now Zamara Actuaries, Administrators and Consultants (U) Limited.
This follows the ongoing exit of the South African financial services group from Uganda and the sale of their 51% stake in Uganda to Kent Holdings Limited- a Ugandan financial services group with interests in insurance brokerage and pensions management.
The two companies affirmed the sale, in a joint statement on August 21st, by Bonga Mokoena the Alexander Forbes Emerging Markets (AFEM) Chief Executive Officer and Kwame Ejalu, the Kent Holdings Limited Chairman.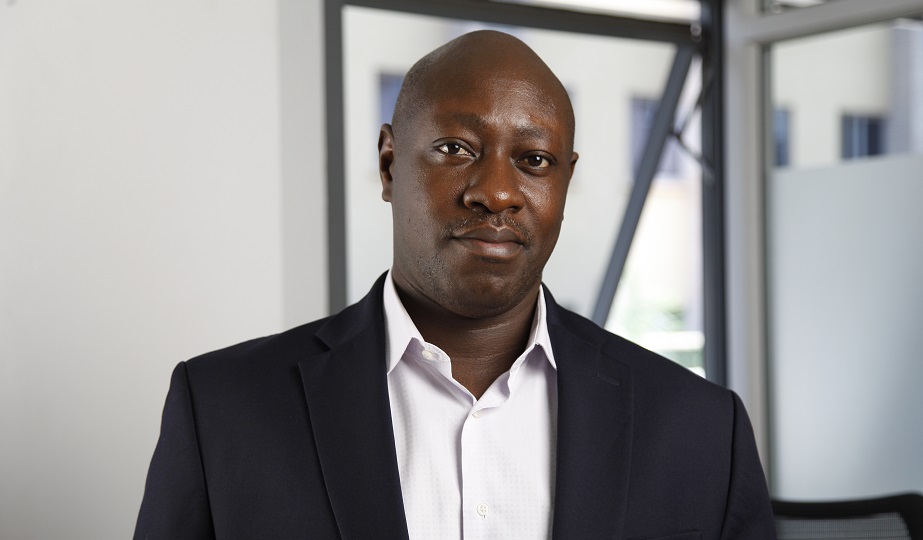 "Alexander Forbes Emerging Markets (AFEM) and Kent Holdings are pleased to announce that an agreement has been reached on a sale of shares to Kent Holdings Limited. On 2 July 2019, a sale of shares agreement was executed in terms of which, AFEM sold 51% in Alexander Forbes Financial Services Uganda Limited, to Kent Holdings Limited, a co-shareholder in Alexander Forbes Financial Services Uganda Limited," read the statement.
Kent Holdings, previously owned 49% of the Ugandan operations.
The statement however said that "the sale of shares agreement is subject to fulfilment of conditions precedent."
"The terms and conditions of the sale agreement remain confidential," both executives announced, but confirmed that Alexander Forbes has effected a name change and will now be known as Zamara Actuaries Administrators and Consultants (Uganda) Limited.
The name change was gazetted on 17th July 2019.
"Alexander Forbes Financial Services (Uganda) Limited, has been by a special resolution passed on 10th July 2019 and with the approval of the registrar of companies changed its name to Zamara Actuaries Administrators and Consultants Limited- 17th July 2019," reads General Notice No. 762 of 2019, extracted from the Gazette.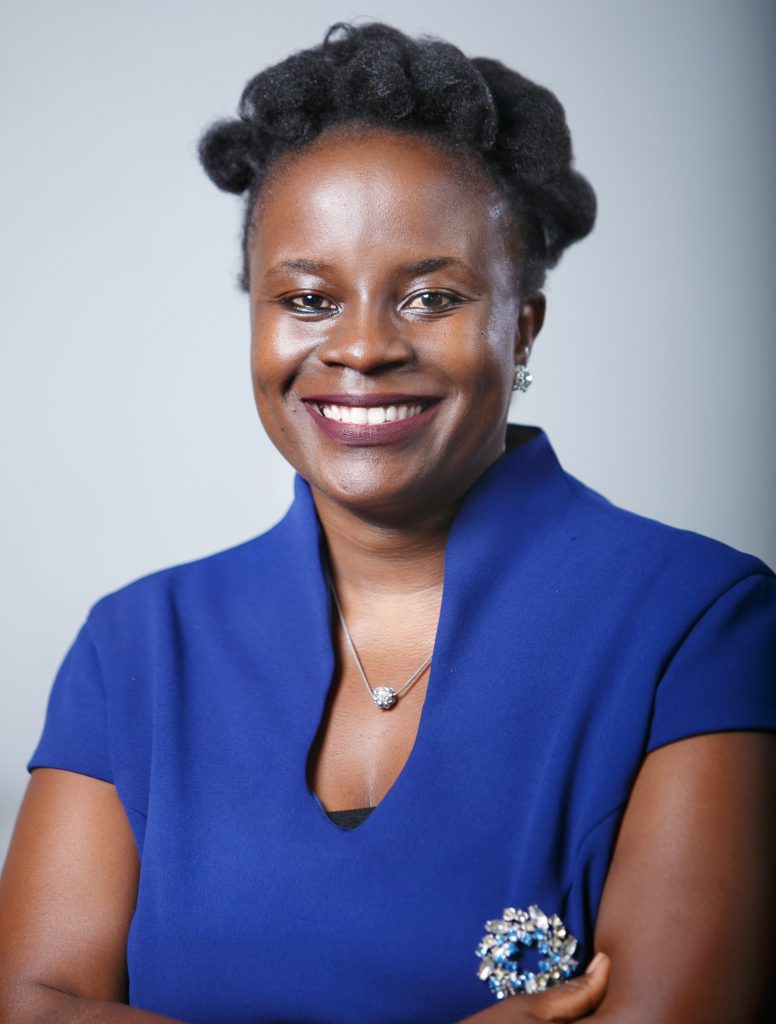 In a separate announcement, media announcement run in the local dailies, Zamara also confirmed their entry into the Ugandan market, promising that they called "fresh perspective in the delivery of financial services in Africa."
Who is Zamara?
According to their media announcement, the Zamara Group is a specialised financial services group providing actuarial advice and retirement administration solutions in financial services, umbrella retirement solutions, investment and risk sectors to individuals, corporates, parastatals and retirement fund clients.
The firm currently administers assets in excess of KSh. 280 billion an equivalent of UGX 9.995 trillion and is the only actuarial, consulting, accounting and pension administration firm in Kenya to be ISO 9001:2015 certified.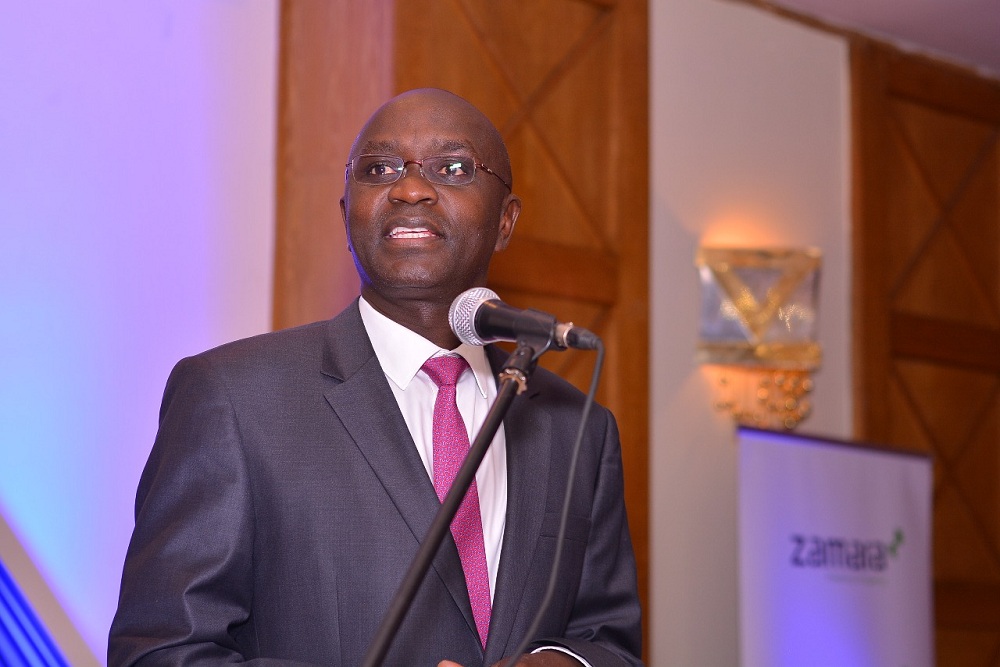 Uganda is the sixth Zamara operation after Kenya, Nigeria, Rwanda, Tanzania and Malawi. Zamara started operations in Kenya over 23 years ago as Hymans Robertson and later changed to Alexander Forbes (East Africa) Limited before renaming to Zamara Actuaries, Administrators and Consultants Limited, following the exit of Alexander Forbes from the Kenyan market in 2017.
For four consecutive years, Zamara, their umbrella fund, the Zamara Fanaka Retirement Fund (formerly Alexander Forbes Retirement Fund) and Zamara Vuna Pension Plan (formerly Alexander Forbes Vuna Pension Plan), Zamara's individual pension plan have been variously awarded in Kenya's Think Business Awards.
A brand that embodies a fresh perspective on the delivery of financial services
Commenting on the entry of Zamara into Uganda, Kwame Ejalu, the Kent Holdings Chairman said: "We are enthusiastic about this partnership between Kent Holdings and Zamara Group as it marks the entry into Uganda, of a formidable brand that embodies a fresh perspective on the delivery of financial services in Africa. This partnership blends Kent Holdings' 22 years of local experience and strategic leadership with Zamara's 23-year African heritage and technical capacity, to deliver innovative and excellent services to our clients, underpinned by simplicity, empathy and trust," adding: "Zamara Uganda will now add to our portfolio pan-African expertise, actuarial services and other online solutions that we previously did not offer."
Asked if Zamara had acquired the stake, previously held by Alexander Forbes, he said he would comment on this after "the Alexander Forbes-Kent Holdings transaction is fully complete and all conditions precedent are fulfilled."
Ejalu however said that Zamara Uganda inherits and will continue to run a managed private pension funds sector in Uganda and managed assets under administration portfolio in excess of UGX380 billion- roughtly 40% sector market share.
James Olubayi, the Zamara Group Executive Director said that the Zamara Group looked at Uganda as "one of the key strategic regions in the market for growth of the group."
"Zamara aims to elevate the quality of advice and solutions offered to stakeholders and inevitably be a game changer for clients it serves in Uganda. We look forward to the extended partnership with Kent Holdings, clients, stakeholders across Africa," he said.
Miriam Ekirapa Musaali, Chief Operating Officer, Zamara Uganda who previously was the Alexander Forbes COO said "We remain the same enthusiastic, energetic, creative team that is committed to serving our clients in Uganda. We will no doubt continue to offer superior consulting, advisory and administration services to pension funds in Uganda and further enhance our offering and advice to truly world class levels."
Stanbic Bank scoops June/July best gov't securities dealer award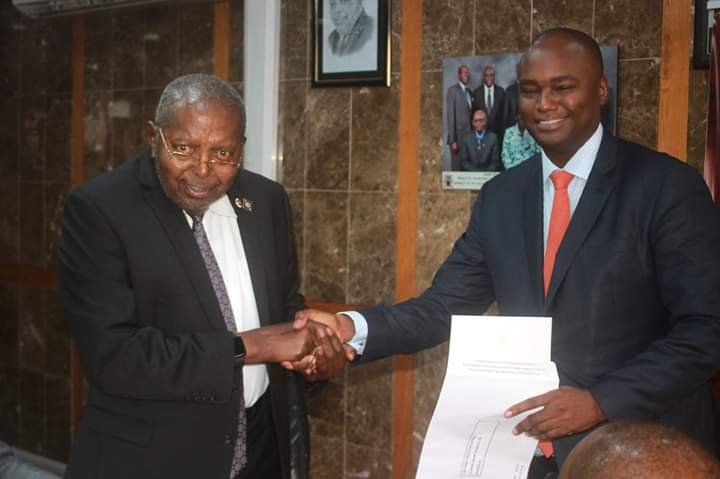 The Governor Prof. Emmanuel Tumusiime-Mutebile has given an award to Stanbic Bank Uganda (LTD) for being the best performing bank in dealing government securities for the months of June and July 2019. The award was received by Stanbic Bank CEO Mr. Patrick Mweheire during the quarterly Uganda Bankers Association (UBA) meeting at BoU headquarters in Kampala.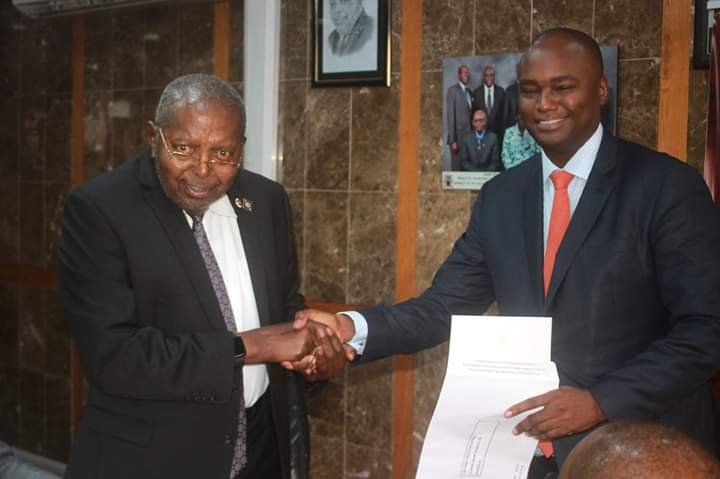 The bank has been recognised by the regulator for its role in the primary dealer system that helps in developing Financial Markets and in reducing the costs associated with issuing Government Securities; through increasing demand, market efficiency, encouraging secondary market trading and improving the quality of Financial Market information.
A primary dealer is a pre-approved bank, broker or financial institution that is able to lend money to the government through treasury bonds and treasury bills.
Background information on best performing banks in government securities award
In January 2005, the Bank of Uganda initiated the "Award for the Best Performing Primary Dealer in Uganda Government Securities for the Month" to recognize the Primary Dealer that performed best in trading Uganda Government Securities and transmitting information regarding the status of the financial markets to the Central Bank.
A Primary Dealer is any financial intermediary that has signed a Memorandum of Understanding with the Bank of Uganda to execute the following actions on a consistent basis:
§ To participate as counter-party in Uganda Government securities auctions conducted by the Bank of Uganda.
§ To provide the public with prices or yields that they will buy and sell "On-the Run" (the most recently auctioned) Uganda Government securities. i.e. Treasury bills and Treasury bonds on a continuous basis.
§ To provide the public with prices or yields that they will buy Off-the-Run (Other than the most recently auctioned) Uganda Government securities on a continuous basis.
§ To trade with the public Uganda Government securities at the prices or yields that they have quoted.
§ To make available information on the status of the market to the Bank of Uganda on a timely basis.
The points allocated for the Award to the Best Performing Primary Dealer in Uganda Government Securities for the Month are aggregated to determine the winner of the prestigious award.
Geologist, Proscovia Nabbanja appointed as UNOC caretaker CEO
Proscovia Nabbanja, the Chief Operating Officer at the Uganda National Oil Company (UNOC) has been appointed by the board as the interim caretaker CEO.
Wholly owned by the Government of Uganda, UNOC is a limited liability company whose prime purpose is to handle the Government of Uganda's commercial interests in the petroleum sector and to ensure that the resource is exploited in a sustainable manner.
Nabbanja steps into the shoes of Dr. Josephine Wapakabulo who resigned in May this year over- what she said was the need to focus on family and pursue new opportunities.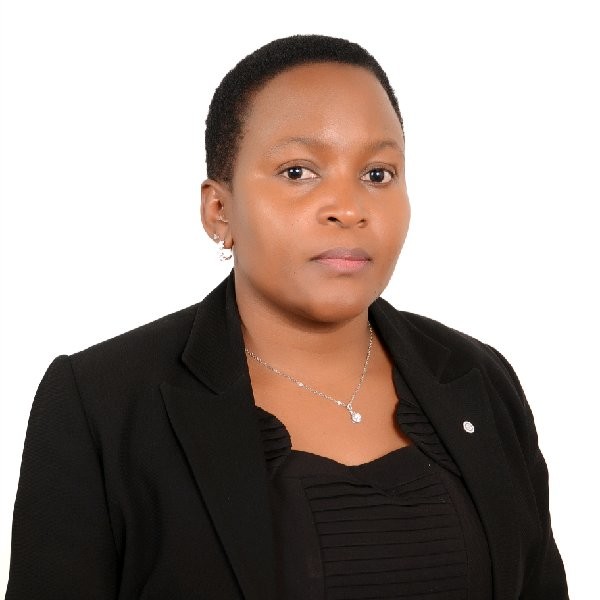 Some insiders however say although Dr. Wapakabulo was an engineer by background, with a PhD in Information Science from Loughborough University and a Global Executive MBA from the prestigious
Institut Européen d'Administration des affaires (European Institute of Business Administration) INSEAD, she was seen by many of the oil & gas experts at UNOC, many of whom were part and parcel of oil & gas story and history, as an outsider and imposed upon them by president Museveni.
This resistance could have fast-tracked her self-ejection.
Who is Nabbanja?
Nabbanja has been in the COO role at UNOC since November 2016.
Before that, she served as a geologist at the Petroleum Exploration Development and Production (PEPD) of Ministry of Energy for 15 years, rising to the level of Principal Geologist, a role she held between April 2015 and October 2016.
A holder of Bachelor of Science in Geology & Chemistry from Makerere University, Nabbanja also holds an Msc, Petroleum Geoscience from the Imperial College London as well as a Master of Business Administration (MBA) from the Imperial College Business School.
She also holds a Diploma in Management of Petroleum Operations and Development from PETRAD Norway.