UBL board hails Mark Ocitti for resounding growth and innovation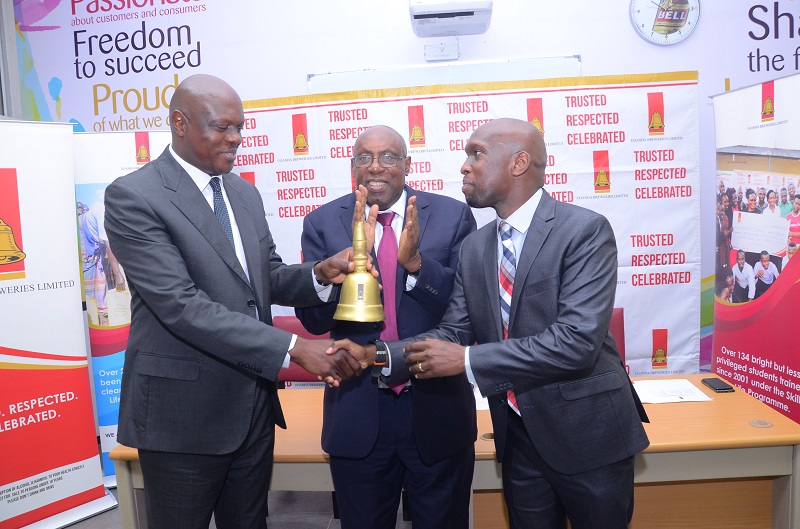 The Uganda Breweries Limited (UBL) Board of Directors, has hailed outgoing its Managing Director, Mark Ocitti for what they called: "great milestones, resounding business growth, capacity expansion, impactful community projects in education, sanitation and a spirited, empowered staff."
Addressing a farewell press conference, on Thurday, July 11th attended by UBL's senior and middle management as well as members of the media, UBL board Chairman Japheth Katto, said that Ocitti's 3 years at the brewery have set up a great foundation to deliver future "great performances" thereby "returning significant value to our investors for years to come."
"In the last 3 years, the business has registered a year-on-year average growth rate of over 30% in volumes and over 6% in topline delivery, which has cemented our market leadership of over 54% of market share by value in Total Beverage Alcohol (TBA) in beer and spirits," said an excited Katto.
"We have significantly grown our numeric distribution by over 25%, which has manifested in the distinctive visibility and increased availability of key brands like Bell, Pilsner, Tusker Lite and Guinness. This is reflected in the growth of the retail outlets handling our products by 28,000 outlets in 3 years thus growing the households we impact positively by over 80,000," he added.
Although Kato did not delve into the specific details of UBL's financial performance under Ocitti, CEO East Africa Magazine, understands that Ocitti inherited a gross turnover book of UGX377.8 billion and a profit of UGX34.6 billion for the year, ended March 2016.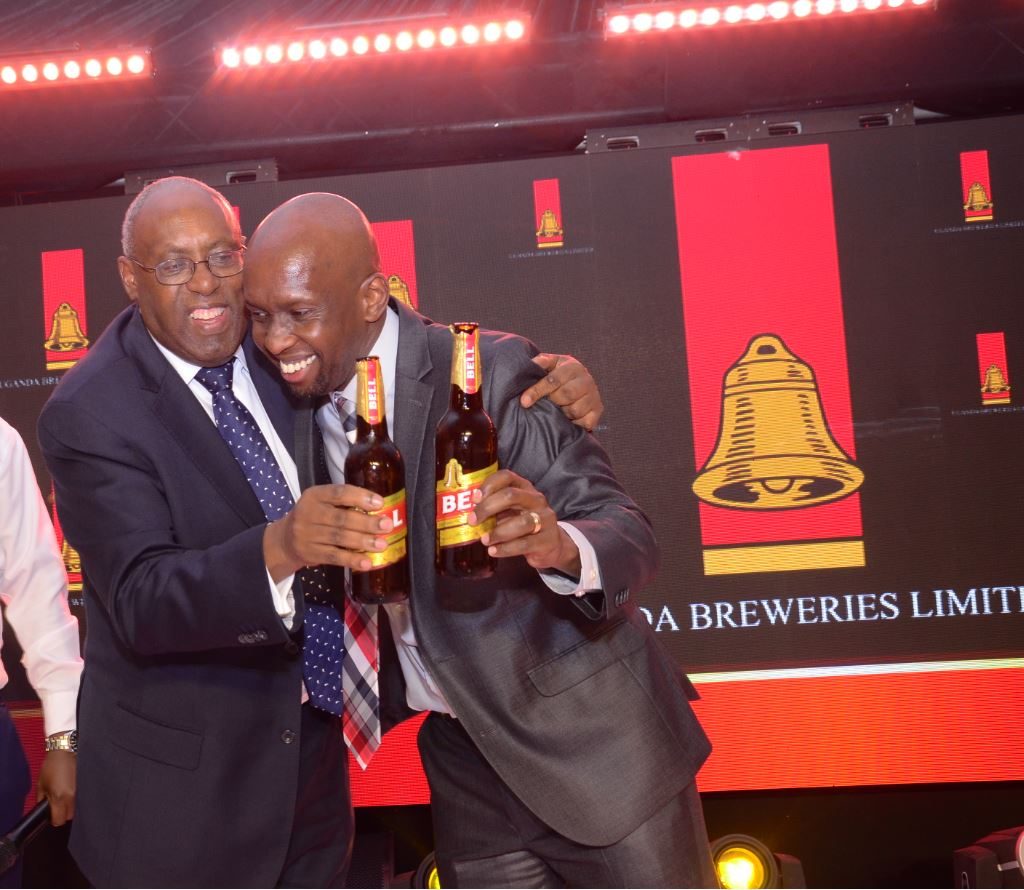 By end of March 2017, sales revenue grew by 6.5% to UGX402.5bn and in the year ending March 2018, sales revenue jumped by a further 6% to UGX426.7bn- a compound annual growth rate (CAGR) of 4% across the 3 years.
During this time, Ocitti who is a sales and commercial expert by background, narrowed down the gap between UBL and Nile Breweries, their arch-rivals from UGX189bn in 2016 to UGX126.4 billion- UBL's gross turnover for 2016 was UGX377.8bn compared to NBL's 567.7bn while in 2017 UBL sold UGX402.5bn worth of drinks compared to NBL's 528.9bn.
Ocitti's exciting, challenging and fulfilling 3 years
Mr. Ocitti is heading to Tanzania as the Managing Director for Serengeti Breweries Limited, a member of the East African Breweries Group and as such, part of Diageo, effective August 1, 2019. Ocitti who possesses over 20 years of business leadership in Oil & Gas, telecoms and beverages sectors, is the second Ugandan to lead UBL after Baker Magunda is also the second Ugandan Managing Director within the Diageo family working on the African continent, outside their home market. Ocitti also joins 14 other Ugandans that Uganda Breweries has exported to Diageo's affiliate companies in Kenya and the United Kingdom.
"On behalf of the Board and our investors, I thank you, Mark for your hard work and delivering on your commitment to build and grow the business you were given charge of. Your stewardship has sustained our leadership in innovation, delivered market share command and significantly improved the opportunity for our consumers to access their favorite brands. We challenge you to carry the winning attitude you infused in the staff and fly the Ugandan flag high in Tanzania and wherever else you will go after that," he said.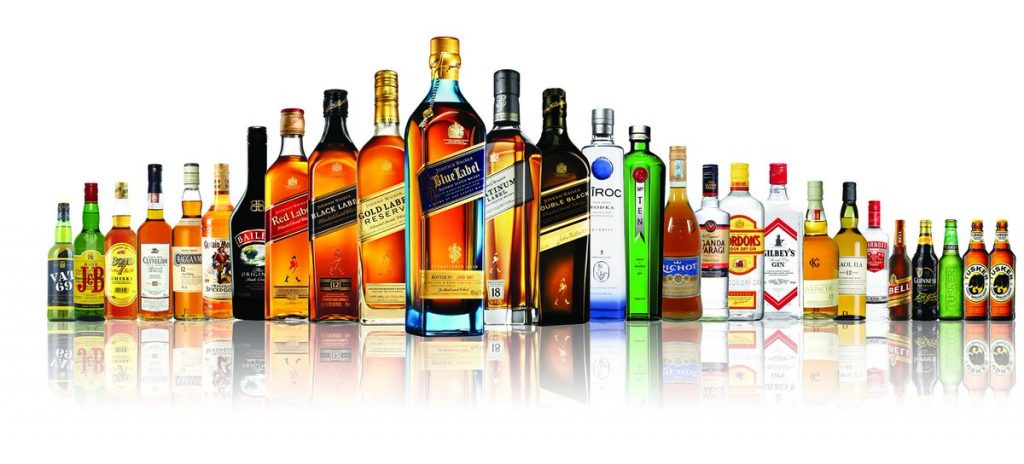 Mark will be succeeded by Alvin M. Mbugua
A seasoned commercial professional, Mbugua joined East African Breweries Limited (EABL) in May 2013 as the Group Finance Controller before transitioning to Uganda as Finance and Strategy Director in October 2015. Prior to his new appointment, Mbugua was Head of Sales of the biggest Sales division in Kenya Breweries Limited (KBL), a role that he has held for the last 17 months.
Mbugua was also recognized as 2017 Chief Finance Officer of the Year and took home the Strategy Execution Award at the Annual CFO Awards organized by the Association of Chartered and Certified Accountants (ACCA) and Deloitte Uganda.
On his part, Ocitti said he was "really honored to have presided over Uganda Breweries at a time when it has achieved the kind of growth that has been spelled out by my Chairman," he said adding that the three years had been "exciting, challenging and fulfilling all at the same time."
He said the three years, had "defined the legacy of Uganda Breweries for years to come" as UBL had "received the most overwhelming stamp of approval from our consumers as they sampled one or more each of our wide category of alcoholic beverages.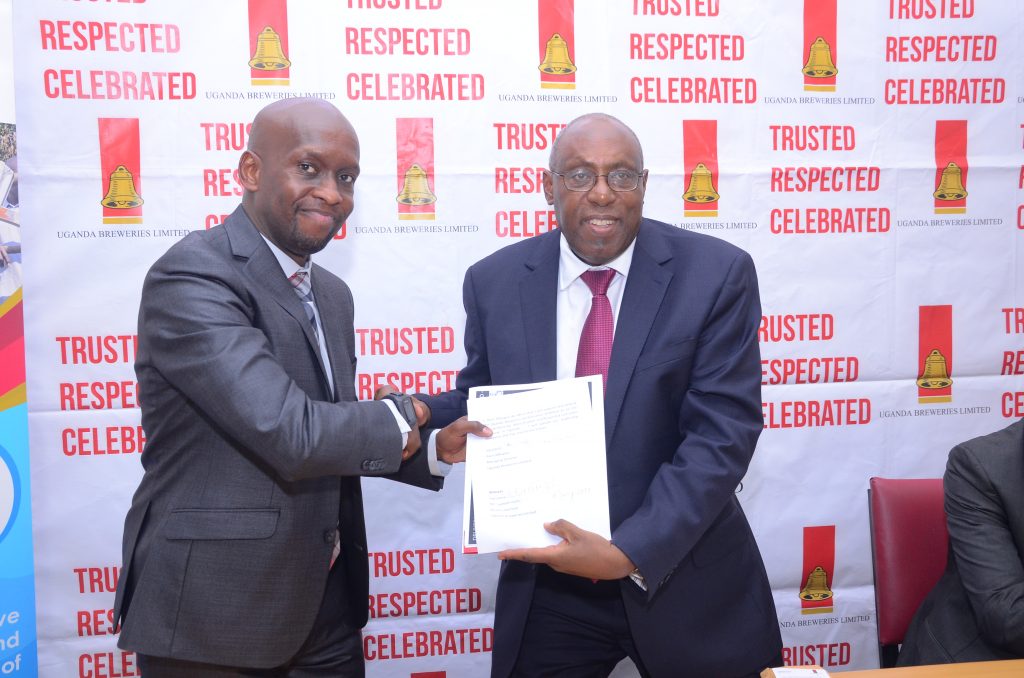 "I am really honored to have presided over Uganda Breweries at a time when it has achieved the kind of growth that has been spelled out by my Chairman," he said adding that the three years had been "exciting, challenging and fulfilling all at the same time."
Truly, truly excited to be back
Welcoming Mbugua, Katto said that he was confident in his abilities to lead the company forward as Uganda's most trusted, respected and celebrated company.
"I have no doubt that the leader we are getting in Mr. Mbugua will enable us to continue to deliver unprecedented sustainable growth whilst continuing to drive a winning culture for our staff so we can export more Ugandan talent to take over more corners of this continent," said Kato.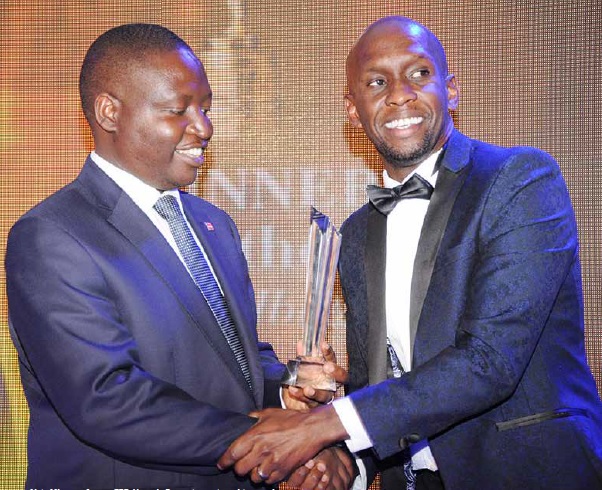 Mbugua, who said he was "truly, truly excited to be back" said his return was a in "a big way a continuation of the building blocks" laid before when he was Finance & Strategy Director and that he returns as a "much more experienced and fine leader" following the commercial role he played in Nairobi, after Uganda.
"I truly feel humbled to be taking the stewardship of the 4th largest tax payer in Uganda. It is no light task, I must bear witness to that. Chairman, with the confidence that comes from the board and yourself, I really want to lay out and commit, on behalf of myself and my team, that we will continue the great work and achievements left by Mark Ocitti and the other MDS who left before," he said.
"UBL has been around now for over 70 years. We are the generation that is taking UBL into the 2020s and see UBL become 80 years old; it is no mean feat and we do not take it lightly. We understand what our forefathers have done before, we appreciate what Mark and his team have done up to this point and ours is to continue the heritage; that great story and hopefully, pass over a company to the next generation that is far greater than what we found it. That is the only gift that we can give back to Uganda, the young people coming up, and to ourselves, as we serve in leadership at this time," he said.
RICHARD BYARUGABA- the man who restored the "Security" in the National Social Security Fund of Uganda
For argument's sake one can always dismiss Richard Byarugaba's performance at National Social Security Fund (NSSF)- afterall the employers have no choice but to contribute; it is a statutory obligation. But that statutory obligation had always existed since 1985 when the Fund was founded by an Act of Parliament, but the kind of double digit growth present at the Fund was not always there. Neither has NSSF ever enjoyed the kind of scandal-free calm and stability, like has been witnessed especially in the last 5 years.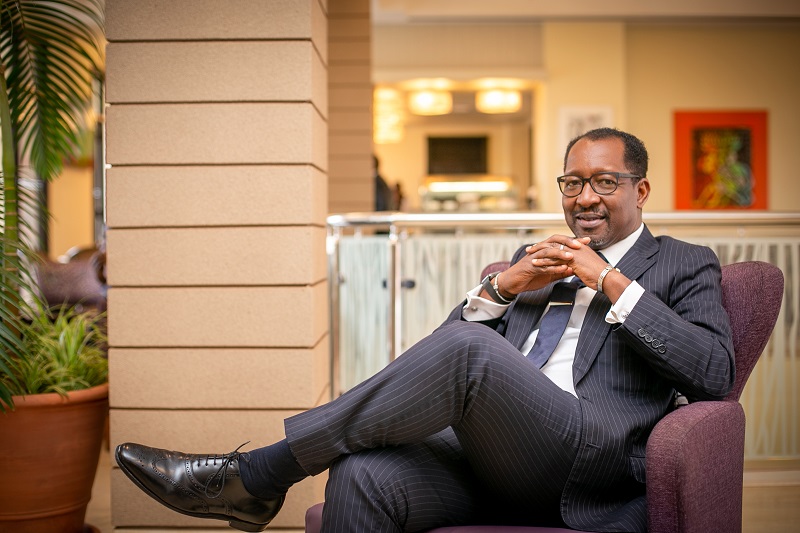 On November 30th, Richard Byarugaba completed the second year of his third, 5-year term at National Social Security Fund (NSSF) – Uganda's biggest social security provider.
He was first appointed to the position in September 2010, and re-appointed to the position for a second 3-year term in October 2014 – after a long and twisting search process, but started the job on 1st December 2014. In October 2017, he was re-appointed to a new 5-year term.
Alongside Byarugaba, Patrick Ayota, NSSF's Chief Finance Officer, was appointed Deputy Managing Director, by Matia Kasaija, the Finance Minister.
Today, with assets of UGX11.3 trillion (USD3.1 billion) as at 30th June, 2019- NSSF is also Uganda's largest financial institution; nearly twice larger than Stanbic Bank's UGX6 trillion assets.
Stanbic is Uganda's biggest bank.
NSSF is also East Africa's largest Fund by value.
The Fund is not only big- but is also consistently posting a healthy double digit growth across all the key fundamentals- assets under management, revenue, annual contributions, benefits paid and even interest rate.
But NSSF wasn't always like this- before 2010, NSSF was mired in scandal after scandal and weighed down by deficient customer service, a poor public image and the subsequent mistrust and therefore had to largely rely on the statutory backup to correct contributions from a largely reluctant public.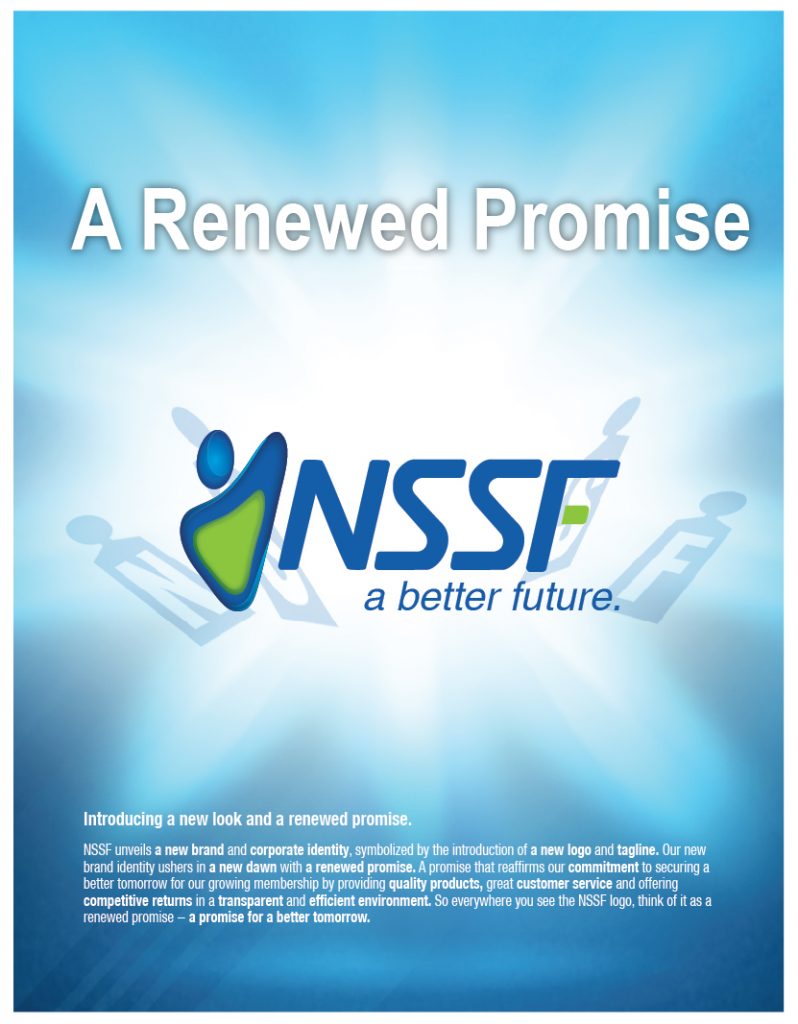 For example, compliance rates were low- at 49%, which made the costs of managing the Fund very high- cost to income ratio in 2010 was at 70%. This therefore meant that a significant portion of the money collected was eroded by costs- which is why interest paid to members was at a mere 7% in 2010. 
So bad was the Fund's reputation, that for every 10 stories written by the media about NSSF in 2010, nearly 5 stories (45%) were negative- according to media research by media research firm, Ipsos.
A new look and a new promise
The first thing that Richard Byarugaba did, was carry out several cost-cutting but efficiency enhancing reforms. By end of 2012, he had managed to cut expenditure fr0m UGX58.7bn in 2011 to UGX53.6 billion. The biggest cut was on administrative expenses- from UGX43.9 billion to UGX35.3bn.
Alongside cost cutting, he intensified audits, as well as building a satisfied human resource. He also changed the compliance model from an enforcement model to a relationship model- give a better service as a way of encouraging voluntary compliance.
In December 2012, he rebranded the Fund- with not just a new logo and tagline, but also a new promise.
"We are not merely changing our look and feel, but rather, the change of our visual identity symbolizes my commitment, your commitment and our commitment to deliver a better future for our growing membership by providing quality products, great customer service and offering competitive returns in a transparent and efficient environment," Mr Byarugaba told the media at the time.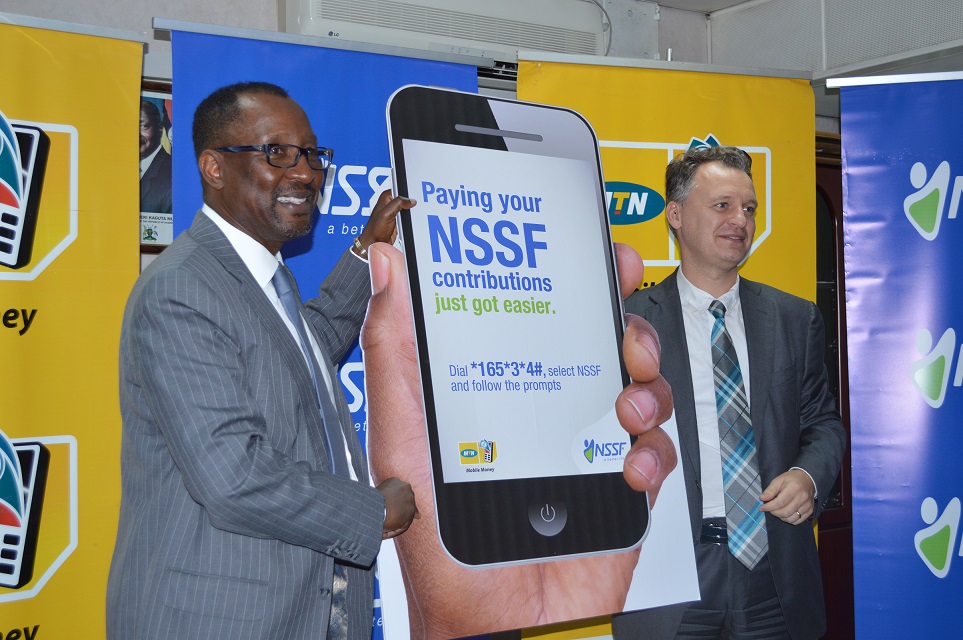 "Delivering a better future starts," he added.
And the public believed him- in the 24 months he had been around, he had grown the Fund's asset base by 76.5% from the UGX1.7 trillion he had inherited to UGX3 trillion as at November 2012.
Compliance had moved to 73% and as a result monthly contributions were up by 71% from UGX 24.5bn that he had inherited to UGX 42.0 bn at the time of rebranding. Benefits paid to members went up by 60% from UGX 64 billion to UGX 102 billion while interest paid to members went up by 126% from UGX 89 billion to UGX 202 billion.
Overall, the Fund was growing by UGX 50bn a month and cap it all, for FY2011/2012, the Fund declared interest rate of 10%.
Turnaround time for processing and paying benefits also improved from the 105 days he found in place to an average of 20 days!
"I have no doubt that the new NSSF is ready", said then Finance Minister, Maria Kiwanuka at the rebranding dinner, hosted by the Fund for Stakeholders, at Serena Hotel Kampala.
Technology for ease of access and transparency
Byarugaba,a known technology fanatic who in his early days as Managing Director at then Nile Bank had trail-blazed his peers into automated banking- then a preserve of large multinational banks, went on a technology spree at the Fund.
His focus was to ease access for members to the Fund and their savings- which had a double impact of improved customer care- but also improved ownership of the Fund as members could now track their savings growth.
For example, for the first time in the history of the Fund, with the NSSFGO APP, members were able to access a number of self-service features that included benefits tracking, member details updates and current balances. Most recently, following successful integration with National Identification and Registration Authority (NIRA) and partnership with Uganda Services Registration Bureau (URSB), employers and employees can self-register without having to go to any NSSF office.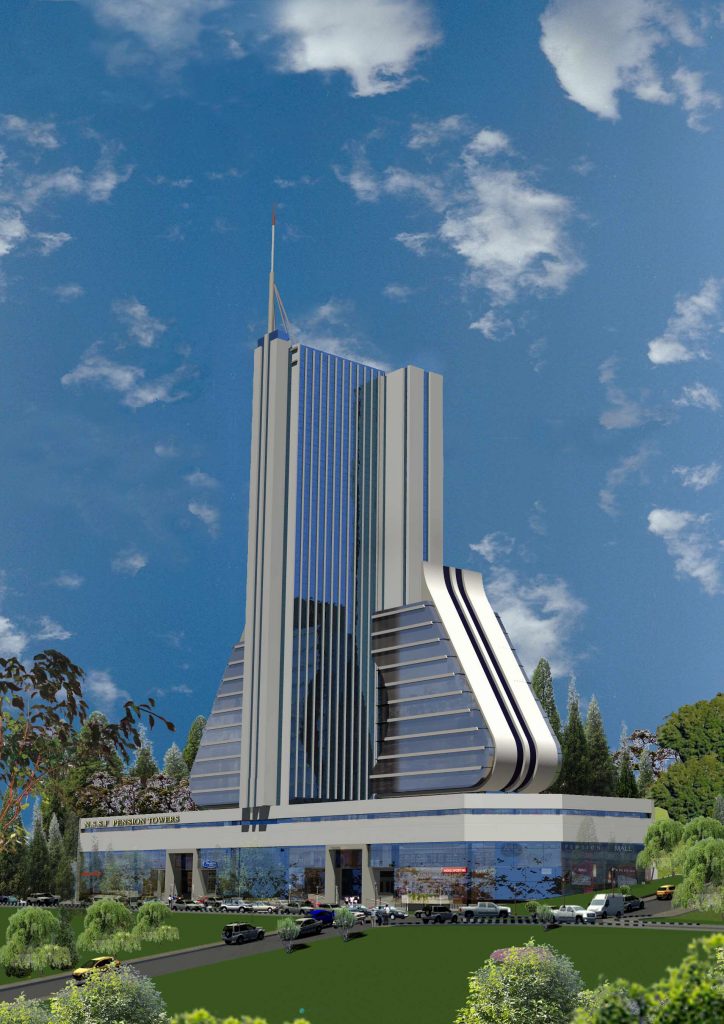 In 2017, the fund also launched voluntary savings that leverage mobile money technology that allow members to save voluntarily at their own pace using Airtel Money and MTN Mobile Money. To date, there are about 15,000 voluntary savers with UGX11 billion in savings. Most recently, the Fund also made it possible for Ugandans living in the diaspora, who had prior registered with the Fund, to make voluntary contributions using MasterCard, American Express and Visa cards.
Towards a UGX20 trillion Fund by 2025
Central to Byarugaba's performance was the 1st June 2012, appointment of Mr. Ivan Kyayonka (RIP) as board chairman. Kyayonka who had spent over 20 years at Shell Uganda, not only brought in a private sector perspective but as a person, he had an impeccable integrity record and he was no-nonsense.
This image and skill he lent to NSSF's brand that was on a comeback trajectory. He was also a known fighter whose I-don't-give-a-damn-as-long-as-am-right attitude helped NSSF to earn some amount of independence to make the decisions it needed to make. Previsouly the Fund's decision making was crowded by too many cooks- politicians, unions, the media etc., who ended up spoiling the soup.
In 2015, under the leadership of Kyayonka, NSSF launched a new 10-year Strategic Plan (2015-2025)- that targeted at making NSSF into a UGX20 trillion fund- a market-maker and the biggest driver of economic growth in East Africa.
And Just like Jesus said in Luke 11:33- "No one lights a lamp and puts it in a place where it will be hidden, or under a bowl."- Byarugaba went on a charm offensive with several public image campaigns to not only let the public understand and appreciate what he was up to- but also give the organisation a human face.
To further enhance transparency – NSSF had earlier in 2013 and for the first time in its history held its first annual members' meeting (AMM) on 19th March 2013 at the Kampala Serena Hotel, where the Fund subjected itself to scrutiny and accountability. The AMM has now become a tradition.
And transparency was not just a façade- it was real. For example, the Fund has since 2012 received an unqualified opinion from the Auditor General- as a mark of accountability and transparency, something that had eluded Byarugaba's predecessors.
An unqualified opinion is an independent auditor's judgment that a company's financial statements are fairly and appropriately presented, without any identified exceptions, and in compliance with generally accepted accounting principles
With transparency, came increased public trust and more compliance; and like they say, the rest is history.
6 times growth in 9 years
Today, thanks to all the innovations, ccustomer satisfaction has increased from 45% that Byarugaba inherited to 84% against a target of 95% by 2025. Satisfied customers have also contributed to a higher compliance rate- from 49% to 87%. Higher compliance has jerked up contributions collected annually by more than 4 times (315%) from UGX295 billion as at June 2010 to UGX1.22 trillion at June 2019- on average UGX102 billion a month!
The growth in contributions has been driven by partly growth in contributors- employers have grown by 43.8% from 32,000 to 46,000 while employees have grown from 900,000 to 1,981,000 out of whom 830,000 are active regular monthly savers.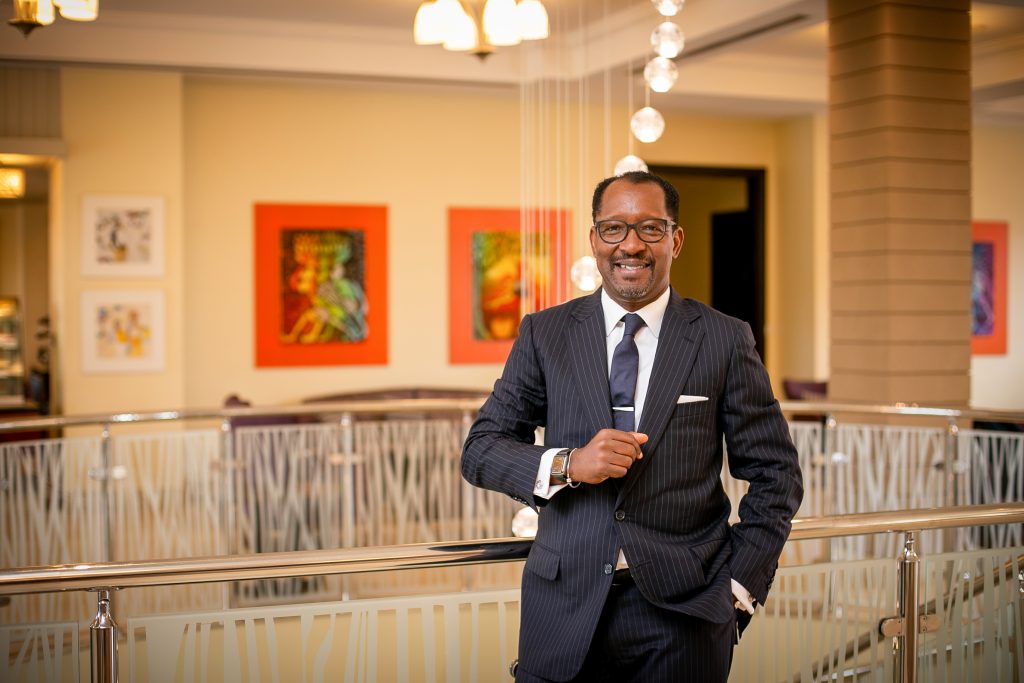 This has largely contributed to the 564.7% growth in assets from UGX1.7 trillion in 2010 to UGX11.3 trillion as at June 30th 2019. With 4 years down and 6 to go on the 2015-2025 NSSF Strategic Plan, this is 56.5% of the UGX20 trillion target – meaning NSSF is well on course to surpass that target.
Interest rate paid to members has also grown- thanks to growing income from investments- from 7% in 2010 reaching a record 15% for FY2017/18, then easing down to 11% for FY2018/19. Although there was a reduction in interest rate, it still remained within NSSF's promise, made in FY2012/13- to pay members a real return at least 2% above the 10 year inflation.
The 10 year average rate of inflation in September 2019 was 6.71%.
In fact, since 2012/13 NSSF has consistently paid a double digit return to its members. The Fund in 2012/13 declared 10% interest rate, 11.23% in 2013/14 and 11.50% in 2014/15. In 2015/16, the interest rate rose to 13%, then declined slightly to 12.30% in 2016/17 and 11.23% in 2017/18. In 2018/19 the fund paid a historic high of 15% in the Fund's 34 years of existence.
Benefits paid to members have also gone up by 603.1% from UGX64% to UGX450 billion- but perhaps, even more important, the turnaround time in claims payments has reduced from 104 days to 8 days, against a target of 1 day by 2025.
Staff engagement- a measure of how satisfied staff are is now at 88% against the 2025 target of 95%.
And the Fund's superior performance has been recognized the world over by a number of regional, continental and global awards such as the prestigious Balanced Scorecard Award 2016, Africa Pension Fund Initiative of the Year 2015, 2016, 2017, 2018; East Africa Super Brands 2014, International Social Security Association (ISSA) Good Practice Awards, the Financial Reporting Award 2016, 2017, 2018 and 2019; CSR Award in 2017 and the Africa SABRE Communications Awards 2018.
Looking to a better future and building the failed projects
With UGX11.3 trillion in assets, growing in double digits annually and 6 years to go on the 2015-2025 NSSF Strategic Plan, NSSF's UGX20 trillion ambition is 56.5% down and on course.
The Fund's stalled signature projects such as the UGX260 billion Pension Towers, the USD400m Lubowa Housing Project (LHP) and the Temangalo 5,000 affordable housing project are all on course and most slated for completion by 2025.
The Fund, this year also won a significant policy battle- with government agreeing to maintain it as the only mandatory benefits fund but also scrapping the 5-employees threshold- guaranteeing stability and growth of both members and contributions. In the proposed law, the Fund will also have a leeway to introduce new products.
Who is Richard Byarugaba?
Byarugaba (56), has a wealth of experience spanning over a period of 31 years in managing large financial organisations of international repute including commercial banks.
He previously served as Managing Director, Afrimax Uganda and had previously held similar position at Global Trust Bank and Nile Bank. In 2007 he also served as the Chief Operations Officer at Barclays Bank Uganda Ltd.
Aged 56, Richard started his career in 1983 with Standard Chartered Bank, and rose through the ranks to the position of Executive Director for Finance in 1992. In 1994, he was transferred to London as Regional Manager for Finance in charge of Africa region. In London, he made his mark through the implementation of a multi-million accounting software for the bank's Africa operations.
Richard is a qualified Accountant with the Association of Chartered Certified Accountants. He also holds an MBA from Edinburgh Business School, Heriot Watt University UK, a management diploma from the Henley Management College of UK and a Bachelor of Science, Statistics & Economics from Makerere University, Kampala.
He is the former President of the East and Central Social Security Association and Chairman Nakasero Hospital Limited and Hospice Africa Uganda. He also serves on the Board of Uganda Clays and Uganda Stock Exchange Governing Council.
A former President of the Uganda Institute of Bankers, Richard has also served on several board positions at Standard Chartered Bank, Nile Bank, Palliative Care Association of Uganda and the Uganda Institute of Banking and Financial Services.
"The days of speculative and disorganised property development are numbered"- Broll Property Group's Lutalo
Broll Property Group (Pty) Ltd is a property services consulting firm out of South Africa, but with presence in 16 African countries. The company offers property management, facilities management, corporate services, valuations, investment broking, occupier services and retail management solutions.
Overall, Broll manages assets in excess of USD15 billion across Africa. Internationally, they are affiliated to Cushman & Wakefield- the 3rd largest biggest property services company globally.
They opened their first East African office in Kenya, in 2013 and moved into Uganda in 2017. CEO East Africa's Muhereza Kyamutetera, tracked down Moses Dennis Lutalo, the Country Manager for Broll Property Group, Uganda for a series of insights on his company, their prospects in Uganda as well as the overall property market.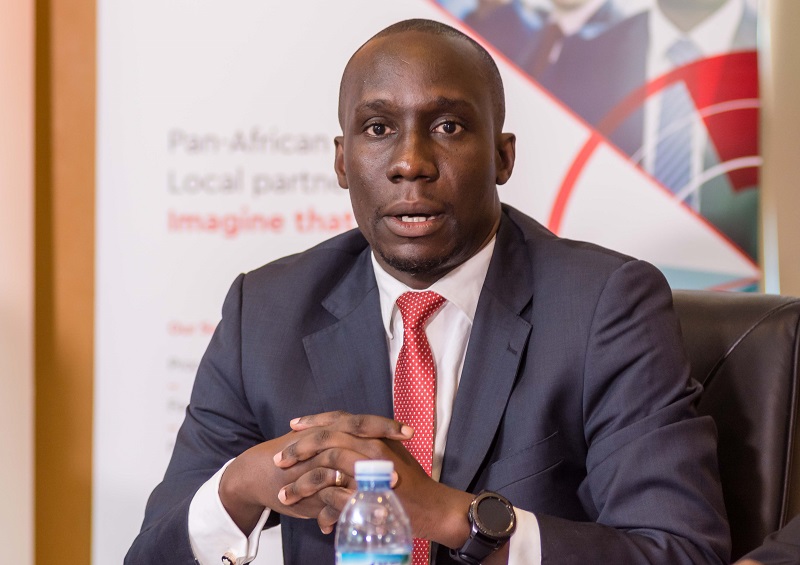 You have been in this market since 2017, but not much has been heard from you until recently when you signed a contract to manage Crested Towers from National Housing and Construction Corporation. What have you been up to in these 2 or so years?
At the time when Broll came into this market, we had an affiliation with CBRE- the biggest global real estate consulting firm, through whom we were managing an occupier services contract with Standard Chartered Bank. With occupier services, we were largely embedded within the bank to advise them on their real estate strategy; where they can save costs, facilities management, data management, and all that.
Of course along the way, we picked up clients such as AIG Insurance before they sold their building, B.A.T and British Council.
The occupier services business is quite different from investor services where property management and the likes fall. By its very nature, it does not require a lot of big physical presence as much of the work can be and is done online; so we did not need a very big operations corner.
Today we have about 7 people within Broll Uganda. Some of whom are embedded within our clients offices and others sit right here.
But more importantly, Broll Group runs a connected operation across Africa with a lot of shared services online. For example my finance team seats in Port Elizabeth, South Africa while the Africa IT support desk sits in Sandton, Johannesburg. We leverage a lot of technology and work off the cloud- the physical team here may be small- but in reality we are a big team.
If there is a property developer out there, who owns 2 or 3 shopping malls down town, why should they be excited that Broll is in town? Do they need you anyway?
Why they would need a company like Broll is for very many reasons. One is, if they are interested in opening up to true accountability and transparency of their property- how much rent is coming in, when is it coming in, which tenants are paying, do they have leases etc., they then need a professional like us.
When we come to you, we deploy our certified property management system which loads elements such as leases, escalation etc.; every little detail on you property that you need to make proper decisions. The system generates reports in real time at the click of a button- if at any one time you wanted to know how many tenants have paid, how much is outstanding or the lease expiry profiles- on a click of a button, you get a report.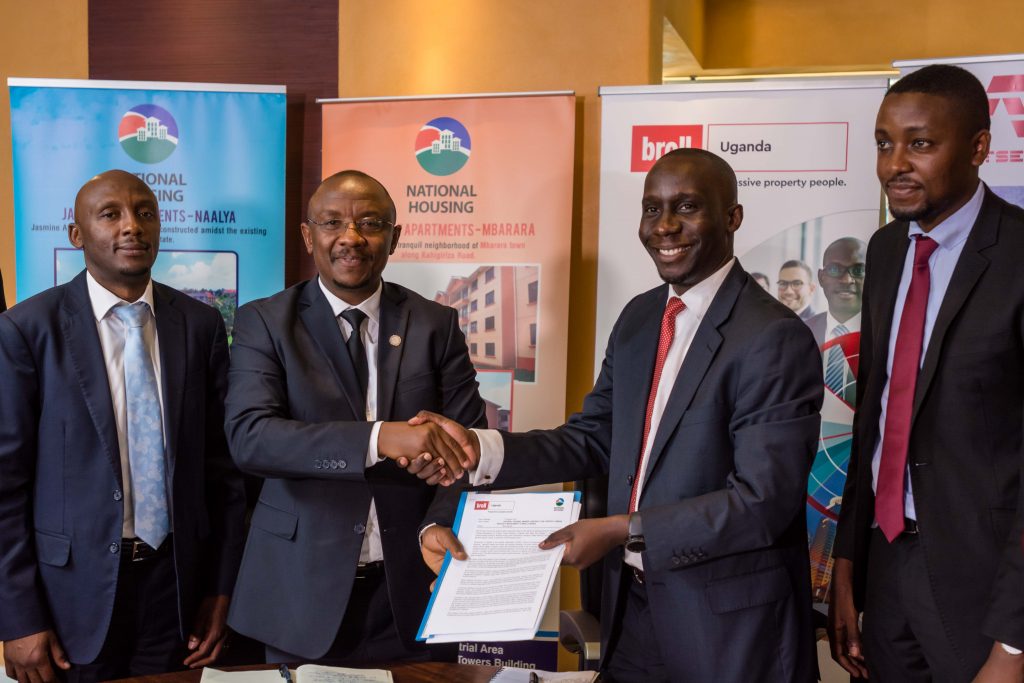 The other service we offer is the day-to-day running of the building and tenant management. Usually investors do not want to get involved in the daily interfacing with tenants/clients. So if you want to outsource that to someone who is professional, who has been tested in the market across Africa, again you would want to speak to Broll.
Broll is also good at maintaining our clients' buildings and maintaining the investment value of these assets. Our facilities maintenance teams are always there to do your preventive maintenance, log all maintenance calls, come up with budgets etc.; to the minutest detail like why do I have to replace 10 bulbs on this floor every week? We will then come in and do diagnostics- may be the problem is the entire wiring of the floor/building and we will have that rectified.
Then there are value-adds such building condition audits; for example are the cables laid 10 years ago still relevant for you? Aren't you putting a lot of load on the building? What is the risk exposure from a fire point of view?
Using our tested platforms, you find that you save a lot of money in terms of how quickly you can get the information that you need to make the necessary decisions.
For example, should you want to refinance and get into structured real estate, banks are going to ask you for these reports. They want to know what is your profit and loss statement; what are your cash flows like etc. With our Broll Online system, we are we are able to offer you all that, but also take care of the building fabric and most importantly use best practices and certified systems that have been audited and tested in delivering that quality.
What particularly attracted you to the Uganda market? Do you see huge prospects for yourselves?
From a Broll perspective, we looked at Uganda as not having a lot of competition from an international or regional perspective. We only have one international player. There are some good local players in the market, but we thought there was room for an alternative regional/international player to offer the market, an alternative approach.
But also, if you look at the demographics of Uganda- population growth, growth trends in middle income, foreign direct investment etc., Uganda has a big potential.
Then if you follow the FDI into the East African region- the MNOs and the private equity firms; the trend is to go to Nairobi first and then Kampala next. So you could say, we are in effect following the path of growth in the region. After Nairobi, Kampala was naturally next.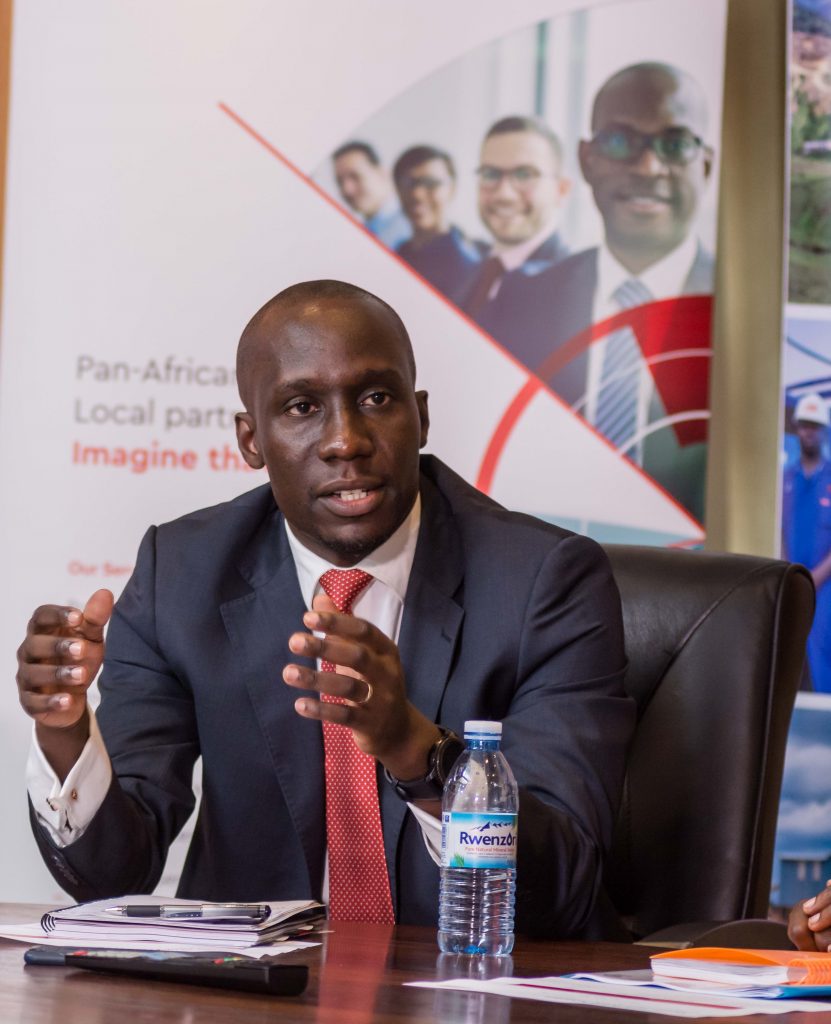 But for us the low-hanging fruit that actually got us into this market was the occupier services contract with Standard Chartered Bank that required local presence. That was our soft landing. This then opened up more opportunities for us in the market and we then had to bring in property management into the market as well.
However we have to be careful to separate our occupier services and property management roles. You cannot be a property manager and represent an occupier in the same building. So, when it comes to that, you have to disclose and say guys I cannot represent you, I am managing this building.
How different are you? How do you differentiate yourselves from the others existing in the market?
One of the unique value propositions for Broll is the systems that we use- Broll Online. It is customized and owned by Broll. It keeps evolving and it's not in black and grey. The modules that work in Kenya may not work in Uganda.
If you look at our facilities management approach. Again, we are certified in that. So, if we talk about systems, health and safety, cleaning, approach, methodology etc., all this has been worked out overtime. Most importantly I think we are able to offer a service quicker, better and cheaper because with our model, we use a lot of shared services with other group offices, so we are leaner, thus our pricing point tends to come out more competitive, compared to other players I would think.
Are you able to put a number to, say if you use Broll, you are able to save this average percentage in costs compared to other providers and maybe this is how much value in dollars/shilling that we will add to your business? Is there a number that you can put hands on?
Let me put it this way- from an occupier services angle, our fee to value ratio is 1:16. For every 1 dollar you pay us, we save you 16 dollars. So, if you get into a lease of say 18 dollars per sqm and your escalation is at 4%- we can be able to go back and seat with a land agent or managing agent of a property and negotiate it from USD18 to USD15 and may be your escalation to 2%- that sort of thing.
It is not just that alone but also we can advise you where you can save money. We do optimization studies, we do demographic analysis, all these sort of reports that help decision makers to come up and say we need to locate our offices in place X because the spend per member of staff is so much compared to place Y. So for every USD1 you pay us, we save you USD16 and that is the bench mark from an occupier services point of view.
Who are some of the clients you handle right now in Uganda from the various services that you offer?
For property management we work with National Housing & Construction Corporation as well as Uganda Development Bank (UDB)- they have taken back the former MTN Towers. We are going to help them refurbish it and they are going to move into the building.
For occupier services we work with British Council, Standard Chartered Bank, KFC and B.A.T. For integrated services we work with AIG. On top of that we have the Cushman & Wakefield client list – all in four years.
Given the trend so far, we see more opportunity to grow.
Given your understanding of the regional property markets, if I had money today and wanted to invest in property, where and how would you advise me to invest it? Where are the opportunities and where am I likely to make good money?
Obviously the first thing, I would want someone to put their money where their mouth is, because the decision to invest in real estate can be painful at times. Usually I ask people what is their risk appetite? What is their return objective? Answering these questions, helps in decision making. For example, if your risk appetite is high, you may want to be in for a long term. So, you start looking for projects that are going to be kept for say 10 to 15 years before earning income. Others will tell you ours is low risk so we want in and out- so in that case we can advise you to build apartments. It is difficult to zero in a decision for someone unless you understand where they are coming from- their risk appetite, their return objectives and their capital structure.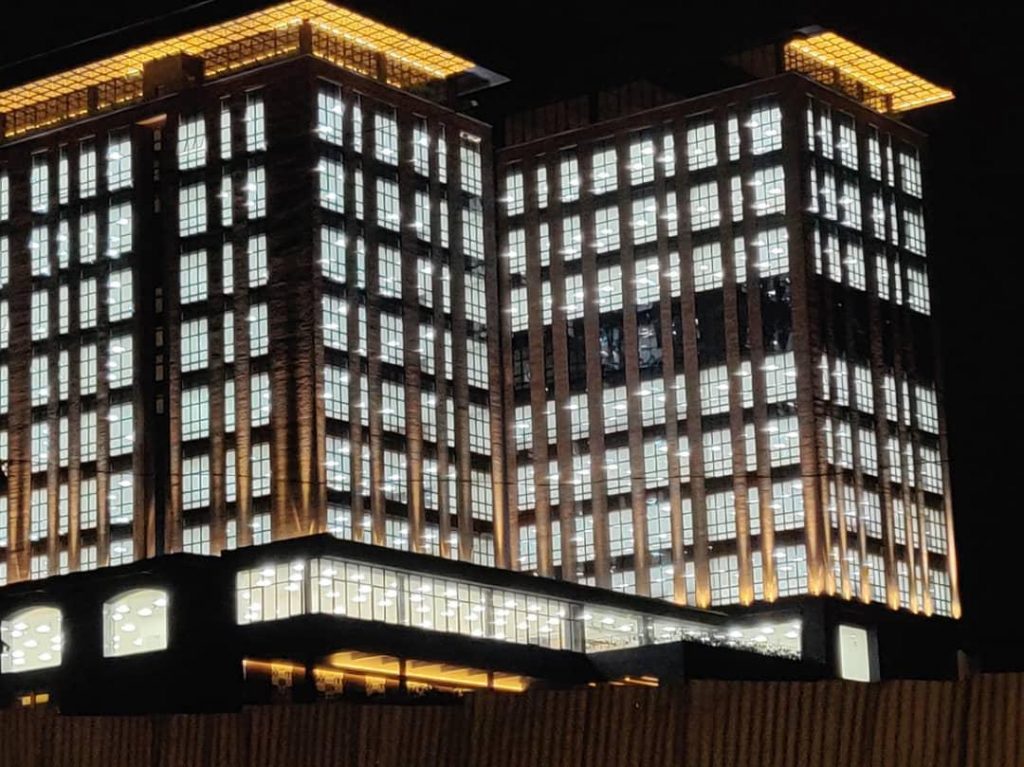 But in terms of the market right now, if you could get maybe 2 acres of land in Kira/Namugongo side or along Gayaza Road and you put a small street mall you can make money because these are neighborhoods that are coming up. If you can do a 6,000- 8,000 square meters mall, you can make some money because the retailers are there, disposable income is growing and our GDP per capita is $600 something dollars. As these fundamentals keep growing, our purchasing power is growing and people are spending. Instead of driving all the way from Gayaza to come to Acacia Mall, if there was another Street Mall along the way, where I can take my family for shopping and other lifestyle indulging, it would be really good- so retail property investing in a good location is still good.
I think affordable housing is the other big thing that people need to know. And by affordable, I do not mean low-cost. If you can get another good site like the Millennium Developers are doing, I think they are churning out a number of units- most of them are bought off plan.
I would not advise someone to get into commercial office space right now especially grade, B, C &D. No. If you have a prime site, maybe do top grade A green-rated real estate so you can attract the likes of European Union because we do not have a green-rated building in Kampala. If you are going to do grade A office space, do it at the highest level, make it green-rated like PDM Holdings has done in Nairobi, with The Courtyard.
Green rating, involves a number of things such as energy efficiency, recycling your water, more of natural lighting, having a court yard, an energy mix that among others includes solar etc. We do not currently have a green-rated building in Kampala.
Green developments is not a random thought, you have to go through a deliberate process and the return on investment is worth it. Uganda is beginning to see more and more sophisticated occupiers that are beginning to start demanding for these kinds of offices. There is a big green agenda out there and the green dividends are promising.
Kampala is one city with disorganized developments. It is common to find a 6-10 storey building with no parking. People who can afford and know how to do the right things are not doing them. How do you think this can be managed?
I think we need to do a lot of educating in the market on how to go about the real estate value chain because more than often, someone who is doing a development that is not planned or well thought-out is basically trying to put square pegs in a circle hole.
The ideal situation is someone comes up with an idea, sits down with professionals, whether it's Broll or any other person, but let them guide you through the investment process. So, if your appetite is a shopping center, they will tell you whether your site is fit for a shopping centre. They will guide you on how much parking you need, whether you have the right kind of access etc. But that sort of thing would apply to what I would call a genuine investor. Someone who has bought their land, came up with an idea and went to the bank for financing; this kind of person would definitely need advice from professionals.
But most times, for an informal investor who has sold his coffee and wants put up a property, they will not think about that. All they dream about is a big building in the city centre and how they do it is secondary.
But the days of such speculative investors is numbered. Think about what would happen to many of the downtown developers if the taxi park was relocated from downtown Kampala- what will happen? We are already seeing banks getting out of Kikuubo because the numbers are no longer as attractive as they used to be. So imagine if the Old and New Taxi Parks were taken to Nateete or Banda what will happen to those developments?
Whereas some of the investors in such projects are what I can call old money class, with their own unique sources of funding, for the new developers in the market who are using bank finance, the dynamics are changing. You cannot do it as business as usual.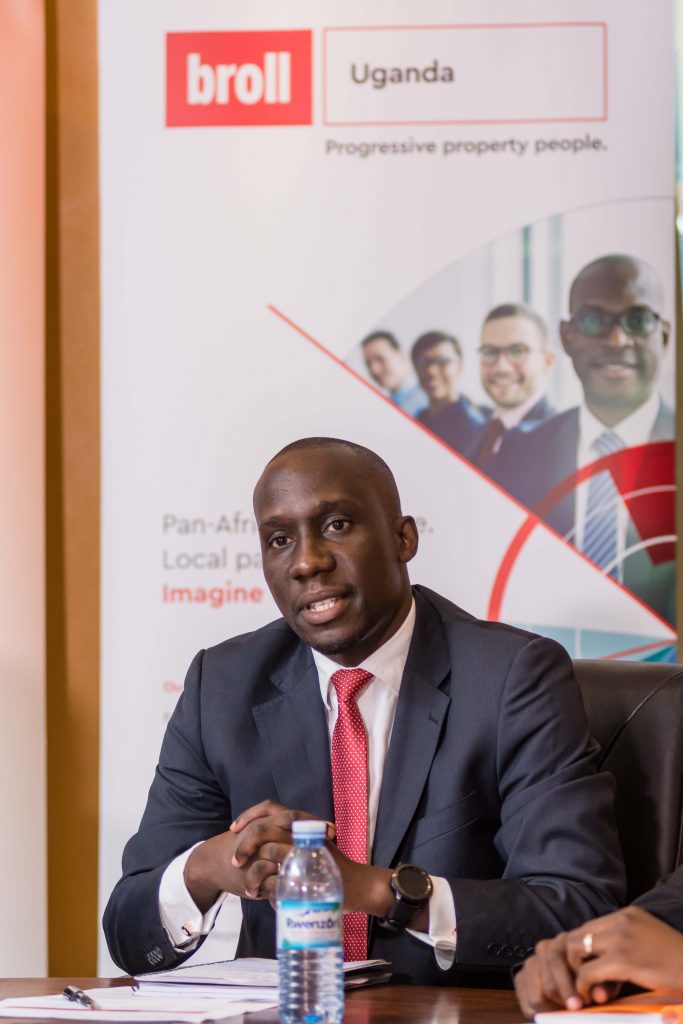 You need to sit down, run the numbers and come up with a business plan, come up with an optimal capital structure and put up a development that is going to work against the shifting dynamics- because if you don't and you had taken debt for example, any slight change could bite hard. What developers need to do is to have a long term view to a long term investment- if you want to put USD10 million dollars in a building, you lose nothing to speak to professionals, let them guide you through the process, get the right proposition and then create the right product at the right time.
And even us professionals we should not feel shy to tell a developer that something is not going to work with clear reasons- because today people are buying land at USD4 million downtown. What are you going to offer to get a return for USD4 million dollars on just land? I hope that by Broll coming on board, we will add on what all the other guys have done over the years to try and point the investors in the right direction and be able to give them professional advice.
A couple of months ago there was talk of the Land Lord and Tenants Bill that is going to regulate rent and many other things. There has been a lot of pushback from the market especially the landlords. The tenants on the other hand appeared to be happy because it was favoring them. As Broll, what is your general take on this legislation?
First of all, we need legislation; no doubt about that. We need to regulate the real estate sector and the practitioners therein. However, how to do it is what is important because you cannot for example assume the rules that are going to play for someone who has a downtown shop on a 20 sqm space, selling second-hand shirts will be the same rules that will apply for Shoprite that is taking out a 10-year lease with heavy capital investment in the building. The two have to be regulated differently.
Where we stand as Broll and I think other colleagues in the industry will agree with me is that you do not want to regulate to the extent of which currency rent is being paid in, what level of escalations are allowable and what charges can a landlord make. It becomes very difficult because remember the rent agreement, is a mutual discussion- no one is signing that agreement with a gun on their head.
For example, whereas an investor like NSSF who finances their investments in Shillings wants to charge in Shillings, should be free to do so, just like an investor out of South Africa who has bought Metroplex Mall in dollars and is expecting dollar returns should be allowed to charge in dollars. If you are now telling them that they cannot charge rent in dollars, you are going to dry up FDI into the sector.
I think much as we need legislation, we should not regulate to curtail growth in the sector. Somethings are better left to the forces of demand and supply.
EXECUTIVE APPOINTMENT: Post Bank Uganda appoints Julius Kakeeto as M.D replacing Steven Mukweli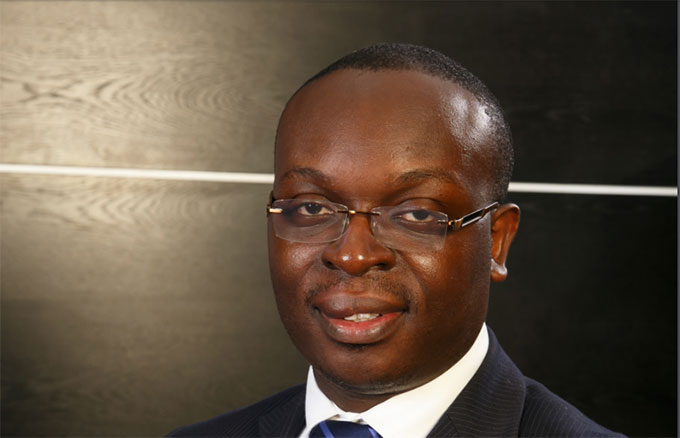 Post Bank Uganda Limited has appointed Mr Julius Kakeeto as the bank's new Managing Director.
He replaces Stephen Mukweli who has served in this role for the last 15 years.
Mr Kakeeto has a wealth of banking experience spanning over 19 years in Uganda and the United Kingdom.
He started his career with Ernst and Young before joining Citibank where he served in various capacities.
After Citibank, he joined Equity Bank Uganda as a Finance Director before joining Orient Bank.
His most recent assignment has been Managing Director/CEO of Orient Bank for the last 4 and a half years.
Mr Kakeeto is a fellow of the Association of Chartered Certified Accountants (FCCA), a member of the Institue of Certified Public Accountants of Uganda and an alumni of Manchester Business School in the United Kingdom (UK) where he obtained an MBA.
PostBank Uganda is ranked in fourth position in financial inclusion with a network of 43 branches and 12 mobile banking vans serving several customers countrywide.
The bank is looking forward to it's next chapter that is aimed at promotion to a Tier 1 financial institution.
PostBank Uganda Limited was established in 1997.
It is fully government owned with over 2 million clients.
Post Bank is audited by Ernest & Young.