RALLY: Rajiv Ruparelia promises 'triple threats' with his 'Double Trouble' car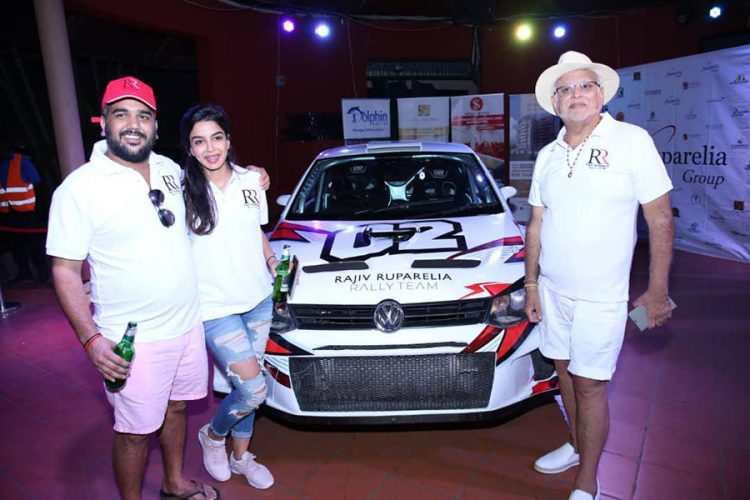 All work with no play literally makes Rajiv Ruparelia a dull boy!
Away from Managing the Ruparelia Group conglomerate, where he is Group Managing Director, youthful Rajiv has decided to awaken the dare devil in him by joining rally driving.
And typical of the Ruparelia streak, he chose to dive in mazzi mawanvu (deep waters) style- with a state of the art Polish-built Volkswagen Polo WRC Proto Car.
The car according to rally Mechanic Mike Mwanga, is built from the shell of a Volkswagen Polo R WRC- a World Rally Car built and operated by Volkswagen Motorsport and based on the Volkswagen Polo for use in the World Rally Championship.
For power and performance, the 4×4 beast is equipped with a 2.0 litre turbo engine and a 6-speed KAPS sequential gearbox- specifically made for racing.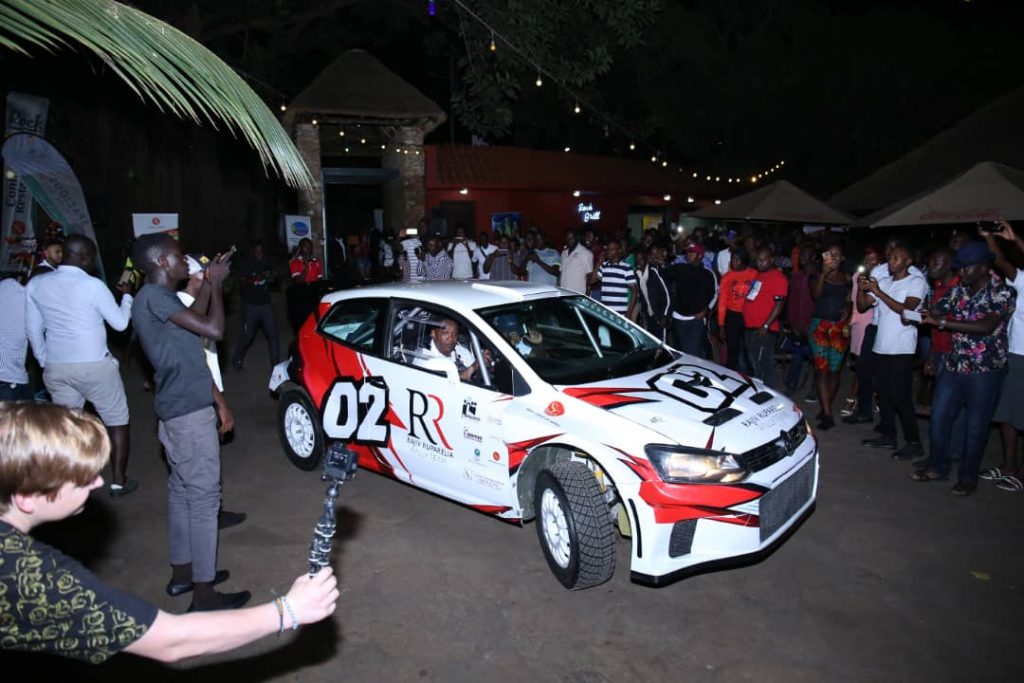 To enhance speed and safety, it is largely built of lightweight fiberglass panels and comes with an FIA certified roll-cage.
According to Mwanga, himself a member of the Rajiv Ruparelia Rally (RR) Team there are two other proto cars in East Africa, one in Kenya and one in Tanzania, but based on Ford Fiesta shells.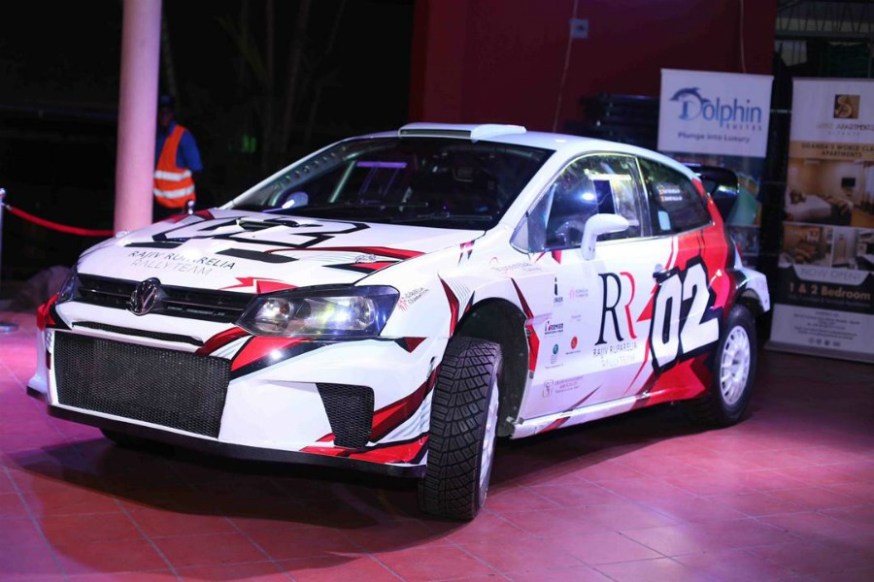 The machine, nicknamed "Double Trouble" was unveiled to rally fans, friends, family and the media fraternity on Saturday, May 4th at Speke Hotel.
A beaming Rajiv was surrounded by wife Naiya, dad Dr. Sudhir Ruparelia, friends and other rally drivers.
The Rajiv Ruparelia Rally (RR) Team will be managed by Rajiv's uncle, Dipu Ruparelia, himself a veteran rally driver.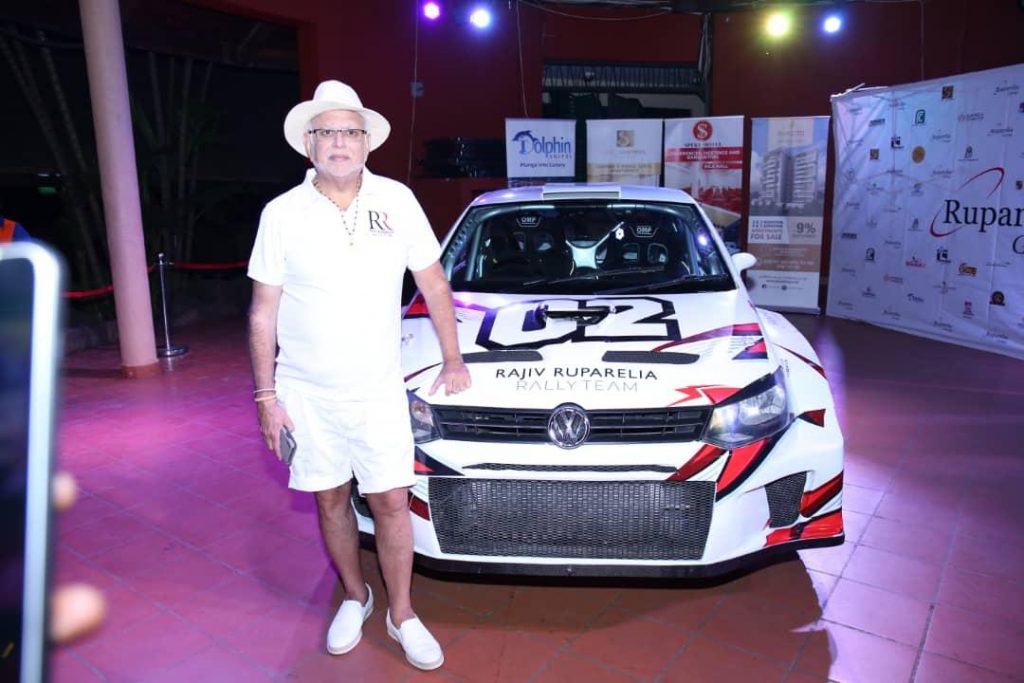 "Crazy runs in the family…And I now welcome my son Rajiv Ruparelia to the world of Motorsport. I am honored to manage the Rajiv Ruparelia Rally Team," Dipu wrote on his Facebook timeline.
Rajiv recently underwent specialised training at the Rally Sports Academy from Sun Carousel, in Johannesburg, South Africa under the stewardship of Africa's No.1 trainer Leone Botha.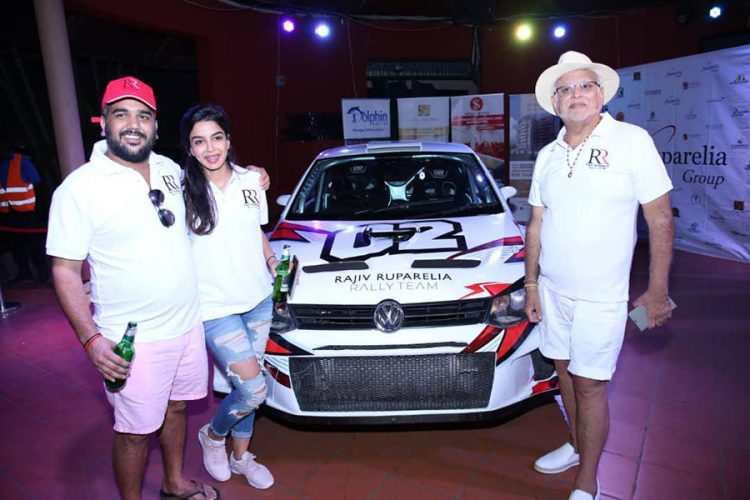 "It's finally here. Double Trouble now becomes a triple threat; every angle- same astonishment. Ladies & Gentlemen, let's welcome "Double Trouble"," said Rajiv Ruparelia.
"We are ready to hit the track," Rajiv told the media saying he hopes to make a debut at the forthcoming Pearl of Africa rally by the Federation of Motor Sport in Uganda(FMU).
WE RR UNSTOPPABLE: 4 wins in 5 months- is Rajiv Ruparelia, rally's new wunderkind?
In just 5 months and 5 races, 29-year old Rajiv Ruparelia has collared 4 wins and finished second in the fifth, literally showing dust to the more experienced big names. With the right machines, more wheel time, determination and with funding and age on his side, the writing is on the wall- a new star in rallying has been born!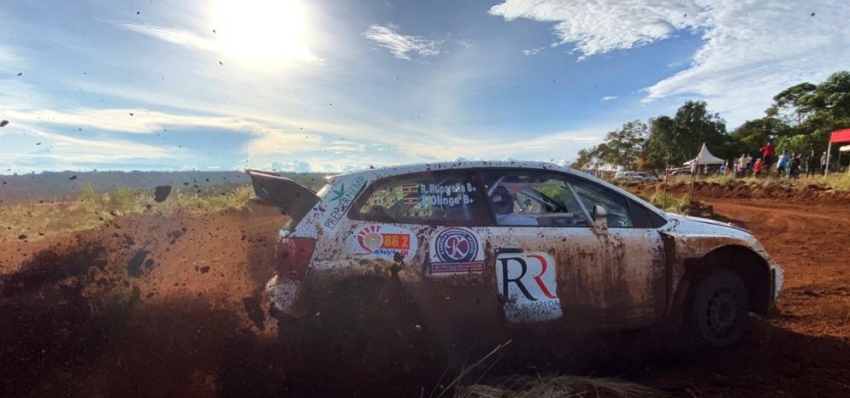 Yesterday, Saturday, October 26th, 2019 Rajiv Ruparelia (Team RR) won the fifth round of the autocross/Enduro championship held in Kalangala.
Rajiv, navigated by Enoch Olinga posted a combined total of 7.25 in the two heats, a good 10 seconds ahead of his closest rival- Andy Musoke (7:35) and 21 seconds ahead of Jonas Kansiime's 7:46.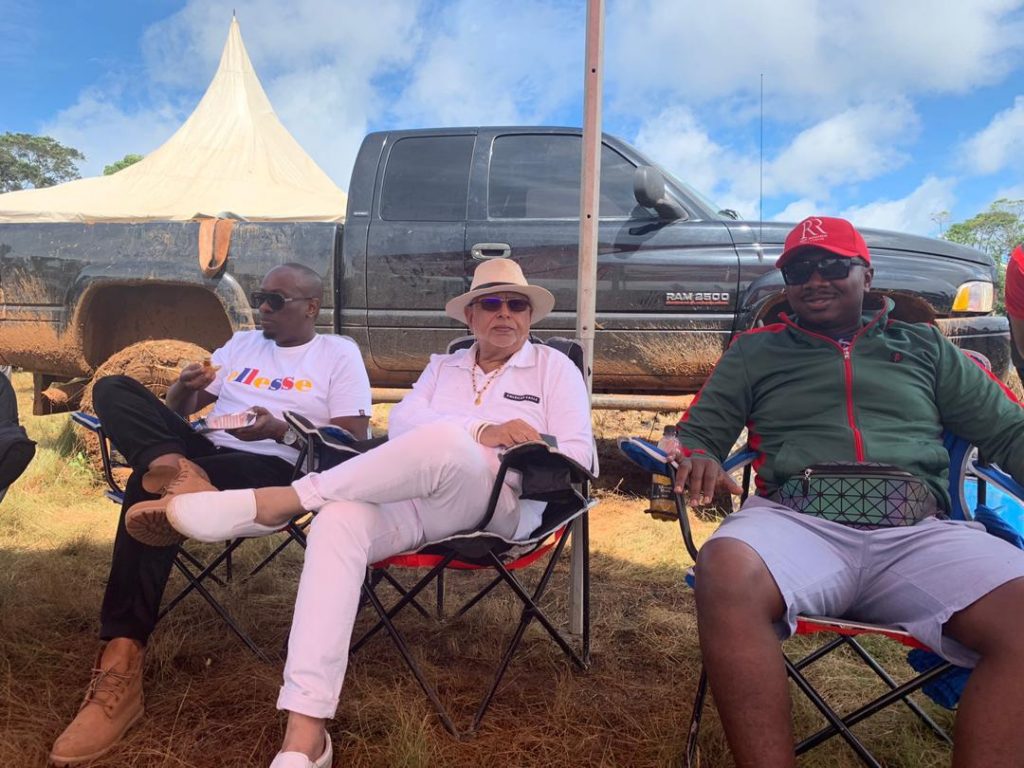 Rajiv's win exactly 5 months after he debuted into rallying with his purpose-built Polish-built Volkswagen Polo WRC Proto Car, on Sunday May 26th Enduro and 4×4 Challenge Championship hosted at Zion Estate, is more significant in more ways than one.
At the time, Rajiv, who had just returned from the Rallystar Academy in South Africa for specialised rally training by veteran Leone Botha clocked 10:44 minutes, just 40 seconds behind a more experienced Ronald Ssebuguzi, who came first with 10:04.  In the third place was Jonas Kansiime who clocked 10:54 minutes while, Edwin Kalule came 4th having clocked 11:04 minutes.
But that was then- both Ronald Sebuguzi and Jonas Kansiime have since severally fallen victim to Rajiv's daredevil driving skills- not once or twice- but thrice and in just 5 months.
Fresh from the Zion Estate, Rajiv under his 'RR – Double Trouble' has gone on to win both the Federation of Motorsport Clubs of Uganda (FMU) Autocross championship in Kayunga in June and the Mosac Autocross Championship in Kapeeka, in August.
On October 20th, Rajiv again won the third stage of Total-sponsored 2019 Kabalega Rally, National Rally Championship in Hoima, beating 39 competitors who took part in the race.
Some of the stars who fell under Rajiv's accelerator peddle, include Yain Nassser, Arthur Blick, Ronald Sebuguzi and Duncan Mubiru.  
And it is not a year yet- all writings are on the wall; a new star has been born!
He is young enough- just 29 years. He has the best training money can buy on the continent and just the right machines.
Thanks to the wins and his spinning antics on the track, the fan base is growing too- with his father, billionaire, Dr. Sudhir Ruparelia being probably his number 2 fan, after his wife, Naiya.
Rajiv Ruparelia wins the Club Rally Championship (CRC) after posting the fastest time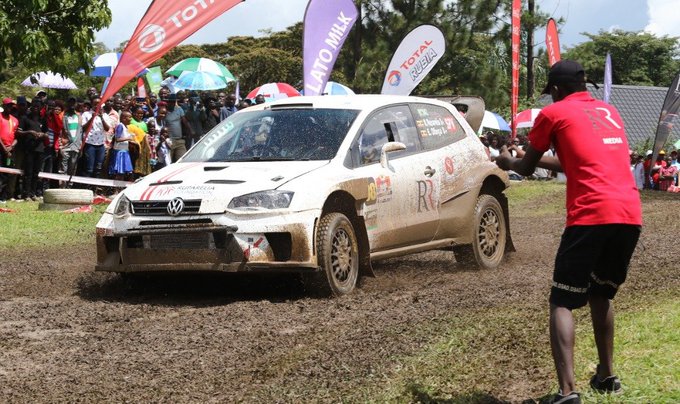 Rally driver, Rajiv Ruparelia has won the third stage of Total Kabalega Hoima rally 2019 beating 39 competitors who took part in the race.
The TOTAL Kabalega rally kicked off with scrutineering at Total Main Street where cars are checked. Every driver was given TOTAL Quartz, the right lubricant for optimum performance in petrol engines.
With his co-driver Enock Olinga, Rajiv Ruparelia driving his usual machine UBF 801H Golf VW proto, he posted Rajiv Ruparelia 23:52, Yasin Nasser 23:59, Arthur Blick 24:11, Ronald Sebuguzi 24:22, Duncan Mubiru 24:31, Omar Mayanja 24:37, Abdul Kateete 25:17, Dr Ashiraf 26:43
Manvir Baryan won stage one after he posted 3:17, Jas Mangat 3:20, Hassan Alwi 3:22, Dharam Pandya3:22, Ronald Sebuguzi 3:28, Christakis Fitidis 3:32, Kepher Walube 3:40, Ponsiano Lwakataka 3:46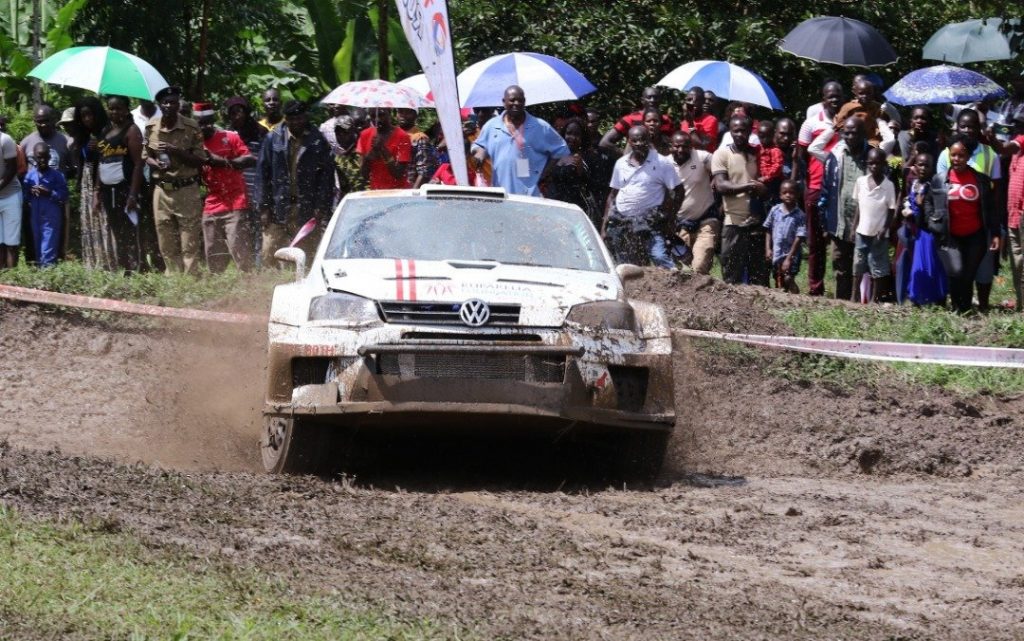 In the stage two Raul emerged the winner 17:26, Alwi 17:27, Duncan 17:31, Seb 17:41, Yassin 17:41, Arthur 17:42, Omar 18:19, Rajiv 23:53
In June, Rajiv, son of Sudhir Ruparelia of the Ruparelia Group, emerged overall winner of the Federation of Motorsport Clubs of Uganda (FMU) Autocross championship Kayunga. Rajiv joined motor sport in April 2019.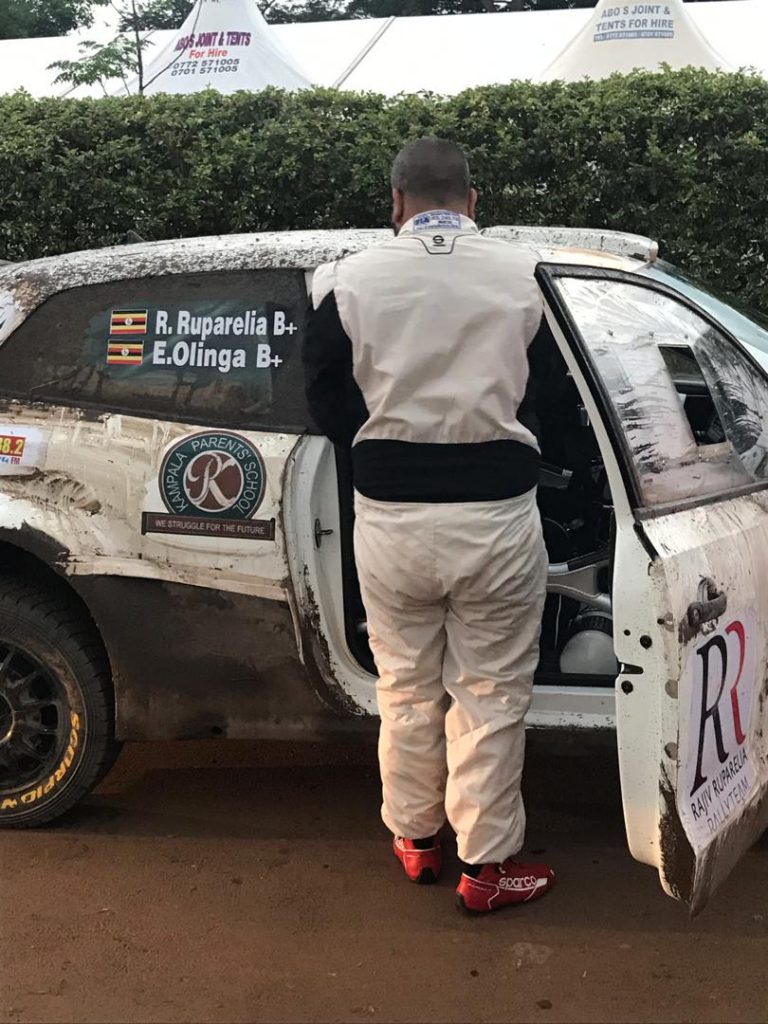 Ealier Ismail Waligo experienced engine failure in the super special stage, Ponsiano Lwakataka retired in CS2 due to Turbo issues, Rauf rammed into a Tree and bowed out of the race, Sadat Negomba lost control due to the slippery road and almost went swimming in the river and Ambrose Byona, Jas Mangat, Ronald Sebuguzi could not finish due to engine failure.
It was not the best day in office for two-wheel driver championship leader Samuel Watendwa when he rolled in the first stage of the rally.
Rajiv Ruparelia, cautiously upbeat about this weekend's Kabalega Rally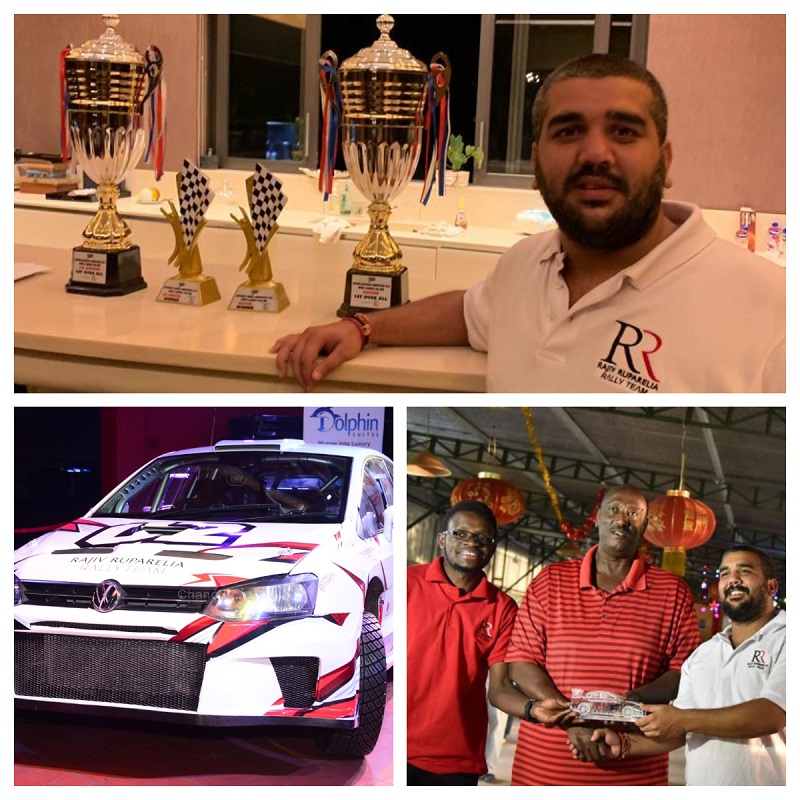 Businessman and Managing Director of the Ruparelia Group, Rajiv Ruparelia (29) is upbeat about this weekend's 2019 Kabalega Rally, which is the penultimate round of the National Rally Championship.
Speaking to CEO EA Sports on phone from Hoima on Wednesday evening, Rajiv who was in high spirits told this reporter that he was going to put up his best but at the same time be careful given the wet weather and the slippery roads.
"I have just arrived in Hoima- it has been raining and the roads are slippery; anyone who tries to get over-ambitious on this terrain will face it rough." he said adding: "But both cars- are ready. We will take it easy, go for the finish and the car will do the rest."
This will be Rajiv's first time in Kabalega Rally.
Rajiv, who only started rallying in May 2019 and recently graduated to National Rally Championship level has so far put up good performance in all the races he has been in.
In his first outing, the 29-year old Rajiv in a Polish-built Volkswagen Polo WRC Proto Car   finished in an impressive second position, clocking a time of 10:44 in the Enduro Autocross Championship 2019 at Zion Estates in Ssisa- seconds behind experienced rally driver Ronald Ssebuguzi who won the race at a time 10:04 minutes.   
In June, he won the Federation of Motorsport Clubs of Uganda (FMU) Autocross championship in Kayunga- posting the fastest time of 05:18.5 ahead of the crew comprising of Ponsiano Rwakataka in second position, Ronald Ssebuguzi in the third position posted a time of 05:22.2.
In August, in a Mitsubishi Evo 9, he won the Mosac Autocross Championship in Kapeeka, Nakaseke District, posting 05:21.0 ahead of Jonas Kansiime (05:24.0) and Christakis Fitidis (05:27.0) 05:18.5.
The Kabalega Rally is sponsored by Total Uganda, World Wide Movers, Uganda Communications Commission, Kontik Hotel and Hoima Municipal among others. The championship fight will kick off on Saturday morning with two stages before crews go into a Super Special Stage to cover a total competitive distance of 33.04kilometres on day one. Crews will eventually cover six stages on the final day to complete a total distance of 173.83 kilometres.
Yasin Nasser currently leads the championship with 355 points; 55 points more than second-placed Ronald Sebuguzi (300 points) while Christakis Fitidis is third on 285 points.