If you are an ardent Twitter user, you most have likely seen, several times a day, Hon. Frank Tumwebaze's tweets and or retweets, commenting about several topics, ranging from ICT, gender, labour, and national politics. He is an unapologetic and intense supporter of the ruling National Resistance Movement (NRM) and spends considerable time preaching about the achievements of the government. He is also not shy to admit mistakes where things have gone wrong.
At some point you cannot help but wonder, when this 45-year-old Minister sits down to work. But for those who know him well, they will tell you that he approaches his work with just about the same amount of enthusiasm and keenness that he engages with on social media- where he is undoubtedly amongst the top 10 most engaged politicians.
Just like in life where he makes time for almost everyone, even online, he tries to make everyone see his point, although he takes no prisoners, if you try to become unreasonable knowingly.
Born on 1 December 1975 In Kamwenge District, to Matayo Kagyigyi and Beatrice Kagyigyi, he is the second-last born of seven children.
A sharp student, he was the first student to get first grade at Kazo Secondary in Mbarara, where he was always a 5-star student. He joined Jinja College and went on to join Mbarara University of Science and Technology (MUST). He in 1999, graduated with a Bachelor of Science in Education, majoring in Math and Physics.
Young Tumwebaze had always stood out as a leader―getting elected a Head Prefect and Jinja College and then Guild President at MUST.
After graduating, in 2000 until 2001, he served as a customs officer with the Uganda Revenue Authority. In 2001, he was appointed by the President as a Deputy Resident District Commissioner and was posted to Iganga District, serving in that capacity until 2003. He then joined the President's Office as a Special Presidential Assistant for Research and Information from 2003 until 2005. In 2006, he would join elective national politics and got elected as the Member of Parliament for Kibale County in Kamwenge District on the National Resistance Movement political party ticket.
He was re-elected in 2011, and in a cabinet reshuffle of 15 August 2012, he was appointed as the Minister for The Presidency and Kampala.  In June 2016, he was named as cabinet minister of ICT. In a cabinet reshuffle on 14 December 2019, Tumwebaze was named Minister of Gender, Labour and Social Development.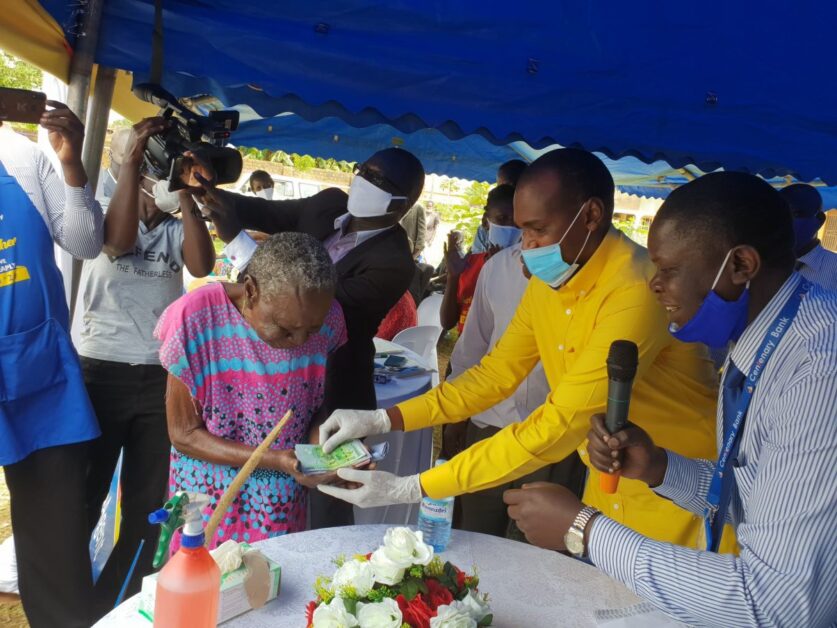 From humble beginnings to a transformational leader
Contrary to what many people think, Tumwebaze was not born with a silver spoon in his mouth. Neither was he born into the NRM. In fact in his own words, he was the first child in his family to go to school. It was his character and sharp minds, combined with a determination to get things done that always caught the attention of both his peers and seniors alike, including his illiterate father as well as President Museveni.
In a recent media interview with UBC TV, he said that his ability to serve as his father's interpreter early in school ensured his herdsman father kept on investing in his education. As a student leader, at Mbarara University, the firebrand Tumwebaze caught the President's eye when, in a meeting he shot rather interesting questions at the President.
"I asked whether he knew Kamwenge [He asked me what about it?], I told him that, [sir we are very remote, we request you to give us our own district] because I had been told that with districts the nearer and more the services. By that time our district was Kabarole. In short, the troubles that affected my home-area inspired me to be an activist of my community," he said recently, while appearing on UBC TV's Cedric Live.
Morris Rwakakamba, the CEO Agency for Transformation, who worked under and with Tumwebaze on various occasions, describes him as an agile and intelligent worker.
"He is a very agile person. He is deeply intelligent, adapts quickly and is clear-eyed on Uganda's transformational agenda. He is an asset for Uganda and the continent," said Rwakakamba.
Since being appointed Cabinet Minister at the Gender Ministry, in just one year, he has set about driving change at the Ministry.
Accordingly to knowledgeable sources at the Ministry, one of his most significant achievements has been in the Social Assistance Grants for Empowerment (SAGE) Scheme under the Expanding Social Protection Programme.
"Hon. Tumwebaze has been instrumental in rolling out the SAGE Programme from the pilot phase to nationwide coverage. He has physically made sure that we launch it in the various sub-regions. We have put in place frameworks and mechanisms of handling complaints, and at least now we are sure that every person of age gets his or her entitlement. We have also been able to ensure that all arrears accumulated because of the COVID-19 lockdown were paid," said one source at the Ministry who works closely with the Minister.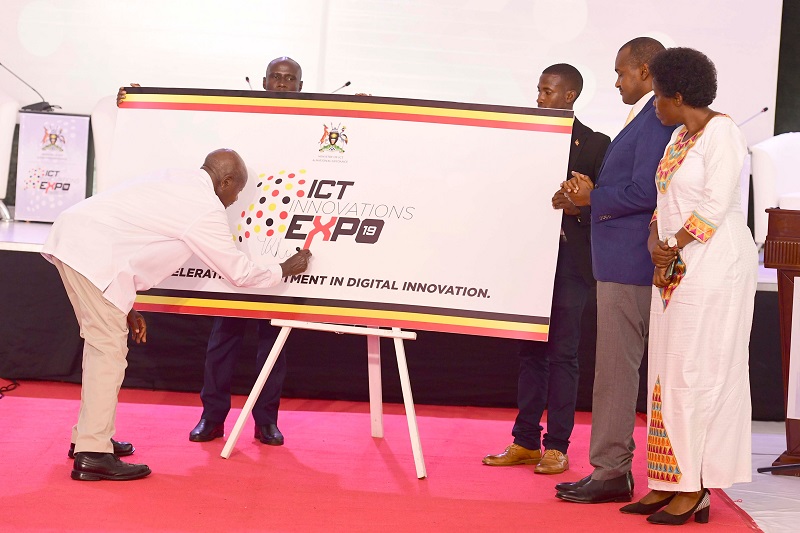 The Minister is also credited for streamlining the labour sector in general, especially the External Recruitment Sector that remits more than USD700 million (UGX2.8 trillion) to Uganda annually.
"Hon Tumwebaze has mobilised local players and external stakeholders in the sector to streamline the business. Just before Covid-19 the minister, organised several engagements with countries in the East and Horn of Africa to streamline the movement of labour. He also hosted a meeting here in Kampala in partnership with the International Labour Organisation (ILO), all aimed at ensuring Uganda gets the most out of the emerging externalisation of labour sector while dealing with the challenges that had started cropping up," added the source.
On the Gender front, he is also credited for being a strong advocate against domestic violence.
"He is behind a policy paper that was presented to Cabinet on domestic violence. The Ministry is championing more stringent measures on how to involve community leaders and security chiefs in treating domestic violence as a security issue, not just a domestic issue," says another source within Cabinet.
Tumwebaze, who championed several ICT-led innovations while he worked as the Minister of ICT and National Guidance, is also behind a move to track jobs created by government as a means to ensuring inclusiveness in government programmes.
"Immediately after the elections, the Ministry will launch an ICT tool that measures and tracks jobs- both in quantity and quality, that every government agency is creating. The main intention here is to track if government expenditure is indeed creating inclusive growth. Government wants to ensure that the economic growth we have been witnessing before Covid-19 is trickling down to the masses. Economic growth and social development must be linked, but you can't do this if you are not tracking the jobs created," said a source familiar to the tool.
Excellent 3-year track record at the ICT Ministry
Tumwebaze's transformational work at the ICT Ministry can best be summed up in the Digital Uganda Vision- a national policy and strategic framework that he spearheaded in formulating. The policy seeks to integrate all existing ICT strategies, policies and plans across government into one overarching digital direction and implementation approach. The vision, feeds into Uganda's Vision 2040, that seeks to increase Uganda's ICT exports to 40% of all total exports by 2040.
A key supporter of building local capacity, within the framework of Digital Uganda Vision, Tumwebaze, together with Vincent Bagire, the Permanent Secretary championed the creation of the National ICT Initiatives Support Programme (NIISP). NIISP is a national plan that supports a locally-bred innovation ecosystem and marketplace for Ugandan innovative digital products.
Under NIISP, an ICT innovation was built at the Nakawa-based Uganda Institute of Information and Communications Technology (UICT). The hub will offer free workspaces to young innovators in their primary stages of the innovation ecosystem. NIISP also has given direct financial support to innovations that are ready to go the market. To date, through 2 editions of the ICT Innovation Awards- up to 72 ICT innovators have received a combined UGX8bn in direct financial support to their innovations.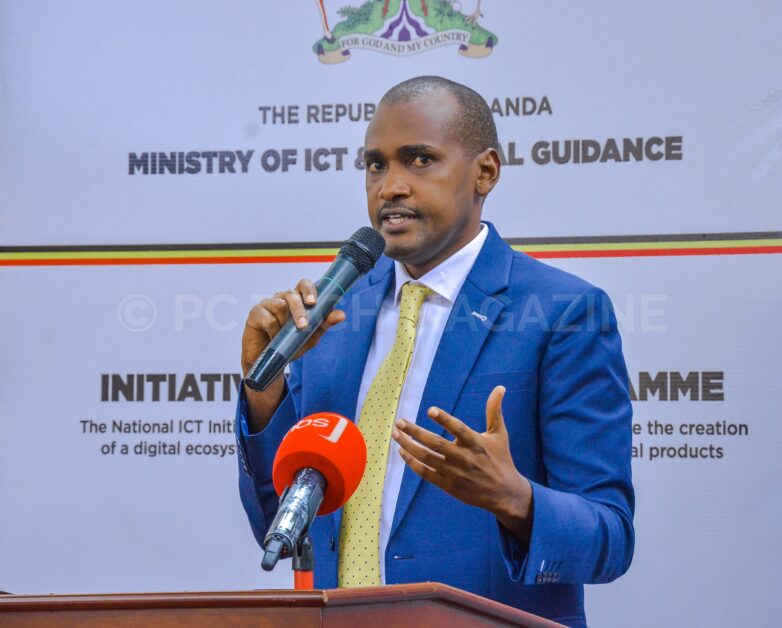 "Hon. Tumwebaze is an open and dynamic leader with shrewd political and administrative acumen. He was a strong advocate for the ICT sector and made its case whenever an opportunity arose," says Hon Vincent Bagiire of his former boss.
Tumwebaze is also credited for the revamp and recapitalisation of UBC TV, the national broadcaster. Following a review process led by Dr. Peter Mwesige, Tumwebaze rooted for the national broadcaster's recapitalisation, resulting into a UGX12bn fund in the FY17/18 for revamp and an additional UGX18bn in FY19/20.
It is also during Frank's time that Uganda's National Broadband Policy was passed. The policy addresses quality of service, preventing the duplication and therefore wastage of broadband resources, optimising usage and increasing the efficiency of broadband infrastructure utilisation, and ensuring that all parts of the country are connected to broadband. The policy also looks at reviewing the telecom and broadcast operators' licensing regime to ensure that their operations are in line with the ICT sector strategic objectives. The recent relicensing of MTN Uganda and Airtel Uganda at a combined government revenue of USD $174.4 million (UGX650 billion) was done under this new policy.
As the rest of Uganda heads into elections on January 14th, 2021, Hon. Tumwebaze is already assured of his seat in Parliament as he is unopposed. Who knows where else his rising political star will take him.