On 14th December 2019, H.E Yoweri Kaguta Museveni, transferred, Hon. Frank Kagyigyi Tumwebaze from the Ministry of ICT and National Guidance where he was the cabinet minister to the Ministry of Gender, Labour and Social Development in the same capacity, ending his 3 and half years of what can perhaps be said to be the ICT ministry's most transformative period in its 13 years of existence.
Tumwebaze, who in the same month of December, clocked 44 years, was appointed to the ICT Ministry in June 2016 as its fifth minister, replacing Eng. John Nasasira (2013-2016), who himself replaced Hon Dr. Ruhakana Rugunda (2011-2013) and before that Aggrey Awori (2009-2011) and Dr. Ham Muliira (2006-2009).
Created in 2006, the ICT ministry is mandated to provide leadership, coordination, support and advocacy in the formulation of policy, laws, regulations and strategy for the ICT sector in Uganda, so as to foster the achievement of national development goals.
The ministry does its work directly and through its constituent agencies, namely: Uganda Broadcasting Corporation (UBC), National Information Technology Authority (NITA), Uganda Communications Commission (UCC), Uganda Institute of Information and Communications Technology (UICT), Posta Uganda, Media Council and the Uganda Media Center.
Soon after appointment, Tumwebaze, previously the Minister in Charge of the Presidency and one of the youngest cabinet members at the time, made it known to everybody, that he wasn't happy with Uganda's ICT performance and it wouldn't be business as usual. At his first press conference in July 2016, Tumwebaze, flanked by officials from other ministry agencies, said during his term of office, he would root for the "adoption of rigorous sector innovations, agile implementation of best IT practices and matching ICT enabling policies."
He said that his mid-term strategy was to have Uganda join Africa's top 6 ICT leaders- Seychelles, Mauritius, South Africa, Tunisia and Egypt.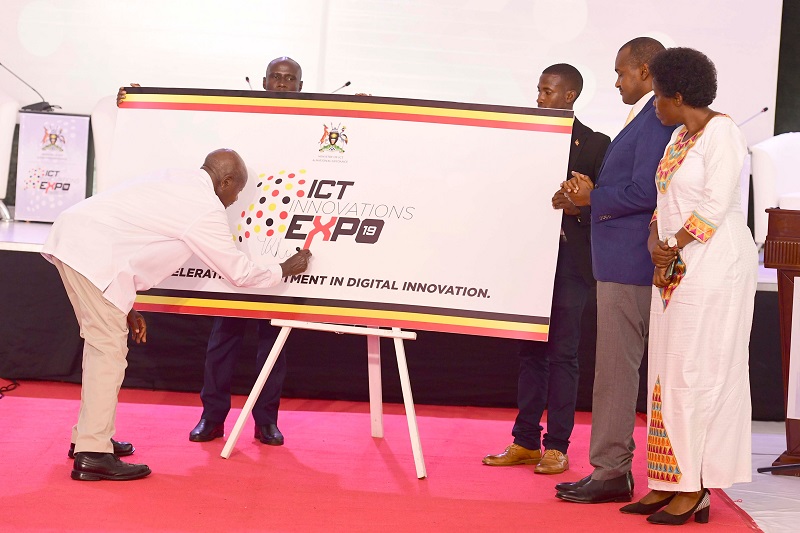 Tumwebaze's hunger for transformation was augmented by the November 2016 appointment of another phenomenal Ugandan- Hon. Vincent Waiswa Bagiire as the Permanent Secretary. Phenomenal because, he was well grounded in the matters of ICT both in real life, in policy and academically. With him, Hon Bagiire brought an MBA (Hons) in Strategy from Glasgow Caledonian University, an MSC (Hons) in Macroeconomics from the University of Bradford, a Bachelors in Computing and Information Science from the University of Derby, UK and a Bachelors in Library and Information Science, from Makerere University.
Bagiire, formerly the Chief Executive Officer, Bridges Org, a Washington DC based IT policy not-for-profit also previously served as a Member of Parliament and Chairperson, Parliamentary Sessional Committee on Information and Communication Technology. He is also a founder and former CEO, of the Centre for International ICT Policy for East and Southern Africa (CIPESA) as well as The Busoga Rural Open Source and Development Initiative (BROSDI).
Bagiire, replaced Dr. Jimmy Pat Saamanya, the ministry's founding and longest serving Permanent Secretary.
Digital Uganda Vision- chatting the master path for Uganda's digital transformation
The duo then got to work immediately. Their first major initiative was the Digital Uganda Vision- a national policy and strategic framework that sought to integrate all existing ICT strategies, policies and plans across government into one overarching digital direction and implementation approach for ICT development.
Digital Uganda Vision, also sought to align ICT investments in the various sectors in a manner that would support the delivery of Vision 2040, especially e-government targets as well the targets to increase Uganda's ICT exports to 40% of all total exports by 2040.
But you cannot grow ICT exports when you do not have local capacity to produce home-grown ICT solutions, which is why the duo, spearheaded the creation of the National ICT Initiatives Support Programme (NIISP) to facilitate the creation of an ICT Innovation ecosystem and marketplace for Ugandan innovative digital products.
Under NIISP, an ICT innovation hub is under construction at Nakawa (UICT) to offer free work spaces to young Innovators in their primary stages of the innovation ecosystem. NIISP also has given direct financial support to innovations that are ready to go the market. To date, through 2 editions of the ICT Innovation Awards- up to 72 ICT innovators have received a combined UGX8bn in direct financial support to their innovations.
In 2019, under NIISP the inaugural National ICT Innovation Expo was held between December 17th -18th to allow Ugandan ICT innovators to showcase their innovations to government, the private sector, Development Partners, Academia, Civil Society, Innovators, Innovation Hubs and Venture Capitalists so as to attract customers and partnership.
Speaking at the official launch of the Expo, Tumwebaze, made a passionate plea for government taking the lead in creating a sustainable market for locally developed ICT applications.
"For us to deliberately create a market for locally developed applications, government must take the lead in procuring them. That is why we need a law," said Tumwebaze, adding that for government MDAs to comply with the directive, the ICT ministry was in the process of introducing The Local Start-Ups Bill" which would compel all accounting officers in government to prioritise local ICT solutions before considering procuring outside Uganda.
Tumwebaze also announced that an innovation hub built by the ministry to serve as a center of knowledge transfer, mentorship and a centre for business networking of IT tech-entrepreneurs, would be opened in Q1 2020. The hub was built using part of UGX 13bn Innovations Fund given to start-ups by Government.
Earlier, in April 2019, appearing before Members of Parliament on the committee of ICT to defend the Ministry's ministerial policy statement for the Financial Year 2019/20, Tumwebaze fervently appealed to the MPs to increase the fund to at least UGX30 billion.
"How I wish the UGX13bn can become UGX3obn so that every year we can support 100 plus applications. We would have responded to the talents of our young people who use their brains to create jobs," Tumwebaze appealed.
National Broadband Policy 2018
But perhaps, Frank Tumwebaze's greatest achievement, especially from a policy and regulatory perspective, working together with Hon Bagiire and other sector agencies, was the completion of the National Broadband Policy, which was adopted in September 2018.
Even though during the duos regime- between 2015/16 and 2017/18 the length of Optical Fibre Cable laid under the National Backbone Infrastructure (NBI) by NITA had grown by 16.4% from 2,081km to 2,424km by end June 2018, growing the number of MDAs/DLGs connected to the NBI by 222% from 133 to 428; even though the available bandwidth had grown from 41,695 Mbps to 77,224 Mbps, leading to the cost of Internet Bandwidth for Government to reduce from USD300 in 2016 to USD70- a reduction of 328.6% and for the private sector to reduce from USD375 to USD238, there was and is still a great need to create more access for citizens, especially there rural poor.
Therefore, for the entire country to harness the digital dividend- achieve digital inclusion and affordable connectivity for all, is a must, which is why Tumwebaze and Bagiire, led the formulation of the National Broad Bank Policy 2018. The policy seeks to createopen and universal access to broadband infrastructure, cross-sector infrastructure sharing, promote research and innovation, accelerate e-government service delivery and create a right mix of technology & network neutrality, among other key targets.
This shall be achieved through averting the duplication and therefore wastage of resources in the provision of broadband among the key stakeholders in the ICT sector and optimize usage and increasing the efficiency of broadband infrastructure utilization in the country.
The policy also seeks to ensure that all parts of the country are connected to broadband and part of this necessitated the reviewing of the licensing regime for the telecom and broadcast operators so as to align their operations to the Digital Uganda Vision and the National ICT sector strategic objectives therein.
For example, under the new licensing framework, holders of a National Telecommunications Operator (NTO) license such as MTN Uganda shall be required to cover the entire geographical boundary of Uganda and provide service and infrastructure in 95% of this geographical area. The policy also created mandatory listing of all National Operators on the local stock market as a licensing condition to mitigate capital flight and encourage local content development initiatives.
The new licensing regime also requires every NTO to list at least 20% percent of its shares on the USE within two (2) years from the date of grant/ issuance of license. Other National Public Infrastructure Provider (PIP) and National/Regional Public Infrastructure Provider (PIP) and National Public Service Provider (PSP) licensees are required to have 20% local ownership.
Over and above the National Broadband Policy 2018 the ministry, also in 2019 had the Data Protection and Privacy Act 2019 enacted. The law provides for the protection of the privacy of the individual and of personal data by regulating the collection and processing of personal information as well as provide for the rights of the persons whose data is collected and the obligations of data collectors, data processers and data controllers; to regulate the use or disclosure of the collected data.
Numbers don't lie: Other achievements
As a result of the above strategic and leadership given by the duo, several achievements have been recorded in the sector, such as a 22.7% increase in the number of phone subscribers (mobile & fixed) from 22.4 million subscribers to 27.5 million and a result, tele density grew from 61.2% to 63.6%. The total number of internet subscriptions also grew by 88.4% from 8,048,972 to 15,165,850.
On the fintech front, the number of mobile money subscriptions grew by 31.7% from 19.6 million to 25.9 million while the number of transactions grew by 196.5% from 227 million to 673.1 million. The value of transactions also grew from UGX10.1 trillion to UGX17 trillion as well as the number of agents from 119,581 to 200,857. This has led to a significant increase in financial inclusion scores- from 57% in 2006 to 78% in 2018, resulting in exclusion dropping from 43% in 2006 to 22% in 2018. Formal inclusion also increased significantly – from 28% in 2006 to 58% in 2018.
During this period the duo is also credited for leading the restructuring of Ugand Broadcasting Corporation (UBC), the state broadcaster- starting with the appointment of the UBC Review Committee led by seasoned media expert Peter Mwesige. The Committee's report concluded that: "a gigantic but sick UBC is a loss to tax payers financing it; its partisan delivery a hemorrhage to democracy and turn-off to Ugandans of diverse interests. A revived UBC must operate as a true public broadcaster that its founding Act intended."
Following the review, Tumwebaze rooted for the UBC's recapitalization, resulting into an UGX12bn kitty in the FY17/18 for revamp and an additional UGX18bn in FY19/20. This has according to Marice Mugisha, the UBC Deputy Managing Director, enabled UBC to carry our staff restructuring and recruitment, purchase new production and studio equipment, settle supplier debts as well as the rebranding of UBC.
During this time, there has been national ICT training, capacity building and sensitization conducted across government Ministries, Departments, Agencies (MDAs), Local Governments, schools and SMES. Over 4000 SMEs were trained in use of ICTs for business in partnership with Federation of Small and Medium Enterprises while over 1,047 School ICT Laboratories established to provide digital literacy skills to the communities and Schools.
The National Data Centre and Disaster recovery centre was also upgraded to a Tier 3 classification and currently hosts over forty six (46) government applications. This has greatly reduced the Government cost towards establishing separate data centers in the difference MDAs.
For the first time ever, in the history of Uganda, SIMI Technologies, a Chinese Company, started assembling SIMI s300, a feature phone, at their factory in Namanve, on the outskirts of Kampala.
Launched by the President of Uganda, the SIMI assembly plant will at full capacity produce SIMI feature phones, smart phones, laptops, chargers, USB cables and earphones.
Thanks to these and more achievements, Uganda in the 2016 UN e-Government Survey improved from the 156th position to 128th in 2016. Although in the 2018 survey, Uganda dropped 7 places to the 135th position, notable recognition was made for being among the top 10 countries for e-government amongst the 47 Low Developed Countries and the only of 2 in East Africa. The 2017 ICT Development Index by the International Telecommunication Union (ITU) put Uganda in the 20th position in Africa ahead of EAC neighbors, Rwanda and Tanzania.
As Tumwebaze leaves the ICT ministry for Hon Judith Nabakooba and Peter Ogwang, he leaves behind a solid foundation in form of plans, policies and actual achievements, but also a solid pillar of continuity in Hon. Bagiire and his team.