They say, all work without play makes you, yes you, dull. But if you want to play this weekend, and we think you should, then look no further than the super luxurious Speke Resort Munyonyo.
Seated on over 90 acres of luxurious tranquillity, the award-winning resort offers 450 tastefully finished and luxurious rooms- bright, spacious residences with beautiful views of Lake Victoria and the resort's tropical gardens.
But that's not all, the resort has unveiled their specially discounted accommodation packages dubbed 'Sun-Sational Summer Specials' that will surely thrill kids, singles, pals, couples and entire family groups alike.
For the period until 31st August 2020, Deluxe Singles have been discount will go for just UGX296,250, while Deluxe Doubles will be charged at UGX395, 000.
Superior Rooms will go for UGX533,250 (2 pax) while a 1 Bedroom Suite, perfectly constructed for business travelers and couples will be charged at UGX717, 000 (2 pax). Executive Rooms ideal for business or leisure travelers go for UGX533,250 ( 2 pax) while an Executive Suite which boasts Connecting rooms, two bathrooms and spacious balcony will as well be at UGX928,250 (2 pax).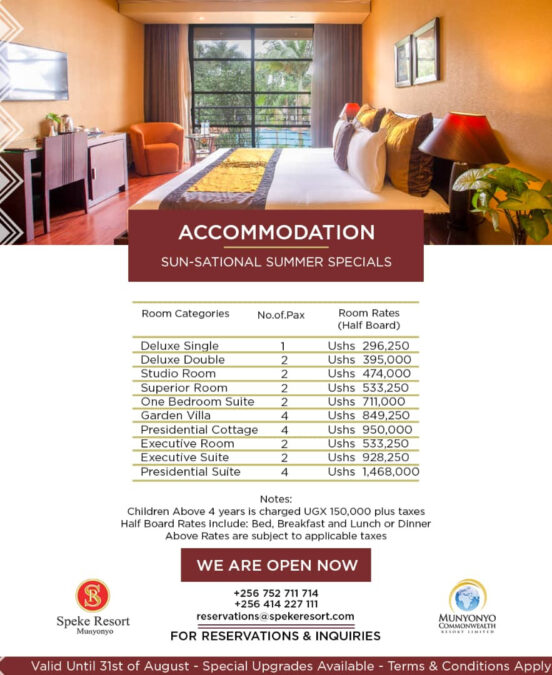 The resorts Garden Villas will go for UGX849,250 (4 pax) while Studio Rooms will go for UGX474,000 (2Pax).
For the aesthetically inclined guests, looking for unique accommodation, they can opt for the Presidential Cottage at UGX950,000 which comes with double storeyed cottages, two bedrooms, two bathrooms, accommodating up to 4 occupants.
Alternatively, the Presidential Suite which offers one of the most extraordinary experiences in all of Uganda with unobstructed views of the gardens and a balcony that opens out to a panoramic view of Lake Victoria, will be charged at UGX1,468,000 (4 pax). The Presidential Suite has two bedrooms which are furnished in contemporary splendour and feature such luxuries as: walk-in closets, en-suite bathrooms with Jacuzzi's and rain showers that are fully-outfitted with his and hers bathroom gowns.
All rates above are half-board rates, meaning they include bed, breakfast and lunch or dinner.
Like all Speke Hotels Group's facilities, Speke Resort's accommodation facilities have been all been reconfigured to comply with the recommended social distancing guidelines.
"Our team is leaving no stones unturned to ensure your visit to our resort is safe, by adhering to strict health and hygiene guidelines. Our No.1 priority is our guest's safety and well-being," says Amit Sachdeva, the Speke Hotels Group General Manager.
For reservations or more inquiries, guests can call +256 414 227 111 or call +256 752 711 714 on mobile.
Alternatively, guests can reach out to the hotel via email through; [email protected]
Speke Resort Munyonyo is a chain of Speke Group of Hotels, Uganda's largest chain of hotels built on an expansive 100 acres by the breezy shores of Lake Victoria, boasting combined 450 tastefully finished and luxurious rooms which are all bright, spacious residences, filled with beautiful views of Lake Victoria and the resort's tropical garden
The resort is rated among the top 3 hotels in Kampala on Trip Advisor and has been awarded with "Certificate of Excellence" by Trip Advisor for four consecutive years- 2015 – 2018.
Speke Resort Munyonyo won the coveted 2018 World Luxury Hotel Awards in the regional and country categories respectively.