The Ruparelia Group Chairman and Meera Investments Managing Director, Dr. Sudhir Ruparelia, has declined to appear before Parliament's Committee on Statutory Authorities and State Enterprises (COSASE) investigating acquisition of properties from the Departed Asians Properties Custodian Board (DAPCB) saying he did not buy any property from the board and therefore does not understand why he should appear before the Hon Ibrahim Kasozi– led select committee.
COSASE had invited Sudhir to appear before the committee to explain how he acquired five properties that a whistle blower alleged were never repossessed from DAPCB and should be in government possession.
The businessman did not show up for the hearing scheduled for December 4th but instead, his lawyers Walusimbi & Co. Advocates had on Tuesday, December 3rd written to the COSASE Chairperson Ibrahim Kasozi asking why their client should appear before Parliament.
"He (Sudhir) requests for your advice as to why his presence is required, especially it being that he has never purchased any property from the DAPCB, nor has he claimed property on behalf of anybody."
On the same Tuesday, Kasozi wrote back naming five properties that the committee is interested in. The properties are Plot 23 on Jinja Road, Plot 24 on Kampala Road, Plot 5 on Colville Street, Plot 3 and 5 on Bombo Road in Kampala and Plot 26 on Republic Street in Mbale. He went ahead to insist that Sudhir should appear before the committee.[tps_header][/tps_header]
Sudhir's lawyers wrote back on the same day. Saying: "Our client reiterates that he has in all instances not purchased any of the said properties from the Departed Asians Custodian Board, which your esteemed committee is inquiring into."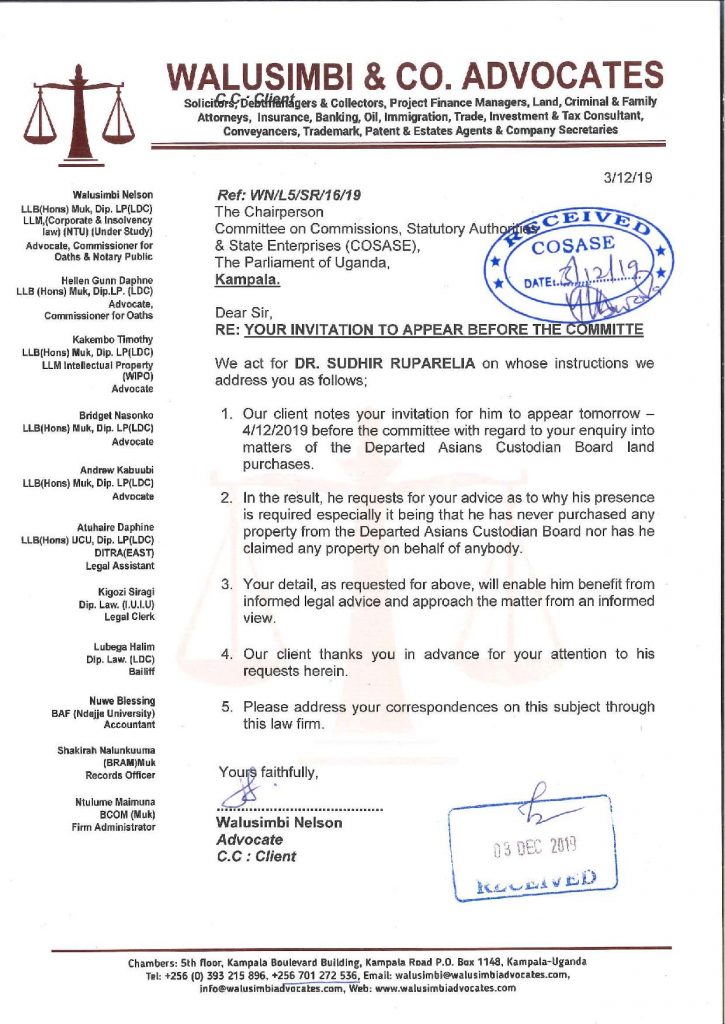 Sudhir, through his lawyers denied ownership of the said Plot 43, Jinja Road. The lawyers also argued that Plot 24 on Kampala Road was resolved by a court decision between Meera Investments Ltd and DAPCB and can't be subjected to a parliament inquiry.
Nelson Walusimbi, Sudhir's lawyer also adduced evidence by way of a title with transfer details indicating that the tycoon is a bonafide purchaser of Plot 8 Colville Street from the then registered proprietor, Uganda Theatres Limited and Plot 26, Republic Street Mbale was purchased from Nakasero Soap Works.
Plot 3 and 5 Bombo Road were purchased from Joint Ven (U) Ltd.
In all the mentioned cases, Meera Investments did not buy the land from DAPCB, but from other 3rd party sources and is therefore a bonafide purchaser. As per the case of Lwanga vs. The Registrar of Titles (1980) HCB 24, a bonafide purchaser for value is a person who acquires a proprietary interest in land without any notice of fraud and for value.
"Our client requests for specific information about any possible dealings the honourable committee estimates he may have had with the statutory body so that he responds to those," Walusimbi wrote.
On 14th August, Dr Sudhir Ruparelia had written to the Speaker of Parliament, Rt Hon Rebecca Kadaga, protesting COSASE's planned move to investigate a property owned by tycoon- Plot 24, Kampala Road, Kampala whose ownership was heard and decided by court in 2012. In the letter, also copied to the Chief Justice, Bart Katureebe, Dr. Ruparelia said they wanted to seek "clarification and guidance" from the Speaker, "whether Parliament can inquire into a matter where a decision of court has been made or where a matter is in court."
During Judicial Review LD CR 16 of 2012, Justice Murangira ruled that "Meera Investments) is the lawful owner of the land comprised in Freehold Register, Volume 1082 Folio 1, Plot 24 Kampala Road," on 20th of December 2012.
Kadaga is yet to respond.