This October, the Insurance Regulatory Authority (IRA) released its much-awaited 2019 Annual Performance Report for the insurance sector.
The report, details the performance, of the country's 21 non-life insurance companies; 9 life insurance companies; 1 micro-insurance company and 5 Health Membership Organisations (HMOs).
In the year 2019, Gross Written Premiums (GWP) for the industry increased from UGX859.9 bn in 2018 to UGX974.42bn- a 13.32 percent growth. Non-life business generated UGX621.69bn in GWP (up from UGX 572.79bn in 2018) representing an 8.54 per cent growth while life insurance business generated UGX276.32bn in GWP (up from UGX 217.97bn in 2018) representing a 26.77 per cent growth. HMOs that provide medical insurance only, generated UGX76.11bn in 2019 up from UGX 69.11bn in 2018 representing a 10.13 percent growth.
Insurance Brokers
Of this business, the country's 41 insurance brokers, accounted for UGX. 234.83 bn or 24.10% of the insurance industry premiums while the relatively new bancassurance channel- made up of 18 banks, grew its contribution from UGX 26 bn in 2018 to UGX53.6bn- accounting for 5.5 per cent contribution to the total GWP.
A closer look at the list of the top-performing insurance brokers reveals one or two unusual things. First, neither Minet Uganda Limited (formerly AON) nor Marsh Uganda Limited which in the last ten years have dominated the No.1 spot, were in the top spot anymore. In their place was a relatively unfamiliar name- Clarkson Insurance Brokers Ltd.
According to the report, Clarkson market share grew from 10.8% in 2018 to 16.45% in 2019 thereby consolidation their market leadership. This robust5.6% growth was the largest registered by any broker in 2019.
But who is Clarkson?
Don't let its English name confuse you- it actually is a Ugandan-majority owned company.
The company has operated in East Africa since 1958 and came to Uganda in 1972 – but closed soon after, due to the political challenges at the time that virtually brought the economy to its knees. The company would later return to Uganda in 2004, offering insurance broking services for among others: medical insurance, general insurance, life and pensions as well as offers claims administration, risk management services, client training and reinsurance broking.
Although licensed in 2004, actual business started in 2005. By the close of that year, out of the 22 players in the brokerage business, Clarkson managed to register UGX216.6 million in premiums, earning a humble UGX11.2 million in commissions.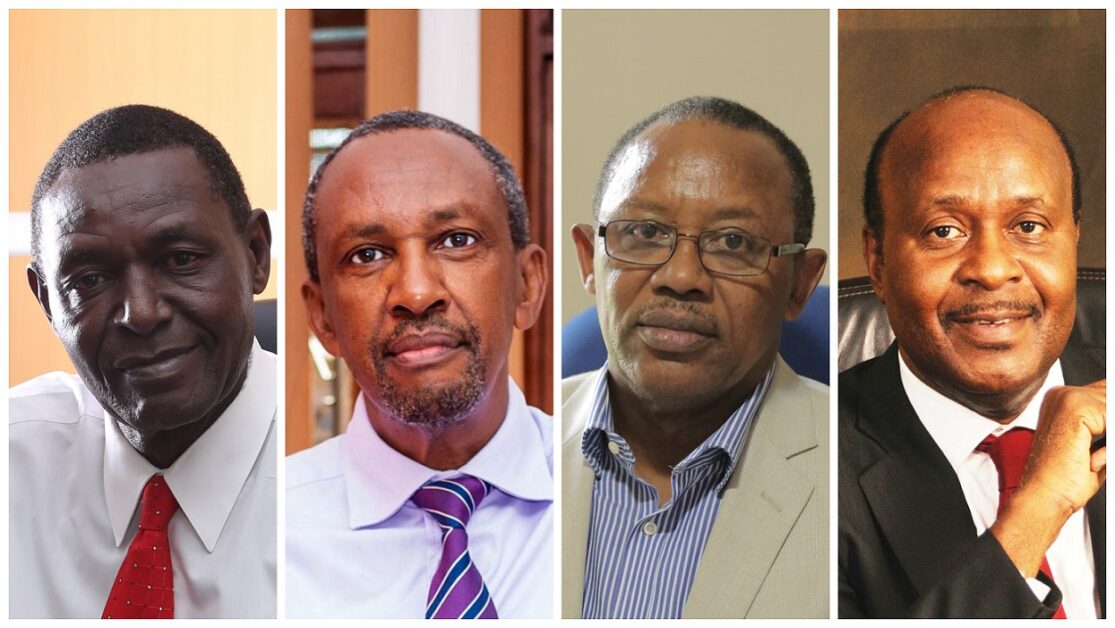 By 2011 Clarkson had worked itself to the 15th market position, with premiums of UGX636 million, barely 1% market share, earning just UGX73.2 million in income. And the market was getting more stringent too. The number of insurance brokers had increased to 30 from 22 in 2005, but AON and Marsh kept their industry dominance. A couple of other mergers and acquisitions had seen new players in the top 10 space such as Hillcrest, Gras Savoye, African Risk & Insurance Limited (ARiS) and Padre Pio.
Clarkson surely needed to change tact if it needed to make headway in the market. This came in the form of a 2011 shedding off some equity and bringing onboard new talent.
In 2011, Charles Muhoozi, a Ugandan professional, with over 30 years' experience in Uganda's Corporate Communications and Strategic Management was just retiring from Uganda National Social Security Fund (NSSF) where he last served as the Head of Marketing and Communications. Before that, he had had an illustrious career working for Uganda Breweries Ltd. He, together, with a business partner, a one Richard Munyaneza got together and acquired a stake in Clarkson Insurance Brokers.
Muhoozi became the Chief Executive Officer and naturally got a seat on the board, and so did Munyaneza.
Fast-forward, by 2015, Clarkson worked its way up to the 6th position with about UGX12.9 bn in premiums placed, curving out a 5% market share and earning a decent UGX1.9 billion in commissions.
Harnessing local talent and spreading wings in the region
The insurance brokerage business, like many other businesses in the services industry, is largely built on its people strategy― recruiting and retaining knowledgeable people. According to Muhoozi, with a growing business portfolio amidst an increasingly aggressive marketplace- boosting his team, to ringfence existing business while winning new accounts was mission-critical.
"We had set a good foundation. The market had responded positively and therefore to deliver on their expectations consistently, we had to widen our talent pool as well as train and retrain the existing ones," he told CEO East Africa in an interview at his office.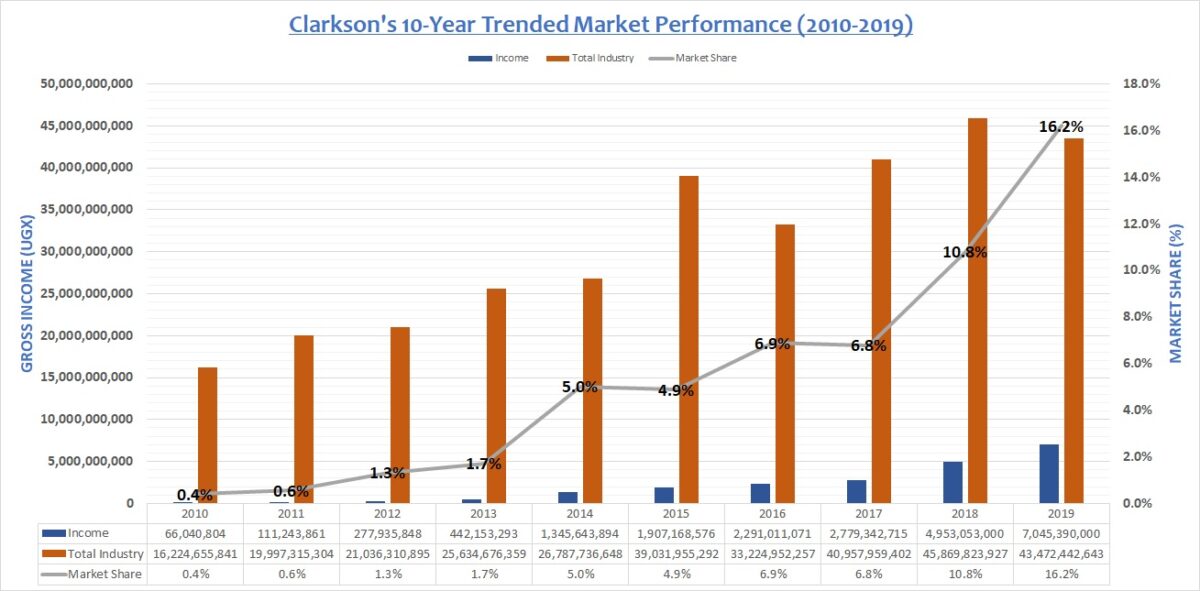 In 2016, Clarkson recruited Angela Babirye as its new Operations Manager. Ms. Babirye brought to Clarkson over 13 years in banking and insurance, having worked at Stanbic Bank as a private banker and then AON/Minet where she previously worked before joining Clarkson in 2016.
In 2017, Alex Makata, a Chartered Insurer with over 12 years at the time, joined Clarkson as the General Manager. At Clarkson, Mr Makata would oversee and direct the general operations, insurance broking, claims handling for life and non-life insurance classes' placement and servicing. Before Clarkson, he had also spent a significant part of his career at UAP Old Mutual, ICEA General Insurance as well as Goldstar Insurance.
In the same year, the team was also reinforced with Arnold Baguma as a Business Development Manager. Mr Baguma, a skilled insurance professional with over 13 years at the time, brought in immense product development knowledge, having served in key positions with major players in the sector, such as Southern Union Insurance Brokers and Minet Insurance Brokers.
A solid team aside, Clarkson also widened its reach and abilities by joining the Allied Africa Broker Network (AABN), an integrated network of independently African owned and reputable independent insurance brokers in several African countries- Uganda, South Africa, Botswana, Mozambique, Namibia, Kenya, Lesotho, Zambia, Ghana, Zimbabwe, Malawi, Swaziland and Mauritius.
"This put us in a unique position; the ability to service multi-country clients in the East African Community as well as the Southern African Development Community (SADC) countries," explains Alex Makata.
With such a solid foundation, made up of rich domestic insurance market knowledge complemented by a regional reach, growth would naturally follow. By 2019, Clarkson had made it to the top the insurance brokerage sub-sector.
"2019 was a breakthrough year for us. Even when industry revenues shrunk by 5.2%, from UGX45.9 billion in 2018 to UGX43.5 billion, Clarkson's incomes, which is a reflection of the business place, grew by 42.2%, reaching a record UGX7 billion, up from UGX5 billion in 2018. As a result, market share jumped nearly 6 percentage points from 10.8% to 16.2 %," says Makata.
Looking to the future with optimism
"We want to remain a provider of insurance advisory services that guarantee peace of mind and comfort," asserts, Makata.
For example, unlike many brokers, who are concentrated in Kampala, Clarkson recently opened an area office in Mbarara for Uganda.
He also says the company is also positioning itself to be a key player in the oil and gas industry.
"We are members of AUGOS and are listed on the National Suppliers' Database for Oil and Gas sector under Petroleum Authority of Uganda (PAU). We have taken several of our staff for oil and gas insurance trainings through the Insurance Training College of Uganda," he adds.