Cancer patients in East Africa Community will soon access advanced cancer care at affordable cost. This follows the recent signing of a contract between Kenyatta University Teaching, Research and Referral Hospital (KUTTRH) and General Electric (GE) to set up a Molecular Imaging Centre (IMIC).
The Hospital which was commissioned by H.E Uhuru Kenyatta, President of the Republic of Kenya in September 10, 2020 is set to host the first public sector comprehensive cancer center in East and Central Africa. The Hospital's inauguration marks a significant milestone in the health sector and is a part of President Uhuru's Big Four Agenda that prioritizes increased access to quality and affordable healthcare to achieve Universal Health Coverage (UHC).
KUTRRH's vision of having a world-class University Hospital in Kenya was conceived in 2008. The modern 650-bed state-of-the-art facility includes 76- bed cancer (oncology) center, renal unit, cardiology, physiotherapy, and many other specializations was born. It is also the first hospital to operationalise the pure referral model meant to be for highly specialised and emergency cases.
The inauguration was also marked by the President's laying of a foundation stone for an Integrated Molecular Imaging Centre (IMIC) and Hospitality Centre. The IMIC is a unique facility for the early diagnosis and monitoring treatment of cancer, being equipped by GE Healthcare. KUTRRH is poised to become the only public facility in East and Central African region to offer the comprehensive continuum of cancer care with the establishment of an Integrated Molecular Imaging Cancer diagnostic and Treatment Center coupled with a Hospitality Centre.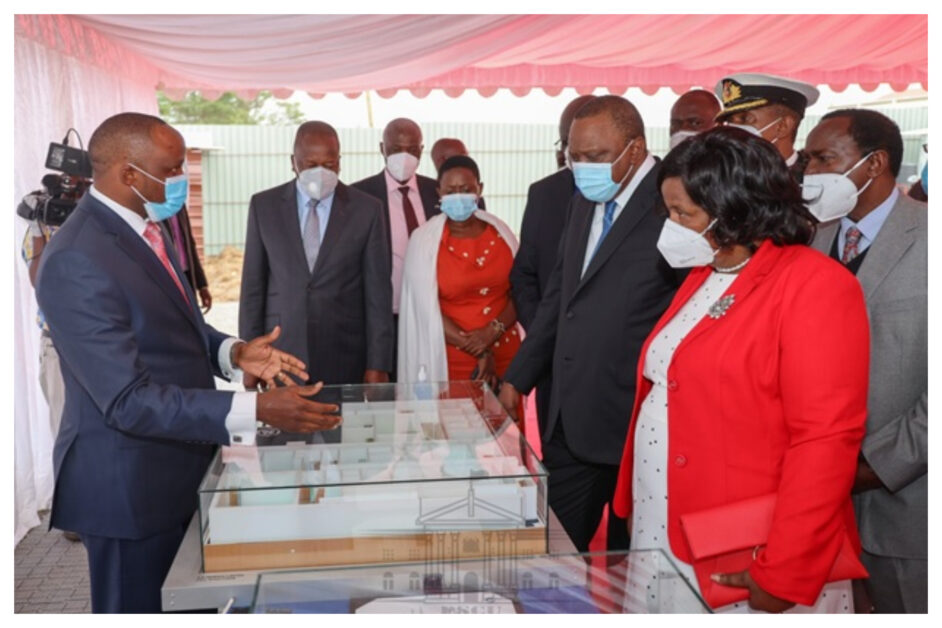 President Kenyatta observed that the ultra-modern 650-bed capacity hospital, including a 76-bed oncology centre and a 20-bed renal unit, is at par with leading hospitals in the world.
"With this oncology centre, which is one of its kind in the region, the hospital is able to provide early diagnosis and possible management options of cancer and renal diseases. I am informed this will greatly reduce costs and significantly boost recovery rates of our (cancer) patients," noted the President.
He further noted that cancer is a key research area that is still lagging behind in the region and thus it is hoped the existence of the centre will spur leadership in the research of cancer across the region to bring the most promising cancer care.
General Electric Healthcare technology
The American Conglomerate, General Electric Healthcare (GE) will equip the center with molecular imaging equipment including PET CT to create 3D pictures of the inside of the body and help show up areas of cell activity; SPECT CT, which helps show the blood flow to tissues and organs and can help show tumors, and MRI scanners, as well as a Cyclotron so that KUTRRH can create its own radioisotope imaging agents. In addition, GE will -partner with KUTRRH to provide specialized, on-the-job training for the cancer center – team over an 18-month period. The molecular imaging center will complete KUTRRH's 76-bed Comprehensive Cancer Centre which carries out radiotherapy and chemotherapy treatment. KUTRRH also looks forward to seeing this new center enable research projects into cancer across the region.
According to the International Agency for Research on Cancer (IARC), there were 18.1 Million new cases of cancer and 9.6 Million deaths globally in 2018. IARC also reported the rapid emergence of cancer as a critical public health problem in Africa. In 2018, there were 1.05 Million new cases and 693,000 deaths in Africa. However, in 2014 the numbers had been projected to nearly double (1.28 million new cancer cases and 970,000 cancer deaths) by 2030 in Africa due to aging and growth of the population. The current data indicates that the projections in 2014 have been surpassed.
With an increase in life expectancy, changes in diet and lifestyle, and lower incidence of communicable diseases, the cancer burden in Africa is slated to only increase over the coming years. Despite this growing burden, cancer continues to receive low public health priority in Africa, largely because of limited resources and other pressing public health problems, including communicable diseases such as Acquired Immune Deficiency syndrome (AIDS)/Human Immuno-deficiency virus (HIV), malaria, and tuberculosis.
Cancer Disease Burden
For instance, in Kenya, with a population of 47 M as per 2018 Globocan data, cancer ranks third as a cause of death after infectious diseases and cardiovascular diseases.
In 2018, there were about 47,887 new cancer cases and 32,987 cancer deaths in Kenya. This translates to about 70% deaths which means only 30% of those sick survived. With the Globocan estimates, 2 out of every 3 Kenyans diagnosed with cancer perish due to the disease. Over 60% of those affected are below the age of 70 years. The same remains true for most Sub Saharan countries.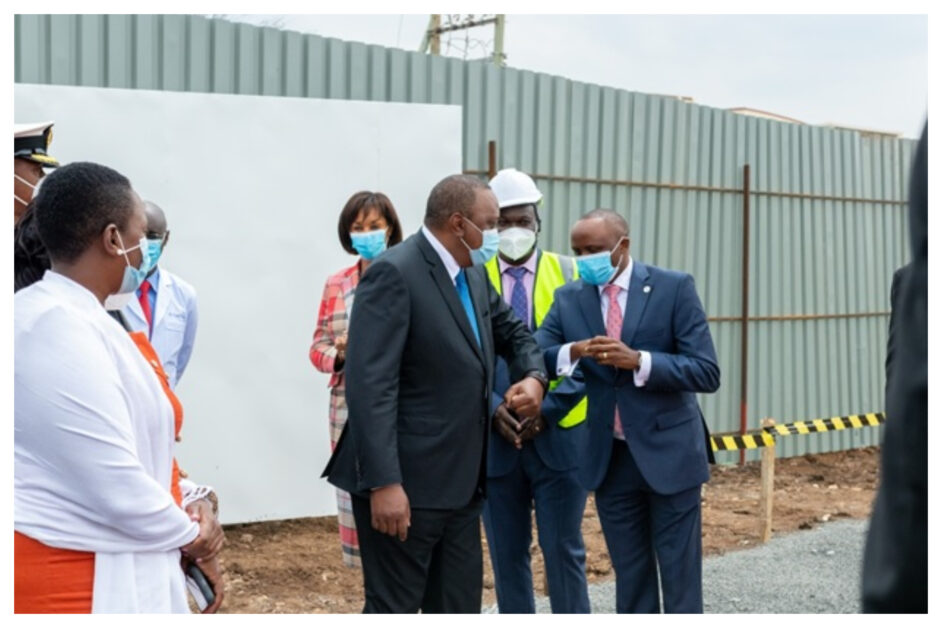 Currently, within East Africa region there is only one Comprehensive Cancer Center in Kenya at Aga Khan University Hospital, Nairobi. This is a private Center therefore not within reach of many Kenyans. With the establishment of KUTRRH as a National Referral Hospital and the establishment of Integrated Molecular Imaging Center (IMIC), KUTRRH is set to be the first Public Comprehensive Cancer Centre not only in Kenya but also in the region. This will lead to an improvement in capacity to handle cancer cases within the country and the region.
Most cancers in East Africa are diagnosed at an advanced stage of disease because of lack of screening and early detection services. Statistics from the government indicate that Kenyans spend estimated KShs10 billion annually seeking cancer treatments in India, South Africa and Dubai. There is a growing interest from private healthcare providers as well as by the government and public sector institutions in this field and hence the number of patients receiving quality care is expected to increase over the next 5 years.
However, to address this growth, improved access to diagnostics and Radiotherapy capabilities are needed. East Africa in general has extremely low levels of PET/CT and SPECT/CT penetration and less than twenty radio therapy equipment across the region. This coupled with limited availability of Oncologist/specialist, is restricting access to cancer care for majority of the patients.
Huge relief and life-saving facility
Speaking at the event, Mutahi Kagwe, CS Health said: "For years, most patients have been seeking cancer treatments in places like India, South Africa and Dubai spending an estimated Sh10 billion annually. We are certain this comprehensive cancer centre will be a huge relief and life-saving facility to many especially in the era of COVID-19. The addition of the Integrated Molecular Imaging Center will bring the KUTRRH Cancer Center to the levels defined by WHO covering all the requisite cancer Centers.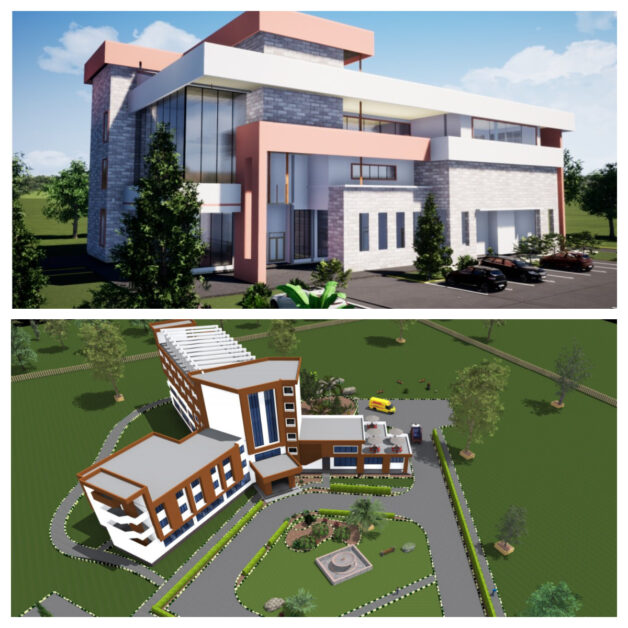 According to Prof Olive Mugenda, Chairperson KUTRRH, one of the Hospital's flagship projects is the Comprehensive Cancer Care aimed at filling the cancer care gap in the country. Since operationalization of the Hospital in October 2019, 4,737 cancer out-patients and 686 in-patients have been attended to in the facility.
"We are delighted to be partnering with Kenyatta Hospital to create the largest public cancer screening diagnosis and treatment center in Kenya and this region," said Farid Fezoua, President and CEO for GE Africa. 'Cancer may be treatable if it is detected early, and we hope that this center will increase the accessibility of comprehensive cancer care for patients, enabling earlier diagnosis, better understanding of individual cancers via improved imaging, and staging capabilities for better and early treatment of cancers in Kenya."
He added that as a long-standing partner to Kenya the company was committed to helping the country elevate the access and standard of cancer care in the country.