Christmas season is the longest holiday anyone can have. The moment December starts you can get the feel of the festivities approaching with the Christmas trees, the decoration and Christmas lights spread all over malls, offices and even homes.
Christmas time is with no doubt family time. It is time to bond with your entire family and catch up with them. So people get to travel upcountry while others travel back into the country/ the city to meet their families since they are having a break from work. It is the time that you get to create memories with your family and this Christmas and the Ruparelia group hotels are giving you the perfect plans for you and your family to create more memories together.
Aside from having prestigious hotels around the city, the Ruparelia group has made sure that their guests during the festive season get to enjoy themselves to full capacity by creating a number of discounts so that they get to enjoy the great service that the group has to offer.
Here are 4 reasons why you should spend your Christmas with the Ruparelia group hotels;
---
1. Discounted Accommodation Packages
---
Munyonyo Commonwealth Resort and the adjacent Speke Resort and Conference Centre are the flagship hotel brands of the Speke Group of Hotels.
The two hotels are throwing a variety of discounts this festive season to make sure you enjoy, without breaking a bank or two.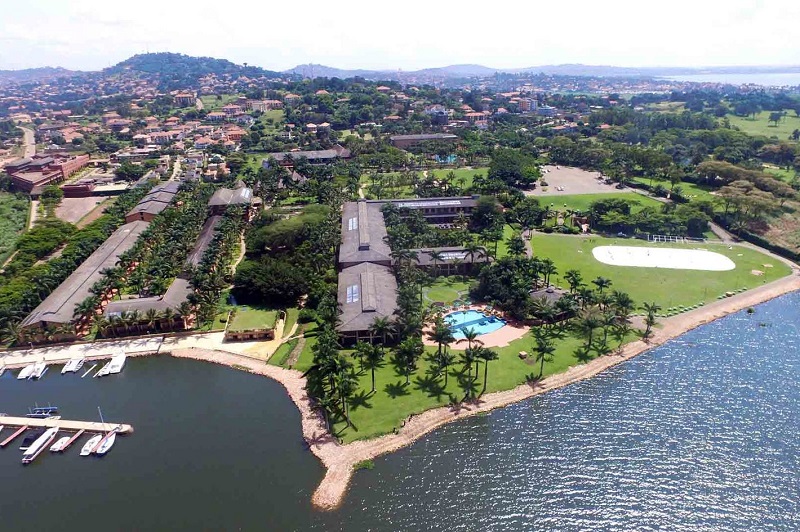 From 13th December to 23rd December and from 26th December to 5th January, their single deluxe rooms will be charged at $139 and the double deluxe will be at $188. The one bedroom suite that takes up to 2 people will be at $219, the superior room and the executive room will be each at $250. The executive suite will be charged at $436. The presidential cottage and presidential suites which take up 4 people each will be charged at $498 and $684 respectively.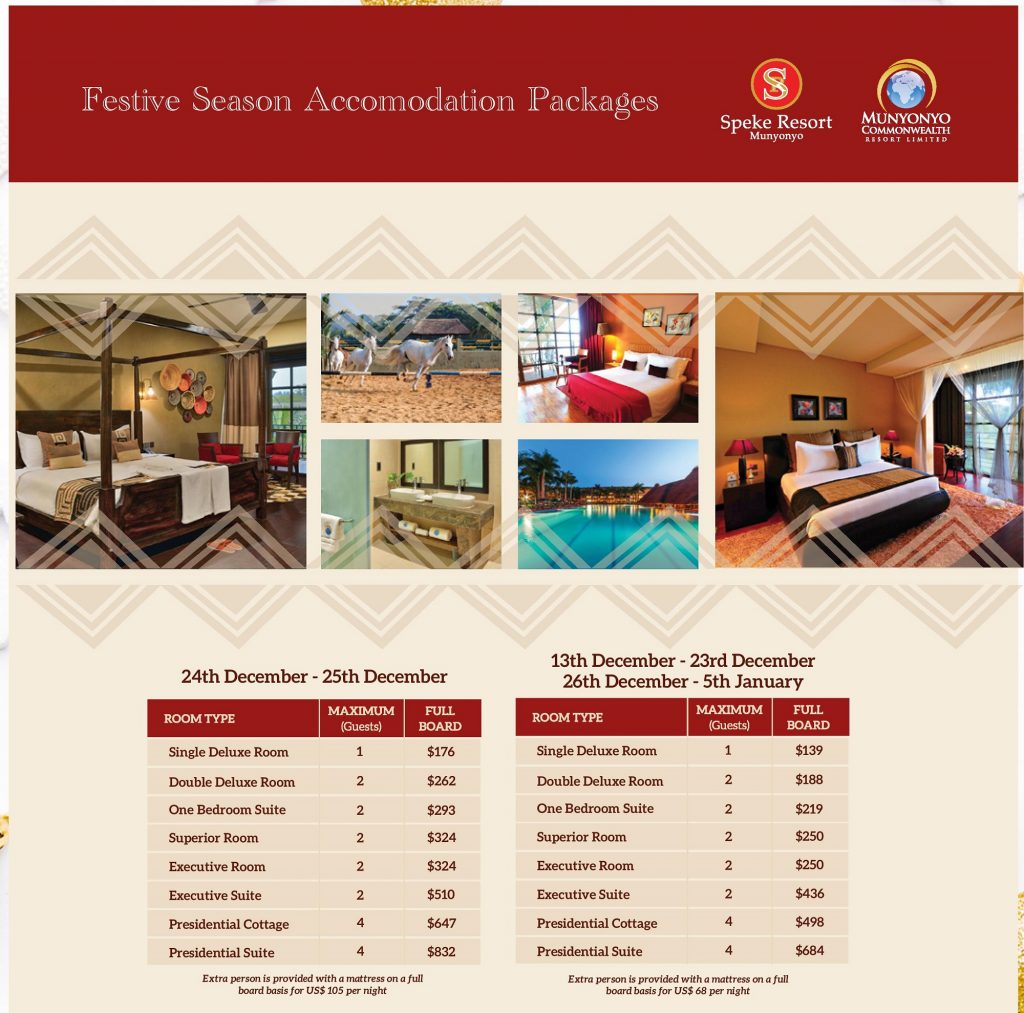 However, on Christmas eve and Christmas day, the rooms will have slithly higher. The single deluxe room will be charge at $176, The double deluxe will be charged at $262, the one bedroom suite will be charged at $293. Both the superior room and the executive room will be charged at $324. The executive room, executive suite, presidential cottage and presidential suite will be charged at $324, $510, $647, $832 respectively.
All rates are full board- breakfast, lunch and dinner. On 25th December there will be a Grand Christmas Buffet by the Olympic swimming pool. They are also inclusive of a 30 minutes boat ride and a 10 minutes pony ride for children. On top of all that, the guests will also have access to the swimming pool, gym, spa and sauna.
---
2. A variety of options to pick from
---
Speke Group of hotels, has a variety of luxurious and budget options to pick from- hotels and self-catering apartments. The include: Speke Resort and Conference Centre (www.spekehotel.com), Munyonyo Commonwealth Resort (https://www.munyonyocommonwealth.com), Kabira Country Club (https://www.kabiracountryclub.com), Dolphin Suites (https://www.dolphinsuites.co.ug), Forest Cottages (www.forest-cottages.com), Bukoto Heights (https://www.bukotoheights.com/) and Speke Apartments (https://www.spekeapartments.com)
If it a lakeside room that you want, Speke Resort Munyonyo has you covered with rooms over looking the calm waters of Lake Victoria.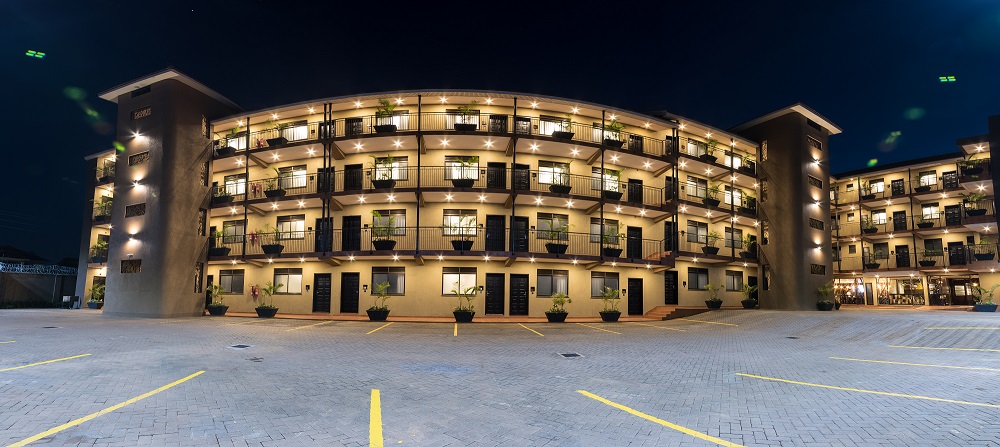 Speke Apartments (Wampewo & Kitante) as well as Bukoto Heights are luxury self- catering apartments that are suitable for both pleasure and business. The apartments are located near town so you are not far from any amenities that you need for you and your family.
The Forest cottages are set in serene environment with ever green trees hovering over the cottages. They give a feel of a get away from town yet they are not so far from the city centre.
Kabira Country Club has a variety of room types that cater for both individuals and families as well.
---
3. Christmas and New Year's day programmes
---
Christmas comes with a lot of excitement and the mention of food cannot be excluded from it all. Normally, women in the house have to get into the kitchen and cook large feasts to feed their family but as opposed to doing that, you can visit any of the Speke Group hotels and enjoy the different kinds of buffets they have planned for this Christmas.
On Christmas day, Speke Resort Munyonyo will serve a lunch buffet at the Speke Resort Poolside. Each adult will be charged Ugx 175,000 and children under 14 will be charged Ugx 75,000.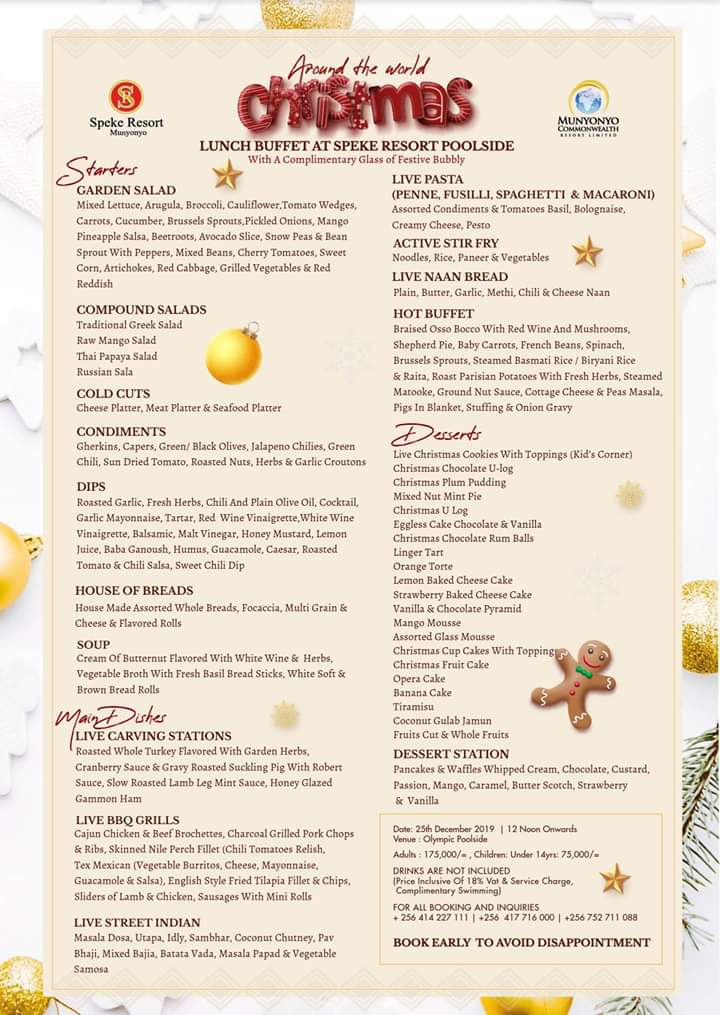 It will be a 3 course menu that will consist of starters made of salads, cold cuts, dips, soups and bread. The main dishes will have turkey, chicken, beef, pasta, naan bread, hot buffet and so much more. The desserts will comprise of different cakes, fruits, mousse, and so much more.
---
The La Cabana restaurant at Speke Apartments, Wampewo avenue will also have a 3 course meal to serve its guests on Christmas day. Adults will be charged Ugx 125,000 and the kids will be charged 50% less and have free access to the pool.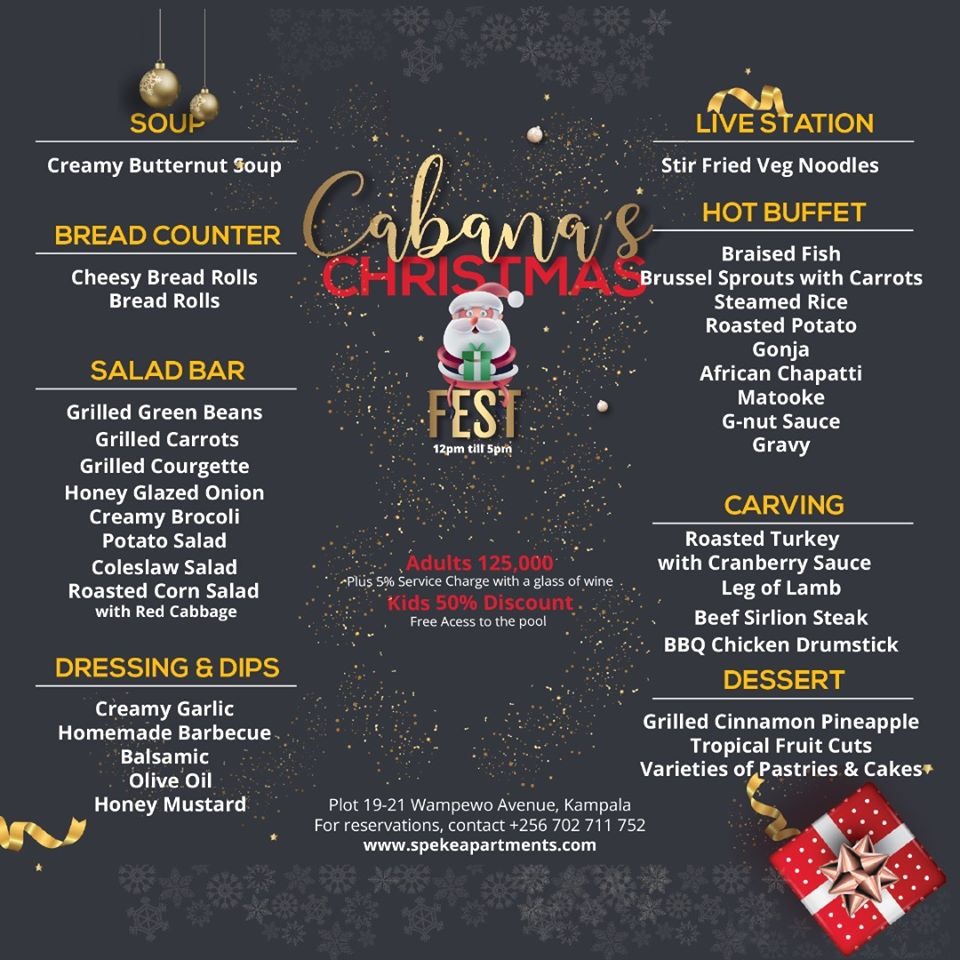 ---
Would you prefer burgers by the pool for Christmas? Forest Cottages will be serving these and adults will be charged UGX 50,000 and children will be charged Ugx 40,000. This all comes with a glass of wine and juice respectively.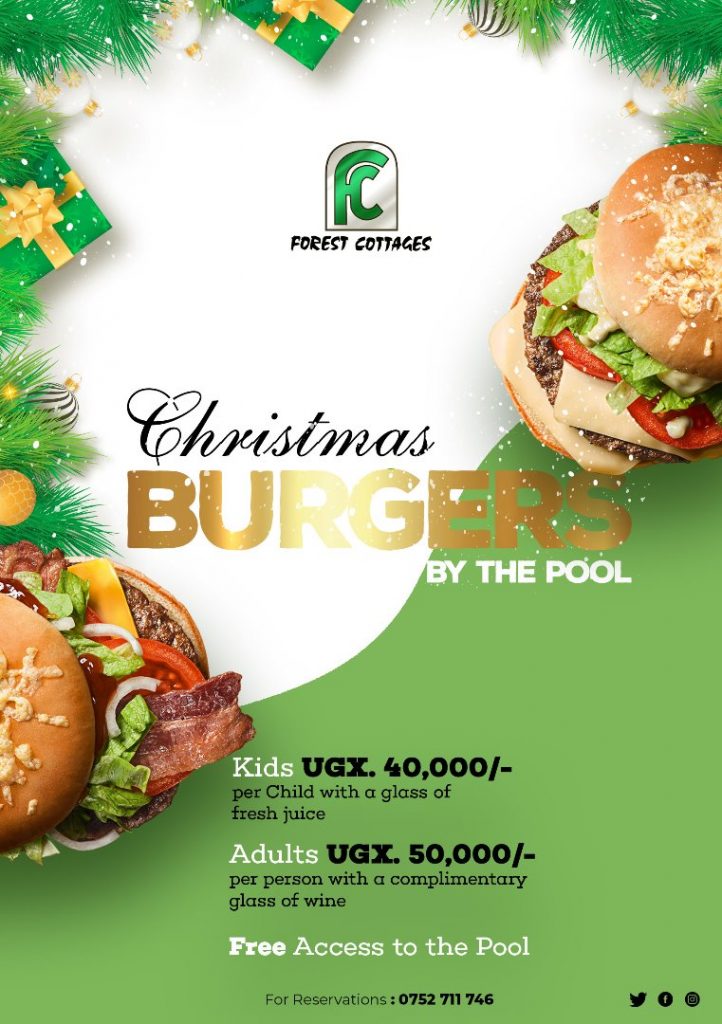 ---
Kabira Country club will serve a barbecue meal for Christmas where adults will be charged UGX75,000 and children will be charged UGX 45,000.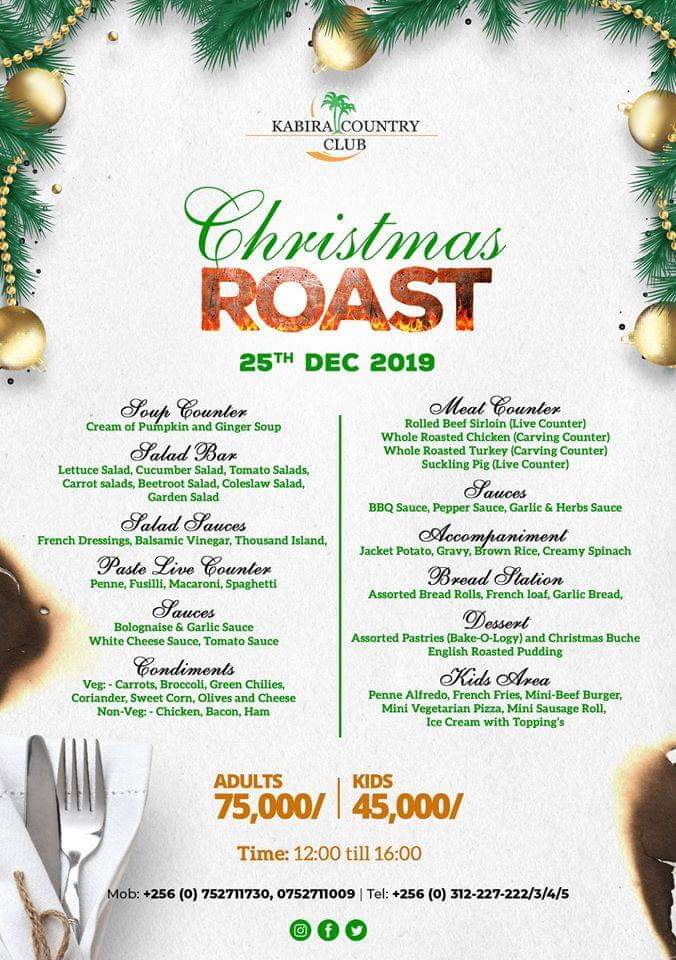 ---
And if you are in the mood for something more chilled and relaxing like a pool party, Dophlin Suites will be having a pool party on Christmas day with a bouncing castle and face painting for children at UGX 35,000.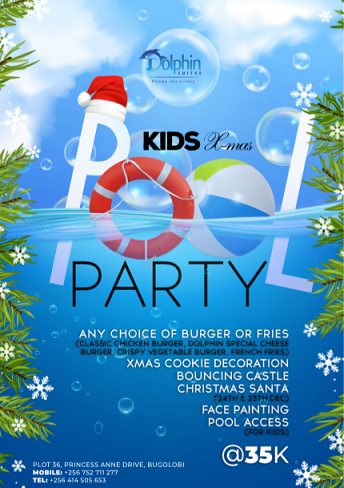 ---
4. Well equipped amenities & activities for kids
Don't let all the Xmas eating scare you- you can break down all the food in the variety of swimming pools, gyms and health clubs- in nearly each of the facilities.
Kabira Country Club, Speke Apartments, Dolphin Suites, Speke Resort Munyonyo and Forest Cottages all have swimming pools where guests can go and relax.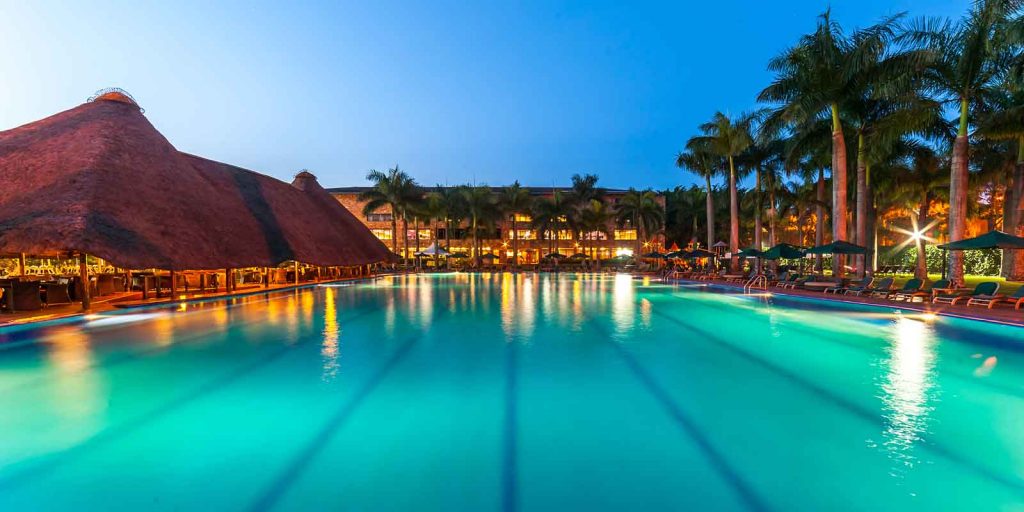 They also have gyms that are well equipped with a variety of equipment from treadmills, benches, treadmills, station bikes among so many other kinds of equipment. This can be used by guests to work out and stay fit even during the festivities.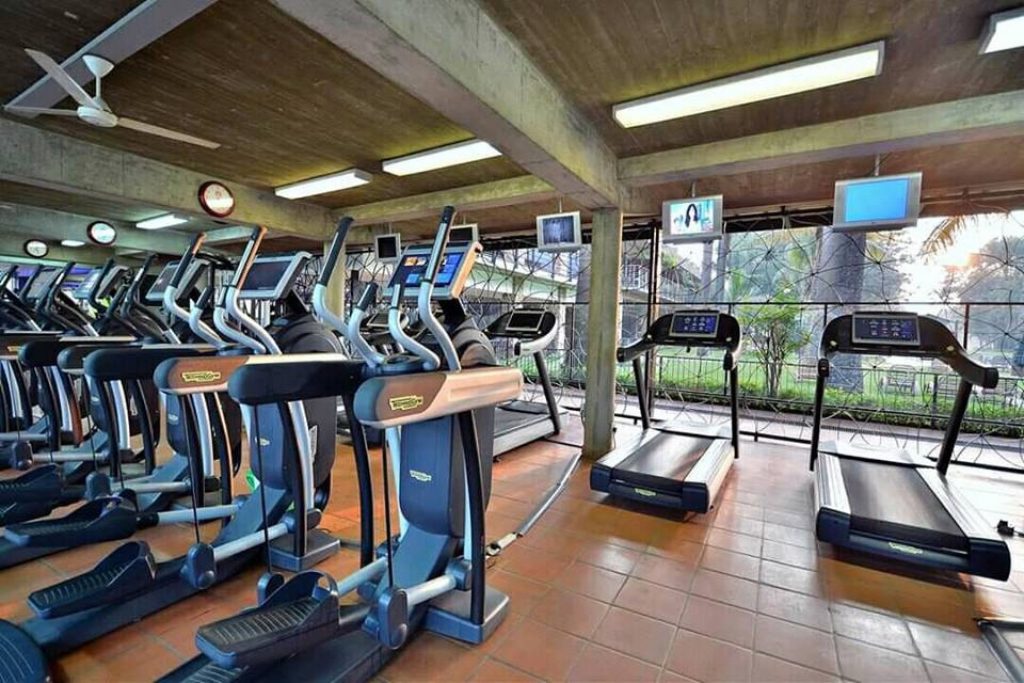 Now you know.
For more inquiries please reach out to the hotels using contacts on their websites and have yourself a Merry Christmas and A happy new Year!