ioTec Limited, a Ugandan-owned financial technology company and software consultancy firm, has been issued two licenses by the Central Bank of Uganda to operate and provide payment services under the National Payments Act, 2020.
The two licenses are Payment Service Provider (Small Electronic Money Issuer) and Payment Systems Operator (Small Funds Transfer).
The ioTec Platform is a business-to-business technology that includes services for customer onboarding, KYC verification (individual & business), digital payments, and credit referencing. The ioTec Platform aims to strengthen service linkages between financial service providers, manufacturers, as well as small and medium-sized businesses. The ioTec Platform empowers several MSMEs ranging from corner shops retailing goods and services to licensed insurance companies, financial institutions and technology companies.
ioTec Limited is also certified by the National Information Technology Authority of Uganda (NITA-U) as a software development consultancy firm and registered at the personal data protection office as a data collector, processor and controller under the Data Protection and Privacy Act, 2019.
Commenting about the development, Kenneth Kwesiga, the CEO of ioTec Limited, said that the regulatory approval is a welcome boost to the firm's commitment to "providing financial services to their customers in a compliant and regulated manner."
"The licenses are a validation of the company's technology and operations, as well as a framework for consumer protection. It is important for financial service providers to be licensed and regulated to ensure the safety and security of their customer's financial information and transactions," Mr. Kwesiga said.
"We are particularly convinced that a regulated fintech ecosystem will unveil strong collaborative partnerships between financial technology companies and commercial banks whilst strengthening convergence on consumer protection – consequently, making the sector safe and investor-ready," he added.
The ioTec platform – a catalyst for the business economy.
Kwesiga said that ioTec was on a mission to "build and democratize access to secure financial technology solutions that bring services closer to individuals and businesses".
"In the past, we have seen multiple technologies offering specific stand-alone solutions but there has been a demand for bundled technology solutions that are well orchestrated to propel businesses' success. Ultimately, the ioTec platform is an all-in-one eco-system designed to catalyze, accelerate, and strengthen service linkages between financial service providers, manufacturers and MSMEs," Kwesiga explains.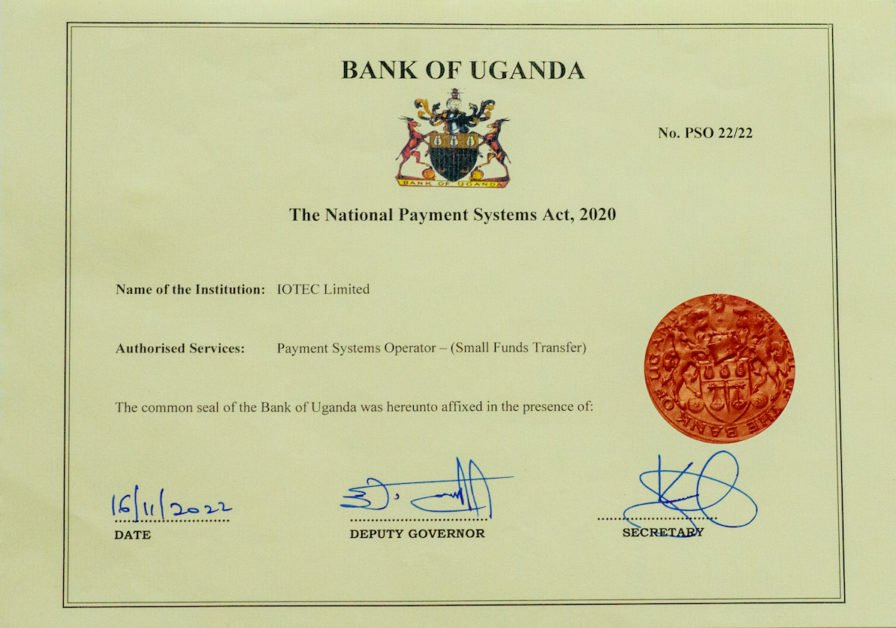 For micro, small and medium enterprises such as supermarkets, restaurants and bakeries – we are infusing our payment gateway into their already existing point-of-sale systems, consequently, reducing the time it takes to serve a customer by redacting the payment steps to just one – for which they simply authorize the payment.
"This also solves the sales and payment reconciliation burden by automatically posting the sales receipt and payment reference number in the accounting system of the business owner. All this is done without human intervention and in real-time," Kwesiga says.
For licensed financial services providers such as commercial banks, Microfinance institutions, investment clubs and SACCOs – the ioTec platform provides solutions that help them to serve their customers country-wide, particularly in remote areas without the need for conventional brick-and-mortar presence. ioTec also helps them to accurately profile and verify their customer information, which greatly reduces the risk of accessing and disbursing credit.
For financial technology companies, ioTec is providing an all-in-one ecosystem platform that enables them to among others, onboard clients through ioTec's KYC platform and API as well as verify all customer information such as National Identification Numbers, Telephone numbers, tax identification numbers, business registration numbers and their respective trading licenses.
"Our platforms also assist them to make and collect payments from customers' mobile money wallets as well as digitally credit reference and score customers' via ioTec's intuitive digital channels and API," Kwesiga says.
"We believe that by building a customer-centric and interoperable platform, we are democratizing access to services, unlocking economic potential, and we are accelerating business growth," he concludes.