Tomorrow, December 28th 2020, human rights lawyer, Nicholas Opiyo will appear before the High Court to answer charges of Money Laundering contrary to Sections 3 (c) 116 and 136(1)(a) of the Anti-Money Laundering Act (2017).
According to the charges, Mr. Opiyo Nicholas on the 8th Day of October 2020 at Absa Bank, Garden City Branch, Kampala District, acquired USD340,000 (Three Hundred Forty Thousand United States Dollars) through Absa Bank, Account No.6004078045 in the names of Chapter Four Uganda, knowing at the time of receipt that the said funds were proceeds of crime.
Mr. Opiyo who also doubles as the Executive Director of Chapter Four, a Ugandan-based civil rights charity that says, it works to defend civil liberties, was on December 24th remanded to Kitalya Government Prison by Nakawa Magistrates Court, pending hearing of his case, by the High Court.
The Magistrate at Nakawa declined to hear his case, saying it is only hearable by the High Court.
Since his remand, Chapter Four, his employer, that he also helped to found in 2013, has released a flurry of media statements- four in total to date, demanding for the immediate release of Mr. Opiyo who it insists is being held on frivolous charges.
"We continue to demand that the fabricated and malicious charges be dropped," Chapter Four demanded in their latest fourth statement, released on December 25th 2020. The statement was, signed by Stephen Tumwesigye, a lawyer and Chapter Four Board Member, as well as Peter Magelah, Program Manager, at Chapter Four Uganda.
"Chapter Four unequivocally reiterates that the unsubstantiated allegations against Nicholas are a fabrication, false, and will be proven to be baseless," the statement further read.
Chapter Four also said that the alleged USD340,000 mentioned in the charge sheet is a routine grant that they have received for the last five years from one of its reputable and long-standing donors. We understand the said donor is a one, American Jewish World Service (AJWS), an organisation that says on its website, is committed to realizing human rights and ending poverty in the developing world. Specifically, AJWS on its website, says, in Uganda, it focuses on "ending discrimination and violence against women, girls and LGBTQI+ people, and defending communities' access to land, water and natural resources that are being exploited by oil drilling projects."
In further defence of their Executive Director, Chapter Four said that the grant in question is on Chapter Four's bank account and not on Nicholas's personal bank account.
"The organization's bank accounts have not been questioned before, during previous years when this same grant was received. Chapter Four pays taxes to the Government of Uganda and has never defaulted on this statutory obligation," Magelah and Tumwesigye further explained.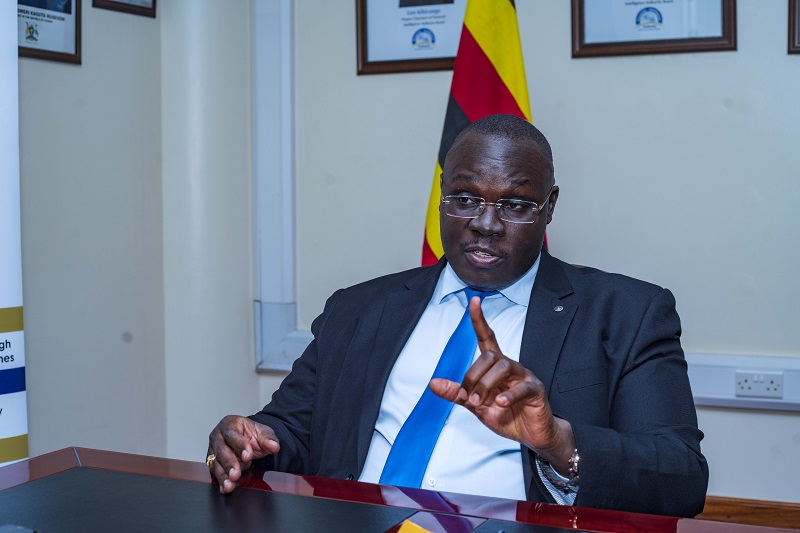 In their view, Mr Opiyo is being held because "of his bold, unapologetic conviction and tireless work towards upholding and defending the constitutionally guaranteed human rights."
Chapter Four's narrative to free Opiyo, has been joined by a number of people, especially on social media, including some notable politicians from the West such as Tibor Nagy the US Assistant Secretary for U.S. Department of State's Bureau of African Affairs as well the U.S. Ambassador to Uganda, Natalie E. Brown.
But what does the Uganda law say about money laundering?
According to the Anti-Money Laundering Act 2013 and amended in 2017, Section 3 (c) prohibits any person from intentionally " acquiring, possessing, using or administering property, knowing, at the time of receipt, that the property is the proceeds of crime."
Section 116 says, "a person who engages in any act of money laundering prohibited in section 3, commits an offence."
Section 3 in general and specifically 3(d) criminalises all "acts to avoid the transaction reporting requirements provided in Part III" of the AML Act.
Section 116 under which Mr. Opiyo is also being charged, says: "A person who engages in any act of money laundering prohibited in section 3, commits an offence."
Part III of the Act mentioned above and specifically, Section 8 (2) requires accountable persons who among others require NGOs such as Chapter Four, transacting UGX20 million and above to accurately record the said transactions on the day the transaction has happened and maintain the same for a period 10 years.
Section 8(5) further requires NGOs to file the said transactions with the Financial Intelligence Authority (FIA) every 07 days.
Preliminary inquiries and according to insider sources at FIA, by CEO East Africa, indicate, it is this offence that Chapter Four actually committed, making them vulnerable to penalties specified in Section 136(1)(a).
Section 136(1)(a)- under which Opiyo is also charged, clearly lays out the penalties to be suffered by the erring party.
"A person who commits any offence prohibited under section 3 and section 116 of this Act is liable on conviction to, (a) in the case of a natural person, imprisonment for a period not exceeding fifteen years or a fine not exceeding one hundred thousand currency points (UGX2,000,000,000) or both," reads Section 136(1)(a).
In the case of a legal person, the guilty party is liable to a fine not exceeding two hundred thousand currency points (UGX4,000,000,000).
In an interview with CEO East Africa Magazine, Sydney Asubo, the FIA Executive Director refused to say in the affirmative whether Chapter Four had failed to satisfy their reporting requirements as provided under the AML Act.
But when this reporter put the same question to Peter Magelah, the Program Manager at Chapter Four whether Chapter Four had been compliant with this particular part of the law, he said, as far as he was aware, there was no legal requirement for them to report on incoming transactions, because by the time the money reached their account, it is deemed to have been cleared by Bank of Uganda.
He further told this reporter that as far as he is aware, Chapter Four was only supposed to report to the FIA, "every time we have to spend UGX20 million and above."
Asubo, himself a Makerere University-trained lawyer, who also holds Masters of Law in International Banking and Finance and was a one-time Director of Legal Affairs at the Inspectorate of Government, insists the law on transaction reporting is very clear.
"NGO's are listed in the 2nd Schedule of the AML Act as accountable person's ( reporting entities)― see no.15 on the list, and therefore have obligations to comply with certain provisions of the Act. If it is a large cash transaction i.e. UGX20 million or more ( or its equivalent in foreign currency, they have to report within 07 days. If it is a suspicious transaction, it should be filed within 48hours of confirming/ establishing the suspicion( see section 9 of the same Act)," he told this reporter in a Whatsapp interview.
When we put to him, assertions by Chapter Four's Magelah that incoming transactions are not supposed to be reported to the FIA, he dismissed this as being factually incorrect.
"All transactions, be they credits or debits, as long as they are above UGX20 million are supposed to be reported. Section 8 is absolutely clear in that regard," he said.
Again Asubo dismissed BoU's role clearing transactions within the realm of the Anti-Money Laundering laws.
"People need to revise the rules of banking, especially the role of the central bank. The central bank has no role whatsoever in " clearing " transactions between two private parties conducted via commercial banks."
Mr. Asubo also dismissed earlier assertions by Chapter Four that holding Nicholas Opiyo in his personal capacity for 'sins' committed by Chapter Four, was wrong. In his words, he said: "A "legal entity" cannot be arrested! It acts through its employees."
When we put it to Magelah that the FIA insists that Section 8 of the AML Act, says all financial transactions, be they debits or credits, must be reported by Accountable Persons within 07 days, Magelah, himself a lawyer, remained adamant.
"What we all report are transactions out of our accounts and not into out accounts, unless they are suspicious," he retorted.
The legal battle lines are now drawn. It remains to be seen the direction the case will take, when Mr. Opiyo reappears in the High Court tomorrow morning for the mention of his case.