Kariuki Ngari usually refers to himself as a village boy at heart. Born and raised on the slopes of Mt. Kenya, he has risen to become a global citizen, leading Kenya's largest international bank, Standard Chartered Bank (SCB).
Kariuki was born to a teacher and a homemaker, the only boy amongst seven sisters. His father imbued him with humility.
"In our household, there was always equality in education and in the allocation of chores," Ngari once stated in an interview.
Ngari would later leave the village to pursue high school education in Nairobi School nicknamed "Patch", where he continued to build on important values of discipline, hard work and focused purpose. Thereafter, he joined the University of Nairobi (UoN) to pursue a degree in Economics and Sociology. Kariuki's initial ambition was to become a matching band policeman.
"As a young boy, my father used to take his children to the Nairobi Show every year. I was very impressed by the sight of policemen in a marching band during the night show. I thought growing up to be one of them would be pretty cool," he reminisces.
As with most childhood ambitions, this was soon relegated as an option. At university, Ngari became certain that he preferred the world of Finance and Banking. Kariuki soon caught the banking bug starting with a local bank before joining SCB where he served for 7 years.
In 2004, Ngari moved to Barclays Bank of Kenya (now ABSA) rising to become Retail Director. He re-joined SCB in 2009 as Head of Consumer Banking, covering Kenya and East Africa, before rising to the position of Retail Head for Africa and later Global Head of Retail Distribution in Singapore.
In this role, he was pivotal in shaping the distribution network strategy for the Bank globally. SCB has provided banking services that help people and companies to succeed, creating wealth, jobs and growth across East Africa for over 100 years. The bank operations in the region currently generate over $ 400 million in revenue and provide employment to over 1,600 people.
Ngari attributes this long heritage of success to a strong workforce that is guided by the bank's values: Do the Right Thing, Better Together and Never Settle. He understands the trans[1]formative power of money and finance and the important role that banks play in turbocharging the transformation of local communities, businesses and individuals, hence societies and countries at large.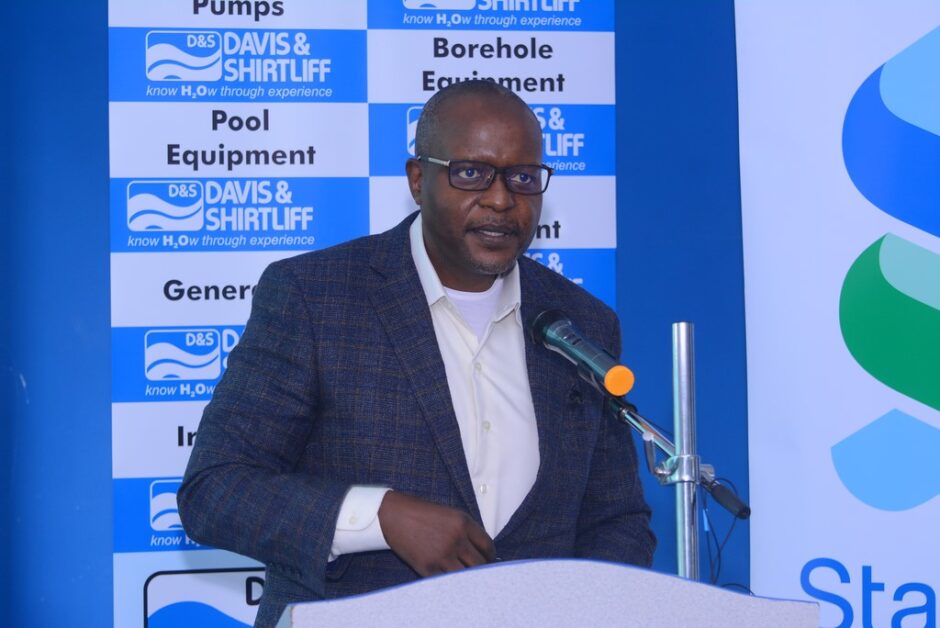 Ngari is a visionary leader. For instance, from where he sits, he is particularly keen on helping businesses mitigate the effects of climate change.
He believes that individuals should use money to build themselves and others around them. Leveraging this awareness and his deep understanding of client needs, Ngari is guiding his teams in developing innovative digital solutions such as the SC Shilingi Funds platform.
The product, launched in February 2022, is the first 100% digital-only service offering money market funds in Kenya. It allows clients to invest from a minimum of KES 1,000 ($ 10), earn competitive returns (higher than what they would ordinarily get in a savings account), enjoy the power of compounding on a monthly basis and access unlimited withdrawals anytime, at no cost.
Clients have the option and flexibility of investing through a weekly or monthly recurring plan or a one-off lump sum anytime on this platform. The solution offers convenience as it is available 24/7 on the SC Mobile app.
"It is important for leaders to realise that leadership is a privilege and not a right, hence leaders ought to utilise their time best in doing good, since the decisions they make impact millions of people," he says.
In addition, Ngari is spearheading SCB's sustainability efforts. In 2022, the bank launched its first Sustainability Impact Report (SIR), highlighting efforts made to accelerate stewardship of the environment, widen economic participation between and within communities and address the growing imbalances brought about by globalisation.
He has set the bold target of achieving net zero financed carbon emissions from SCB's operations by 2025. The bank is well on target, having reduced its energy use by 50% in three years and reduced water usage by 82% over the same period.
Under his stewardship, 17 branches have been certified as single-use plastic free, with certification of another seven ongoing. In terms of diversity, equality and inclusion, under Ngari's oversight, SCB has implemented strategies to increase women representation in senior management.
Gender parity on the Board has improved from 23% in 2019 to 45% currently, with women at management level and across staff complement now at 47% and 54% respectively. He has launched a campaign to grow the bank's supplier and vendor base from the current base of women, youth and people living with disability from 17% to 30%, and increase value from 2% to 10% by the end of 2023.
Ngari is the engine behind the success of the Standard Chartered Nairobi Marathon. Since its inception in 2003, the marathon has grown to become the largest single day sporting event in Kenya. The Marathon has also launched the careers of many renowned Kenyan marathoners.
In 2022, the bank hosted the physical marathon at full capacity for the first time in two years. A total of 21,274 runners drawn from over 30 nationalities took part, including over 200 elite runners and 150 Persons with Disabilities (PWDs). Kariuki also personally funds budding runners from his community to compete in local and international marathons.
Ngari is leading the journey to position the marathon as the only sustainable marathon in Kenya. 100% of the waste generated is recycled with efforts made to reduce single-use plastics. The marathon has distributed over 30,000 tree seedlings since last year and is expected to distribute over 100,000 by 2024.
Ngari loves indulging in a good book and is active in community affairs during his leisure time.
He cites the need to do good, being focused, helping others and the desire to make a difference in whatever he sets out to do among the values that inspire him.
"I appreciate the journey I have been on and will work every day of my life to leave it much better than I found it, for the next generation," he says.
Source: www.theknowledgewarehouseke.com