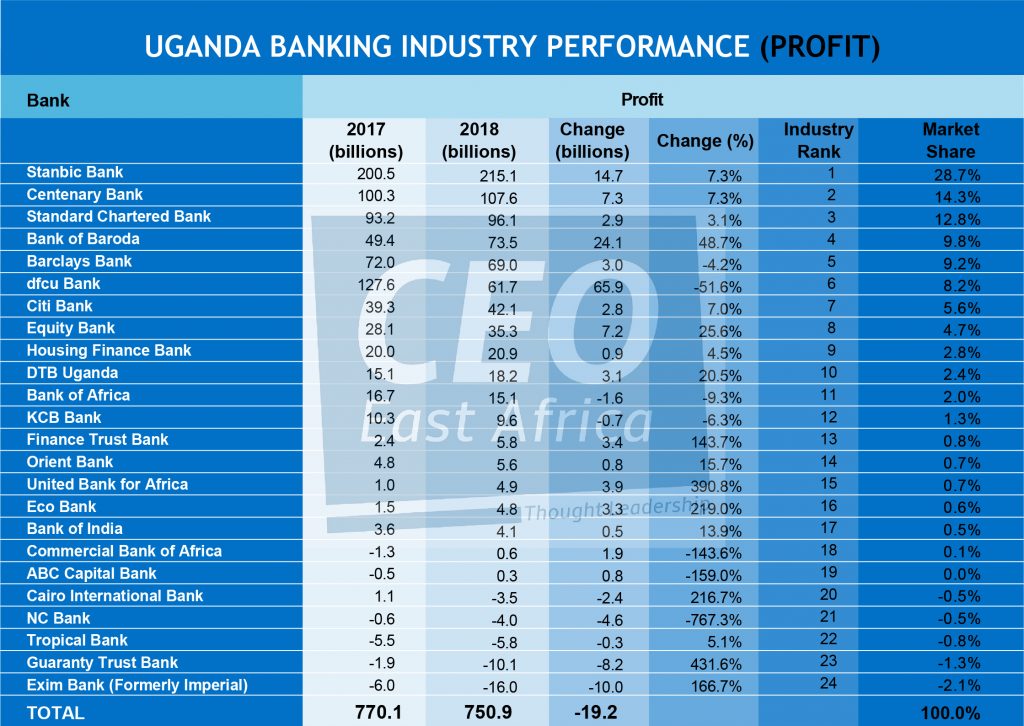 Nineteen (19) of Uganda's 24 banks in 2018 earned a combined UGX790.3 billion (USD210.3 million) in profit, just about a 1% rise in the UGX786.4 billion made by 18 of the profitable banks in 2017.
Five banks in 2018 remained loss making, down from six in 2017. The loss making banks made a combined UGX39.4 billion in losses, nearly 3 times the UGX15.1 billion, the loss registered in 2017 as Guaranty Trust Bank and Exim Bank (formerly Imperial Bank) took in deeper losses.
Exim Bank's losses deepened from UGX6 billion in 2017 to UGX16 billion in 2018, while Guaranty Trust Bank saw its loss position widen from UGX1.9 billion in 2017 to UGX10.1 billion in 2018.
The other loss making banks are Cairo International Bank, NC Bank and Tropical Bank.
Commercial Bank of Africa and ABC Capital which were in 2017 loss making turned profitable while NC Bank that was profitable in 2017, slid back into loss making.
Central bank reigns in interest rates; curbs excess profits
It is believed the slowdown in profitability is associated with the central bank's sustained pressure on interest rates that saw the Central Bank Rate (CBR) fall by 41.18% over the last 24 months.
In January 2016 the CBR was at 17% but ended December 2018 at 10%.
CBR is the rate of interest which a central bank charges on its loans and advances to commercial banks. Although it is not the only determinant of interest rates, it is a major driver of market rates.
Also the central bank cut down on rates for its 91 Days, 182 Days and 364 Days Treasury bill from 18.22%, 19.79% and 19.74% respectively at the beginning of January 2016, closing December 2018 at 10.12%, 11.02% and 11.51%.
Subsequently average lending rates for UGX denominated loans followed suit, falling from an average 24.29% at the beginning of January 2016 to 20.28% in December 2017, and further closing December 2018 at 20.1%- altogether a 17% decline.
USD based lending rates also fell from 9.43% at the beginning of 2016, to 7.57% at the end of 2017, closing 2018 slightly higher, at 7.83%.
Although there was a general fall in the cost of deposits from an average 3.48% in 2016 to 2.79% in 2017 and finally 2.26% in 2018, overall interest margins for the banking industry came under pressure, declining from 12.81% in 2016, to 11.57% in 2017 and 11.1% in 2018, according to Bank of Uganda reports.
Net interest margins is a measure of the difference between the interest income generated by banks or other financial institutions and the amount of interest paid out to their lenders and or depositors, relative to the amount of their assets.
Lower interest margins hurt profitability and vice versa.
As a result of lower margins, industry incomes grew by a humble 3.3%; from UGX3.6 trillion in 2017 to UGX3.7 trillion in 2018. Dfcu Bank was the largest hit, experiencing a 21% decline in income; UGX410.6 billion in 2018 versus UGX520 billion in 2017.
Healthy sector fundamentals
Although profitability stagnated, the industry saw a 5.7% rise in assets from UGX26.6 trillion in 2017 to UGX28.2 trillion- adding a further UGX1.5 trillion in fresh assets.
This was largely driven by a 12% growth in lending- from UGX11.4 trillion to UGX12.7. Matter of fact 89.4% of the new assets (UGX1.4 trillion) was loans and advances)
The lending itself, other than the Central Bank's expansionist monetary policy, was backed by an 8% rise in customer deposits- which grew from UGX18.2 trillion to UGX19 trillion.