Uganda – Rwanda Relations. Understanding the Issue of Media Censorship
On Wednesday last week, Ugandan President Yoweri Museveni and Paul Kagame of Rwanda signed a peace pact in Angola, signaling an end to the bitter diplomatic relations between Kampala and Kigali that had resulted into the closure of Gatuna border. But what is mind boggling being that up to date, the Gatuna boarder is still […]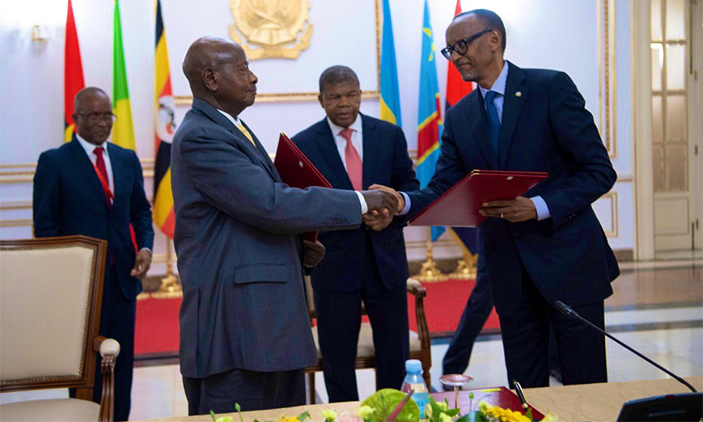 On Wednesday last week, Ugandan President Yoweri Museveni and Paul Kagame of Rwanda signed a peace pact in Angola, signaling an end to the bitter diplomatic relations between Kampala and Kigali that had resulted into the closure of Gatuna border. But what is mind boggling being that up to date, the Gatuna boarder is still closed with no official communication from Rwanda government.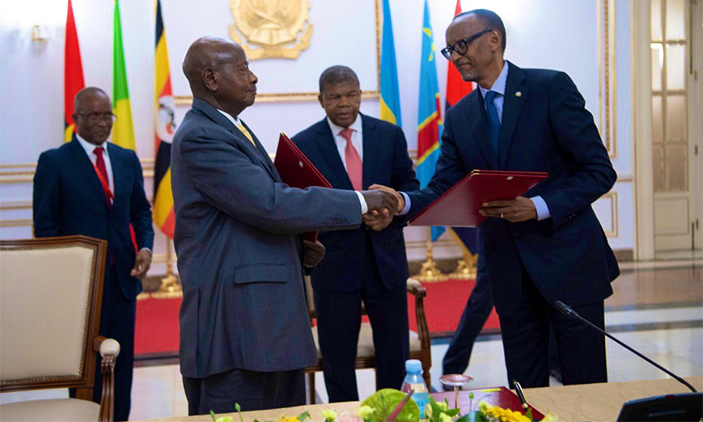 Despite the signing, the New Times newspaper, which is Rwanda government's mouthpiece, continued to publish propagandist articles blaming the Kampala regime for the impasse.
As if that was not enough, Rwanda went ahead and blocked access to Ugandan news sites such as The Observer(www.observer.ug), NilePost (www.nilepost.ug), Softpower (www.softpower.ug) and New Vision(www.newvision.co.ug). The blocked websites can only be accessed via Virtual Private Networks (VPN).
This happened a few days after when the Uganda Communications Commission (UCC) ordered Ugandan internet service providers (ISPs) to block access to Rwanda's The New Times website (www.newtimes.co.rw). The writer could not independently verify whether the blocking of access to Ugandan news sites by Rwandan authorities was in retaliation to UCC's move.
UCC says the order was because the Rwandan paper has continued to publish 'harmful propaganda' against Uganda. UCC spokesperson, Ibrahim Bbosa, said UCC had directed "internet service providers to block New Times for publishing harmful propaganda that endangers the national security of Uganda."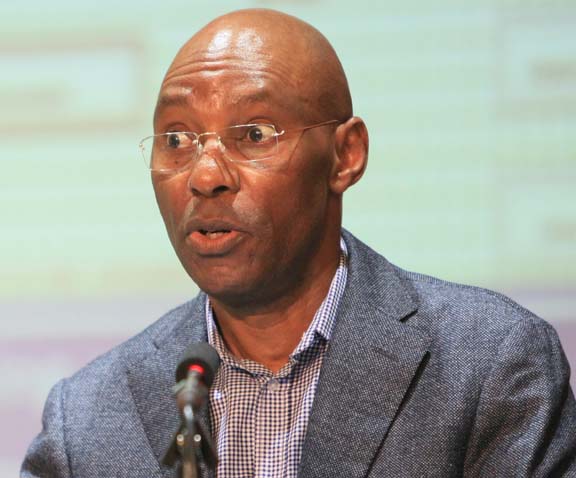 Adding that, "We are engaging the regulator in Rwanda and hope this will be temporary," Bbosa said. Currently, an attempt to visit the newspaper's website from Uganda returns an error.
But for many in the media this was nothing new(censorship), as intimidation and violence is an almost daily threat. Uganda is now ranked 117th out of 180 countries in Reporters Without Borders' 2018 World Press Freedom Index, five places lower than in 2017.
Demystifying The Trend
Uganda has a long history of media censorship. The country's first post-Independence head of government, Milton Obote who became prime minister in 1962, banned the intellectual Rajat Neogy's Transition Magazine. Idi Amin overthrew Obote in 1971 – during his regime, key journalists dissapeared without trace.
The press was a central target during the second Obote government between 1980-1985 and its militiary successor. Museveni's rise to power in 1986 was met with relief. It's almost quaint to think back to a time when Uganda, under a newly elected Museveni, was held as a paragon of African democracy with all the freedoms it entails.
In 1990, four years after Museveni came to power the country was still experiencing a new political dawn. A Danish-produced documentary (still available in the archives of Uganda Broadcasting corporation television), then investigating the depth of freedom of the press in Uganda, was clearly enthralled.
The narrator exclaimed that; A free press in Africa, a rare thing in Africa and This is not a mere change of the guard but a fundamental change.
But things started changing for the worse in the mid-1990s. This included the government shutting down media platforms, legal threats, the infiltration of newsrooms by security spies, thuggery, intimidation and withholding of advertising from institutions deemed to be critical of the government.
In the US, traditional censorship was basically an exercise of cut and paste. Government agents inspected the content of newspapers, magazines, books, movies, or news broadcasts, often prior to release, and suppressed or altered them so that only information judged acceptable would reach the public. For dictatorships, censorship meant that an uncooperative media outlet could be shut down or that unruly editors and journalists exiled, jailed, or murdered.
Starting in the early 1990s, when journalism went online, censorship followed. Filtering, blocking and hacking replaced scissors and black ink. Some governments barred access to Web pages they didn't like, redirected users to sites that looked independent but which in fact they controlled, and influenced the conversation in chat rooms and discussion groups via the participation of trained functionaries. They directed anonymous hackers to vandalize the sites and blogs, and disrupt the internet presence of critics, defacing, or freezing their Facebook pages or Twitter accounts.
Reversing The Trend
Despite all the threats and challenges, the media in Uganda continues to tackle controversial issues and break big stories of corruption and abuse of power. Nation TV's On the Spot,NBS TV's Frontline, Capital Radio's Capital Gang, and Radio Simba's Gasimbaganye ne Bannamawulire, as well as CBS Radio's current Affairs programmes continue to court politically controversial topics. They host government critics and civil rights activists who openly speak out.
The president also allows press conferences where probing questions are asked which continue to at least afford a semblance of press freedom in the country in spite of the lurking iron fist.
Uganda should only borrow for transport, energy, health, education and agriculture infrastructure- Museveni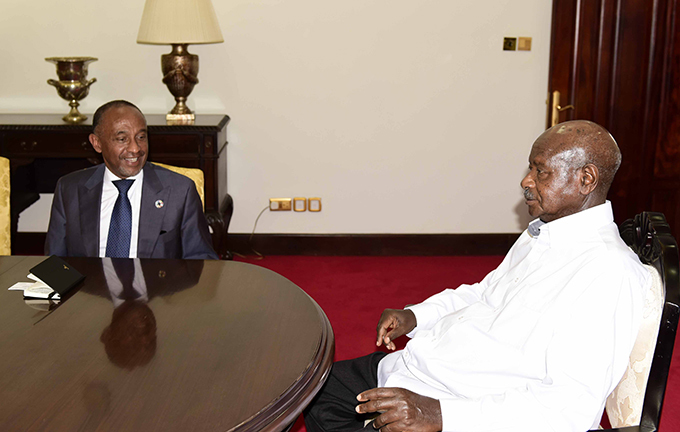 President Yoweri Museveni has directed that borrowing of funds for national infrastructure development should only be ascribed to railway construction, electricity generation, irrigation schemes, strategic roads' building and to some aspects of education and health sectors.
Thi was during a Monday, September 16th meeting with the African Development Bank (AfDB) regional director in charge of the Eastern Africa Regional Centre, Gabriel Negattu, at State House in Entebbe.
"In the education sector, it is the issue of the government programme for the implementation of the construction of 280 secondary schools at sub-county level countrywide. At the university level, the focus should be on the construction of laboratories first and then main halls, which are optional. Let us do all this with respect to other hard-core issues," he said, noting that this was necessary to clarify "for purposes of streamlining proper national economic growth".
Also present in the meeting were Finance Minister Matia Kasaija, Higher Education State Minister John Chrysostom Muyingo and Education Ministry Permanent Secretary Alex Kakooza.
Museveni said construction of the railway is crucial because it will link Uganda to the neighbouring countries such as the DR Congo and South Sudan.
He also noted that there was need to increase electricity generation given that all that is available is consumed because of due to the dynamics of the internal economy in Uganda.
On his part, Negattu concurred with President Museveni, saying funds ought to be borrowed and managed for strategic sectors in the economy, advising government on the need to think broadly beyond Uganda while planning for infrastructure development.
"Think beyond Uganda and go to East Africa in order to create a centre for development and economic excellence in the region for the future," he added.
Kakooza revealed that out of the 280 secondary schools to be constructed in the country, at between $60 and 70 million, 134 will be newly built with the rest requiring only refurbishment.
Oil Money will not be for Consumption or even Salaries – President Museveni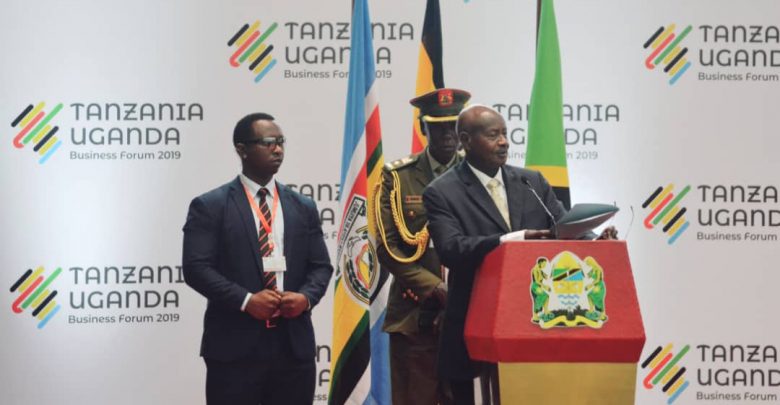 President Yoweri Museveni has echoed that Uganda's cash from the oil resource will not be used for consumption or even salaries to civil servants.
The President made the remarks on Friday while addressing the business community attending a 3-day Uganda-Tanzania Business Forum 2019 at the Julius Nyerere International Convention Centre in Dar-es-Salaam, the Tanzanian capital. The First Lady and Minister of Education and Sports Hon. Janet Kataha Museveni was among other cabinet ministers and private sector officials at the forum.
"Under my leadership, the money from oil will not be used for consumption or salaries. Why? Because it is a resource that is exhaustible and finite. One day there will no longer be oil. That is why I insisted that money from these resources should only be used to create durable capacity for the Ugandan economy namely; build power dams, irrigation schemes, the railway, scientific innovations and some aspects of education," he said.
The forum is the first of its kind and was the initiative of the partnership of Tanzanian Private Sector Foundation (TPSF) and the Private Sector Foundation of Uganda (PSFU). It aims at offering a platform for the business community to share experiences, explore investment opportunities across borders, create business to business networks, identify and discuss challenges in the presence of the Heads of State and Government Ministers and policy makers.
The forum also lays emphasis on issues relating to the steps that can be taken to address and overcome the bottlenecks to the thriving of the bilateral trade between Uganda and Tanzania. Earlier, President Museveni and his Tanzanian counterpart, John Pombe Magufuli were conducted on a guided tour of exhibition stalls in which Ugandan companies and government ministries including Uganda Airlines, Uganda Investment Authority, Uganda Railways Corporation, Kakira Sugar Works, Stanbic Bank, National Social Security Fund, NITA, UCC, Ugandan Petroleum sector, the Ministry of Energy, and the National Oil Company, among others, showcased what they offer.
President Museveni said he is interested in learning the conclusions of the forum on topics relating to the attractiveness of the 2 countries as destinations of investments, harmonisation of the strategies and partnerships in the emerging data economy, trade and infrastructure, reducing the cost of doing business between Uganda and Tanzania and the local content as a key to the unlocking of the long term value in extractive industries.
The President and his host concurred on the plan to enhance water transport from the Port of Mwanza in Tanzania to Port Bell in Uganda adding that railway transport between the two countries would go a long way in promoting sustainable trade and investment between the two countries. Mr. Museveni revealed that the East African governments are working aggressively on power saying that in Uganda today total power generation will soon be 2,000 megawatts which will ensure reliable power supply transmission and the lowering of power costs for manufacturers.
President Magufuli described the 1st business forum between Uganda and Tanzania as a historical occasion. He thanked the organizers for effecting the forum and President Museveni for honouring it with his presence. "The cooperation between Uganda and Tanzania has been in existence since time immemorial even before colonial time. The borders cannot separate us. We shall continue working together in development," he said.
He stressed that it was important for the two countries to strengthen their cooperation in development drawing on the potential of their own natural resources in the sectors of agriculture, tourism and manufacturing. President Magufuli revealed that to ensure faster movement of people and goods between Uganda and Tanzania, his government is going to institute only two checkpoints from Dar-es-Salaam to the Ugandan border.
President Magufuli added that measures are underway to ensure that goods move freely in the EAC region with a view to increasing trade and investment. "The room for investment is very wide for Uganda and Tanzania business sector. This bilateral forum should be promoted for our people in business. Let's agree and do business and stop lagging behind in development," he added.
The Tanzanian leader disclosed that President Museveni and himself took the decision and agreed to the building of an oil pipeline from Hoima to Tanga, one of the longest pipelines in the world, as a sign of commitment between the two countries. During the Forum, the two leaders witnessed the signing of a number of Memoranda of Understanding between Uganda and Tanzania in the fields of Agriculture, Foreign Affairs and Migration. President Magufuli also hosted President Museveni and First Lady Janet Museveni to a luncheon at State House, Dar-es-Salaam.
MP Munyagwa Denies Bribery Allegations As Pressure Mounts On Him Over His Meeting With KCCA ED, Eng. Kitaka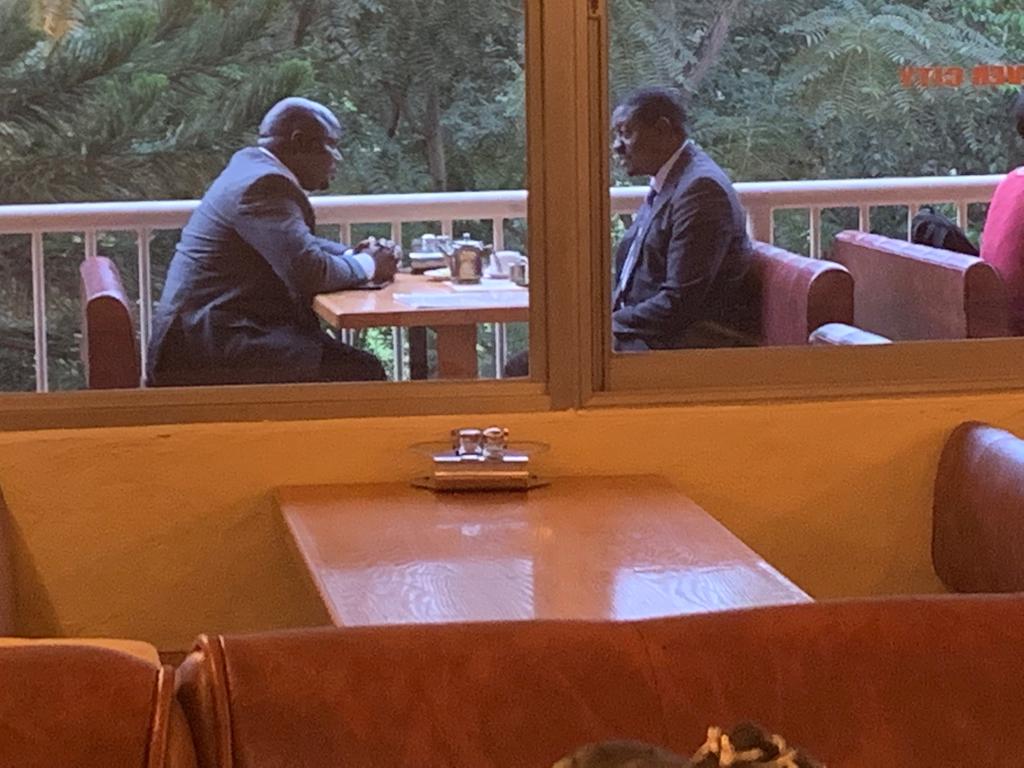 "Currently, COSASE is seeking the dismissal of Mr Moses Atwine, whose recruitment as KCCA Director Physical Planning, has been termed as "unlawful" because he does not have the requisite qualification for the job."
On Monday, photos of MP Munyagwa and Eng Kitaka went viral on social media platforms with reports saying the two discussed how to strike a compromise on the on-going probe into KCCA staff appointments by the Committee on Commissions, Statutory Authorities and State Enterprises (COSASE).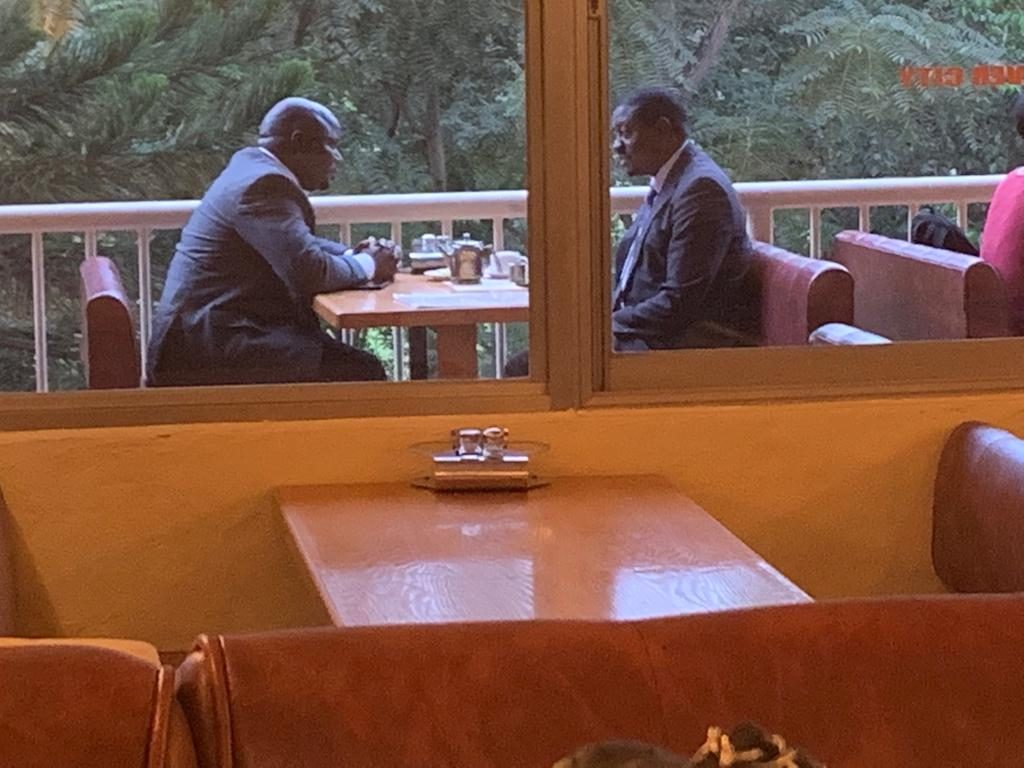 Kawempe South Member of Parliament, Mubarak Munyagwa has since confirmed meeting Eng Andrew Kitaka, the acting Executive Director of Kampala Capital City Authority (KCCA) but refuted claims that their conversation was rotates around the ongoing probe into the authority. The MP currently chairs COSASE.
On Tuesday, Munyagwa told journalists at Parliament that the meeting captured on a CCTV camera at the Silver City Restaurant, Garden City, was not pre-planned because he was "only going to the gym when he encountered Eng Kitaka.
"I met with Kitaka nine days ago. The problem I have with Kitaka is the delay by the contractor to clear the Lubigi Drainage channel. This was not a secret meeting as some media houses are insinuating. How could I have a secret meeting at a balcony of a restaurant in broad day light?" Munyagwa said.
Currently, COSASE is seeking the dismissal of Mr Moses Atwine, whose recruitment as KCCA Director Physical Planning, has been termed as "unlawful" because he does not have the requisite qualification for the job.
Munyagwa says that despite KCCA spending Shs21 billion on the channel, several area of Kawempe South especially Bwaise, floods every time it rains, hence a need for KCCA to fix the problem.
Asked whether, their conversation did not touch issues of Atwine, Munyagwa said that that Eng Kitaka tried to raise it but it was not necessary because the director (Atwine)"must leave office."
"Kitaka tried to tell me to let the status quo remain but I told him no. I only want my drainage channel. There is no bribe I can solicit from Kitaba because he has nothing. I failed to cooperate with Jennifer Musisi, former KCCA Executive Director who had authority, why should I go with Kitaka who is also looking for survival?" Munyagwa added.
The COSASE chairman who says he is set to write to the Public Service Commission to terminate Atwine's contract, alleges that it is the same director or his cohorts who might be playing the blackmail card against his integrity.
He insists that Atwine must leave KCCA because he never studied Physical Planning yet city dwellers must be assured of the quality of structures being constructed.
Munyagwa said some people are trying to blackmail him by accusing him of "witch-hunting" people from other tribes.
He vowed to resign his position as COSASE chairman if any accounting officer of a government agency or department adduces evidence where he is soliciting a bribe.