Tourism Board's CEO, Lilly Ajarova conquers Mt Muhabura; sets eyes on Elgon and Rwenzori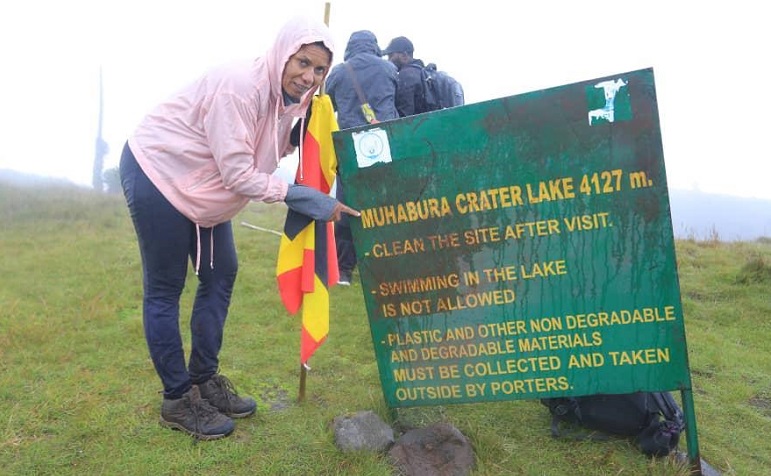 New Uganda Tourism Board (UTB) Chief Executive Officer, Lilly Ajarova, on Sunday June 2nd 2019 braved the rain and chilly weather to reach the top of Mt Muhabura.
Ajarova, is the first UTB CEO to first ever successfully climb Mt. Muhabura, one of Uganda's favourite mountains for mountaineers.
At 4,127 metres above sea-level, Mt Muhabura's actual height from the base to top is 1, 530 metres.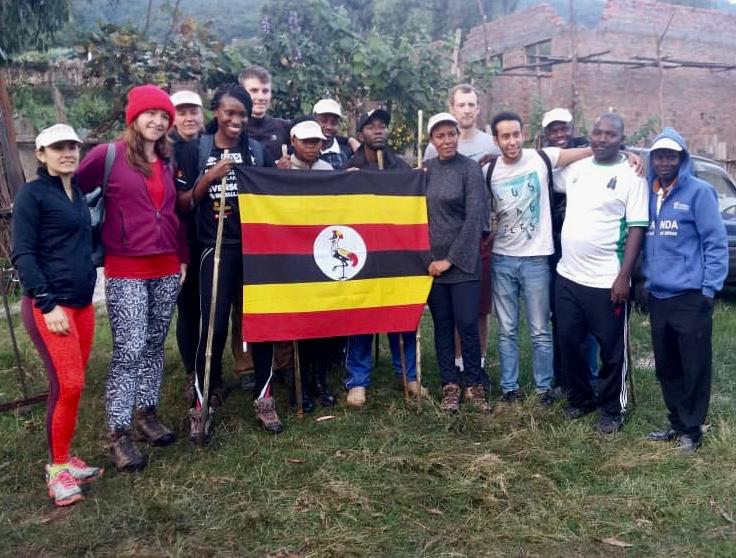 Ajarova together with friends and members of the Mountaineers Club of Uganda led by Pascqa Lorna Abur of Matoke Tours, started the climb at 08:20am on Sunday 4th June 2019 and following a gruelling 8-hours, reached the peak of Mt. Muhabura at about 5pm.
The descent was relatively shorter- about 4 hours. The team returned to base camp at about 09:00pm.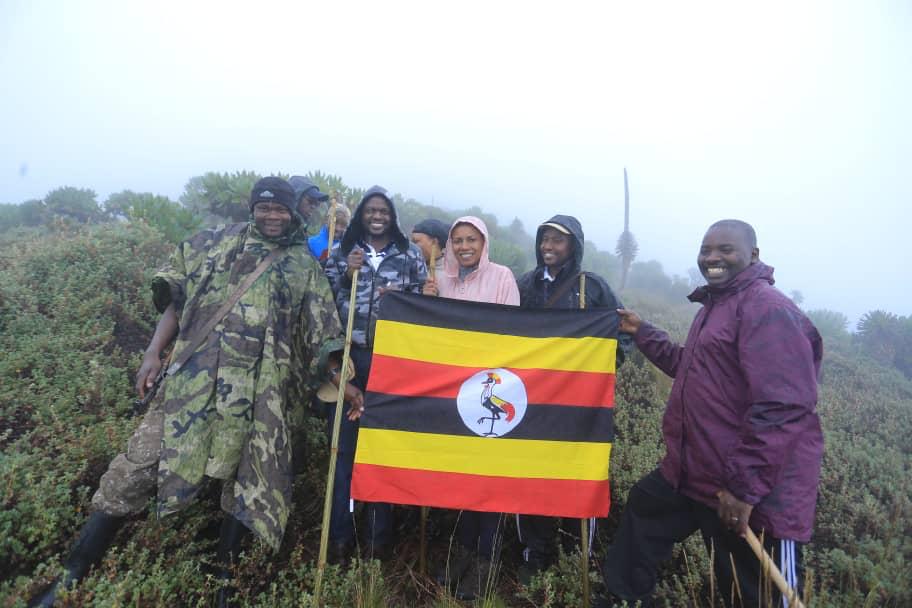 Speaking to CEO East Africa Magazine on June 5th an excited Ajarova said following the successful ascent of Mt. Muhabura, she now had her eyes on Mt. Elgon and Mt Rwenzori. She said the trip was to promote mountaineering in Uganda.
Although Uganda is home to 2 of Africa's tallest mountains- Elgon and Rwenzori, mountaineering is not a well-known activity.
Mt Rwenzori, the legendary mountains of the moon, is the only mountain in the world with a snow cap on the equator.
Muhabura, the Guide
Mount Muhabura, is an extinct volcano in the Virunga Mountains on the border between Rwanda and Uganda. At 4,127 metres (13,540 feet.) Muhabura is the third highest of the eight major mountains of the Virunga mountain range, itself part of the Albertine Rifeet, the western branch of the East African Rifeet Valley.
The Virunga rage- spans Uganda, Rwanda and Democratic Republic of Congo.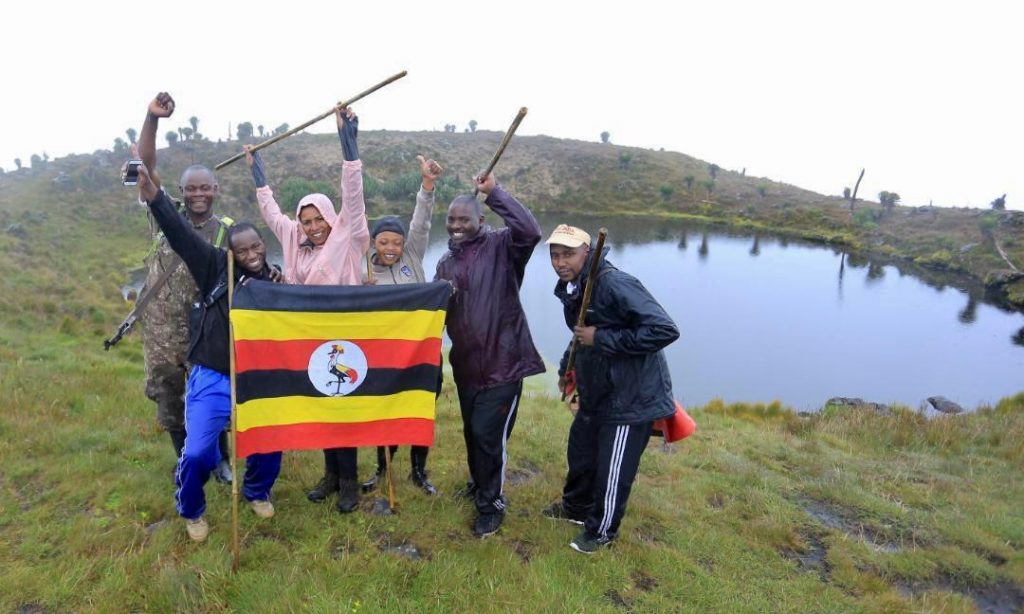 Mount Karisimbi is the highest volcano at 4,507 metres (14,787 feet) and the oldest mountain is Mount Sabyinyo, which rises 3,634 metres (11,923 feet) above sea level. The other ibirunga are: Gahinga (3,474 metres or 11,400 feet), Mikeno (4,437 metres or 14,560 feet) , Bisoke (3,711 metres or 12,180 feet), Nyiragongo (3,470 metres or 11,400 feet) and Nyamuragira (3,063 metres or 10,049 feet).
The name Muhabura means "The Guide" in the local language, Kifumbira/Kinyarwanda. Virunga is said to be English distortion of the Kinyarwanda word, "ibirunga", which means "volcanoes".
Although not the tallest, Muhabura's substantially steeper slopes make climbing Muhabura a more challenging but fulfilling adventure in equal measure.
A Muhabura climbing trip takes about 8 hours on average.
Other than the rich and rare high altitude flora on your way up, Muhabura presents climbers with very beautiful and amazing bird's-eye views of the other Virunga volcanoes, Lakes Bunyonyi, George and Lake Edward as well as Queen Elizabeth National Park, the Rwenzori Mountains, and the Bwindi Impenetrable Forest National Park.
Uganda, according to Tourism Minister, Hon. Prof. Ephraim Kamuntu grew her tourism foreign exchange earnings by 18% from USD1.37 billion in 2015/16 to USD1.63 billion in 2018 as a result of a 19% growth in tourist arrivals- 1.3 million to 1.54million in the same period.
Average expenditure per tourist also went up by 32% from USD1,036 to USD1,371 Job creation by the sector also grew by 25% – from 504,000 to 628,000 jobs.
Inside the USD15m Latitude 0° Kampala Hotel- a modern urban Africa with a cosmopolitan touch!
Even though there is quite some competition in Kampala's hotel space- with average occupancy rates standing at about 58% (a hotel needs about 40% occupancy to break even), with key noticeable names like Sheraton, Speke, Marriott, Serena, Hilton and Protea, all jostling for guests, Latitude 00 has also decided it has what it takes to compete with the big boys. And yes, they have put up quite a marvel of a property. Our lifestyle reporter, Pearl Kitimbo, gave them a visit and brings you quite some fascinating reviews!
The Latitude hotel group recently opened their third location in Kampala named: Latitude 00. The hotel is located at the hill top of Makindye hill, just opposite the Kizungu police station. It is named after the Equator which crosses Uganda.
It is not like any other hotel that you have visited, it is different!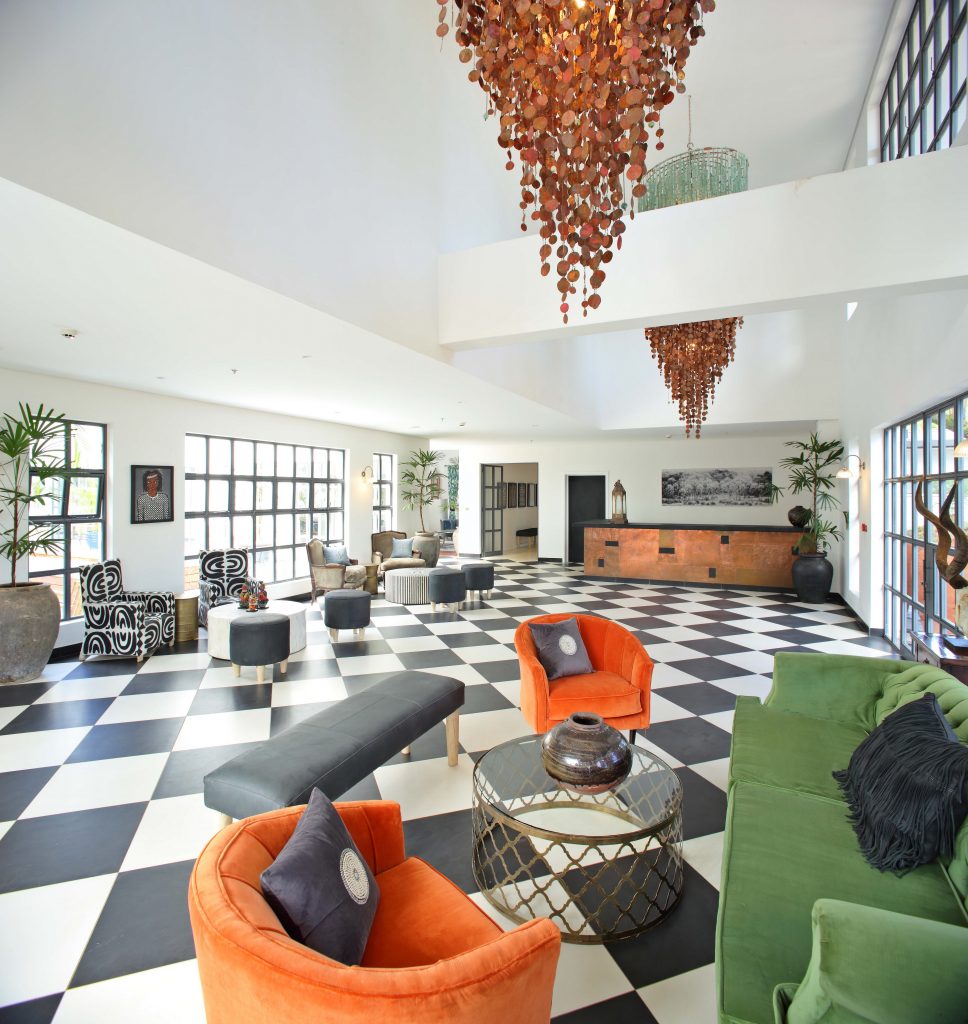 On the way to the hotel, the green indigenous trees give you a feel that you are going to a hideout away from the chaos of town. Latitude 00 is indeed that place that everyone needs to visit every once in a while. I am not sure I want to term this hotel as a 5-star but perhaps an 11 star (wish there was something like this), because it is one of a kind and has a different personality it.
On entering the hotel, the hanging chandeliers from the ceiling attract your attention. They are made of recycled glass from the other Latitude hotels in Lilongwe, Malawi and Lusaka, Zambia. The hotel automatically gives a warm African feel with just the furniture and décor you see.
From the main reception, you are captivated by the very rich art collected from various artists and artisans around Africa and especially Uganda. The sculptures are particularly made by a Ugandan artist called Patrick Mulundo and that alone makes you understand that the hotel looks at giving their guests more than hospitality but a touch of Uganda as well.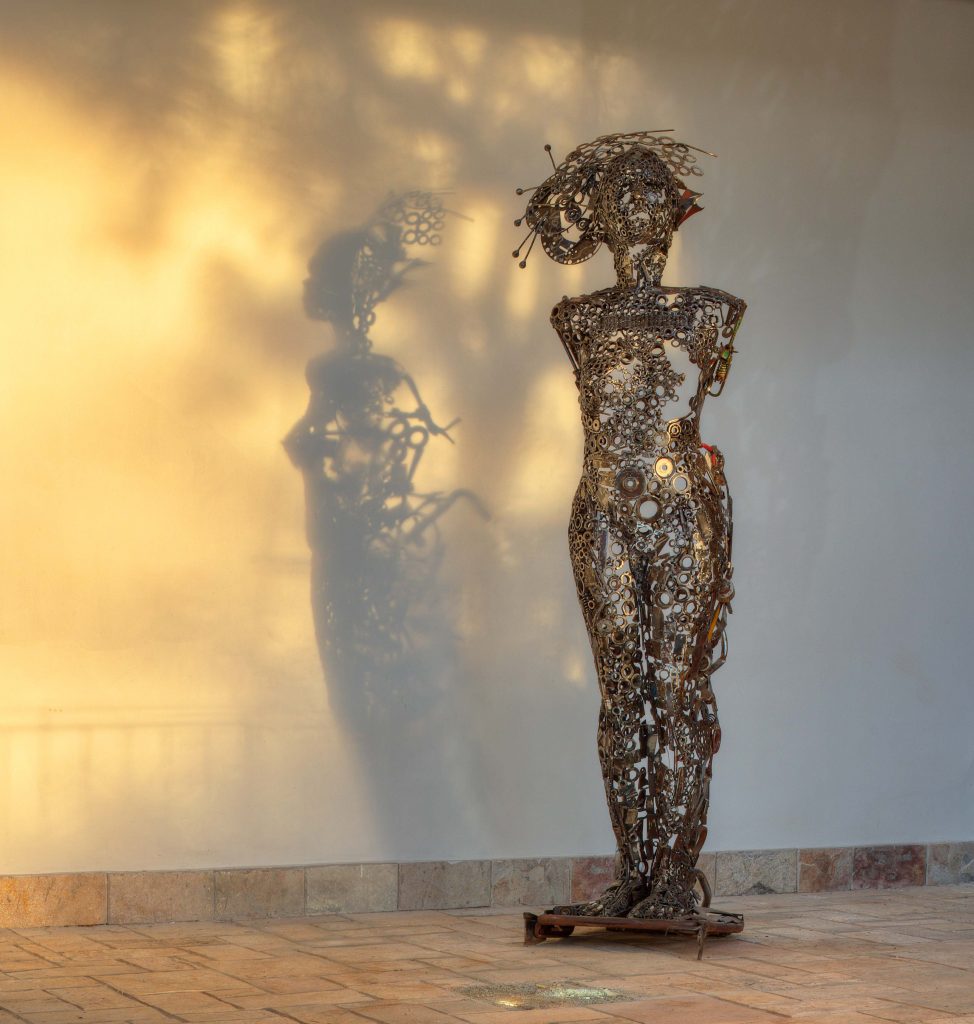 Three Restaurants
Latitude 00 has three restaurants in its compound. The main restaurant is the Latitude Restaurant. The restaurant is very rich with African decoration from the painting to the tables and even to the tiles. It serves African and continental foods, has its own bar and also has a beautiful lounge with a view of many of the hills that make up Kampala; punctuated by indigenous orchid-filled trees.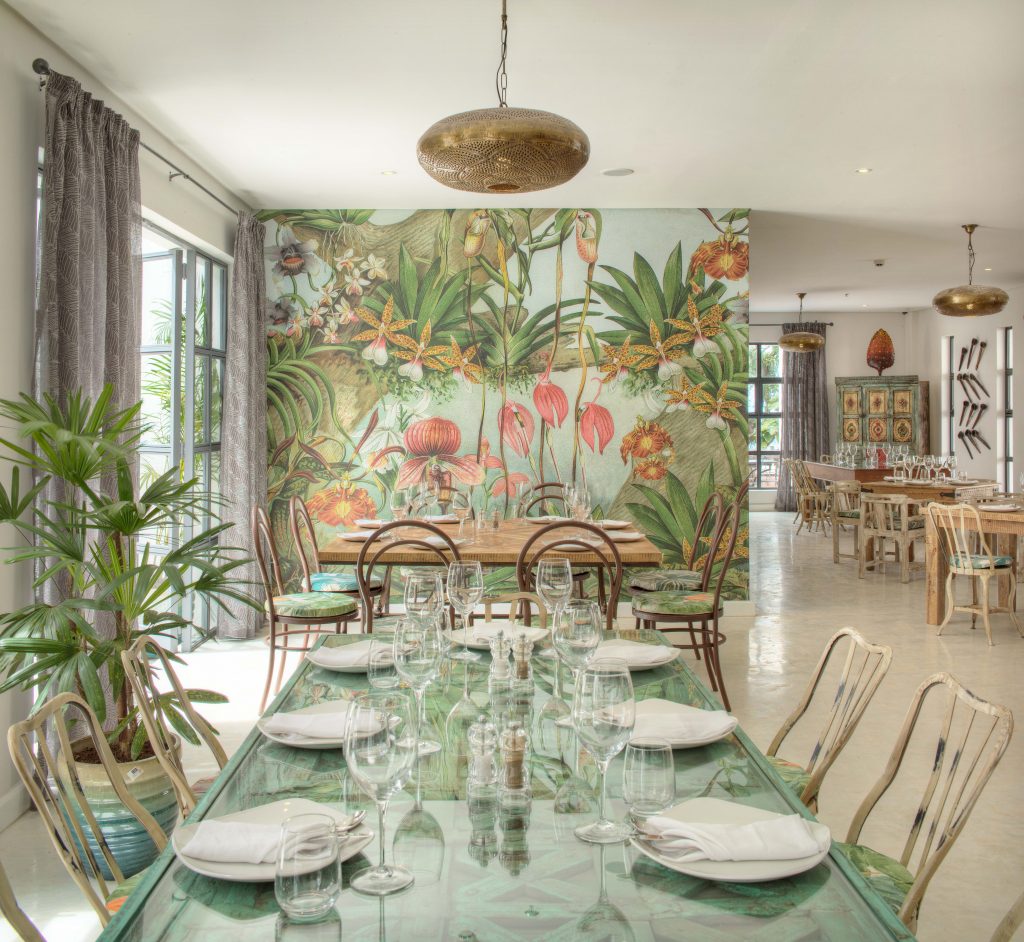 The second restaurant is "The Other Side" restaurant. This is named after the expansion that the group did at their first hotel; Latitude 13 in Malawi after they received so many guests. The Other Side restaurant is the one side where you take someone you want to impress because it is made for fine dining. Other than the entrance through the main reception area, this restaurant can be accessed using its own independent entrance.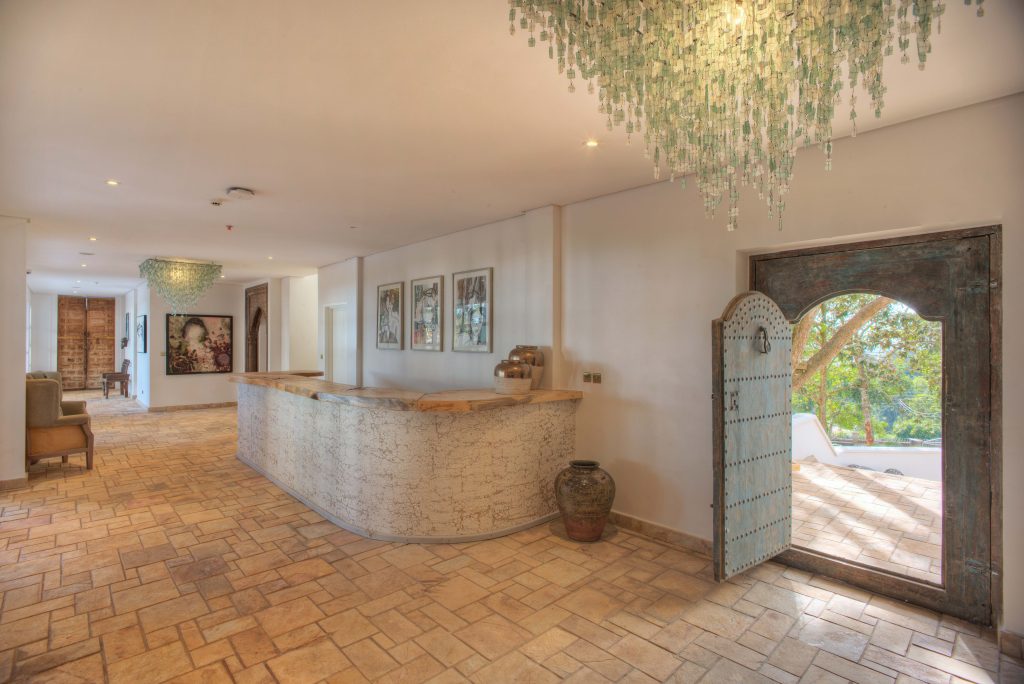 This restaurant also features a bar and a lounge that has a view of Kampala and the hotel swimming pool. However, in the near future, the "Other Side" might be turned into a restaurant for private members of the hotel, according to management. For now it is accessible, on reservation.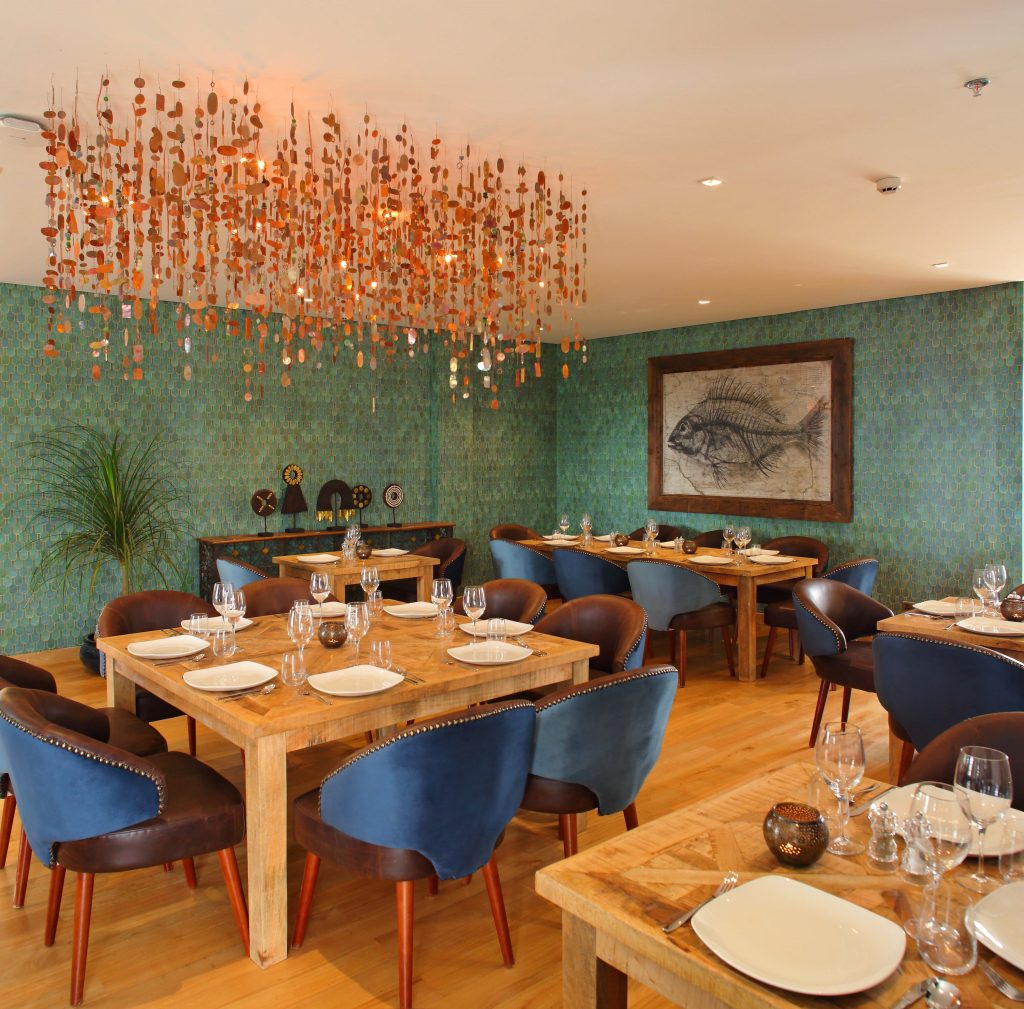 The third restaurant is "The Upside" restaurant. This is a bit more relaxed and has a beach feel to it. It has a very beautiful view of Kampala and Lake Victoria can also be seen from here. The restaurant serves Asian and Japanese foods mainly.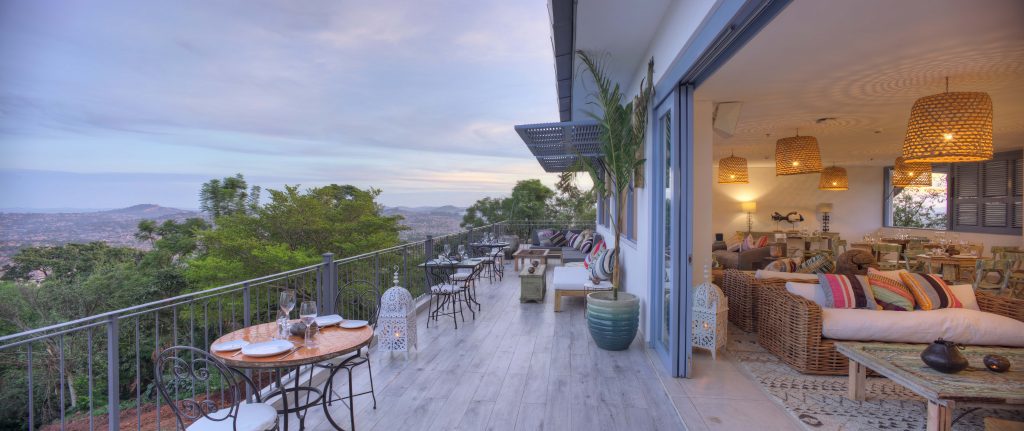 The food in the restaurants ranges between UGX50,000 to UGX100,000. The bars have a variety of drinks from locally made drinks to imported drinks.
The hotel purifies their own water for drinking but also serves still and sparkling water at no cost. They also do not use any plastics so their water is bottled in their own branded glass bottles that they re-use after washing. They use locally made natural straws that are made by a company called Natural Roots in Uganda- a very eco-friendly hotel, if you ask me.
According to management, for the staff of Latitude 0 to be able to serve you and give you the best service you can best experience at their hotels, it is best that you make a reservation so that you get the very best from them. Reservations can be made by calling +256750189404 or just sending an email to 0@thelatitudehotels.com.
The rooms
Latitude 00 has 47 rooms in total; 2 diplomatic suites, 5 suites, 12 superior rooms with a lake view, 11 superior rooms and 17 standard rooms. These all have a view of Kampala city.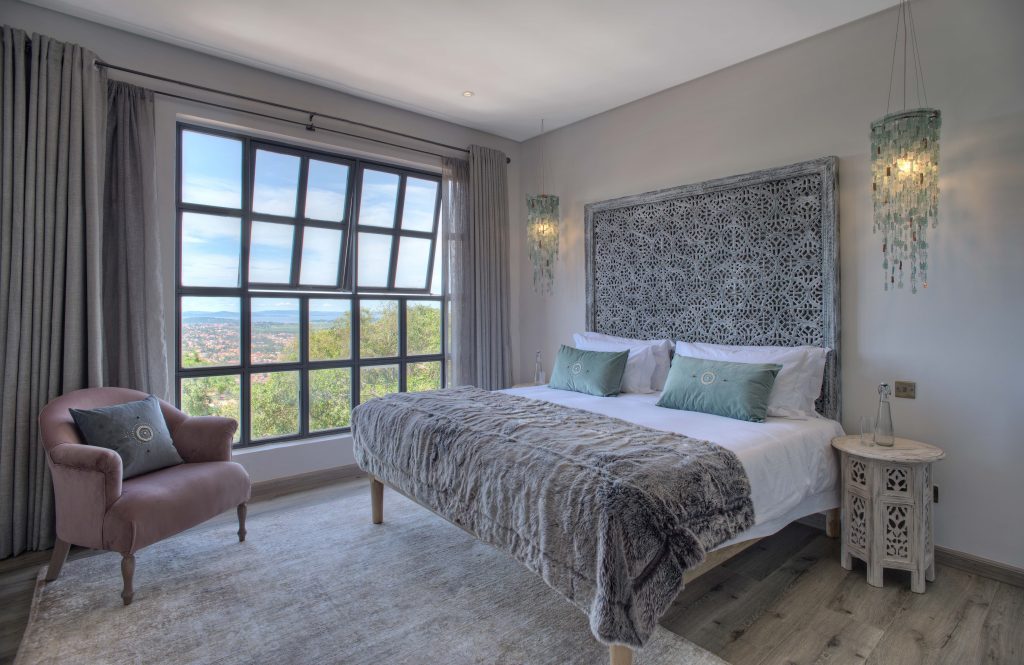 The guests have their own pool and deck outside the rooms wing where they can privately swim without interacting or being interrupted by the other non-resident guests.
Since the hotel just opened up, the hotel has cut it's accommodation rates by USD91 on all their rooms. The standard single which is usually USD260D is now at USD169, the superior lake view double room which is usually USD330 is at USD239 and the suite double which is usually USD340 is at USD249.
I bet now would be a great time to visit the hotel as the promotion is still on going.
To view more pictures of Latitude 0, Kampala, click here
Other Latitude Facilities
Latitude 00 has a couple of other interesting facilities besides the swimming pool, gym, spa and sauna that almost every hotel has. They have an 18M swimming pool that is accessible to everyone.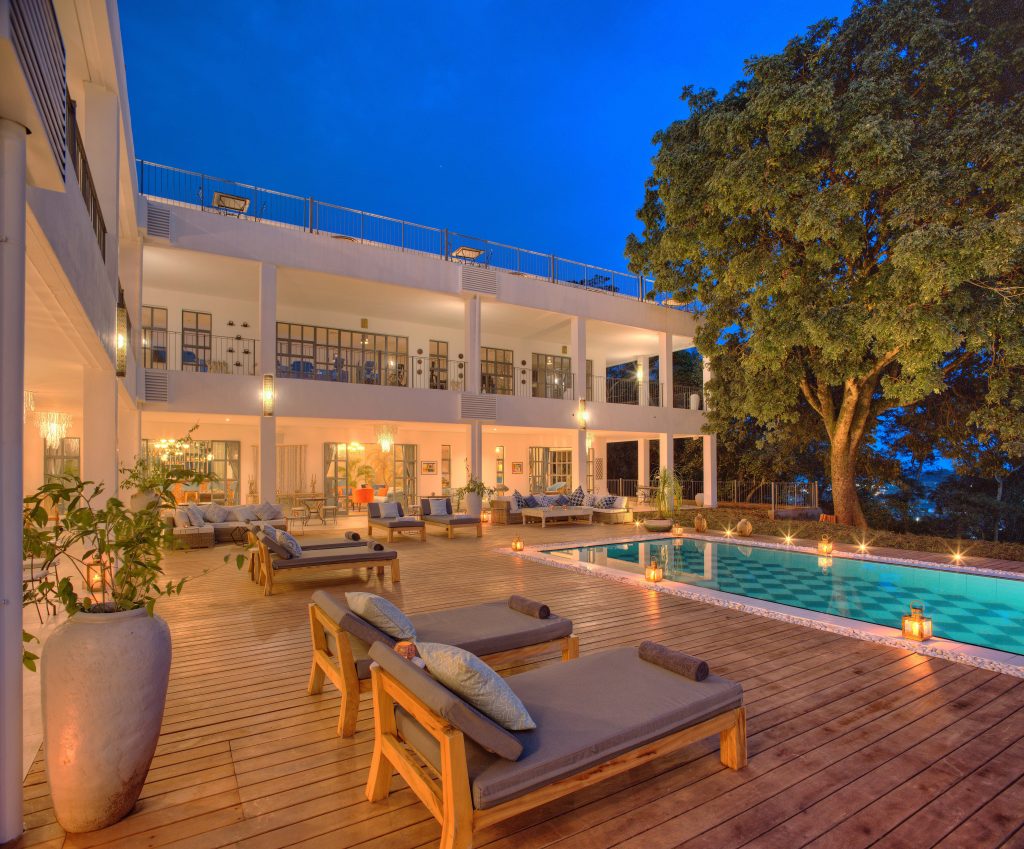 Their gym is fully air conditioned and well equipped with all the machines you need for your work outs from dumbbells to cardio wheels to kettle bells and so much more. They also have have a space for yoga and meditation.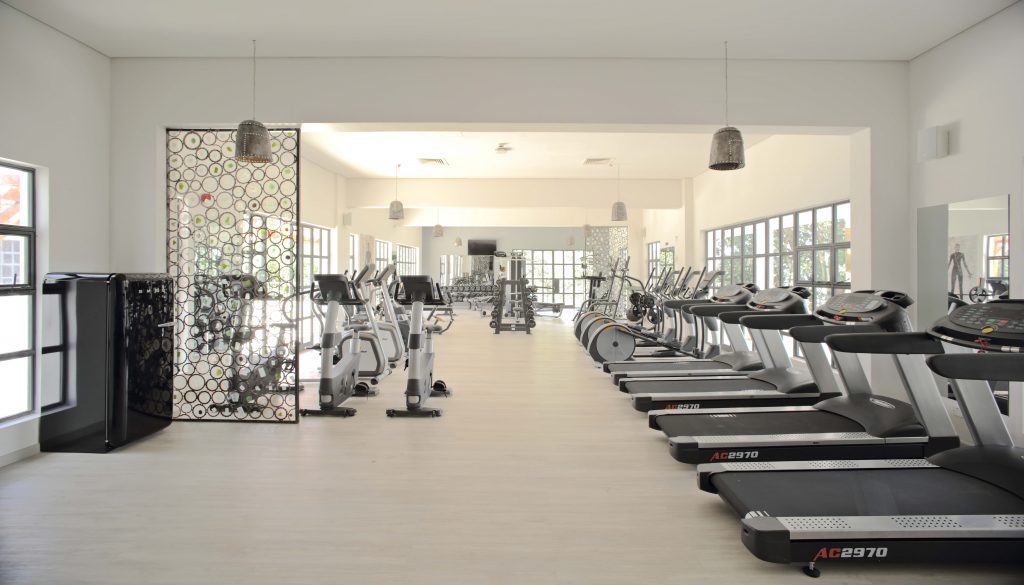 The spa treatments vary in price depending on what exactly you want. Facial treatments range from UGX80,000 to UGX160,000. The body treatments range from relaxing massages to deep tissues massages and even aromatherapy massages and so many others. The cost for massages ranges from UGX70,000 to UGX200,000. This all depends on the type of the massage and the time spent. It also has a manicure and pedicure section for guests.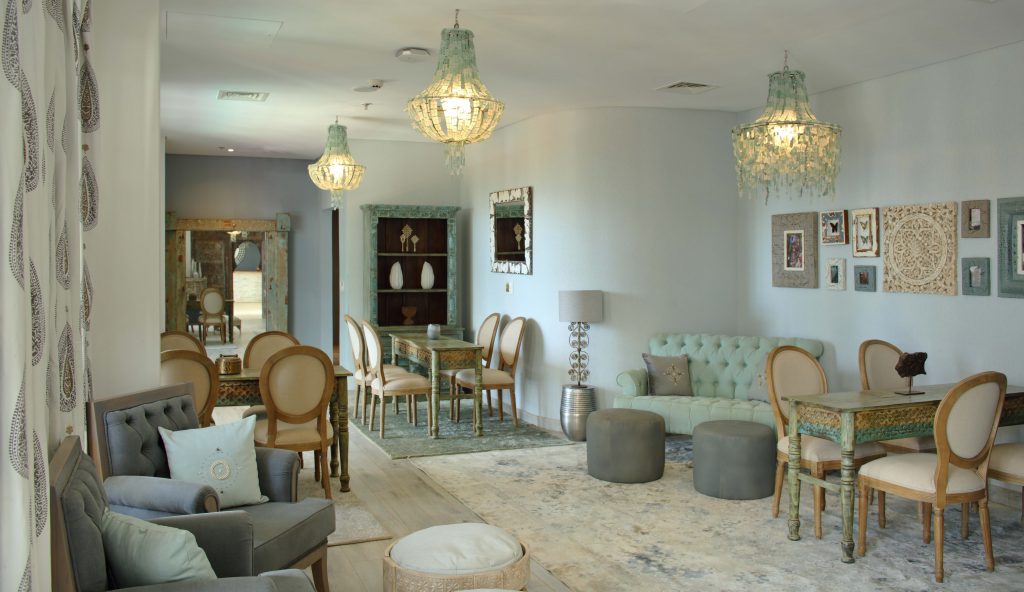 They also have a private room called The Den where guests can go to relax privately and enjoy a couple of directions and probably also a couple of drinks from the bar.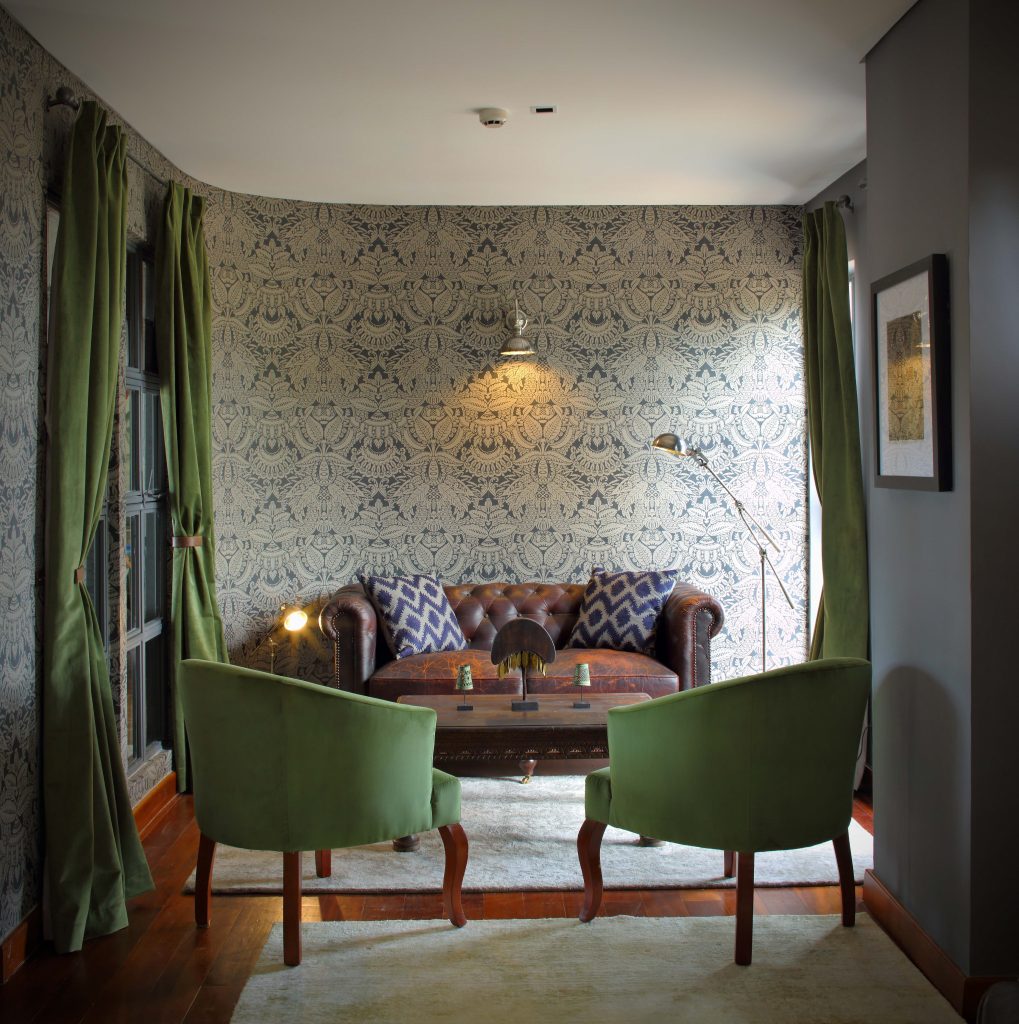 Then there is The Distraction- a room for letting loose and indulging in games like pool table, monopoly, cards, chess and so many others.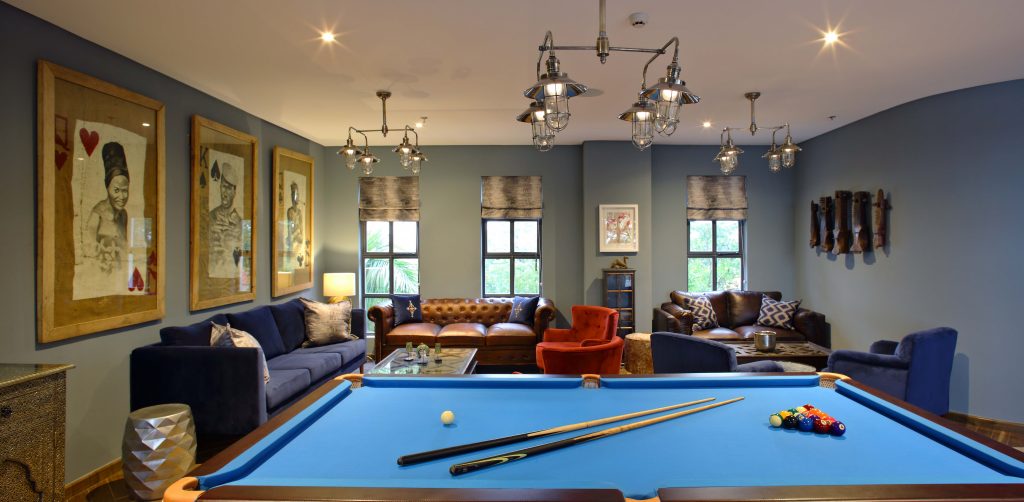 One of my most interesting facilities I found at the hotel is the Cinema. It accommodates up to 25 people and has a variety of movies for guests. The room can also be rented out and used for private meetings and presentations.
For the workaholics who love to mix work and play, the hotel also offers some spaces- The Works. These are group and also private rooms where guests can go to do their work as opposed to going to their rooms and sleeping off as they try to work.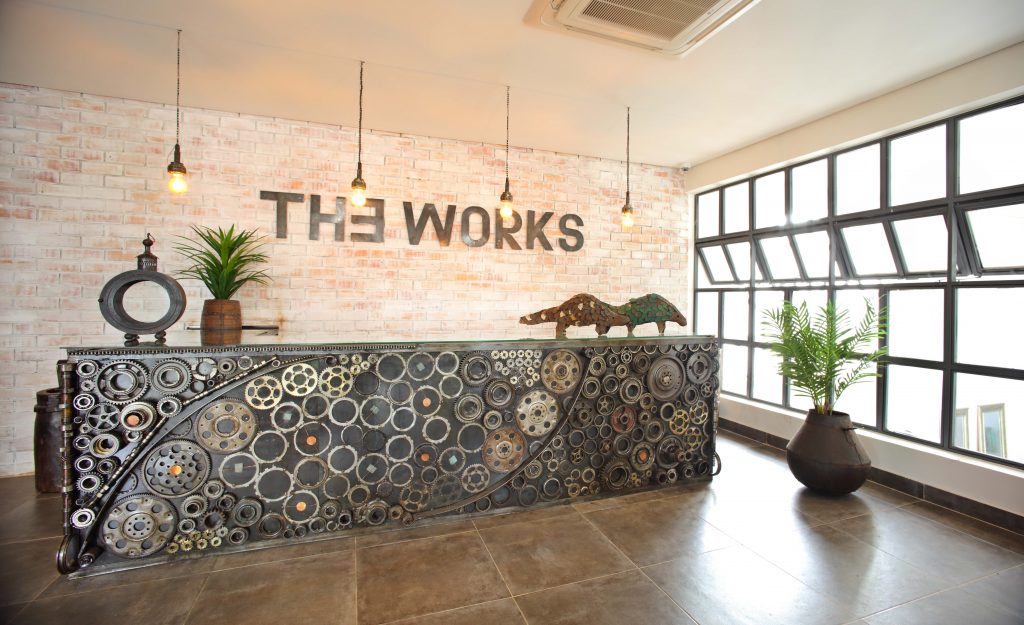 It is in The Works that you will also find the conference room where events and meetings can be held. The Works, has access to The Other Side restaurant, spa and also the pool.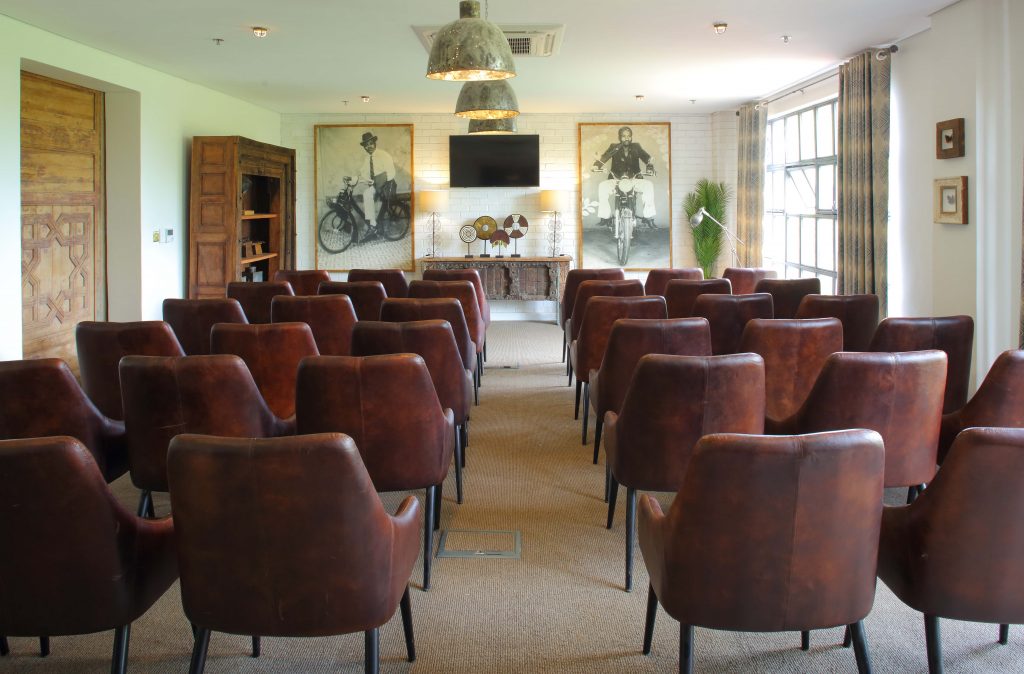 The Staff
Latitude 0o employs 169 staff and out of all these, 165 are purely Ugandan. The staff were trained for 4 months prior to the opening of the hotel to ensure that they give the very best to the guests of the hotel. According to the Group Commercial director, Nicholas Best, for 80% of the staff, this could be their first job ever or even their first time working in the hospitality industry. This is because the group believes in giving opportunities to people regardless of their background.
Latitude 00 is a place that everyone should get to visit. You can only understand its uniqueness and beauty when you visit it. Like the group commercial director Nicholas Best said,"The Latitude group is bringing their own unique taste to Ugandan hospitality so be sure to take off time and enjoy the hotel."
Reservations for the hotel can be done on www.booking.com or www.tripadvisor.com or you can simply send an email to 0@thelatitudehotels.com to make your reservation. Reservations can also be made by calling the hotel on +256750189404.
PICTORIAL: More breathtaking views inside the new Kampala Latitude 0° Hotel
On their website, this is how Latitude 0° describe themselves: "We are more than just a hotel with 47 guest rooms and suites, a 24-hour front desk, and fast airport transfers. We are two restaurants and three bars with culinary delights and a wide variety of drinks from all corners of the world. We are a haven for relaxation and fitness through our spa, gym and swimming pools. We are a socialising and networking centre with lounges, rooftop bar, private dining and entertaining spaces, and a calendar filled with music, art, fashion and business events. We are a co-working hub with private workspaces, meeting and conference rooms. A unique African lifestyle hospitality, blending modern urban Africa with a cosmopolitan twist.
We can't agree more.
We hope you agree with us too!
1 of 10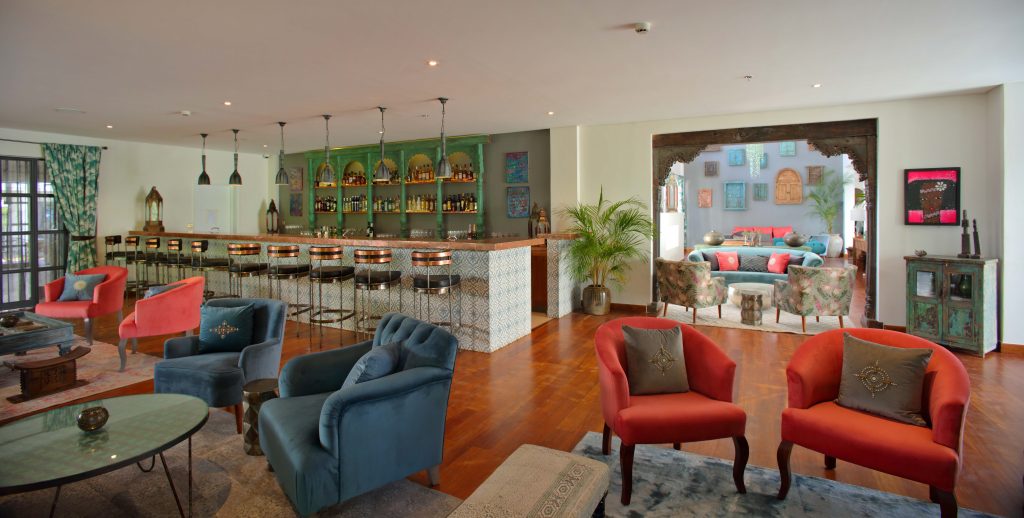 ---
2 of 10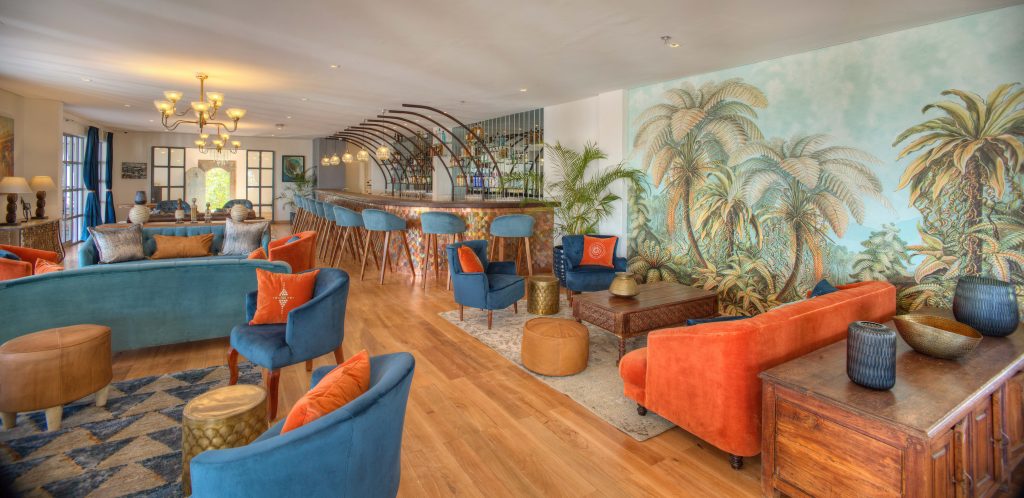 3 of 10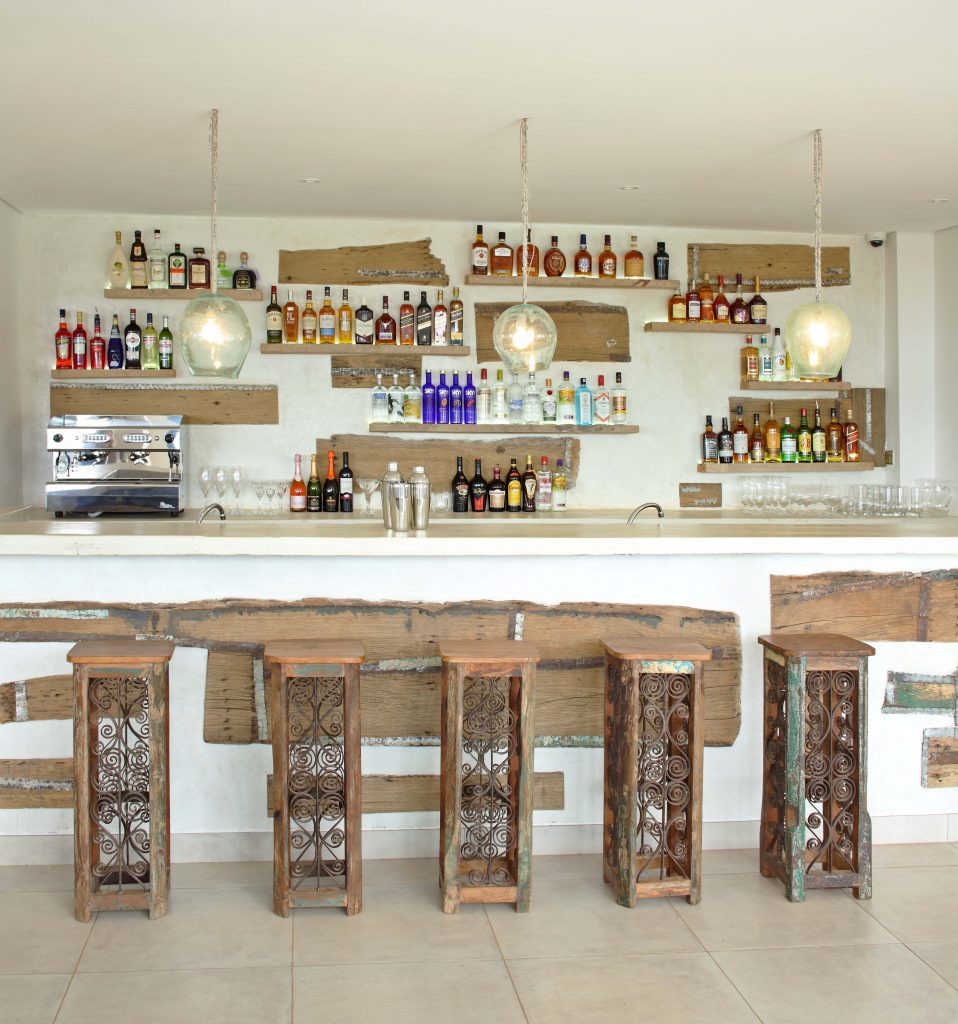 4 of 10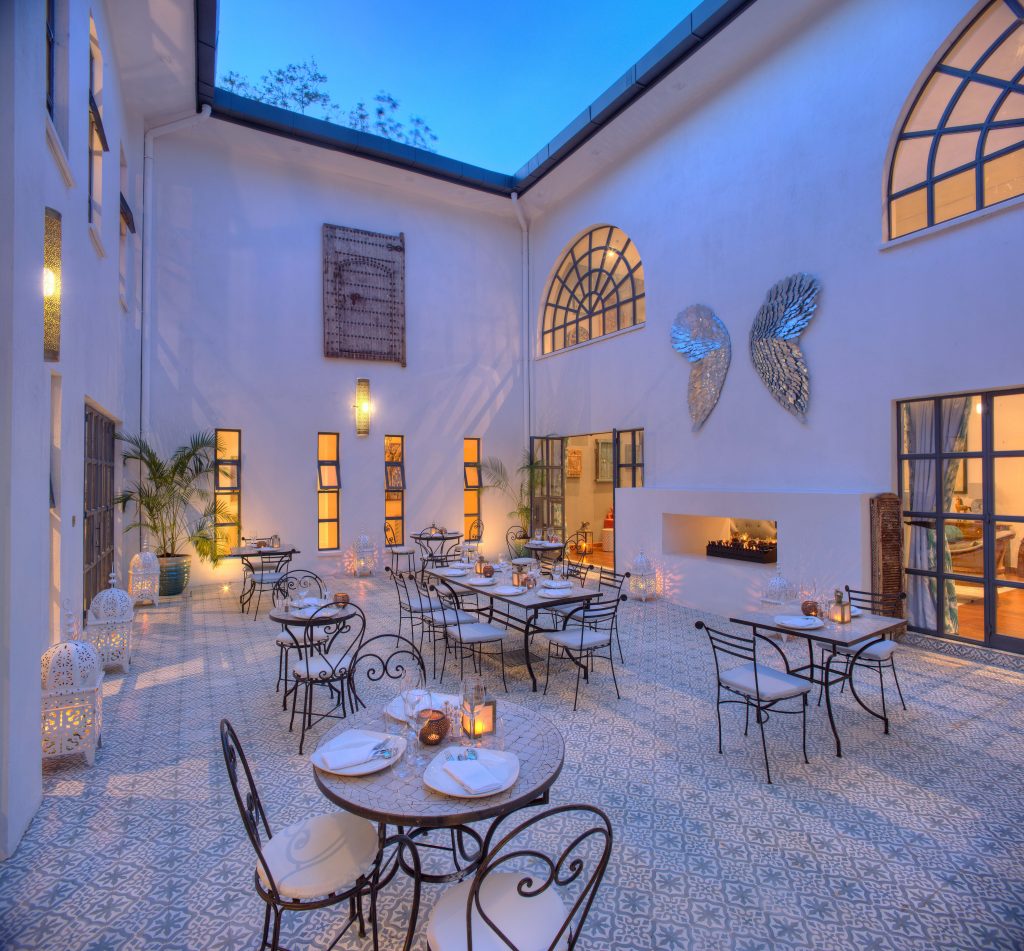 5 of 10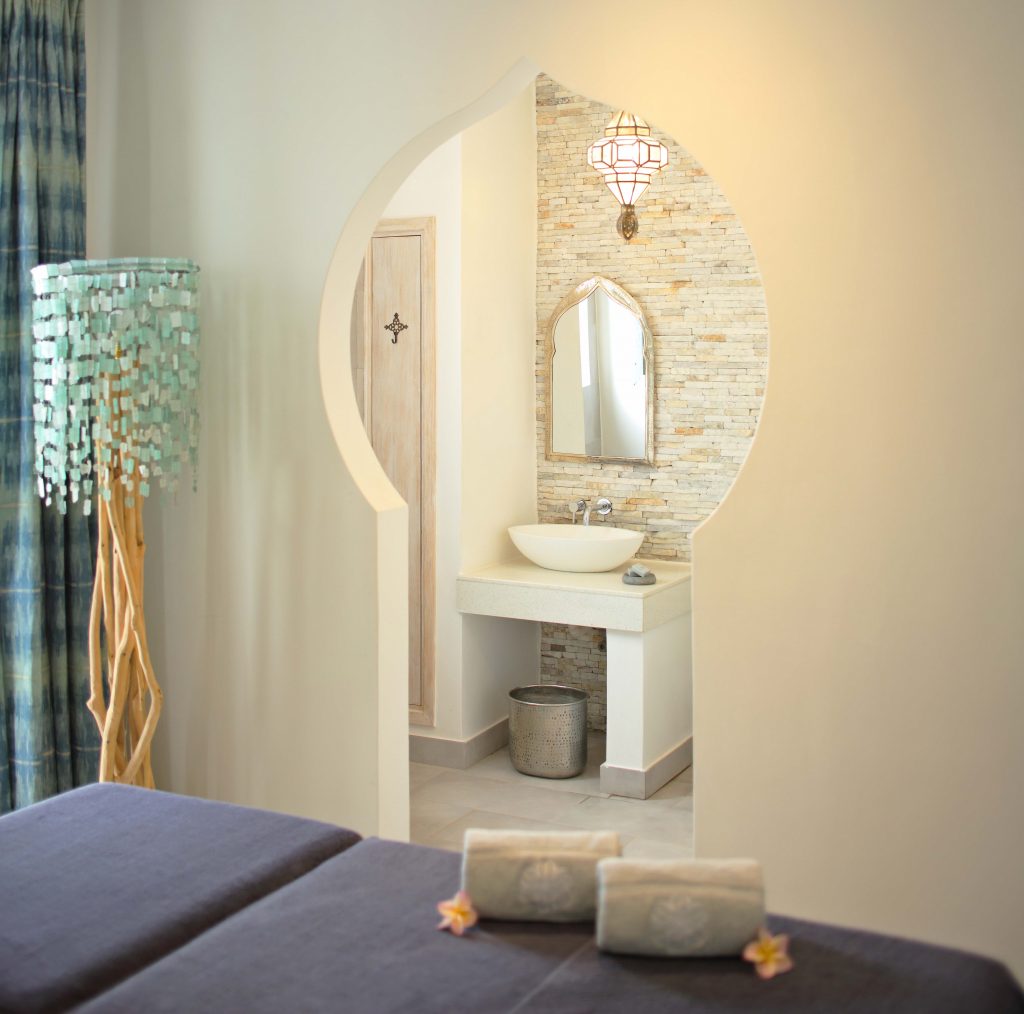 6 of 10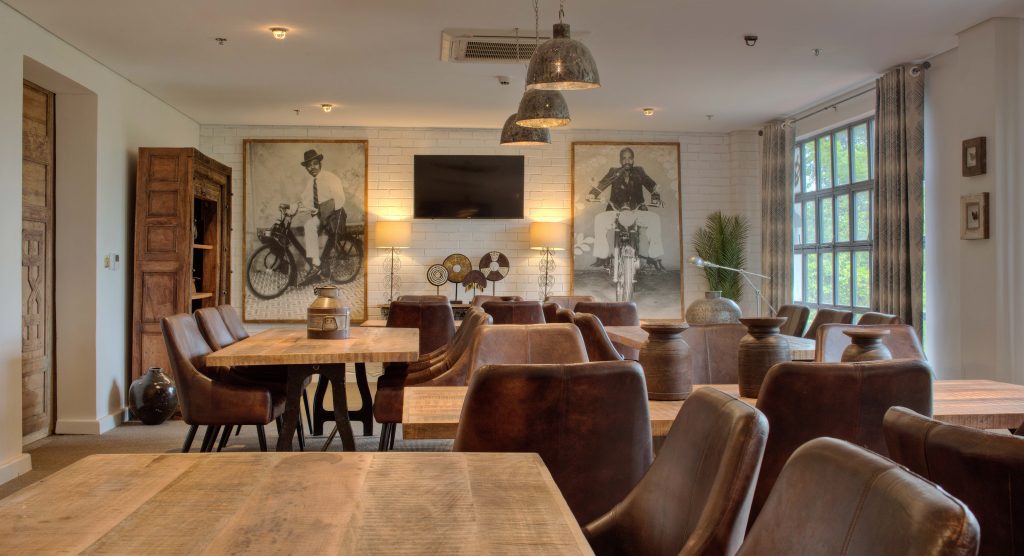 7 of 10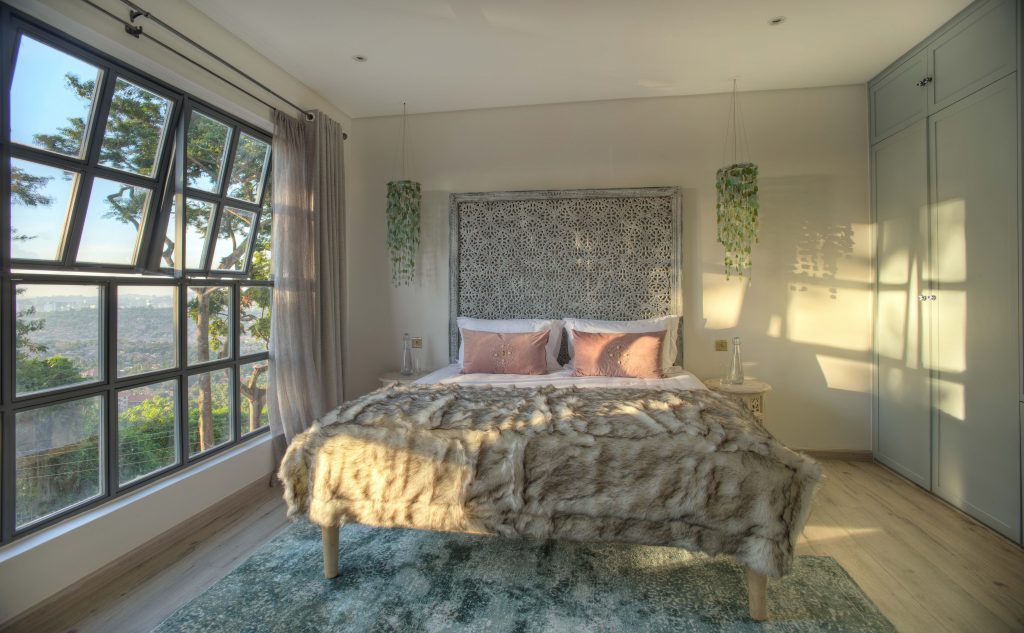 8 of 10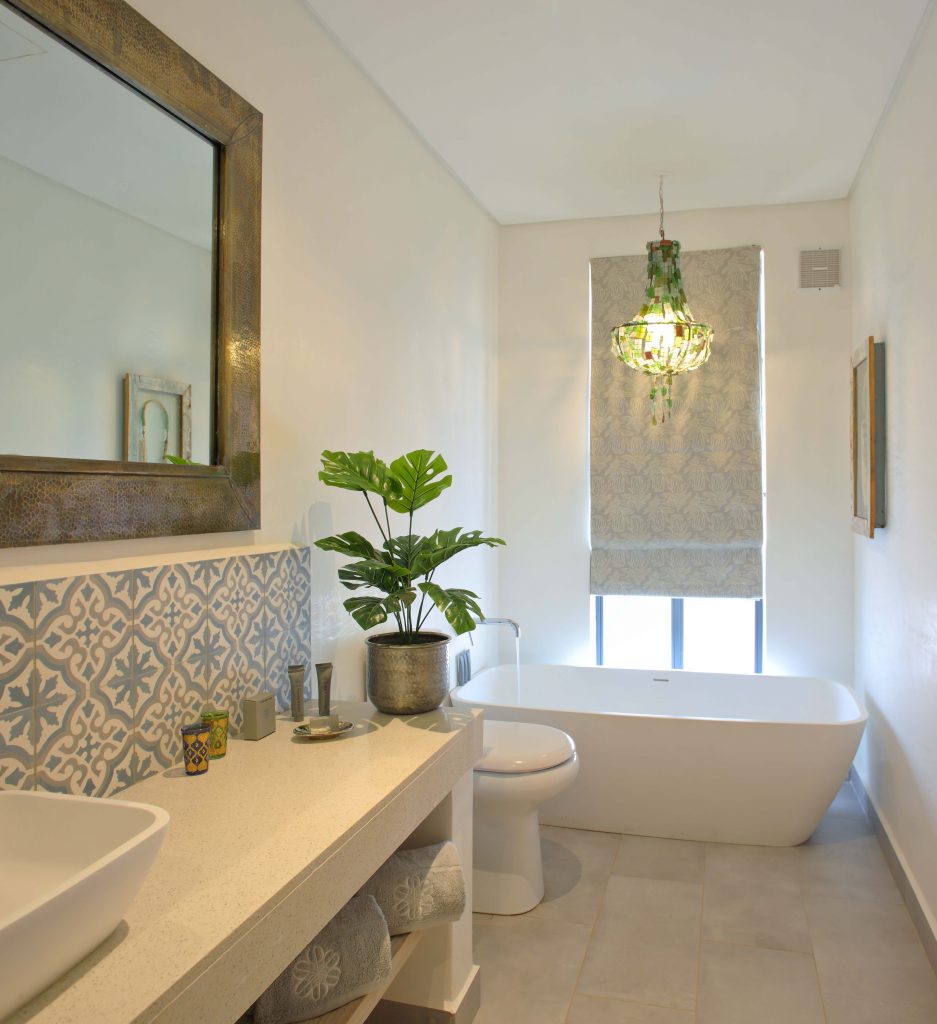 9 of 10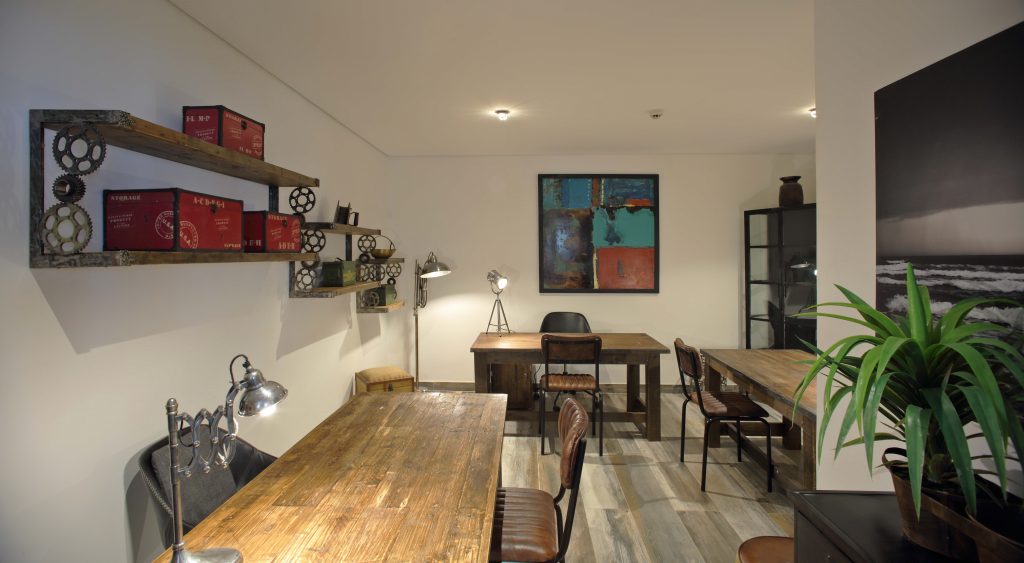 10 0f 10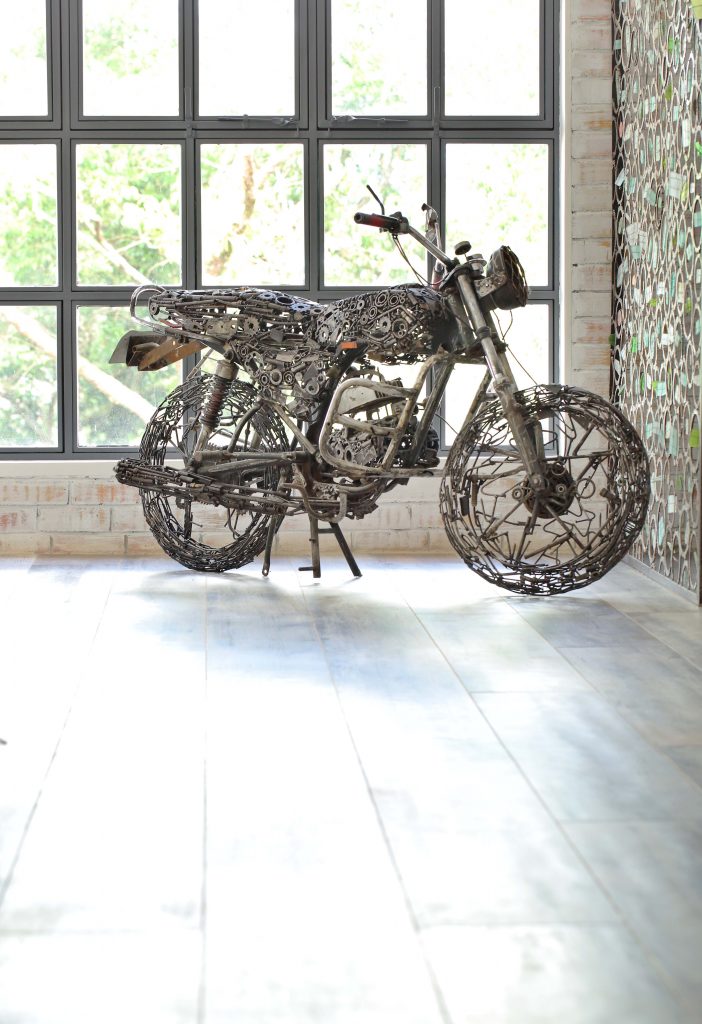 To read more about Latitude's new location click here
Unscrupulous Tour Operator Arrested
Tourism police have arrested a rogue tour operator accused of fleecing tourists of $21,500. The suspect has been identified as Richard Tusasibwe, director of Gatatu Safaris Limited in Kigezi. According to CP Frank Mwesigwa, Tusasibwe, he was arrested at Arcadia Cottages in Kabale; near Lake Bunyonyi; where he had taken other tourists for a […]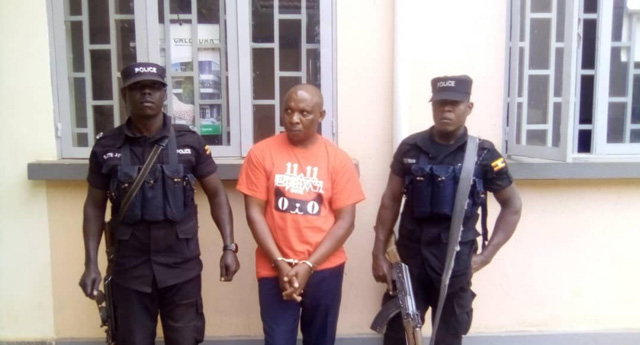 Tourism police in Kabale have arrested a rogue tour operator accused of fleecing tourists of $21,500. The suspect has been identified as Richard Tusasibwe, the director of Gatatu Safaris Limited in Kigezi.  
According to CP Frank Mwesigwa, Tusasibwe, was arrested at Arcadia Cottages in Kabale; near Lake Bunyonyi; where he had taken other tourists for a trip.
He added that the arrest came after a tip off by suspecting people who had fallen victims of his unscrupulous behavior and the covert teams at check-in were able to arrest him. He is currently being held at Kabale Police station and charged with obtaining money by false pretense.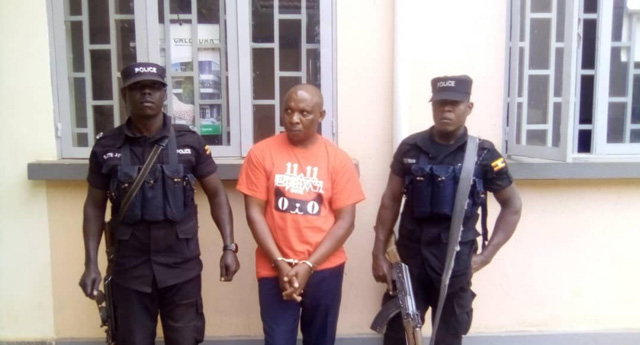 Tusasibwe is alleged to have been contracted by 5 American tourists to organize chimpanzee and gorilla tracking expedition in Uganda. After an airport pickup and arrival in Kisoro, Tusasibwe abandoned the tourists at a lodge and has been on the run for the past two weeks.
Uganda Tourism Board Quality Assurance Manager, Samora Semakula said that the board was working around the clock to ensure that quality standards and the law are upheld in the tourism sector and that rogue operators face the law.
"We are pleased that the police has arrested a rogue operator who has been on the run for the last two weeks since this case was brought to our attention. Rogue tour operators are a peril to the growth and development of the sector. Uganda Tourism Board will continue to work with the tourism police and other players in the sector to ensure that the vice is brought to a conclusive end," Semakula said.
Mwesigwa reassures tourists saying, "As tourism police, we are committed to clean up quack tour operators who con our tourists. Uganda remains a peaceful and secure country and all efforts together with stakeholders is to ensure that law and order is upheld in the tourism sector and the country at large."
As mandated by the Tourism Act (2008) Uganda Tourism Board earlier this year kicked of a registration and licensing exercise of all tour operators and facilities in the tourism value chain. This process is aimed to effectively regulate the tourism sector and promote quality assurance across the value chain.