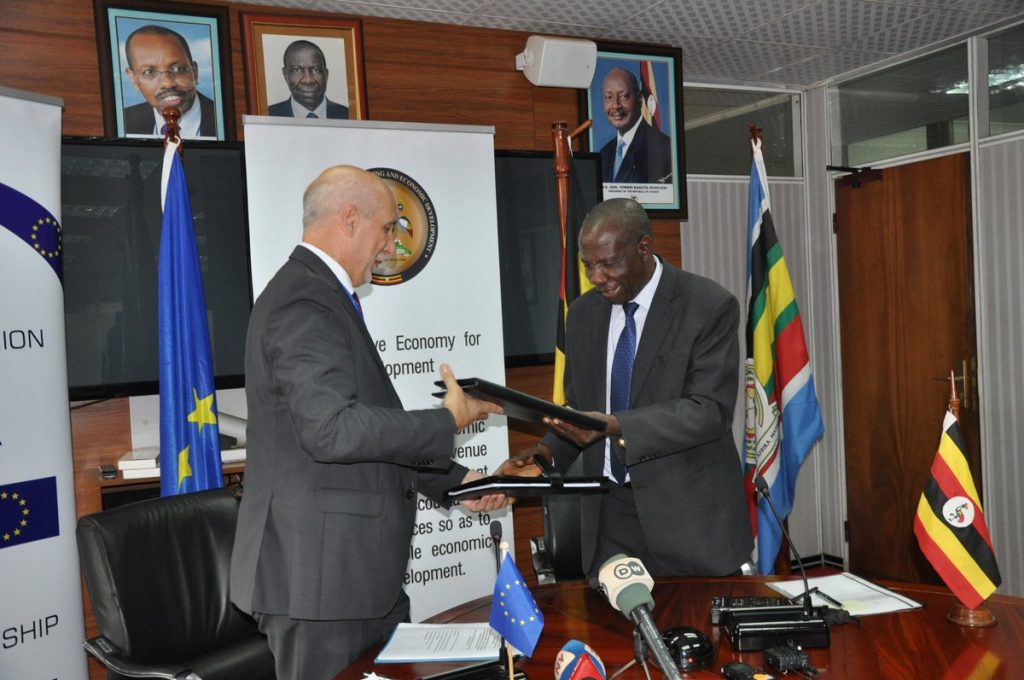 The European Union Delegation to Uganda, working with the Government of Uganda will convene the first ever Uganda-Europe Business Forum, from 9-10 March at the lakeside Speke Resort and Munyonyo Commonwealth Resorts, in Kampala, Uganda's capital.
To be held under the theme: "Fostering Uganda-Europe Economic Alliance", the meeting will bring together private sector, government and civil society players from Uganda and the European Union to discuss innovation, investments and green deals for economic growth and jobs. 
According to a media announcement on the European Union Delegation to Uganda website, H.E Yoweri Kaguta Museveni, the president of Uganda and Ms Jutta Urpilainen, the European Commissioner for International Partnerships are expected to be the Chief guests at the 2-day event.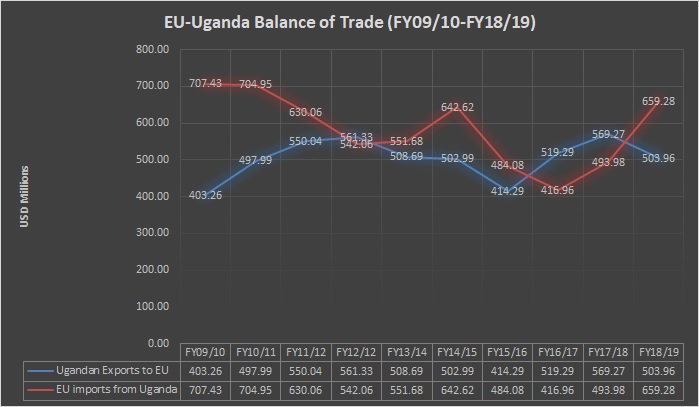 Uganda and the European Union are also expected to sign the Inclusive Green Economy Uptake Programme (GreenUP)- a EUR 133 000 000 (UGX553 billion) initiative to help Uganda transition towards an inclusive, green and competitive low carbon economy that creates decent green jobs in a number of key sectors. The European Union through the European Development Fund (EDF) has provided EUR45,000,000 (UGX187 billion) co-financing, while the French Development Agency (AFD) is providing an estimated EUR65,000,000 (UGX270.1 billion) and theWorld Bank for an estimated amount of USD26,000,000 (UGX126.1 billion).
The European Union (USD504 million: FY18/19) is Uganda 3rd biggest destination for exports after Middle East (USD1 billion) and COMESA (USD1.3 billion). The European Union and Uganda generally enjoy a fair balance of trade – for example while between FY2016/17 and FY2017/18 Uganda exported more than it imported from the European Union, the following year, FY2018/19 Uganda exported USD504 million worth of goods to the European Union compared to USD659.2 million worth of imports, marking a USD155.3 million deficit.
Compared to Asia whose 10-year annual average trade deficit with Uganda stands at USD2.1 billion, the European Union is perhaps Uganda's best trading partner after COMESA considering that the region is also a big source of Foreign Direct Investment to Uganda. European companies in 2015 & 2016 alone, invested a combined €3.3billion in Uganda, providing not only jobs, but also skills transfer to Ugandans.
The European Union is also perhaps Uganda's largest development partner, contributing over EUR 1 billion directly through the European Development Fund (EDF) and through individual member countries and indirectly through multilateral lenders as well as through UN agencies.
About Speke Resort and Munyonyo Commonwealth Resort
Built on an expansive 90 acres by the breezy shores of Lake Victoria and adjacent to each Speke Resort and Munyonyo Commonwealth Resort have a combined 472 rooms, 20 international standard conference rooms, and 3 ball rooms. Altogether, the complex can host up to 5,000 daytime guests.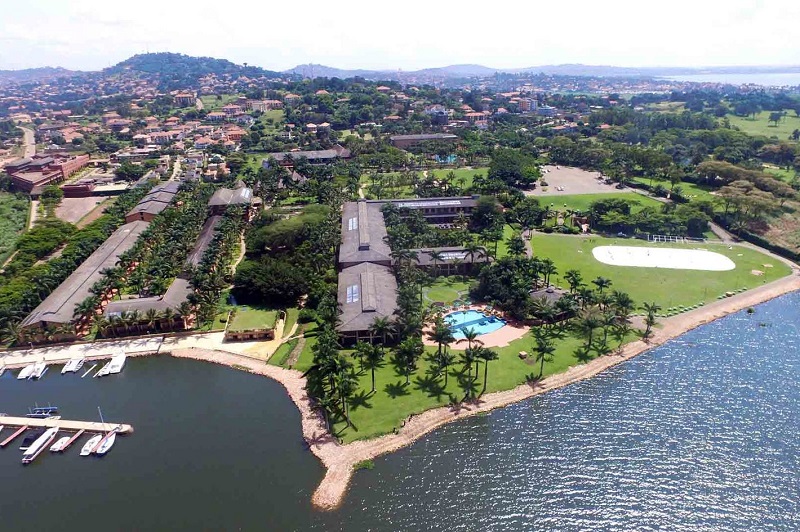 Speke Resort was in 2019 named Africa's best Luxury Lakeside Resort in the 2019 World Luxury Hotel Awards while Munyonyo Commonwealth Resort, was named the Regional Winner, in East Africa, in the Luxury Hotel & Conference Centre category.
In March 2019, Africa's 8th richest person- billionaire Strive Masiyiwa said the hotel complex which hosted the November 2007 Commonwealth Heads of Meeting Government amongst many other high profile meetings, should be declared a continental conference hub- the Official African Conference Centre.