ROYAL TREATMENT: Speke Resort to offer up to 27% discounts on rooms during The Royal Ascot Goat Races; due this weekend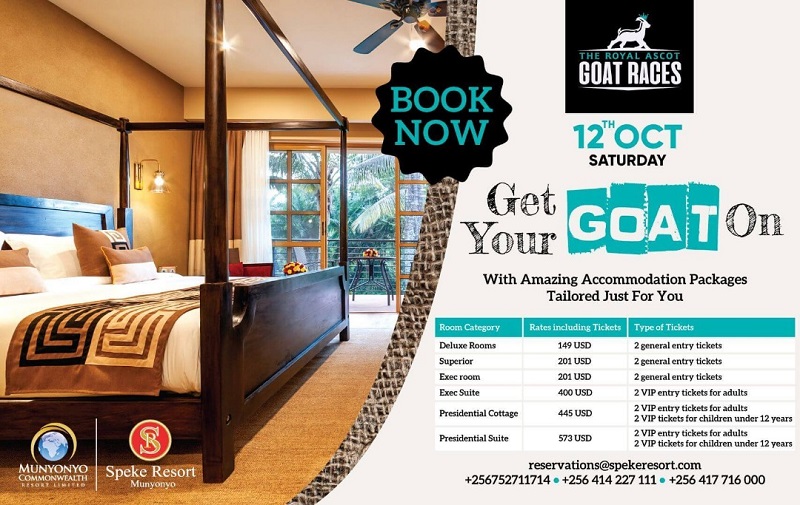 The 2019 edition of the Royal Ascot Goat Races will be happening this Saturday at The expansive Speke Resort Munyonyo.
The event brings together the elite class of Kampala as they enjoy music, food, fashion and performances from some of Kampala's top artists and of course the main events, which are the goat races. It generally goes beyond watching the goat races to socializing with some of Kampala's socialites and businesspersons.
The Goat's race for so many years has been known to be very glamorous, so people bring out their A game in fashion and style. This year the best-dressed person will walk away with 2 tickets to Europe courtesy of Brussels Airline. So, you best be prepared because it is not every day that free air tickets are given out because you look smart.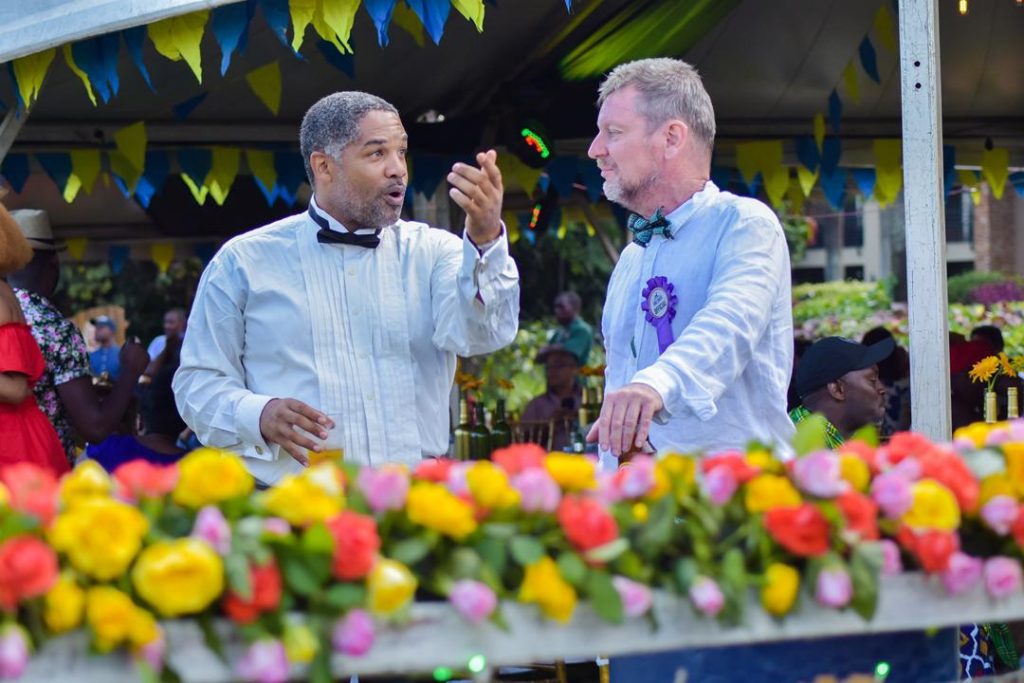 On top of all the fashion and glamour, Speke Resort Munyonyo, which has been home to the goat races for nearly forever, is giving an opportunity to the revelers of the Goat Races to have affordable accommodation at the resort. There are up to 27 % discounts on the prices of the rooms and they will be valid for only this weekend.
If you want to leave like a president, the Presidential cottage (accommodates up to 4 people, has been reduced by 27% from USD600 to USD445) while the Presidential Suite (also accommodates up to 4 people) has been reduced by 26%, from USD780 to USD573 per night and on a bed and breakfast basis. Both presidential offers come with two adult VIP and two children VIP tickets to the goat races.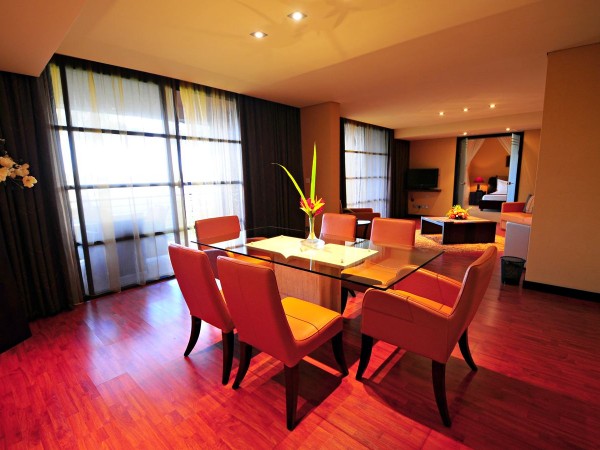 Superior Rooms have been reduced by 20%- you pay USD201 instead of USD250 while Executive Rooms have also been discounted by 20%, so you get to pay USD201 as well. These 2 offers come with 2 complementary tickets to the races.
The roads to Munyonyo on the goat races weekend ordinarily has a lot of traffic, so to enjoy the weekend as a typical royal, CEO Travel & Lifestyle strongly recommends you check in Friday night, so you are not in a hurry to get to the races on Saturday or in a rush to leave after the races.
Guests taking these packages are entitled to a complementary access to the Olympic-size pool, use of gym, steam & sauna and free Wi-Fi.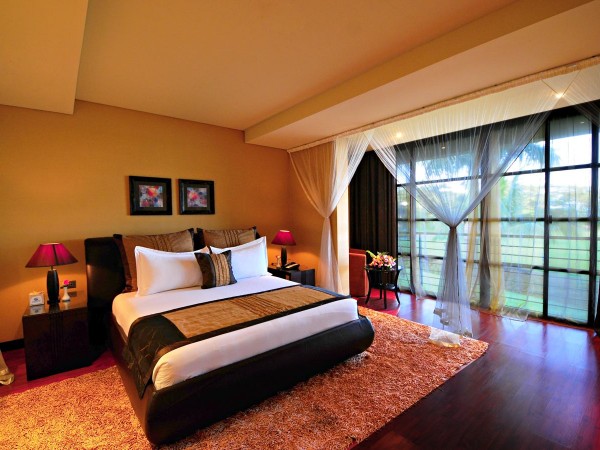 Speke Resort is rated among the top 3 hotels in Kampala on Trip Advisor and have been awarded with "Certificate of Excellence" by Trip Advisor for four consecutive years- 2015 – 2018.
Recently, both Munyonyo Commonwealth Resort and Speke Resort Munyonyo won the coveted 2018 World Luxury Hotel Awards in the regional and country categories respectively.
For more information, you can also visit their websites:
www.spekeresort.com and www.munyonyocommonwealth.com
To take a virtual tour of the hotels follow the links below:
http://360.hotlist.co.ke/commonwealthresort/
http://360.hotlist.co.ke/spekeresort2/
For reservations, you can send an email to reservations@spekeresort.com or simply call +256752711714/ +256 414 227 111/ +256 417 716 000.
Let's goat it on!
FOOD & LIFESTYLE: Step by step guide to making delicious luwombo (banana leaf steamed food)
Luwombo is a traditional delicacy that originates from the Baganda in central Uganda. It is a meal prepared in banana leaves and gets ready by the steam from water. The dish comes from as far as 1887 during the reign of Kabaka Mwanga. However, since then, the dish has been adopted by many traditions in Uganda and it is majorly served to important guests on functions. Here is how you can learn to prepare Luwombo on your own.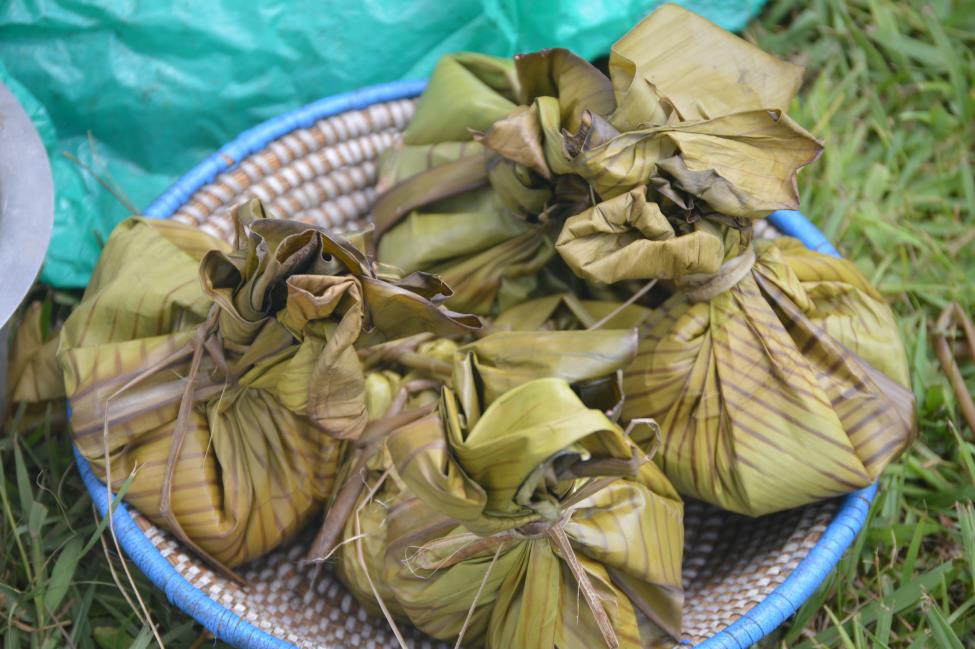 Luwombo is a traditional dish that is very popular amongst the Baganda from whom it originated. Overtime other Bantu speaking tribes in Uganda have also taken up eating Luwombo in their culture. It is basically served in banana leaves on functions to the very important guests at the event. It is therefore looked at as a very special dish, one that you do not eat everyday but one that you eat on special occasions.
However, the science behind its preparation is usually ignored because the focus is on the mouth-watering taste that people get from eating it. So here is the secret in making Luwombo,
The banana leaves that are used for Luwombo need to be young with no cuttings in between. In the case that you are making Luwombo for about 4 people you can cook it in one banana leaf alone but if it for a function, you use half a banana leaf so that everyone has their own "Mpombo".
The banana leaves need to be smoked before pouring the mixture for your Luwombo into them. This makes it easy for the steam which cooks the meal to get to get to your ingredients. After smoking the banana leaves, you have fold it and use a kitchen basin or saucepan to make a depression. However, after folding you need to add half a banana leaf inside the already folded one so that the ingredients of the Luwombo do not pour out.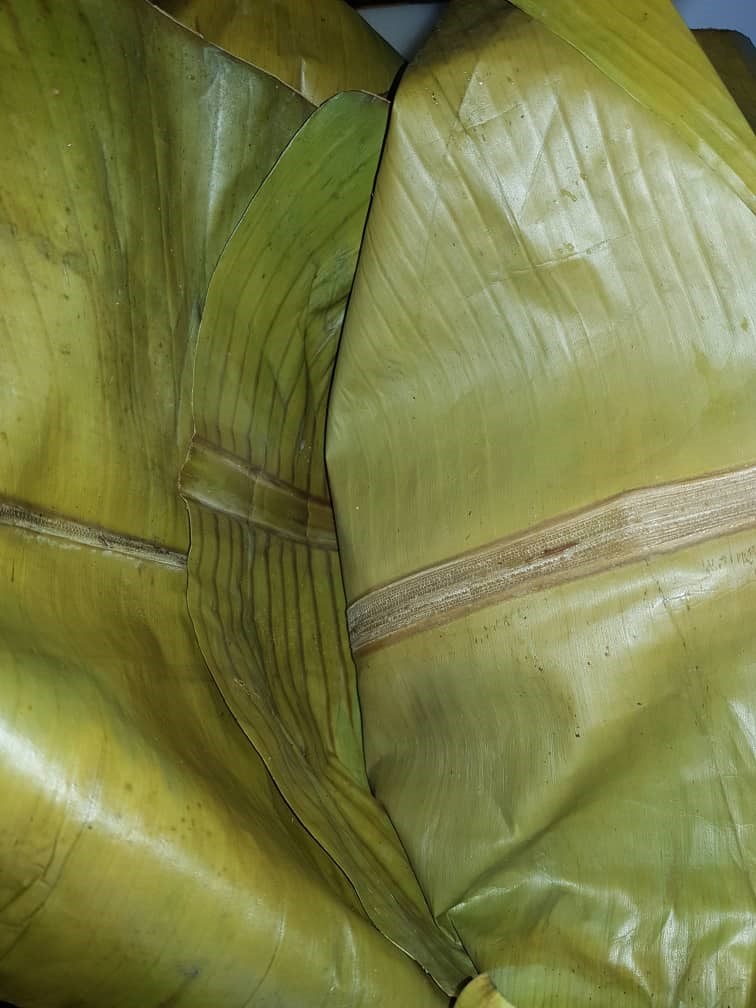 After smoking your banana leaves and making a depression, the next part differs depending on the kind of Luwombo you are going to make.
Groundnut Luwombo
If it is the smooth powdered gnuts, you need to put in a dish depending on how many people you are cooking for. Then you add water to make a smooth paste and mix to ensure that there are no particles in the mix. The idea is to make a paste that is not watery but again not so thick because once it is so thick, it will be hard to eat it with your food.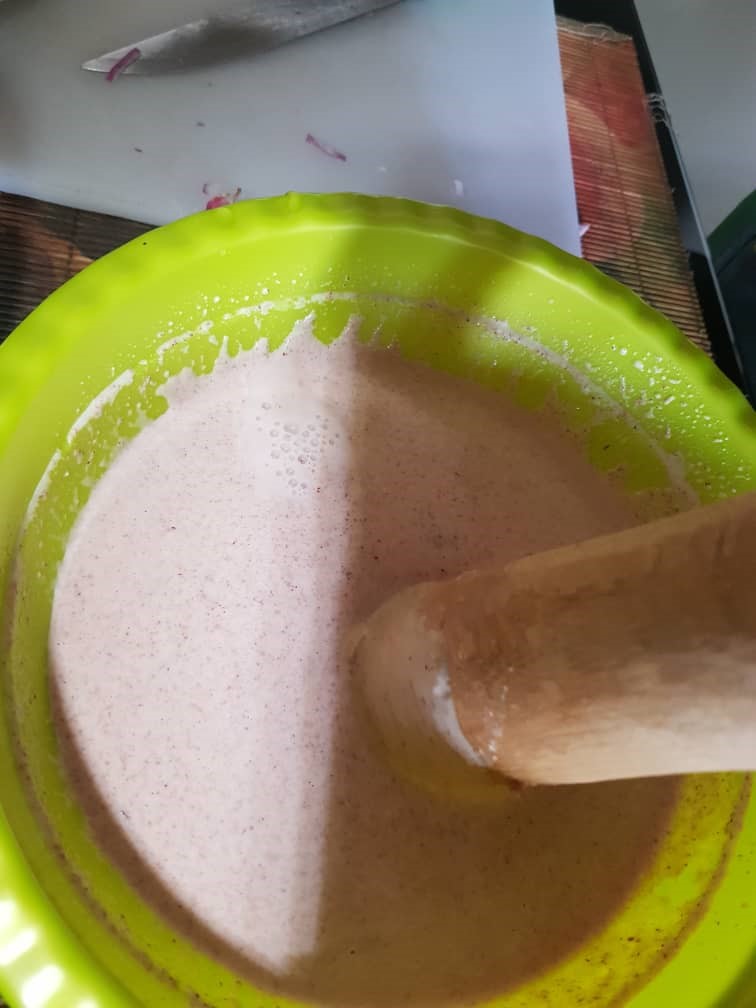 After adding water, you add salt to taste and also finely cut onions. They should not just be lamps of onions because the sauce should appear to be very smooth when it is ready.
After this you can pour it in the depression that you had made of the banana leaves. If you want to add anything to your groundnuts, you add it at this point for instance the dried and well chopped mushrooms, well roasted meat or even the boneless dry fish.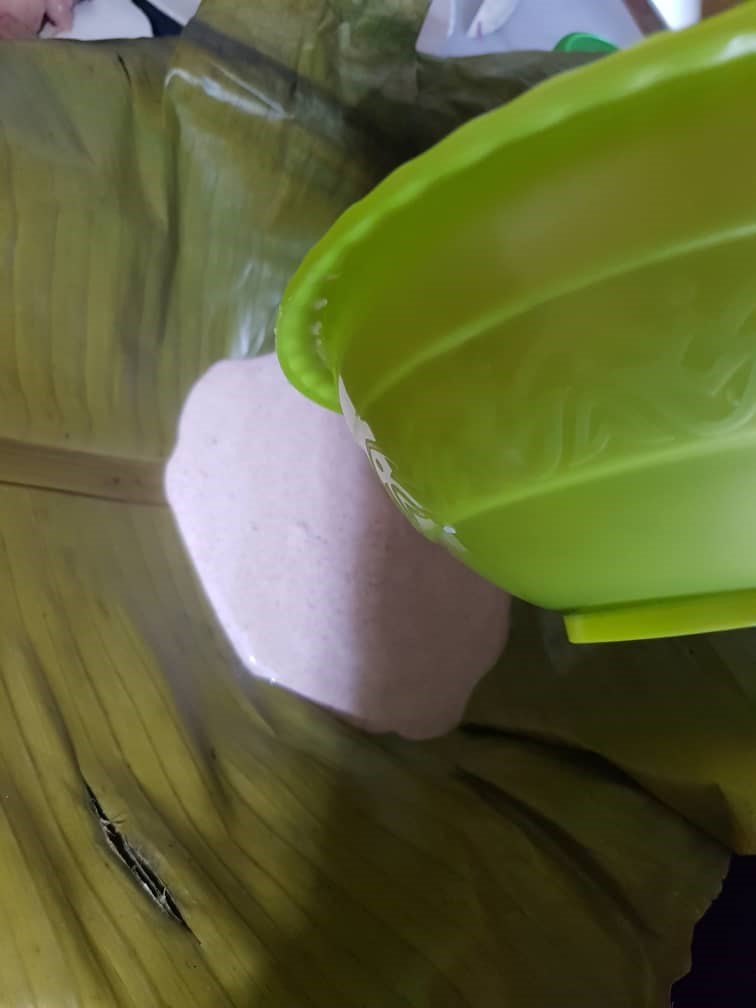 Next, you fold the banana leaves in between with the groundnuts in the middle.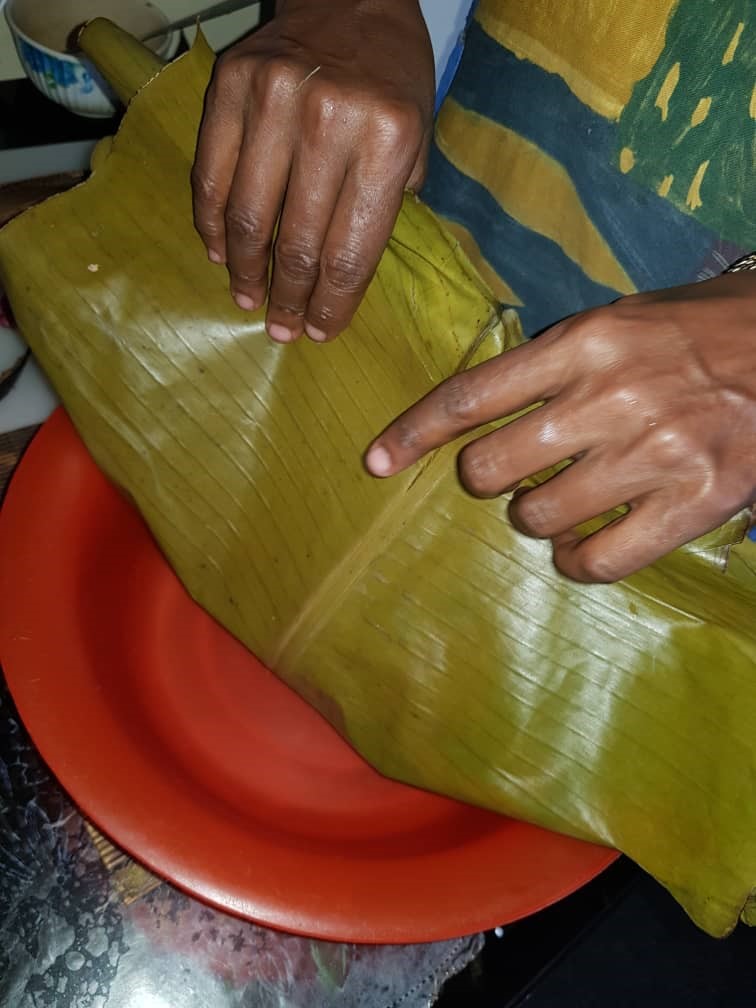 Then you place your fingers in the middle and bring the bananas close to a middle point from left to centre and then right to centre.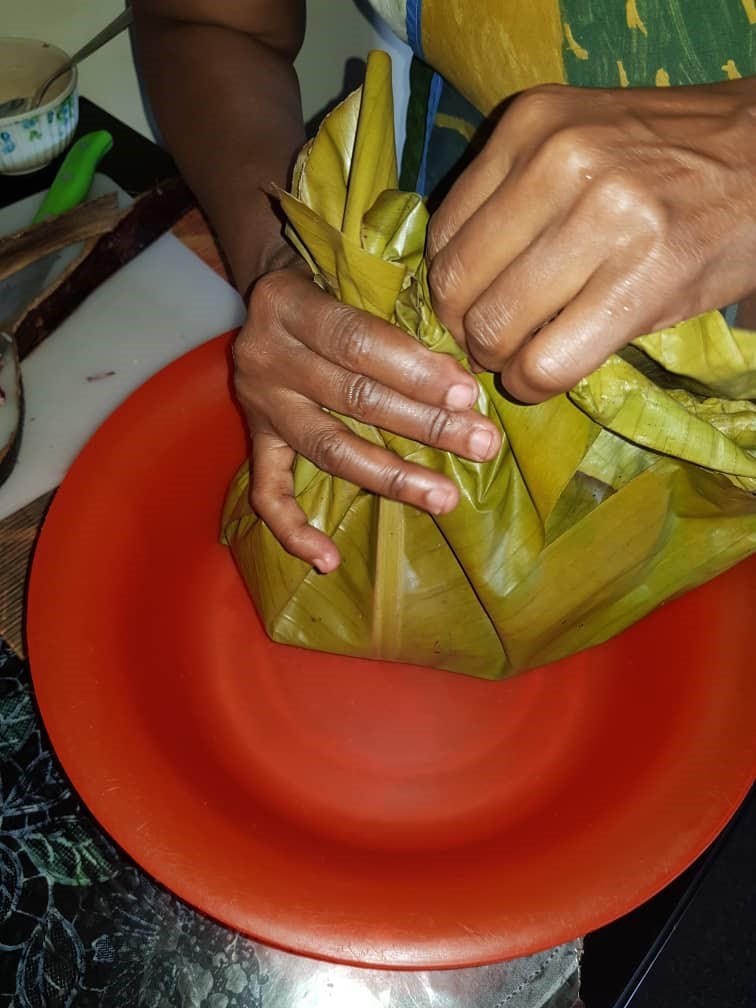 After this you tie a banana fibre around the folded banana leaves. The fibre should go around two times but it should not be too tight. This is because the steam that cooks the Luwombo needs to escape. After tying you should also leave a small knot so that it is easy to open.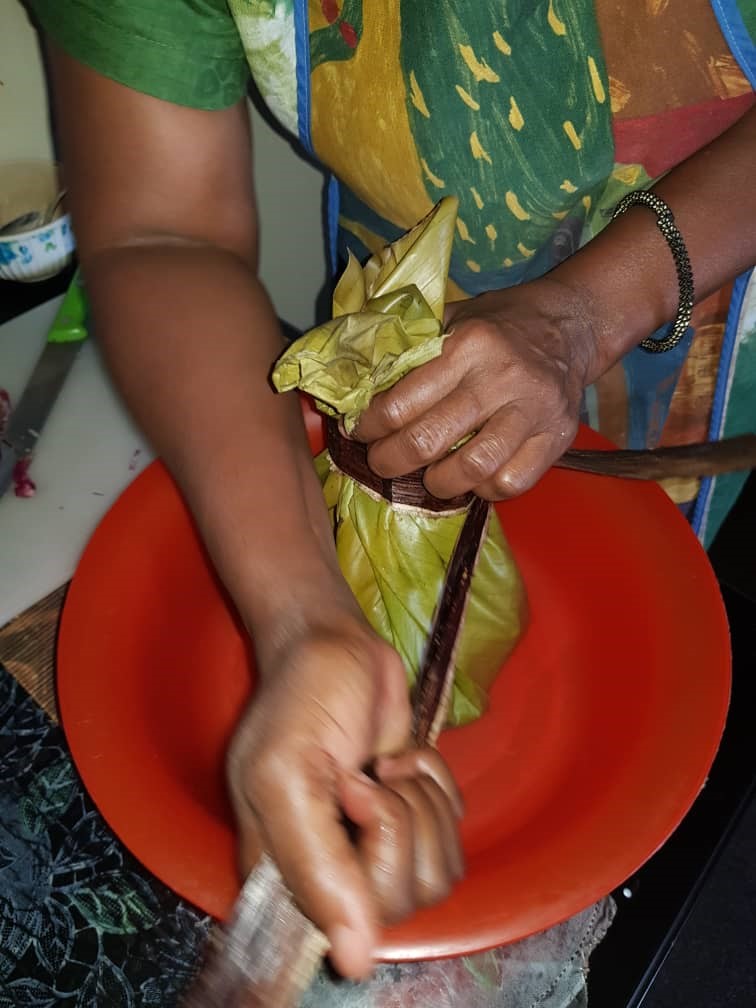 Chicken/Beef/Goat Luwombo
The meat Luwombo is basically made in the same way irrespective for the meat type. The difference with this one and the groundnut Luwombo is that the meat should be well dried first by roasting it on open fire. This gives it flavor and taste.
For people who want to make their meat taste extra special you can marinate the meat with onions, garlic and some cooking powder. After it marinates, you can then roast it.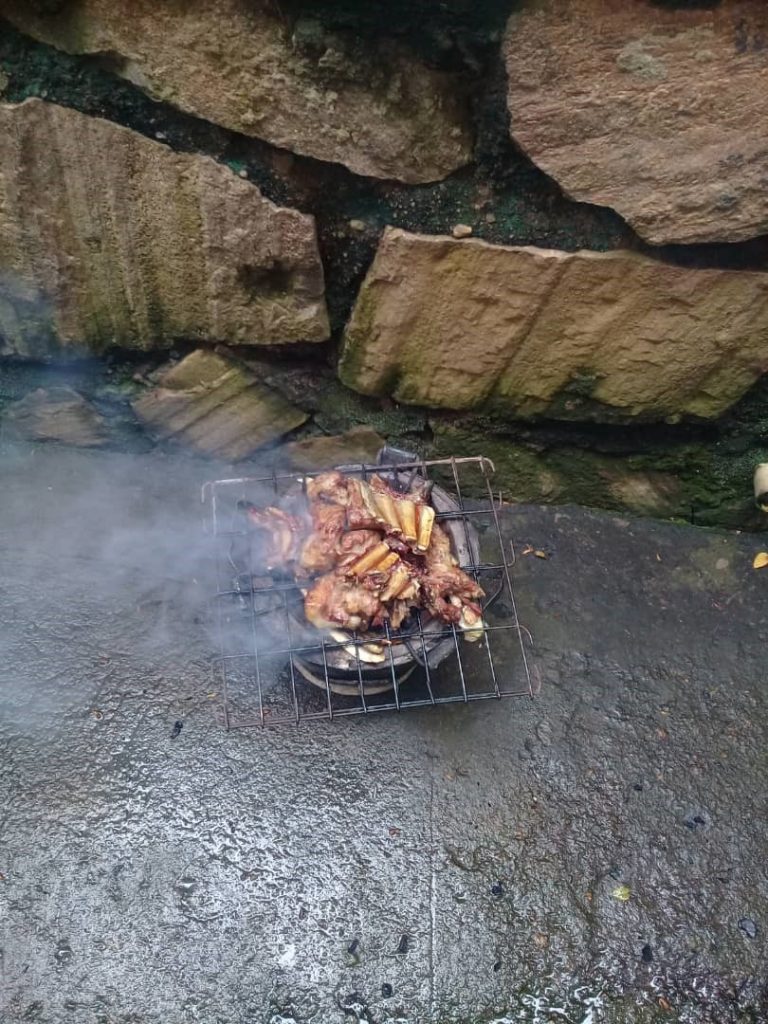 After the meat roasts you can chop it into pieces and after that, you get your banana leaves, smoke them and put them in a kitchen basin or saucepan like I explained for the groundnuts Luwombo.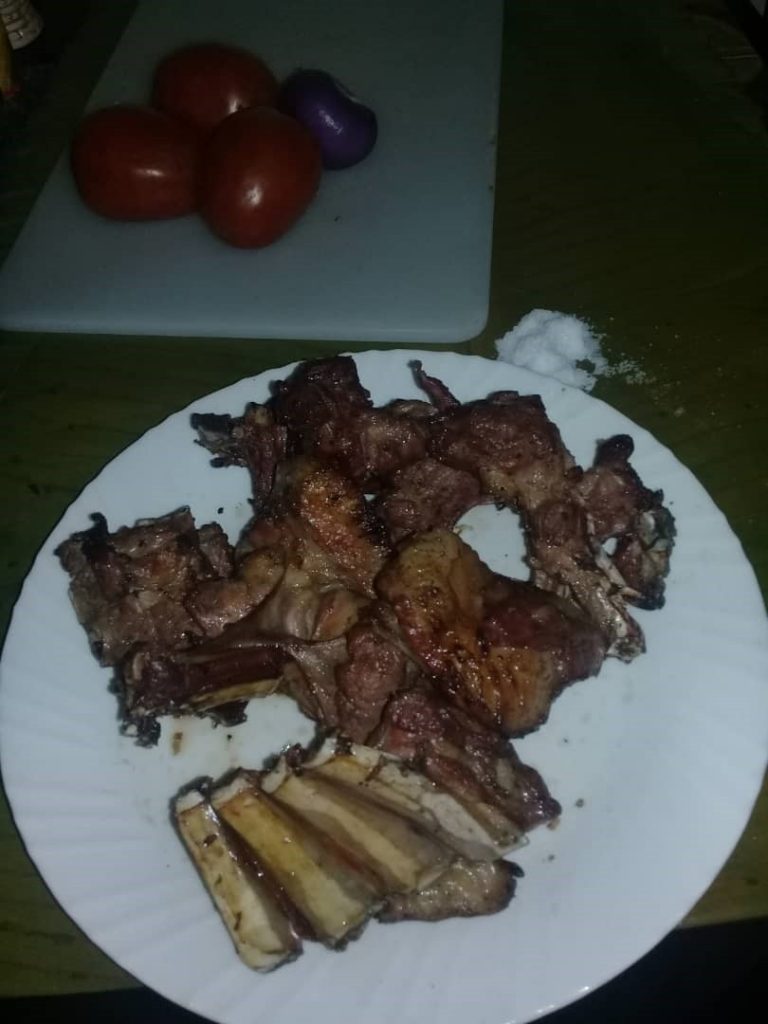 For the meat Luwombo, you can get a bowl where you put grated tomatoes or finely chopped tomatoes. The tomatoes should be peeled to avoid their skin from cooking and giving the ready Luwombo a funny look. To the tomatoes, you add finely chopped onions and salt to taste. You mix them in water and then pour onto the meat.
For the meat Luwombo, you should not add a lot of water because the meat produces its own water which makes the sauce even more tasty. After adding all your ingredients, you fold and tie like I explained for the groundnuts Luwombo.
The final process
After you have made and tied up your mpombo, ensure your saucepan's base is well laid out with well-cut and washed stems from the banana bunch or you can use the mid rib of the banana leaves. After laying them, you can add another banana leaf to act as a base for your mpombos. You should also add water up to the level of this base to produce the steam to cook your Luwombo. Then you put your well tied mpombos and cover them with another banana leaf to trap the steam.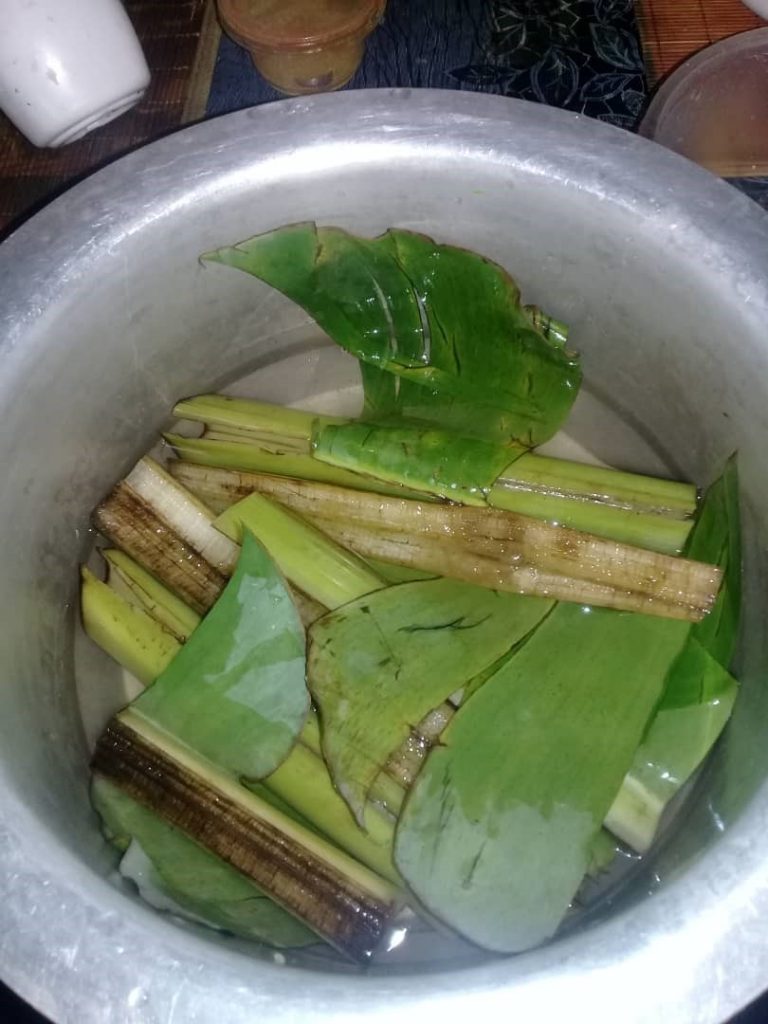 For your Luwombo to get ready it should take about 2 to 3 hours. Less of that, it will be ready but it won't be as nice. Just like when preparing matooke, you should also keep adding water to ensure that it doesn't burn.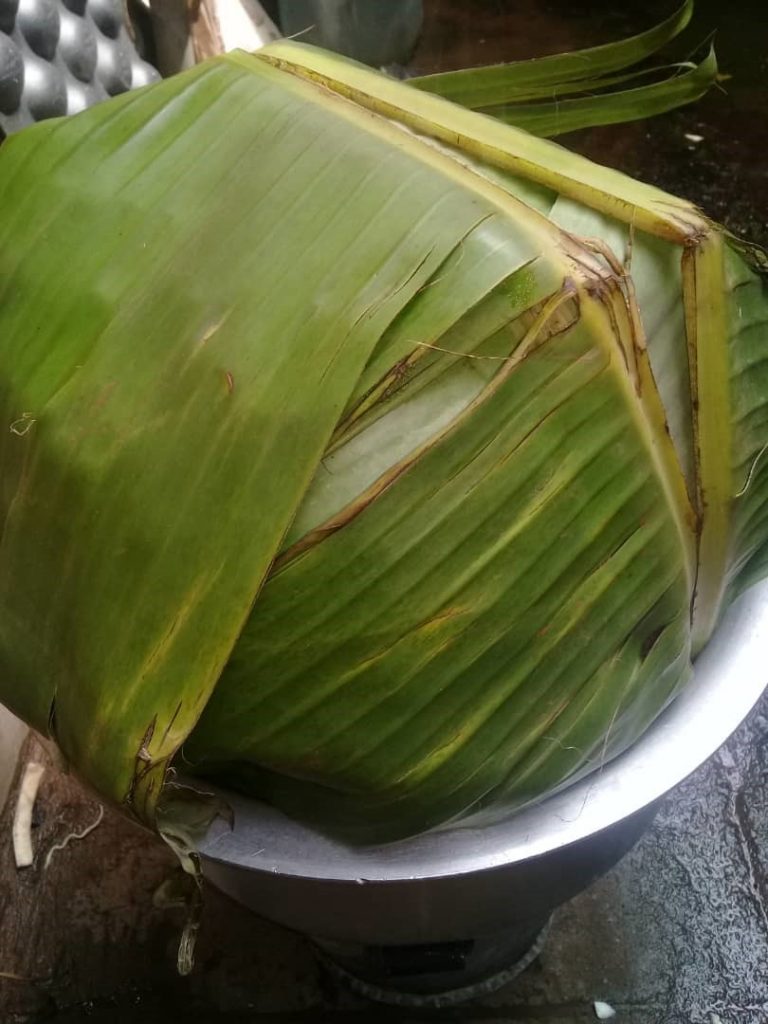 When the Luwombo is ready, you can serve it with matooke or any food of your preference. It can be served in the banana leaves or you can scoup it out of the banana leaves and serve it separately.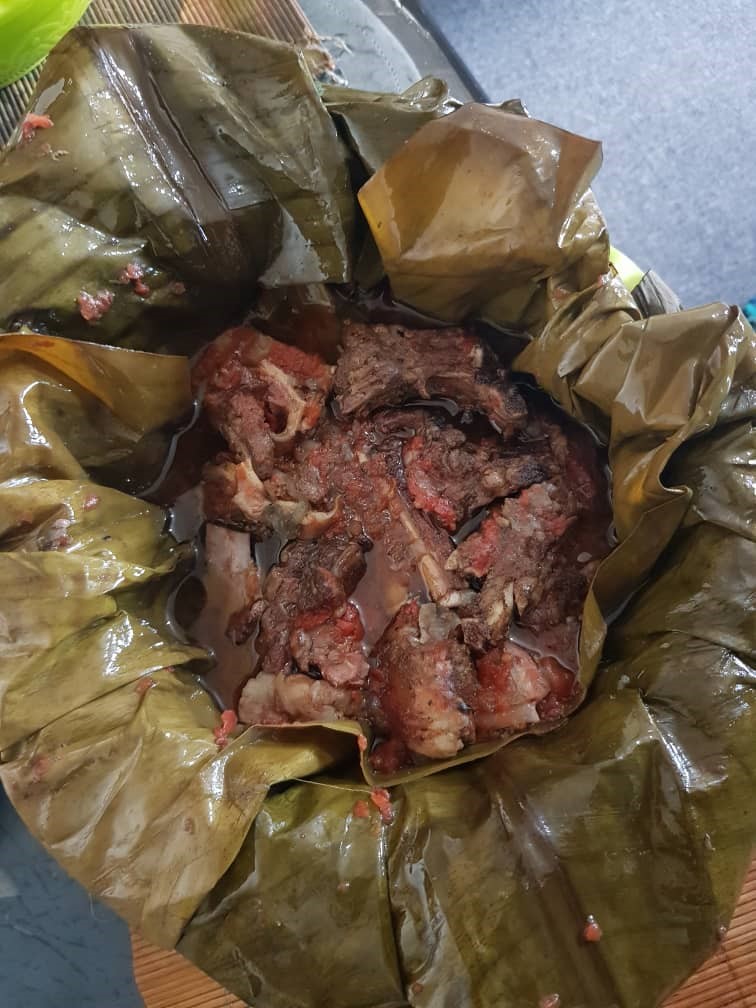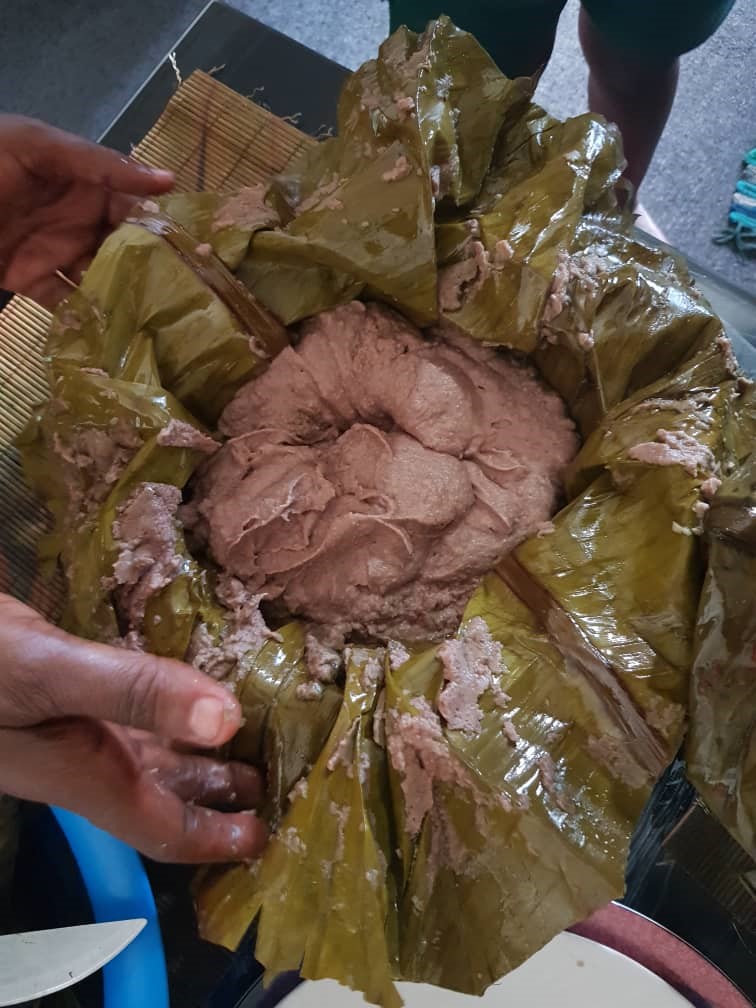 You can cook your meat or ground nuts this way without adding any single drop of oil. It is very healthy and also very tastey. Be sure to try it out at home.
Inside the USD15m Latitude 0° Kampala Hotel- a modern urban Africa with a cosmopolitan touch!
Even though there is quite some competition in Kampala's hotel space- with average occupancy rates standing at about 58% (a hotel needs about 40% occupancy to break even), with key noticeable names like Sheraton, Speke, Marriott, Serena, Hilton and Protea, all jostling for guests, Latitude 00 has also decided it has what it takes to compete with the big boys. And yes, they have put up quite a marvel of a property. Our lifestyle reporter, Pearl Kitimbo, gave them a visit and brings you quite some fascinating reviews!
The Latitude hotel group recently opened their third location in Kampala named: Latitude 00. The hotel is located at the hill top of Makindye hill, just opposite the Kizungu police station. It is named after the Equator which crosses Uganda.
It is not like any other hotel that you have visited, it is different!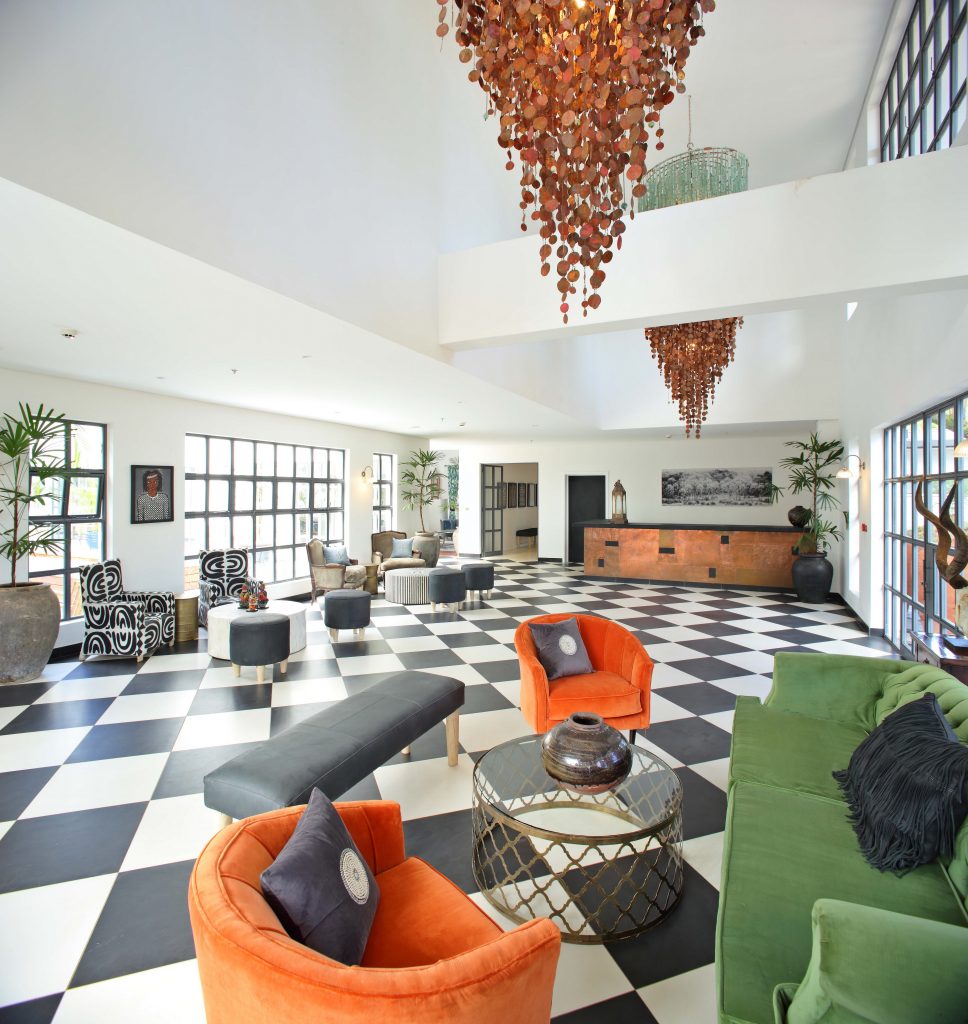 On the way to the hotel, the green indigenous trees give you a feel that you are going to a hideout away from the chaos of town. Latitude 00 is indeed that place that everyone needs to visit every once in a while. I am not sure I want to term this hotel as a 5-star but perhaps an 11 star (wish there was something like this), because it is one of a kind and has a different personality it.
On entering the hotel, the hanging chandeliers from the ceiling attract your attention. They are made of recycled glass from the other Latitude hotels in Lilongwe, Malawi and Lusaka, Zambia. The hotel automatically gives a warm African feel with just the furniture and décor you see.
From the main reception, you are captivated by the very rich art collected from various artists and artisans around Africa and especially Uganda. The sculptures are particularly made by a Ugandan artist called Patrick Mulundo and that alone makes you understand that the hotel looks at giving their guests more than hospitality but a touch of Uganda as well.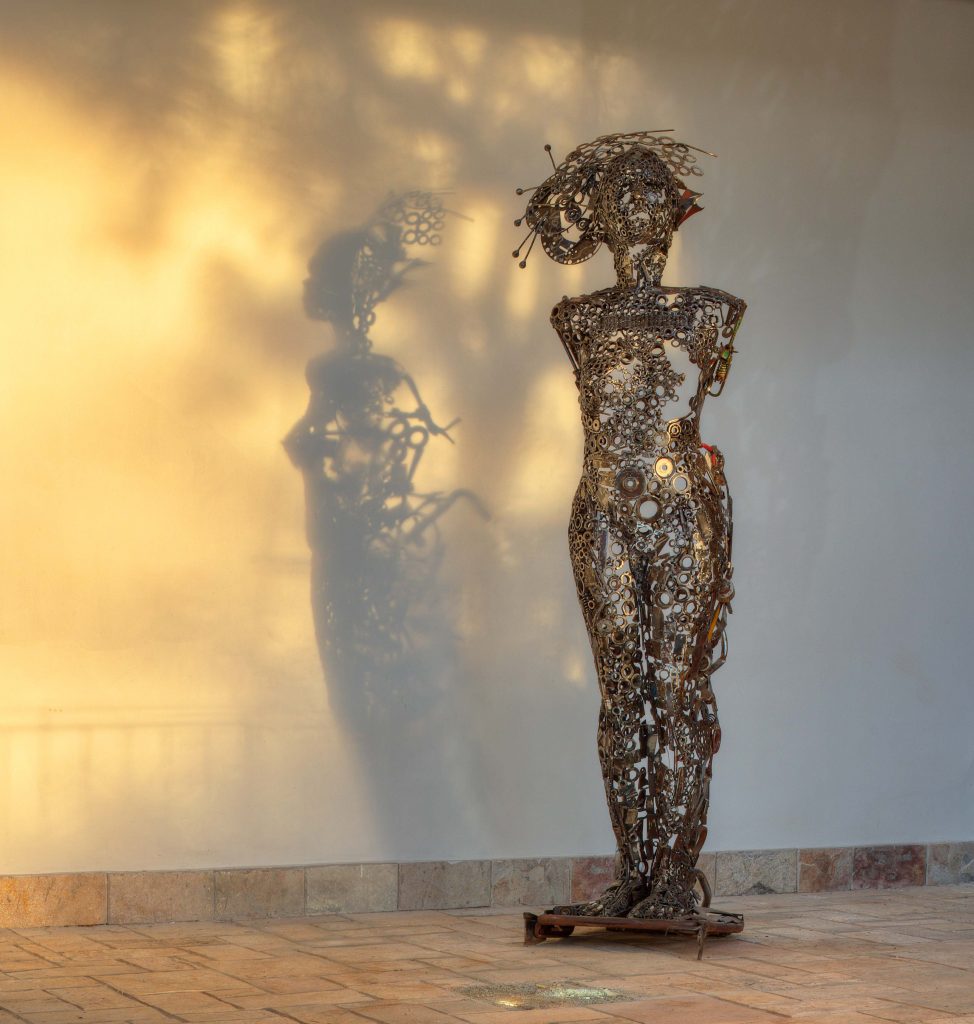 Three Restaurants
Latitude 00 has three restaurants in its compound. The main restaurant is the Latitude Restaurant. The restaurant is very rich with African decoration from the painting to the tables and even to the tiles. It serves African and continental foods, has its own bar and also has a beautiful lounge with a view of many of the hills that make up Kampala; punctuated by indigenous orchid-filled trees.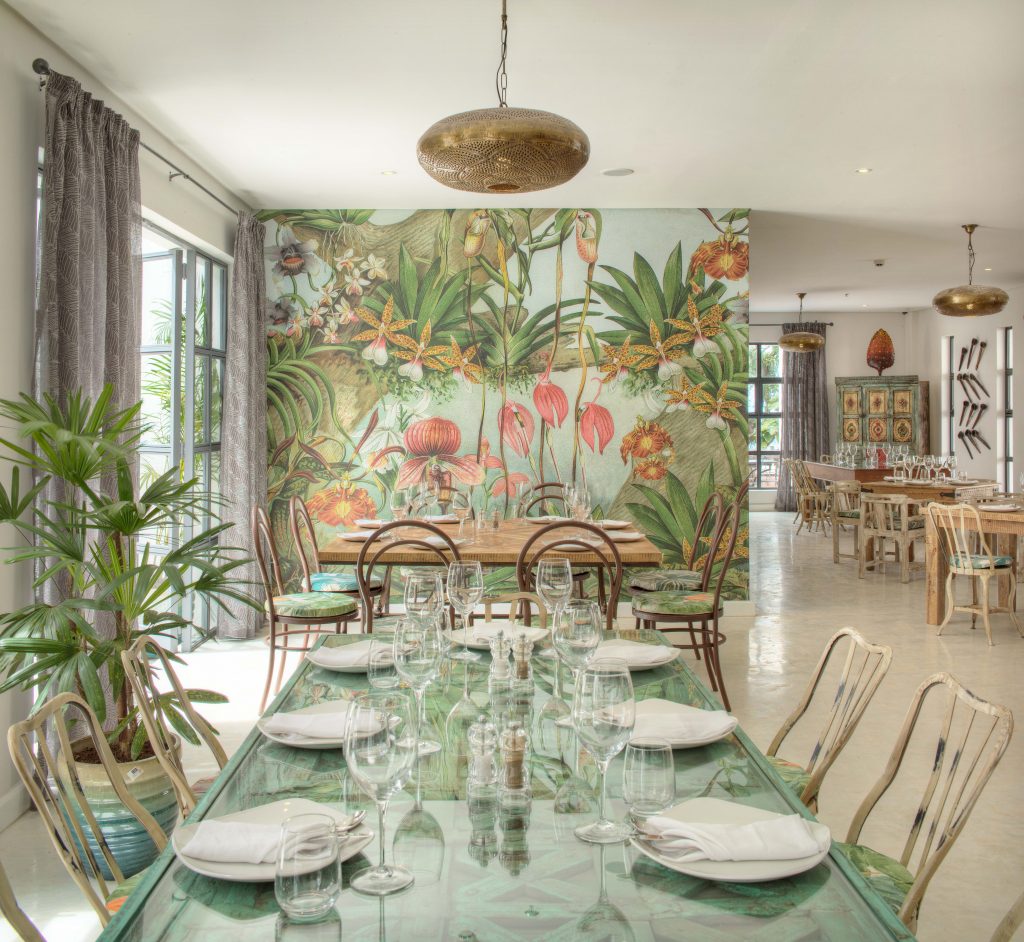 The second restaurant is "The Other Side" restaurant. This is named after the expansion that the group did at their first hotel; Latitude 13 in Malawi after they received so many guests. The Other Side restaurant is the one side where you take someone you want to impress because it is made for fine dining. Other than the entrance through the main reception area, this restaurant can be accessed using its own independent entrance.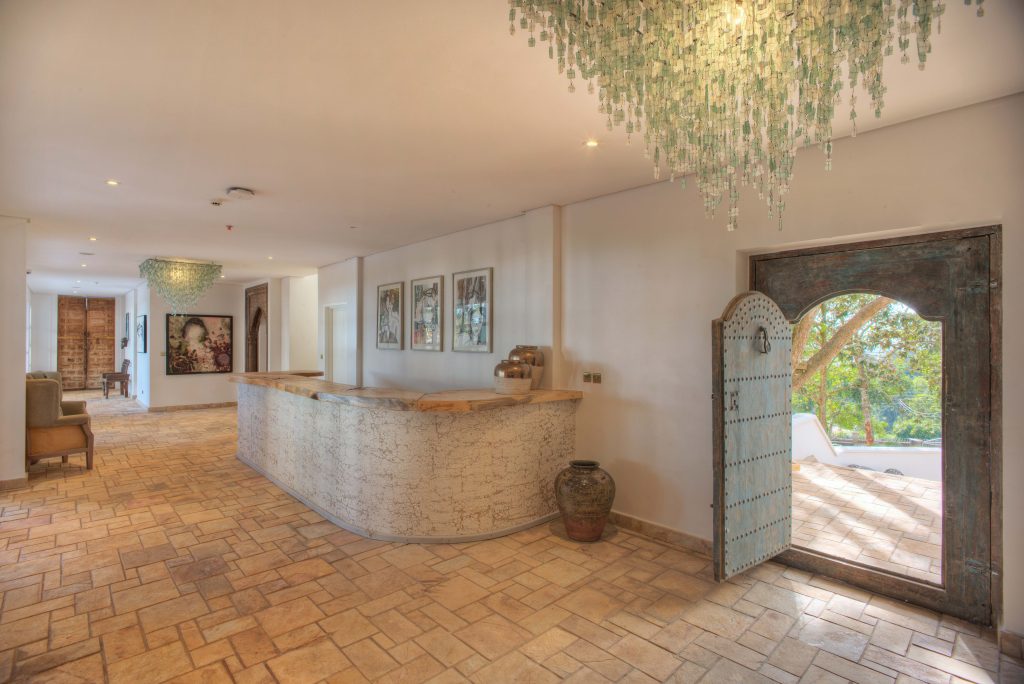 This restaurant also features a bar and a lounge that has a view of Kampala and the hotel swimming pool. However, in the near future, the "Other Side" might be turned into a restaurant for private members of the hotel, according to management. For now it is accessible, on reservation.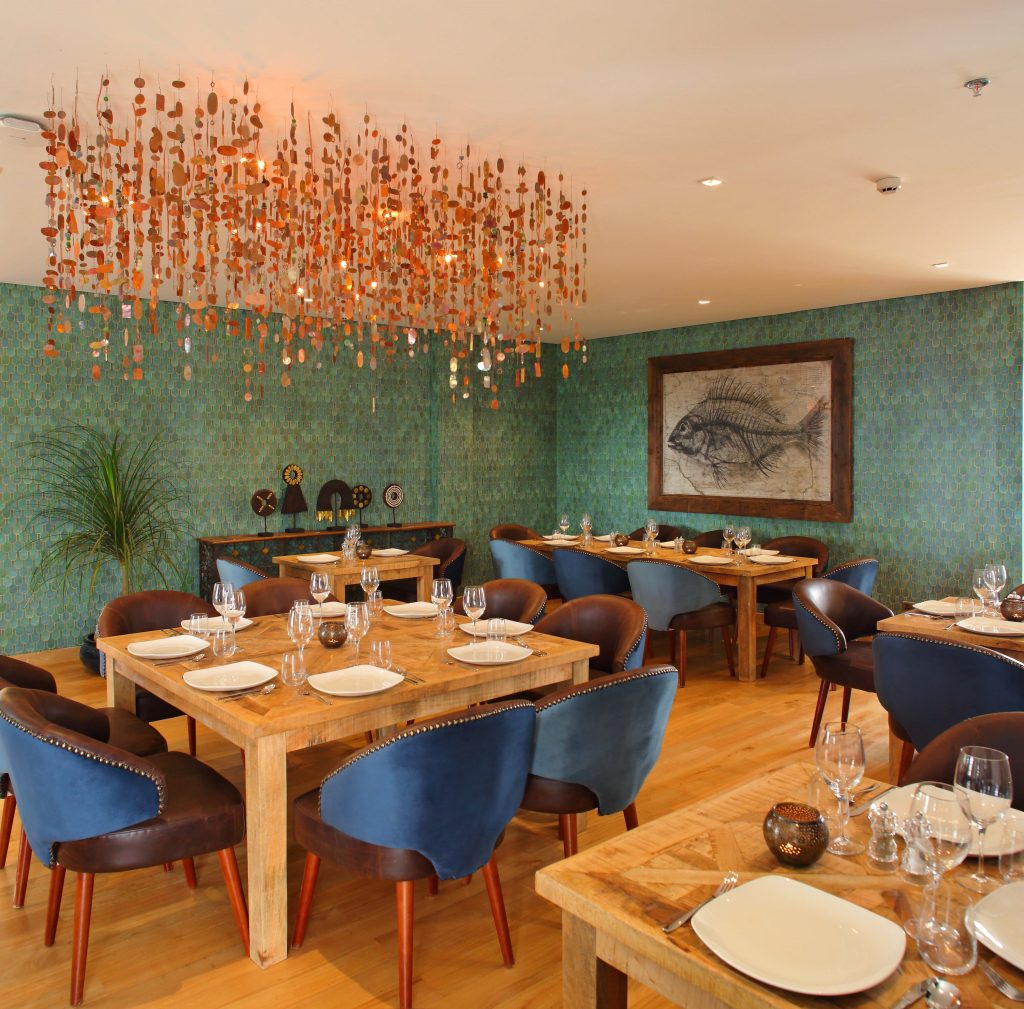 The third restaurant is "The Upside" restaurant. This is a bit more relaxed and has a beach feel to it. It has a very beautiful view of Kampala and Lake Victoria can also be seen from here. The restaurant serves Asian and Japanese foods mainly.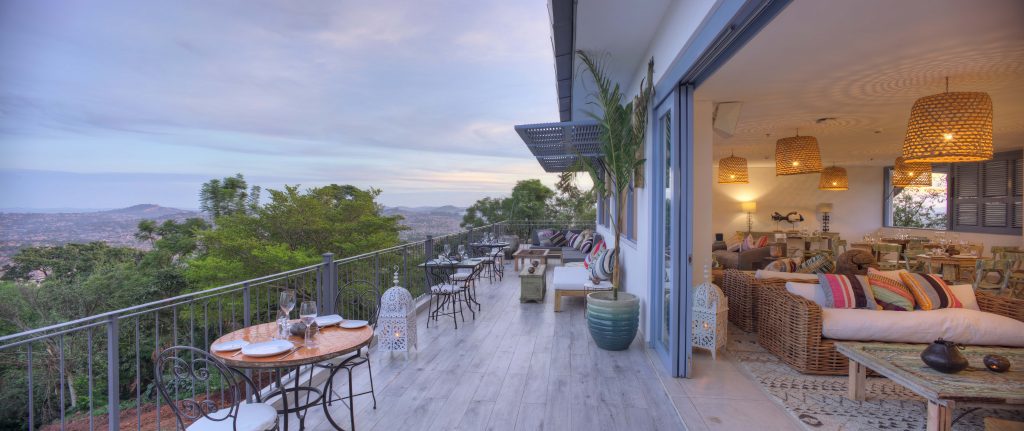 The food in the restaurants ranges between UGX50,000 to UGX100,000. The bars have a variety of drinks from locally made drinks to imported drinks.
The hotel purifies their own water for drinking but also serves still and sparkling water at no cost. They also do not use any plastics so their water is bottled in their own branded glass bottles that they re-use after washing. They use locally made natural straws that are made by a company called Natural Roots in Uganda- a very eco-friendly hotel, if you ask me.
According to management, for the staff of Latitude 0 to be able to serve you and give you the best service you can best experience at their hotels, it is best that you make a reservation so that you get the very best from them. Reservations can be made by calling +256750189404 or just sending an email to 0@thelatitudehotels.com.
The rooms
Latitude 00 has 47 rooms in total; 2 diplomatic suites, 5 suites, 12 superior rooms with a lake view, 11 superior rooms and 17 standard rooms. These all have a view of Kampala city.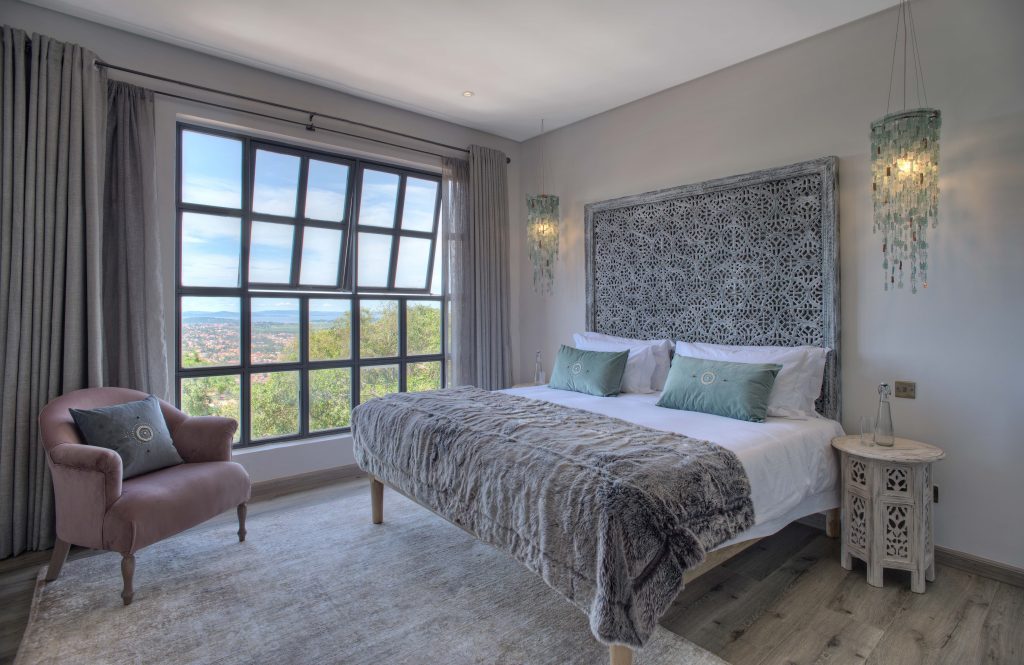 The guests have their own pool and deck outside the rooms wing where they can privately swim without interacting or being interrupted by the other non-resident guests.
Since the hotel just opened up, the hotel has cut it's accommodation rates by USD91 on all their rooms. The standard single which is usually USD260D is now at USD169, the superior lake view double room which is usually USD330 is at USD239 and the suite double which is usually USD340 is at USD249.
I bet now would be a great time to visit the hotel as the promotion is still on going.
To view more pictures of Latitude 0, Kampala, click here
Other Latitude Facilities
Latitude 00 has a couple of other interesting facilities besides the swimming pool, gym, spa and sauna that almost every hotel has. They have an 18M swimming pool that is accessible to everyone.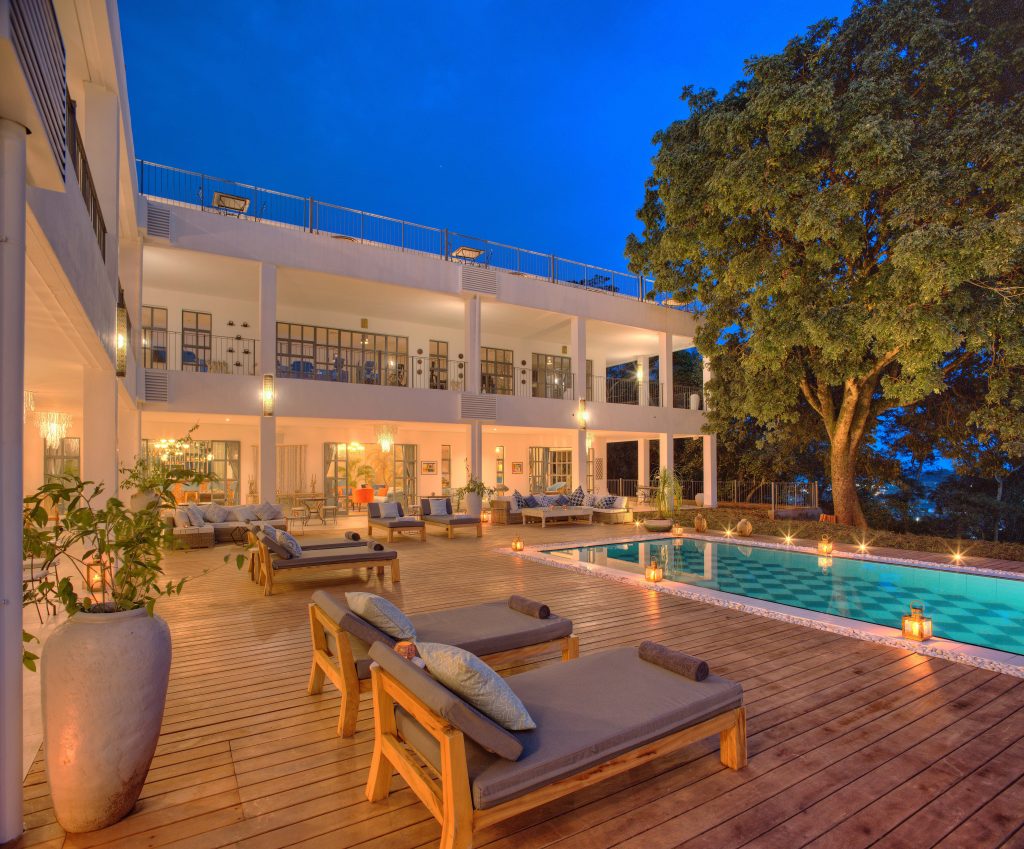 Their gym is fully air conditioned and well equipped with all the machines you need for your work outs from dumbbells to cardio wheels to kettle bells and so much more. They also have have a space for yoga and meditation.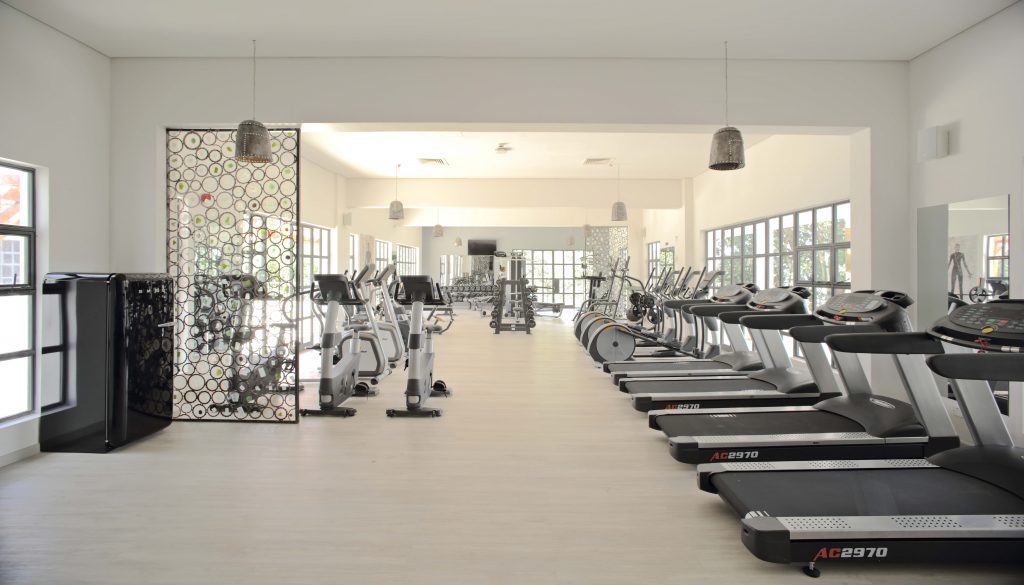 The spa treatments vary in price depending on what exactly you want. Facial treatments range from UGX80,000 to UGX160,000. The body treatments range from relaxing massages to deep tissues massages and even aromatherapy massages and so many others. The cost for massages ranges from UGX70,000 to UGX200,000. This all depends on the type of the massage and the time spent. It also has a manicure and pedicure section for guests.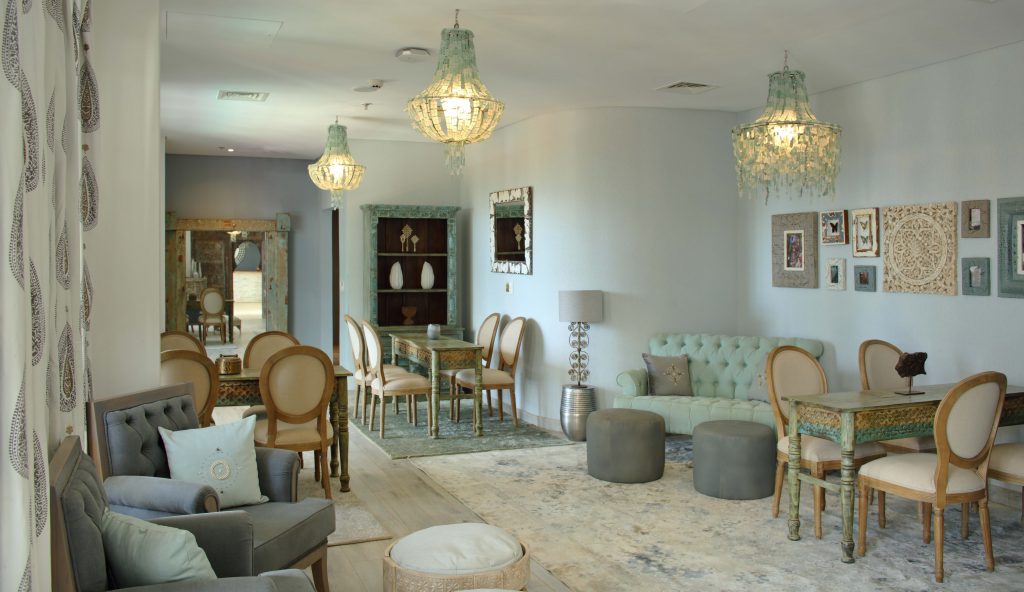 They also have a private room called The Den where guests can go to relax privately and enjoy a couple of directions and probably also a couple of drinks from the bar.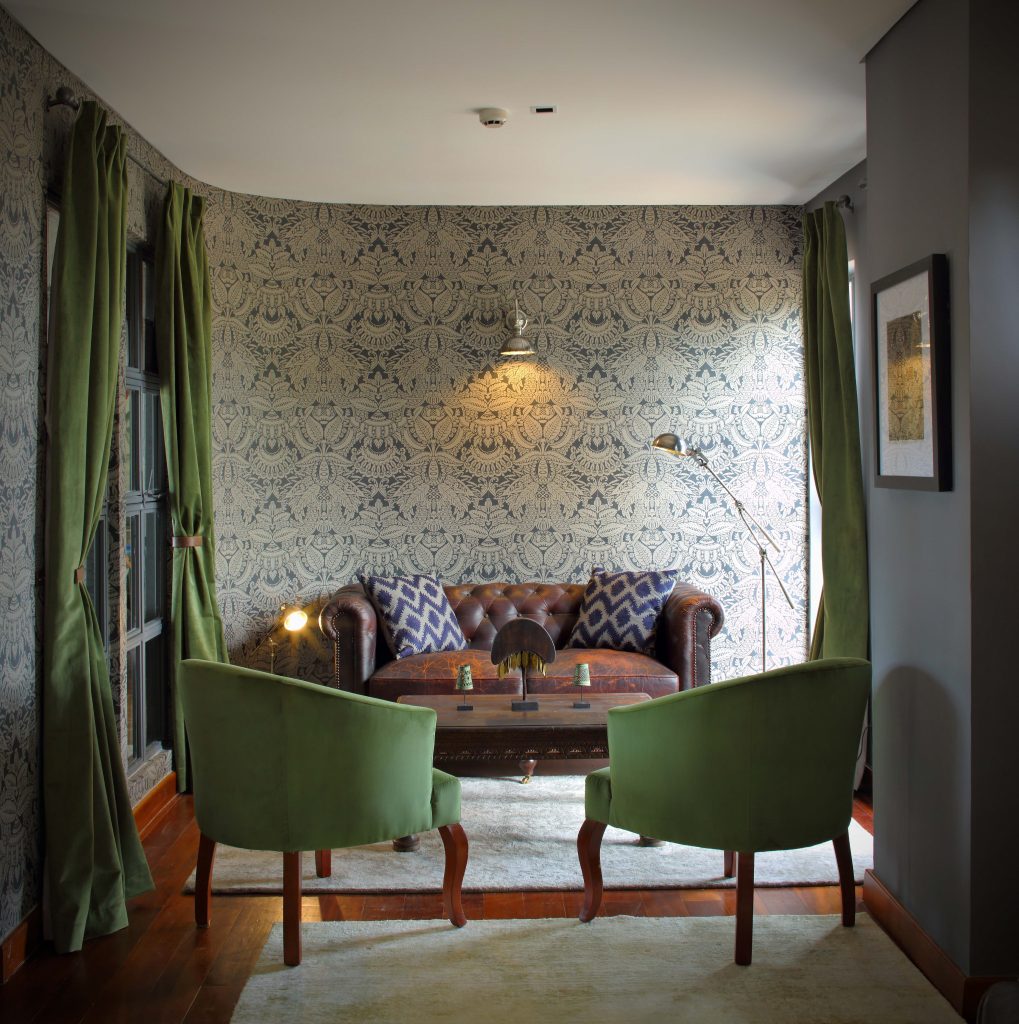 Then there is The Distraction- a room for letting loose and indulging in games like pool table, monopoly, cards, chess and so many others.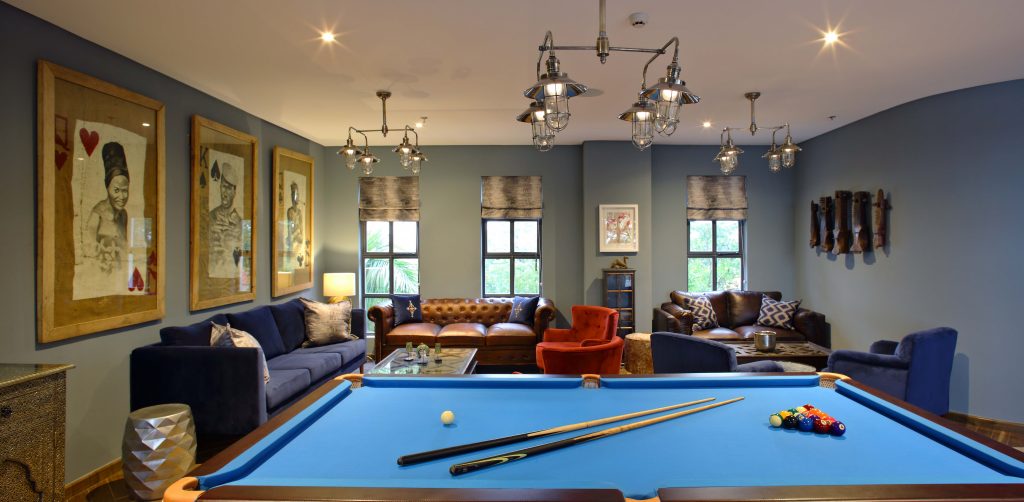 One of my most interesting facilities I found at the hotel is the Cinema. It accommodates up to 25 people and has a variety of movies for guests. The room can also be rented out and used for private meetings and presentations.
For the workaholics who love to mix work and play, the hotel also offers some spaces- The Works. These are group and also private rooms where guests can go to do their work as opposed to going to their rooms and sleeping off as they try to work.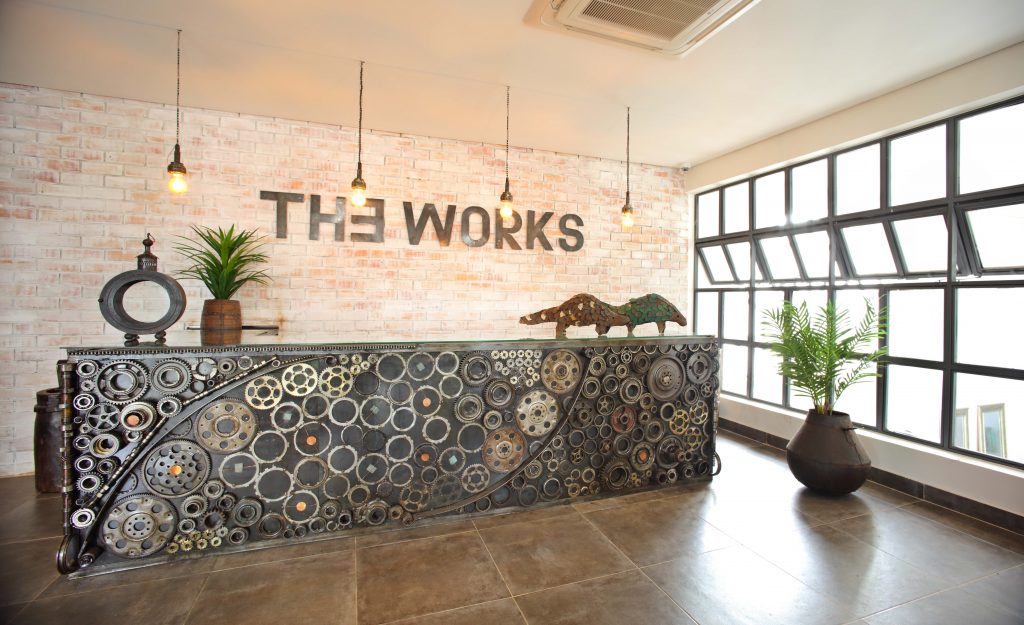 It is in The Works that you will also find the conference room where events and meetings can be held. The Works, has access to The Other Side restaurant, spa and also the pool.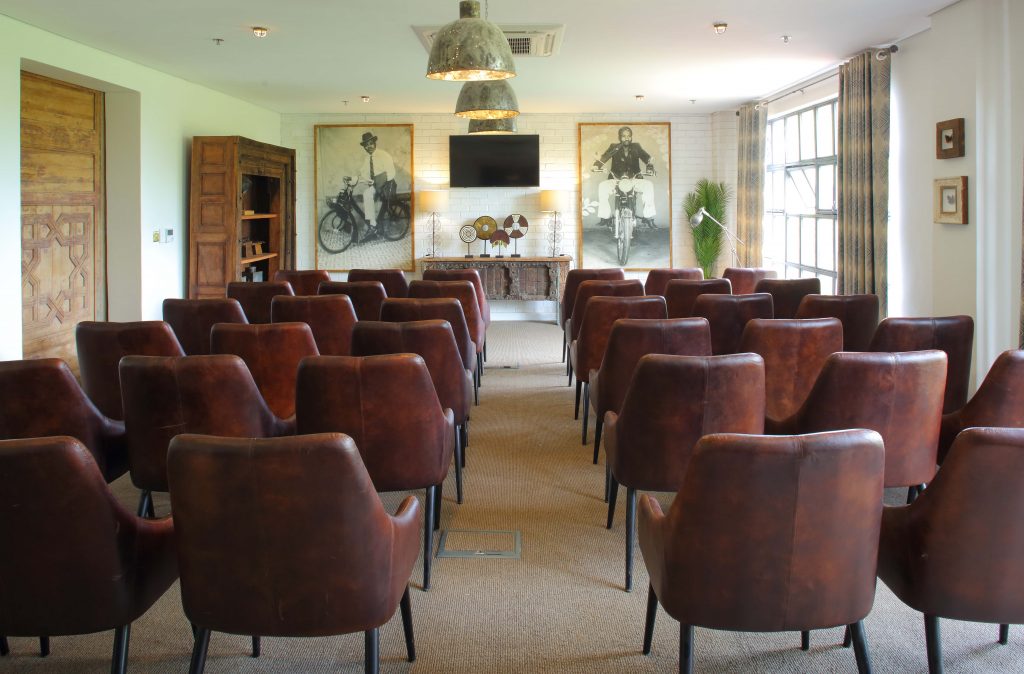 The Staff
Latitude 0o employs 169 staff and out of all these, 165 are purely Ugandan. The staff were trained for 4 months prior to the opening of the hotel to ensure that they give the very best to the guests of the hotel. According to the Group Commercial director, Nicholas Best, for 80% of the staff, this could be their first job ever or even their first time working in the hospitality industry. This is because the group believes in giving opportunities to people regardless of their background.
Latitude 00 is a place that everyone should get to visit. You can only understand its uniqueness and beauty when you visit it. Like the group commercial director Nicholas Best said,"The Latitude group is bringing their own unique taste to Ugandan hospitality so be sure to take off time and enjoy the hotel."
Reservations for the hotel can be done on www.booking.com or www.tripadvisor.com or you can simply send an email to 0@thelatitudehotels.com to make your reservation. Reservations can also be made by calling the hotel on +256750189404.
PICTORIAL: More breathtaking views inside the new Kampala Latitude 0° Hotel
On their website, this is how Latitude 0° describe themselves: "We are more than just a hotel with 47 guest rooms and suites, a 24-hour front desk, and fast airport transfers. We are two restaurants and three bars with culinary delights and a wide variety of drinks from all corners of the world. We are a haven for relaxation and fitness through our spa, gym and swimming pools. We are a socialising and networking centre with lounges, rooftop bar, private dining and entertaining spaces, and a calendar filled with music, art, fashion and business events. We are a co-working hub with private workspaces, meeting and conference rooms. A unique African lifestyle hospitality, blending modern urban Africa with a cosmopolitan twist.
We can't agree more.
We hope you agree with us too!
1 of 10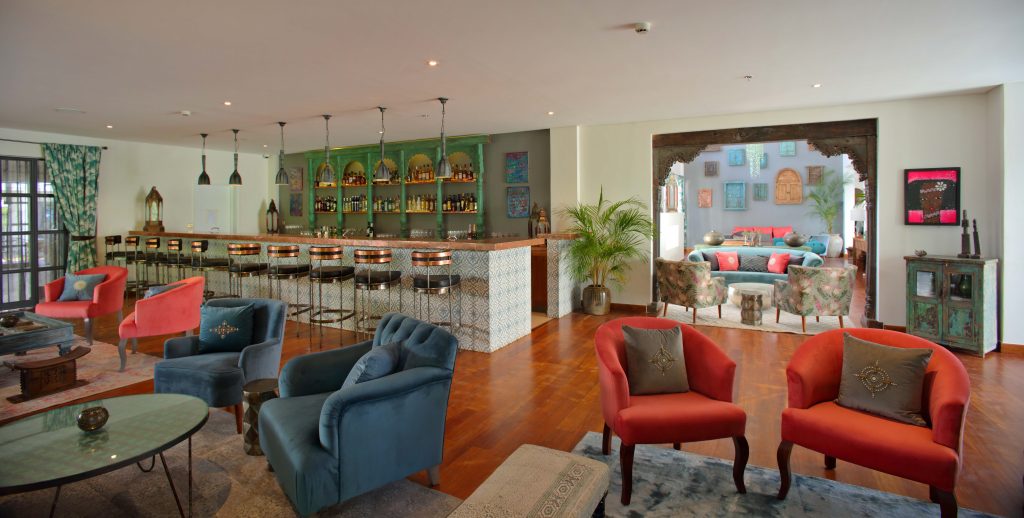 ---
2 of 10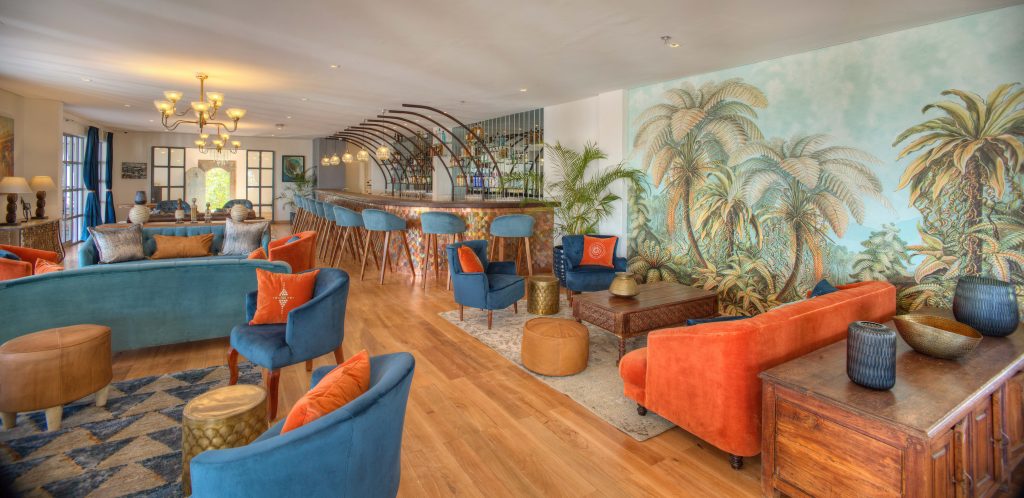 3 of 10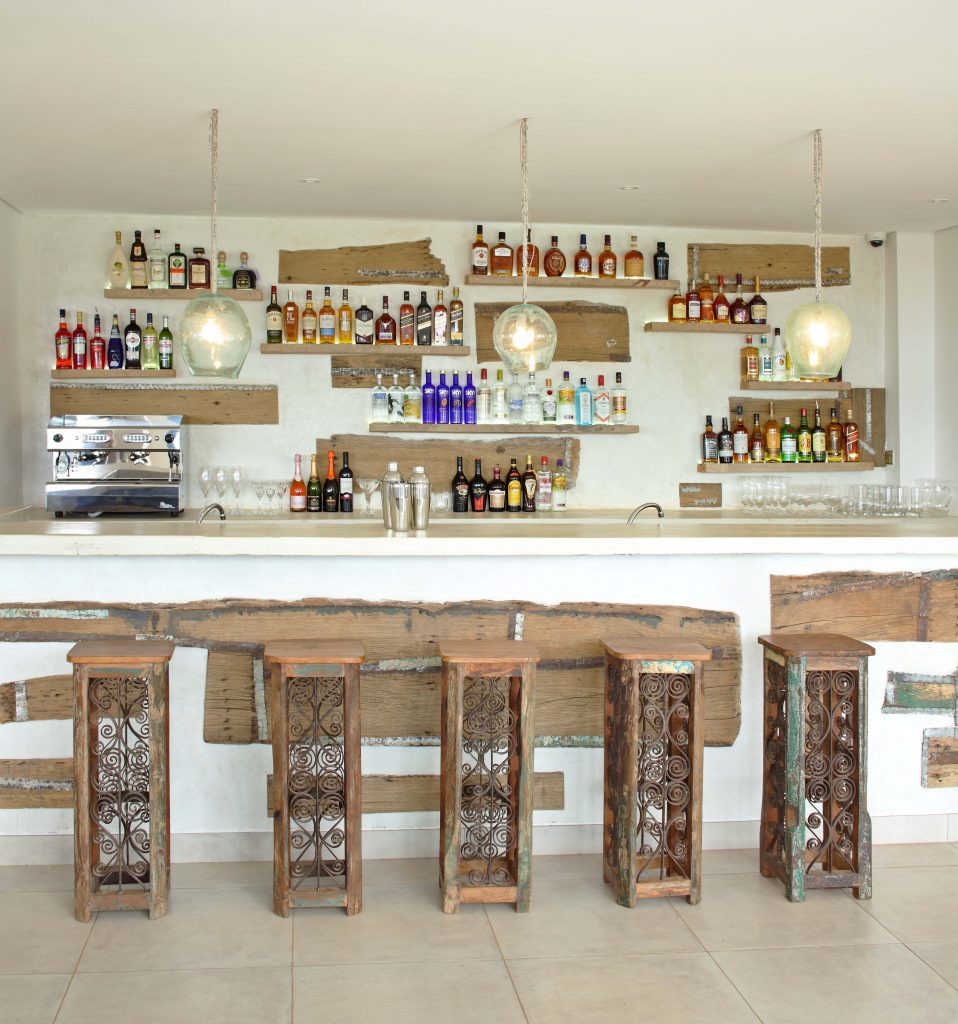 4 of 10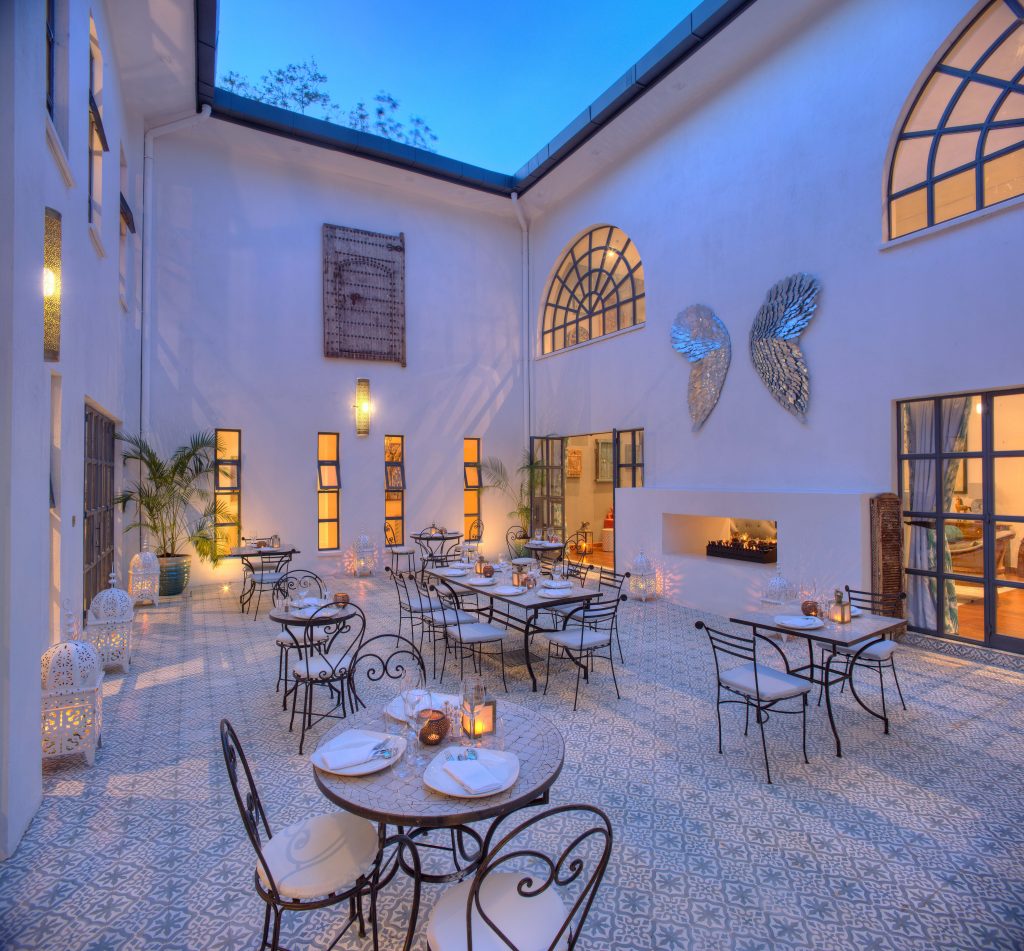 5 of 10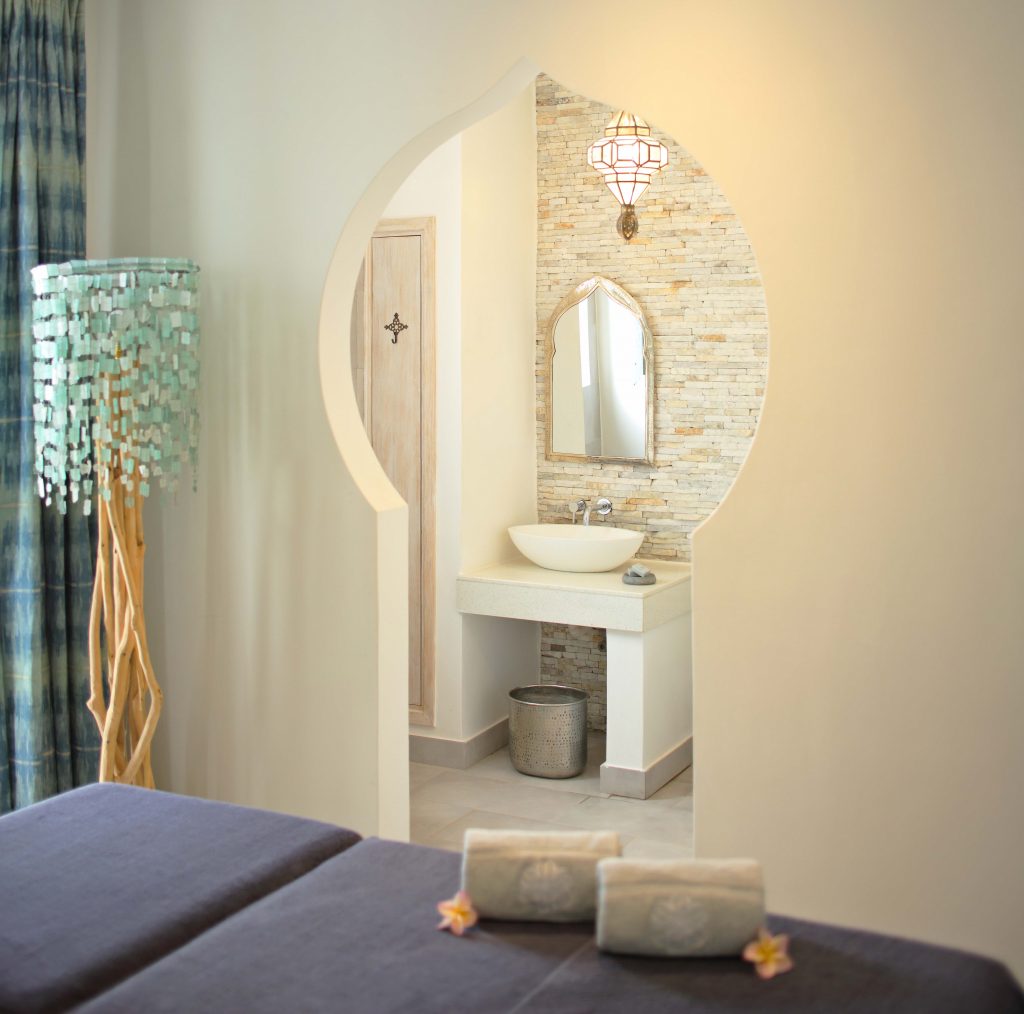 6 of 10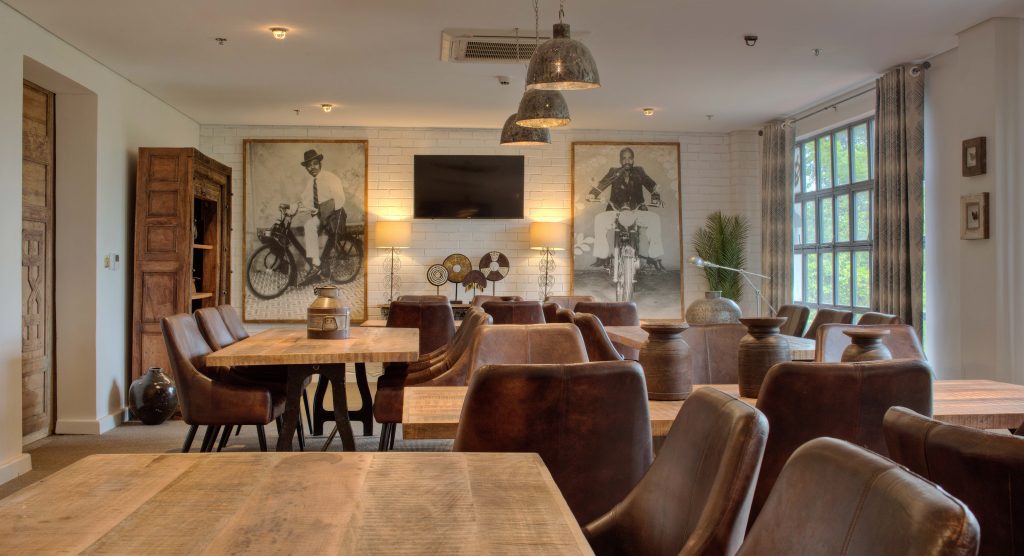 7 of 10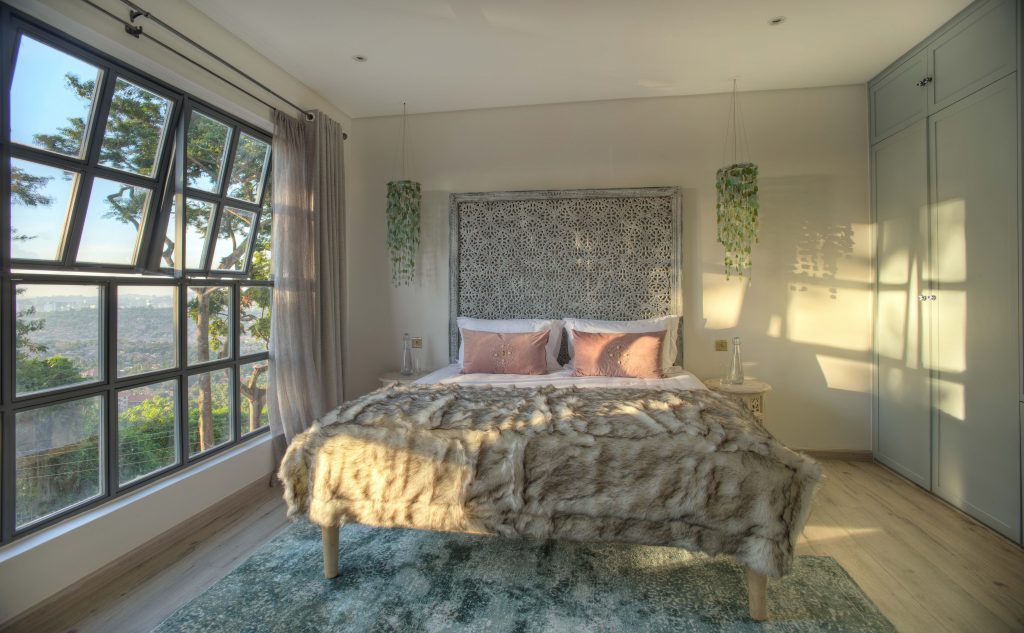 8 of 10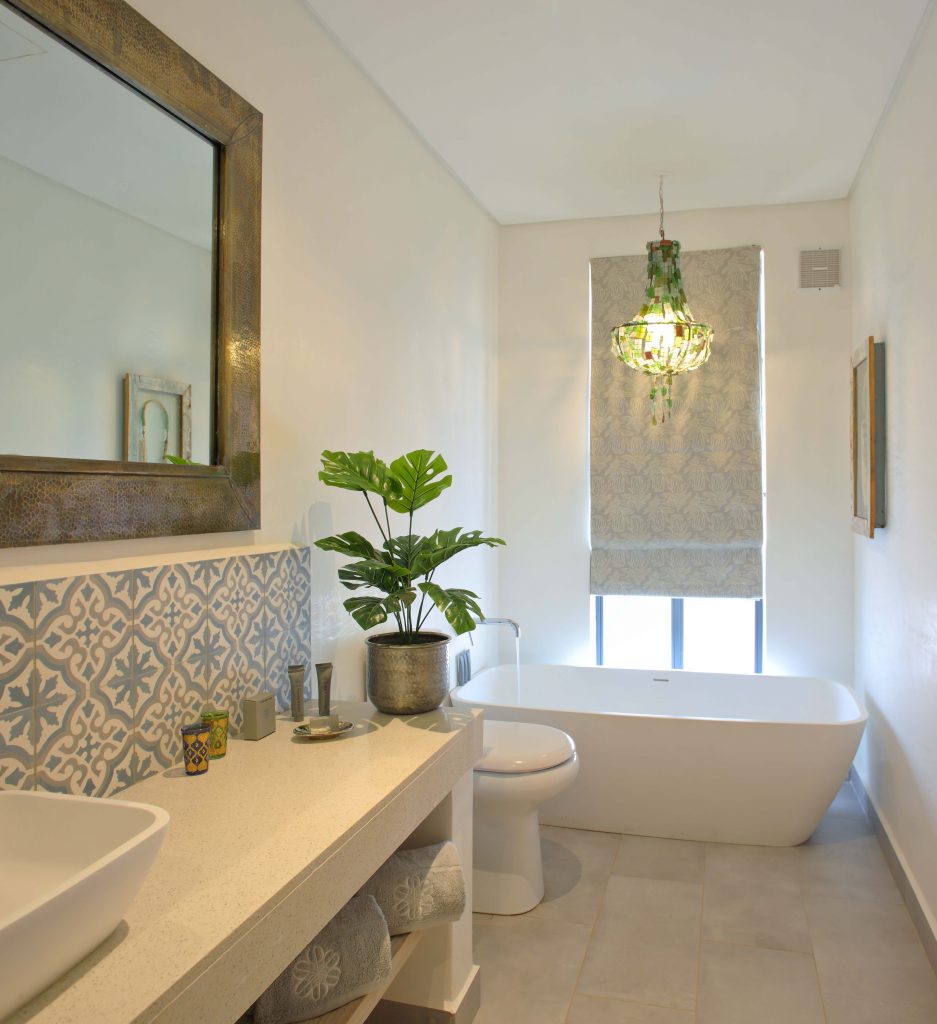 9 of 10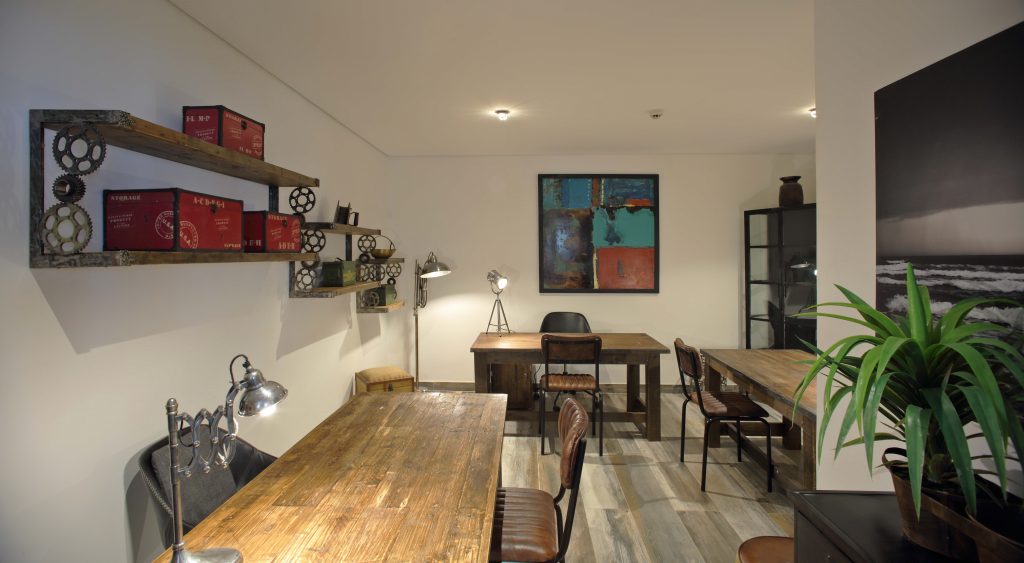 10 0f 10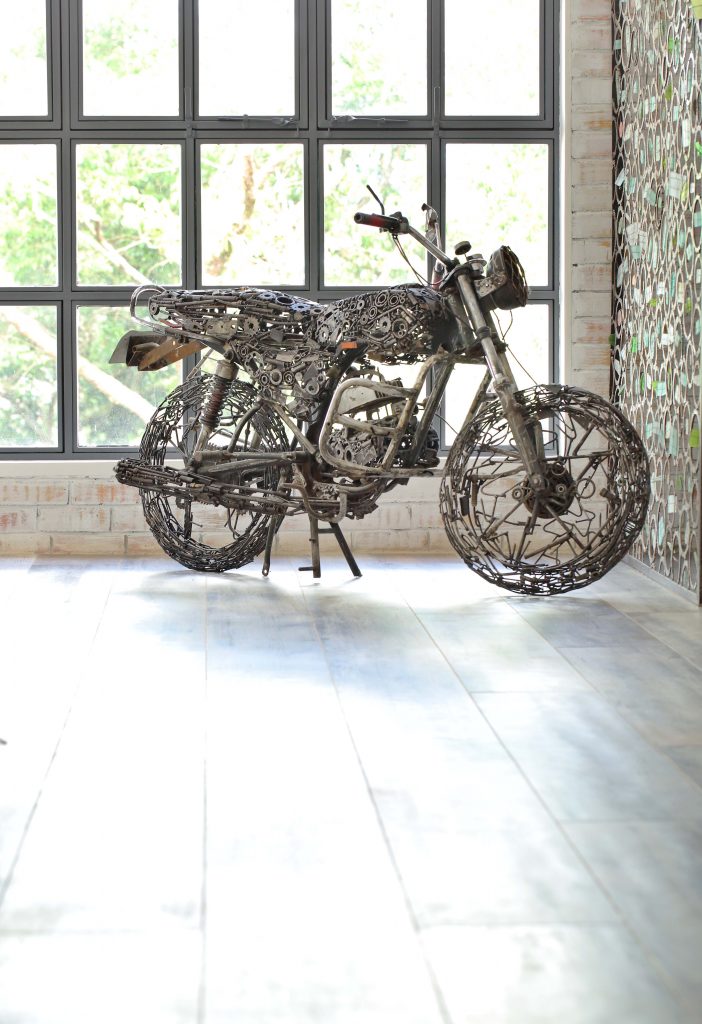 To read more about Latitude's new location click here