Dr. Sudhir Ruparelia, the Chairman and founder of the Ruparelia Group that runs and owns 88.2 Sanyu FM has spoken out in detail, explaining the staff exits at Uganda's No.1 youth radio station.
In a phone interview with this reporter, Dr. Sudhir said that the exits are regrettable but inevitable given the business circumstances, although he quickly hastened to add that in the actual sense, it was the staff that had chosen to lay down their tools and in effect sacking themselves.
"We made a business decision to cost-cut so as to make the business sustainable and protect jobs. We offered to talk and negotiate a solution but they instead chose to lay down their tools. They terminated themselves," he said.
"When you lay down the tools, you have broken contract and terminated yourself. The company has contracts on advertising and is actually making losses. If you have a contract and you stop doing that which you promised to do in the contract and you are absconding from work, in essence, you have terminated your own contract of employment," he said on the phone.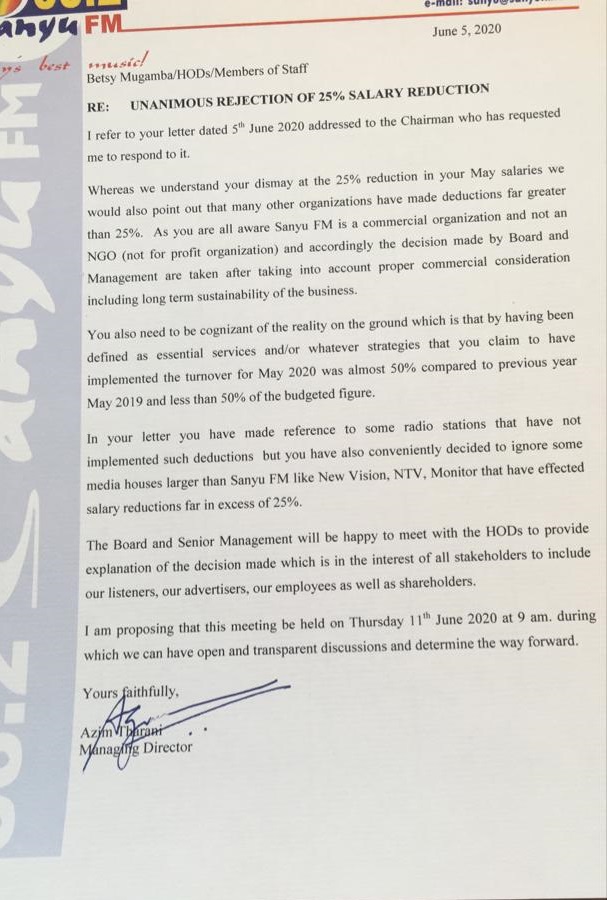 The businessman told this reporter that sometime, between March and April when the Covid-19 and the restrictive measures put in place by government started biting the radio station's earnings, "we had a meeting with management on cost-cutting measures so as to make the businesses sustainable and protect jobs."
"Management asked us to hold the salary revisions until May, because they said they would put in place strategies to halt the revenue reductions. But by the beginning of May, it was evident that the revenues were not recovering. Revenues had gone down by as much as 50%, thus the decision to cost-cut and that included a 25% salary revision for staff," he explained.
"However, the staff unilaterally rejected the decision and wrote to management and myself. We reverted to them and in a June 5th letter, asked them for a meeting on June 11th at 09am but unfortunately the staff instead laid down their tools and refused to meet- that meeting would have taken place today at 09 am but unfortunately staff did not allow that to happen," he said adding: "While we understand their disappointment with the salary cuts it is also important that they understand the business perspective of our decision. By laying down their tools, they even made the bad situation worse. Every day they are not working the business is losing even the little advertising revenue that we have on existing advertising contracts."
"Some employees had become arrogant thinking that the station can't work without them. I think we were very fair in trying to make them understand that the company is not making money," the businessman said.
He said that some employees had chosen to take hold of the company's twitter account which they were misusing but that would be handled legally.
"What they are doing is illegal," he said
He went on to say that the 88 Sanyu Fm was now searching for fresh talent to fill the void created by staff exits.
Founded in 1993 by the Katto family, Sanyu Fm is the oldest surviving privately owned radio station. Sanyu FM targets the 18-35 year old age group, or the ABC1-C2 socio-economic class with a brand promise offering "Today' Best Music".
This would not be the first time the station is hit and survives a massive start walkout. In 1996, there was a massive staff exodus that saw presenters like Rasta Rob, Christine Mawadri, Gloria Kamba, Samson Bill and RS Elvis all quit the station. Fresh blood that included the likes of Nash Kiwanuka, John Miles, Allan Kasujja, Ragga Dee and Emperor Orlando join the station to fill the void.
In 1999 the station was acquired by the Ruparelia Group from its founders.