OPINION: Umeme remains committed to powering Uganda's prosperity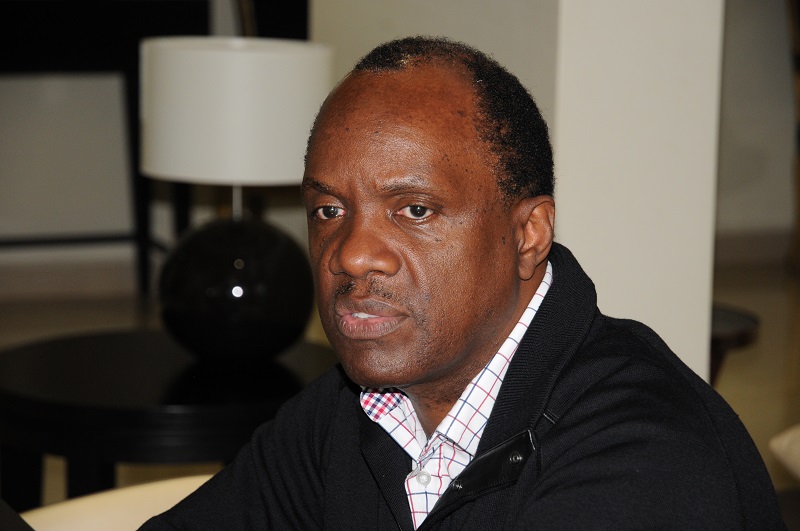 By Patrick Bitature
Umeme, would like to congratulate the government for having successfully gone through the 2019 Manifesto Week, that run from 13th -24th May 2019.
We particularly would like to applaud government, for having attained a mid-term manifesto implementation score of 62 percent to date, according to the Prime Minister, Dr Ruhakana Rugunda.
There are a number of milestones presented by the various government Ministries, Departments and Agencies, some of the key highlights such as the commissioning of the 183 MW Isimba Dam and the expected commissioning of the 600 MW Karuma Dam sometime this year – altogether raising Uganda's generation capacity to 1,767 MW by end of 2019 are worth mentioning.
Government's revival of Uganda Airlines, completion of the state of the art Neo-natal and Specialised Women Hospital at Mulago as well the expansion of Entebbe International Airport and the rehabilitation of Mulago National Referral Hospital which are both on course are also key achievements.
We were also glad to learn that the country's tourism foreign exchange earnings grew by 18% from USD1.37 billion in 2015/16 to USD1.63 billion in 2018 as a result of a 19% growth in tourist arrivals, from 1.3 million to 1.54million in the same period. This led to a 25% rise in employment- from 504,000 to 628,000 jobs.
In the 3 years, Uganda's exports also grew by 24.7% from USD2.9 billion in 2016 to USD3.6 billion at end of 2018, as a result of growth both in local and international investments- Foreign Direct Investments (FDI) increased by 12% from USD626 million in 2016 to USD700 million (Source: UNCTAD)
Private Sector Confidence Index in the economy, as measured by Bank of Uganda is also growing, from 53.6 at the beginning of 2016 and is currently at 58.6 (April 2019) on the back of better prospects.
Thanks to these and many other achievements, real GPD growth, according to the IMF has improved from 5.8% in 2017/2018and is expected to reach 6.2% this financial year. It is then projected to grow at an average 6.2% for the next 5 years on the back of government's continued investments in infrastructure.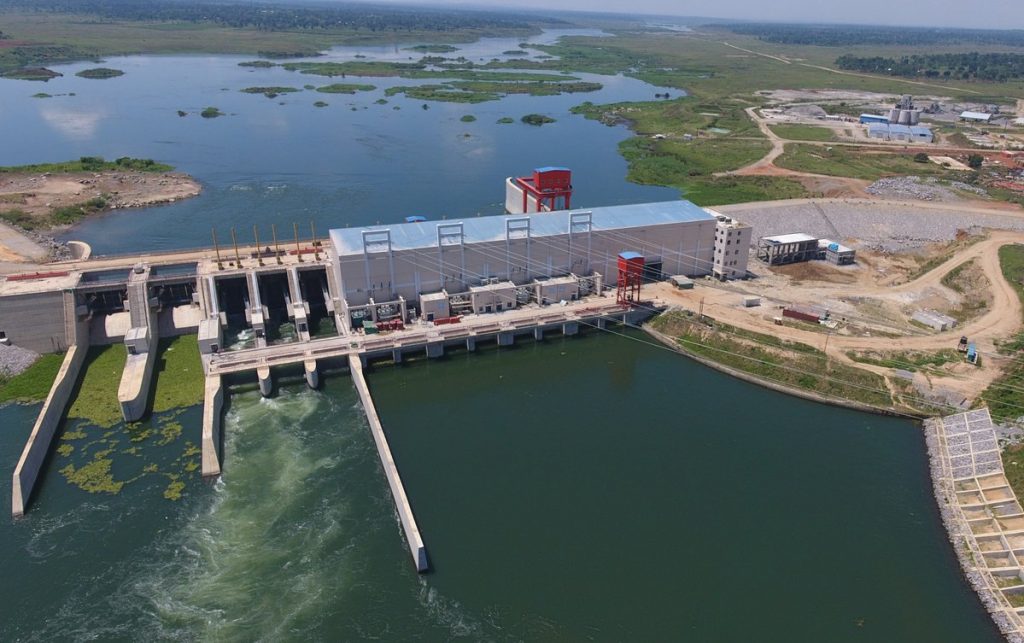 The IMF in their recent May 2019 Country Report on Uganda estimates that if (infrastructure) investments proceed as planned, growth could range between 6 and 7 percent over the next five years (3 to 4 percent in per-capita terms).
Umeme is proud to power all these achievements
Umeme, is particularly proud of being government's partner in powering all these achievements. In the last 13 years, Umeme has invested $627m (UGX2.4 trillion) into doubling the distribution network to over 34,000km from the 16,000km we inherited and growing customer connections by more than 4 times- from the 290,000 inherited to the current 1,291,811.
And specifically in these last 3 years alone, Umeme has invested UGX784 billionwhich has among many other achievements allowed us to grow the number of customers by 63% from 793,544customers at the beginning of 2016 to 1,291,811at end of 2018.
Particularly- commercial consumers (extra-large, large and medium industrial and commercial) grew by 63% from 69748to 113,579customers.
Suffice to add is that in line with government's strategic goal to continue this steady progress and take Uganda to modernity through jobs creation and inclusive development,
Worth noting is also the fact the number of direct jobs created by Umeme during these 3 years, increased by 12% from 1,348to 1,514employees. But more significantly, Umeme continued reducing the number of expatriates, from 13 at the beginning of 2015, to 6 in 2016 and finally 4 at the end of 2018- as more Ugandans assumed more senior roles in the business, as a result of a deliberate skills transfer process.
Key noting is that in 2015, we appointed our first Ugandan as Managing Director, Mr Selestino Babungi.
With all the above investments and improvements in the electricity sector, it is therefore no wonder that according the Uganda National Household Survey 2016/17, by Uganda Bureau of Statistics, 27% of Ugandan households (50.1%, urban and 17.5%, rural) reported that improved electricity had made their lives better. Better electricity came second to improved transportation services (34%). In the third position was development projects (25%), construction of new roads (25%), construction of new schools (18%) and new employment opportunities (14%).
Umeme would like to acknowledge the far-sighted leadership of His Excellency Yoweri Kaguta Museveni that is championing transformative infrastructure investments, especially in the energy and transport sectors, that has formed the stimulus for much of the achievements enumerated above.
We would also like to acknowledge the guidance from our regulators- directly, the Electricity Regulatory Authority (ERA) and indirectly, the Ministry of Energy & Mineral Development (MEMD) and Ministry of Finance, Planning & Economic Development who together with our generation and transmission partners have made it easy to come thus far.
An ambitious plan, needs solid investments
The next 5-10 years are going to be very critical in the energy sector of our country.
Uganda will soon have up to 1,767MW once Karuma comes on board and to absorb this extra capacity, government, has already set a very noble goal to extend power to 30% of the population by 2020 and 80% by 2040.
This goal is being supported by an equally ambitious free connections policy, targeting 300,000 new connections per year. This means Umeme's customer base must have crossed the 4 million-mark by 2017.
From our estimates, achieving the above targets, shall require significant investments focusing on uptake of new capacity, increased access, and driving efficiencies in the business operations. The resulting large geographical footprint shall require opening more service centres, building more substations, extending lines, injecting more transformers and recruiting more people on the ground.
Over the next 6 years, we estimate, that up to USD450 million is required for both capital expenditures (CAPEX).
According to recent estimates by Ministry of Energy and Mineral Development, when Isimba and Karuma HPP are commissioned and fully absorbed/utilized, it is expected that the weighted generation tariff will reduce from the current US Cents 6.47/kWh (UGX243.43) to US cents 5.34/kWh (UGX200.93), representing a reduction of 17.45%, which shall be reflected in the end-user tariffs.
Uganda has tasted the wrath of underinvesting in the sector before- we should not wait to get to where Kenya and South Africa are today. Never again!
With the approved costs we have today, there is going be various negative implications on the power sector namely:
Several of our new service centres will be closed and proposed new ones won't be opened, leading to poor service delivery;
The government free Electricity Connections Policy (Free connections), will be hard hit and ;
Investor confidence, both in the energy sector and largely in the economy could drop and this has a ripple effect on all the other planned targets for government in other sectors as energy is a key driver.
Relatedly, there is need to urgently close the ongoing concession extension discussions, so as to allow Umeme to mobilised the necessary funding in preparation for the big task ahead.
Time is of essence, everyday counts.
CEO OF THE MONTH: A tale of Fabian Kasi's 9 years at Centenary Bank and the making of Uganda's 2nd largest bank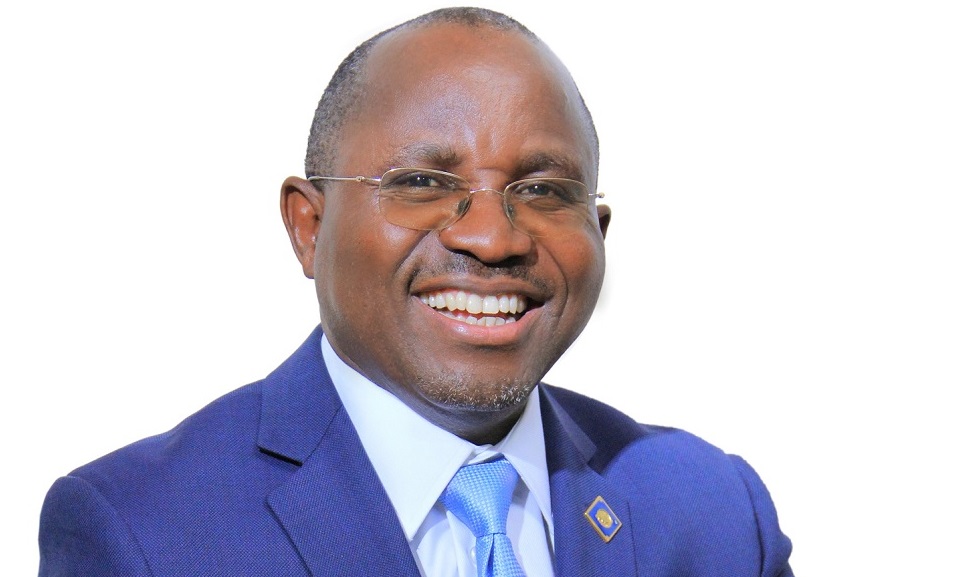 Centenary Bank's soft-spoken Managing Director, Fabian Kasi, this August, starts his 10th year at Centenary Bank- 10 years of impressive growth, whichever way you look at it.
Kasi, was among the first crop of indigenous CEOs to head the top 10 banks in the late 2000s- previously, a preserve of foreigners- mainly Kenyans. At the time, he became CEO in 2010, he was one of only three Ugandan CEOS of the top 10 banks- the other being Juma Kisaame (dfcu) and Nicholas Okwir (Housing Finance Bank).
Thanks to him and other good performing Ugandan CEOs, who broke the glass ceiling, today there are five Ugandan CEOs of the top 10 banks, but perhaps more importantly, the top three banks are all led by Ugandans.
Other than Centenary Bank, the No.2 bank, Stanbic Bank, Uganda's largest bank is headed by Harvard alumni Patrick Mweheire and dfcu Bank, in the 3rd position is headed by Mathias Katamba.
Just like Kasi, Katamba is also a home-grown CEO, who rose through the ranks and different banks.
Unlike the two other banks, Centenary Bank is also majority Ugandan owned- 70.1%. The Registered Trustees of 19 Catholic Dioceses in Uganda (38.5%), the Registered Trustees of the Uganda Episcopal Conference (31.3%) and 4 other Ugandan individuals own 0.4%.
ALSO READ: Money men: The 8 gentlemen who control 77% of Uganda's banking industry https://www.ceo.co.ug/money-men-the-8-gentlemen-who-control-77-of-ugandas-banking-industry/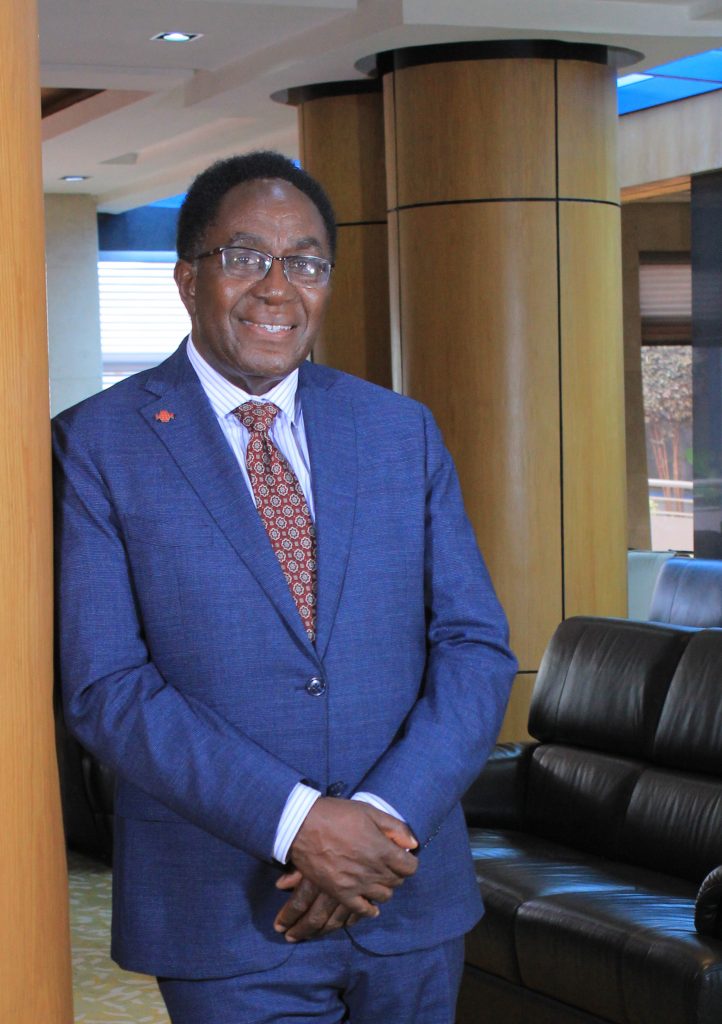 The remaining shares are owned by SIDI- Solidarite' Internationale pour le Development et l'Investissement (International Solidarity for Development and Investment) based in France that owns 11.6% and STICHTING HIVOS-TRIODOS FONDS, an investment fund, specializing in investing in microfinance and trade finance, managed by Triodos Investment Management in the Netherlands, owns 18.3%.
From fourth to the second largest bank in Uganda
During the 9 years of Fabian's reign the number of customers, has grown by 63.4% from 1,003,295 that he inherited in 2010 to 1,639,602 customers at the end of 2018- a compounded annual growth rate (CAGR) of 5.6%.
The number of branches has also grown from 48 in 2011 to 73 at the end of 2018, backed up by 179 ATMS at 132 locations across the country.
Fabian has also embraced digital banking and has over the last 5 years invested heavily in digital banking with a view to decongest the banking halls and ATMS- which is perhaps one of the bank's greatest undoings.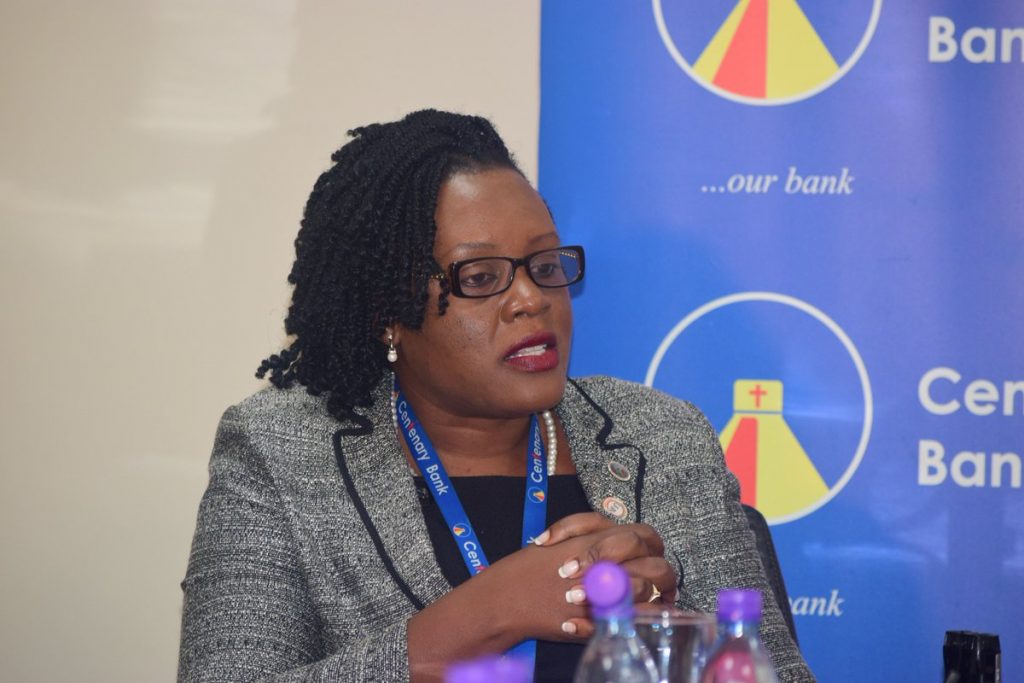 In October 2015, the bank launched its flagship Centemobile banking platform that enables clients to transact and access banking services on their mobile phones, whenever and wherever they are, as long as there is network coverage. The platform by end of 2018, had 701,801 registered customers of which 144,192 were active with 1,268,833 transactions by end of December 2018- accounting for 30.1% of the bank's transactions.
The bank also closed 2018 with 2,404 registered banking agents all over the country.
ALSO READ: Earnings of CEOs and Executive Directors of 23 of 24 of Uganda's banks: https://www.ceo.co.ug/exclusive-earnings-of-ceos-and-executive-directors-of-23-of-24-of-ugandas-banks/
These innovations and an aggressive expansion strategy, has seen customer deposits grow 4 times or 261.8% from UGX630.8 billion in 2010 to UGX2.3 trillion in 2018- an annual compounded growth rate of 16.4%.
Growth in deposits, has facilitated a 261.8% growth in lending from UGX395.8 billion to UGX1.53 trillion in the same period- allowing the bank whose 75% of income is derived from interest income, to grow by 200.4%, from UGX189.1 billion in 2010 to UGX568.2 billion at the end of last year. Profitability over the 9 years has also grown by nearly four times or 266.1%, from UGX29.4 billion in 2010, to UGX110 billion in 2016, declining minimally to UGX100.1 billion in 2017 and closing 2018 at UGX107.6 billion. Overall, profits have grown by an average 15.5% annually- above the industry average.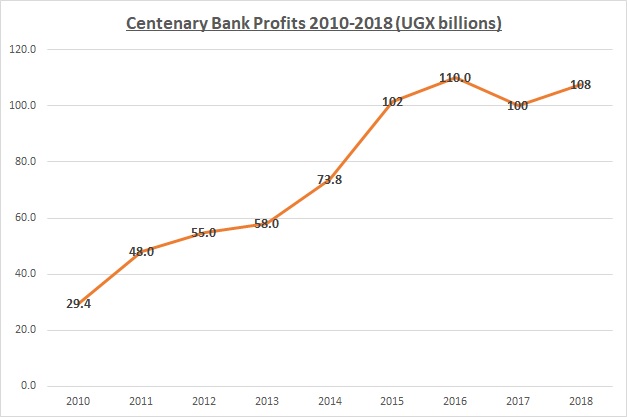 The bank's asset base has as a result also grown by nearly 4 times or 292.8%, from UGX807.2 billion in 2010 to UGX3.2 trillion in 2018- an annual CAGR of 16.4%.
This impressive growth, led by an all Ugandan trio- Fabian, together with Simon Kagugube, the Executive Director and Prof. John Ddumba Ssentamu the board chairman for the 9 years, has seen Centenary Bank move from the fourth largest bank by assets- UGX807.2bn and 7.12% market share in 2010 to the second largest bank with UGX3.2 trillion and 11.3% market share at the end of 2018.
To put this into perspective, by end of 2018, Centenary bank was larger than the Ugandan asset base of 11 banks at the bottom of the chain combined i.e. Ecobank, United Bank for Africa, Tropical Bank, Exim Bank (Formerly Imperial), NC Bank, Guaranty Trust Bank, Finance Trust Bank, Bank of India, Commercial Bank of Africa, Cairo International Bank and ABC Capital Bank.
The 11 banks together had UGX2.6 trillion in assets.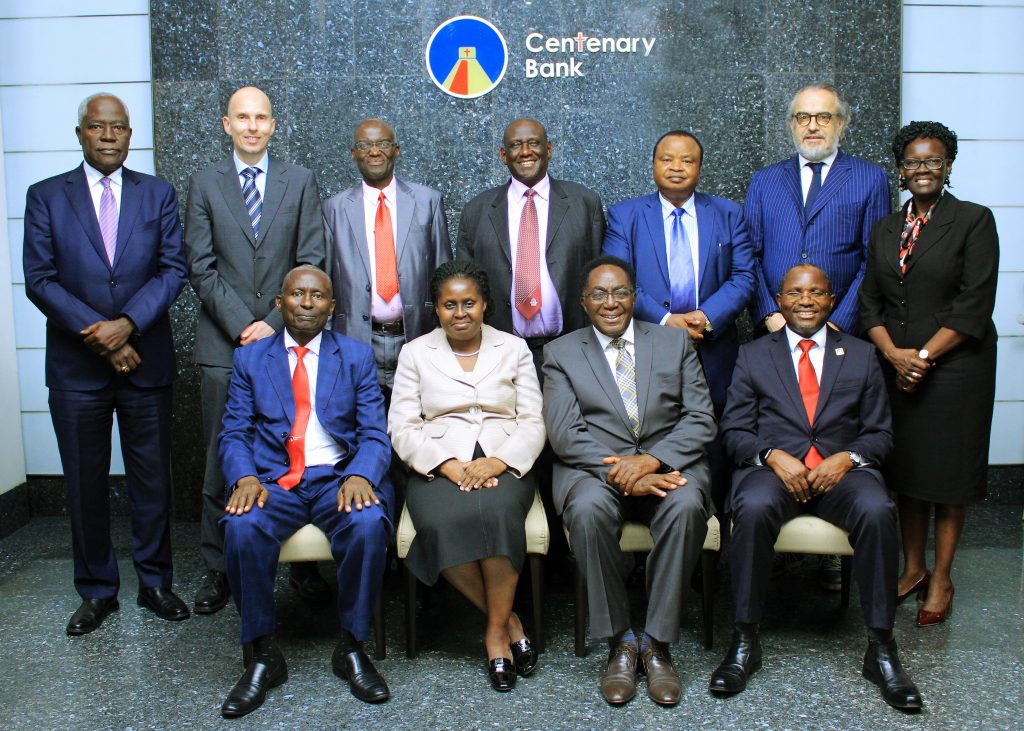 The bank has also jumped from the fourth biggest deposit taker- UGX630.8bn and 7.82% market share in 2010, to become the second biggest deposit taker, receiving UGX2.28 trillion and 11.7% of industry deposits at the end of 2018.
At the end of 2018, Centenary, had also grown from being the fifth biggest lender with UGX395.8bn loan book and 7.32% market share in 2010 to become Uganda's second biggest lender with UGX1.52 trillion lent out, translating into 12% market share.
As a result, the bank has also moved from being the fourth most profitable bank- UGX29.3bn and 10.3% market share in 2010 to the second most profitable bank with UGX107.6 billion or 14.3% of industry profitability.
But who is Fabian Kasi?
Fabian has been a banker almost all of his working life.
He started as a Banking Officer at Bank of Uganda in 1992. After eight years, he briefly worked as a Director of Finance & Administration at Finca Uganda, a global microfinance organisation, before heading out to Rwanda's Banque Commerciale du Rwanda (BCR) as CFO.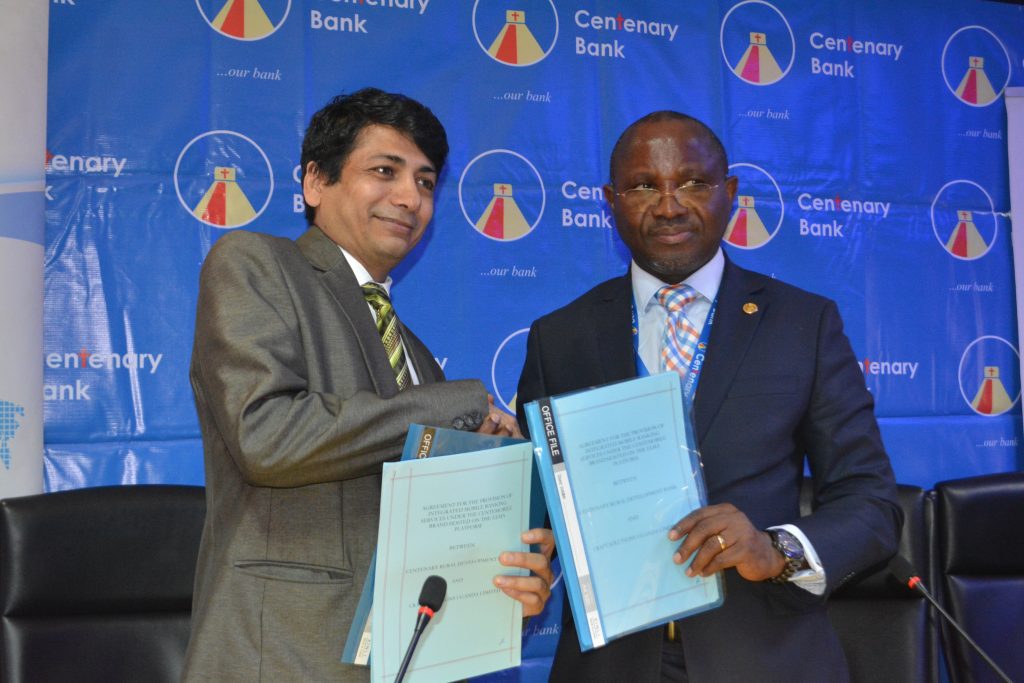 After just 9 months in Rwanda, he was appointed the Managing Director for Finca a job he held for 8 years and 3 months.
He was appointed Centenary Bank Managing Director in August 2010.
He holds a Bachelor's degree in Commerce and Accounting from Makerere University, as well as an MBA from the University of New Castle in the UK.
OPINION: There's much more benefits to offshoring than merely tax avoidance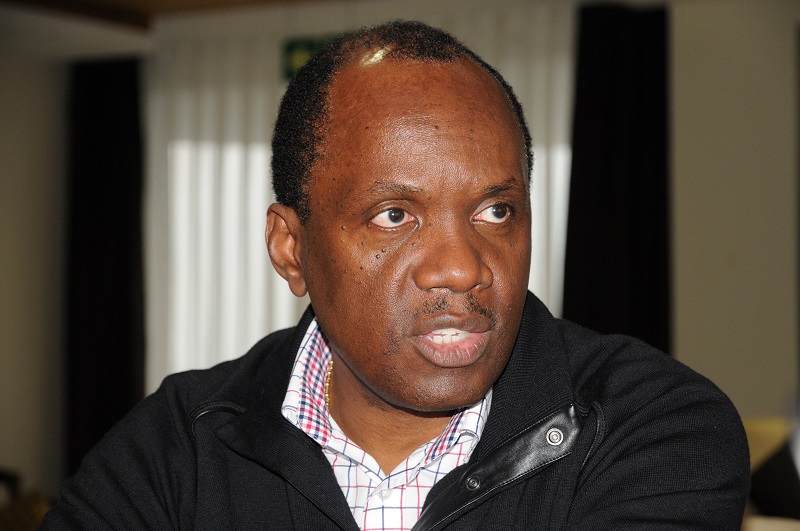 Yesterday, July 23rd, one of the leading dailies in Uganda, run a screaming headline, "Leaked papers reveal Bitature offshore links."
Now, Patrick Bitature, is one of Uganda's leading businessmen, founder and CEO of Simba Group- a conglomerate of East African companies spanning telecommunications, real estate, power generation, agro-business, oil and gas, tourism and social enterprise, so such a headline is bound to attract every reader's attention.
In the newspaper story, it was alleged that Electromaxx, an energy firm in which Mr. Bitature, is a major shareholder, had "benefited from an energy investment structured in Mauritius, which according to tax analysts, smacked of "a deliberate aggressive tax planning" to benefit from the Double Taxation Agreement (DTA) between the Indian Ocean island nation and Uganda."
In an early anti-climax, the authors went on to mention in their story that: "There is nothing criminal in a business person or entity exploring tax payment in a jurisdiction where it is least, technically called tax avoidance."
Having sucked out the legal juice out of their own, story, they went for the moralist angle, and regurgitated a March 16, 2015 report, by Oxfam International, a global NGO which argued that tax avoidance, while legal, had an indirect impact of widening income inequality as "wealthy individuals and multinational corporations pay the least tax by establishing offshore firms in tax havens while the poor choke on taxes in countries of citizenship."
The story itself, is draw from what has now come to be known as the Mauritius Leaks- a hoard of about 200,000 confidential client documents leaked from the Mauritius office of the Bermuda-based offshore law firm Conyers Dill & Pearman that is said to paint a little bit more detail on businesses from all over the world that hired the law firm to help them offshore some or all of their operations and processes in Mauritius.
The leaks are part of an investigation by International Consortium of Investigative Journalists (ICIJ) and 54 journalists from 18 countries, including Uganda.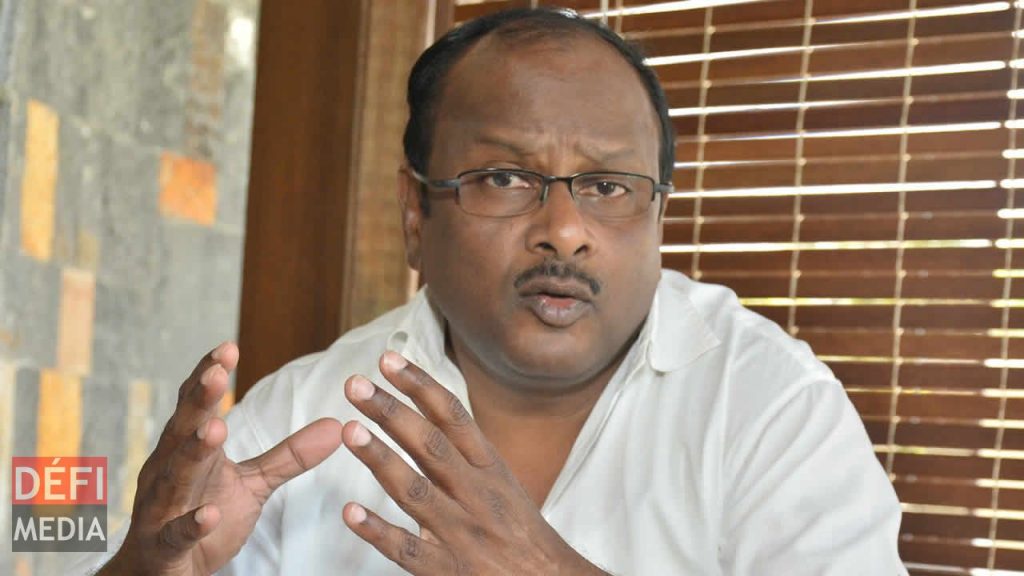 The screaming headline aside, that at a first reading, suggests some mega corporate scandal, on closer reading, reveals an author who has fallen hook line and sinker for the syndicated NGO world view, albeit imbalanced, that offshoring, solely exists for purposes of tax avoidance.
Speaking of moralism, I would have expected so bit of "fixing the log in one's eye, before going for the speck in the neighbor's."
For those who may not know, the Monitor Publications, which publishes the newspaper in question, was at 31st December 2018, 83.3% owned by Nation Media Group (NMG), itself 44.66% owned by Aga Khan Fund for Economic Development, S.A (AKFED) a company incorporated in Switzerland the 4th biggest tax haven, after Bermuda, Cayman Islands and Netherlands on Oxfam's 2015 list of 15 biggest corporate tax havens.
Mauritius is No.14 on the same list.
AKFED which is wholly owned by The Aga Khan Development Network (AKDN), also registered in Switzerland, operates a network of more than 90 separate project companies all over the world, with revenues of USD4.3 billion in 2017!
In Uganda, other than Monitor Publications Ltd, AKFED either, wholly or partially owns companies such as Bujagali Energy Ltd, Kampala Pharmaceuticals Industries Ltd, Leather Industries of Uganda Ltd, Uganda Fishnet Manufacturers Ltd and West Nile Rural Electrification Company.
Others AKFED companies are: Diamond Jubilee Investment Trust Uganda Ltd, Diamond Trust Bank Uganda Ltd, Diamond Trust Properties Uganda Ltd, and The Jubilee Insurance Company of Uganda Ltd, Jubilee Investments Company Ltd and Tourism Promotion Services which owns the Serena Hotels chain.
I would have expected someone to first explain a little bit of detail on the USD$4.3 billion log, before we get to Bitature's USD5 million speck!!
Beyond tax avoidance; the importance of offshore financial centres
Enough of this whataboutism.
Pardon me if I went on and on about AKFED, but I am simply trying to demonstrate that beyond the overzealousness with tax avoidance- as the biggest motivator of offshoring, there are many other reasons; call them benefits, why businesses could choose to offshore some or all of their operations.
A detailed and balanced look at offshoring would do justice to everybody.
In fact, AKDN and AKFED on their website, try to offer an insight on why they chose to be headquartered in Switzerland, regardless of the fact that they have very little actual business going on there.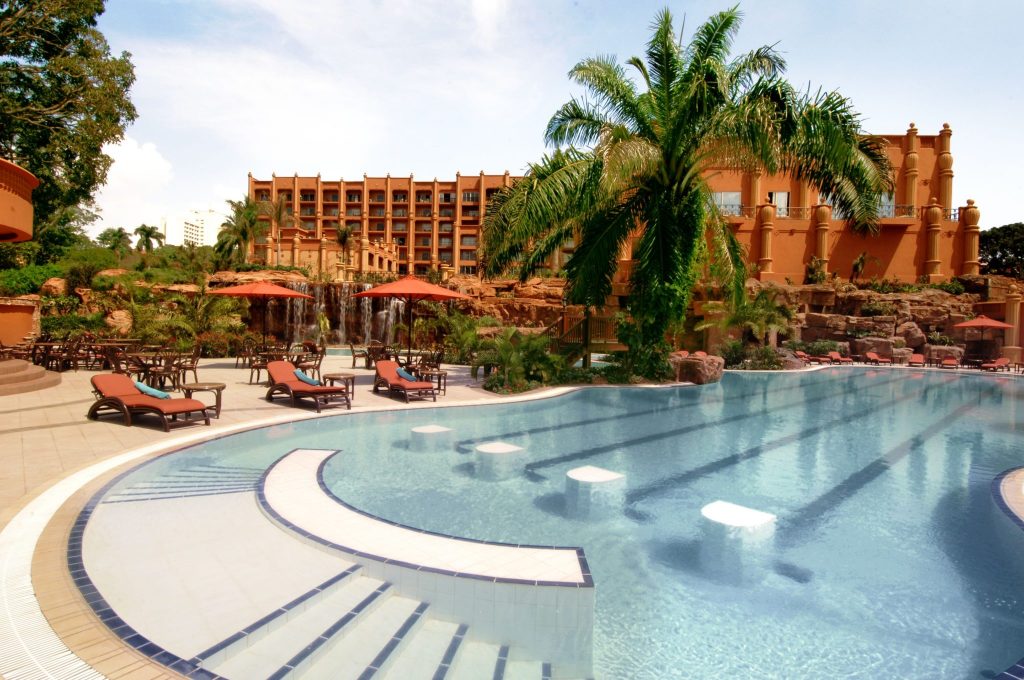 "Switzerland is also the location for a number of activities, including the coordination of development programmes within AKDN and with international partners," the group explains, adding: "The Aga Khan Fund for Economic Development's (AKFED) Industrial Promotion Services (IPS) in Switzerland acts as a focal point and technical clearing house for Industrial Promotion Services (IPS) companies."
In the above explanation, lies one of the major reasons for offshoring, because, offshore financial centers allow companies or investment funds to operate internationally without having to put up with the several different sets of rules in the various jurisdictions where they operate and, in the process incurring more costs of operating.
Of course there are numerous other benefits such as access to cheaper financing, guarantees of more economic stability e.t.c.
But away from the well documented benefits of offshoring, there seems to be a general misrepresentation, fanned by especially the purveyors of these leaks, NGOs and activist journalism that these countries that have been collectively branded as tax havens are some sort of dubious and corrupt hellholes where businesses or individuals, wishing to conceal their businesses dealings are given a red carpeted welcome.
To the contrary, most, if not all these countries have some of the best global corporate governance, transparency, competitiveness and ease of doing business rankings- which is why they are a popular destination of the world's biggest corporates.
Let's take Mauritius for example; in the 2019 Ease of Doing Business Report by World Bank, Mauritius is ranked in the 20th Position and is the only African country in the top 20- Uganda is the 127th.
In the World Economic Forum's Global Competitiveness Report 2018, Mauritius is ranked No. 49 (again the only African Country in the top 50) – Uganda is in a distant 117th position.
Mauritius is ranked as No.6 globally, by PricewaterhouseCoopers and the World Bank Group in their Paying Taxes 2019 Survey, which investigates and compares the ease of paying taxes in 190 country tax regimes.
On the Corruption Perceptions Index 2018, Mauritius is in the 51st position and along with Seychelles, Botswana, Capeverde, Rwanda and Namibia, they are the only African countries in the top 60 least corrupt countries; Uganda is the 149th.
Do we now begin to understand why, if given choice and with the supporting legal framework, it would be every business' dream to be domiciled in a country like Mauritius or Switzerland where things seem to be working?
I do believe, rather than whine about how more and more Ugandan businesses are choosing to register in the so-called tax havens, attention should be refocused on addressing key issues constantly raised by the private sector such as high tax rates, low tax morale, corruption, access to affordable financing, inadequate infrastructure, government bureaucracy etc.
We should probably be planning on sending our policy makers to Mauritius for some hard lessons on how to make economies work.
All said and done, if there is any wrong doing established, it should also be punished. However, I do believe that fairness demands that a little more investigations by competent authorities be done, before the screaming headlines.
The writer, is Executive Editor, CEO East Africa Magazine.
UBL board hails Mark Ocitti for resounding growth and innovation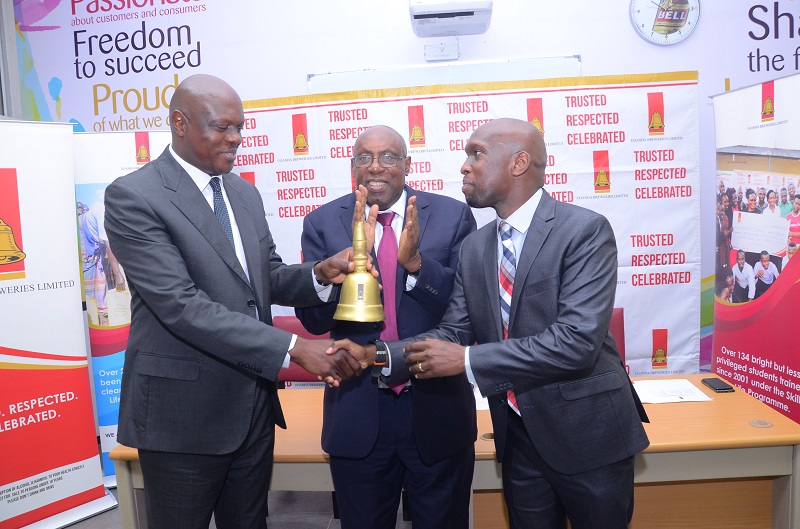 The Uganda Breweries Limited (UBL) Board of Directors, has hailed outgoing its Managing Director, Mark Ocitti for what they called: "great milestones, resounding business growth, capacity expansion, impactful community projects in education, sanitation and a spirited, empowered staff."
Addressing a farewell press conference, on Thurday, July 11th attended by UBL's senior and middle management as well as members of the media, UBL board Chairman Japheth Katto, said that Ocitti's 3 years at the brewery have set up a great foundation to deliver future "great performances" thereby "returning significant value to our investors for years to come."
"In the last 3 years, the business has registered a year-on-year average growth rate of over 30% in volumes and over 6% in topline delivery, which has cemented our market leadership of over 54% of market share by value in Total Beverage Alcohol (TBA) in beer and spirits," said an excited Katto.
"We have significantly grown our numeric distribution by over 25%, which has manifested in the distinctive visibility and increased availability of key brands like Bell, Pilsner, Tusker Lite and Guinness. This is reflected in the growth of the retail outlets handling our products by 28,000 outlets in 3 years thus growing the households we impact positively by over 80,000," he added.
Although Kato did not delve into the specific details of UBL's financial performance under Ocitti, CEO East Africa Magazine, understands that Ocitti inherited a gross turnover book of UGX377.8 billion and a profit of UGX34.6 billion for the year, ended March 2016.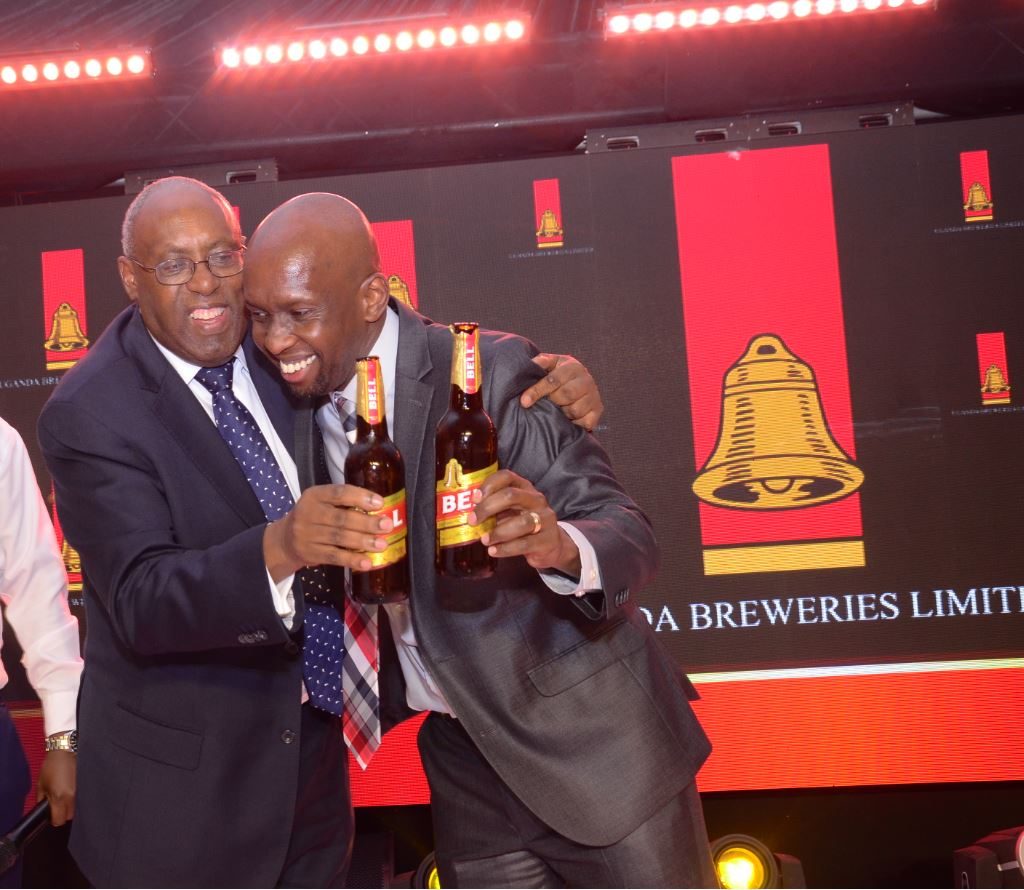 By end of March 2017, sales revenue grew by 6.5% to UGX402.5bn and in the year ending March 2018, sales revenue jumped by a further 6% to UGX426.7bn- a compound annual growth rate (CAGR) of 4% across the 3 years.
During this time, Ocitti who is a sales and commercial expert by background, narrowed down the gap between UBL and Nile Breweries, their arch-rivals from UGX189bn in 2016 to UGX126.4 billion- UBL's gross turnover for 2016 was UGX377.8bn compared to NBL's 567.7bn while in 2017 UBL sold UGX402.5bn worth of drinks compared to NBL's 528.9bn.
Ocitti's exciting, challenging and fulfilling 3 years
Mr. Ocitti is heading to Tanzania as the Managing Director for Serengeti Breweries Limited, a member of the East African Breweries Group and as such, part of Diageo, effective August 1, 2019. Ocitti who possesses over 20 years of business leadership in Oil & Gas, telecoms and beverages sectors, is the second Ugandan to lead UBL after Baker Magunda is also the second Ugandan Managing Director within the Diageo family working on the African continent, outside their home market. Ocitti also joins 14 other Ugandans that Uganda Breweries has exported to Diageo's affiliate companies in Kenya and the United Kingdom.
"On behalf of the Board and our investors, I thank you, Mark for your hard work and delivering on your commitment to build and grow the business you were given charge of. Your stewardship has sustained our leadership in innovation, delivered market share command and significantly improved the opportunity for our consumers to access their favorite brands. We challenge you to carry the winning attitude you infused in the staff and fly the Ugandan flag high in Tanzania and wherever else you will go after that," he said.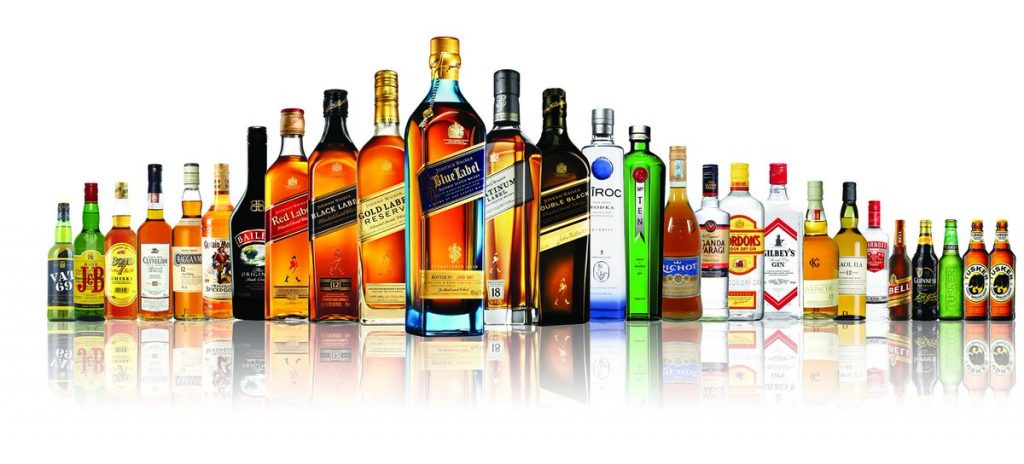 Mark will be succeeded by Alvin M. Mbugua
A seasoned commercial professional, Mbugua joined East African Breweries Limited (EABL) in May 2013 as the Group Finance Controller before transitioning to Uganda as Finance and Strategy Director in October 2015. Prior to his new appointment, Mbugua was Head of Sales of the biggest Sales division in Kenya Breweries Limited (KBL), a role that he has held for the last 17 months.
Mbugua was also recognized as 2017 Chief Finance Officer of the Year and took home the Strategy Execution Award at the Annual CFO Awards organized by the Association of Chartered and Certified Accountants (ACCA) and Deloitte Uganda.
On his part, Ocitti said he was "really honored to have presided over Uganda Breweries at a time when it has achieved the kind of growth that has been spelled out by my Chairman," he said adding that the three years had been "exciting, challenging and fulfilling all at the same time."
He said the three years, had "defined the legacy of Uganda Breweries for years to come" as UBL had "received the most overwhelming stamp of approval from our consumers as they sampled one or more each of our wide category of alcoholic beverages.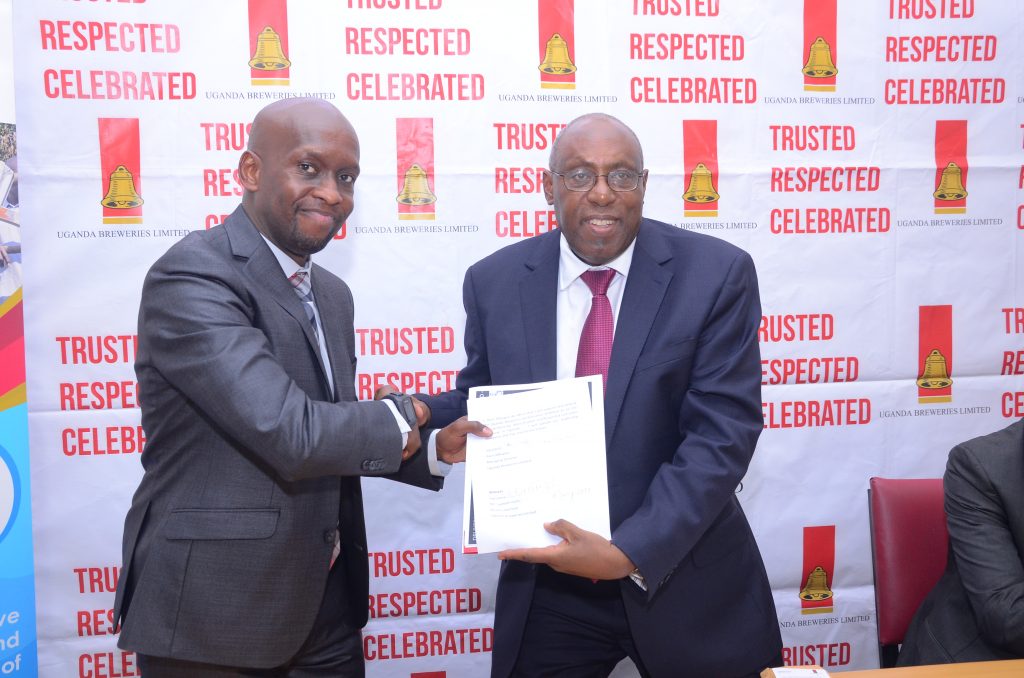 "I am really honored to have presided over Uganda Breweries at a time when it has achieved the kind of growth that has been spelled out by my Chairman," he said adding that the three years had been "exciting, challenging and fulfilling all at the same time."
Truly, truly excited to be back
Welcoming Mbugua, Katto said that he was confident in his abilities to lead the company forward as Uganda's most trusted, respected and celebrated company.
"I have no doubt that the leader we are getting in Mr. Mbugua will enable us to continue to deliver unprecedented sustainable growth whilst continuing to drive a winning culture for our staff so we can export more Ugandan talent to take over more corners of this continent," said Kato.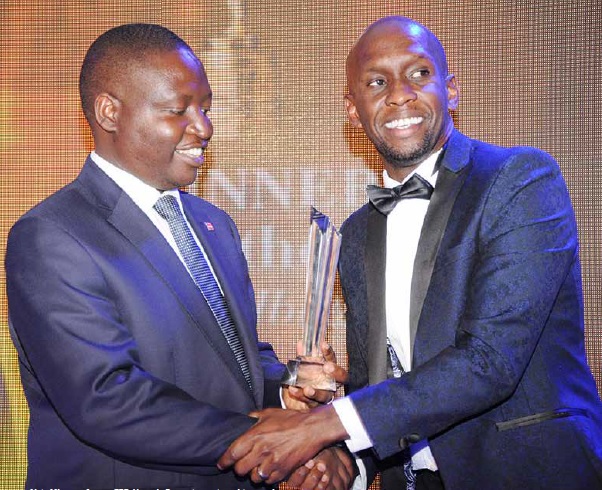 Mbugua, who said he was "truly, truly excited to be back" said his return was a in "a big way a continuation of the building blocks" laid before when he was Finance & Strategy Director and that he returns as a "much more experienced and fine leader" following the commercial role he played in Nairobi, after Uganda.
"I truly feel humbled to be taking the stewardship of the 4th largest tax payer in Uganda. It is no light task, I must bear witness to that. Chairman, with the confidence that comes from the board and yourself, I really want to lay out and commit, on behalf of myself and my team, that we will continue the great work and achievements left by Mark Ocitti and the other MDS who left before," he said.
"UBL has been around now for over 70 years. We are the generation that is taking UBL into the 2020s and see UBL become 80 years old; it is no mean feat and we do not take it lightly. We understand what our forefathers have done before, we appreciate what Mark and his team have done up to this point and ours is to continue the heritage; that great story and hopefully, pass over a company to the next generation that is far greater than what we found it. That is the only gift that we can give back to Uganda, the young people coming up, and to ourselves, as we serve in leadership at this time," he said.