By John Babirukamu
Patrick Amama Mbabazi launched his 2015-2016 presidential campaign with a masterstroke that shock the country. A well-produced video launched on YouTube, not television or radio. And yes, while it spread countrywide over those traditional channels (and WhatsApp), the initial digital launch had the whole country wagging tongues about the "modern launch", how it was such a huge surprise and the seemingly inadequate response it got from the established political players.
The folly of 2016
And that was as far as the political candidates got to strategically use social media in that election.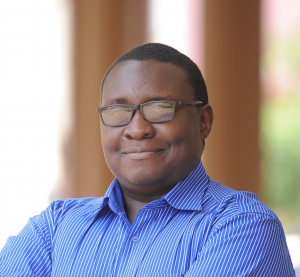 They all, seemingly, unanimously chose to leave digital media to the fringe of the campaign efforts, focusing on town-to-town activations, newspaper articles, as well as radio & TV interviews. Social media was completely ignored, except for NRM that had a robust influencer strategy and made the occasional posts reporting the progress of the presidential campaign.
No live video interviews, no video streams of the campaigns, no Amama-like digital masterstrokes and more critically, the entire focus was put on the presidential candidates, leaving the other elective offices like MPs out of the social media limelight.
The resulting effect was that the political winds, on social media, were left to individuals and more importantly to media houses, whose coverage drove new following to their pages in the hundreds of thousands.
With an estimated 1.5 million eligible voters on the Facebook alone (10% of the registered electorate) in 2016, the social media conversations were left to the 2 biggest televisions flaunting their live coverage of every event, and the 2 largest newspapers and a bunch of smaller online publications to provide coverage.
Apart from NRM's influencers, there was no conceited strategy to drive the narrative, with conversations instead being driven by individual political actors.
How Social Media transformed the 2016 US Election
The 2016 US election on the other hand, was an example of the power of social media in this millennial & Gen Z age. Donald Trump's campaign diverted 50% of all its campaign funds into a gigantean digital marketing effort that saw them spend $1 million per day on online advertising. Specialist teams focused on problems of local communities, targeting them with customized ads speaking to their exact needs. In our local context, imagine ads talking about traffic jam targeting areas where residents suffer this very problem every day, ads on income inequality targeting slums and ads on power cuts targeting Najjera, Ntinda, Kiwatule and so on. It stops becoming hypothetical, talking of national issues that the ordinary person is less inclined to be passionate about. It becomes personal, speaking to everyday issues the affect voters in their own unique way.

This was the genius behind Donald Trump's win. It was how he was able to overshadow his consistent missteps and scandals, weather his failures in the debates and alongside his Evangelical media partners like CBN & Fox news, counter the consistent barrage of bad press he got in the mainstream media.
The Bobi Wine effect
In August 2015, after the Amama launch, I took an in-depth look at the social media activity of the main contenders of that race H.E. Yoweri Museveni, Kiiza Besigye, Nobert Mao and Amama Mbabazi. It showed an overwhelming lead by the President in social media following, engagement (their post likes, comments & shares) & earned reach, a measure of how widely everybody else talks about these candidates. The president not only out-posted & out-engaged his opponents, he was the main topic of discussion.
What I now admit was sorely lacking in that report was sentiment. A measure of how positive or negative that earned reach was.
With hindsight, I can equivocally say that a huge bulk of that was positive for Kiiza Besigye, in-spite of his inactivity. (Something that hasn't changed much since). That bulk of support has since shifted to Bobi Wine aka Robert Kyagulanyi, with Besigye relegated to the fringe.
Bobi has without a doubt brought a freshness to the digital game. With passionate politically driven music videos, live images & video of his skirmishes with Police and the opening up of his private life. His pictures and videos of his adorable young family, Ghetto photoshoots and a depiction of his daily life have often gone viral in 2019, competing favorably with the President's occasionally, and equally adorable, pictures with his grandchildren, on his farm with his daughters or on the various trips his has made both here at home & abroad.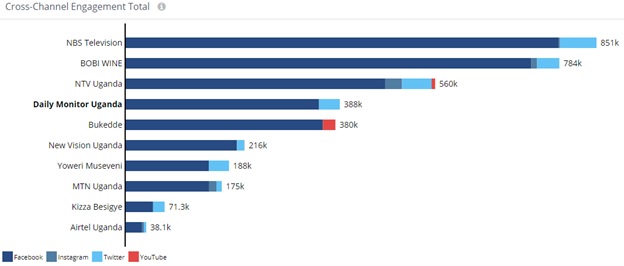 This slag-match of adorable images has by far out-shined Kiiza Besigye's consistent doom and gloom image online, and relegated other political leaders like Nobert Mao to the scrap heap of history. Even the occasional jocular reminders that Edward Ssekandi is alive and still vice president have gone more viral than any content these apparently 3rd tier political leaders have brought to bear.
The Bobi Effect has proved that Ugandans are hungrier for content with hope, content that is relatable for the average Ugandan, and like Donald Trump's campaign proved, Content that is contextual. With 85% of Uganda's Social Media users being urbanites under 30 living in Greater Kampala, Bobi Wine undoubtedly has a natural appeal as seen in the table below, showing the top 10 most engaging Social Media profiles in Uganda in the 1st half of 2019.
Tackling the Bobi Effect
Like Amama, I suspect Bobi Wine's Social Media bubble will burst when it comes to articulating the issues at hand. On the ground in the campaigns, on radio and television and online as the campaign goes on. A lot has been said about how he flakes when the real contextual questions are asked like his bundling up of questions on Fiscal policy. While he undoubtedly excites a huge crowd with a veneer of freshness & optimism, he is prone to being painted with the naivety of just being another "ghetto musician".
To really beat this, the other political actors will have to follow or employ a Trump like digital campaign driven by data like which issues are pertinent in which areas and focus their advertising spend on those particular areas.
Of course, the 2016 US Election has since caused a backlash on political advertising, particularly this type of micro-targeting of ads. Twitter in particular has since banned political ads. But as the table below shows, Ugandans on Twitter are not nearly as many as those on other channels like Facebook which still accept micro-targeting, even by Phone Number & email.
Each campaign must critically look at their strategy to include this small, but influencial number of the electorate. Clear strategies have got to be put in place to effectively use social media advertising as a tool for getting a good share of voice, investment in graphics & Video production to visually articulate campaign messages and most importantly, create databases to micro-target interest groups with specific messaging & ads (Women, Youth, Unemployed, Veterans, Farmers, proffesional bodies e.t.c.)
Campaigns will also have to put aside a piece of the pie for local elections like MPs, Councillors, Mayors etc. Particularly in greater Kampala (Kampala, Wakiso & Mukono) where the bulk of social media users live. And in the top 10 major towns using Facebook below.
While we won't expect a Trumpesque $1 million per day digital campaign, with candidates choosing to focus on the good old traditional means like radio & TV, Social Media and online advertising are going to surely be a huge part of the upcoming political duels.
The writer is the Digital Director of QG group and a digital marketing professional with 14 years' experience in Digital marketing in Uganda & Rwanda.