ISPs warm up to Raxio's Data Centre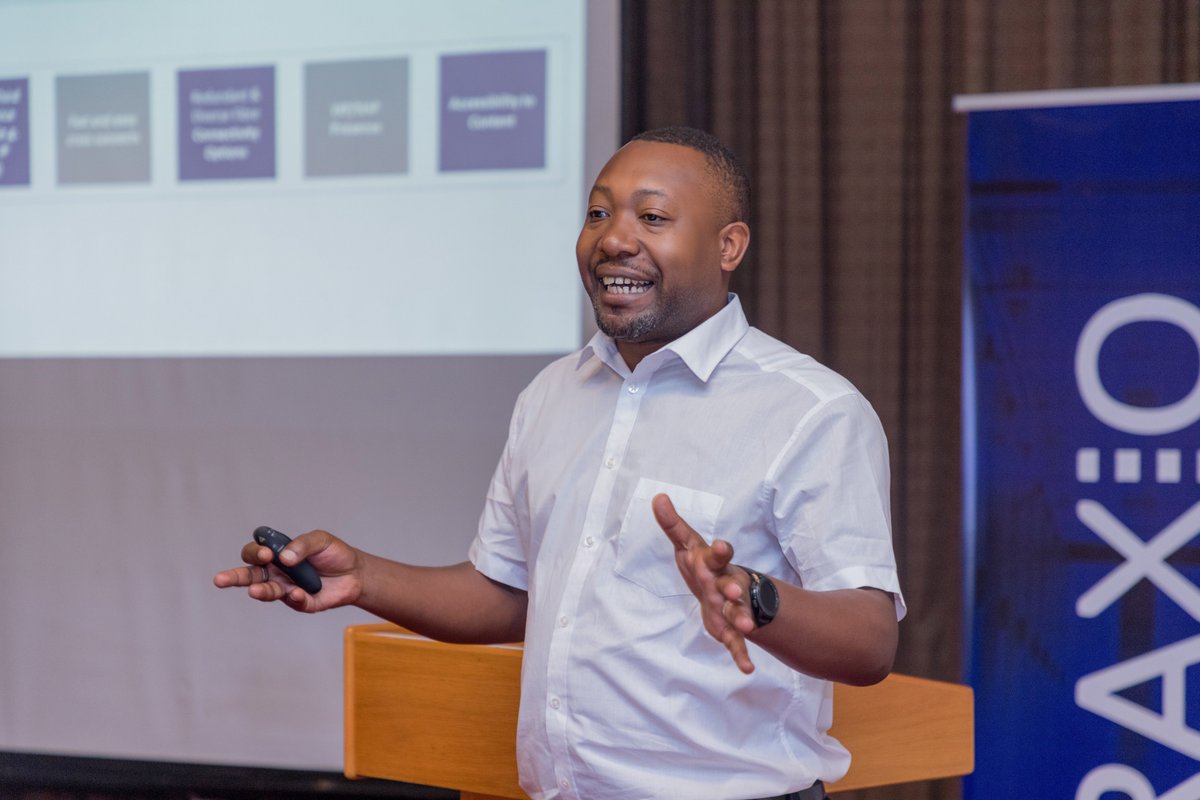 Internet service providers in Uganda have warmed up to Raxio's carrier neutral data centre, currently under development, saying the project will create operational efficiencies and save up the much needed capital for investment in other areas.
Speaking on Friday 3rd May 2019, at a breakfast hosted for the Internet Service Providers Association of Uganda (ISPAU) by Raxio, Godfrey Sserwamukoko, ISPAU chairman, said Raxio's entry into the market was a stitch in time.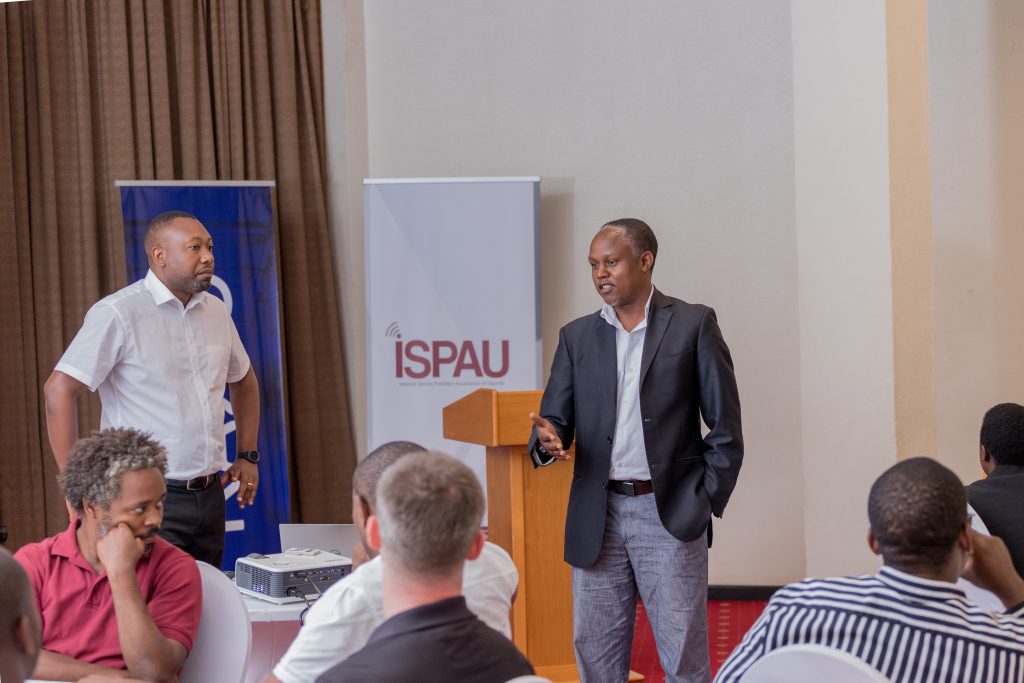 "As an association, many of our members are constrained by challenges ranging from inadequate financing for ICT capex to the use of inefficient infrastructure. With Raxio's solutions, our members and the wider market is set to benefit from a unique range of solutions fit for every type of business," he said.
Mr. Robert Mullins the Executive Director of First Brick Holdings (FBH), the parent company of Raxio Uganda said that Raxio's carrier neutral data centre would "reduce the total cost of ownership, improve operational efficiencies and allow clients to free up capital that can otherwise be used for client facing roles."
James Byaruhanga, Raxio's General Manager, said that Raxio exists to provide an environment where organisations- public sector, private sector and not-for-profit – run their critical systems with increased reliability, connectivity and security.
"Our commercial model offers ISPAUs members an opportunity to improve their operational efficiencies through economies of scale. For example we have an option to lease out equipment for those who do not have adequate capital to buy brand new equipment" he said, adding: "In addition we also have a service where we help new clients move their equipment to the new data center", he added.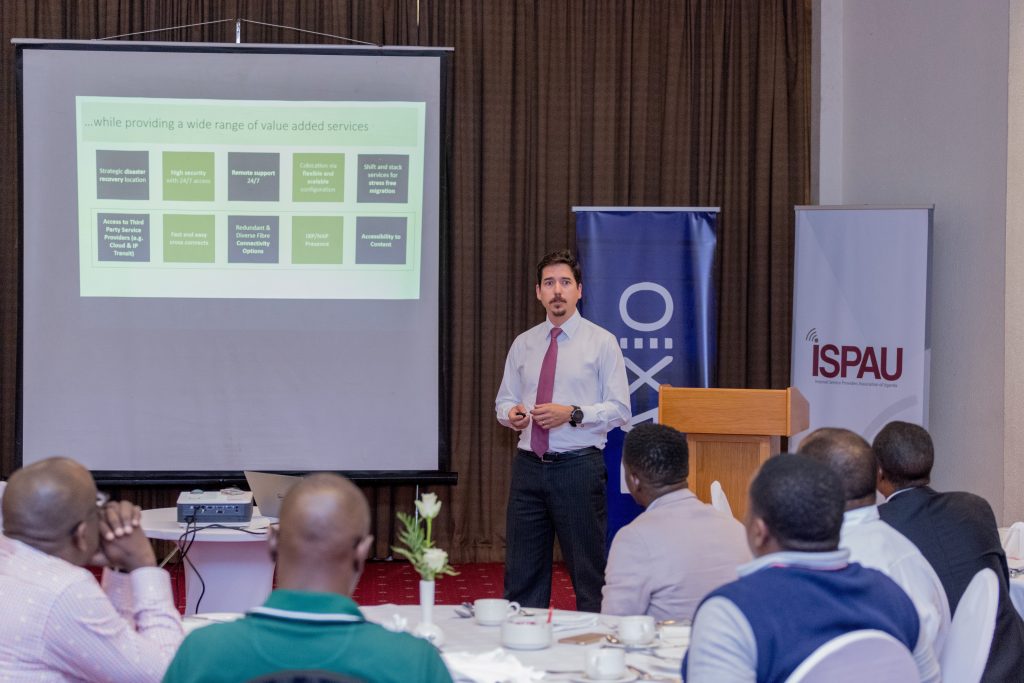 He also announced that ISPAU members stood to benefit from up to 30% in discounts, if they signed up between now and 31st July 2019.
Raxio, is a First Brick Holdings' (FBH) company; itself a portfolio company of US-based investment firm, Roha Group Inc. FBH, plans to build multiple data centres in the East and Southern Africa region – a total investment of approximately $50 million that will see at least up to 5 data centres going live by 2022. Raxio is constructing its first data centre at the Kampala Industrial and Business Park, Namanve. At full capacity, the data centre will be able to house up to 400 racks; in an optimally controlled, 24/7 secured and redundant environment and shall consume up to 3MW of Hydro Electric Power.
Umeme to pay UGX66.4bn in 2018 dividends; earmarks UGX1.7 trillion investment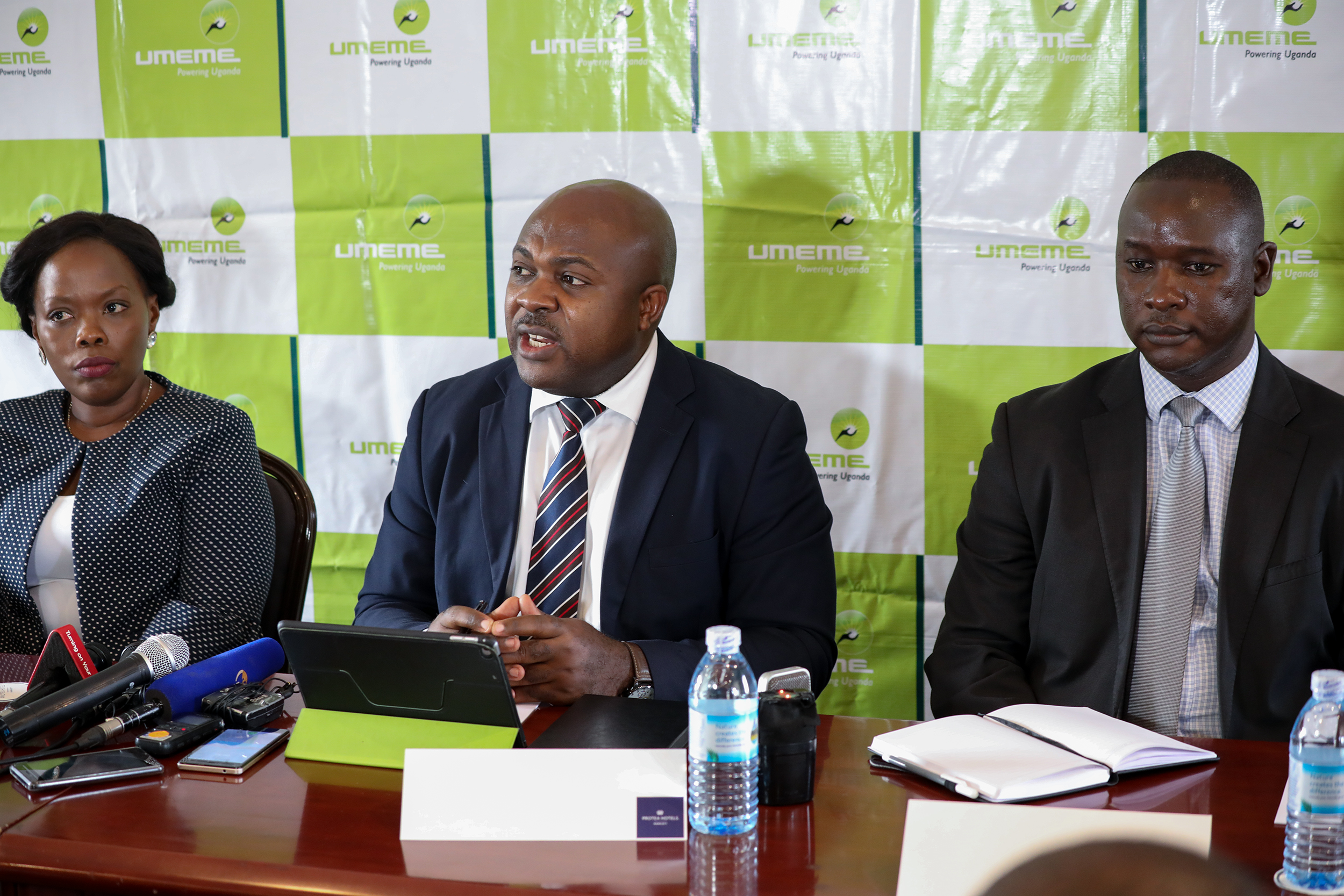 The Umeme Annual General Meeting, has today approved a UGX28.2 per share final dividend to all its shareholders for the year ended 31 December 2018.
This, in addition to the UGX12.7 interim half-year dividend, adds up to a total of UGX40.9 per share-a 438.2% rise from the UGX7.6 per share that Umeme paid in 2017.
In total, the giant utility will fork out up to UGX66.4 billion in dividend payments, up 87.1% from UGX12.7 billion in 2017, thanks to a combined stellar performance and an increased dividend pay-out ratio- 35% in 2017 to 50% in 2018.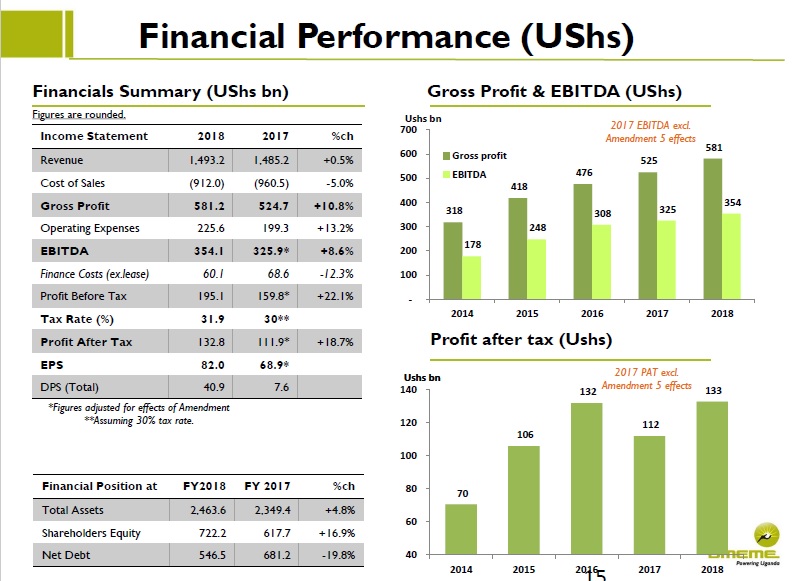 The power distributor in 2018, posted a 274% rise in profit, from UGX35.5 billion in 2017 to UGX132.8 billion for 2018.
The final dividend, subject to deduction of withholding tax, where applicable, will be paid on or about 15th July 2019 to shareholders in the books of the Company at close of business on 20th June 2019.
'The dividend will be paid into the shareholder bank accounts or mobile money accounts whose details are maintained by the Securities Central Depository (SCD)," Mr. Selestino Babungi, the Managing Director, told the AGM.
Looking to the future: Umeme's 2019/2025 Capex plan
Babungi, told the AGM that to satisfy electricity demand that is growing 9.1% annually and a customer base growing at 15% per annum coupled with the government's universal connection policy that seeks to connect 300,000 customers per year; thereby increasing access to electricity to 60% by 2027, the company planned to invest approximately USD450m (UGX1.7 trillion) between 2019 and 2025.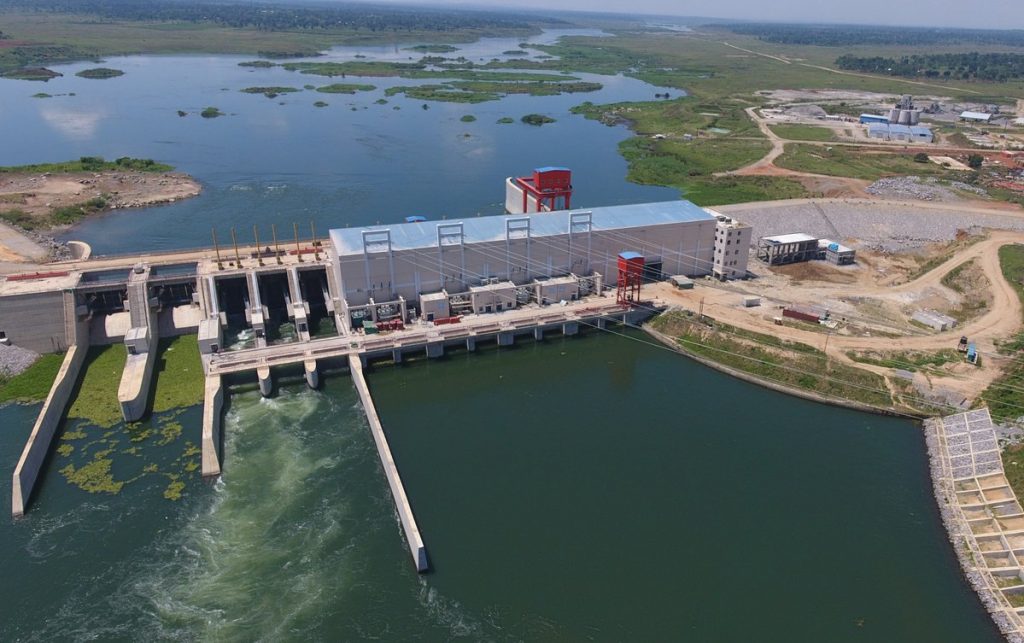 He outlined 4 strategic areas where the company would be investing, namely: "network adequacy to meet forecast growth driven by need to absorb the anticipated generation with major prioritisation of industrial parks and industrial zones of Namanve, Mukono, Iganga, Kapeeka, Luzira and Mbale."
The company would also prioritise the improvement of reliability and quality of supply, with a major focus being put on injecting new substations and new transformer zones in high growth areas.
The other two priorities included, supporting supporting the Government agenda for accelerated access and in this regard, Umeme targets to connect over 2 million customers over next 6 years as well as improving efficiency of the distribution network by leveraging on new technologies.
"Universal access means you will require a large footprint (coverage), which means opening more service centres (offices), building substations, extending lines, injecting transformers and recruiting more people on the ground. These require massive investments," Babungi explained.
He also noted that facilitating the uptake of the new generation capacity at Isimba and Karuma dams, needs a robust and well-maintained network to absorb and effectively distribute this power.
Isimba Dam, which was commissioned early this year, increased Uganda's installed power generation capacity from 1, 014 megawatts (MW) to 1, 197MW. Once Karuma Dam starts generating power next year, Uganda's installed capacity will increase by 600MW.
"Focus will be on extending the distribution grid to evacuate the 783MW additional generation, connecting 2 million premises to the grid, thus creating demand. Network evacuation pipes/lines to the demand growth areas will require massive investments," he said.
Mr. Babungi observed that quick connections for the new applicants and the supply of quality and reliable power require adequate resources for repairs and maintenance.
"The network is expanding across the country, meaning you will need human resources on the ground to keep quality lights on 24/7. This offers a great opportunity for job-creation (capacity development). The company will need to triple its current number of technical staff to serve the double the size to serve 3.4m customers by 2025," he noted.
Last year alone, Umeme spent $62 million on the distribution.
Babungi also said given the sector needs and the projected Umeme investment, the company had exercised its rights under the Electricity Act, to apply to the Electricity Regulatory Authority to reconsider its tariff performance parameters for 2019 – 2025.
He however, noted with concern that whereas the distributor had applied to the regulator to be allowed USD65m in operating costs, so as to meet the huge task ahead, they had only been granted USD41m for 2019.
He said this was bound to affect both the service quality and losses targets.
"We will struggle," he said.
Solid fundamentals for 2018
Beyond the good dividend, Babungi told shareholders that their company stands on solid ground.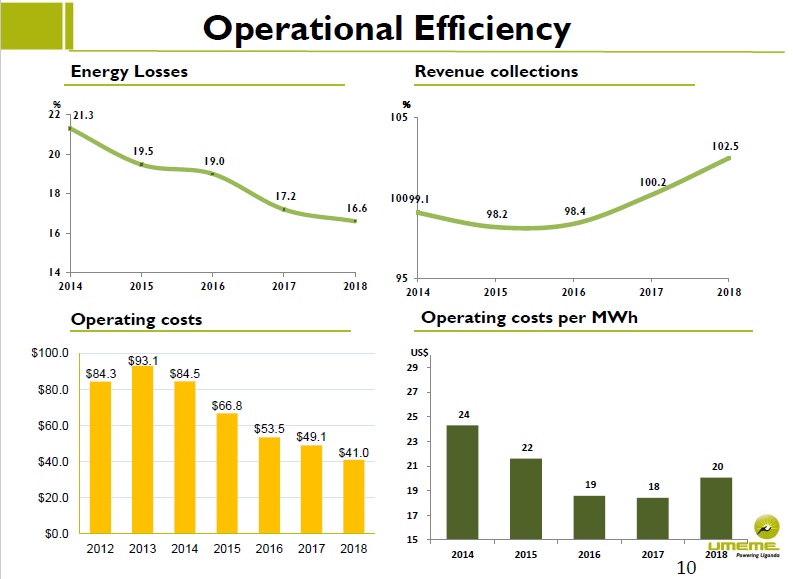 Between 2017 and 2018, the number of customers grew by 15% from 1.13 million to 1.29 million and thanks to increased generation capacity and a consistent reduction in energy losses- 16.6% in 2018 from 17.2% in 2017, there was more power to sell.
Electricity sold grew by 9.1% from 2,277 Gigawatt hours (GWh) in 2017 to 3,011 GWh in 2019. Coupled with tighter revenue collection measures, revenue grew by 12.7% from UGX1.42 trillion in 2017 to UGX1.60 trillion.
Subsequently, net profit jumped 274% from UGX35.5 billion in 2017 to UGX132.8 billion.
In the last 13 years, Umeme has invested over $600m into doubling the distribution network to over 34,000km and growing customer connections by more than 4 times.
Get your credit worthiness report on your phone with Metropol's Crystobol Solution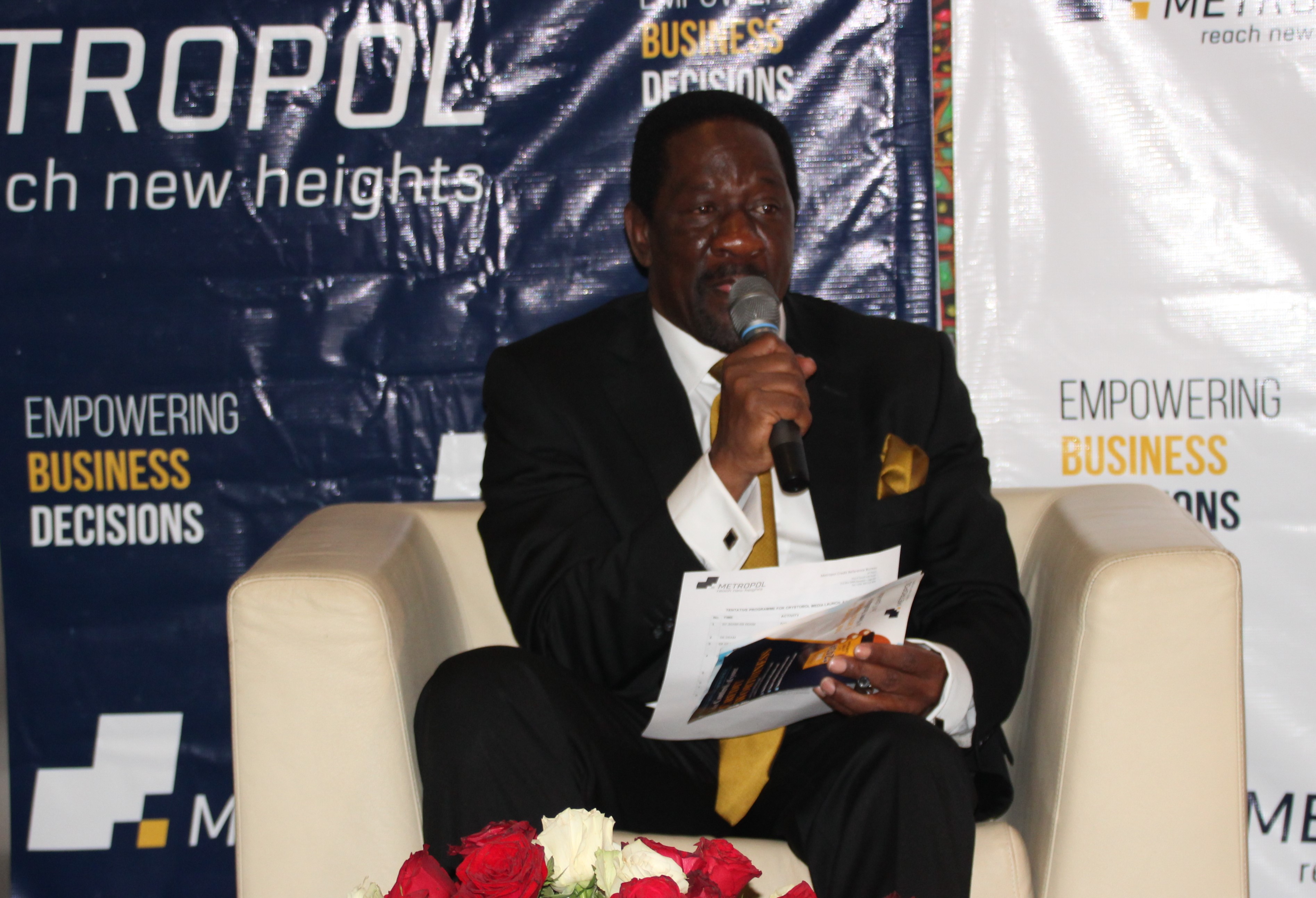 Metropol Credit Reference Bureau (MCRB) on Wednesday May 8th, 2019 launched its new product delivery platform code-named Metropol Crystobol.
A first of its kind in Uganda, Metropol Crystobol gives borrowers direct access and control of their credit information and other bureau products via mobile phones.
The service is available upon an easy mobile phone-based registration. To register, customers dial *243# on their mobile phones, for all networks, then key in their Financial Card number and follow the message prompts to complete registration.
According to Samuel Umukoko, the CEO of Metropol Credit Reference Bureau, registered members will then have easy access to any of the bureau's four main products that include: Credit Reports, Listing Status, Metro-Score And Who Has Listed Me.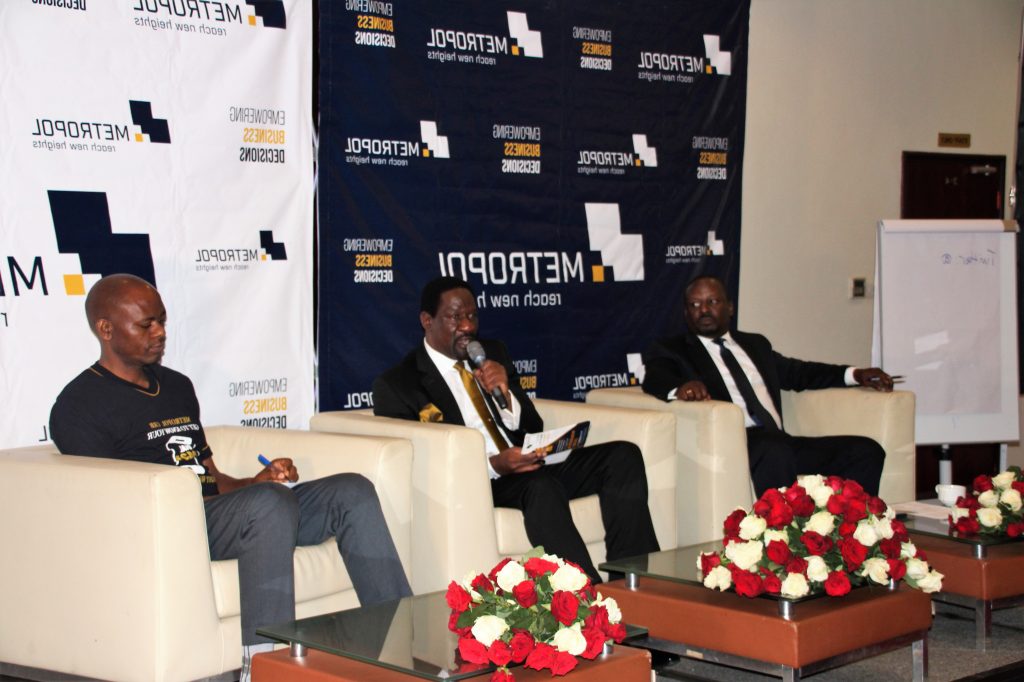 A Credit Report is a detailed account of one's lifetime borrowing with all current credit providers and their performance in terms of repayment. The report is used by all lenders to determine loan approvals.
Upon registration, all customers will be entitled to a free annual credit report.
Clients will also be able to know their listing status as reported by their various lenders. Green means one has no credit history; black means one has a negative (default) credit history and lastly, Gold means one has a positive credit history.
Under the "Who Has Listed Me" service clients will be able to know the list of all the lenders who have contributed information about a client to Metropol Credit Reference Bureau.
Metro-Score
The Metro-Score® according to Mr Umukoko, "measures one's credit worthiness and the likelihood that they will meet their financial obligations."
"The Metro Score has become the industry standard that all lenders use to assess borrower credit worthiness and is also used by lenders to determine appropriate interest rates to charge for various types of credit facilities. The Metro-Score ranges between 200 – 900, with 450 being the middle mark. Customers that score below 450 have marginal to poor credit quality while those that score above 450 have good to excellent credit quality," explained Umukoko.
Empowering borrowers
Umukoko said that the Metropol Crystobol will empower borrowers to "take control of their credit worthiness by allowing them easy access to affordable credit, negotiate favourable credit terms with lenders and above all, enjoy the freedom to choose their preferred lender."
"This will significantly impact on the lender-borrower relations in the Ugandan market, where we shall see borrowers obtaining increased bargaining power by taking advantage of their positive credit profiles," he said, in a statement.
Metropol Credit Reference Bureau is a subsidiary of Metropol Corporation Limited, a data driven entrepreneurial company based in Nairobi, Kenya and which has been in existence for the past 23 years.
Metropol CRB was licensed by Bank of Uganda in 2015 and has been in operation since then. It receives credit data on a monthly basis from all the Bank of Uganda licensed financial Institutions and processes this data into credit reports and other value added solutions necessary for making sound credit decisions.
The high cost of money still remains a major stumbling block to businesses and individuals alike.
Although the central Bank has over the last 24 months cut down the Central Bank Rate (CBR) by 41.18% from 17% in January 2016 to 10% at the end of December 2018, interest rates have not fallen by the same rates- only declining by 17% from an average 24.29% to 20.1% in the same period.
One the contributory factors to high interest rates is poor credit worthiness.
Consumer credit worthiness ignorance also makes it less likely for consumers to plan, budget and improve their credit scores.
Other than improving negotiating powers with lenders, having easy access to credit worthiness reports, especially via mobile phone will help consumers improve their credit ratings.