The deadly Covid-19 disease caused by the novel Coronavirus, may have no clear-cut treatment- but as it appears, prevention seems to be the most sustainable way of managing the disease that is wreaking havoc across the world.
If prevention is the vehicle for managing the disease, as it is with every prevention measures, then information is the fuel- accurate information on how acquisition and transmission of the disease can be avoided; information on where to seek medical attention or even request for a Covid-19 test, report a case or get a list of sample collection centres or the latest status of Covid-19 in the country.
Information. Information. Information.
In the era of fake news, the quick development and deployment of a comprehensive, accurate and readily available 24/7 source of information- for the public, the media and policymakers alike became mission-critical. Well, the National Information Technology Authority-Uganda (NITA-U), had a solution. Its software engineers, got to work and in days the Ministry of Health's National Covid-19 information portal was born.
Accessible via www.Covid-19.gou.go.ug, the portal has several facts and figures such as the number of confirmed cases, recoveries, active and repatriated cases. It also has details on other statistics such as the demographic distribution of the disease as well as the chronological cumulative confirmed cases as and when they were confirmed.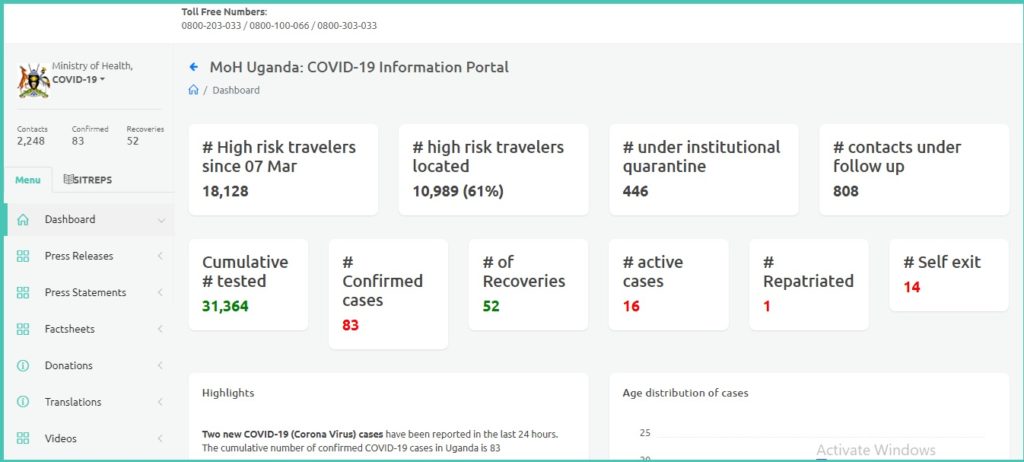 The easy-to-navigate portal also has other factsheets like the official ministry of health guidelines on how to prevent the diseases, signs and symptoms and lots of other educational material in English and translated into more than 20 vernacular languages.
It also has a compilation of the donations towards government's efforts to fight the disease.
"It is a common reality that in a fast-moving pandemic such as Covid-19 unnecessary panic and anxiety can make a bad situation worse. The portal was developed to provide up-to-date and trustworthy information on Covid-19 thereby fighting unnecessary panic and anxiety- but also making sure that resources and efforts are dedicated to where they are needed most," says NITA-U's Executive Director, James Saaka.
"This has become a one-stop centre for media houses and the general public in accessing all information related to the MoH led fight against Covid-19. This site has been visited 1.5Million times, four weeks after it was built," adds Saaka.
NITA-U is an autonomous statutory body established under the NITA-U Act 2009, to coordinate and regulate Information Technology services in Uganda.
NITA-U is under the general supervision of the Ministry of ICT and National Guidance.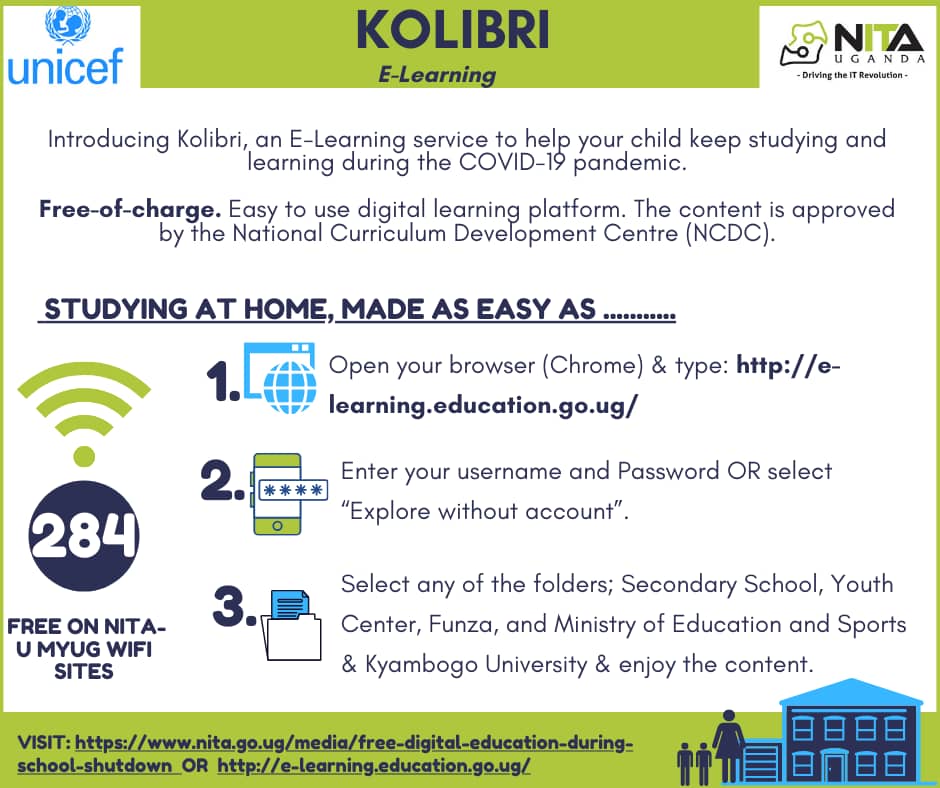 Some of NITA-U's core functions is providing high-quality information technology services to Government as well as promoting the standardisation in the planning, acquisition, implementation, delivery, support and maintenance of information technology equipment and services, to ensure uniformity in quality, adequacy and reliability of information technology usage throughout Uganda.
Enhancing compliance of government directives
For those without access to the internet, a free USSD helpline: (*260#ok) which allows citizens to request for a Covid-19 test, Report a case, obtain district personnel information, a list of sample collection centres, RDC Contacts and Get SMS alerts, was also developed.
Additionally, a dedicated 919 toll-free number was created on all telephone networks to answer all Covid-19 questions as well as make all the above requests/inquiries.
Saaka, says that to support the government's efforts on crowd-funding, a crowdsourcing fundraising application was developed. The application utilizes the national electronic payment gateway to collect funds/donations towards Covid support and relief. Prospective donors can visit https://covid.pay.go.ug/, to make donations from their mobile phone accounts.
"This will minimise the use of cash, which is a known enabler of the Covid-19 disease. It will also allow wellwishers all over the world, provided they are connected to Airtel and MTN, to make donations directly to the Office of the Prime Minister," explains Saaka.
Some of the other novel systems developed by NITA-U, include a Covid-19 National Task Force Surveillance System developed to enable digital registration of persons of interest, monitoring quarantined travellers and enabling real-time reporting.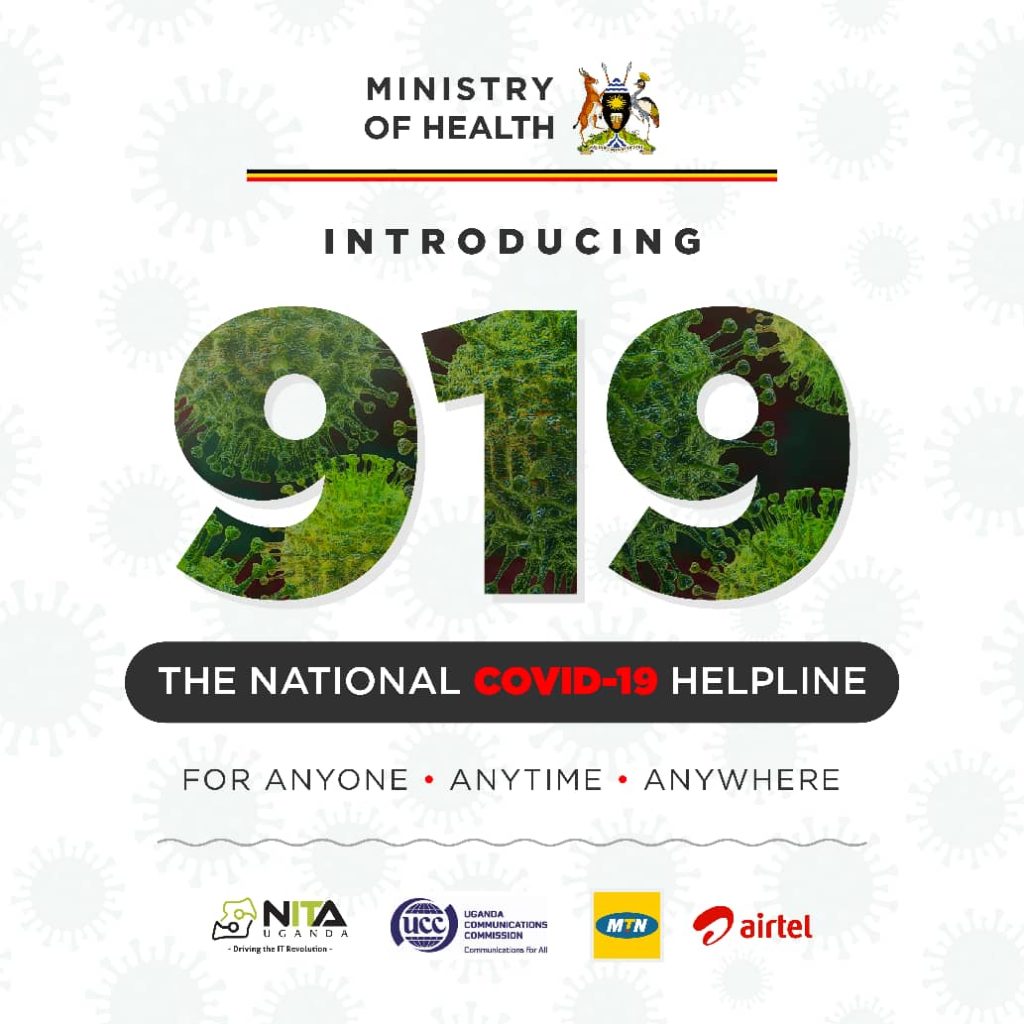 To support compliance with the various government's travel restrictions, NITA-U engineers also developed a motor-vehicle sticker verification system for use by the Ministry of Works & Transport and Uganda Police to combat forged motor vehicle stickers.
NITA-U has also developed a contact tracing system that allows individuals to track other devices with tagged serial numbers of persons of interest and get notified in case of infected and or suspected persons in the vicinity.
"Known as TraceUG, the service not only prevents the spread of Covid-19, but also allows provides immediate attention by Ministry of Health to citizens in case of contact with known infected persons and or suspected persons," says Saaka.
To help the Ministry of Health manage the disease burden, NITA-U also has developed a Covid-19 Management system. The software has 3 features that can be used by the Ministry of health, namely; a pre-screening& routing module that citizens can use to report symptoms and receive information on Covid-19, thereby allowing them to assess if they are at risk and then take the next steps. The second module- the health care workforce pulse assists the Ministry of Health to monitor the health conditions of its workforce at the frontline and make quick decisions on needed supplies and support. The third module, a call-centre assistance – provides a platform for MoH and her partners to interact with callers using a knowledge base inbuilt within the solution, thus easing the burden of public education.
Because of the various travel restrictions announced by the government, several government workers cannot get to work and or co-work with other sister Ministries, Department and Agencies (MDAs). Together with UNDP, Microsoft, NITA U has rolled out a Unified Messaging and Collaboration Platform for all of the Government with; video conferencing, email, document sharing, and instant messaging; Zoom and Microsoft Teams for video and audio collaboration with Government partners and private sector.
To also ease access to government services during the lockdown, the e-citizen portal (www.ecitizen.go.ug) was refreshed, allowing users to access over 100 eServices from Government MDAs.
For the learners stuc at home because of Covid-19, NITA-U together with UNICEF and the National Curriculum Development Centre (NCDC) have also developed a free digital learning platform.
"We are providing a free digital learning tool (Kolibri) to keep children learning from the comfort of their homes," says Saaka.
With Kolibri, pupils, students and teachers in government schools can access content on Mathematics, Sciences, technology, arts, humanities and life skills in form of text, videos, interactive simulations and digital education games. The platform available online (e-learning.education.go.ug) and offline also contains videos in sign language, ebooks for children with low vision and audio books for the benefit of children with disabilities.