The media industry is well known for telling everybody's story and hardly their own, but the economic crisis caused by Covid-19 has changed all this.
For the first time in a long time, we have seen major media groups in Uganda coming out openly about their economic hardships cutting costs by pulling down some publications and cutting salaries which take the bulk of costs of operation.
88.2 Sanyu Fm Uganda's oldest surviving private radio station has become the latest to announce a 25 per cent salary revision for its staff. While several other media houses have announced and implemented salary cuts before, the decision at the radio station has led to staff laying down their tools and consequently being let go by management.
Just this month, Bank of Uganda lowered Uganda's 2020 economic growth projections for the second time, from the April 2020 forecast of 3 to 4 percent to now between 2.5 per cent – 3.5 per cent in 2020. At the beginning of the year, pre-Covid-19 projections were at 6 per cent.
An April 2020 national socio-economic study by the United Nations Capital Development Fund (UNCDF) in cooperation with Makerere University (the College of Business and Management Science) with support from Uganda Revenue Authority (URA) titled: Uganda Business Impact Survey 2020- Impact of COVID-19 on formal sector small and medium enterprises, found out that 85 percent of Ugandan businesses would be in a cash flow crisis after the three months lockdown.
A shrinking economy and cash flow crunch in the private sector has had severe ripple effect across sectors, and the media industry has not been spared either.
According to the National Association of Broadcasters (NAB)- the industry association of Uganda's radio, television and online broadcasters, Covid-19 severely has hit advertising revenue, which forms nearly 100% of income for broadcasters. With diminished demand by consumers, all events and entertainment activities as well as airlines banned and telecoms losing nearly 40% of revenue, radio stations' incomes have been severely strained.
For example preliminary May 2020 report by the Uganda Communications Commission (UCC) the telecoms industry regulator, shows that revenue from voice calls, declined by 26 per cent while revenue from mobile money services declined by 34 per cent. Telecoms for example, according to research firm, Ipsos, account for 14% of all radio advertising revenue, 16 per cent of TV and 8% of print revenu. Overall, the sector accounts for 14 per cent revenue of the advertising industry. It is therefore not surprising that media houses like Sanyu FM reported a 50% reduction in revenue for the months of April and May.
Meanwhile, for the media houses, some costs like electricity, UCC License fees, rent etc. all remained fixed. With the lock-down, the commonly used means of transport for staff, were not available. Media houses were forced to hire cars and vans to transport their staff. This increased the costs of doing business exponentially, exacerbating an already bad situation.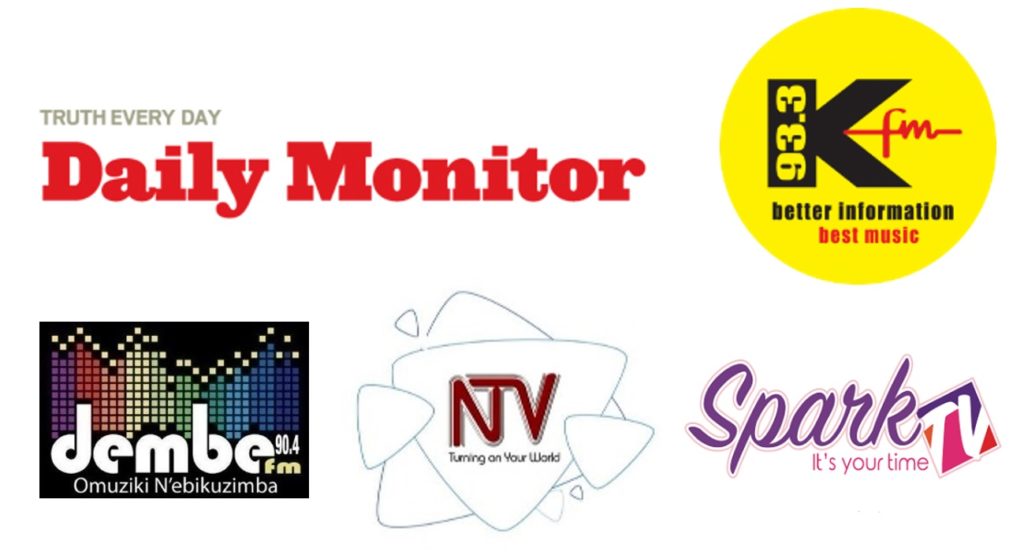 Because of the lockdown and strained economy, it also became increasingly difficult to collect revenue already earned from company debtors, making the bad situation worse.
As a result a number of media houses have closed, while others have chosen to furlough staff hoping the situation gets better and others have completely downsized. Most media houses, including some of the region's largest media groups, have in the interest of protecting jobs, decided to revise their salary structures for the time being as the situation normalises.
Media cut salaries to survive
Vision Group, Uganda's largest media group at the very onset of the Covid-19 pandemic was one of the first media houses to announce salary cuts. An internal memo from the Managing Director to staff on April 30, 2020, informed staff of salary cuts of up to 60%, starting in May.
"…the recent downturn requires even more stiff measures to keep the business valuable. This necessitates that for the first time in sixteen years management has to take drastic measures to reduce the wage bill," the memo read in part.
"60 per cent will be cut from those earning above Shs19 million. Those earning between Shs8m and Shs19m will take a 45 per cent cut. Those earning below Shs8m will take a 40% salary cut."
According to the memo, the measures would remain in force until further notice. The Group also suspended the production of three local language newspapers, namely: Orumuri, Etop and Rupiny.
This May, NMG-Uganda which runs Daily Monitor, NTV Uganda, Enyanda, KFM, Dembe FM also announced there will be salary deductions for the months of May, June and July- 10% for those UGX 3 million; 15% for those between UGX3 million and UGX5 million; 20% for those earning between UGX5m and UGX10m; 25% cut for those between UGX10m and UGX15m and 30% for anyone above UGX15m.
In Kenya, the Nation Media Group on April 30, 2020 also announced a temporary reduction of 5% to 35% on the gross pay for all staff earning a gross monthly pay of Kshs50,000 (UGX1.7 million) and over. On March 27, 2020- Royal Media Services, also in Kenya which runs Citizen TV and other media houses, announced salary reductions of up to 30%. Still, on April 1, 2020, the Standard Group, also in Kenya announced a 25% salary reduction for staff earning above Ksh100,000 (UGX3.5 million) and a 20% reduction for those earning below Kshs100,000 (UGX3.5 million).
Shifting media consumption trends and revenues under pressure
But even before Covid-19, most media houses in Uganda were under pressure from declining print circulation as well as advertising spend on conventional media, in favour of new media.
For example according to the Audit Bureau of Circulation of South Africa, between December 2018 and December 2019, New Vision's copy sales fell by 6.4% from 25,252 copies daily to 23,636 copies. Daily Monitor fell by 11.2 percent from 15,871 copies to 14,096 copies. Bukedde, the Luganda local daily which has previously had defiant growth also fell by 7.3% from 35,921 copies to 33,289 copies.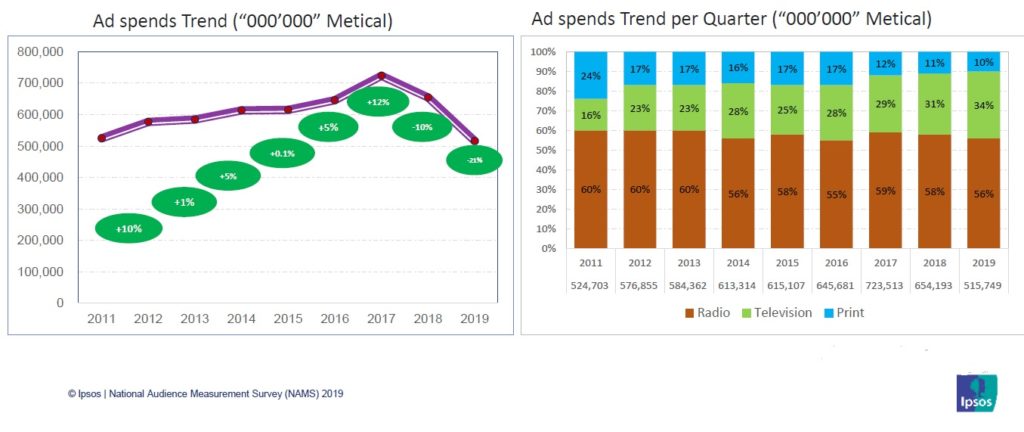 It is therefore not surprising that Vision Group's circulation revenue which represents 23% of total Group revenue declined by 2.5% from UGX21.3 billion in FY2017/18 to UGX20.8 billion in FY2018/19. Newspapers, still remain Vision Group's cash cow, accounting for 56% of group revenue (UGX50.6 billion out of a total UGX90.2 billion) in 2018/19, followed by broadcast media (radio and TVs) that accounts for 26.9 per cent or UGX29.8 bn.
Even regional big newspapers such as Kenya's Daily Nation and South Africa's Daily Sun have all been affected. For example Daily Nation which at its peak used to sell over 150,000 copies a day, in Q4 2019 only sold 101,154 copies- which was 3.7% less than the 119,772 copies in the same period in 2018. South Africa's Daily Sun that at one time peaked at over 500,000 copies a day, in Q4, 2019 was only selling 99,485 copies- 16.9% less than what it sold in the same period in 2018.
Away from newspapers, throughout the media terrain, advertising revenues across traditional media (radio, newspaper and television) have also come under pressure.
According to media research firm, Ipsos advertising spend on radio, print and television which had for the last 8 years been growing by an average 9 per cent- from UGX364.5 billion in 2010, reaching a climax of UGX723.5 billion in 2017, has since fallen by 29 per cent to UGX515.7 billion at the end of 2019- a fall of by 11 per cent annually for the last 3 years. UGX515.7 billion is the lowest industry reported figures since 2012.
Analysts attribute this to the rise of digital- that now accounts for between 15%- 30% of advertising budgets of most private sector advertisers. Print has been the most hurt. Ten years ago up to 24% of all advertising budgets used to go to newspapers; 60 per cent to radio and 16 per cent for television, but in 2019, print was only reduced to 10 per cent according to Ipsos' National Audience Measurement Survey (2019).
The share of advertising spend on television has since increased from 16 per cent in 2011 to 34 per cent in 2019 while radio has reduced from 60 per cent to 56 per cent in the same period.